Surprisingly, quite a few people tend to neglect to keep their cars clean. I'm guilty of this myself, but it needs to be said how a quick hose down, soaping, sponging, and wiping could greatly elevate your car's looks. If aesthetics alone aren't enough to convince you, then at least consider that cleaning a car properly can ensure that it performs well. Besides car detailing cost, what do we mean by this?
Well, think about brake dust, for example. A bit too much brake dust, and it could easily start having an impact on how your brakes perform. An excess build-up of old grime, hidden away in the folds of your car, could soon start to develop into corrosion. Clogging of old leaves and foliage on your car's front grille can impact engine performance and cooling. Then, there's your car's vivid paintwork.
Failing to get your car washed will, sooner rather than later, begin eating away at the paint's many coatings, gradually wearing it out. The paint will look dull, worn, or worse, it could leave permanent marks on the surface. Whether it's merely for eye candy, or if there's a crucial mechanical reason for it, it doesn't get any better than detailing a car. So, just how much does car detailing cost?
What Is Car Detailing… Is It The Same As Washing Your Car?
To answer that title, the reply would be No, it's not the same. This is important to understand before we dive deeper into car detailing costs. There's a monumental difference between washing a car, and detailing a car. The former – washing your car – entails merely, as its name suggests, washing a car. This means a spray of water, addition of washing shampoo, sponging, and wiping it dry afterward.
A simple car wash is sufficient for keeping your car appearing clean. However, that's different from a detailing service, which makes your car both appear clean, while also being technically cleaner. With car detailing, the process of cleaning your car is more thorough and in-depth, going beyond the call of duty. Sure, the initial process is similar, with a quick washing, sponging, and drying of your car.
The principle of car washing is to make your car look good. But with car detailing, the end goal goes above that, wanting to restore your car's condition as if it just left the factory. Besides giving a car a deep scrub, waxing, and polishing, more attention is put elsewhere, too. This includes cleaning up its interior with a vacuum (which you could also use to figure out how to remove dog hair from car), not to mention cleaning all of the interior trim, seats, carpets, and so on.
We can then move further outside, where the detailing process isn't even done yet. There are still the brakes, wheels, and tires to clean up. Your headlights, which can fog up after a while, will be given a de-fogging (and learn how to defog headlights and how to clean headlights at home). In many cases, car detailing can be considered a minor restoration job, as it aims to help recondition your tired old car. What's worn is freshened up a bit to make it look as fresh as it can be.
What's Included In Your Typical Car Detailing Cost?
As we've explained earlier, car detailing is a very exhaustive and meticulous process of making a car as clean and shiny as it can be. But one does wonder, what exactly is included in the car detailing cost that you're on the verge of paying? What we've mentioned before is just a sneak peek at what a full detailing service includes, and it can get pretty methodical. Here are some examples:
1. Exterior Car Detailing Services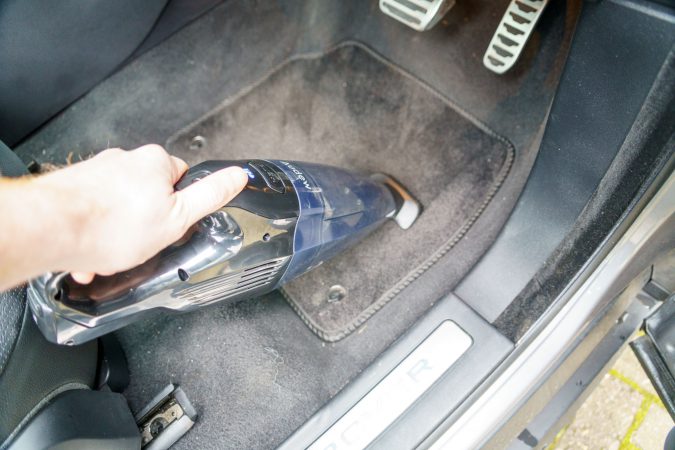 2. Internal Car Detailing Services
Engine Compartment – This isn't commonly included in basic detailing packages, but it's nevertheless crucial. A light mist of water is sprayed into the engine compartment before a degreaser is applied and then rinsed. Beyond that, all of the components in the engine made of plastic, silicone, or rubber are dressed. This is to prevent them from hardening and cracking as they age.
Interior – At the very least, this should denote vacuuming up the carpeting, nooks and crannies, and the folds of your seats. A quick steam cleaning is then applied. Note, that this also includes the trunk. The detailers will then clean up the door jambs, wipe down the mirrors and all glass surfaces, as well as dress up the trim. In other words, leathers, vinyl, rubber, and anything else in between.
What Are The Pros And Cons Of Car Detailing?
Ah, you might think, this sounds like a fantastic package, indeed! But before you pony up for a kitted-out car detailing cost, consider that there are some downsides to its many positives. Are they worth the asking price, for making your beloved four-wheeler look absolutely spotless? To give you a bit of added context, let's look at this fairly, and think about all of the pros and cons of detailing your car:
1. Pros – Enhances Your Car's Appearance
This is more for eye candy than anything else, but who here doesn't like a clean car? Compared to an ordinary car wash, there's something about car detailing that makes your car look even better. This is attributed to the added attention to detail and workmanship that goes into detailing it. All of that waxing, polishing, and paint touch-ups that aren't included in most washing services really add up.
2. Pros – It's More Detailed Than A Car Wash
It's quite easy to get your car washed these days. There is an abundance of automated car washes or even touchless ones. But compared to a personable human touch and an eye for detail, they often miss certain sections. Imagine hard-to-reach spots like the door handles, exterior trim pieces, wheels, tires, brakes, wheel wells, suspension parts, splash shield, window frames, and so on.
3. Pros – Reconditions Your Car (And Adds To Its Resale Value)
Detailing is more than just cleaning, as it can help to recondition your car's worn-out look. While it's not technically the same as a full-blown restoration, it's very nearly there. This won't just make your car more pleasing to look at, but might also contribute positively to its resale value. Its future owners can sense the appreciation and care that you put into it, which they're happy to pay more for.
4. Pros – The Cabin's Much Nicer To Spend Time In
As far as using a car is concerned, all (or most) of your time will be spent inside. A detailing job will make this much cozier for you, as they clean out the entirety of the interior. All that dust and grime must've been getting to your nerves, and could put off staying for too long inside of it. Detailing it can readily restore your interior – seats, center console, dash, and all – to make it feel nicer to be in.
5. Pros – Gets Rid Of Odours And Stains
Those who regularly use their cars to ferry around their families will know this pain. Bringing your children and pet will undoubtedly leave unpleasant stains or odors in your car. This is made worse if you frequently smoke, or eat drive-through meals in it. Sometimes, you can easily do these by yourself. However, car detailers go further, eliminating the smells and marks that you can't possibly reach.
6. Pros – Kills Any Germs And Bacteria
In the era of COVID-19, it's more consequential than ever to keep your car clean. With that in mind, most typical car washes can barely touch on the smaller microorganisms that lurk on your car. That's especially if they're nesting inside. A detailing job, meanwhile, can touch upon the tighter and more inaccessible spots of your car where germs can inhabit. One example is within the air vents.
7. Pros – Improves Driveability And Safety
This is a bit of a stretch, but given how mucky some cars are, a thorough detailing process can make it both safer and more driveable. In the introduction, we noted how to brake dust can impair how your brakes work. Though any improvements are tiny, they do make a difference. Besides that, we spoke about de-fogging your headlights. In effect, this aids in improving visibility for nigh-time driving.
8. Cons – Detailing Services Are Expensive
Spoiler alert, although we will elaborate more on this down below. The downside with detailing jobs is that they're expensive. In comparison, a car wash will average around $10 to $40. On the other hand, detailing will set you back significantly more. A complete set menu for detailing your car can sometimes cost you nearly $200. Order it á la carte, and you'll have to pay for each service.
9. Cons – They Take A Long Time
On average, an automated car wash service takes just 5 to 10 minutes to completely rinse the whole thing. That speed is a given, and it's why most people use it. Car detailing, conversely, must be done by hand for optimal results. As you can imagine, this will take more time, and gets longer the more a car needs detailing. On average, satisfactory detailing work will take 4 to 6 hours to complete.
How Much Does Car Detailing Cost On Average?
Finally, we get to the elephant in the room… How much does car detailing cost? As we've mentioned earlier, there are two ways to approach car detailing. First, you have set packages, where for a fixed price, these packages will encompass the interior and exterior combined. The basic packages will be the usual washing and vacuuming. Pricier luxe detailing ought to be more in-depth in their cleaning.
Given that there are countless shops and companies across the States that offer detailing services, it's hard to find a single figure to represent them all. Some detailing shops might offer more or less than others, hence why their prices may vary significantly. Moreover, most will charge more based on how large your vehicle is. Nevertheless, we can try to clump them into two groups:
1. Basic Car Detailing Packages
This would cover washing your car, with a quick waxing job afterward to help protect the paint. In addition, all those nooks and crannies like the wheel well, tires, wheels, mirrors, trim, and more will be given a wash. Once that's done, they'll move inside, by vacuuming up the carpeting and seats, as well as light polishing the interior. It'll be dusted, and the windows will be washed and wiped clean.
Car Detailing Cost, Basic Services – Roughly $50 to $125 for average-sized passenger vehicles. For a larger truck, SUV, or van, this will ramp up the price to around $75 to $150.
2. Premium Car Detailing Packages
A more deluxe detailing service will involve more meticulous attention to detail. The actual terms of a premium package may vary depending on the provider. But in general, this gets you pricier high-quality cleaning products, and services such as steam cleaning the interior, or maybe reconditioning the leather interior. It might also include engine bay cleaning and special care for classic cars.
Car Detailing Cost, Premium Services – Roughly $150 and above for your common passenger cars. A larger SUV, truck, or van will set you back at least $175 or higher.
How Much Does Individual Car Detailing Services Cost?
The second option you have for car detailing, in addition to package deals, is performing individual services. In other words, breaking up a detailing package – which includes washing, vacuuming, and so on – into singular components. Typically, this route will cost you more, as each item in a detailer's price list will be expensed separately. However, it's a good choice for certain scenarios.
Imagine, for example, if you've already paid for a full, premium, deluxe detailing service for your car, but want just that bit more. Maybe, you need the detailer to buff out a few scratches or have an old vintage icon that needs extra attention. Perhaps, there are services in which a premium detailing job doesn't offer as a package, such as applying a ceramic coating to protect the paint, and so forth.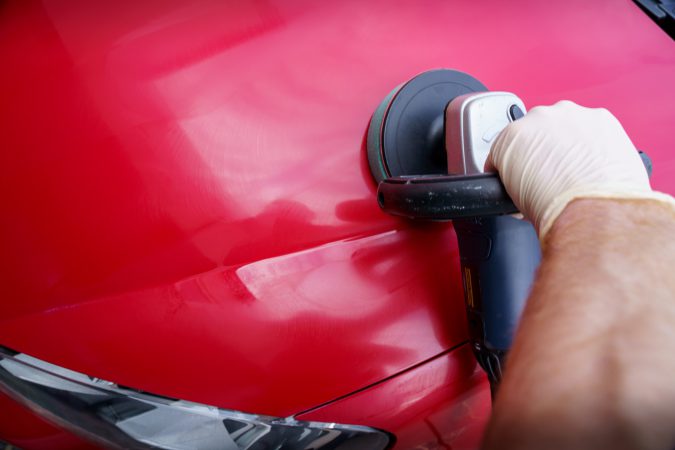 In this case, it makes sense why you'd want to go the extra mile. As we've noted before, a premium detailing job can cost you nearly $200 in most places, which are comprehensive enough already. But should you start tacking on these individual services, it's not inconceivable to spend up to $400 for a detailing job. The best, top-of-the-line detailing jobs can even cost you upwards of $600 or more.
So, what are these à la carte detailing solutions that you can opt for separately, or add onto an existing detailing job? Well, here are some examples of what you can expect:
Car Detailing Cost Samples
Car Wash (by hand, which covers the bodywork, wheels, tires, exterior trim, and most other visible surface-level components) – $10 to $45
Wax And Polish (polishing away imperfections in the paint with polishing compound or a clay bar, and applying a wax seal to protect the paintwork) – $50 to $100
Paintless Dent Removal (removing small dents, scratches, and dings on the paintwork) – $80 to $200
Undercarriage And Chassis (cleaning the underbody, wheel wells, around the suspension, wheels, tires, engine splash shield, fenders, etc.) – $5 to $90
Lights And Exterior Trim (polishing and resealing both the head- and tail-lights, as well as exterior trim panels) – $60 to $70
Carpet (vacuum and shampooing or steam cleaning the floor mats) – $45 to $60
Upholstery (vacuum, brushing, and deep cleaning the seats, door cards, headliners, etc.) – $45 to $50
Leather (cleaning leather panels or trim, and reconditioning them with UV protection) – $45 to $150
Vinyl (cleaning the dashboard, center console, door panels, and then applying UV protection) – $45 to $50
Interior Protection (using compounds that can be applied to protect the carpeting and fabrics – or, you could learn more in our guide on how to clean fabric car seats) – $150 to $200
Trunk And Cargo Space (vacuuming, and shampooing the flooring) – $10 to $15
Ozonation (removes odor from the car, including killing off bacteria) – $25 to $60
Engine Compartment (degrease the engine of grim, and apply protection to silicone, rubber, or plastic parts) – $50 to $300
Ceramic Coating (a liquid polymer ceramic layer that adds enhanced protection for the paint) – $300 to $1,500
Are Car Detailing Costs Worth It?
To recap, car detailing isn't cheap. You can find yourself easily spending between $200 to $400 for a typical detailing job. If you're more attentive towards how your car looks, then spending $600 and higher isn't unheard of. In the world of car care, even $1,000 sounds rather small. There's one shop in the UK, in particular, that provides detailing services for some of the world's most valuable cars.
Think multi-million dollar supercars like a Bugatti, or priceless and rare classic like 1960s Ferraris. To this end, they offer what can be considered the best detailing job in the world. The cost? Oh, that's a mere £100,000 (or around $133,000). Even without the fancy waxes made from tree saps that grow in faraway lands, spending hundreds of dollars for what is essentially a cleaning service sounds mad.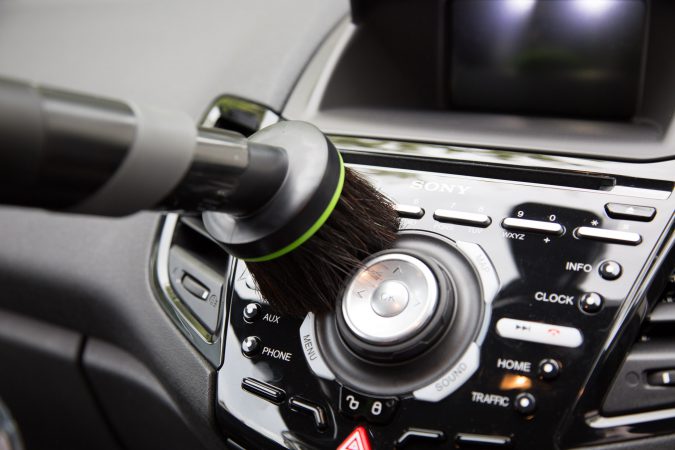 For most of us out there, it might not even matter one bit to have our car detailed. True, cleaning it with a bucket of water, some car washing shampoo, a sponge, and a towel for drying it later is more than enough to at least keep it in good shape. Still, it's nice to treat your car every once in a while. If you want to make the most of your money, it's obviously a good idea to find a good detailing service.
Here are a few tips for how you can discern between good, and the not so good, car detailers:
1. Study The Packages They Offer
The word 'detailing' often conjures up a feeling of, "oh, this sounds cool, I must have this!" to those who aren't keenly aware. Nonetheless, it's important to study more about what you're getting. It's fair to say that with some detailers, their $200+ basic detailing packages aren't that much different from a regular $20 car wash. This behavior isn't reflected across the whole industry, but still.
As you're being offered detailing services, ask the provider about what exactly goes on in each one of their packages. Does the basic package only include washing the outside of the car? Ideally, you want to opt for a package that offers numerous add-on services at once. A good all-rounder, in my view, includes washing the exterior, cleaning the interior, as well as the nooks and crannies in one.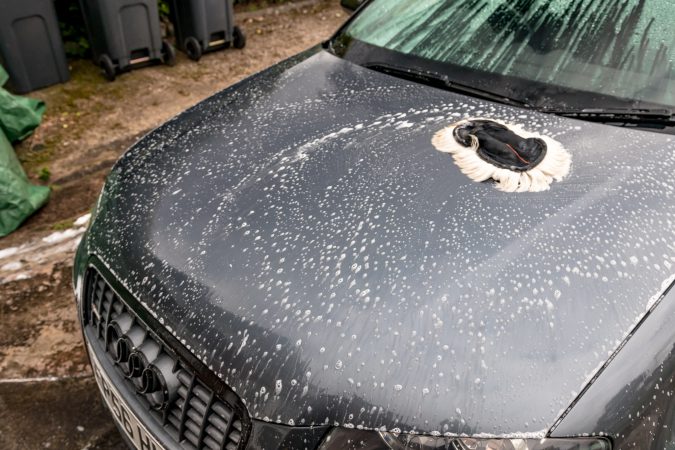 2. Check The Reviews
A good way to find out if these detailers are good at what they do is by checking out what their past customers have to say. If you spot comments left behind such as, "they scratched my car" or "missed a lot of the dirt", then that's a red flag for a detailing company. Go online to sites such as Trustpilot, or even Google Maps' built-in review system, and see what people are saying about these detailers.
3. Don't Cheap Out
Let this be a cautionary tale that getting the cheapest detailing job you can find is a terrible idea. It's worth reminding you that cost is a reflection of the service they offer. Skimp out, and you'll be stuck with a detailing company that works with subpar cleaning equipment, and a low-quality cleaning kit that could adversely affect the look of your car. This is one occasion where it's better to pay more.
Car Detailing Facts:
Car detailing is the process of restoring a car to like-new or better-than-new condition, both on the exterior and interior, by treating scratches, chips, cracks, aging, and wear, as well as washing away dirt, dust, and grime.
Exterior detailing primarily addresses perfecting and protecting the paint by removing scratches, correcting swirls and chips, repairing rust and oxidation, and applying a wax coating or upgrading to ceramic coating or PPF (paint protection film) for added armor against elements.
Interior detailing typically includes vacuuming, shampooing, and/or steam-cleaning the upholstery, carpet, and floor mats, leather cleaning and conditioning, interior glass cleaning, interior wipe-down for dirt and dust, and air freshening.
Professional car detailing costs around $160 on average, and companies typically offer different service packages that can range from $20 to $200 or more, depending on the size and condition of the car.
DIY car detailing can cost as little or as much as you're willing to spend, with endless options for cleaning compounds and tools such as car buffers and upholstery steamers, but it's up to you to determine how much your time is worth.
Car detailing is beneficial when done regularly, as it keeps your resale value up and can even keep you safer by improving visibility.
If you're debating whether to do it yourself or call on professionals, consider the following pros and cons, which point out that DIY car detailing can cost less, but professionals save you time and money on advanced services that need special detailing tools like paint correction and engine detailing.
True paint correction utilizes machines or sandpaper and can take extra time on top of the two to four hours it typically takes to detail a car's exterior.
Other exterior detailing steps include paint and trim touch-ups, exterior glass cleaning, headlight polishing, engine detailing, and tire cleaning.
DIY car detailing lets you prioritize the dirtiest parts of your car so you can choose to do a complete or partial detailing and clean up stains and scratches as they happen.
Final Thoughts On Car Detailing Cost
As you can see, car detailing cost is a mighty one to pay. Even if you have deep pockets, it shouldn't be something that you'll spend more than a couple of times of the year. For the rest of us, however, there's a (much) cheaper alternative. This being do-it-yourself detailing. You can find all-in-one kits sold on sites like Amazon for as little as $60. They include everything you need to get started.
Or, you can opt to get only those things you need. Say, some car wax, spray-on ceramic coating, all-in-one paint protection, tire and wheel cleaners, polishing compound, and so on. Altogether, and you can easily detail your car for less than $50. Maybe even get a high-quality steam cleaner for around $30. In all, car detailing cost doesn't have to be costly, if you're willing to put in the elbow grease.