One of the perks of getting a pickup truck is that you can carry plenty of stuff. However, before you can put your truck to good use, you may want to consider that the bed liner can easily chip. That is why you need a good DIY bed liner to keep everything in top form. 
In this post, we take a look at how a DIY bed liner can help you save costs as well as how to apply the DIY bed liner. 
For easier navigation throughout our post, feel free to make use of our table of contents below. 
Best DIY Bed Liner
Whether you like to take your pickup truck off-road or simply love to carry stuff, the bed liners are an important part of your trucking experience. 
For one, bed liners help to keep your truck bed safe from the elements including UV light, as well as from corrosion. 
Furthermore, getting the right bed liner can help absorb the impact of a heavy load on your car helping to keep both cargo and car in good shape. 
So, how do you pick the best DIY bed liner? Let's look at a few factors to consider!
1. A DIY Bed Liner That Is Durable
Any pickup truck enthusiast wants to keep the truck bed in good shape for many years into the future. The last thing you need is for the bed liner paint to chip off, flake, or come off. 
Many pickup truck owners use their trucks year-round and often carry loads that could damage the truck bed. It makes sense therefore to get a DIY bed liner that is durable and tough. 
Simply put it should protect the truck bed from corrosion, the weather as well as heavy loads. 
2. Protecting The Liner
Every once in a while you will need to manage the bed liner. This is to be expected if you have a pickup truck. 
Many truck beds liner will feature anti-skid properties. They are also expected to resist the elements, especially water. 
If you are carrying a sensitive load, you may want to get yourself a retractable bed liner. 
3. Adhesion
Another major feature to watch out for and one that also adds to the durability of a bed liner is the adhesiveness of the bed liner. Basically, you want to go for a bed liner that adheres closely to the truck bed. 
Keep in mind that a thinner product will be easier to damage than a sturdy one. So watch out for consistency as well as adhesion. 
4. The Color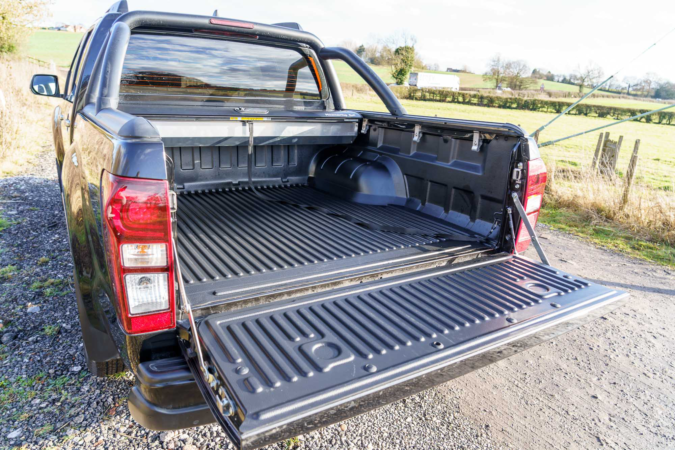 Often when you choose a color for your DIY bed liner, this often has to do more with the aesthetics that you are trying to achieve. You can choose from a variety of many different colors to suit your taste. 
Many colors can easily be tinted giving you plenty of margins to explore your creativity. That said, you always have the option of letting a professional handle things. 
5. Get A DIY Bed Liner That Is Simple To Use
You want to go for a DIY bed liner that is simple to use and comes with a brush set or spray gun. This is especially a good idea for those who aren't interested in spending extra on a spray gun. 
The instructions should also be simple to read and follow. Also consider, depending on the capacity whether you prefer going for a roll-on kit or a spray kit. 
6. The Quantity Of DIY Bed Liner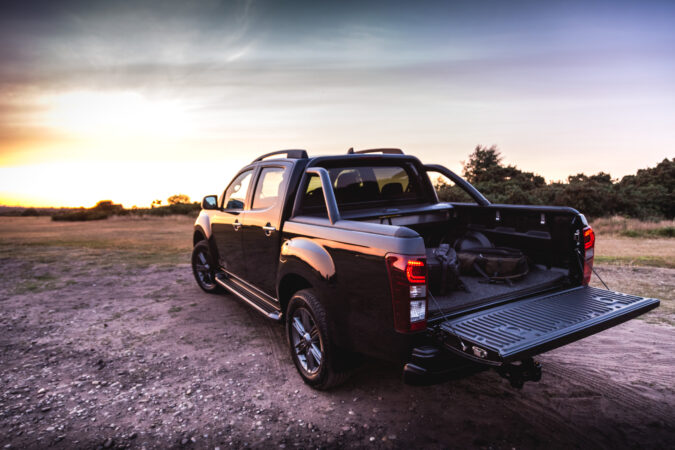 Always ensure you choose the right quantity for your truck bed size. Luckily most manufacturers will provide surface area coverage on the product. 
But the surface area is just one of the elements to consider when it comes to quantity. You also want to see how the thickness applies. Thicker bed liners also mean a higher quantity. 
7. The Warranty
Finally, it is always a good idea to pick a product that comes with a warranty. Even better lookout for a "no questions asked guarantee".
This can prove useful if there are instances when there are issues with the accessories or the paint. Simply put you get a better bang for your buck. 
DIY Bed Liner Kit
So we've looked at the main factors to consider when buying a DIY bed liner spray. But how about the DIY bed liner kit?
A Spray Gun
A DIY bed liner kit that comes with a spray gun and regulator is much easier to use and results in a faster application. That said, you often require an adapter that lets you hook the spray gun to the compressor. 
The good thing is that these are cheap and easy to find. 
The Quantity
Of course, you want to get a DIY bed liner kit that comes in the right quantity to cover your truck's bed.
Different Colors
The DIY bed liner kit should offer you the choice between a black coat which in this case you will only require a hardener. 
You should also have plenty of variety in colors to help you choose one that matches your vehicle. 
DIY Bed Liner Spray
So, you are far better off taking your truck to a professional for a spray on bed liner application. However, if you think you are up to the task, then there is no reason why you cannot apply the spray on bedliner yourself. 
Often the most work is at the beginning where you need to prep the truck bed for the spray. 
Keep in mind also that there are many bed liner spray kits available. Some come in a can that may or may not feature a spray gun. Some are tintable allowing you to match your car's exterior color while others such as the black version, only need a hardener. 
Always ensure that before you apply a bed liner spray you have the right protective gear which includes a mask and gloves. 
Step 1: Surface Preparation For DIY Bed Liner
This is the most crucial part of the entire bed liner application process since if done the wrong way the spray will not stick to the truck bed. 
You may want to take your car to the car wash to clean surface dirt and debris. You may also want to use a grease remover to remove any wax or grease. 
Use 150-grit sandpaper to scrub the entire surface of the truck bed. It is not necessary to sand down to the metal unless the surface is rusty. All you need to do is to sand down to the shiny paint.
If it is a rusty surface, you will need to sand down to the metal and then use a primer. 
Having thoroughly cleaned the surface, use an auto body tape to mask the surfaces that will not get the bed liner. 
Do a final cleaning to ensure the surface is clean. 
Step 2: Mixing The DIY Bed Liner
If you bought the black bed liner spray kit then all you will need to do is to add the hardener. Follow the instructions on the spray bottle to do this. 
Close the bottle and give it a thorough shake. Keep in mind that now that you have added the hardener you will need to apply the bed liner in 15 to 20 minutes.
If you bought the tintable kit, you will need to add the color and shake as above. Next, you will screw the spray gun onto the bottle top. 
Step 3: Spraying The DIY Bed Liner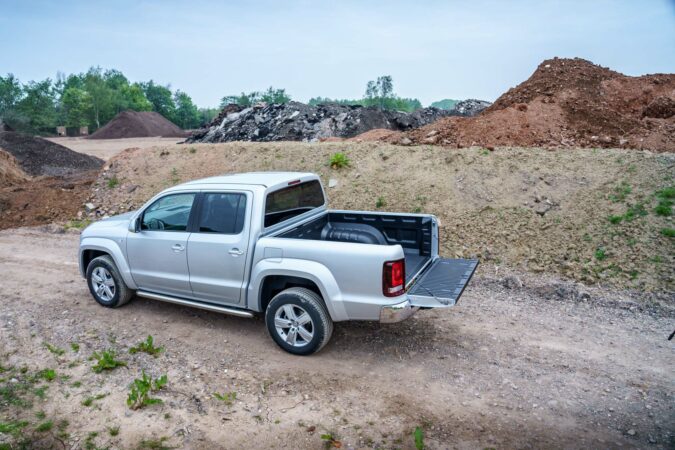 Start by testing out the spray gun on a surface such as cardboard to get a feel of how it works. 
Having done this connect the spray gun to a compressor and then set your ideal pressure. Often this is between 40 PSI and 60 PSI. 
keep in mind that the higher the PSI the thinner the application. Test again on a rough surface to get a feel of how the spay gun is working and then make the application on the truck bed.
It is advisable to apply a thin application instead of a thick one at once. This way you can prevent the spray from running and creating an uneven surface. 
Repeat the process until you have achieved your desired application and thickness. 
Step 4: Finish
After the application, you can now peel off the tape. Always remove the tape before the spray dries out to prevent tearing. 
Do not worry if the bed liner doesn't match the color of your car. This should happen once it is fully dried. 
Roll On Bedliner
Unlike the spray on liner, which can prove a bit tricky for the untrained hand to apply and often requires the expertise of a professional, a roll on bed liner is simple to install. 
Plus you get to save the money you would have otherwise spent on a professional. 
Let's find out just how you can install a roll-on bed liner yourself. 
Step 1: Choose Your Ideal Roll On Bedliner
When it comes to choosing a roll-on bed liner, you have several options. The major brands include Dupli-Color, Herculiner, and Rust-Oleum. The great part is that these brands are also easy to find in most auto parts stores.
After choosing your brand, you will also need to decide on which formula you want to use for your vehicle's truck bed. There is the water-based formulation, solvent-based single-stage formula, and solvent-based two-part formulation. The water-based formula is the cheapest option but may not offer the level of durability that you get with the two-step formulation.
Finally, choose a quantity. Often a gallon should be enough for you to apply two coats of bed liner on most trucks.
While you can purchase a roller and brush separately, it is advisable to use the roller that comes with the manufacturer's kit as it is more suited for the application.
Step 2: Prepare The Surface For DIY Bed Liner
It is important to ensure that the truck bed is in a good condition to receive the roll-on bed liner. This will require you to take out the tailgate. 
Remove any dirt and debris off the truck bad as well as out of the surface of the tailgate. Also, ensure that the drain holes are also clear. And that they are not clogged. 
Use a strong TSP (trisodium phosphate) solution mixed with water to clean the surface of the tailgate and the truck bed. This will help take out any petroleum, oil, or wax residue. 
You may also find that you need to also scrape the surface using a combination of a scraper and chemical remover. 
Use clear water to rinse off the surface and allow it to dry. 
Step 3: Use A Painters Tape To Mask

 
Take a painter's tape and use it to mask the areas that will not get any bed liner. This is especially near the tailgate and behind the truck bed. 
While applying the tape, make sure to press it down allowing it to stick neatly and tightly to the surface. 
Also, ensure that the drain holes are properly sealed using either the painter's tape or using weather stripping. 
Step 4: Scuff The Surface
Now it's time to scuff the surfaces that have paint as well as remove any surface rust. This will help ensure there is a tight and secure bond. Make sure that there aren't any glossy areas. 
For the rust, you can use 150-grit sandpaper and sand it down to the metal. Having done this, blow away the rust and dust and then wipe the surface again with a moist cloth. 
Next, apply a rust sealer on the metal surface.  Allow it to dry. 
Step 5: Do A Final Wipe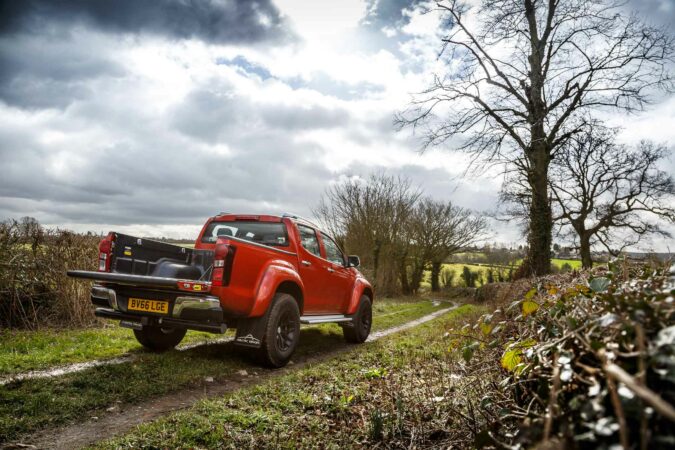 You can use acetone to wipe off the truck bed area. Keep in mind that acetone can be dangerous so always wear a respirator as well as gloves. 
Begin with applying and spraying a small amount of acetone from the front of the truck bed. Use a towel to wipe it off and move towards the back of the truck bed and ensure that you clean the whole truck bed area. 
Step 6: Brushing
Take the bed liner paint, open the can and use a power drill to mix thoroughly. If you are finding the mixture too thick, you can thin it out using xylene by down to 10 percent. 
Stir the mix as you continue to apply. This ensures that it doesn't thicken when left sitting. Also start by applying the corners and the seams with a dabbing motion. 
Step 7: Roll On The DIY Bed Liner
Having covered the seams and the corners, use the textured roll cover that comes with the kit and apply at the front and sides of the truck bed. 
Next, move over to the tailgate and then to the truck bed itself. Then apply another coat along the edges of the tape. This ensures that when you remove the tape it doesn't tear the application. 
Use a small brush in case you've noticed any areas that you've missed out. Place the brush in a plastic bag. This prevents it from drying as you will need to apply a second coat once the first coat has dried up in around six hours. 
When you notice that the first application is not tacky after touch, it's time to apply a second touch. Throw away any materials and chemicals that remain in the trash. 
Spray In Bedliner Cost
Compared to other types of bed liners such as roll-on bed liners, drop-in bed liners, and sometimes even dual liner bed liners, the spray in bed liners come with the largest price tag. 
They cost anywhere from $300 to $900 depending on the brand. Compared to roll-ons and drop-ins which you can easily install yourself, it is advisable to seek the services of a professional when dealing with spray-in bedliners. 
This is because they can offer a more permanent solution when installed the correct way. On the flip side, they may not last for very long if they are not properly installed.
In fact, having done a wrong spray in, you will find it a complete headache trying to remove it and respraying it. 
Also, note that spay in bed liners can be prone to gauging and damage from heavy loads. They are also prone to damage from UV radiation. Furthermore, you will also need to do touch-ups after a couple of years to keep the bed liner in good condition.
To get an overall clear picture of the cost of a bed liner, you may need to consider the initial cost plus up to three touch-ups in ten years. From this angle, it is clear that the cost goes up significantly. 
Problems With Spray-On Bedliners
Spray-on bed liners are among the more popular choice DIY bed liners among truck drivers. The reason for this is that spray-on bedliners are cheaper than other types of bedliners.  
But are they worth the time and money?
Some common problems that arise with spray-on bed liners are: 
1. Health Issues
Let's begin by pointing out the elephant in the room which is that it is easy to be exposed to toxic fumes from the spray-on bedliner. 
This can cause serious health concerns from the MDI (methylene diphenyl diisocyanate). This can cause issues that range from respiratory problems to eye damage.
To mitigate this problem it is critical to always use the right protective gear. 
2. Discoloration
Another major issue with spray-on bedliners is that you are likely to run into discoloration. Different brands come in different levels of quality and are not all created equal. 
For instance, different brands will feature different levels of thickness or UV protection. Sometimes that DIY spray-on bed liner can become discolored with time. 
3. Short Term Solutions
Polyurethane is the main component in many spray-on bedliners. One of the major advantages of polyurethane is that it is flexible. However, it is not as durable as bedliners made from polyurea for instance. 
4. Improper Application Of DIY Bed Liner
There are several things that could cause the application of a spray-on bed liner to not go as planned thus providing less than ideal results. 
Not installing the bed liner using proper technique and procedure is a major reason why many fail to offer sufficient levels of truck bed protection. For instance, it is crucial to clean the truck bed and take out any dust and debris before applying the bed liner. 
You also need to ensure that the surface of the truck bed is free of rust. 
DIY Truck Bed Liners Facts:
DIY truck bed liners can save you money and protect your truck bed from scratches and dings while loading and unloading cargo.
Rust-Oleum Truck Bed Coating is a cheap option, but it may not be the most durable one.
Herculiner Truck Bed Liner is a rough-textured formula that provides a shiny finish, and it is easy to use.
Custom Coat Urethane Spray-On Truck Bed Liner is a pricier option that includes everything you need to achieve a factory-like finish.
Liner Xtreem Spray on Bedliner Kit With Gun is expensive, but it is enough to bed line multiple trucks at home. It requires a careful mixing of the chemicals before applying.
Raptor Coat Do It Yourself Truck Bed Liner is cheap, easy to apply, and comes with 4 liters of bed liner, which should be enough to cover the entire bed of your truck.
The Rust-Oleum truck bed coating can be sprayed, rolled, or brushed on the bed and takes a few days to fully cure.
Buyers of Custom Coat Urethane Spray-On Truck Bed Liner report that the application process is very easy, but the surface needs to be prepped beforehand.
The Herculiner and Raptor Coat DIY truck bed liners are popular choices for many people due to their affordability and good results.
It is important to do more research to determine which of these products best suits your needs before making a purchase.
Frequently Asked Questions
Here are some popular FAQs:
What Is The Best Diy Bed Liner
The spray-on DIY bed liner is the best. While it often requires an expert hand to apply, done correctly it can last a long time. Often it only requires touch-ups every 3 or so years. Other bed liners such as the roll-on or the drop-in bedliners may be easy to apply but they are not as durable. 
How Much Is A Spray In Bed Liner
The cost of a spray-in bed liner will come down to the type and brand. That said, spray in bed liners often cost from $300 and $900. Considering that you may need to do touch-ups every three or so years, then the cost can rise exponentially with each touch-up. 
How Much Does Rhino Liner Cost
The cost of the rhino liner is between $470 and $550. The rhino linings for instance cost around $499 while the Zeibart Rhino linings cost $553.
How To Remove Rhino Liner
Ensure your truck is parked in an area that is well ventilated. Using a garden sprayer, coat the truck bed with a tal-strip solution and let it sit for 30 to 45 minutes. Scrape off the bed liner from the truck bed. Finish off by spraying the truck bed with a hose to remove the solution. 
How Much Does Linex Cost
How much you will spend on a linex spray-on bed liner often depends on where you buy it. That said, the prices often range between $600 and $700. Keep in mind also that you will need to do touch-ups after a few years.