Are you considering getting yourself a fast cruiser motorcycle as a gift and do you want to learn what are the fast cruiser motorcycles? If that is the case you came to the right place because we are going to cover everything when it comes to fast cruiser motorcycles.
Getting a motorcycle is probably one of the best investments in your life. Especially if you are a motorhead and an adrenaline junkie. If this is the case, the fast cruiser motorcycle is probably the way to go. Because these motorcycles are going to deliver the performance you desire as the comfort while driving the bike in the traffic. With this bike, you will be the fastest guy around.
But when it comes to speed, you shouldn't always take everything for granted and think that you can drive like a maniac. Since these bikes are some hefty machinery and require some experience to be driven as they were meant to. That's why if you get one for yourself. Make sure that you move step by step and don't rush it out. Because the consequences can be pretty big. But you shouldn't worry because we are going to cover everything.
In this article, we are going to learn everything you need to know when it comes to these types of motorcycles. We are going to learn what are fast cruiser motorcycles and their characteristics. Then we will learn what to consider before getting a bike. Then we will see what are the top fast cruiser motorcycles and the average cost to get one. So, let's get started.
What Are Fast Cruiser Motorcycles?
Fast cruiser motorcycles are motorcycles that are designed for a comfortable ride. Unlike sport bikes that are designed to catch corners on the racetrack, the cruiser bikes as their name imply mean to cruise at a good speed level.
If you want the speed that sport bikes offer and the comfort of the ride that other slower bikes are offering. Then the cruiser motorcycle is the right option for you if you have the budget.
The motorbike market has changed considerably in the past few years. But the cruiser motorcycles are still one of the top picks when it comes to people that want a casual weekend ride or to fill up their empty parking lot with an extremely gorgeous piece of machinery that will make everyone that passes by full of envy.
But cruiser bikes do not that only look good. They also drive really good as well. When it comes to the cruiser bike market, there is an offer for everyone out there. Slow bikes with a low amount of power, something in the middle, and also some really fast cruiser motorcycles. It is up to you to buy what you desire.
If you have that spark in yourself, you probably want a speed demon for yourself to enjoy. And I understand you, that's why we are dedicating the whole article to the fast cruiser motorcycles. But be aware that if you don't have the experience, these bikes might not be right for you. When driving a bike, the best is to start from something slower and move up to the ladder.
But what are the characteristics of fast cruiser motorcycles? How to distinguish them from the bunch? Well, we are going to learn that and more in the next chapter.
Characteristics Of Fast Cruiser Motorcycles?
Cruiser motorcycles have a completely different design compared to sport bikes or scooters. That's why they are somewhat unique and many people crave them.
The seating position of the cruiser bikes is low and the seat is wider than other bikes. Making them extra comfortable to drive around at long distances.
Cruiser motorbikes are modeled after some American brands like Harley Davidson that bring that chopper design. But unlike choppers, cruiser bikes bring that low seating position but have a shorter front fork and they are quite more compact compared to Harley's.
They bring that retro-futuristic design that is extremely appealing and personally, I've never seen someone be indifferent when it comes to these bikes. They always get the attention. Especially the fast cruiser motorbikes because everyone wants to have the best for themselves.
Nevertheless, as we said the driver seat is very wide and comfortable because these bikes were designed with comfort in mind. The feet of the driver is pointed forward and the hands are held in a neutral position. These bikes are having larger handlebars than regular bikes and they also have some protection for the hands and make sure that the wind doesn't affect the driver.
Even though, this option depends more on the model that you plan to purchase since not all of them have the same specs. More modern fast cruiser motorcycles don't even have a wind protector at all. They are just designed to go fast and deliver the performance. That's why, if you plan to drive your bike on long distances, you should consider these options, because wind protection will help you remain fresh on those long drives across the country.
But what are the fast cruiser motorcycles? Well, we are going to cover that later, first let's see their history.
Configurations Of Fast Cruiser Motorcycles
Since motorbikes were firstly introduced at the beginning of the 20th century, they have quickly evolved and changed shapes. Motorcycles became more and more sophisticated and built with the goal to deliver the best performance out there.
And they did so, they have outpaced cars fairly quickly and the first speed machines were in fact motorbikes that were run on the salt lakes. Namely, the Indian that was released in 1907 was the first V-Twin model. Then Harley followed with their model of the V-Twin design.

This V-Twin design is one of the most typical designs out there when it comes to cruiser motorcycles. But what is the V-Twin?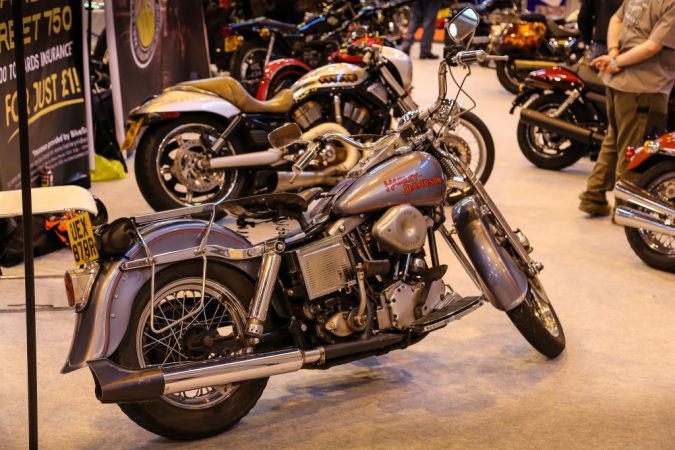 The V-Twin is an engine design. This design can also be called V2 since there are two pistons in V formation. Similar to gas-powered car engines that come in configurations of V6, V8, V12. You get my point.
Even though today exist more powerful engines for bikes like the inline 4 or V4 configurations. The V-Twin is still a popular choice if you are after that classic feel. That's why if you are after a fast cruiser motorcycle, this might be the configuration that you are after.
There are also other motorcycle makers that are trying to emulate this configuration in order to gain some traction in the US market. Namely, the Japanese manufacturers like Honda, Kawasaki, and Yamaha. All these motorcycle makers made their own variations of the cruiser motorcycle.
And these as also fast cruiser motorcycles as well. But which are the models? We are going to cover that. Let's first learn what you need to consider before getting one for yourself
What To Consider Before Buying One?
As we mentioned, cruiser bikes are sitting low. By doing this they are sacrificing some of the suspension travel for this low seat position. So, if you ride over bumps, you are going to experience a bumpy ride.
Sitting low can also impair your visibility in traffic. This can be somewhat dangerous because you will not be able to see much of what is going on in the front.
Another problem with the low chassis height is the limited clearance while cornering. Fast cruiser motorcycles cannot lean so low like sport motorcycles. Making their cornering ability extremely poor. If you try to lean too much, there is a high chance that the motorcycle will want to slide and make you lose control.
This situation can have some fatal consequences if you are not experienced. Because most experienced drivers know the limits of the motorcycle and how much they can expect from it. That's why cruiser bikers were not designed with performance in mind. Even though there are some fast cruiser motorcycles that are on the market. But I wouldn't recommend some of them if you are not that experienced.
But which are the fast cruiser motorcycles? Well, we are going to cover that in one of the next chapters where we will discuss our top picks when it comes to these performance machines. But first, let's learn the types of cruiser motorcycles.
Types Of Cruiser Motorcycles
There are a few types of cruiser motorcycles out there and in this chapter, we are going to cover them in detail. It is good to know the subtypes of this class in order to find the one that fits you best and will check all the items on your checklist.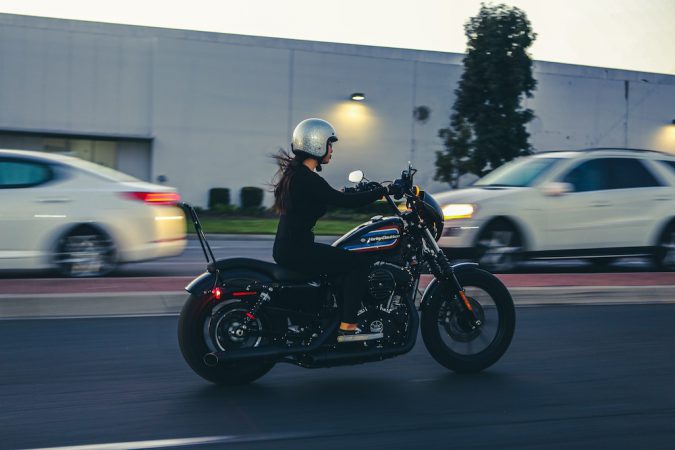 Entry Level Cruisers
The entry-level as their name implies are the entry-level motorcycles in this segment of cruiser motorcycles. These motorcycles have smaller displacement engines that are less powerful compared to other motorcycles that have beefier engines.
These motorcycles are perfect for beginners who want to enter this segment and then move up on the ladder.
Tourer Motorcycles
Tourer motorcycles as their name implies are motorcycles that are intended for long trips. These bikes usually are packing high-powered engines and are very heavy compared to other fast cruiser motorcycles.
This is necessary because they have the compartments to place your luggage and also the windscreen protection that will guarantee that you will not lose your stamina on long-distance trips.
Bagger Cruiser Motorcycles
Baggers are similar to tourers but they go even further. Packing even more powerful engines and also more places for luggage. They are also equipped with commodities like cruise control, infotainment system, and heated grips.
Making them extra comfortable for long-distance trips and extremely stable on the road. Especially if you load them properly on both sides. They will drive like on rails.
Hyper Cruiser Motorcycles
The hyper cruiser class, as the name implies is the top of the line. Or crème de la crème as they would say it in French. These bikes are the fast cruiser motorcycles that we are discussing.
They pack the most powerful engines along with top-of-the-line craftsmanship. Which adds to their price. And they can be really costly, nearing the cost of a well-equipped family saloon. But which are the fast cruiser motorcycles? We are about to find out in the following chapters.
Top Fast Cruiser Motorcycles
We covered the basics when it comes to cruiser motorcycles and we learned quite about them and their characteristics.
Now it's time to take a look at what is there on the market when it comes to fast cruiser motorcycles. So, let's dive into our list of these speed machines.
Yamaha V-Star 250
If you want to start from somewhere and for a good price. But you still looking after fast cruiser motorcycles. Then this Yamaha is probably is the right option for you.
This Yamaha is one of the top picks for entry-level riders that want to start from somewhere. It is packing the V-Twin engine design and has two cylinders that make the fast cruiser motorcycles famous. This engine has 21 horsepower and 15 lb of torque. It delivers an excellent fuel economy of around 75 mpg and has a top speed of 86 mph.
This motorcycle has a 27-inch seat height and is perfect for people that want to sit low. It is also quite light, weighing only 235 lb.
It is also one of the most affordable motorcycles on our list. Costing only $4,499.
Kawasaki Vulcan S
The Kawasaki Vulcan S will probably be one of your top picks if you want to get that fast cruiser motorcycle for yourself. This motorcycle does not only offers that cruiser feels and looks but also offers quite more on the table. This motorcycle is extremely sporty because it has a similar engine to the Kawasaki Ninja.
Namely the 650cc engine which is a DOHC design. Quite different compared to other V-Twin designs on the market. But this means that this engine is more modern and delivers quite more power on the table. And how much?
This engine is rated at 60 hp and 46 lb of torque. It is quite heavier than the Yamaha V Star, weighing 498 lbs. The cost for the Vulcan S is around $7,200.
Indian Scout Bobber Sixty
A list of fast cruiser motorcycles would not be complete without the Indian. This Indian is one of the best motorcycles out there for the ones that are stepping into the game.
This motorcycle is equipped with a V-Twin engine and is rated at 61 cubic inches of displacement. Making 78 hp in the process and producing 65 lb-ft of torque. Which is plenty for its purpose. It is also liquid-cooled which is also a bonus. This will make sure that your engine never overheats on those long journeys across the country.
Not to forget the aluminum frame that is quite modern and lightweight. And on top of all, it looks amazing. You could snatch one for a good price too. It costs around $9,000.
Triumph Bonneville Bobber
If you are on the market for a bobber type of fast cruiser motorcycles and want something British, then this Triumph motorcycle is the way to go. This is the case because this motorcycle offers that low seat position and gives that feeling of low center of gravity that everyone wants.
This motorcycle unlike others implements a different type of design that looks extremely classic and resembles the motorcycles from the past century but with tasteful modern touches that make the Bonneville the perfect motorcycle for yourself.
It is equipped with a 72cu engine that is liquid-cooled and implements a single overhead camshaft design. This engine produces some good numbers. More precisely, 77 hp and 78 lb-ft of torque. It weighs 502 lbs and is quite heavy. This motorcycle costs around $12,000.
BMW R18
BMW has also had its own take on the fast cruiser motorcycles. Namely, the R18 that we are going to cover now. This motorcycle is the pride of BMW's Motorrad division. This motorcycle is based on the BMW R5 that was raced in 1936. But this motorcycle is quite new, 2020 model to be more exact.
This motorcycle implements one of the most powerful boxer engines that BMW ever produced at a whopping 110cu of displacement. It produces more than 90 hp and 11 lb-ft of torque. The BMW R18 also has a 6-speed transmission and it is equipped with slotted rotors at the back and at the front.
It is quite heavy, weighing 760 lb. It has a good fuel consumption though. 50 mpg. But it will cost you quite a bit more money compared to other motorcycles, coming at a price of $17,500.
Yamaha VMax
Now we slowly enter the hyper-fast cruiser motorcycles category. Namely with the VMax which is a mean machine equipped with 102cu or 1.6l V4 engine that is making 200hp. Equipped with a 5-speed transmission.
This motorcycle has a retro-futuristic styling with all blacked out design that looks extremely nice. Since it is a V4 it also has a dual exhaust that sounds like nothing else on the road. Since it is a big displacement engine. The VMax is also quite thirsty but still achieves to get 34 mpg. And it's also quite heavy, weighing around 579 lbs.
It is in production since 2009 which means that you could get one for a good price. Or if you want to get a brand new bike. It's going to set you back around $18,000.
Harley Davidson Low Rider S
When it comes to cruiser motorcycles, we cannot ignore Harley Davidson and their offering. Since they are one of the first companies that started this fast cruiser motorcycles craze. More precisely, their Low Rider S.
This cruiser motorcycle comes equipped with a Milwaukee Eight 114 V2 engine that comes air-cooled. This engine has 107cu displacement or 1.7 liters. It implements a SOHC head design. The power numbers for this engine are 93 hp and 114 lb-ft of torque. Which makes this engine extra snappy when accelerating.
The engine of the Harley makes sure that the weight of 679 lbs is not that noticeable. This motorcycle will cost you around $18,000.
Ducati Diavel 1260
Now let's move to something European. More precisely the Diavel 1260 was made by the Italian producer Ducati. This motorcycle takes everything from the cruiser idea of a motorcycle and fine-tunes it to perfection. The Ducati Diavel is an aesthetic masterpiece and it looks like nothing else on the road.
This motorcycle is equipped with an extremely powerful liquid-cooled L-twin engine that implements 4 valves per cylinder. It has a displacement of 1,261cc which is not a lot compared to some of the motorcycles that we previously covered. But its horsepower numbers are quite high, making around 159hp and 95 lb of torque. And is equipped with a 6-speed transmission. This makes the Diavel on the top of our list of fast cruiser motorcycles that are out there.
It is also quite light, weighing only 538 lb. It has a fuel capacity of 4.5 gal which is quite enough to take you wherever you desire. The average cost for the Diavel is somewhere between $20,000 to $21,000. Which makes the Diavel, one of the most expensive motorcycles on our fast cruiser motorcycles list.
And if you want something special and you have an unlimited budget, this will be the way to go if you want to have the best for yourself.
Fastest Cruisers: Top 10 Muscle Bikes by 0-60 Time
The focus of the article is on the 0-60 times of cruisers, which are often thought of as comfortable but slow.
The list includes cruisers that are often considered muscle, power, or sport cruisers and have been stripped of touring weight and accessories.
The Moto Guzzi California 1400 Custom has a 0-60 time of 3.70 seconds and is a pared-down version of the California 1400 Touring.
The Suzuki Boulevard M109R B.O.S.S. has a 0-60 time of 3.65 seconds and is known for its grunt and power.
The Yamaha XV1900A Star Raider has a 0-60 time of 3.6 seconds and is a stripped-down version of the Star Roadliner touring bike.
The Harley-Davidson VRSCA V-Rod has a 0-60 time of 3.59 seconds and was created from the VR-1000 Revolution engine, a prototype for a super-cruiser bike.
The Honda Gold Wing Valkyrie has a 0-60 time of 3.4 seconds and is a muscle cruiser version of the popular touring bike.
The Triumph Rocket III Roadster has a 0-60 time of 3.3 seconds and is the largest, most powerful cruiser from Triumph Motorcycles.
The Livewire ONE has a 0-60 time of 3 seconds and is the first offering from Livewire, which is now its own brand.
The Triumph Rocket 3 R has a 0-60 time of 2.75 seconds and is the second generation of Triumph's Rocket III.
The Ducati Diavel 1260 S has a 0-60 time of 2.6 seconds and has a power-to-weight ratio of 0.33hp per pound of weight.
The Yamaha VMAX has a 0-60 time of 2.5 seconds and is the fastest cruiser, with almost exactly 200hp of mechanical horsepower.
Conclusion – Fast Cruiser Motorcycles
In this article, we covered quite a lot when it comes to fast cruiser motorcycles. We learned the basics of what cruiser motorcycles are and what are their main characteristics.
Then we have covered the history of these types of motorcycles and learned from where they originate. We also covered the types of cruiser motorcycles. As we mentioned, there is an entry-level class that is intended for the people who want to get into the motorcycle world, and they are the other classes that are more powerful and better equipped.
Lastly, we have covered our list of top fast cruiser motorcycles. In our list, there is an option for everybody. Starting from $5,000 and up until $20,000. It depends much on your budget and how much you want to spend on your future motorcycle.