Mazda is synonymous with many things. Be it the oh-so-weird Wankel rotary motors of yesteryear, or their simplistically beautifully designed and fun-to-drive nature. Personally, I've associated Mazda as the maker of the best red paintwork I've seen this side of Ferrari's Rosso Corsa. But they're also well known for their performance, as the already long list of the fastest Mazda cars is ever-expanding.
During the horsepower wars in the 80s and 90s, Mazda had their first taste of absolute speed, and they kept at it. While they don't have any record breakers today, its history is littered with smashed lap times, and mountains of shredded tires. So, just what are the fastest Mazda cars to have ever existed? Well, let's take a deep dive into the fastest Mazdas to have graced our sweet tarmac…
What's The History Behind The Brand?
As we take a peek at the fastest Mazdas, it's a great opportunity to look into the back catalog of the brand in question. Mazda is one of the oldest carmakers in Japan, with its foundations having been set in stone in 1920. With that being said, they didn't start out making vehicles. Back then, it was making… Corks. Rather quickly though, Mazda went from corks to creating machines and tools.
Finally, in 1931, Mazda made their first motorized vehicle, a powered rickshaw. This was a modest success, as the company gradually dipped its toes into four-wheeled transportation. Following the end of the Second World War, Mazda swapped pace once more. From the Arisaka Type 99 rifle, they now had their stamp on the first Mazda-branded car in 1960, the R360, which was sold as a Kei car.
Right around the same time, Mazda became intrigued by the West German NSU Ro 80 and wanted to make their own Wankel rotary car. Mazda sought to use this as a marketing tool to say, "Hey, we can be different from other Japanese automakers". Working alongside NSU, Mazda unveiled what is their very first sports car, and the genesis of the fastest Mazdas, the Mazda Cosmo Sport, in 1967.
It was made in limited numbers, and by all accounts was Mazda's halo car to show off what it could do. Note that at the time, Mazda was still selling cars under the Eunos name. With the birth of the Cosmo, Mazda became the only car manufacturer using Wankel-type engines. This PR stunt was a smash hit, and brought attention to Mazda, as they began exporting cars around the world.
How Did Mazda's Rise To Making Speedy Cars Begin?
Mazda was the proprietor for many speedy cars. After they got into a spot of trouble during the Oil Crisis of 1973, Mazda had a rethink. Rather than using the Wankel rotaries for ordinary passenger cars, why not crank it out for out-and-out speed? This all began with the RX-7, a lightweight sports car, in 1978. They then created an even lighter and smaller sports car, the MX-5 Miata, in 1989.
Granted, the MX-5 was a conventional piston-type car instead of a Wankel. Mazda's commitment to chasing haste above all thus led them handily into motorsports. Their racing excursions started quite early on, with a pair of Cosmo Sport 110S cars taking part in the arduous 1968 84-hour Marathon de la Route endurance race at the Nürburgring. One of them, at least, finished in fourth place.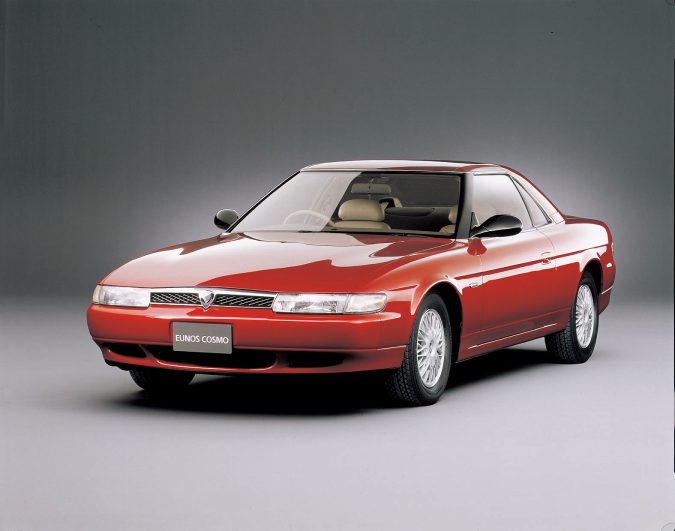 The first Wankel-powered car to win a race was in the US in 1973. The winner was a tuned-up RX-2 in that year's IMSA RS race. In 1976, another Cosmo won 18th place in the 24-hours of Daytona. A series of wins followed all the way to the 90s. In IMSA, Mazda's RX-2, RX-3, and RX-7 dominated all the races, culminating in its 100th win in 1990, and clinching its 10th consecutive win at Daytona.
Mazda's most iconic race car is undoubtedly the 787B, a four-rotor monster that won the 1991 24-hours of Le Mans outright. It remains to this day, both the only rotary and the first Japanese brand to have won at Le Mans. Other prototype cars, such as the 757 and 767, repeated Mazda's victories for the decade that followed. Mazda now has several one-make racing series of their own.
What Are The Fastest (Production) Mazda Cars To Have Ever Drove?
As you can see then, Mazda is a long-time investor in the art of pace. We've written up not too long ago a list of the fastest Toyotas, and even they didn't have as much early exposure to motorsports. While the brand is sadly more conservative these days, without the hair-raising horsepower or fiery rotaries, that doesn't mean they've forgotten about their past in making the fastest Mazdas.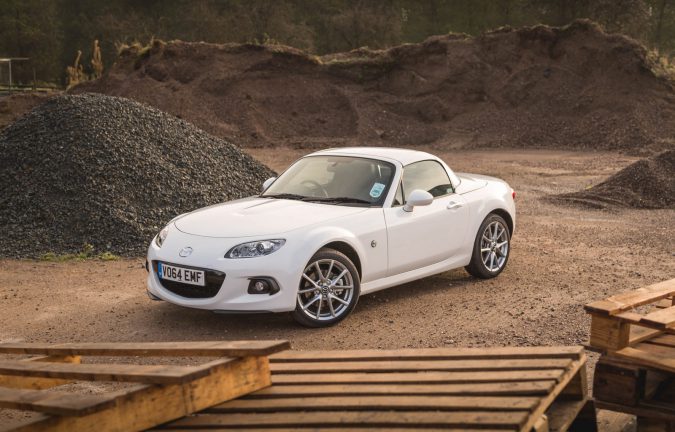 If they did, then let's send them a warm and wholehearted reminder of the fastest Mazdas to have graced God's green tarmac. Just so we can keep the list more or less down to earth, we'll restrict it to mainly the production cars, but we may touch on the modified homologated race cars. And, our measurement for what "fast" means will be determined by its 0 to 60mph acceleration times.
10. 2016 Mazda CX-9 – 0-60mph In 7.4 Seconds (Fastest Mazda SUV)
Didn't expect a gigantic three-row family SUV to be on this list, eh? But indeed, and perhaps it's a bit of Mazda's performance-y past coming into play here. Many reviewers and journalists happily call the CX-9 to be one of the most enthusiast-focused in its class. Performance is courtesy of its typical 2.5-liter inline-4. 250hp is just about adequate, given that we are talking about a 4,400lbs porker.
Nevertheless, it has standard all-wheel drive, and the CX-9's 310lb-ft of torque is plenty to haul this SUV into the mid-7 seconds 0-60mph range. That's more than respectable, and you still have plenty of space for kids in the back, as well as your weekly grocery shopping. Ferrying 7 passengers around in turbocharged heaven is made all the better by its relatively compact dimensions for a big SUV.
The engine too, compared to the outgoing Ford-built V6, shaved a few pounds off its mass. The top end of the CX-9's powerband peaks at 5,000RPM, and it'll keep screaming until it redlines at 6,300. The CX-9's most noticeable achievement, however, would be delivering that power down low, with a diesel-like grunt at just 2,000RPM. As tiny as this engine may be, never underestimate its power.
9. 2012 Mazda MX-5 Miata Grand Touring – 0-60mph In 6.6 Seconds
You can't have a list of the fastest Mazda cars without at least one MX-5 in it, can you? While their tiny sports car was mostly built for fun and handling supremacy rather than straight-line speeds, it doesn't mean that it can't manage the 1/4-mile. Of the many Miata variants and special editions made over the years, we've singled out 2012's Grand Touring, with a spirited 6.6 second time.
Power is produced by a rev-happy 2.0-liter inline-4, which makes just around 167hp and 140lb-ft of torque. While that doesn't sound like much, remember that the MX-5 is a featherweight at merely 2,555lbs. Keep it revving to 7,200RPM (if you know how to rev a car), and you can hear that chirpy little motor going. There are a few neat touches in this Grand Touring-spec Miata than a regular one to boost its racing creds.
It has a sporting set of Bilstein shocks, as well as a Torsen limited-slip differential to handle its rear-wheel-drive power. The manual gearbox is tight and precise, helping you in making every gearshift count. The steering too had been retuned to be as sharp as it can be, with brakes that can stop you on a dime. Better yet, the MX-5 can be easily modified, so you could no doubt extract more out of it.
8. 1986 Mazda RX-7 Turbo – 0-60mph In 6.6 Seconds
For decades now, the RX-7 represented the peak of Mazda's performance. While there will be RX-7s aplenty in this list, we thought we'd start off old-school first. Meet the 1986 RX-7, and its engine was barely even the most exciting thing about it. The turbocharged '13B' 1.3-liter rotary can very handily manage 182hp. On top of that is another 183lb-ft of torque, once you ring it up to 6,500RPM.
With a 0-60mph time of 6.6 seconds, this was blisteringly quick for a production car back then. This isn't taking into account the space-age tech that Mazda was building into the RX-7. The significant change compared to the earlier RX-7s was the inclusion of DTSS. That's short for 'Dynamic Tracking Suspension System'. It was, undoubtedly, one of the best passive suspension setups of its era. You can learn more in our guide on shock vs strut.
It's incredibly agile at lower speeds but is able to keep the car poised at higher speeds. The car stays steady, under hard braking or smoking accelerations. This is then paired with an ultra-sharp electric steering rack and active shocks that can switch firmness within microseconds. These early RX-7s are also quite slippery cars, with an aerodynamic efficiency of just 0.29cd – very low even for today.
7. 2011 Mazda RX-8 Spirit R Edition – 0-60mph In 6.5 Seconds
The RX-8 is the last car – at the time of writing, anyway – with a rotary engine. To be specific, it's the same, or roughly similar, 13B engine that went into the RX-7. With its suicide doors, the RX-8 is just as handsome and quirky as it was expensive to maintain. And, it drank through barrels of oil at a time, as with any rotary. It did have one consolation though, in that the RX-8 is a fast little machine.
That's especially so with the special, Japan-only Spirit R Edition. So, we Yanks would be hard-pressed to ever see Mazda's celebration of the RX-8 before it ended production in 2012. At its core, the 13B rotary is largely the same but has an ever so slightly faster 0-60mph time of 6.5 seconds. Moreover, a lot of the trim and accessories aren't all too different from the RX-8 RS, one of the later versions.
However, opting for one of the 1,000-unit production run Spirit R nets you a sports suspension and bigger brakes, as well as stickier tires. With either a 6-speed automatic or manual transmission, a few other neat goodies include Recaro bucket seats and special red leather stitching. Give it a stretch of road long enough, and all 232hp and 159lb-ft of torque will push the RX-8 Spirit R to a top speed of 140mph.
6. 2009 Mazda6 S Grand Touring – 0-60mph In 6.2 Seconds
Mazda's big family sedan, the Mazda6 S Grand Touring, is the epitome of sleepers. On the surface, there isn't anything to suggest that a lumpy and somewhat dull-looking four-door could manage a speedy 0-60mph time of just 6.2 seconds. You'd think it puts you to sleep, but oh no, Mazda's put in a lot more grunt than appearances would show. Under the hood, you'll find a massive 3.7-liter V6.
Power is rated at 272hp and 269lb-ft – far more than a sedan like this needs. Numerically speaking, it's about 1.8 seconds faster to 60mph than the regular 4-cylinder Mazda6. Power delivery is linear, without provoking the front tires to torque steer into oblivion. Alas, your only gearbox of choice is a 6-speed automatic, but you can shift it along manually. The Mazda6 is overall a comfy car to drive.
Yet, the chassis is taut and playful, with steering that's oddly sharp for a car in this class, and brakes that stop you well. The one big downside is fuel economy, which should be around the 20mpg mark. But who wouldn't want a muscly Mazda, even if you have to make more frequent fuel stops? This is one four-door sedan that you can unsuspectingly out-drag and outpace most other cars out there.
5. 2021 Mazda MX-5 Miata – 0-60mph In 5.7 Seconds (Fastest Mazda Roadster)
Mazda's cutesy little roadster is still with us today and represents the pinnacle of affordable fun on wheels. While it may have gotten porkier than its predecessors, the new MX-5 is still a compact car in today's world of huge SUVs. To compensate, Mazda's engineers have beefed up the engine a tiny bit. Its 2-liter inline-4 has been ramped up to product 181hp and 151lb-ft of torque. Small figures.
But even when jampacked with modern-day electronics and gadgetries, the new MX-5 is still a lithe 2,345lbs. It doesn't take a lot, therefore, for a sprint from 0 to 60mph, in just 5.7 seconds. Granted, the hardtop RF variant is a tad bit slower, at 5.8 seconds. As is the case with any Miata, the goal is chirpy and joyous handling in the corners, not straight-line speeds. With that in mind, it succeeds.
It has a limited-slip differential powering only the rear wheels, as the heavens intended. While you may opt for an automatic, the 6-speed manual is still the way to go. Given, of course, the rev-happy nature of that engine, to extract the most amount of power from its minuscule engine. The springs are a tad harsher, but they still keep the car composed when combined with the sharp steering.
4. 2007 MazdaSpeed6 – 0-60mph In 5.4 Seconds (Fastest Mazda Sedan)
The big 6 returns once more, but it's even faster now. Cue Mazda's skunkworks treatment to create the MazdaSpeed6. For all intents and purposes, it's a thoroughbred sports sedan (you could also check out our list of sedans with manual transmission and the best used manual transmission cars), although it wasn't as hard-edged as the Lancer Evo or Subaru WRX STI. Nevertheless, the MazdaSpeed6 can still sprint to 60mph in a respectable 5.4 seconds. Namely, this is thanks to a highly revised 2.3-liter inline-4.
Most notably, this engine is now turbocharged, bringing a whopping 114hp increase over the stock engine. Total power is now rated at 274hp, and 280lb-ft of torque. In addition, the engine has a new block, reduced compression ratio, redesigned crankshaft with larger crankpins, direct fuel injection, and that aforementioned Hitachi turbo. This feeds power through a reworked all-wheel drive.
The MazdaSpeed6's drivetrain has a reprogrammed active torque split functionality, paired with its slick Aisin 6-speed manual gearbox. There's a limited-slip differential in the front, although most of the power will be sent to the rear wheels. It's dynamically strong as well, thanks to its already rigid bodywork gaining 50% in torsional rigidity, and a completely reworked suspension setup.
3. 2010 MazdaSpeed3 – 0-60mph In 5.4 Seconds (Fastest Mazda Hatchback)
Remember the good old hot hatches? They're a rarity these days, but once upon a time, Mazda too wanted to get in on the action. Taking a step up from the pedestrian Mazda 3, they engineered the MazdaSpeed3 as the ultimate display of power. For sheer pace, it matches the MazdaSpeed6 with a 0-60mph time of 5.4 seconds. But where it truly excels is the sprightly and cheery handling.
Unlike the lumbering MazdaSpeed6, which fits in well as more of a cruiser, their MazdaSpeed3 is a hot hatchback, down to the T. Underneath, you'll find a turbocharged 2.3-liter inline-4, with 263hp and 280lb-ft of torque. All quite highly strung figures for what is a fairly compact hatch, as it weighs slightly less than a comparable MX-5. Nonetheless, the MazdaSpeed3 is front-wheel drive.
With that much power going to the front wheels, torque steer is a prevalent issue that'll leave you grappling at the steering wheel. You'll immediately notice the turbos kick in, which nevertheless is a key part of the experience. Acceleration is brutal for a car like this, with a smooth-changing 6-speed manual box, as well as key revisions made to the suspensions that made it a fun little car to enjoy.
2. 1990 Mazda RX-7 IMSA GTO – 0-60mph In 5.3 Seconds
Remember about those IMSA wins that Mazda couldn't stop dominating? Among many other racers of the era, the RX-7 is no doubt one of the most legendary. The RX-7 IMSA GTO's streak of victories almost got rotary engines banned, as the organizers thought that it was too good. After all, it can leap from 0 to 60mph in just 5.3 seconds, a mind-boggling figure for the late 80s and early 90s.
Its power-to-weight ratio was equally outstanding, with more than 600hp and 390lb-ft of torque on tap. Despite all this monstrous power, the RX-7 GTO weighed as little as just 1,900lbs. That engine in question is the 13J, which can be described as two then-production RX-7 engines glue together. It's a four-rotor design, with electronic fuel injection and mated to a bespoke 5-speed Hewland gearbox.
The bodywork still had some semblance of the RX-7 road-going cars, but with a (much) widened as well as a lowered frame for improved aero. Most of the body panels are carbon fiber to keep weight down, with gargantuan AP-branded brakes. The RX-7 IMSA GTO remains to be the most successful of the racing RX-7s, having won over 8 class victories on its own, out of 106 for the RX-7 as a whole.
1. 2002 Mazda RX-7 Spirit R – 0-60mph In 5.0 Seconds (Fastest Mazda Sports Car)
Ah, another Spirit R. It can't be helped if you shed a tear, as the Spirit R variants typically mark the last run of a particular model. In this case, it would be the iconic RX-7, the zenith of a rotary sports car. There would've been plenty of RX-7s in this list, many of which could've easily managed a mid-5 seconds 0-60mph time. But it's the final leg of the RX-7 that outpaces all, at just 5.0 seconds dead.
Under the hood is a twin-turbocharged rotary with 280hp at maximum boost. However, some have speculated that its actual power output is somewhere north of 300. That said, and as it redlines at a mighty 8,000RPM, the RX-7 Spirit R sends you flying like few other sports cars in its league. On top of that, Mazda's engineers fettled with a set of stiffer Bilstein shocks and sharper steering.
It even gets an adjustable rear wing, for all 1,500 RX-7 Spirit Rs to be made. However, this isn't a car that needs babying. You have to go all-in with the power, without any traction control, to feel that visceral motor come to life. As it does so, the hardy suspension keeps you in line, as you manage the racy steering to dart it from one corner to the next. This is precisely what a sports car should be like.
Mazda's fastest cars: Facts
Mazda has a reputation for making 'driver's cars' that are practical, versatile, and impressive.
Mazda's cars are easy to maintain and extremely tuner-friendly, making them popular among enthusiasts.
Mazda is known for its legendary rotary engine-powered cars, which have climbed to iconic status in automotive history.
The 10 fastest cars that have ever come off the Mazda assembly line include the Mazda 6, RX-8, Mazdaspeed 3, MX-5 Miata RF, Eunos Cosmo, and RX-7.
The 2002 Mazda 6 Sport offered great performance and punchy acceleration, with a top speed of 143 mph.
The 2004 Mazda RX-8 was a pocket rocket that went up to 147 mph, with impressive features like navigation and a premium Bose stereo.
The 2013 Mazdaspeed 3 was one of the fastest cars from Mazda, reaching speeds of up to 148 mph and going from 0 to 60 mph in just 5.8 seconds.
The 2021 Mazda 6 sedan was powered by a 2.5-liter engine that cranked out 250 horsepower and was capable of going up to 149 mph.
The Mazda RX-7, which has now climbed to an icon of automotive history, was capable of going from 0 to 60 mph in 6.6 seconds and up to 155 mph.
The Mazda RX-8 Spirit R was the fastest Mazda car ever made, officially going all the way up to 170 mph.
Our Final Thoughts
Well, that's a good place to round off our look at the top-10 fastest Mazdas on record. Of course, it's not a definitive list, as there are countless modified RX-7s, RX-8s, and MX-5s that could probably top a 0-60mph time in sub-4 or even sub-3 seconds. Better still, there's news that Mazda could finally go back to its sporting roots and unveil a proper rotary (likely with a hybrid) sports car again soon.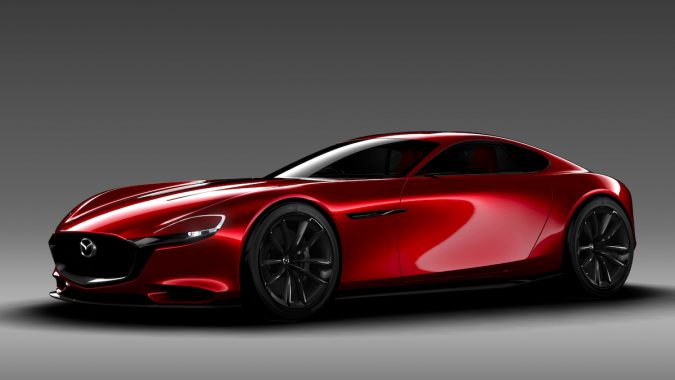 Whether this comes to fruition is a matter of speculation for the moment, and we can only cross our fingers ever so tightly. In the meantime, looking back at some of Mazda's fastest and most daring cars has reminded us why enthusiasts have a special place for Mazda, rotary or not, in their hearts. They've made some truly special and fund cars, and one that'll leave a forever lasting impression.