Day by day, the automotive world is becoming eco-conscious. Sadly, this means that the past's loud, high displacement, gas-guzzling engines are going away. Instead, V6 engines have taken over their place. These engines are more eco-friendly when compared to V8s, V10s, and V12s. Not only that, these engines are more fuel-efficient as well. But, what about their speed? What are the fastest V6 cars on the planet? Well, later in this article, we will give you the exact answer!
The shift towards economical, lower displacement engines was a hot topic in the automotive space for a long time. However, since the mid-2000s, this change started to properly take place. Even Formula One, the premier racing series in the world, shifted to hybrid V6 engines in 2014. This move toward smaller V6 engines is not only beneficial to the planet but to drivers as well.
These V6 engines have a number of benefits over other engines. We will discuss these benefits in detail with you during this article as well. First of all, we thought of looking into the history of the V6 engine. This will give a good starting point for our discussion. So, let's get started without waiting any longer!
History Of The V6 Engine
The invention of the V6 engine can be traced back to 1906. Delahaye, a family-owned French automobile manufacturer receives the credit for using a V6 engine on a vehicle for the first time. This engine had a capacity of 3.2 liters. Dual Overhead Cam (DOHC) technology was also used in this V6 engine. The Delahaye Type 44 model series of cars were the first ones to use this engine.
American manufacturers started adopting V6 engines beginning in the late 1950s. One popular example of this is the GMC mini truck. This pickup debuted in 1959 and was one of the first vehicles in North America to receive a V6 engine option. From that point on, the popularity of the V6 engine took off. The culmination of this happened in 1983 when Nissan became the first Japanese automobile manufacturer to introduce a V6 engine in their vehicles.
V6 Engine Features
V6 engines are popular among manufacturers mainly due to their high horsepower and high efficiency. These engines contain two cylinder banks based around the camshaft. They also contain balance shafts. These shafts focus on maintaining the efficiency of the engine by controlling its natural balance.
On average, a 3-liter V6 engine is capable of producing around 400 horsepower. This power figure makes these engines a great choice for mid-to full-size sedans and SUVs. But, the power of a V6 engine mainly depends on a single factor. That is the angle of the V. There are 3 angles of V commonly used by vehicle manufacturers. These are,
Acute Angle (60 degrees)
Right Angle (90 degrees)
Obtuse Angle (120 degrees)
Let's now discuss each of these V angles in more detail.
Acute Angle
The need for a balance shaft is eliminated in this implementation. Here, the crankpins are installed at an angle of 60° relative to the other components of the engine. This also helps to reduce the vibrations of the V6 engine. Another benefit of using an acute angle is reducing the size of the engine. As a result, these V6 engines can easily fit in vehicles with small engine compartments. In a world of small hatchbacks and mini-SUVs, this is a huge advantage.
Right Angle
Compared to acute-angled V6 engines, the right-angled engines cost less to manufacture. However, this comes with one big caveat. You see, as a result of the 90° angle, these engines have increased vibrations. However, this can be reduced with the use of crankpins.
Obtuse Angle
The main advantage of using an obtuse angle is the ability to attach the pistons to the same crankshaft. This reduces the number of components in the engine, leading to cost savings. Not only that, these engines have fewer vibrations as well. This completely eliminates the need for crankpins.
Now, you have a good understanding of the inner workings of a V6 engine. Next, we will tell you about some of the benefits of having a V6 engine in your vehicle.
V6 Engine Benefits
Compared to other popular cylinder configurations, V6 engines have a number of advantages. Let's take an in-depth look at some of the most important ones.
1. Better Fuel Efficiency
V6 engines are some of the most fuel-efficient engines out on the market today. The V angle is a contributing factor to this perk. Not only that, V6 engines are compatible with modern fuel-efficient techniques such as stop-start technology.
2. Maintenance
As we discussed earlier, V6 engines contain fewer components than other engines. In return, the wear of these parts inside the engine is also reduced. Moreover, when something does go wrong, working on a V6 engine is easier as well. All these factors combined give V6 engines a high score in both maintenance and reliability.
3. Size
By nature, V6 engines are smaller than other engines. This gives vehicle manufacturers the freedom to install these engines in any orientation inside the vehicle. You can find V6 engines mounted in parallel as well as in mid-engine configurations.
Well, we have told you many facts about the technical features of the V6 engine. Next, let's move to the section you all have been waiting for! Here, we will tell you about some of the fastest V6 cars money can buy. So, buckle up, here we go!
Fastest V6 Supercars
You can be young or old, but there is one thing we all love. That thing is supercars. You may be surprised to hear that some of the fastest cars on earth are powered by V6 engines. Here are some of the fastest V6 supercars ever made.
Jaguar XJ220
We selected a legendary car as the first entry to this list of the fastest V6 supercars. At one point in time, the Jaguar XJ220 was the fastest production car in the world. Let that sink in for a second! Jaguar partnered with legendary race team TWR to produce this iconic vehicle.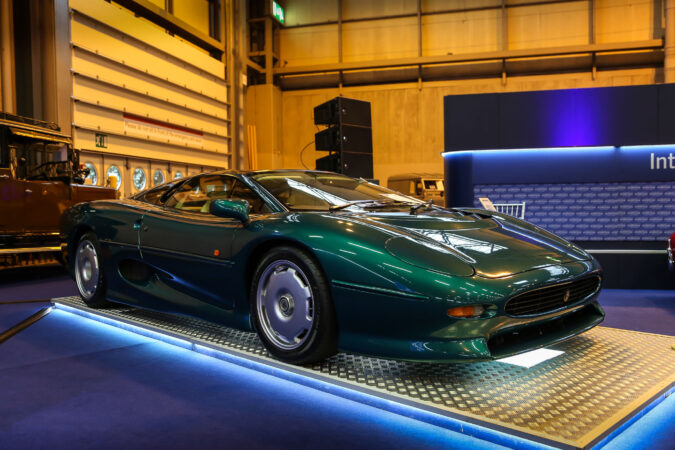 Originally, the XJ220 was supposed to be equipped with a 6.2-liter V12 engine. However, plans were changed in the later stages of development. Instead, this supercar came with an Austin Rover-made 3.5 liter V6 engine. Although it was small, the power figures of this engine were mightily impressive. It produced 542 horsepower, along with 475 lb-ft of torque. This powerful engine was linked to a 5-speed manual transmission, which was sure to be a handful for the drivers.
At the time, the XJ220 was a technological marvel. It was capable of reaching 60 mph from a standing start in just 3.6 seconds. But, the most impressive thing about this car was its top speed. Flat out, the Jaguar XJ220 could reach 213 mph, which is a mind-blowing figure even today, let alone in 1992! These impressive stats make this one of the fastest V6 cars ever made.
Nissan GT-R Nismo
Next, we move all the way across the world to Japan. The land of the rising sun is the home of the Nissan GT-R, affectionately named "Godzilla". The Nismo is the high-performance version of the R35 GT-R. Since its introduction in 2007, the GT-R has developed a reputation for being a giant killer, taking on and defeating some of the faster supercars on the road.
The GT-R Nismo is powered by a twin-turbocharged, 3.8-liter V6 engine. This VR38DETT engine puts out 600 horsepower and 481 lb-ft of torque. The result is an estimated 0-60 time of 2.7 seconds, and a top speed of 186 mph.  Not only that, the GT-R is one of the most technologically advanced vehicles in the world.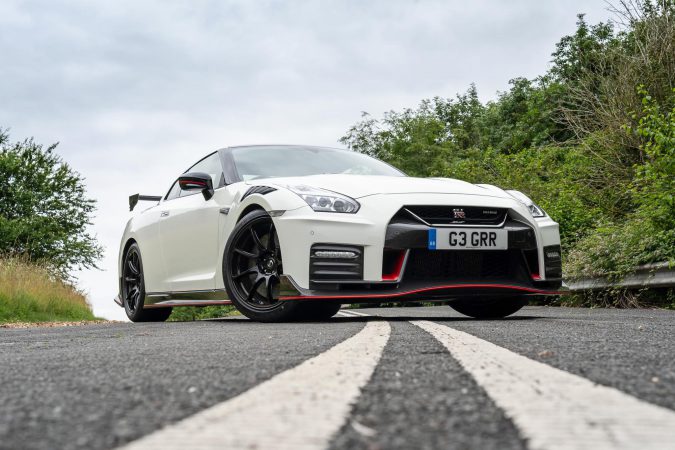 It is equipped with one of the best launch control systems ever put into a road car. The six-speed dual-clutch transmission provides lightning-quick gearshifts as well. The advanced all-wheel-drive system aids in putting all that power down on the tarmac.
Apart from the power upgrades, the Nismo version receives some other upgrades as well. Some of these include stiffer suspension, carbon-ceramic brakes, and a steering wheel covered in Alcantara material. However, these upgrades come at a cost. The GT-R Nismo costs $210,740, which is twice as much as a basic Nissan GT-R. However, we believe that the price is justified, as you are getting one of the fastest V6 cars in the world.
Acura NSX
The next-door neighbor of the GT-R takes the concept of a powerful V6 engine even further. The Acura NSX pairs its 3.5-liter twin-turbo V6 engine with a three-motored hybrid system. In total, this revolutionary system produces 573 horsepower, along with 476 lb-ft of torque.
The aforementioned hybrid system of this car is one of the most advanced systems ever produced. Out of the trio of motors, two are located at the front of the NSX. These are responsible for powering the front wheels of this supercar. The other motor sits at the back of the vehicle. It powers the rear axle of the vehicle in conjunction with the V6 engine.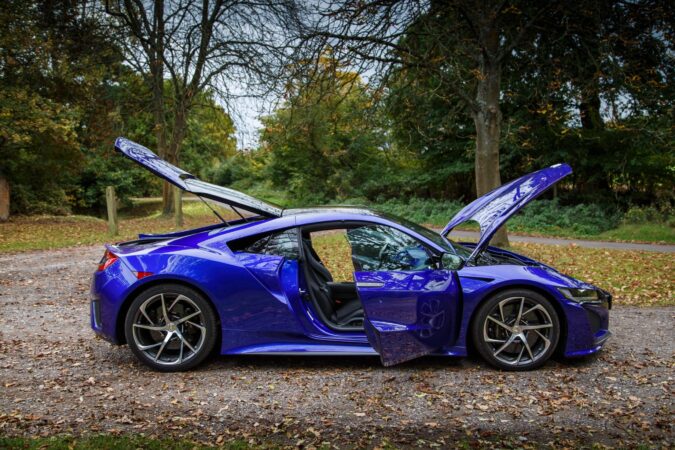 In terms of performance, the Acura NSX is one of the fastest V6 cars as well. 3 seconds is all it takes for this Japanese supercar to reach 60mph from a standstill. With the pedal to the metal, this all-wheel drive computer on wheels can reach a top speed of 191 mph.
For 2022, Acura released a limited edition version of the NSX, called the Type S. This end-of-the-line model is limited to just 350 examples for the US market. So, if you are looking for a fast V6 supercar that will also become a collector's item in the future, this is the car for you.
Ford GT
The final car on our list is the most expensive entry as well. The most reincarnation of the legendary Ford GT is one of the fastest cars in the world. However, when this car was first revealed to the world, there was some controversy about its engine. You see, the old Ford GT40, as well as the 2005 Ford GT, were powered by V8 engines. But, this new version came with a V6 engine. Nonetheless, many people were doubtful about this engine choice.
However, Ford proved the doubters wrong in style, with a victory at the 24 Hours of Le Mans. The 3.5-liter EcoBoost V6 pumps out 647 horsepower, which enables this supercar to reach 60mpg in 3 seconds flat. The car can cover the quarter-mile in just 10.8 seconds.
The new Ford GT is the faster car ever made by the historic car manufacturer. It can reach a top speed of 216 mph. However, the GT is one of the most expensive Fords ever made as well. One of these beauties will set you back $450,000.
Ford made several special editions of the GT as well. The GT MkII is the track-only version of this supercar. It is specially designed to achieve the best lap times around race tracks and comes with a tuned engine that makes 700 horsepower. Other than that, several models with special liveries were produced as tributes to historical, race-winning Ford GT40s.
As we are discussing the fastest V6 cars, we can't ignore motorsports, can we? So, let's take a look at the fastest racing cars powered by V6 engines.
V6 Engines In Formula One
The world of Formula One got turned upside down in 2014. That year, the sports regulations were changed to introduce new 1.6-liter hybrid engines to the grid. This change was met with a huge backlash from the community. In the past, F1 cars were powered by screaming V10 and V8 engines. So, it is understandable why this shift towards quieter, lower displacement engines received such negative feedback.
Although these engines are considerably smaller, they are some of the most powerful engines in the world. In race trim, these small powerplants are capable of producing upward of 1000 bhp. The governing body of Formula One, the FIA, settled on these V6 engines due to a number of reasons. The main reason was pushing towards a more fuel-efficient racing series. In fact, these V6 engines are the most fuel-efficient engines ever used in the 70+ year history of the racing series.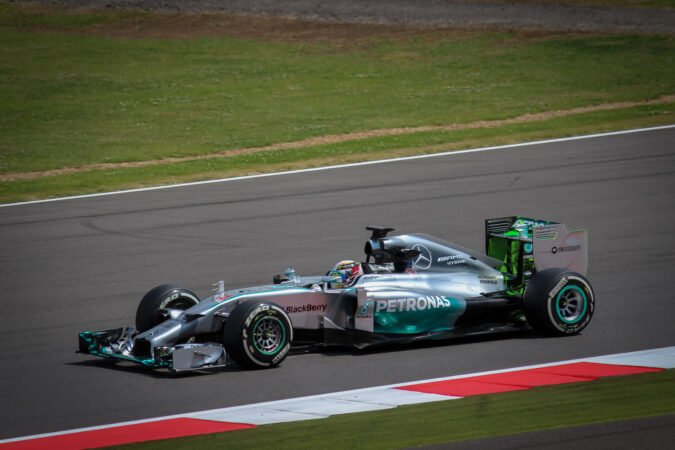 Technologies used in these state-of-the-art racing cars trickle down to consumer vehicles as well. All in all, F1s shift towards eco-friendly V6 engines can be seen as not just a win for the sport, but for the planet as well.
Top 10 Fastest V6 Cars
Fast V6 engines can also be found in regular cars as well. In this section, we will tell you about some of the fastest regular V6 cars you can buy today.
Fastest V6 Cars #10 – Kia Stinger GT
At first, Kia may not strike you as a manufacturer who makes one of the fastest V6 cars on the road today. In fact, Kia has a reputation for building affordable, slow vehicles. Well, if you also think like that, the Kia Stinger GT will surely blow your mind.
The Stinger GT produces 365 horsepower along with 376 lb-ft of torque from its twin-turbocharged V6 engine. This sports sedan comes with rear-wheel drive as standard (if you want similar options, check out our list of the best used manual transmission cars). However, an all-wheel-drive option is also offered. The Kia Stinger GT is a performance car bargain, only costing around $36,000. Undoubtedly, you will be hard-pressed to find a faster V6 car in that price range.
Fastest V6 Cars #9 – Genesis G70 3.3T AWD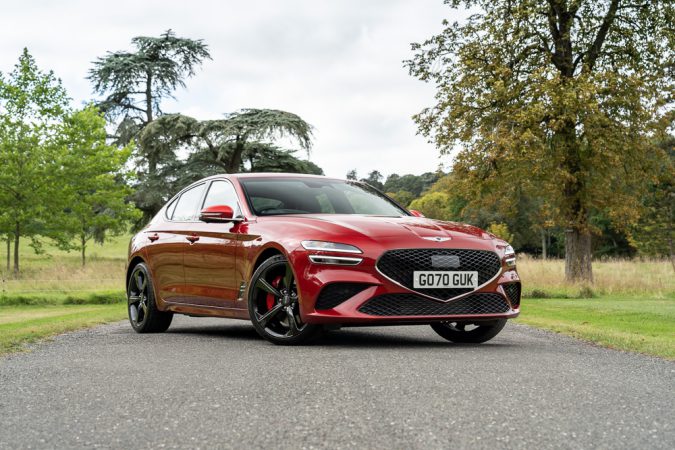 Our next contender originates from South Korea as well. Genesis, the luxury arm of Hyundai, has produced some impressive vehicles in recent years. The Genesis G70 is one such product. This sedan offers an impressive mix of luxury, elegance, and performance in an affordable package. In fact, the G70 shares its powertrain with the above-mentioned Kia Stinger GT.
This means that the G70 comes with the same 365 horsepower, 3.3-liter V6 engine. An eight-speed automatic transmission takes care of delivering this power to the wheels. Not only that, a sports exhaust system, Brembo brakes, and a limited-slip differential are some of the sporty options offered with the Genesis G70. With a starting price of just $48,200, this is one of the most affordable and fastest V6 cars money can buy
Fastest V6 Cars #8 – Lotus Evora GT
Powered by a Toyota-sourced supercharged V6 engine, the Evora GT is one of the fastest sports cars ever produced by the British manufacturer Lotus. With its lightweight construction and powerful engine, the Evora GT is capable of reaching a top speed of 188mph.
The Evora GT is one of the most luxurious Lotus models as well. Standard features of this model include a touchscreen system, leather upholstery, and Apple CarPlay (fun fact, go check out our guide on how to turn CarPlay off).
Fastest V6 Cars #7 – Alfa Romeo Giulia Quadrifoglio
Next up in our list of fastest V6 cars is this sporty Italian sedan by Alfa Romeo. The Quadrifoglio is the sportier version of the regular Giulia. The twin-turbocharged 2.9-liter V6 of this super sedan drives the rear wheel through an automated manual gearbox.
Most importantly, the roots of this powerful V6 engine can be traced back to the legendary supercar manufacturer Ferrari. It means that this engine has a spine-tingling exhaust note. When paired with the optional Recaro carbon fiber race seats, the Giulia Quadrifoglio can truly feel like a race car for the road.
Fastest V6 Cars #6 – Chevrolet Camaro
When you think of an American muscle car, you expect it to be powered by a powerful V8. However, with modern technological innovations, a V6 engine can produce the same amount of power as a V8. The 2016 Camaro is a great example of this.
The 3.6-liter V6 engine in the base model Camaro makes a respectable 335 horsepower and 284 lb-ft of torque. With a six-speed manual option and a lightweight chassis, this is one of the most fun American cars as well. If you are in the market for a fast American muscle car, the Camaro is one of the best choices available.
Fastest V6 Cars #5 – Cadillac CT5-V
Our next entry hails from America as well. The newest "V" model from Cadillac ditched the old Corvette-sourced V8s in favor of a refined and powerful V6 engine. In fact, the 3.0-liter V6 engine powering the CT5-V is one of the best engines ever produced by Cadillac. As a result, the power figures of this new engine are really impressive. With 360 horsepower at its disposal, this V6 packs plenty of power for those long highway adventures.
Fastest V6 Cars #4 – Porsche Panamera
When the Panamera debuted in 2010, it received a negative reaction for its controversial design, However, 12 years have since passed, and the Panamera has become one of the best-selling sports sedans in the world. The Panamera 4S E Hybrid is one of the fastest trim levels of this sedan currently on sale.
The Panamera 4S E Hybrid is powered by a 2.9-liter V6 engine. The engine is paired with twin turbochargers and an electric motor for a combined power output of 552 horsepower. Not only that, this sports sedan can bolt to 60mph in just 3.5 seconds, and go on to reach a top speed of 185mph. But, all that performance comes at a cost. The Panamera 4S E Hybrid starts at $114,700.
Fastest V6 Cars #3 – Audi RS5
A 2.9-liter V6 engine producing 444 horsepower qualifies the Audi RS5 as one of the fastest V6 cars. This luxurious German sports sedan comes with Audi's world-renowned Quattro all-wheel-drive system. Not only that, a quick-shifting eight-speed automatic transmission allows the RS5 to reach its electronically limited 155mph top speed in style.
Fastest V6 Cars #2 – Mercedes-AMG C43
When talking about fast German vehicles, Mercedes-AMG is a brand that cannot be ignored. One of the fastest V6 cars made by Mercedes is the C43 AMG. This mid-size sedan produces 385 horsepower from its twin-turbocharged V6 engine. With the pedal to the metal, the C43 can reach a top speed of 155mph with ease.
Fastest V6 Cars #1 – Jaguar F-Type P380 R-Dynamic
As the successor to the legendary E-Type, the Jaguar F-Type had a lot of expectations around it. Well, it is safe to say that this sportscar has lived up to the hype. The model recently received a facelift, and now looks more aggressive than ever.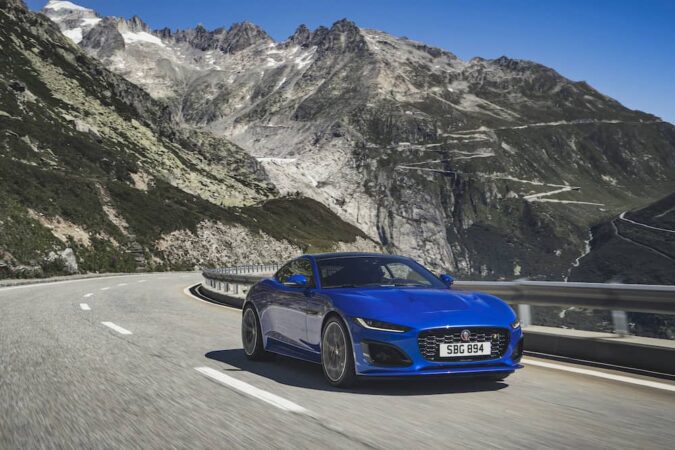 Under the hood, there is a 3.0-liter V6 engine. It produces 380 horsepower and 339 lb-ft of torque. With its all-wheel-drive system, the F-Type does a fine job of laying this power on the tarmac. At the end of the day, the F-Type is one of the fastest V6 cars that can be had in either coupe or convertible form.
Fastest V6 Cars: 10 Need-to-Know Facts
V6 engines can produce incredible performance with forced induction.
Modern 6-cylinder engines outperform muscle car big blocks of the past.
The 2020 Audi S4 has a 3.0-liter V6 that can generate 349 hp and torque of 369 lb-ft.
The 2019 Mercedes-AMG C43 has a twin-turbocharged 3.0-liter V6 that can push out 385 hp and a torque rating of 384 lb-ft.
The 2021 Lotus Evora GT is a hand-built sports car with an impressive 3.5-liter V6 rated at 416 hp and 332 lb-ft of torque.
The 2021 Alfa Romeo Giulia Quadrifoglio has a twin turbo-charged 2.9-liter V6 engine that can produce up to 505 horsepower and a torque rating of 443 lb-ft.
The 2021 Audi RS5 has a 2.9-liter twin-turbo that can produce up to 444 horses and a torque rating of 442 lb-ft.
The 1994 Jaguar XJ220 was the fastest production car on the roads, thanks to a twin-turbo 3.5-liter V6.
The 2022 Ford GT is a street-legal race car with a 3.5-liter engine boosted by twin turbos that can generate 647 hp and 550 lb-ft of torque.
The 2019 Nissan GT-R Nismo is a sports coupe that can go from 0 to 60 within 2.9 seconds with a 3.8-liter V6 that produces 600 hp and 481 lb-ft of torque.
Conclusion For Fastest V6 Cars
There are a number of fast V6 cars on the road today. Here, we took a look at some of the most significant ones. All in all, a V6 engine can give you a great mix of power, reliability as well as efficiency. As we looked at the basic technologies of the V6 engine, you should now have a good understanding of how these engines work, and their benefits as well.
FAQS On Fastest V6 Cars
Here are some popular FAQs:
What Is A V6
V6 refers to an arrangement of cylinders inside an internal combustion engine. Here, the six cylinders are divided into two banks. These banks are arranged in a V format.
What Is A V6 Engine
A V6 engine contains six pistons. Here, the cylinders are arranged in a V format around a single crankshaft. Each cylinder bank of a V6 engine contains three cylinders.
What Does V6 Engine Mean
It means that the cylinder banks are arranged in a V configuration, with 3 cylinders each. These engines provide a balance of performance and efficiency.
What Is A Cheap Fast Car
You can find many cheap fast cars in the current market. These can be either older cars that have depreciated or new affordable cars. However, most cheap fast cars are powered by V6 engines.