The Ford Focus RS is one of the best hot hatchbacks that money could buy. With that said, I think it's one of the more underrated hot hatchbacks out there too. That's something we'll look more into with this guide on Ford Focus RS Tuning.
Take the latest 2015 Mk 3 Ford Focus RS for example. Ford has done a great job marketing it and getting the media and people to notice it.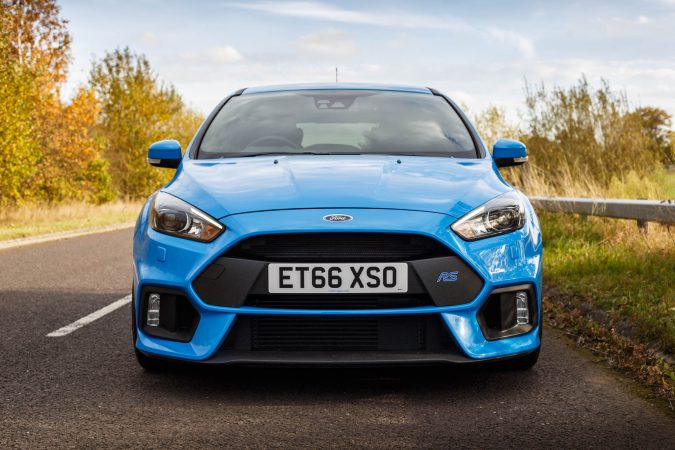 It's a well-received car and definitely cutting edge during its initial inception. The RS is fast, practical, looks good, and handles well. But past the initial launch sales rush, Ford had trouble convincing people the RS deserves the high premium.
By 2018, Ford was already preparing the farewell for the Mk 3 RS. That said, with over 30,000 made, there will be a good amount circulating the market in the future.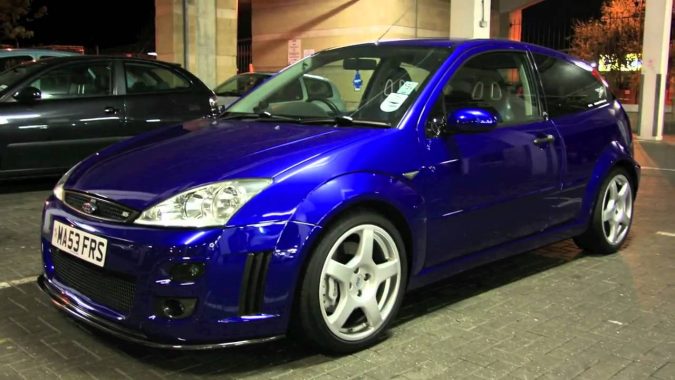 However, amongst Ford enthusiasts, anything that Ford puts the RS badge on is highly desirable. And since the fate of the next Focus RS is treading on thin ice, it's a good time to pick up an RS and step into the world of Ford Focus RS tuning.
This article will be primarily focusing on extracting more engine performance.
First Generation Ford Focus RS Tuning (Mk1)
This is one of the rarest, most desirable versions of the first generation Focus. Ford limited production to just 4,501 units, and it marks Ford's return to the Rallye Sport (RS) nameplate.
If the Focus ST is a potent hatchback with power to spare, then the Mk1 Focus RS is as close to a street-able rally Focus as you can get.
It's supplemented by the Quaife ATB limited-slip differential to tame the immense torque that only drives the front wheels. Which contributes to its unique cornering characteristic.
The Mk1 Focus RS is a potential candidate as a future classic. It's rare, looks good, and has historical value. Incidentally, prices for clean examples are already rising.
Engine
Underneath the hood is an engine that we're all familiar with, the Zetec. Despite the stamp on the valve cover indicating it's a 'Duratec RS', it's a European Zetec engine.
However, there's a disparity between this Zetec RS and all the other Zetec engines – it's turbocharged. The Zetec RS is a 2.0-liter turbocharged inline-4 engine with a water-to-air intercooler setup.
This increased output to 212 horsepower and approximately 320 Nm of torque. Ford had to fundamentally tweak the bottom end to accommodate the increased pressure.
In fact, it's quite overbuilt for the power Ford intended to extract. Low compression Mahle pistons and beefed-up connecting rods with larger gudgeon pins help to sustain the increased power.
The cylinder head design remained similar to the typical Zetec black tops, but this time with sodium-filled exhaust valves. Again, it's to handle the extra heat from the turbocharger.
Zetec RS Engine Tuning
Despite the Mk1 RS being a tiny and niche market, people who buy one tend to be keen enthusiasts who want more from the RS engine. Buyers love to do a bit of Mk1 Ford Focus RS tuning.
Stage 1 (~260 horsepower)
The Zetec RS is an excellent starting platform. But there are gains to be had just from freeing exhaust flow. The downpipe of the Mk1 RS is very restrictive, making it one of the first mod RS owners go for.
Milltek is definitely the go-to here with its quality 2.75″ decat exhaust for the Focus RS Mk1. However, it's now discontinued, making one hard to source.
BCS Automotive (Powervalve) is the other popular choice, it makes a 3″ downpipe with the option of a high-flow cat. Mongoose is also well known amongst the Ford community, and they make a decat exhaust for the Focus RS too.
Afterward, a simple K&N panel filter retains the stock filter housing, amplifies induction noise, and increases intake flow. Most importantly, carry out a straightforward mechanical tune-up involving fresh spark plugs, ignition leads, coil packs, and a fluid change.
Since the Mk1 Focus RS is an old car, some parts might not be eminently wrong but need attention. Over time, the stock recirculation valve wears out and leak boost, replacing it with an up-rated Forge DV008 recirculation valve solves the issue.
With an upgraded turbo actuator and a Superchips Bluefin ECU flash, you can expect almost 260 to 270 horsepower from the engine. If possible though, you might prefer a custom ECU remap, such as one provided by Norris Motorsport (NMS).
Stage 2 (~300 horsepower)
Crucially, an improvement in torque can be felt thanks to improved boost behavior. The next step would be a full tubular manifold from Peron or Pumaspeed and a full catback system from your choice of exhaust manufacturer.
At this point, if intercooler pump failure worries you, switch to an air-to-air system from AIRTEC. This comes at the expense of increased lag and pressure drop. Otherwise, an AIRTEC 70mm charge cooler radiator upgrade keeps the temperature in check.
The stock charge hoses are prone to failure, so you'll want to replace them with silicone hoses. Finally, a remap can bring the power up to 300 horsepower.
A hybrid GT25 or GT26 turbo can bring it closer to 320-330 horsepower while retaining the T25 manifold. More importantly, it'll carry the boost through the rev range without compromising spool.
Stage 3 and Beyond (over 370 horsepower)
At this stage, the stock GT2560 turbo is inadequate. An upgraded fuel system and larger GT28 or GT30 turbo with an E85 tune will easily bring you to nearly 400 horsepower and over 500 Nm of torque.
This is the most you'll want to go on a stock Zetec RS engine. Beyond this you'll be lifting the cylinder head, freaking out the stock MAF sensor, and breaking the connecting rods.
Beyond this point, you're looking at a fully rebuilt engine, upgraded clutch, aftermarket engine management system. Look into Demon Performance or Norris Motorsport, who both have made over 500 horsepower a built Zetec RS.
Second Generation Ford Focus RS Tuning (Mk2)
While incredibly rare and undoubtedly special, the Ford Focus RS Mk1 never truly made an impact on the world. Ford simply made too few of them.
But then, along with the second generation Focus came the Mk2 Focus RS. This time, it immediately captured the world's attention.
Headline figures – over 300 horsepower, front-drive, LSD, manual transmission. Although some were disappointed by the lack of AWD, the Mk2 Focus RS was one of the most powerful hot hatch available in the market.
Engine
This is where the Focus RS raised some eyebrows. Ford used the 5-cylinder engine borrowed from Volvo in the Mk2 Focus ST, albeit modified further to exceed the 300 horsepower mark.
Again, Ford stamped 'Duratec RS' on the engine cover. However, it is the Volvo Modular B5254T3 2.5-liter turbocharged inline-5 engine. In the RS guise, it makes 301 horsepower and 440 Nm of torque.
It's no secret that Volvo's modular inline-5 engines are potent, especially in the 'R' variant. It also responds well to modifications, making the Mk2 Ford Focus RS tuning experience pleasant.
For the fortunate 500 customers that bought the RS500 model, the Duratec RS is further enhanced to produce 345 horsepower and 460 Nm of torque. That's not the complete story, as the top-end power is improved palpably.
Duratec RS Engine Tuning
Much like the Mk1 Focus RS, there's plenty more to be had from the 2.5-liter Duratec RS engine. It helps that it's a well-known platform too, from the Volvo T5-R and Mk2 Focus ST owners.
Stage 1 (~340 horsepower)
If all you want is to squeeze a bit more power, then a simple ECU remap is all you need to bring your RS to approximately 340 horsepower. Multiple companies offer it, Motorsports Development UK (MSD) is a good option.
However, it's worth making supporting mods to extract even more power safely. Most companies follow a straightforward tuning roadmap by mimicking the Focus RS500.
Stage 2 (~370 horsepower)
The biggest name in the business here is Montune. It's in fact what Ford advocates. There are two kits they manufacture that provide more zeal without going overkill.
First, the MP350 kit. This basically brings the RS to RS500 spec. Included in the kit is a larger intercooler, RS500 airbox, 3″ downpipe with high-flow cat, uprated fuel pump, and the mTune handheld ECU reflasher. This brings the RS to 345 horsepower and 460 Nm of torque.
But what I would recommend is to go straight for the MR375 kit. This kit includes an additional full 3″ catback exhaust system, cast inlet plenum, upgraded recirculation valve, and a remap. It brings the engine to 370 horsepower and 550 Nm of torque.
It's the massive bump in torque that really brings the Focus RS to life. Most owners are happy with the MR375 kit as a stopping point.
Stage 3 (~420 horsepower)
With that said, Mountune kits for the Mk2 Focus RS are expensive and hard to source these days. Collins Performance (CP) CP420 package provides similar modifications with upgraded injectors that push the engine to a whopping 420 WHP and 590 Nm of torque.
Other than CP, Revo Stage 4+, MSD 420, JW Racing 120 kits can all bring the Focus RS to similar power and torque levels. It'd make for a sublime driving Focus RS, and it's as much as you should push on stock internals and turbocharger.
Assemble Your Own Kit
If you don't live in the UK, chances are that you'll need to assemble your own kit. Thankfully, the formula to make power for the Mk2 Focus RS is already explored thoroughly.
For exhausts, Milltek is still the go-to option here. Alternatives include AIRTEC who sells a 3.5″ downpipe for the RS. Mongoose also makes an exhaust for the Mk2 RS.
On the intake side, the Mountune RS500 airbox is preferred by most, and it retains a stock look. AutoSpecialists make a carbon airbox that's preferred by CP. ITG also makes a carbon induction kit. For affordability, the AIRTEC Group A is a popular choice.
Whenever you look at high output Mk2 Focus RSes, you'll notice that they all feature the same intercooler by AIRTEC. This means that the AIRTEC Stage 2 intercooler is an ideal future-proof upgrade.
These upgrades with a remap will bring you to ~350 horsepower. Fueling upgrades are necessary for more power. CP and AIRTEC both sell an upgraded fuel sender assembly.
That said, I'd advise performing the fuel pump upgrade on your own using an off-the-shelf performance fuel pump. You can't go wrong as long as you stick with reputable makes like Walbro, Aeromotive, AEM, etc.
Stick with genuine, flow-matched Bosch EV6/EV14 style injectors which is a direct fit. The flow rate depends on your power target, but going overkill is fine as a provision to run E85.
Finally, with an upgraded intake plenum from AIRTEC and an upgraded Turbosmart/Mountune recirculating valve, you'd be looking at an engine primed for ~420 horsepower with a remap.
450 horsepower and beyond
Keen on even more power? Past this stage the amount of money you have to spend increases exponentially. However, you'll be glad to know that this isn't uncharted territory.
A bit of research will reveal that people have been running Mk2 Focus RSes with well over 500 horsepower on a built engine. Heck, there's even one that's making over 1000 horsepower.
Along with the aforementioned performance shops, SITECH Racing and Devil Developments (DD) deal with high horsepower Focus RS build regularly. They even sell kits to make over 500 horsepower. It's worth talking to them to sort your car out.
At this point, you'll be looking at a rebuilt engine with forged internals. You need an upgraded turbo sized for your application, from 450 horsepower up to ~1000 horsepower. Upgrading the clutch is also necessary.
You can still stick with a remap with a hybrid turbo and go for 450-500 horsepower. However, going with an aftermarket standalone engine management unit is worth the trouble at this point.
At over 600 horsepower, it's highly advised to rebuild the engine with aftermarket cylinder liners. Along with that, you'll need to port the cylinder head and upgrade the valvetrain to improve head flow.
Third Generation Ford Focus RS Tuning (Mk3)
The Mk2 Focus RS might have established the Focus RS as a true hot hatchback. But the Mk3 Ford Focus RS is by far the most popular and well-known in the Focus RS family. It single-handedly proved that Ford knows how to make and deliver a commercial hot hatchback.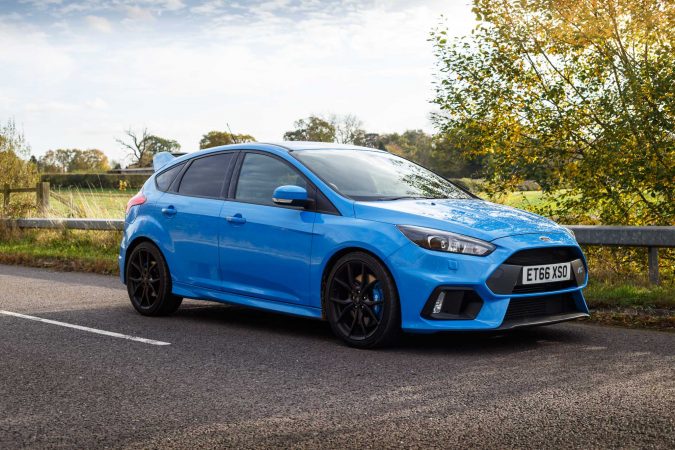 One thing sets the Mk3 Focus RS apart from its predecessors – it's a collaborative effort between the performance arm of Ford in North America, Europe, and Australia. It's a restructuring effort from the 'One Ford' strategy.
Finally, Americans can buy a brand new Ford Focus RS. And that's not all, because Ford has finally given the rally enthusiasts what they want – an AWD system. Something that has been left out in all previous Focus RS models, despite speculations.
Being brought to the global market also enabled more people to develop on the platform, meaning Mk3 Ford Focus RS tuning parts are easier to find.
Engine
Ford reverted to a more conventional drivetrain by adapting the EcoBoost 2.3-liter turbocharged inline-4 engine for the Focus RS's application.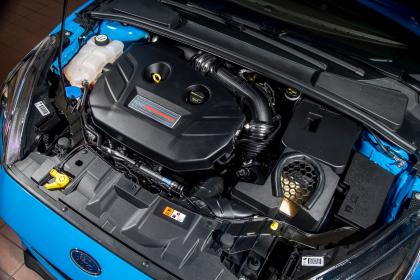 It might be a new engine back then, but it's already proven inside the EcoBoost Mustang. However, Ford knew that more work needs to be done to make headlines in a market that's growing complacent.
Therefore, the EcoBoost 2.3-litre engine actually ended up making 345 horsepower and 475 Nm of torque (with over-boost), more than the EcoBoost Mustang.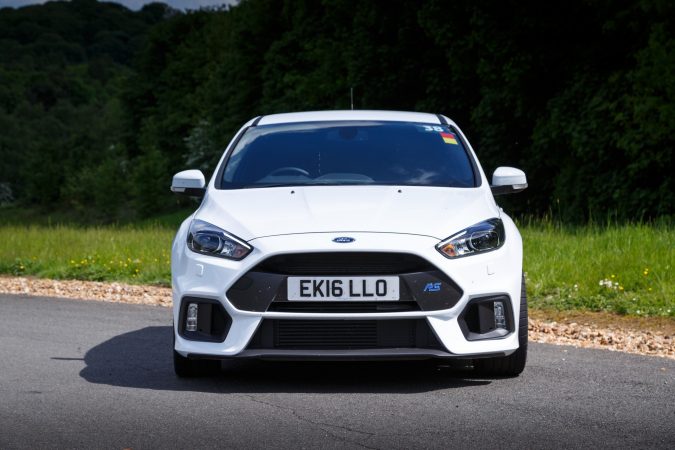 This additional power came from an improved twin-scroll turbocharger, upgraded intercooler, improved intake and exhaust, and a larger radiator.
That was way more power than the Volkswagen Golf R, Subaru WRX STI, and Mitsubishi Evolution X. It was knocking on the doors of the German super compacts – the Mercedes-Benz A45 (CLA45 in the US), BMW M235i, and Audi RS3 while being more affordable.
EcoBoost 2.3 Engine Tuning
And if that's not enough, tuners were already in the progress of figuring out how to extract more out of this engine. People quickly discovered that they can make plenty more power from the EcoBoost 2.3 with minimal effort.
Stage 1 (~370 horsepower)
Again, Mountune is one of the first to figure this out. In fact, the Heritage Edition Focus RS available in the UK was sold with the Montune FPM 375 kit straight from the factory.
The equivalent for this in the US market is the M380 kit. It's a straightforward kit with just a Montune induction kit and its M380 tune for 91 octane. It brings the power to 344 WHP and torque all the way to 562 Nm.
In the Mk3 Focus RS, the stock intake is already thoroughly sorted, so performance gain through an aftermarket induction kit is negligible.
It definitely intensifies the induction noise though. The COBB Redline is a full carbon induction kit that looks awesome and sounds fantastic. Mishimoto, K&N, and Injen all make great induction kits too.
What you most definitely want is a way to tune the ECU though. And on the Focus RS, by far the most popular choice is a COBB AccessPort. Most tuners on the Focus RS perform reflashes through the AccessPort, so getting one expands the engine potential drastically.
With the AccessPort (AP) on a standard car, it's possible to push as much as 394 horsepower when retuned for higher octane fuel. Stratified Auto, MSD, and Montune are all known for offering great tunes using the AP.
Stage 2 (~400 horsepower)
However, past this point, it's advised that you make the necessary supporting mods. A full 3″ catback exhaust system with a high-flow (or decat) downpipe is an ideal next step.
A lot of brands offer a full exhaust system and downpipe for the Focus RS, so it depends on your own ears and budget. For example, Stratified recommends Custom Performance Engineering (CP-e), while MSD advocates for the COBB full 3″ exhaust. Mountune sells an exhaust system for the RS too.
Combine it with an uprated intercooler from mountune, AIRTEC, or CP-e and 1-step colder spark plugs and you're ready to make more power. You can expect approximately 380 WHP and ~560 Nm of torque on an E30 tune.
Unlike the previous Focus RS, it's not advised to run full E85 on the Mk3 Focus RS. This is due to the tendency for high-purity ethanol fuel to form deposits. It'll clog up the high-pressure fuel pump which has incredibly tight tolerances.
Stage 3 (~500 horsepower)
Now you're pretty much at the limits of what is possible on a stock engine Mk3 Focus RS. Pushing beyond 560 Nm of torque on the stock engine will quickly result in catastrophic failure.
The good news is the fact that there are demands for a 500 HP Mk3 RS. Therefore, forged internals and big power mods aren't that hard to find for the RS.
If you're going beyond 420 horsepower, you might as well prepare the engine for way more. Mountune assembles a forged internal kit for the RS. It comes with its own 94mm forged lightweight crankshaft, Mahle forged pistons, Montune I-beam conrod, and tri-metal bearings.
Take the opportunity to upgrade the high-pressure fuel pump to a Devil Developments unit. You're also going to need two 4-bar MAP sensors, such as the MSD T-Map4, to accommodate the increased boost levels.
Upgrade the turbo to a Montune MRX BorgWarner unit or a Precision NX2 turbocharger with an upgraded Turbosmart Kompact recirculating valve and Turbosmart Dual Port wastegate actuator.
With this setup, your Focus RS is primed to make approximately 500 WHP and 700 Nm of torque running on E30 fuel. Beyond 500 WHP, a reworked cylinder head with camshafts such as the Montune MRX head, Quaife LSD, and an extreme-duty clutch are highly recommended.
Beyond 550 WHP
People are still in the process of researching and developing the 2.3 EcoBoost engine for over 700 horsepower. Right now, 520-530 WHP is a good stopping point for any Focus RS build.
Just to give you an idea, with this much power and torque on tap, the Focus RS becomes an AWD super hatch that will run 11 seconds on the quarter-mile all day.
MSD is poised to release its MSD700 kit for the Focus RS soon. It features a DD700-spec forged engine, Xtreme-DI (XDI) HPFP-60 high-pressure pump, XDI 3000cc injectors, and a big Precision PT6266 turbocharger.
It'll certainly be interesting to see just how far are the limits on the Mk3 RS. That said, I reckon MSD is already close to it, as it's pushing over twice the power and torque on the Focus RS's stock transmission.
That's why MSD is advising people to upgrade the stock transmission synchros if they want 600-700 horsepower. Quaife also makes a sequential transmission for the RS too, if you have the money for it.
It's worth noting that, with a reinforced engine block, the 2.3 EcoBoost has been pushed beyond 800 horsepower on the Mustang EcoBoost built by Engineered Motorsports Solutions. Given time, perhaps further heights can be reached on the Focus RS.
Ford Focus RS Modifications: Facts You Need to Know
The Ford Focus RS is a highly-regarded hot hatchback that was released in 2015 and is a great competitor against other hatchback giants such as the VW Golf R, Honda Civic Type R, and Subaru WRX STI.
The stock settings for the RS have been measured to produce about 322 HP as well as 352 Ib-ft torque, but the max estimated horsepower for the Focus RS is 350 HP with 441 Ib-ft torque.
Popular upgrades to increase power and handling include an ECU flasher and a high-flow air filter.
Exhaust, springs, carbon fiber parts, and intakes are popular modifications that can be made to a Ford Focus RS.
The intercooler on the car is so efficient that it is recommended not to modify it.
Brake calipers are viewed as the best in the business and do not require modification.
Upgrading the suspension can increase the enjoyment of the car and make it feel smooth.
Custom rims often have special bolts, making it harder for someone to steal them.
Racing seats and carbon fiber on the steering wheel can add to the car's aesthetic appeal.
Modifications made to the car depending on the driver's preferences.