Honda Insight vs Civic, Honda's two compact automobiles share many important components. In fact, consider that the sole difference between these two vehicles is their powertrain, you could just as easily call the Insight a Civic Hybrid and be correct. It's worth pointing out that when looking at Honda Insight vs Civic, the 2021 Honda Civic served as the basis for the 2021 Insight.
These two cars are distinguished by more than just their hybrid engines. While both sedans offer a high-end feel, they also have their own set of characteristics. How do the two cars compare in terms of driving enjoyment, interior comfort, safety, and dependability? Let's check which one is the best sedan for you in comparing Honda Insight vs Civic.
Honda Insight
The Honda Insight is a two-door, two-passenger liftback hybrid electric car that was built and marketed by Honda in its first generation. In its second iteration, it became a four-door, five-passenger liftback. It evolved into a four-door sedan in its third iteration. For the duration of its production run, it was Honda's first model with an Integrated Motor Assist system and the most fuel-efficient gasoline-powered car available in the United States.
It offers a smooth ride, a nice cabin, and precise handling are just a few of the Civic's greatest features. You'll give up a little acceleration, and the Insight may be loud when you stomp on it, but it's a nice-looking sedan that's not as expensive as non-hybrid competitors and will save you money at the pump.
Engine, Transmission, And Performance
The Insight balances nimble acceleration with frugal fuel economy better than other hybrids. It's on par with many conventionally powered compact vehicles, and it's significantly faster than its hybrid competitors. With a combined 151 horsepower from a gas engine and electric motors, the Insight accelerates from zero to 60 mph in 7.7 seconds.
At modest speeds, it can drive on its electric motor alone for about a mile but request quick acceleration, and the gasoline engine will seamlessly kick in. Under strong acceleration, the engine may become noisy, but Insight's powertrain is otherwise quiet and refined.
Powertrain: 1.5-liter four-cylinder engine and an electric motor with a combined 151 horsepower
Drivetrain: front-wheel-drive
Transmission: single-speed automatic
Fuel Economy
The Insight has two EPA ratings: 55 mpg city and 49 highway for the base EX trim and 51 mpg city and 45 highway for the Touring trim, which is more well-equipped and has wider wheels and tires.
The Insight versions all fall short of the EPA ratings of the Toyota Prius and the Hyundai Ioniq by a few miles per gallon. However, in a real-world highway test, the Insight Touring got 47 mpg, which is 2 mpg better than the EPA figure.
Interior, Comfort, And Cargo
The interior's features and finishes are a well-balanced mix of bargain-basement and high-end. From fuel economy to speed limits, a customized digital gauge in the instrument panel may display a range of statistics. The front seats of the Insight are low, but there's plenty of room to spread out. However, the driver's seat lacks adjustable lumbar support, which is a disappointment (which could be improved with a lumbar support cushion for car).
Two adults can sit comfortably in the back seats. The battery pack in the Insight is housed under the back seat, so it has little impact on cargo space; the rear seats still fold mostly flat to accommodate larger things. Several of Honda's rivals are hatchbacks which means they can carry more cargo and are easier to load.
Infotainment And Connectivity
Although Honda's infotainment system has a fairly modern and understandable interface – and we're delighted it now has a volume knob – some of the options can get unnecessarily confusing, and a tuning knob remains lacking. Apple CarPlay and Android Auto smartphone connection, as well as built-in navigation, are all featured on the standard 8.0-inch touchscreen.
Honda's infotainment system is simple to operate. The touch screen is snappy, and the options are simple to browse. The physical buttons adjacent to the screen are also useful. Standard entertainment features include an 8-inch touch screen, an eight-speaker audio, HD Radio, satellite radio, two USB ports, Apple CarPlay, Android Auto, and Bluetooth. Navigation, a Wi-Fi hotspot, and 10-speaker audio are among the available infotainment amenities.
Other standard amenities include automatic temperature control, push-button start, remote start, and proximity keyless entry. Other options include a sunroof and dual-zone automatic temperature control.
Features For Driver Assistance And Safety
Honda Sensing is a complete collection of driver aids that comes standard on all Insights. On the EX and Touring models, blind-spot monitoring and cross-traffic alert are standard. Visit the National Highway Traffic Safety Administration and the Insurance Institute for Highway Safety websites for more information on Insight's crash-test results.
Key Safety Features
Forward-collision warning and automatic emergency braking are standard.
Adaptive cruise control is a standard feature.
Lane-departure warning and lane-keeping assist are standard.
Honda Civic
Honda Civic is a series of automobiles that Honda has been producing since 1972. The Civic has been classified as a compact car since 2000, after previously being classified as a subcompact. The Civic is currently positioned in Honda's automobile lineup between the City and the Accord.
The first-generation Civic debuted as a two-door vehicle in July 1972, followed by a three-door hatchback in September. Despite its diminutive overall dimensions, the automobile had good inside room thanks to its 1169 cc transverse engine and front-wheel drive, similar to the British Mini.
Initially known for being fuel-efficient, dependable, and environmentally friendly, later generations, particularly the Civic Type R, Civic VTi, Civic GTi, and Civic SiR/Si, have gained a reputation for performance and sportiness.
Horsepower, Engine Options, And Acceleration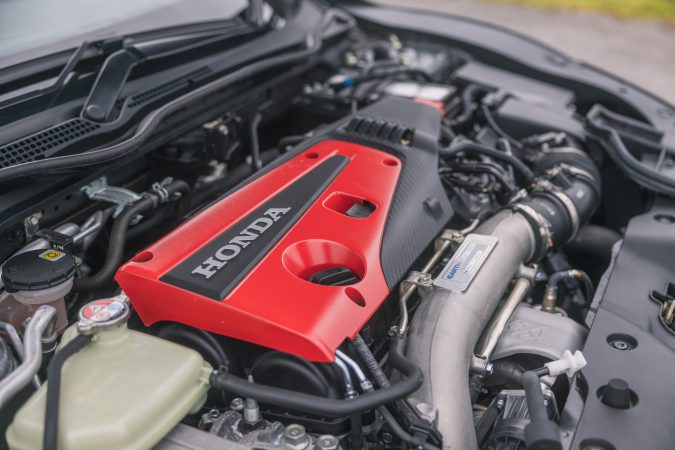 A 2.0-liter four-cylinder engine with 158 horsepower and 138 pound-feet of torque came as standard. A turbocharged 1.5-liter four-cylinder engine with 180 horsepower and 177 pound-feet of torque is available. The only drivetrain of choice is front-wheel drive.
Also by default is a continuously variable transmission; with a six-speed manual transmission made optional. Some reviewers believe the Honda Civic's standard engine is unimpressive, while others believe it delivers acceptable power and acceleration. The optional turbocharged engine has plenty of power and works nicely with the slick automated transmission.
The 1.5-liter turbo engine and CVT are a good combination, allowing this Civic to feel truly speedy. There is no turbo lag or delay in power delivery, only smooth acceleration when the driver needs it. One of the biggest advantages of the turbo engine is that it successfully hides the CVT's flaws.
A quick drive reveals enough power to pull away from stoplights and merge onto expressways, but if you have the means, you won't regret taking a few further steps.
Handling And Braking
The Civic's front-wheel-drive system provides lively handling and responsive steering. The ride is smooth, and the brakes provide adequate stopping force.
Steering, meanwhile, is precise and requires little effort, but it isn't too light. On a curvy road, it allows for smooth transitions between turns, and the body feels planted when the load transfers from one side to the other. You could thrash the Civic on some of our favorite twisties, and it stayed solidly stable and neutral.
The chassis response is fantastic, the ride and handling balance is superb, and there is a genuine steering feel and input. It's a lot lighter on its feet than a new Accord, which I've always thought was a little piggish and heavy. Even the brakes are exceptional, with terrific bite and progressive stopping power without being at all grabby.
Honda Civic Seating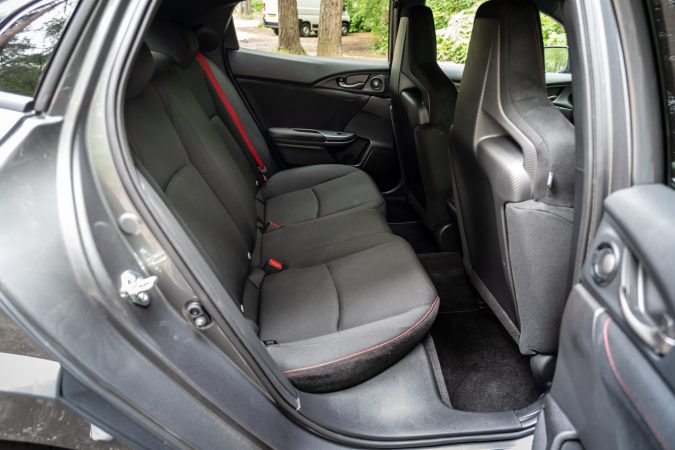 The Civic has a capacity of five persons. The front chairs are supportive and pleasant, with good vision outward. Both the sedan and hatchback body variants offer plenty of space and comfort in the second row.
Leather upholstery, heated front seats, an eight-way power-adjustable driver's seat, a four-way power-adjustable passenger seat, a rear center armrest, and a leather-wrapped steering wheel and shift knob are among the available amenities.
There are two complete sets of LATCH connectors for the rear outboard seats and a tether anchor for the rear center seat to install child safety seats.
This LATCH system has the highest grade of Good+ from the Insurance Institute for Highway Safety, indicating that it is among the easiest and most versatile to use.
Interior Features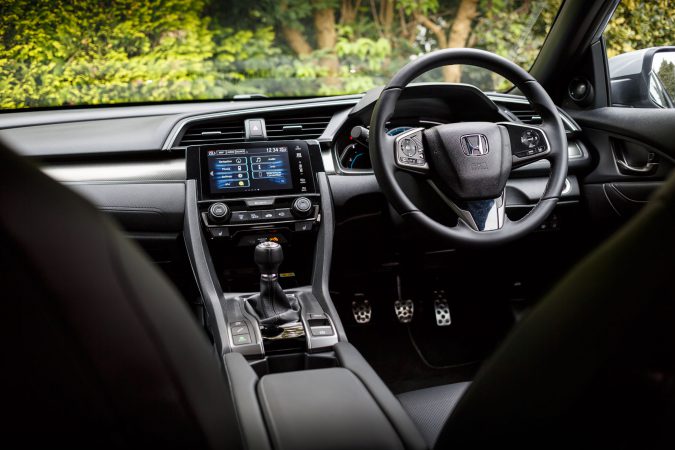 Automatic climate control, a 7-inch driver information display, and a 7-inch touch-screen infotainment system with Android Auto, Apple CarPlay, Bluetooth, a USB port, and four-speaker audio are all standard in the 2022 Civic.
A 9-inch touch screen, wireless Android Auto and Apple CarPlay, wireless device charging, an additional front USB port, two rear USB ports, navigation, a 10.2-inch digital instrument cluster, satellite radio, HD Radio, voice recognition, an eight-speaker stereo, and a 12-speaker Bose premium stereo are all available as options for the infotainment system.
Proximity keyless entry, remote start, dual-zone automatic climate control, a sunroof, a universal garage door opener, and an auto-dimming rearview mirror are among the other choices. Both touch-screen configurations are easy to use, with clear menus and real knobs and buttons for audio and climate control.
Standard infotainment features: Android Auto, Apple CarPlay, Bluetooth, a USB port, and a four-speaker radio are all standard features.
Available infotainment features: A 9-inch touch screen, wireless Android Auto and Apple CarPlay, wireless device charging, another front USB port, two rear USB ports, navigation, a 10.2-inch digital instrument cluster, satellite radio, HD Radio, speech recognition, an eight-speaker stereo, and a 12-speaker Bose premium audio
Additional standard features: Automatic temperature control and a 7-inch driver information display are standard features.
Honda Insight Vs Civic
The Honda Civic is a tiny sedan that competes with the Toyota Corolla.
The Honda Insight is a small hybrid sedan that looks a lot like the Toyota Corolla Hybrid.
Both vehicles are equipped with cutting-edge technology and a robust set of active safety systems.
To better emphasize their differences, we've compared the 2020 Honda Civic and Insight in several categories.
Size And Design
In sedan form, the 2021 Honda Civic resembles the Insight. Since the Coupe is no longer available, the Civic is currently available as a sedan, hatchback (the Type R), or the performance-oriented Si. There are several different engine options to select from, and they are determined by the trim level you purchase. They may be mounted on any of the available body types.
The Insight is a little more simple, with only one body option available – a sedan. It's a four-door sedan that sits between the smaller Civic and the bigger Accord in terms of dimensions. So it fills an unusual spot in Honda's lineup that strangely makes perfect sense.
Exterior
When comparing the Civic and Insight's long, sloping greenhouses, it's clear that they share the same primary bodywork. They're both the same. The wheelbases and overall lengths of the two vehicles are identical. Honda, on the other hand, has done an excellent job of distinguishing the two with distinct front- and rear-end appearance. While both vehicles have a conservative futuristic appearance, the Insight is a touch more squared-off in the front and back than the Civic.
Interior
Although their exteriors are nearly identical, Honda has made an attempt to distinguish the Insight from the Civic on the inside. The two vehicles feature different dashboard designs, even though their operation is nearly identical. The Insight has a push-button gear selection as standard, whereas the Civic has a traditional lever.
The two vehicles are nearly identical in terms of inside dimensions. Except for the top-spec Touring trims, which have 14.7 cu-ft. of cargo space, both offer 37.4 inches of second-row legroom and 15.1 cu-ft. of cargo space.
Comfort
The Honda Civic provides almost the same amount of space for back passengers as the Honda Insight, with equivalent rear head- and legroom in both vehicles. Because it has more front head- and legroom than the Honda Civic, the Honda Insight will appeal to taller drivers.
Convenience
Because they get the same amount of miles per tank of gas, you'll make roughly the same number of stops at the gas station with the Honda Civic as you will with the Honda Insight.
Horsepower, Engine Options
There are two engines available for the standard Civic. The 2.0-liter 4-cylinder engine in the base versions produces 158 horsepower and 138 lb-ft of torque.
Certain models come with a 6-speed manual transmission, however, the majority come with a continuously variable automatic transmission. This engine gets 30 mpg city/38 mpg highway/33 mpg combined with the CVT. The 1.5-liter turbocharged 4-cylinder engine in the Civic EX, Touring, and EX-L models produces 174 horsepower and 162 pound-feet of torque.
In the Civic sedan, this engine is only available with a continuously variable automatic transmission. The Civic has somewhat better fuel efficiency with the turbo, with figures of 32 mpg city/42 mpg highway/36 combined.
Insight's key selling feature is its fuel-efficient and environmentally friendly powertrain. The 1.5-liter 4-cylinder engine in the Insight is combined with a hybrid motor for a total output of 151 horsepower. A continuously variable automatic sends this to the front wheels. The Insight achieves a remarkable fuel economy of 55 mpg city/49 mpg highway/52 combined.
Acceleration
It's not very quick in basic trim. For adequate acceleration, the Civic LX and Civic Sport are equipped with a 158-hp 2.0-liter inline-4 and a CVT. It's slow off the mark, and the CVT winds up the engine and lets it sit in a region of the powerband where noise dominates over speed. Even in a driver-selectable Sport mode, it's a configuration that necessitates preparation for merges and passes, despite the Civic's low weight of 2,877 lb in base form.
The Civic Touring, weighing 3,077 pounds, represents the other, happier end of the performance range. Its 1.5-liter turbo-4 produces 180 horsepower, an increase of 6 horsepower, and 15 pound-feet of torque over the 2021 model. It doesn't feel all that different from the previous year's turbo version, though, with more confident levels of power. The nice stuff is on hold until the Civic Si and Type R variants return.
Features & Technology
Both of these vehicles have a decent bit of technology. Honda Sensing, Honda's suite of active safety technologies that includes automated emergency braking, lane-keeping assist, and radar cruise control, is standard on both. Except for the cheapest levels, all trims include Android Auto and Apple CarPlay.
LED headlights, improved sound systems, dual-zone climate control, and in-car Wi-Fi are among the other options available on both vehicles. Heated seats are available on both vehicles, albeit only the Civic has a heated second row. The incorporation of Honda's LaneWatch technology is an option in both vehicles.
LaneWatch is a one-of-a-kind device that broadcasts a feed from a camera in the side view mirror onto the central infotainment screen whenever the turn signal is depressed, replacing blind-spot monitoring. LaneWatch has been phased out of most Honda vehicles because it isn't nearly as useful as genuine blind-spot monitoring, but it is still available on the Civic and Insight.
Pricing
When destination and handling fees are included, the starting price of the 2020 Honda Civic is $21,605. A loaded Civic Sedan Touring model costs $28,655, ignoring the available performance variants and unique body options. The base model 2020 Honda Insight LX costs $23,885, while the fully-loaded Touring model costs $29,295. When estimating the entire cost of a car, there are several things to consider.
The major factor is the Manufacturer's Suggested Retail Price (MSRP). Only the MSRP is considered, the Honda Civic will have a lower impact on your financial account than the Honda Insight. Another factor to consider is the Destination Price, which is a normal charge for delivering the car from the factory to the dealer. The Honda Civic and Honda Insight have comparable Destination Fees.
Honda Insight Vs Civic Safety
Honda Sensing, a package of standard advanced driving aids, is standard on all of its vehicles. As a result, both the Civic and the Insight are equipped with it.
When forward collision mitigation detects an impending frontal collision, it offers a warning and, in some cases, applies the brakes for you to avoid the accident.
Adaptive cruise control sets and changes the following distance between your Honda and the car in front of it. If the technology detects the Honda drifting over the line, it will gently nudge the vehicle back into its intended driving lane.
Utility
As for utility in Honda Insight vs Civic in terms of seating, both the Honda Civic and the Honda Insight can accommodate the same amount of passengers. You can fit roughly the same number of groceries in the Honda Civic as you can in the Honda Insight.
Warranty
On the warranty offered in Honda insight vs Civic, the Honda Civic is covered by the same basic warranty as to the Honda Insight.
Which Model Should You Buy in Honda Insight Vs Civic?
While both the 2021 Honda Civic and the Honda Insight are acceptable alternatives, we choose the time-tested Civic. Although it is only a few years away from ushering in the next generation, Honda packs the 2021 Civic with as many useful features as possible. It also provides excellent fuel economy with a gas-powered engine with plenty of peps.
Honda Sedans: Civic vs Insight – Key Differences and Similarities
The Honda Civic and the Honda Insight are two affordable, reliable, and long-lasting Honda models that offer great fuel economy and modern features.
While both models are spacious and make use of storage space effectively, the Insight offers more front headroom, and overall passenger space.
The Insight is larger in overall length, and has an upscale, modern look, while the Civic has a sportier, more athletic appearance.
The driving and handling of the two models differ significantly, with the Insight offering stability and predictability, and the Civic providing agility and quick reaction.
The Insight is a gas/electric hybrid model that offers better fuel economy, while the Civic offers more engine options and a turbocharged option.
The interiors of both models feature quality materials, but the Insight has a more high-class design with a customizable digital gauge cluster and heated front seats.
The technology in the Civic suits its athletic persona, while the Insight has more innovative and modern tech features.
Both models come equipped with Honda's signature safety suite, Honda Sensing, which includes advanced features such as collision mitigation and road departure mitigation systems.
Choosing between the two models ultimately comes down to personal preference, with the Civic offering a spunky ride and sporty look, and the Insight offering outstanding fuel economy, upscale attributes, and a hybrid option.
Both the Civic and the Insight are excellent choices for buyers who want a reliable, affordable, and innovative sedan that offers great performance, fuel economy, and safety features.
Honda Insight Vs Civic – Final Conclusion
In summarising a comparison of Honda Insight vs Civic, they're both handsome sedans. There's ample goodies for its interior practicality, exterior design, and performance. It's best to conceive the Insight as a lux Civic Hybrid. While both vehicles have excellent quality and finish, a smooth ride, and similar interior spaces, the Insight gets better gas mileage than the Civic – considerably better, in fact, with a 20-mpg edge in all categories depending on trim levels and extras.
Aside from that, the Civic comes in a variety of body styles and has a manual transmission option. The Insight is only available in sedan form with a continuously variable automatic transmission. If you're looking for a non-Si Civic sedan, the Insight is a good option because it costs only a little more than a Civic with comparable equipment. Calculate how long it would take you to pay off Insight's price premium in fuel savings to help you choose between the two. If the payback period is shorter than the time you expect to keep the car, Insight is probably a good choice.