How fast do mopeds go? A moped is typically a pedal-assisted vehicle with a motor of 50cc or less. In general, top speed and engine size are proportional. The top speed increases along with the engine size. It's vital to consider this depending on how far and where you intend to ride. Smaller engines are not recognized for their speed, but they are super-efficient.
The size of the engine and the top speed will also affect how the vehicle is categorized and governed by your state's DMV. The top speed must normally not exceed 30 mph in order to be classified as a moped. But you should also consider the license, registration, and insurance (for more insight, check out our guide on how much is motorcycle insurance and how to choose the right motorcycle for you) needs in order to select the right bike.
Moped Vs Scooter
In addition to motorcycles, scooters, and mopeds are also found on American roads although not as frequently. A two-wheeled vehicle with a step-through chassis and footrest platform is referred to as a scooter. Engine sizes for scooters typically range from 50 to 250 cc. However, in some western markets, you may purchase a scooter with an engine up to 850cc.
A moped is typically a pedal-powered vehicle with a motor of 50cc or less. A scooter, which resembles a moped, on the other hand, is more powerful and can be fitted with a 250cc motor. But how quickly do scooters and mopeds travel?
A 50cc moped travels at almost the same pace as a 50cc scooter, which normally has a top speed of 30 mph. A 150cc scooter can go up to 70 mph, compared to a 100cc scooter's 60 mph top speed. Learn more about the engines and speeds of scooters and mopeds.
Scooters
Since their creation at the beginning of the 20th century, they have grown in popularity. The Vespa is the most well-known scooter brand; it was created in Italy after World War II and is now sold all over the world.
Some people would argue that a vehicle with an engine of that size belongs in the motorcycle category, but the main distinction is that scooters have a "step-through" chassis. Scooters typically have small 10-inch wheels and a charging mechanism that uses electricity to power the lights, ignition, and batteries. Due to their low speeds, scooters are easier to ride and more maneuverable than motorbikes.
There are both automatic and manual gearboxes available for scooters. However, newer models tend to favor automated or CVT transmissions more frequently due to their usability. In contrast to mopeds, many scooters have large enough engines that are far more capable of daily commuting. They are also lightweight, easy to handle, and fuel-efficient.
Its legal classification is the same regardless of its physical characteristics. The same regulations apply to motorcycles and scooters. To ride, one must be at least 14 years old, while some states have a 16-year-old cutoff. Scooter riders must possess a motorcycle endorsement, motorcycle insurance, and the appropriate riding gear, such as a helmet, in order to operate their scooters on public roads.
If your state does not have a particular test for scooter riding and ownership, make sure to study the motorcycle instruction manual and rules. Because they are comparable if not the same, and they respect motorcycle laws.
Mopeds
Due to its uncommon use in the United States, the moped is frequently mistaken for a scooter. They could be mistaken for one another or for being slightly bigger than one another. A moped is a two-wheeled vehicle that resembles a bicycle but has a small motor along with pedals making them a cheap means of transportation.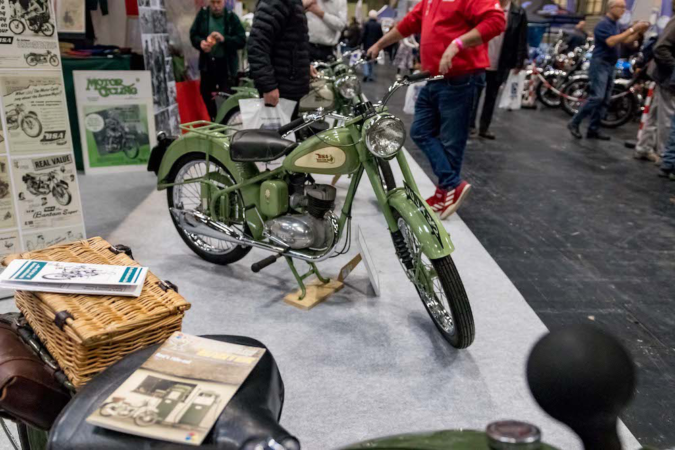 The bicycle-like pedals that the rider uses to start the moped's assist motor are where the phrase "motor pedal" comes from. Typically, it features an engine with a displacement of less than 50cc and/or a top speed of 28/30 mph.
Mopeds shouldn't be used on highways. Because of their low-speed capability, they can't keep up with the flow of traffic and could endanger your safety. The motor of a moped is merely intended to supplement the rider's pedaling and supply a small amount of power. Despite having a simple electrical system, many mopeds can still be driven solely by the pedals.
Moped Legal Classification
While some states describe mopeds according to the size of their engines, others define them according to the top speed that the vehicle can travel. Most states define a moped as having an engine that is 50cc or smaller and capable of traveling at a top speed of 28–30 mph.
A motor vehicle that does not use pedal power legally qualifies as a moped as long as it is tiny enough or slow enough. Kansas is one of the few states that classifies a moped to have up to a 130cc engine capacity.
Similar to legal classifications, each state has various age restrictions for riding, requirements for what kind of safety equipment must be used, and what kind of license, registration, and/or insurance is required. The majority of states demand a motor vehicle endorsement, therefore the minimum age is 15, if not 16. A select few states don't require either endorsement, while others require both.
Some states will accept a motorcycle endorsement in place of a motor vehicle endorsement. A moped must be registered in around half of the states in order to be used legally on the roads. Similar to this, nearly half of the states also mandate insurance.

Only certain states require personal protective equipment for a moped rider. However, regardless of whether it is mandated by the state or not, we strongly advise riding with the appropriate protection (ATGATT). Also, always keep in mind that mopeds should never be driven on highways.
Moped Vs Motorcycle
Motorcycles have been around for 100 years, since the early 1900s. There are numerous famous historical brands that tell the tale of how they were created in modest barns and garages. A motorcycle is defined as a two-wheeled vehicle with no pedals that is powered by a motor. They have stronger acceleration and high-speed handling qualities because they are built for higher speeds.
Motorcycles can travel at highway speeds or slower for commuting in cities. They typically have some cargo storage and provide more wind protection than a moped or scooter. Since most motorbikes have engines of 250cc or more, they are far larger than scooters.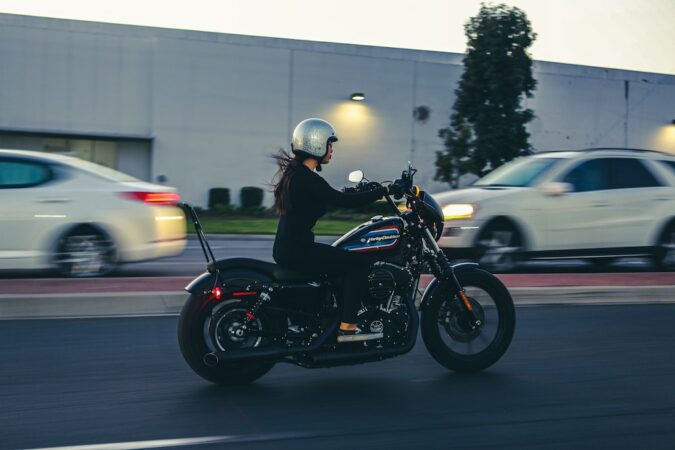 However, there are some motorcycles with 250cc or smaller engines, such as off-road or Gran Prix motorcycles. The absence of a step-through chassis and pedals as well as the requirement to mount the motorcycle before riding distinguish it as a motorcycle as opposed to a scooter or moped.
On motorcycles, the gas tank is situated above the middle-located engine on the frame. In contrast to a moped, the engine is mounted to the frame rather than resting on the suspension at the back. The gas tank is in front of the rider when they sit atop the engine.
To mount the motorcycle, the rider must swing a leg over the chassis because they cannot step through it. Additionally, a moped's wheels are typically smaller (under 16 inches in diameter) than those of a motorbike.
99% of motorcycles have a manual clutch that necessitates the rider to manually shift gears, in contrast to scooters that have a "twist and go" automatic (CVT) transmission. The rear brakes on a motorcycle must be applied with the right foot while using this manual clutch, whereas moped users can do so with the left hand.
Vespa Vs Moped
Mercedes-Benz, BMW, or Cadillac may come to mind first when you consider luxury automobiles. However, Vespa is the opulent brand that frequently reigns supreme in the field of scooter, moped, and motorbike models. Piaggio manufactures Vespa two-wheelers, which have been a well-liked mode of mobility for about 75 years.
Given how distinct it is from other similar cars, you might be asking what category the Vespa actually belongs to. What distinguishes Vespas from motorcycles and scooters, and how can you know?
Laws, rules, and license requirements for motorcycles and mopeds vary. What about a Vespa, though? It is advisable to gain some basic knowledge of the nature of a Vespa. It doesn't appear as simple as it could look for a Vespa.
A Vespa is a scooter that falls under the moped or motorbike categories. Given that it doesn't go faster than 30mph, the 50cc Vespa tiny-frame qualifies as a moped. Vespas with large frames and engines of 125cc or greater are considered motorcycles. These Vespas are typically permitted on highways.
Moped Top Speed
50cc Moped
A 50cc gas moped typically has an air-cooled, 50cc, single-cylinder, four-stroke engine. It comes with an automatic CVT transmission and is legal to drive in all 50 states of the United States. With a fuel capacity of 1 gallon, these mopeds have a top speed of around 30 mph. They have an electric/kick-start starting mechanism and are driven upright.
A 10-inch split tri-spoke premium alloy wheel and a front hydraulic disc brake are included as standard equipment on this kind of moped. They have a wheelbase of approximately 50 inches, a weight capacity of around 220 pounds, and a net weight of fewer than 200 pounds.
100cc Moped
The top speed of a moped powered by a 100cc engine is roughly 60mph. Many people are curious about the 100mph speedometer found on some 100cc scooters. In the United States, 100cc mopeds are uncommon. Due to its superiority over 100cc scooters, 125cc and 150cc scooters are more prevalent.
150cc Moped
These models come powered by 150cc, four-stroke engines. Although this moped also has a remote control starter, the starting mechanism is an electric kickstart. It has a higher top speed of 60 mph and a larger fuel capacity of 1.75 gallons compared to the 50cc variants. It also employs a 12-volt 7AH battery for the electric start mechanism.
These models weigh below 300 lbs., feature a variable-speed control throttle, and a belt-drive system. They have a maximum weight of fewer than 400 lbs., gas-filled shocks, and storage underneath a spring-loaded seat. A 150cc moped typically has a top speed of around 60mph.
250cc Moped
The 250cc, four-stroke, single/double-cylinder engines of these mopeds are significantly more powerful than smaller mopeds. They typically have a chain drive driveline, and an electric starting system, while the transmission could be manual or automatic. The peak speed would be about 75 mph, and the gasoline capacity would be above 2.0 gallons.
But the battery is the same as in smaller models. Front and rear disc brakes, a stronger steel tube frame, double-swing-arm front suspension, and rear air suspension are all features of this potent type of moped. They weigh above 500 lbs., which is significantly more than the other varieties and can support up to 400 lbs.
Types Of Mopeds
Gas mopeds are essentially small-displacement motorcycles that provide extremely affordable mobility. The regulations governing motor vehicles differ greatly between different governments around the world. These variations cause some confusion about what exactly a moped is and, in some situations, have an impact on the engine size, design elements, and even the name given to the vehicle.
Engine sizes for gas mopeds typically range from ultra-compact, two-stroke models to 250cc, four-stroke models. The majority of mopeds have two wheels and either a step-through design like a motor scooter. Some also have a step-over frame like a traditional motorcycle, while there are also three- and four-wheeled variants.
Small-displacement motorcycles and bicycles have been produced since the early 20th century. However, the term "moped" didn't become popular until the 1950s. The term was used to describe a variety of small motorcycle or motorscooter brands with step-through frames, engines of about 50cc or less, and auxiliary pedals. The majority of gas mopeds today lack pedals due to more efficient engines, clutches, and transmissions.
The legal minimum age for operating a moped is frequently lower than that for operating a traditional motorcycle or car. Some versions of gas mopeds have 49-cc engines since there are some nations that restrict the engine size to less than 50cc.
Mopeds may be subject to strict maximum and minimum speed laws in several countries, including the United States, and are prohibited from being driven on high-speed routes. Potential buyers should become familiar with the local legislation that applies to gas mopeds before considering using a moped.
Best Moped Brands
Despite the fact that there aren't many mopeds on the road in the United States, there are still a lot of possibilities available. If you want to spend more time riding rather than working on a clunker, there are still several brands that you should stay away from.
It can be difficult to find accurate information specifically on scooters. Much less so that you can weigh your alternatives. However, how are you to determine which is best? When you're prepared to consider your options for a scooter, read along.
How Fast Do Mopeds Go, Top Brands #1: Vespa
Vespa enthusiasts are devoted and with good reason! The first scooters and mopeds were introduced in 1946 by Vespa. Since Vespa has been making scooters for nearly 70 years, there is a healthy market for antique models and a large number of Vespa-specific scooter/moped groups.
Many non-scooter enthusiasts aren't even aware that Vespa is a company. They simply refer to all scooters with a similar design to the recognizable Vespa look. Another layer of confusion is that Vespa scooters are a part of the Piaggio Group. The Piaggio scooters that are sold in the US are among the several scooter brands that are produced abroad under the Piaggio Group.
How Fast Do Mopeds Go, Top Brands #2: Piaggio
The Piaggio Group makes Vespa scooters and mopeds. But they also produce scooters with the Piaggio brand name that are sold in the US. The Piaggio Group comprises 7 distinct scooter brands on a global scale.
In comparison to competing scooters with comparable features, Piaggio mopeds are less expensive than Vespa scooters. Also, all Piaggio mopeds lean more toward athletic design than traditional Italian design.
How Fast Do Mopeds Go, Top Brands #3: Genuine Scooter Company
Although the Genuine Scooter Company is situated in Chicago, Illinois, the scooters are not made there. Even though Genuine was created in 2002 and began with the well-liked Stella, they don't have exactly the same history as Vespa. Genuine Scooters, on the other hand, are reasonably priced, dependable, come in a variety of scooters (and colors), and are robustly maintained.
Vespa's entry-level 50cc moped has an MSRP of $4,000, according to the company. You'll pay $1,899 for a 50cc from Genuine that also has electronic fuel injection, which is less than half the price. Additionally, Genuine includes a year of roadside support through its dealer network.
Genuine mopeds cost half as much and come with a reliable warranty. The 24-month warranty has been adopted by several scooter manufacturers, but Genuine was the first in its class.
How Fast Do Mopeds Go, Top Brands #4: Lance Powersports
Lance is a brand that offers a tonne of variety at a reasonable price. They have a selection of mopeds and scooters. What's interesting is that Lance has three 125cc and 170cc engine models offered. Then, they also have three identical 50cc-sized units. They have a version available for you, regardless of the size engine you require or the style you prefer.
If you haven't heard of this brand before, you won't feel as risky buying from them because they offer a 24-month warranty. They have a decent selection of scooters, but only the 200i models have electronic fuel injection, they are the preferred ones. Lance only makes 4-stroke vehicles.
Electric Bike Vs Moped
Both eBikes and mopeds are viable alternatives to public transportation if you're seeking a cheap way to commute. Both are neat, quiet, and effective, allowing you to arrive at work without perspiring.
An electric moped does not require you to pedal, in contrast to an electric bike, which is the main distinction between the two. This also means that whereas a moped is a twist-and-go affair with little training required, an eBike will enhance your fitness and require some level of muscular input.
How Fast Do Mopeds Go: Electric Bike
A lightweight bike with an electric motor that generates power when the rider begins to pedal is known as an e-bike. Electric bikes differ from other motorized motorcycles, like mopeds, in that they weigh far less and can be pedaled similarly to ordinary bikes. Nowadays, most mopeds lack pedals.
Additionally, there are several kinds of electric bikes, from those with smaller motors to those with quicker, more potent motors that can reach top speeds of close to 30 MPH. Overall, among two-wheeled vehicles, electric bikes offer the most distinctive and adaptable features.
How Fast Do Mopeds Go: E-Moped
E-mopeds, typically resemble typical gasoline-powered mopeds in appearance. They frequently have helmet storage under the seat or in the leg shield, and they feature a body and leg shield that hide their electrical mechanics. They typically have less stringent license requirements than bigger, more powerful motorcycles, as all mopeds have.
These days, a broad variety of e-mopeds with shared fleets in mind are available on the market. These have certain features that make riding more intuitive, so even those with little prior expertise may easily get started. There are also some fast electric mopeds available in the market which makes them a more fun choice to commute on.
How Fast Do Mopeds Go, Electric Bike Vs Moped: Which One Suits You Best
Each alternative offers a number of standout qualities that make it distinct, as we've already said. There is, however, a lot more than meets the eye. To assist you in making the best choice possible, let's quickly review some of the major distinctions.
Both choices are meritoriously taken into account. Mopeds have been around for a lot longer and are therefore more popular among commuters. Electric bicycles combine cutting-edge technology with environmentally friendly technology to provide riders with a thrilling experience. Whichever option offers you the greatest advantages for your needs and lifestyle will ultimately determine which one you select.
How Fast Do Mopeds Go: In Conclusion…
In conclusion, the peak speed of a 50cc moped is 30 mph compared to a 100cc moped's 60 mph top speed. Mopeds typically have engines that are no larger than 50cc, which means that their top speed is limited to 30 mph. Larger, 100cc mopeds can reach speeds of 60 mph while a 150cc moped can go up to 70 mph.
Despite their differences, scooters, and mopeds are sometimes confused. However, if speed and engine size are important considerations, a 50cc scooter and moped typically go at the same pace. It is sufficient to say that the scooter or moped can travel faster if the engine or motor is larger. However, this alters how the bike must be licensed, registered, and insured.
FAQs On How Fast Do Mopeds Go
What Is A Moped
A moped is a sort of compact motorcycle that often requires a less restrictive license than full motorcycles or cars. The phrase once referred to a vehicle that was similar but had both bicycle pedals and a motorcycle engine.
How Fast Is 50cc
The peak speeds of 50cc motorcycles and scooters range from 25 to 40mph. The majority of them fall in that medium region. Because these bikes frequently have engine restrictions in various areas, top speeds are comparable for the majority of factory 50cc motorcycles.
How Fast Is 125cc
The peak speed of a 125cc scooter or motorcycle is 60 mph, which is twice as fast as a 50cc. As a result, they are a far better option if you intend to travel farther or on highways. A 50cc scooter is a decent option for city riding, but 125cc scooters are preferable for riding in the suburbs or in the country.
How Fast Does 50cc Dirt Bike Go
The average speed range of a 50cc dirt bike is between 25mph and 40mph. This typical speed range of a 50cc dirt bike, which some parents worry may be too fast for their children.
How Fast Does A 125cc Dirt Bike Go
The top speed of 125cc dirt bikes can range from 55 to 70 mph depending on a number of variables. But the terrain you are riding on may make this worse. For instance, if you were tearing up a track, you would move more quickly than if you were riding over extremely difficult terrain.
Are All Motorcycles Manual
A motorcycle with an automatic transmission was unusual until recently, but things have changed since 2018. Most of today's motorcycles are mostly outfitted with manual transmissions. However, the entrance barrier to motorcycling is gradually lowering because of the popularity of bikes that don't require the rider to shift. Both automatic and single-gear gearboxes can be used to accomplish this.
How Fast Does Electric Scooters Go
Depending on the e-brand, scooter's model, and intended use, the top speed differs. Electric scooters for commuters can attain a speed of between 15 and 25 miles per hour. High-speed electric scooters may travel up to 50 mph in the meanwhile. However, a few electric scooters can even exceed 60 mph.