Skylines account for a sizable portion of the JDM import industry. But how much does it really cost to import Godzilla to the United States? You might already be too late if you wanted to purchase an imported R34 GTR as the prices have skyrocketed now. So how much is an R34 and is it possible to import it to the US?
In fact, is a Nissan Skyline R34 even legal in the US? Generation after generation has grown up hearing about the GT-R. Thanks to its appearances in popular cult media like the Gran Turismo video games and the Fast and the Furious movies. Godzilla is immortal.
The Nissan GT-R has undoubtedly won the title of the vehicle with the most majestic moniker ever. Let's see how you can get an R34 imported to the country. After all, the R34 is unfortunately one of those cars that are illegal in the US.
Nissan Skyline
1. 4 Door Skyline
The Nissan Skyline was first created by the Prince Motor Company in 1957. After the two businesses combined in 1966, Nissan began producing it under the name "Nissan Skyline." The Skyline had a 1.5L GA-30 engine and was offered as a four-door sedan or a five-door station wagon.
The first racing GT Skyline was released in 1964, still operating under the Prince Motors brand. The Skyline transitioned from a sedan to a race car with the release of the GT Skyline.
2. Hakosuka GTR
Skyline officially became a Nissan car when the first performance-bred Skyline GT-R was exhibited at the Tokyo Motor Show in 1969. It was still a sedan. But it now had an inline-six engine with 160 horsepower, which was outstanding for the time. From 1969 until 1972, the Nissan Skyline of the first generation was offered.
Hakosuka, which combines the Japanese words for "box" (Hako) with the acronym for Skyline (Suka, or, as in or "sukairain"), was a well-liked name of this Skyline GT-R. It was the first Nissan to sport the coveted three-letter mark, long regarded as a byword for speed.
The car had a six-cylinder engine that ran at high revs and handled like a dream. The Hakosuka was ferocious on the track thanks to the combination of those two attributes.
The 1969 Skyline GT-R was a touring car unlike any other. It took design influences from the Nissan Prince R380 racing prototype. It was powered by a four-valve Dual Overhead Cam (DOHC) engine with four-wheel independent suspension for exceptional handling.
In its first three years of racing, the car destroyed the opposition in Japan's domestic touring events, winning 52 of them. In 1970, the initial two-door model had a good introduction and garnered favorable reviews.
However, the Skyline GT-R was temporarily placed on hold as a result of the worldwide gasoline crisis and the implementation of tighter pollution regulations.
3. Skyline C110
The C110 generation Skyline was built from 1973 to 1977. It became known as the Kenmare because of an advertisement with Ken and Mary as the owners. It too featured a GT-R variant. But only in 1973, making it the final Skyline to bear the GT-R moniker until 1989.
4. R30 Skyline
The R30 was a popular and incredibly adaptable design. It came in coupe, four-door sedan, five-door hatchback, and four-door wagon variations. There were 26 different versions of the R30 in total. But none of them really hinted at what the Skyline would eventually become.
5. R31 Skyline
The R31 was first introduced in 1986. It was a little bit larger and boxier than earlier models. It was also the first to have the Nissan Induction Control System and the infamous "Red Top" Skyline FJ20 engine with red cam covers.
6. GTR R32
Although the Skyline had gone through numerous stages, the true predecessor to the modern GT-R was unveiled in 1989. The R32 Skyline GT-R came with an all-wheel drive system powered by a 280-horsepower Nissan RB26DETT inline-six engine.
The JDM (Japanese Domestic Market) model is still revered in the American tuner scene even though it was never offered here. And if you can't afford the increasingly high costs of a GT-R, we've previously compiled a list of cheap JDM cars for you to consider.
In 1989, a decrepit R32 made its debut in the Japanese Touring Car Championship. Over the following four seasons, it won all 29 of the races it started. The GT-R mythology began to take shape at that point.
7. GTR R33
After making its debut as a prototype at the 1993 Tokyo Motor Show, the Nissan R33 Skyline GTR was ultimately introduced to the general public in January 1995. It had significantly improved body stiffness and better weight distribution.
The model also featured a more refined traction control offered by the new all-wheel drive system known as "ATTESA E-TS PRO". The R33 Skyline GT-R evolved from the R32 to become faster, and more stable.
Nissan Skyline R34
GTR R34
The R34 Skyline GT-R was released in 1999 and was in production until 2002. The model stood out thanks to a cutting-edge display unit, and its RB26DETT twin-turbo Inline-6 engine delivered outstanding horsepower.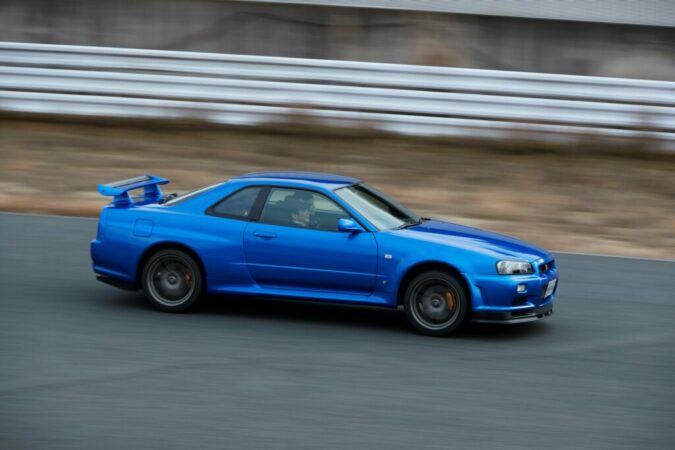 The R34 was able to outperform its predecessors because of a shorter wheelbase and a more streamlined design. Nissan delivered the M-Spec with improved dampers, a stiffer rear sway bar, and heated front seats two years after the R34 Skyline GT-R was introduced in 1999.
GTR R34 Spec V
The V-Spec II, which had a carbon-fiber hood, bigger brakes, and a sportier suspension, was also released at the same time. Additionally, it includes an electronically controlled limited-slip differential rather than a mechanical one.
The R34 Nissan Skyline GT-R V-Spec II and M-Spec Nür are additional models. The last Nür bit in the name may sound familiar to you since it alludes to the illustrious Nürburgring race track. It's there because the engines in these cars were truly race-ready and received upgrades from N1-spec racers.
According to Hagerty, these cars came with improved water and oil pumps, a stronger block and rotating assembly, and more durable turbos. Additionally, they had a gold engine cover and a speedometer that can reach 300 km/h (186 mph).
GTR R34 Nismo
Nismo R34 GTR Z-Tune
This was Nismo's final performance with the GTR. This was the final version of the R34 GTR. The Z-Tune was developed by Nismo in 2002 and was based on technology the company had created over the course of its involvement in GT500 and Le Mans GT2 racing.
The initial prototype, which was created in 2003 using a used V.Spec II as a platform, was given an entirely new concept RB26DETT, known as the "Z1". This engine had a reinforced block and a crankshaft that had been stroked, and it was bored out to 2.8 liters.
To commemorate Nismo's anniversary, Nissan officially granted Nismo permission to manufacture 20 customer cars. For that, 20 old V.Spec cars, each with fewer than 18,000 miles on the odometer, were purchased and stripped down to their bare shells.
 Then Nismo repainted the cars in a distinctive "Z-Tune Silver." The Z1 engine was changed out for the 'Z2', an improved version of the prototype. With this engine, the promised 500 horsepower was made possible thanks to the high 8000 rpm rev limit and IHI-supplied turbos.
While the car was being rebuilt from the chassis up, Nismo swapped out the stock front bumper, fenders, and hood with iconic Z-Tune-specific parts. The bodywork was left looking remarkably similar to the original R34 GTR. The Nismo LMGT4 wheels, and the lowered suspension by Sachs, are other classic elements.
Only 19 Z-Tunes were ever produced in total. That number includes the two prototypes, so it's hardly surprising that they can sell for well over a million dollars.
Importing A GT-R
Nowadays, it seems like everyone wants a piece of the JDM pie. The 25-year import ban on the Japanese halo cars of the 1990s' in the United States is about to expire. This has made the import market more competitive than ever.
2014 saw the legalization of imports for the R32 model of the Nissan Skyline GT-R. The R33, the second-generation GT-R, also became authorized for import in 2021. However, there are a few extra requirements to meet if you wish to bring your own GT-R.
Fortunately, the demand for the Nissan Skyline is so high that many of them can be found for sale on American soil. Dealerships have sprung up all over the place that specializes in JDM imports.
Once they have gone through the importation process, these cars can be purchased and sold in the same manner as any other domestic U.S. vehicle. The process is substantially simplified because so many businesses that specialize in JDM are willing to handle the import snafu for you.
One of the top importers in the United States at the moment is TopRank Importers, based in Cypress, California. Typically, shipping costs are fixed but also come with an additional import charge.
Where things can become complicated with this import tariff, as TopRank notes. As the import market for cars continues to heat up, the existing import duty rate of 2.5 percent may change.
According to Sean Morris, owner of TopRank, there is a flat $5,500 price for importing from Japan into the United States. Additionally, transportation to their California dealership is also included in this set price.
1. Driving In From Canada
The procedure for importing the car from Canada is actually pretty easy once the 25-year threshold has passed. However, you may drive the car into the USA if you reside in Canada. But there are some conditions.
The car must enter the country at the same time as you do and can only stay there for a year. According to U.S. Customs and Border Protection:
"Nonresidents may import a vehicle duty-free for personal use for up to one year if the vehicle is imported in conjunction with the owner's arrival. Vehicles imported under this provision that do not conform to U.S. safety and emission standards must be exported within one year and may not be sold in the U.S. There is no exemption or extension of the export requirements."
2. Importing Under Show and Display
The 567 cars that were granted federal import approval under the Show and Display Rule are the only R34 GT-R variations that are permitted to be imported before 2024. This exclusion only pertains to the 285-unit production 2002 Nissan GT-R M-Spec Nur and the 282-unit production 1999 Nissan GT-R V-Spec painted in Midnight Purple II.
The 1999 Midnight Purple V-Spec is a limited edition from the very first year of R34 manufacturing. The 2002 M-Spec Nur is a limited edition from the very last year. Both of these models were chosen by the U.S. government for their historical significance.
Under Show and Display, no additional road-legal GT-R models may be imported. Even those 567 vehicles would have extremely restricted mileage and general use scenarios up until the 25-year timeframe ends.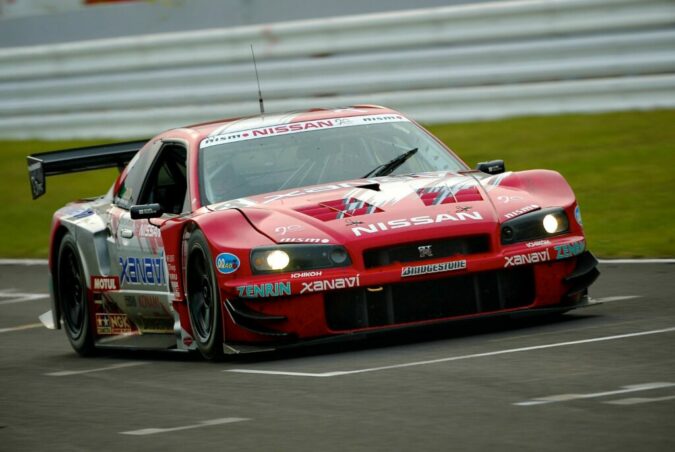 3. Importing For Track Use
It turns out that is not just acceptable but also fairly common. For cars intended for track use or for exhibition and storage solely, there has long been a grey area. Before 2024, an R34 may be brought into the country legally for use on the racetrack only. It cannot be registered or used on public roads, in accordance with NHTSA regulations.
To do so, you'll need the NHTSA's formal consent and the car's conversion to track-only use before importing. Once the vehicle reaches the age of 25 it can be modified and registered for use on the road.
Nevertheless, R34s are still driven on American roads today. They have been tuned to produce between 280 and 500 horsepower and are even capable of 1,000 BHP. This means it can travel at speeds of up to over 200 mph on the highway.
Some rebellious drivers in Los Angeles, Miami, and rural Texas regularly drive at these speeds while feigning to be in Mexico.
Nissan GTR Price
Undoubtedly, the most coveted Nissan Skyline GT-R is the R34 version. Everyone desires it, and with good cause. One of the most imposing characters in foreign automobile culture, the R34 can be seen everywhere from the big screen to the racetrack.
Unfortunately, the R34 is still too new to comply with the import rule's 25-year threshold. Any car must first pass government emissions and crash safety standards in order to be allowed to enter the country legally.
Nissan didn't do that with the Skyline until the R35 generation. This means all R34-generation models, including the renowned GT-R, will not be allowed to be driven on American roads until they are at least 25 years old.
Cars that are prohibited from importation and registration in the United States remain so until they are 25 years old because of long-standing classic vehicle rules. The first legally permitted sales of R34 Nissan Skylines in the United States will take place in 2024. This is because the R34 was created between 1999 and 2002.
However, importers also offer a fix for this. They are offering to store your brand-new R34 GT-R in Japan until it can be imported. They are, nevertheless, very ambiguous regarding the up-front expense of storing the car in Japan.
But it is an excellent choice, especially for those trying to avoid the price surge that is soon to occur once R34s are allowed for import. They'll even maintain the car's Japanese registration current so you may visit it and cruise the Tokyo streets on your new ride.
Nissan Skyline R34 Price
A new R34 cost $45,000 in 1999; in 2022, that amount would be closer to more than $71,000. Prices have gradually increased due to decreasing production levels, rarer varieties, and a renewed interest in both JDM cars and 1990s vehicles.
For a car that can cost over $300,000 from some dealers, what seemed like a large price tag more than two decades ago now appears like a steal.
When the R35 GT R was released in 2009, the resale value of R34s started to progressively decline. At the time, R34s were selling for anywhere between $40,000 and $50,000, with special editions adding an additional $20,000 to $30,000. At the time, it could be considered as one of the most depreciated cars.
Prices for the R34 started to spike in 2015, with high-spec models selling for $100,000. In late 2016, one even sold at auction for $160,000, which was unheard of just a few years earlier. And if you've been paying attention to how much is a GTR R35, it's actually more expensive than a new GTR.
A base-model R34 Skyline GT R is currently available for just over $110,000 in fair condition, while classic.com estimates that a better-preserved example typically costs over $188,500. When authenticated, the rarer models, such as the V or M-Spec Nürs, continue to fetch larger sums.
Special Edition R34 GT-R Price
Examples that are clean and untouched are highly valued. The rarity of some of the special editions on the list is unimaginable. The hardcore N1, for example, was produced in a limited quantity of 56. Only 18 of these are V-Spec II N1, compared to 38 V-Spec N1. Even with 156,000 miles on the odometer, those will set you back more than $80,000.
With just 285 units made, the M-Spec Nür also comes with price tags comparable to modern supercars. In December 2020 in Japan, one of those with only 627 miles was sold for an astounding $339,000. This makes purchasing a Z-Tune as challenging as visiting Mars. A dealer in Hong Kong sold Chassis #009, one of the 18 examples, for $484,344 in 2016.
Reduce your expectations a little; you can still find some R34 GT-Rs with less inflated prices, but it's still difficult to find one. But potential buyers will need to request a price quote for anything bearing the V-Spec designation.
Paul Walker Skyline GTR
When it sells at auction later this year, the R34 Nissan Skyline GT-R driven by the late Paul Walker in Fast & Furious 4 is sure to please one lucky fan of the franchise. This particular blue vehicle is one of two that Walker's Brian O'Conner character drove in the movies.
Even while the silver R34 from 2 Fast 2 Furious may be better known, this car nevertheless carries a certain amount of status. This specific vehicle, a 2000 model modified by Kaizo Industries, served as the movie's star vehicle. The others which appeared were essentially knockoff body shells on special stunt frames.
Walker requested that there be no wild paint colors, stickers, or decals on the exterior. A Nismo Version II bumper, 19-inch Volk Racing wheels, and a Nismo NE-1 exhaust are among the more subtle changes. The only significant modification to the 2.6-liter twin-turbo straight-six under the hood is a Turbonetics intercooler.
R34 GTT
Along with the GT-R, the Nissan Skyline R34 GT-T was another variant of the Skyline that was unveiled in the 1990s. There were two variations of this: a 4-door sedan or a 2-door coupe that closely resembles the GT-R. Nowadays, aficionados are becoming more attracted to the GT-T coupe.
The GT-T's 0-60mph time of slightly under 6 seconds for a 1998 sports car is still fairly amazing. It is powered by an RB25. The car's performance could easily drop to the low fives with minor modifications and stock internals. This puts it on pace with the legendary RX-7 and Evo 5 without any of the reliability problems.
The demand for JDM vehicles has increased globally. As a result, vehicles like the GT-T, which were quite affordable 8 to 10 years ago, are now valued at over $30,000. However, 30,000 dollars is seen by many as a fair deal compared to the GT-R's exorbitant pricing.
The GT-T has a reputation for being a less expensive GT-R, but that doesn't imply it is in any way a slow or incapable car. It has a very good factory-rated horsepower of 280, which is actually just 40 horsepower less than the GT-R.
The RB25 is a fantastic engine, and with a little tune, it is easily capable of producing more than 400 horsepower. With 400 horsepower, you could compete favorably with vehicles like the NSX, RX-7, and BMW M5.
If you want to achieve the legendary GT-R look, there are a number of GT-T body kits, that give it broader arches. With 40,000 dollars, you could get a gorgeous GT-T with minimal mileage and some extra cash for upgrades that would make it faster than a GT-R.
How Much Is A R34: In Conclusion…
Sadly, with only a few exceptions, the 1999 GT R cannot be road-driven or imported until 2024 because of the 25-year import rule. However, today you've learned about the potential prices you could anticipate paying to get one in the ensuing years, excluding import fees.
If nothing changes, you'll be able to legally drive the R34 Nissan GT-R on American roads in 2024. It simply isn't worth the danger to get around the law and smuggle one across the border up until that point. When you're in a jail cell and your car is waiting to be crushed, it won't help you one bit.
FAQs On How Much Is A R34
How Much Is A GTR
The starting price of the 2022 Nissan GT-R is around $115,000, which is on the top end of the luxury sports car market. For the more aggressive GT-R Nismo variant, the price soars to more than $210,740. The Audi TT, Toyota Supra, Porsche Cayman, and Chevrolet Corvette are more affordable two-door sports cars in this segment.
What Does GTR Stand For
Gran Turismo Racing is the meaning of the moniker GT-R. Although Nissan's vehicles aren't the only ones with the GT-R/GTR badge, they are frequently associated with the designation. BMW, McLaren, Mercedes, and even Isuzu are just a few of the manufacturers who have given their vehicles the GTR treatment.
What Is A Skyline
The Nissan Skyline is a series of cars first produced by the Prince Motor Company beginning in 1957 and then by Nissan after the two firms combined in 1967. Skylines were offered in body types including coupe, sedan, station wagon, crossover, convertible, and pickup. The later models are best recognized for their spherical tails and brake lights.
Is A Nissan Skyline R34 Legal In The US
A Skyline GT-R R34 can be brought into the US legally and used strictly on the track. It can also be bought as a show car as well. However, you cannot drive it on public roads because it is not street-legal.
When Will The R34 Be Legal In The US
Cars that are prohibited from importation and registration in the United States remain so until they are 25 years old. This is because of the long-standing classic vehicle laws. The first legally permitted sales of R34 Nissan Skylines in the United States will take place in 2024. This is due to the fact that the R34 was manufactured between 1999 and 2002.
How Much Is A Nissan Skyline R34
According to classic.com, a base-model R34 Skyline GT R is currently on the market for a little over $110,000 in fair condition. However, a more well-preserved version typically costs around $188,500. The more elusive models, such as the V or M-Spec Nürs, continue to fetch high prices at auction when verified as genuine.
Is A Skyline A GTR
Simply said, the GTR and Skyline are from separate car ranges. Nissan's Pre-R35 cars are referred to as Skyline. Despite the fact that both the Skyline and R35 models use the GTR suffix, the Nissan R35 GT-R is a member of a distinct series from the Skyline GTR. Additionally, they are very dissimilar in terms of configuration.
Is The R35 A Skyline
The R35 GT-R is a standalone car, as opposed to the previous generations of GT-Rs, which were all the pinnacle of the applicable Skyline platform. This makes the R35 different from a Skyline.
What Engine Does A R34 GTR Have
The R34 GTR is powered by an RB26DETT engine, which was also used in the R32 and R33 GTR Skylines. It is a 2.6-liter twin-turbocharged inline-six engine. The cylinder head is made of an aluminum alloy and has a total of 24 valves. A pair of parallel T25 ceramic twin-turbos are used for turbocharging.
What Year Was The R34 Skyline Made
The R34 Skyline GT-R model debuted in January 1999. In comparison to the R33 GT-R, the R34 GT-R had a lower overall length and a smaller front overhang. Also, instead of being coated black like in earlier models, the valve covers were shiny red in the R34.
How To Legally Import A Skyline R34
Before 2024, an R34 may be brought into the country legally for use on the racetrack and for show purposes only. It cannot be registered or used on public roads, in accordance with NHTSA regulations. To do so, you'll need the NHTSA's formal consent and the car's conversion to track-only use before importing.