Piqued at the notion of owning an eccentric 4-door sports sedan? If you like your American muscle, then the Chevy SS might be an interesting proposition. Otherwise, then the Infiniti Q50 might just be the car for you. In fact, it's fair to say that most Q50 owners probably are car enthusiasts that seek a unique ride with ample road presence. You'd be surprised at the amount of Infiniti Q50 modified to varying degrees.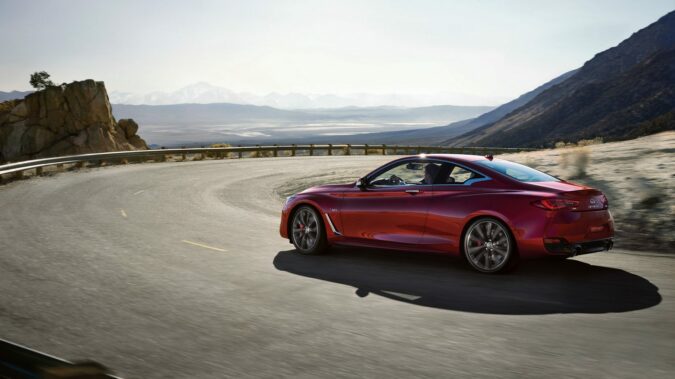 The Infiniti Q is the spiritual successor to the venerated G-series lineup. Specifically the G sedans. And it is quite a departure from the original formula. Rather than moving towards the luxury market further (as the luxury, premium subsidiary of Nissan), Infiniti has made a modern car to appeal to the crowd.
Infiniti Q50
With regards to aesthetics, Infiniti has forgone the previously very distinctive bulbous design. Instead, the Q50 features a more modern styling made to appeal to a broader audience. It's fair to say that Infiniti has toned down the car for that purpose.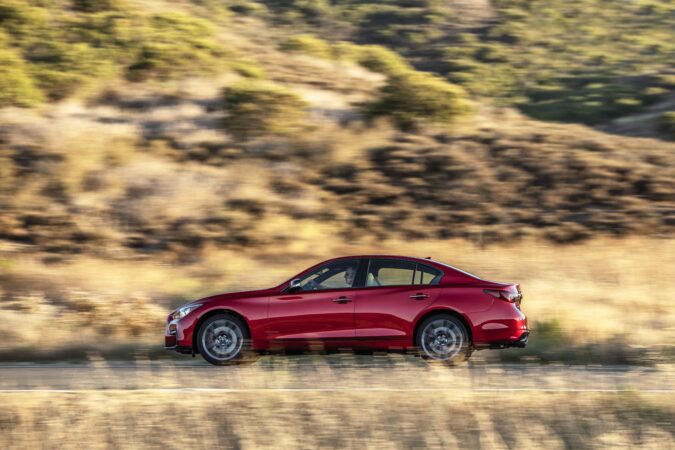 It is still based on the same Nissan FM platform (front midship), but Infiniti has polished the edge off of the G-series cars. You can think of it as more akin to a sports-styled sedan like a Volkswagen Arteon and Mercedes CLS-Class, rather than a full-on sports sedan like a BMW M3. The latter of which is popular for tuning.
The Q50 marks the point of modernization and downsizing for Infiniti. It understood that to sell cars it'd need to improve its appeal to the broad audience. What Infiniti needed was a selling point to drastically differentiate itself from just a posh Nissan.
This also means that the engine is one of the major highlights of the Infiniti Q50. You have the revered, classic Nissan 3.7-liter naturally aspirated VQ37HR. But there's also the more modern 3.0-liter twin-turbo VR30DDTT and the 2.0-liter turbocharged inline-4 M274 engine derived from Mercedes.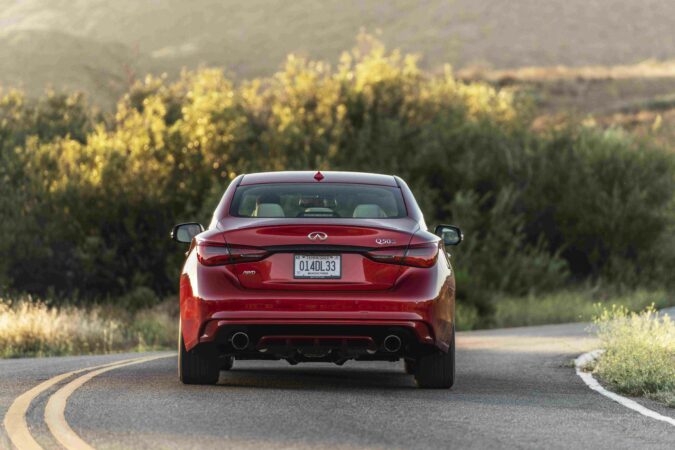 Paired with either a 7-speed Jatco or the Mercedes-Benz 7-speed 7G-Tronic automatic transmission, it means that the Q50 has a modern, speedy automatic. Imagine the Q50 as the G37 (or the Infiniti G35, which is best experienced when modified) sedan with many of the harsher elements ironed out for daily use.
All of that is packaged into a generally likable sleek yet muscular exterior. This design would also shape most if not all Infinitis that follows afterward. It hasn't changed much at all over the last few years. Plus, there are many who agree that Infinitis are pretty reliable. So, that's another plus point for getting an Infiniti.
Infiniti Q50 Modified – The Powertrain
As mentioned prior, there are quite a few engines available for the Infiniti Q50.
VQ37VHR
This is one of the very final runs of the VQ series of engines, and it might just be one of the modern era's finest examples of naturally-aspirated V6 engines. The big difference between this engine and the normal VQ35HR is that it features Variable Valve Event & Lift (VVEL) technology and a larger displacement.
It means that while the VQ37VHR sports a longer stroke, it maintains the rev-happy characteristics of the VQ35HR while providing a much flatter torque curve which improves the engine response. Producing 332 horsepower and 270 lb-ft of torque, it offers a welcome bump in power over the VQ35HR too.
On the other hand, this engine is only found in the earlier Q50s. This means that if you yearn for the 3.7-liter naturally aspirated V6, you'd have to look for a pre-facelift 2014-2016 Infiniti Q50. It's also available in the AWD variant.
VR30DDTT
By a significant metric, the VR30DDTT is more modern than the VQ37VHR. And I'd say that this is the engine that really helped shift Infiniti upmarket. It implements a lot of technology that makes up a modern engine. It further reinforces the notion that Infinitis are some truly good cars, better than what some give them credit for.
As you can tell from the name, it's a twin-turbocharged 3.0-liter V6 with direct injection. But that's not all, Nissan has also incorporated arc-sprayed mirror coating (borrowed from the GTR's VR38DETT) and a fully aluminum construction.
Thanks to the direct injection technology, two turbos with water-to-air intercooler, and a whole host of nouveau innovations, the VR30DETT musters a potent 300 horsepower and 295 lb-ft of torque. Seems less powerful? Keep in mind that it makes peak torque from 1,600 rpm all the way to over 5,000 rpm.
Available from 2016 and onwards, you'll find this engine in any Q50 3.0 or 3.0 AWD variants. And if you need more poke, the 3.0 Red Sport makes 400 horsepower and 350 lb-ft of torque from the same engine. That hints at the potential that this engine has.
M274
This is a bit of a strange one. The M274 is an engine borrowed from Mercedes-Benz that also comes with the Mercedes-Benz 7G-Tronic 7-speed automatic transmission.
It's a relatively modern 2.0-liter turbocharged inline-4 engine that Mercedes introduced back in 2012 to 2013. Afterward, the M274 found its way to pretty much every single mainstream Mercedes model produced.
It makes the same power as Mercedes's equivalent 250 models. That means 208 horsepower and 258 lb-ft of torque. Make no mistake, it's a decent engine with plenty of power to propel you along. It also returns pretty decent mileage. On top of that, some of the most reliable Mercedes models come with one.
This may be the ideal engine for a daily driver Q50.
Infiniti Q50 Modified – Which Engine Should You Get
With this many engines to choose from, which one should you go for? Thankfully, it's easy to tell what role every variant fulfills here.
1. For Modding
If you're looking for the biggest aftermarket available, then it's a no-brainer. The VQ37VHR traces its roots all the way back to the 90s and still shares a decent amount of part with the VQ35.
And you'll be happy to know that people have modified the VQ37VHR above and beyond 500 horsepower. It also sounds incredible doing so, something that the later VR30DDTT arguably lost.
2. Best Overall
However, if you want an engine that's contemporary and returns what is pretty good mileage with plenty of power, then the VR30DDTT is the way to go. Inevitably, it's not as simple to modify for massive power compared to the VQ37HR. Your options are quite limited here.
That said, for many, the normal VR30DDTT produces more than enough power for a spirited drive. As mentioned prior, if you need more, the Red Sport model transforms the Q50 into a proper sports sedan.
You'd be surprised at how quickly an Infiniti Q50 modified with the VR30DDTT can go.
3. Daily Driver
But if you're not one to worry too much about power, the M274 is plenty enough for you. It makes decent power and good torque, but there really isn't a big aftermarket for it. Infiniti has also discontinued this engine option since 2019.
Infiniti Q50 Modified – Power
People tend to start modifying the engines of their cars, especially in a performance-oriented luxury sedans like the Infiniti Q50. This article will primarily cover the VQ37VHR and VR30DDTT engines.
VQ37VHR
Thanks to the years of production that the VQ series of engines received, the VQ37VHR has a broad array of modifications available. The other contributing factor is that the VQ37 found itself in the popular Nissan 370Z and Infiniti G37.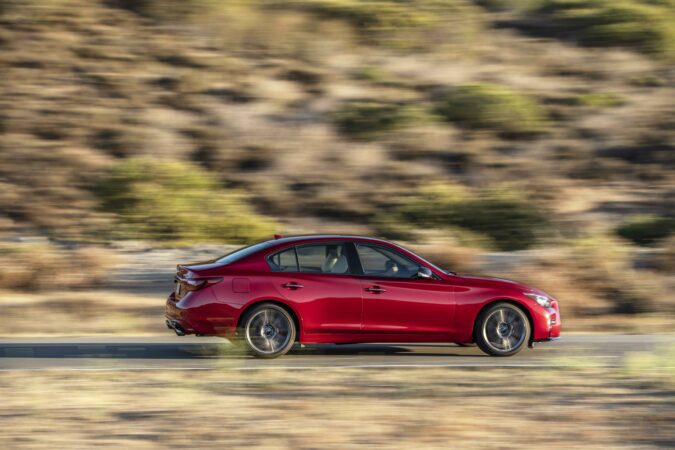 With that said, the years of development time also meant that Nissan had more time to refine this engine. Some major and minor improvements over the years mean that you might not see as big of a return with modifications put in.
1. Engine Mods
One of the highlights of the VQ37VHR is the switch to a dual-plenum design intake manifold. This allows for smoother airflow into the intake valves. You won't necessarily gain any power, but popular manufacturers like AEM, K&N, aFe Takeda & Stillen make a cold air intake (CAI) kit specifically for the Q50 3.7.
CAI kits will help introduce more induction noise into the cabin. CAI kits from the G37 will be more commonplace and should work with modifications. However, CAI kits that relocate the intake outside of the engine bay will require much more work to fit, and will likely be custom.
Motordyne and ISR Performance are one of the few exhaust manufacturers that make a long tube header for the VQ37VHR in the Q50. A set of those with a catback exhaust of your choice (from Invidia, HKS, Stillen, aFe Takeda, and Fast Intentions) will free up exhaust flow as well as promote the infamous VQ exhaust note.
Finally, with Z1 Motorsports's ported intake plenum and its ECUtek tuning package for the Q50 3.7, you can expect 340 whp (or approximately 400 flywheel horsepower) from the VQ37VHR.
That's a sizable increment over the stock 330 flywheel horsepower figure. Those are the most cost-effective mods to make more power without going through forced induction. So, that should alleviate your need to compare supercharger vs turbocharger for the time being.
However, if you decide that 340 whp might not be sufficient, then you're not out of options yet. It might take more custom work to fit major power adders to the Q50 3.7, but it has been done before.
Notably, the VQ series of engines are particularly popular for supercharging. There are plenty of people who have supercharged the VQ37VHR with a centrifugal supercharger making over 500 whp, and one guy even made over 800 whp with a giant Vortech supercharger
Most will find Infiniti Q50 modified for big power to include a supercharger kit simply due to space constraints. Fitting a turbocharger into the compact engine bay is a challenge, to say the least, but not impossible.
With turbocharging, over 1,000 horsepower can be achieved with the VQ37VHR engine. It'll take a lot of work, and with a Q50 you'll really be treading in unknown territory. But it's the way to go for properly big power setups.
With that said, I feel that a G37 sedan would be a better fit for the VQ37VHR compared to an Infiniti Q50 modified for big power with this engine. Just make sure that you're wary when getting a used G37. Among the more troublesome model years, like the 2009 Infiniti G37 problems, can make for a disappointing experience.
VR30DDTT
With that said, if you want to buy a Q50, you should go for the later VR30DDTT engine instead. It's my opinion, but the Q50 facelift does receive some tweaks to the exterior and interior. More importantly, the VQ37VHR, while a great engine in its own right, cannot quite compare to the VR30DDTT's modern feel.
What I mean by that is that despite making around the same power, it feels much punchier and quicker thanks to direct injection and turbochargers. It's also the engine that is used in the latest Nissan 400Z. That means that the aftermarket for this engine will continue to grow exponentially.
Most owners will also find that the 3.0-liter twin-turbo fits the whole 'Infiniti Q50 modified daily driver' bill better. It touts plenty of grunt without needing much effort at all.
1. Simple Bolt-Ons
As mentioned, the Q50 comes with the normal and Red Sport (RS) variants, with a 100 horsepower difference between the two interpretations of the VR30DDTT. However, there isn't much disparity between the RS and normal sport (colloquially referred to by enthusiasts as the Silver Sport or SS).
The RS received an additional water pump for the water-to-air intercooler for a dual water pump car setup as well as optical turbo wheel speed sensors. Those sensors monitor compressor wheel speed so that the turbo can maintain optimum efficiency.
This means that with fairly little effort, similar power levels can be achieved on the SS VR30DDTT. In fact, the Burger Motorsports JB4 piggyback unit for $600 will bring the SS to similar power levels to the RS. It's a very popular mod amongst Q50 owners.
If you want more, you'd be ecstatic to find that Burger Motorsports also sell a 450 horsepower package for this engine. The package includes a billet air induction kit, an uprated water-to-air intercooler with higher heat capacity, and the JB4 piggyback tuner unit.
Combine that with an AMS Performance downpipe and a catback exhaust system of your preference and you'd be looking at around 400 whp on pump gas. That's plenty enough and far surpasses most sports sedans in its segment.
2. Discovering Its Potential
Intend to go further than just beating a Red Sport? Then AMS Performance has you covered. You might know AMS Performance for its absolutely insane GTR builds making over 2,000 horsepower and running 7s in the quarter mile.
As it occurs, it also produces performance kits for the Infiniti Q50. Cue the 'Red Alpha' packages, ranging from 400 whp all the way to over 600 whp with its RA 600 kit. The big difference is that in lieu of a piggyback, the AMS kit uses ECUTek to remap the stock ECU.
This means that the car doesn't need to rely on manipulated sensor signals, which is generally better for power output and smoothness. This also means that its performance packages are a fair bit more expensive than the ones offered by Burger Motorsports.
The Red Alpha Stage 3 performance package serves as a good middle ground between cost and day-to-day performance. It comes with full bolt-on mods plus AMS's own tune to push over 450 whp and 500 lb-ft of torque.
Regardless, AMS Performance is a specialist in Nissan engines. They're one of the best in the business and will certainly impress with how fast an Infiniti Q50 modified can go in their hands.
3. Serious Power
Beyond the Stage 3 package, AMS recommends switching over to E85 fuel with the RA500 kit. That means upgrading the low-pressure and high-pressure fuel pumps to cope with the additional fuel demand. It also necessitates the implementation of a flex fuel kit so that the ECU can safely adjust parameters according to ethanol content.
As the name implies, the RA500 brings the Q50 to 500 whp. That said, the price-to-performance ratio here decreases dramatically. Beyond this point, it's only going to get more expensive. Torque does not increase as much. The Q50's transmission and engine internals become a concern at ~500 lb-ft torque.
The torque limit is evident since torque only increases by a modest amount (to over 525 lb-ft) with the RA600 kit (which makes 600 whp). The RA600 is a much more involved job though. It demands a set of larger direct injectors, a beefier high-pressure pump, and even larger turbochargers. Those components contribute to the hefty price tag for such a kit.
It's pretty remarkable though that you can just buy a performance package making twice the power from a reputable company off-the-shelf. This speaks volumes about the potential of the VR30DDTT especially in the future, once the 400Z starts to mature.
Infiniti Q50 Modified – Chassis
While the Infiniti Q50 isn't exactly a car that heavily focuses on handling, owners might be piqued at improving how the car drives. Some have said that the Q50 feels less like a proper driver's car when compared to its predecessor, the G37.
If you're one such owner, then you'll be glad to know that there are ways to improve the Q50's driving dynamics.
1. Basic Improvements
Without making the ride overly harsh, there are improvements that you can make. First of all, the most important contributor to better, more confident handling is tires. The best cost-to-performance ratio when it comes to handling is better tires.
Depending on your goals and budget, there are various tires that would contribute to better handling. Generally, stick with performance summer tires from well-known brands like Michelin, Continental, Toyo, etc.
Some classic options for summer high-performance tires include the Continental MaxContacts, Michelin Pilot Sport, Goodyear Eagle F1s, and Bridgestone Potenza Sport. Any of these will noticeably improve the handling properties of the Q50.
Other crucial handling mods that many owners recommend making are better sway bars (adjustable sway bars) and sway bar end links. Particularly the rear sway bar where upgrading it contributes noticeably to the Q50's dynamics.
Q50 enthusiasts often recommend the Hotchkiss front and rear sway bars. These offer some adjustability so you can tweak the stiffness of the rear sway bar. Stillen and aFe are also popular marques for their sway bars.
Either way, stiffer sway bars not only reduce the body roll. A more rigid rear sway bar will induce an oversteer characteristic. Owners report that stiffer sway bars really help to liven up the otherwise hefty Q50.
You'll also want adjustable sway bar end links. Sticking with the stock end links with uprated sway bars will quickly wear them out. SPL makes adjustable sway bar links for the Q50 that can handle the increased load capacity.
2. Track Preparations
If you intend to track your Q50, then more effort should be made to further improve the Q50's capabilities. Importantly, a set of brake pads with better compound to withstand extended spirited driving.
Better brake pads (and maybe larger discs) are good upgrades as the Infiniti Q50 is quite a hefty car. And if you want performance pads, one manufacturer in particular returns rave reviews. The Hawk Performance HP brake pads are beloved in the G-series cars, and it's also a great option here.
Do take note that some of their non-ceramic pads do take a bit of warming up before they provide adequate stopping power. This, again, is an opinion echoed commonly for Hawk HP+ pads. Other options include EBC Brakes, which is a revered name in the brake parts industry.
Most owners do agree that the Q50 has a pretty decent suspension setup. That's especially true if you have a Q50 with Dynamic Digital Suspension. Those come with adaptive dampers that enable the driver to moderate the Q50's cornering behavior.
In sport mode, owners often report that the Q50 is surprisingly capable once you put on good tires. However, if you want adjustability, then there are plenty of options available in terms of coilovers.
3. Adjustable Suspension
If you just want a robust set of adjustable coilovers so that you can lower your Q50 as well as enjoy enhanced track capabilities, you'd be glad to know that Tein's Flex Z is a well-received option. Not only is it from a well-known make, but the Flex Z also provides user-adjustable damping, spring preload, and ride height.
The Tein's are also compatible with the Tein EDFC unit which allows for on-the-drive damping adjustments. Otherwise, BC Racing also makes a good entry-level coilover for the Q50 that's well-liked. with 30 levels of damping adjustment. The BC Racing BR AWDs are also your best bet for AWD Q50s.
Following that, the next step up would be something like the RSR Sports-i coilovers with a special emphasis on daily drivability. It's a unique approach, made to be set and forget. Spending a bit more, you'll find the HKS Hipermax IV GTs which some regard as the best value for your money.
For those who have a bigger budget, there's one clear option. The KW V3 coilover kit is one of the most expensive you can buy for the Q50. That said, many owners regard the KW V3 as one of the best you can buy for the Q50.
That said, along with the adjustable coilovers, you should opt for adjustable suspension components as well to make the best of them. SPC Performance and Z1 Motorsports are both purveyors of various adjustable suspension control arms.
Infiniti Q50 Modified – Final Verdict
It's plain to see that while the Infiniti Q50 is quite a new car, it's also a popular foundation for modifications. It's a well-balanced car offering decent practicality, good power, and surprisingly poised handling characteristics.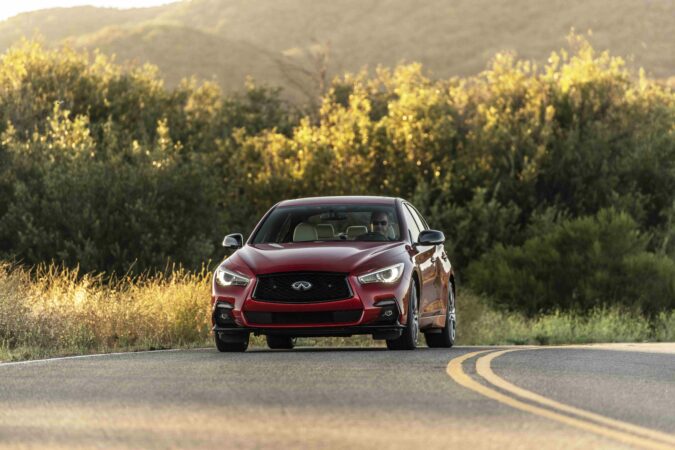 And depending on which engine you go for, the Q50 can be a vastly unique experience. There's even an iteration of Q50 with a hybrid powertrain, featuring an electrified VQ35HR. For many though, the VR30DDTT strikes the perfect balance in the Q50.
Regardless, the Infiniti Q50 will certainly impress prospective owners with its aptitude for aftermarket modifications. Enthusiasts will definitely find an Infiniti Q50 modified for performance impressive at track days and shopping runs alike.
FAQs On Infiniti Q50 Modified
How Much Is An Infiniti Q50
This generation of Infiniti Q50 is still available new, albeit with a facelift. Models range from $42,000 all the way to nearly $60,000 for top-of-the-range Q50 Red Sport 400 models.
How Fast Is The Infiniti Q50 Red Sport
Thanks to the potent powertrain, the Q50 Red Sport models are surprisingly quick. 0-62 mph can be achieved in just over 5 seconds.
What Is A Q50a
Intriguingly, the 'a' in the model plate denotes that the car is a base model Q50. However, Infiniti has since discontinued the 'a' badge.
Why Are Infiniti Q50s So Cheap
It's simple, despite being available with some great engines, the Q50 is still an unorthodox choice. That, and the fact that many treat the Q50 as a normal daily driver means that there are plenty on the market, driving the price down.