Are you planning to get a Toyota Tacoma and you are interested in learning more about the modified Tacomas? Well, if that is the case and you are into modded pickup trucks, then you are at the right place because there will be a lot to cover on this topic.
The Toyota Tacoma is probably one of the most popular pickup trucks nowadays. Why is this the case? Well, mainly because of its ability to endure everything you throw at it. There is nothing comparable to the Toyota quality. The Tacoma is equally capable if not even better than the legendary Hilux.
And not only that, but the Tacoma is also quite popular in the aftermarket. So, you have 1st gen Tacoma mods, 2nd gen Tacoma mods, and 3rd gen Tacoma mods. All of the different generations are heavily supported by the aftermarket and there is a lot of good offering in terms of parts for almost everyone's pocket.
This is why going for a Tacoma is always a good idea if you enjoy watching videos of modified Tacomas. And in this aspect, we are going to help you out. First, we are going to learn what is the Tacoma and why it is so popular.
Then we will take a look at the Toyota Tacoma specs and learn more about the numbers which the Tacoma comes with. Specifically the last generation. Then we will discuss the 3rd gen Tacoma mods and learn more about it. We will also take a look at some already modified Tacomas. So, if you want to learn more, follow along.
Toyota Tacoma
Now before we dive into the modified Tacomas and learn more about the mods that you can get for this model, let's first elaborate more on the Tacoma in general. I bet that there are a ton of people that are not into Toyota trucks and face similar issues so this would be a nice introduction to them.
So, what is the Tacoma? Well, up to 1995, in the US market, Toyota sold a mid-size truck known as the Hilux. But Toyota decided to cancel this model and instead offered a different model. This model is known as the Tacoma. With the goal to compete with the Ford Ranger and other mid-size trucks in the US market.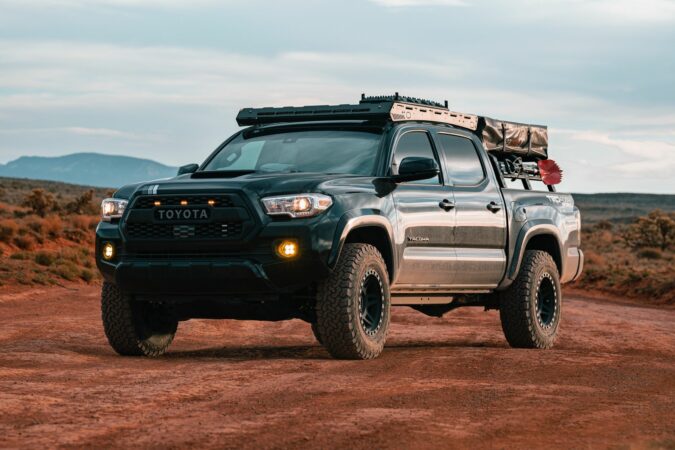 So, 1995 was the first model year of this new model. But why this was needed? Well, the Hilux didn't particularly suit the US and Canadian markets. As you probably know, people around the world do not see trucks in the same manner as people here in the US do. Around the world, people use trucks only for work and not as commuter cars.
So, Toyota saw that this way of doing things has created a gap between them and other competitors. That's why they had to offer something new and different. American trucks as you probably know are a lot bulkier and have better ride quality, comfort, and have more features than other trucks produced around the world.
This is why the Tacoma had to follow these steps in order to be a successful seller in the US market. And this process of creating a different model for the US market was quite successful for Toyota in terms of sales. But what about the modified Tacomas? More on that, in a bit.
Why Is The Toyota Tacoma So Popular
Now let's take a look at why the Tacoma is so popular before we dive into the modified Tacomas and the different mods that you can install on your Tacoma. Why this model is so attractive to buyers?
Well, this is mainly due to the large following that Toyota has and its reputation for creating vehicles that are close to indestructible. You have probably seen the Top Gear episode where they throw a Hilux off a cliff and it survives.
Also, the Toyota off-road vehicles are the vehicle of choice in the middle east where temperatures get boiling hot. So, these things gave Toyota a big reputation for its endurance and longevity. This is why the sales of the Tacoma grow steadily year by year.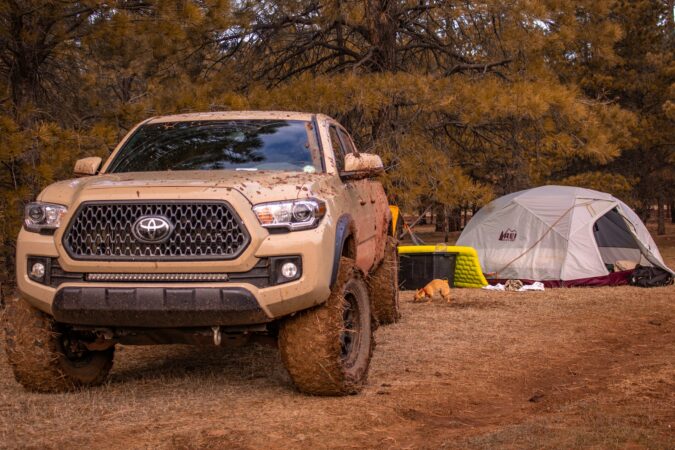 In 2000, Toyota managed to sell about 147,000 units of the Tacoma. And nowadays, the number is about 250,490 units only in the US. Toyota also manages to sell about 15,000 units in Canada and 5,000 units in Mexico. The Tacoma is basically one of the best sellers in the mid-size segment when it comes to pickup trucks.
And as of 2022, there is a total of three generations released of this model. Each of these generations carries something special and different. The latest generation was introduced in 2015 and 2016 was the first model year. Hopefully, in a year or two we will see a new generation of this legendary model.
But until that time comes, let's take a look a the 2016 model and learn more about its specs. After we cover some of the specs, we will take a look at the modified Tacomas and learn more about the mods that you can buy for these trucks. So, you definitely don't want to miss that.
Toyota Tacoma Specs (2016 – Present)
Now let's discuss more about the Toyota Tacoma and learn about its specs before we dive into the modified Tacomas and learn about the modifications that you can do to your Tacoma.
Why do we need to cover the specs? Well, some people are still in doubt about whether or not they think they need to get a Tacoma. So, learning some of the specs would be a pretty useful thing.
Nevertheless, the current generation of the Tacoma was introduced in 2015 and the first model year is 2016.
This new model features an improved front fascia with a massive grille and a big Toyota logo. Also, the overall aesthetics of the model were further refined and improved. Making the Tacoma quite comparable to other American pickup trucks.
This model, similar to its predecessors was also based on the 4Runner platform and basically shares everything with the 4Runner. Starting with the frame (the Tacoma is infamous for its frame rust issues), engines, transmissions, and suspension components.
But this doesn't mean that this is bad. On the contrary, the 4Runner is a really capable off-roader. The Tacoma comes with a variety of trim packages. Like the base SR, mid-tier SR5, and Limited. There are also off-road packages like the TRD off-road TRD Sport, and the top-of-the-line trim is the TRD Pro.
The TRD Pro has all the bells and whistles when it comes to proper off-road experience. What is worth noting is that in 2020, the model has received a mid-life facelift with exterior upgrades, as well as other infotainment system upgrades with Apple CarPlay and Android Auto capability.
In addition to this, there is a new panoramic view monitor with a 360-degree bird's eye perspective. But what about the modified Tacomas? More on this we will cover more in a bit.
Engines & Transmissions
Now let's take a look at the engines and transmissions that are used in the Tacoma before we learn more about the modified Tacomas.
The base engine used in this model is the Tacoma 2.7L inline 4-cylinder engine. You might think that this is a really underpowered engine for this kind of truck. And in reality, the answer is yes, you are right. It might be underpowered. But it is really reliable.
If you want to get a better idea of its dependability, make sure you check out our guide on the best year for the Toyota Tacoma. As well as, the Toyota Tacoma model years to avoid.
The second engine used in the Tacoma is a 3.5L V6 naturally aspirated engine. And this is the engine we would recommend for a truck of this size. Mainly because in order for you to have a good driving experience, you also need a powerful engine. But what is the Tacoma horsepower? More on that, we will cover it in a bit.
When it comes to the transmissions, it is worth noting that there are three transmissions used in this model. There was a 5-speed manual used between 2016 and 2017. After 2017 there was a better 6-speed manual that got introduced.
There is also a 6-speed automatic transmission as well. But what about the modified Tacomas? More on that, in a bit.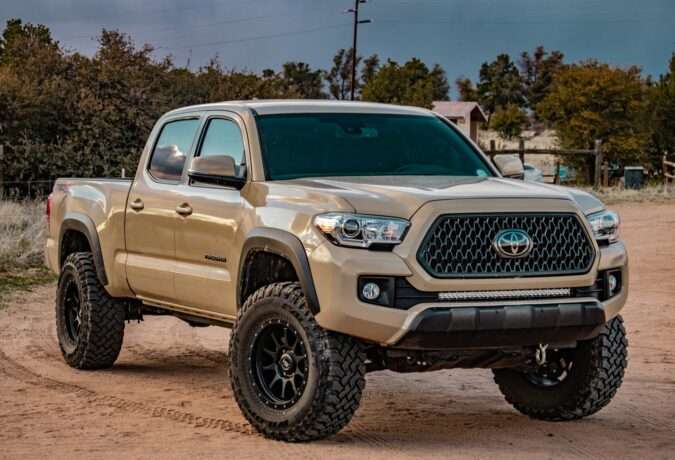 Tacoma Horsepower
Now let's discuss the Tacoma horsepower and learn more about the power that these engines can make, since power matters when it comes to trucks.
The base 2.7L inline-4 develops 161hp and 181lb-ft of torque. Which is pretty decent if you have a smaller short bed Tacoma.
But if you go for the long bed Double Cab, you definitely need to get the Atkinson cycle 3.5L V6 engine. This engine has dual fuel injection and can switch from port to direct injection based on the conditions. Also, it implements double variable valve timing which makes it really efficient.
Nevertheless, the 3.5L engine develops 278hp and 265lb-ft of torque. Which is plenty for this type of truck. In terms of overall performance, this is the engine that you are looking for.
You just don't want to end up with an underpowered engine that feels sluggish. Especially if you plan to create modified Tacomas for off-road use. But what about the payload that this truck can take? Let's elaborate more about that next.
Tacoma Payload & Towing
Now let's discuss something interesting about the Tacoma and that is the payload and towing before we dive into the modified Tacomas. How much payload can the Tacoma take? Well, the Tacoma SR5 V6 is rated at 1,525 lbs when it comes to the payload.
In terms of towing, the numbers really depend on the engine. The 2.7L engine is really poor in this aspect. This engine can only tow up to 3,500 lbs. Which is mediocre for a truck in our opinion. There are some SUVs more capable than this truck.
While the V6 engine is more capable and can tow a lot more. 6,800 lbs, to be more exact. This is why we warmly recommend you get this engine if you want to have a proper truck experience.
Tacoma MPG
Now let's cover another topic before we discuss the modified Tacomas. And that is the fuel economy of this truck. Is the Tacoma fuel efficient or not?
The 2.7L engine is performing well in this aspect. The model gets 20 mpg in the city and 23 mpg on the highway. The combined fuel economy is 21 mpg.
On the other hand, the 3.5L isn't much worse. This model gets 19 mpg in the city, 24 mpg on the highway, and 21 mpg combined. And this is really understandable since the 2.7L is really underpowered for this chassis and the heavy chassis makes this engine very inefficient.
That's why we recommend going for the 3.5L V6 engine if you can afford it. But what about the modified Tacomas? More on this in a bit.
Toyota Tacoma Safety
And the last thing that we would like to cover before we discuss more about the modified Tacomas is the safety aspect.
And this truck is really safe according to the tests that were conducted on it. The model was tested by the IIHS and got "Good" scores on most of their tests. So, we can say that it is a decent performer.
But what about the modified Tacomas and the Tacoma mods? What it takes when building a Toyota Tacoma? Well, more about that, we are going to cover it next.
3rd Gen Tacoma Mods
Now let's take a look at the modified Tacomas and learn more about the tuning options that you have when it comes to the Tacoma.
If you are a fan of the aftermarket, then you are probably familiar with some of these mods that are available for the Tacoma. But let's dive into all of your options and see what you can get for your hard-earned dollar and help it improve the performance of your Tacoma.
Modified Tacomas Ideas #1: Custom Tune
The first thing that you want to do is probably a tune to the engine. As you know, engines from the factory often come with compromised engine tuning.
Not that this map on which the engine works is bad. But this map is designed for fuel efficiency and not for performance.
And if you plan to off-road your Tacoma, you need something that will really improve the overall performance of the vehicle. And you can get a tune for really cheap. Namely, the JET Performance Xcelerator.
This tune will modify the signal to the throttle and improve throttle lag and boost the throttle response. And it's only $300. And almost any modified Tacomas have this feature.
Modified Tacomas Ideas #2: Cold Air Intake
The second mod that you want to get for your 3rd gen Tacoma is probably the aftermarket cold air intake. But what is a cold air intake?
Well, a cold air intake is something like an air filter. But what is interesting about this filter is that it flows better. And not only that, but it also has a separator that distances it from the hot engine. So, it draws cold air all the time into the engine. And this will boost your horsepower a little bit.
The most popular option is the K&N Cold air intake designed for the Tacoma 3.5L engine. This cold air intake costs only $285 on Amazon. So, it is definitely worth checking it out and seeing other modified Tacomas how to perform this type of mod.
If you're still unsure about this particular mod, we did answer a while back on do cold air intakes work. On top of that, on a more basic level, we also looked at what does a cold air intake do.
Modified Tacomas Ideas #3: Aftermarket Exhaust
The next type of mod when it comes to modified Tacomas is the aftermarket exhaust. You just don't want to rely on your factory exhaust if you want to create a proper off-road beast.
Luckily, there are a lot of aftermarket companies that offer this type of mod for the Tacoma. And even if you don't want to upgrade the exhaust, you can at least get an exhaust tip.
An exhaust tip at least would give the impression that you have an aftermarket exhaust. And sometimes that's all you need to create an impression. Now let's move to the next mod when it comes to modified Tacomas.
Modified Tacomas Ideas #4: Lift Kit Or Leveling Kit
The next type of mod when it comes to the modified Tacomas is the lift or leveling kit. These two things are completely different.
A leveling kit would level the rear end of your truck with the front end. Trucks usually come from the factory with the rear end sitting high. So, if you want to level your truck, getting a leveling kit is always a good idea.
For a deeper dive into what this entails, we have a guide on how much is a leveling kit and how much does it cost to level a truck. That should give you a clearer idea on how to get on with things.
On the other hand, a lift kit is a completely different thing. This kit not only levels your truck. It will also lift your truck for 2, 3 inches, or more depending on your liking. So, it is definitely worth the investment if you plan to install bigger wheels and tires. We recommend getting the following lift kit since it has the most reviews on Amazon.
We previously discussed not only how much to lift a truck, in addition to the best lift kid brands. Plus, if you plan on towing, we also listed the best hitches for lifted trucks.
Modified Tacomas Ideas #5: Skid Plate
Now let's move on to the modified Tacomas and learn more about the next type of mod. And this mod is definitely the skid plate.
If you want your lifted truck to look particularly good underneath, you definitely need a skid plate – a much more hardcore version of an engine splash shield (or a Toyota Highlander catalytic converter shield or a Prius catalytic converter protection system). And not only that, but this skid plate will also keep your truck safe during heavy off-road use.
There are all kinds of skid plates on the market. But when it comes to getting the right one, you need to get a beefy skid plate. You need something solid because if you hit a rock, something has to absorb this impact. So, keep this in mind.
Modified Tacomas Ideas #6: Bigger Wheels & Tires
The next type of mod that you definitely want to do on your modified Tacomas is to install bigger wheels and tires.
This mod usually goes along with the lift kit. First, you install a lift kit, in order to accommodate these beefy off-road tires.
The beefier the tire, the better your truck would perform on the off-road course. And not only that, it will look really good. A good set of wheels and tires will completely transform your truck.
And the aftermarket is full when it comes to aftermarket wheels that will make your truck look so much better than stock. You can check the TacomaWorld forums for more suggestions.
If you're wondering if big tires for trucks are worth it, we also discussed the pros and cons of bigger tires on trucks.
Modified Tacomas Ideas #7: Aftermarket Front Grille & Bumper
And the last type of mod that we would want to cover when it comes to the modified Tacomas is the aftermarket front grille and aftermarket bumpers.
Especially the aftermarket bumpers are something that you want to look for if you have the budget. These bumpers are not your regular soft plastic bumpers but fully aftermarket ones. Built by professionals. And designed in such a way as to help you out when it comes to tackling off-road conditions.
And not only that, you can install towing hooks, towing cables on them, and whatnot. So, we definitely recommend checking these Tacoma upgrades out.
Modified Tacomas: In Conclusion…
In this article, we have covered quite a bit when it comes to the Toyota Tacoma. First, we learned more about the Tacoma and its history in the US market and why it is so popular.
Then we covered the specs of the current generation of the Tacoma and learned about the engines, towing, and other important aspects. Then we discussed modified Tacomas and learned about the mods that you can do to a 3rd generation Tacoma model.
Besides the Tacoma, we've got plenty of other write-ups concerning modifications. That includes looking into what a modded Nissan 300ZX and a modded Volkswagen Beetle could be like. For a more modern touch, you might instead want to take a peek at our guide on a modified Infiniti Q50 and a modified Infiniti G35.
Frequently Asked Questions
Now let's answer some frequently asked questions.
How Much Does A Tacoma Weigh
The 2022 model of the Tacoma weighs about 4,445 lbs. The V6 model can also tow up to 6,400 lbs and take a payload of 1,155 lbs. The truck has a gross vehicle weight of 5,600 lbs.
How Long Do Toyota Tacoma Last
Tacomas last forever. That is the good thing about this truck. It will last until rust starts tearing it apart. And Tacomas are very prone to rust. Especially the models from the first and second generations. Inspection of the frame is mandatory before buying.
Are Toyota Tacomas Good Trucks
Yes, Toyota Tacomas are good trucks from a reliability standpoint. But the only drawback is the rust development. Especially on first and second-generation trucks. Make sure that you do a proper inspection of the frame for rust before you buy one.
How Many Miles Per Gallon Does A Toyota Tacoma Get
The 2.7L engine gets about 20 mpg in the city and 24 mpg on the highway, the average is about 21 mpg. The 3.5L V6 performs similarly in this aspect. So, we would recommend getting a 3.5L instead of the 2.7L if you can afford it.
What Year Is The Best Toyota Tacoma
We would recommend going for a later model year of each generation. Later model years are much more improved in comparison to the early model years. Also, when buying perform a thorough inspection for rust on the frame.
How To Improve Gas Mileage On Toyota Tacoma
There is no way to improve it beyond the factory EPA ratings. You can try to ease on the accelerator pedal and try to rev-match your shifts if you have a manual. That's how you will get the most out of the engine in terms of fuel efficiency. Also, don't use the AC since the AC takes a lot of power from the engine.