Plasti Dip, commonly referred to as a liquid wrap, is a spray-on coating that covers your car. If you follow the appropriate procedures and instructions, it can be simple to apply, and if you want to try it out in your own garage at home (or want to rent a garage to work on your car), a number of businesses sell kits at affordable prices.
A rubberized coating called Plasti Dip is an excellent way to change the color of your car without having to repaint it, and it can shield the paint from debris, swirls, and UV ray damage. In fact, some of the best paint jobs on cars and some of the best car colors that you can get today are courtesy of Plasti Dip.
Plasti Dip initially only offered the colors of the rainbow, but when demand for other colors developed, suppliers had to keep up with the demand. The best location to get it is at Dipyourcar.com, where it's available in various colors and finishes. However, a few popular Plasti Dip colors are also offered there.
Plasti Dip Car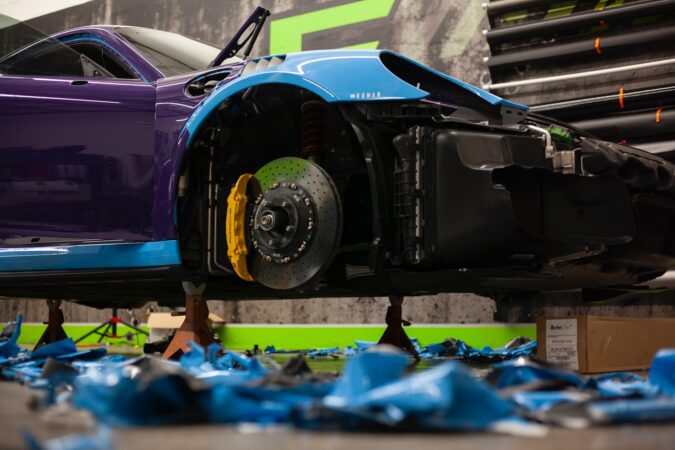 Its usage is entirely up to the choice of the individual car owner.
Wheels: Plasti Dip is frequently used on wheels. You may modify your car's appearance without wasting time or money. Plasti Dip provides some comfort from minor scratches (or acts as a cheap alternative to a rim scratch repair job) but won't offer much protection against serious curb rash.
Front End: Plasti Dip is frequently used to protect the front end's bumper (for additional references, check out our guide on how much does it cost to paint a bumper), grille, and the leading edge of the hood. The manufacturer offers a clear product and a variety of color choices.
Emblems and Trim: Plasti Dip application to exterior trim is a fun activity that is very easy to undo.
Body Panels: Plasti Dip application to body panels requires more experience and expertise, but it is still feasible as a do-it-yourself effort. It's simple to picture a truck or SUV with Plasti Dip fenders or a coupe with a roof treatment that is completely black. Of course, Plasti Dip can be used to cover a vehicle completely.
Plasti Dip Removal
It is a beautiful and long-lasting product if you appropriately apply Plasti Dip to your vehicle. It offers your car a unique appearance. There are many shades of Plasti Dip to pick from. Despite how great this product is, there will come a time when you wish to get rid of it.
It should be removed for a variety of reasons, but some of the more frequent ones are as follows:
1. Deteriorated Or Old Putty Dip
Although Plasti Dip is resilient, its shelf life is limited, as we discussed in our guide on how long does it last. When a material ages, it starts to peel off, requiring removal and replacement with a new one. Plasti Dip that is old or damaged does not look good and is therefore useless.
2. Color Change
If you want a color change, you could also wish to remove the Plasti Dip. When a vehicle's color remains the same for an extended period of time, some individuals grow bored. You simply remove the cover if you want to experiment with alternative colors for your car or its wheels.
If you want to learn more, do head over to our guide on how much does it cost to paint a car a different color. If you'd rather not go with Plasti Dip, you might otherwise be interested in learning more about powder-coated rims, and the cost to powder-coat your wheels, or simply opt to figure out how much do black rims cost.
3. Vehicle Preparation For Sale
Most of the time, purchasers will prefer to purchase a car in its original configuration. Consequently, if you plan to sell your automobile with Plasti Dip on it, you might need to take it off. The consumer will feel more comfortable purchasing a car in its current condition because they can subsequently paint or cover it in their favorite color.
4. You Purchased A Vehicle With A Plasti Dip Coating
When you buy a secondhand car covered and want to change the appearance, it is a significant additional reason to remove the Plasti Dip coating. Individuals have varying likes and preferences. Instead of the color they purchased it with, one can like the wheels or car covered in different Plasti Dip colors.
How Many Coats For Plasti Dip Wheels
You can apply as many coatings as you want. Remember that to get the best results when using Plasti Dip to spray rims, you must use the entire amount of product recommended for the size of rims you are spraying. Remember that the finish will be tougher, more lasting, and simpler to peel the more coats are applied.
Dip Your Car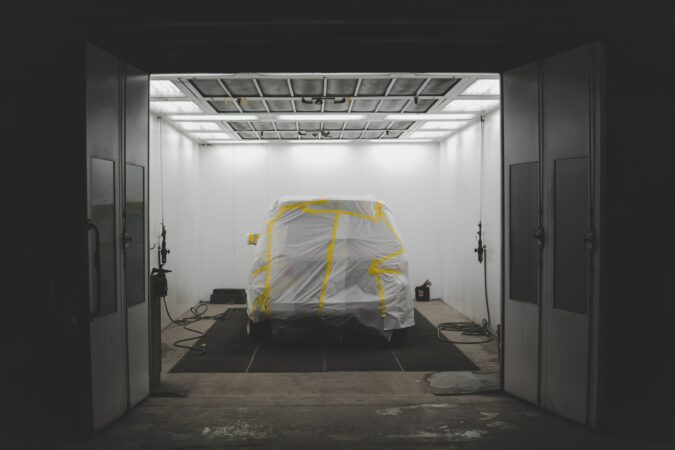 Step 1:
Place your automobile in a location with enough room to move about and sufficient ventilation. Avoid Plasti Dipping outside as dust may adhere to your car. Before you start the process, put on gloves and safety glasses, in addition to a painter's mask and overalls.
Step 2:
Wash your car to prepare it. Cleanly wash your car, then use microfiber cloths to dry it. You can also wash your automobile at a nearby automatic or touchless car wash.
Step 3:
Use newspaper and painter's tape to cover the windows, windscreens, and other surfaces you don't want to paint. By doing this, the paint will not be sprayed on these areas.
Step 4:
You'll need at least 20 Plasti Dip cans to cover the car completely. For a modest car, 14 to 16 cans will do the trick. If you intend to utilize a spray gun, two one-gallon buckets of Plasti Dip are required. That should give you an idea of how much paint to paint a car fully. We advise using a spray gun for a more even finish.
Start painting after adding Plasti Dip to the sprayer. Spray back and forth while holding the gun 5 to 6 inches away from the automobile. Never skip a place or pause at any point. After you're done spraying, give it 30 minutes to dry. This is your initial layer. Add 4 to 5 layers, spacing them out by 15 to 30 minutes.
Step 5:
Before the Plasti dries, remove the tape and newspapers. Now give it at least four hours to cure. While a place is drying, avoid touching it. Plast Dip can be used to paint wheel rims and other automobile parts.
Shelf Life Of Plasti Dip Spray
Plasti Dip, when done correctly, may last up to three years before needing to be touched up. It is incredibly strong and won't lose its bond. The spraying distance and the number of coats used greatly influence the product's lifespan. A new refresher coat can be simply applied after three years or even during those three years if desired.
Dip Your Car Kit
Fortunately, plasti dip can be your car's best buddy year-round because it endures both intense heat and winter weather conditions like snow, ice, salt, and mud. In order to protect your car's rims and paint from the harsh reality of winter driving, this treatment is quite beneficial.
A vast range of products, all packaged for particular purposes, are available from Plasti Dip. These include car paint kits that cover the full vehicle as well as kits for simple wheels or emblems. The business also provides pearl and flake treatment solutions.
Choosing an appropriate kit is frequently simpler than determining which specific products you require. Depending on what you wish to cover, the question of how much does it cost to paint a car will change. Therefore, a kit for four wheels will cost between $75 and $90, whereas a single aerosol can will cost between $8 and $15.
Plasti Dip car kits cost up to $700 for large vehicles and start at around $250. Costs for automobile kits with more complex finishes, such as color-changing coatings, or if you want to dip your rims in chrome, are doubled.
Paint Peeled Off Car
The following are the main causes of automotive paint peeling:
1. UV Radiation Is Constantly Present:
Long-term exposure to UV rays and the sun's rays can cause car paint to peel.
2. Poor Paint Job:
After a poor paint job, car paint may start to peel. If the paint is not given enough time to cure after painting, peeling may result.
3. Rubbings And Dings:
Over time, what would first appear to be a small scratch or door dings on your car could lead to the removal of substantial amounts of paint.
If you'd like to learn more about this particular issue, our write-ups on the cost to repair a paint chip on your car, in addition to how to fix chipped paint on a car, and the cost of a paintless dent repair (and how to pull a dent out of a car), as well as how to fix peeling paint on a car, might help.
4. Ineffective Cleaning Techniques:
Using inferior or everyday cleaning chemicals, such as dish soap (once you've learned can I use dish soap to wash my car), or not using Simple Green right to wash a car, could harm your car's paint and clear coat.
5. Using A Subpar Car Wash:
Some subpar car washes use harsh chemicals and abrasive equipment that can cause car paint to flake.
Best Automotive Paint Gun
Users of all skill levels like using Prolite spray guns. Several distributors and producers of paint adopted the Tekna Pro. Thankfully, the Tekna 703567 model is a premium automobile painting tool made for prolonged, heavy-duty use in a dynamic environment.
Primer, basecoat, and clear coat are the only coatings for which it is employed. The adaptability of the Tekna gun allows for the application of a wide range of coatings, which is amazing enough.
Users of a spray pistol with two air caps can modify its performance to suit the needs of various regions, from cold to humid, dry, and hot. Modern fluid technology is used in these air caps to provide better atomization.
Best Car Touch-Up Paint
1. Aerosol Touch Up Direct Kit
A high-quality touch-up package is required to fix severe scratches, repaint bumpers and fenders, and restore the paint color of trunk lids and hoods. Everything required to complete a professional touch-up job from the comfort of your garage is included in the TouchUpDirect paint repair kit.
A primer, color coat, and lustrous clear coat are all included in the car touch-up paint package for added protection. Each spray can have a low-VOC aqueous paint color, making it an excellent choice for the environment.
The kit also includes wax and grease removal wipes, a tack paint removal cloth to wipe away excess paint, a variety of sandpaper, and one pack of the polishing compound in addition to the paint.
While TouchUpDirect also carries a wide range of other paint colors that will precisely match the color of the paint on most vehicles (for more insight, check out our guide on how to get your car color by VIN and the GM paint code by VIN number), this particular product is available in the color White Platinum Pearl Tricoat.
2. Color N Drive Touch-Up Paint Repair Kit
Choose the Color N Drive touch-up paint kit if you have a paint repair job that requires more extensive fixes than a paint pen can offer but isn't quite big enough for an aerosol spray kit.
To assist in safeguarding the repair and extending its lifespan, Color N Drive offers a unique paint composition that combines environmentally friendly solvents, color pigments, and hardeners.
The Plus package includes OEM color-matched paint that may be customized to match the color scheme of a specific vehicle, a German-patented cleaning solution to remove any leftover paint, and a carnauba-based wax and paste. Additionally, there are five tiny paint brushes that enable users to use the correct amount of paint.
Best Way To Remove Plasti Dip
There are numerous methods for removing Plasti off a surface. When the material is properly put, peeling it off is a simple process. If not, however, you will need some cleaning agents to remove it from a surface: The following are some quick and effective ways to remove Plasti Dip from a car:
1. Removing Plasti Dip
Peeling off Plasti Dip off plastic or your car is the quickest and safest method of doing it. You must have applied the Plasti in several layers for simple peeling. Since you won't be utilizing scrapers or chemicals, this procedure is secure.
Lift the corner of the surface from which it is being peeled off with your fingertips. Lift the Plasti Dip carefully and slowly after lifting the corner to prevent it from shattering or ripping. So, it's more or less similar to the process of trying to remove a pin-stripe on your car.
Even though it will be a little more difficult, you can still remove the Plasti Dip if it is torn. Some Plasti Dip fragments may remain after you have taken out the bigger pieces, but you can still take them out by hand. If this process doesn't work, try some other removal techniques.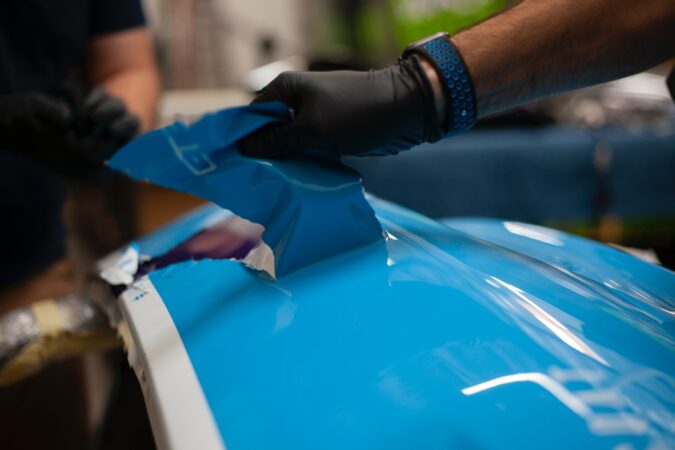 2. Utilizing A Dip Dissolver
This technique is the best way to take off thin layers of Plasti Dip. A product called Dip Dissolver was created expressly to remove Plasti Dip that is too thin. You'll need a pressure washer to use this technique efficiently.
Put a lot of Dip Dissolver on the Plasti Dip to start. Give the chemical five minutes to fully penetrate the coating before easily attempting to rub it off with your finger. Use a pressure washer to remove the coating once the Plasti Dip has become sufficiently pliable.
Dry the area and reapply the Dip Dissolver if Plasti Dip is still on some surfaces. Until it is entirely clean, pressure wash it off once more.
3. Applying WD-40
If peeling off the coating is not an option, you could choose to use WD40 plasti dip remover. Use a spray bottle with WD-40 to make the application simpler. However, some WD-40 is pre-packaged in a spray bottle.
After coating the Plasti Dip well with WD-40, allow it to sit for 5 to 10 minutes to provide the solvent time to dissolve the substance. Once you've given it enough time, use a soft microfiber cloth to remove the Plasti Dip.
Always use a delicate towel to wipe away the Plasti Dip to reduce the chance of harming the car's original paint. Wash the remaining WD-40 with water and soap after removing all of the Plasti Dip. Add your preferred sealer or auto wax at the end to protect the paint.
4. Use Of Goo Gone
Goo Gone is a terrific option if you're looking for a practical approach to removing them from your wheels. If you can't peel off the Plasti Dip, one of the best chemicals to use is Goo Gone. Although sluggish, this method is quite secure. You'll need a microfiber towel and Goo Gone to use this technique.
Plasti Dip should first be sprayed with Goo Gone, then left to break down for about 5 minutes. Use a soft microfiber or paper towel to remove the Plasti Dip once it has broken down. Wash the area with soapy water to remove any Go Gone traces left after wiping off the Plasti Dip.
To protect the paint on the automobile, apply a sealer or car wax. If you need further references, our guide on whether is Goo Gone safe on car paint might come in handy. We've also discussed the effects of Goof Off on car paint.
5. Use Of Kerosene
One of the least expensive ways to remove Plasti Dip from a surface is using kerosene. The use of mow or no-order kerosene is one of the types of fuel used in this technique. You also need a paintbrush, some scrap wood or a scrapper with plastic blades, and a small container.
First, fill an open container with some kerosene. With the use of a paintbrush, liberally apply kerosene to the Plasti Dip and let it sit for roughly 10 minutes. With a scrapper, push the coating forcefully, starting at the perimeter of the surface to free it.
Peel off as much of the covering as you can while holding it in place with pliers or your fingers. To completely remove the Plasti Dip, repeat the procedure. Repeat the method and reapply kerosene if the PD doesn't come out in any spots.
Cheapest Automotive Paint
Both robust and simple to use, the House Of Kolor Shimrin2 Kandy Basecoat is a great choice. Because it works so well, this automotive paint uses a unique basecoat technology that hasn't changed since 1982.
This vehicle paint has low solids content, good coloring, and quick coverage. Shimrin2 by House of Kolor is offered in metallic and pearl finishes in addition to the Kandy hue used in this particular automobile paint.
Beyond the usual pearls and flakes in the business, this automotive paint provides various effects. The three components of this paint's three-part system are its own Karrier Bases, Effect Pacs, and Kosmic Reducers. This paint also complies with California regulations because it contains only 3.5 volatile organic compounds (VOC).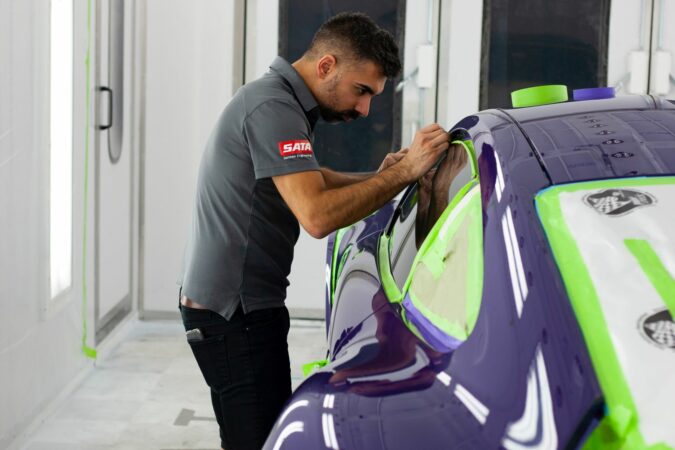 FAQs On The Plasti Dip
How To Remove Plasti Dip
Simply mist the area with the penetrating oil and give it a few seconds to absorb. Wipe the Plasti Dip off later with a fresh microfiber cloth. It really is that simple! More penetrating oil should be applied as necessary.
How Long Does Plasti Dip Last
Plasti Dip may last up to three years without requiring touch-ups. Despite being sturdy, the plasti dip is nonetheless simple to remove. Spray paint applied in two coats will last longer than spray paint applied in one application.
What Is Plasti Dip
A relatively recent product called Plasti Dip can be used to temporarily alter the color of your car. It is essentially a liquid version of the substance used to vinyl-wrap automobiles, and it can be applied with a spray gun like regular paint. It dries into a malleable substance that shields the underlying paint.
How To Paint A Car At Home
Sand the whole surface of your car in circular motions to provide your paint with a flat, even surface to adhere to. Use a corrosion-resistant and self-etching primer to prime your car's surface if you've stripped it down to the bare metal and sanded it. Paint should be applied in thin, even coats while keeping your spray gun around 6 inches away from the surface of your car. To completely cover the surface, it usually takes three to four coats. Follow the manufacturer's recommended drying time, ranging from 20 minutes to an hour.
How To Paint Rims Black
Spray the paint onto the wheel after thoroughly shaking it. You'll use several layers of paint, much like the primer. Spray the paint continuously back and forth. Leave no space at all. Before putting on the second layer, you should let the paint dry. The task should be completed with two thin coats and then a thick coat.
How Much Is It To Get A Car Painted
$300 to $1,000 is the range of basic prices. Sanding the body and removing rust before painting is typically included in the price of a basic paint job to achieve an appealing finish. The typical price is between $1,000 to $4,500.
How Long Does Plasti Dip Take To Dry
Allow the dips to fully cure for 24 hours. Apply a minimum of five coats to your project if using an aerosol sprayer or paint gun, and wait 10 to 15 minutes between coats if the temperature is between 14 and 18 degrees Celsius. Increase the drying time between coats if the weather is colder. Then give it 24 hours to heal completely.
Where To Find Paint Code On Car
Your paint code is typically located inside the driver's door jam. There are two different paint code kinds provided, one for external paint and the other for cabin or inside color.
Where To Get Paint For Car
The best location to get it is at DipYourCar.com, where it's available in various colors and finishes. However, a few popular Plasti Dip colors are also offered there.
How To Hydro Dip At Home
The procedure is simple and enjoyable if you have a complete hydro-dipping kit. You can apply a bespoke pattern to the film or use the patterns that come with the kit. The film is placed on top of a container that has been filled with water. The film or pattern dissolves into the water when you spray it with the chemical solution that is included in the kit. The object is then submerged in water until the film's pattern entirely covers it.
How Many Cans Of Plasti Dip For Rims
You need 3 cans for rims between 12 and 15 inches. You need 4 cans for 16- to 18-inch rims, and you require 5 cans for wheels between 19 and 22 inches.
How To Use Plasti Dip
For even results, evenly overlap each spray pass as you apply it. Apply a second, slightly thicker coat before the first one dries. Repeat, making each coat a little bit thicker than the previous one. For a smooth finish, apply three to four coats of Plasti Dip.
Does Plasti Dip Come Off
When used properly, the product is quite simple to remove. Not using enough product or not adequately prepping the surface for the paint are two major reasons for difficult removal.
Plasti Dip: Final Verdict
A relatively recent product called Plasti Dip can be used to temporarily alter the color of your car. It is essentially a liquid version of the substance used to vinyl-wrap automobiles, and it can be applied with a spray gun like regular paint. It dries into a malleable substance that shields the underlying paint.
If used properly, it is a useful tool for both exterior car decoration and maintaining the finish on the body and trim. Plasti Dip is extremely durable since it can tolerate subfreezing temperatures and prolonged exposure to sunshine without warping or melting.
By effectively protecting the factory paint and changing the color of your car, it ensures that the paint will endure as long as possible. The owner won't have too much issue with this; it can be quickly and painlessly removed whenever you're ready.
Plasti Dip is a practical choice that the regular consumer has, whether they want to preserve their car's finish or adorn it with something new.