Did you know, that as of a UN study in 2018, more than 55% of the world's population live in cities or urban areas? According to its statistics, that figure could rise to 68% by 2050. As great as city-based civilization has served mankind, the urban jungle can feel claustrophobic, noisy, hectic, as well as lacking that sense of open-air freedom. The folks at Scout Campers clearly feel the same, too.
But even for those of us who are that little bit keen on going outdoors, it can prove to be somewhat primitive. Tents have evolved slower than the sloth over these last centuries. Moreover, any sense of comfort or longing for amenities immediately dissipates once you head over to a campsite. Call me a spoiled city boy all you want, but there are few things about camping that I'd be able to enjoy.
The discomfort of sleeping in a rustling tent and having to do your number twos in a hole by the ground might finally be over. Over the years, brands like Scout Campers have evolved that home-away-from-home experience to be a bit more civilized. Plus, it combines the rush of adventure, breath of fresh air, and adrenaline with something we all love here at Motor Verso – cars. Big cars (among the biggest car in the world), mind you.
What's The Deal With Truck Campers, Anyway?
The art of camping with some horsepower under your mattress isn't a new concept. As early as post-WW2 in the late-40s and early-50s, truck campers and RVs filled every campground in the States. It soon spread its wings elsewhere in Europe, Asia, Australia, and so on. To this day, RVs and other such recreational vehicles remain to be highly popular, especially for first-time happy campers.
However, it should be noted that the sort of camping designs that Scout Campers and its rivals use is very different from a traditional RV. Scout Campers make so-called "truck campers", or known by its acronym, TC. In North American, many also call it the 'slide-in' or 'cab-over'. As its name implies, truck campers are RV-type campers that can be installed and carried over a pickup truck bed.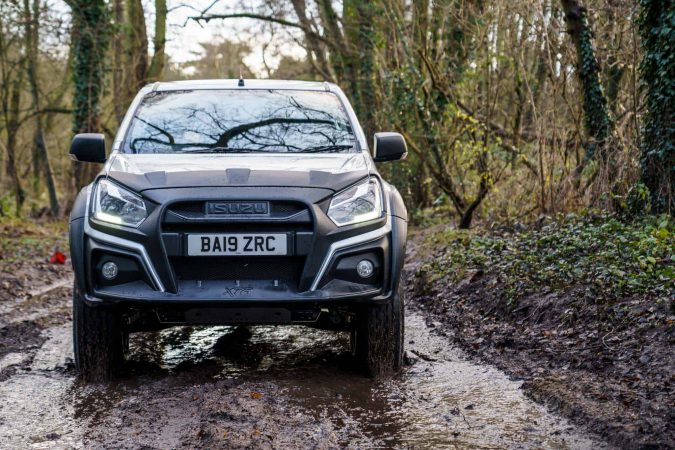 For some context, RVs – or literally 'recreational vehicles' – are large buses or truck-like vehicles that are purpose-built to carry a camper on them. This camper includes bedding, a tiny kitchen, bathroom, some seating, as well as other amenities as a sort of portable house. Truck campers, on the other hand, condenses the concept of an RV into a smaller package that fits onto a pickup.
It can be easily mounted and dismounted from a pickup bed. Yet, and despite its more diminutive size compared to a conventional RV, it still carries all the comforts of home that you'd want. Some of them can even slide the entire camper in and out of the truck bed to make access easier. Plus, a truck camper is more rugged than an RV, as it can travel virtually anywhere a pickup truck can go.
Why Should You Pick TCs Like Scout Campers Over A Traditional RV?
That last note is but barely the tip of the iceberg as far as the upsides of a truck camper such as what Scout Campers makes compared to an RV. The entire form factor remains roughly similar, with this giant box sitting atop your pickup truck bed. So, it's sort of a mini-RV then, right? Well, not entirely. See, the differences between a truck camper and a conventional RV are quite nuanced.
This is a good point to make, as a kitted-out and top-of-the-line truck camper can cost as much as an entire RV. That's not counting the cost of the pickup itself, mind you. Thus, just what are you getting when you opt for a truck camper instead of an RV for your next outdoorsy road trip? Well, here are a few of the benefits of picking a truck camper…
1. Incredible Versatility Anywhere You Go
As an extent of the point, we made earlier, think of just how big, heavy, and unwieldy an RV is. This is the sort of vehicle that can't manage any proper off-roading whatsoever. With a truck camper, it can go as far as the truck itself can go. If you have a beefy 4×4 truck, you can easily take your entire camper and drive it up a mountain trail, rocky pass, overlanding, or any such treacherous terrain.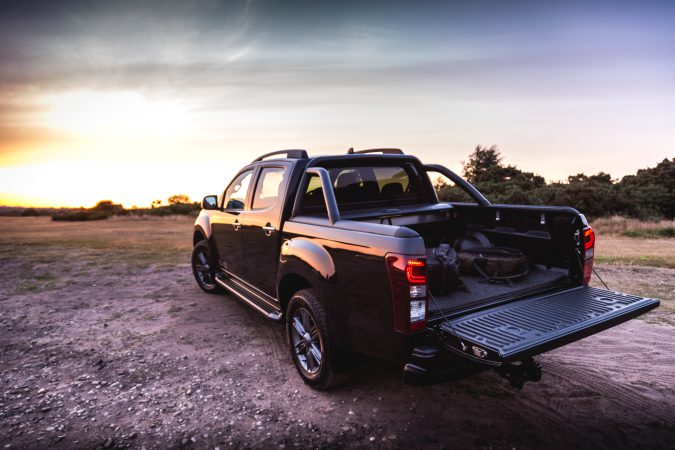 In other words, a truck camper enables you to enjoy a more off-the-grid camping experience. It can take you to that hard-to-reach lakeside or mountain peak, letting you enjoy a night away from home beneath the stars. That's instead of being at some boring old RV park. Once that's done, you can just drive it back home. At the end of the day, it's still a pickup truck, and you can treat it as one.
2. Easy Camper Driveability And Manoeuvrability
Besides its off-road credentials – which even the most basic pickup can handle – you can drive it more easily, too. Unlike that big RV that you have to maneuver like you're driving a bus, a truck camper is still a regular pickup truck at heart. Having that camper at the back doesn't make it that much larger or heavier. Okay, maybe it adds a few inches and packs on some more pounds at the rear-end.
Still, you can maneuver it around obstacles – be it driving through the Grand Canyon or your local Walmart – that much easier. A pickup can still pick up (pun intended) speed as capably while driving it on the highway. In addition, you can comfortably slot it inside a regular car park or back it up to your driveway without difficulty. Suffice it to say, driving a truck camper is substantially easier.
3. Low Maintenance, Servicing, And Running Costs
Whether you're renting an RV or own one, it's a fact that maintenance is a nightmare and a half. It goes both ways for those who own trailer campers too, by the way. With that big and heavy RV, you have to spend a whole lot more on servicing and replacing the tires. Besides that, the brakes, fluids, bearings, and everything else in between require looking after, as well. This is an expensive chore.
With a truck camper, you can slash that by quite a margin. Your maintenance routine shouldn't differ too much before and after you've slotted a camper at the back. This includes oil changes or engine check-ups. Having that camper even has a minimal impact on your fuel bills, too. Although, the mass of that camper weighing your truck down does raise the servicing costs that tiny bit higher.
4. Camper Saves On Added Costs Down The Line
We've already touched on your fuel economy, which is much cheaper than filling in a big RV, by the way. On top of that, there are other ways in which a truck camper can yield you more savings in the long run. For instance, the depreciation of a truck bed camper is generally much slower than that of an RV. Simply put, the market for a truck camper – used or new – is smaller and more concentrated.
Moreover, there are also the registration fees that you'll have to settle to Uncle Sam. 42 states still consider a truck camper as a piece of cargo rather than a recreational vehicle. So, and if you live in those states, you can skip the annual RV licensing and registration fees. Getting quality insurance coverage for a truck camper is thus easier, as well. As a whole, small savings hither and tither.
5. Seamless Camper Upgradability And Modularity
Another great benefit of truck campers such as Scout Campers is their upgradability. With an RV, any upgrades mean that you likely have to sell or trade in the entire thing for another RV. Meanwhile, a truck camper's upgrade is as easy as getting a new phone case. Is your truck getting a bit old and isn't pulling as much as it once did? Just remove the camper, and slot it onto your new truck.
Is the camper feeling too shabby and needs an update? Just pull the whole camper out, and replace it with something new. As the truck and the camper are two distinct components, you can upgrade one without affecting the other. In addition, some truck campers – such as Scout Campers' offerings – even allow modular interior design, so you could change the layout around as you wish.
What Makes Scout Campers' Truck Campers So Special?
So far then, we've harped on about the many benefits of getting a truck camper instead of an RV. Yet, we've not talked about Scout Campers. So, just who are they, and what makes them so special in the first place? To start, the Yakima, Washington-based Scout Campers is among the oldest of the truck camper brands to date. Their roots were planted in truck campers as earlier as 1969.
Although, note that Scout Campers is tied with another brand, Adventurer Manufacturing, which has been in the game for just as long. Either way, their truck campers have focused on a few key things to differentiate its offerings from that of other truck campers…
Sustainability – The design of its campers is made to be sustainable, as well as efficient. The camper itself is relatively lightweight in construction and runs off solar power.
Minimalistic Style – To pare things down, the creature comforts of each camper from Scout Campers carry only the bare essentials. Yet, they've managed this without sacrificing convenience.
Modularity – Many of the accessories built into its campers are modular. This means you can detach them and bring them outside, or move them around to rejigger the layout.
Longevity – Thanks to its robust construction that pairs an aluminum exoskeleton with fiber-glass paneling, it can offer long-lasting all-season protection.
Currently, Scout Campers offers three distinct campers to choose from – Yoho, Olympic, and Kenai. Generally, they get larger, cost more, and provides more nice-to-haves correspondingly. For a more in-depth look at each offering, let's take a peek at what makes each of Scout Campers' products so unique from one another.
1. Scout Campers Yoho – The Entry Level Mini Camper
The entry-level camper that they sell right now is the Scout Campers Yoho. Mainly, it was built to fit onto the bed of smaller to mid-size pickup trucks, such as the Toyota Tacoma or Ford Ranger. The Yoho is quite light, with a base weight of just about 958lbs. Despite that, it can provide sleeping for up to four people at a time. As standard, the kit that comes with the Yoho includes stuff such as:
12V (175W) solar power roof charging for off-the-grid electric supply.
LED lighting inside and out.
Portable power station for charging your electronic gadgets.
Portable water storage that also includes filtration.
Cross ventilation system to manage your climate control and heating.
L-shaped seating and bedding area that can fold into two comfy beds for either one adult or two children each.
Portable 4.9-gallon jerry can.
10lbs propane tank.
As you can imagine, this is quite basic – though the Yoho does seem rather cozy inside. If you're keen on spending more on optional fitment, you can also get additional accessories like:
45-litre dual-zone portable fridge and freezer with cooling as low as 22°C.
Dual-zone cooktop specially made for the Yoho.
270-degree outdoor awning.
Propane-powered fireplace for added heating.
Portable 2.6-gallon toilet.
Removable camper jacks that hold the camper in place. However, it could be removed to save weight (by 114lbs), or improve your maneuverability.
This is quite a basic and highly summarised list of its many standard and optional equipment for the Scout Campers Yoho. In all, it's a fantastic little camper, which provides an otherwise very cozy and comfortable outdoors camping or overlanding experience. Even as standard, Scout Campers is giving you quite a lot of toys and amenities to play around with.
1.5. Scout Campers Yoho Pricing And Specifications
The Scout Campers Yoho starts at $19,980, which is quite expensive. But then again, it does bring a lot to the table. This includes its ease of use when it comes to fitting it onto your truck, lightweight construction to save on your truck's servicing and fuel bills, as well as its long-lasting design. Plus, the inside of the Yoho does seem like a great place to spend time in.
It should be noted, that this price may vary depending on your particular vehicle. Using its online configurator, you can spec your ideal Yoho with as many optional extras as you want. As for the rest of its specifications…
Floor Dimensions – (L) 69.75" x (W) 39.5"
Weight – 958lbs
Sleeps – 4 People
Exterior Height – 78"
Interior Height – 75"
Exterior Width – 74.75" (Without Optional Awning)
Exterior Length – 121"
Fuel (Propane) Capacity – 10lbs
Centre Of Gravity – 26"
Fresh Water Capacity – 4.9-gallons
Power Station – 1,045W
Bed Dimensions – (L) 54" X (W) 72"
2. Scout Campers Olympic – The Best All-Rounder Camper
One step-up above that would be the Scout Campers Olympic. Compared to its compact brethren, it's much larger (specs down below), weighing in at 1,133lbs. Primarily, it's only suitable for large or full-size pickup trucks. While sufficiently lightweight and compact, the Olympic is best suited for longer and rugged weekend adventures, and especially for larger families. Overall, it can fit six people.
The most notable inclusion on the Olympic over the Yoho is its roof-top tent, which could provide a most wonderful view out. As standard, you'll find most of the same as with the Yoho. These include:
175W monocrystalline roof-mounted solar panel.
Four-person dinette that can fold into seating or bedding for up to six people.
Thermal pane windows with solar reflective shading.
Dual 5lb propane tanks.
5 cu-ft of exterior lockable storage.
4.9-gallon jerry can, with filtration for up to 2,460-gallons before a new filter is needed.
2,000W lithium-ion portable power station – up to 150 phone recharges, 25 hours for the fridge, or 300 hours of lighting.
All around, it marks a notch above the Yoho as far as standard equipment goes. But where Scout Campers' Olympic truly shines is when you option some of the extras…
Roof-top tent that can increase bedding capacity by two adults or three children, which can be set up in mere minutes.
Slide-out cooktop and prep station that lets you cook outdoors.
4.5BTU gas fireplace for added heating.
Portable 2.6-gallon toilet.
Removable camper jacks to save weight and improve driveability.
270-degree outdoor awning.
75-liter portable fridge and freezer.
2.5. Scout Campers Olympic Pricing And Specifications
With its added heft, the Scout Campers Olympic costs a tiny bit more, starting at $21,750. That said, you are getting a lot more space (as you would need with a food truck conversion), which is perfect if you're planning a getaway for the whole family. On top of that, you have the bonus of a rooftop tent, where you can sleep and then gaze at the stars. Although that tent is a $5,295 optional extra, so you do have to think hard about it.
The rest of the options can be pricey, as well. That humungous 75-liter freezer will set you back an extra $1,390, whereas the gas fireplace is another $1,395. As for the nitty-gritty specs…
Floor Dimensions – (L) 74.25" x (W) 47.5"
Weight – 1,133lbs
Sleeps – 4-6 People
Exterior Height – 81" (Without Optional Roof Tent)
Interior Height – 78"
Exterior Width – 83" (Without Optional Awning)
Exterior Length – 127"
Fuel (Propane) Capacity – 10lbs
Centre Of Gravity – 27"
Fresh Water Capacity – 4.9-gallons
Power Station – 2,000W
Bed Dimensions – (L) 54" X (W) 80"
3. Scout Campers Kenai – The Best For Maximal Comfort
Finally, we have the biggest, and most luxurious offering from them yet, the Scout Campers Kenai. If you thought the Yoho and Olympic were fully featured, just wait until you get your hands on the Kenai. At face value, it doesn't seem like much of an upgrade. It still sleeps and fits around four to six folks, with similarly lightweight and robust construction.
Nonetheless, it does weigh a much heftier 1,370lbs and is mainly fitted to full-size short and long box trucks. The Kenai's goal is to provide you with as much luxury and comfort, no matter where the journey leads you to. Therefore, there's incredible all-weather insulation and protection. On top of that, you can comfortably cruise for longer into the wilderness without concern.
As standard, some of the things you get include:
175W monocrystalline roof solar panel for charging.
Mudroom entrance with a stainless steel drain pan.
Interior wardrobe and designated bathroom area.
Moon roof with solar reflective protection and thermal window panes.
Removable marine flooring for easy cleaning.
Dual 10lbs propane tanks.
Solar porch light with motion sensors.
Just like with the Olympic, the Kenai gets a roof-top tent too, as an option, of course. Additionally, the rest of the optional extras include:
Stow-away cassette-style toilet with a 4.75-gallon waste tank.
Portable shower and outdoors rinse kit.
75-litre fridge and freezer combo with Wi-Fi connectivity for controls.
Slide-out gas cooktop and prep station.
4.5BTU gas fireplace.
270-degree awning.
3.5. Scout Campers Kenai Pricing And Specifications
This top-of-the-line offering from Scout Campers isn't cheap, as the Kenai starts at $24,900. This is before you even consider any options on it, which you most likely would, that could ramp up the cost for a fully-kitted out unit to very nearly $40,000. With all this being said, it's one of, if not the best truck camper of its type and size that you'll find anywhere else.
It's robust to withstand even the harshest of climates. Yet, it's suitably compact and lightweight to not weigh down your truck too much. Despite all that, you can camp at the back of it until the end of time (figuratively speaking) with maximal ease and comfort. As for its specifications…
Floor Dimensions – (L) 92.25" x (W) 47.5"
Weight – 1,370lbs
Sleeps – 4-6 People
Exterior Height – 83" (Without Optional Roof Tent)
Interior Height – 80"
Exterior Width – 83" (Without Optional Awning)
Exterior Length – 145.5"
Fuel (Propane) Capacity – 20lbs
Centre Of Gravity – 35"
Fresh Water Capacity – 4.9-gallons
Power Station – 2,000W
Bed Dimensions – (L) 60" X (W) 80"
Scout Camper Facts:
Scout Camper is a brand created by Adventurer Manufacturing that offers campers that fit almost any size truck bed.
The Scout Camper line consists of three models: Yoho, Olympic, and Kenai, all of which are designed for off-road adventures.
The Scout Camper brand follows a long line of popular brands constructed by Adventurer Manufacturing, including Overlander, Adventurer, and Eagle Cap.
All three Scout Camper models have single-piece construction, reinforced aluminum and composite walls, and are lightweight and leak-free.
Scout Campers are unique in their hands-off policy of construction, allowing owners to add only the equipment they need and customize their units to their liking.
The Yoho and Olympic models have under-counter storage for optional toilets, while the top-of-the-line Kenai model has a closet designed for use with an optional port-a-potty and overhead shower.
The center of gravity in the Scout Camper models ranges from 26 inches to 35 inches, with the ratcheting system helping to secure the camper to the truck and alleviate any worries about tipping.
Prices for Scout Campers range from $22,000 to $27,000, and optional equipment can add up pretty quickly.
Scout Campers have limited storage space, with equipment and appliances taking up most of the interior spaces available.
Scout Campers are ideal for those who enjoy camping in a minimalist style and customizing their camping experiences, and they are well worth the investment for those looking for a budget-friendly option for off-road adventures.
Scout Campers – Final Thoughts
In all, this should be a good round-up to summarise our look at Scout Campers truck campers, and their breadth of ability. While you're here, we recommend that you check out Scout Campers' webpage for more details on how to prepare your truck for fitting the camper. Also, they have an extensive FAQ page for any burning questions that you might have which we've not been able to answer.
So, how can we conclude? Even for someone who's not as interested in camping as I am, Scout Campers has already been able to change my mind on the whole sport. I won't have to fiddle about trying to put up a tent anymore, nor will I need to empty my bowels like an animal. This has also opened up my mind to the possibility of truck campers, and how they transform camping.
Still, it does come at a high cost. Even the bargain-end of the Scout Campers product line costs the same as a pretty decent project car. But what do you get in return? Well, you're able to enjoy the outdoors without any care or worry in the world. You get a truck camper that's robust enough to last anything that nature has to throw at it. And, it's rather easy to lug around with your truck, too.
Step inside, and you don't really miss out on anything at home. Cozy beds, a kitchen, shower, and even charging ports for your phone and laptop. It's as close to an on-the-go home-like experience without compromise that you can get today. If you're a camping nut or someone who spends a lot of time outdoors – and have (very) deep pockets – Scout Campers is more than worthy of a look-see.