A small camper van is a fun vehicle. It is a great way to enjoy nature and camp in an economical way. The #Van Life is an amazing adventure that has grown very popular in the modern era. The world is full of huge campers and RVs that take up too much space, are hard to drive, and cost a fortune to run, that is why people love an easier to drive, affordable, and help cover areas off the tourist tracks.
RVs are getting more and more popular by the day and the range of demand for these vehicles has grown immensely. The age of huge, giant RV's is gone, and with the introduction of new and improved small RVs have taken over the market. These smaller RVs are not only affordable but more practical.
Motorhome-style vehicles, campers, and RVs have always attracted outdoor enthusiasts for many years. But recently the interest in these types of vehicles has grown tremendously. More people are getting on board with living life on the road, and being one with how to live in your car.
The answer for this sudden increase in demand can be summed up in one word: pandemic. Covid 19 has driven the whole world into their homes into a lockdown for quite a long time. Even with the lockdown opening up, there are still some restrictions in place to ensure the safety of others. Camping is the best way to get away while ensuring the safety of others.
What Exactly Is a Small Camper Van?
The van life has become extremely popular in the world especially after the coronavirus had confined us into our homes. Even after the lockdown opened up, there were several restrictions and a number of rules everyone had to follow. So what did people do? They bought huge RVs or a trailer which was expensive, very difficult to drag around, and confined you to public camping sites. This is the reason for such an increase in the popularity of small camper vans.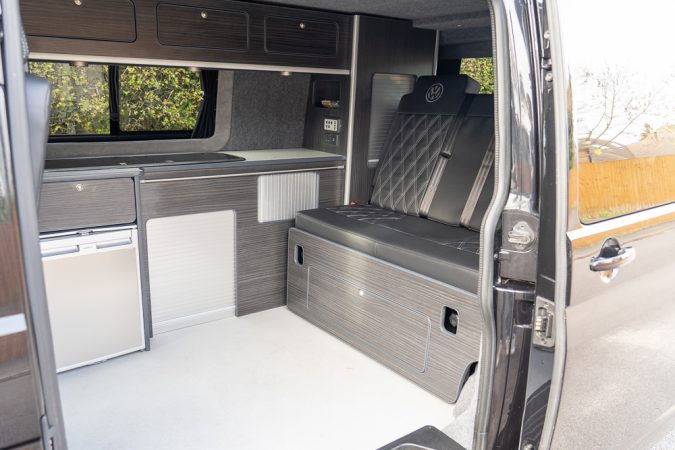 A small-size camper van is a cheaper, more affordable version of a huge RV and caters to all your everyday needs. They are practical, easy to drive, and can be parked inside your own driveway. A small camper van is usually a conversion of an existing van that is equipped enough to give you a more authentic experience of camping off the grid.
There are a number of camper vans available in the market. A camper van does have limited amenities, so choosing a camper van can be tricky. Be sure to buy a van that offers all the amenities you need to maximize your camping experience (just make sure you're aware of things like the Ford Econoline common problems).
Best Small Camper Vans
Small camper vans are taking over the market, they are more budget-friendly, easy to handle, and offer most of the features any large size RV does. There are several camper vans to choose from. Selecting the perfect camper van catering to your needs can be tricky. So we have compiled a list of all the top camper vans that are taking over the market.
Mitsubishi Delica
The Mitsubishi Delica is one of the most affordable campers available on the market. This conversion turns what used to be a small size family vehicle, into a fully functioning day camper with all the amenities that you would need to live comfortably on the road.
Each mini RV comes equipped with insulated walls and vinyl flooring. This Mitsubishi comes equipped with a leisure battery and a power management system. There is a 240V power supply hooked up to the side of the vehicle when parking at campsites. This small camper van usually can cost anywhere around $12,000 to $15,000.
Volkswagon California Camper
Volkswagon is one of the oldest and respected names in the automotive community. The California Camper is one of the most well-balanced options on this list. It has a range of modern equipment along with several safety standards like driver's assist, clever parking, and smart cornering halogen lights. It also comes with some classic options like a manual transmission.
This innovative all-rounder camper has an indigenous, space-saving design and comes with the iconic Volkswagon pop-up roof that fits about 4 adults. It comes with a removable camping table and chairs that store away neatly when not in use. This makes the vehicle extremely space-efficient and comfortable (which also makes it ideal for a food truck conversion). This small camper van might not be the fastest or the best looking, but this German camper is affordable and efficient.
Citroen Dispatch
The Citroen Dispatch is a new breed of small camper vans that bridge the gap between a daily driver van and an off-the-grid camping vehicle. This van includes a side kitchen cabinet table along with a foldable bed and a pop-up roof to increase the space and increase comfort within the van. It is one of the most economic and efficient small camper vans on the list. It comes in numerous sizes and this van is easily customizable, which makes it better for several customers
Renault Trafic
The Renault Trafic is one of the best-selling small-sized camper vans. The van comes in 4 different variants, the black variant adds a different look to the van. The Trafic really wins its customers' hearts in the interiors of the vehicle. The chief among them is Renault's latest infotainment systems from the car range.
There are R-Link and Media Nav systems on offer, so Android Auto and Apple CarPlay are now compatible. While an all-grey finish for the plastic trim and additional silver trim on the dashboard gives the interior a bit of a lift. In the back, the load area is unchanged from the previous model, with the panel van coming in two body lengths and two roof heights, so cargo volume ranges from 3.2 cubic meters to 8.6 cubic meters.
Jeep Wrangler
When we talk about Jeep Wrangler, it's more likely associated with rugged off-roading. This vehicle is synonymous with an adventure lifestyle making it an amazing choice for a camper conversion.
The build quality of the Wrangler alongside its amazing offroad capabilities increases the demand for this unconventional camper. It usually uses a tent on the roof of the vehicle.
The Free Bird
The Free Bird is built on a Nissan NV200 and it has a very unique design. This camper uses a super convenient slide rail system that makes it easy for this vehicle to be converted into a cargo van or a camper van without wasting any time. The slide and glide rail system allow components to be installed or removed in minutes.
The main cabin contains several boxes that hold almost all of the equipment you might need while camping. The kitchen is accessed from the slide-out kitchen box placed in the rear of this camper van. It consists of a portable stove and a couple of drawers for your cutlery. There is another large box behind the two front seats that holds the battery, which powers the dimmable LED lighting, two USB power ports, and a fridge.
Fiat Ducato Camper Van
Whenever we talk about Fiat the first car that comes to everyone's mind is the Fiat 500. But recently Fiat has been investing a lot of their time, money, and energy in swiping a slice of the small camper van market.
The Ducato is one of the best vehicles ever produced by Fiat. It is better than leaps and bounds than anything else Fiat has ever made. The selling point of this vehicle has to be the best-in-class turning radius. It also comes with electronic stability control, and ergonomic emphasis hence it has become a van life fan favorite.
This small camper van comes with many options to choose from right from the company. So there is something for everyone. Fiat offers all Ducato owners live phone assistance in 15 languages, 51 countries, 24 hours a day, 7 days a week.
Citroen Jumper Biker Solution Multi
Citroen came up with the Jumper Biker Solution Multi in 2019. It is a small camper van that is built to haul motorcycles and can carry about 4 adults. The Jumper Biker Solution Multi features and components include a Thule awning, diesel heating, a 90-Ah AGM battery, 20-L fresh and wastewater tanks, and LED lighting. The biggest advantage of the Citroen Jumper Biker Solution Multi is the ability to haul a couple of motorcycles, ATVs, a wheelchair, etc.
The flat ramps along with the remote-controlled electric winch and integrated floor rails help get everything inside and secured. The Citroen helps concierge the gap between camping and having a fun offroad outing.
Along with that, the Multi has a split-folding rear bed that fits about two people and a pop-up roof bed that's good for another pair. A central kitchen area packs a stove, sink, and compressor fridge. There's also a small, removable table that locks in place in front of the swiveled driver cab seats to create a front dining nook or in the back to create a kitchen counter or rear dining area.
Yucon By Frankia
The Yucon uses a Mercedes Sprinter and changes it into one of the most luxurious small camper vans out there. Yucon gave a new name to camping in style. Inside the Yucon is a small kitchenette right next to the sliding door, which can be used both inside and outside. The back of the van has 2 twin beds that can connect to each other that can become a bigger bed.
Frankia doesn't simply support van lifers by making living in a van easily possible but by making it comfortable and highly enjoyable. The top of the line of that category is the flagship 274-in (697-cm) Yuncon 7.0 Lounge, which finds itself sitting on a Mercedes Sprinter 170 with a super-high roof.
This vehicle is loaded with space-optimizing innovations, this van follows directly in the footsteps of the FutureConcept layout that Frankia experimented with at last year's Düsseldorf Caravan Salon, abandoning the conventional camper van formula of rear bed-central kitchen/bathroom-front dining lounge for something more spacious and homey.
The Yucon focuses on making the van life much more luxurious and comfortable. Yucon also has some more budget-friendly and smaller options without compromising a lot on what they believe in. They also have a small more affordable camper van based on a Fiat Ducato.
Trakka Torino 4S
Trakka's Torino 4S is the most compact camper van in their lineup. This Australian company uses a Fiat Ducato. Trakka got rid of the rails that were initially used by Fiat and gave a luxurious facelift for their clients. The Torino comes equipped with a double foldable bed that converts into a luxurious lounge when the bed is folded.
The bed is placed in a sideways position. There are a number of amenities available for this small camper van like an induction stove, a microwave, and an electronically operated retractable toilet.
Trakka has made sure to use the space in a smart and innovative manner alongside providing a lot of luxury and comfort for any client. The exterior of this vehicle might have you fooled but from the inside, it has left campers speechless. The Torino has 12v lights throughout the cabin that can be adjustable and dimmed with just the touch of a button.
Advantages Of A Small Camper Van
There are several benefits of choosing a small camper van over a huge RV burning a hole in your pocket. Here are some of the advantages that might nudge you in the direction of buying a small camper van.
Easy To Drive
One of the biggest advantages of owning a small camper van is that it is easy to drive and maneuver. The small size of the vehicle makes it easy to park and set it up at any campsite or anywhere off the grid. Large RV's are difficult to drive and for someone new, it would be difficult for a first-timer to drive a vehicle this big. On the other hand, a small camper van is like driving a normal passenger vehicle.
Lightweight And Easy To Tow
Any vehicle can get stuck or have an engine issue causing it to break down. So having a vehicle that weighs lighter can be easily towed by any vehicle. On the other hand, a huge RV if stuck can be the cause of a headache and it would be very difficult to get out of such a tricky situation.
Less Expensive
A small camper van is way cheaper and affordable than a full-size RV. Rather than investing in a full-size RV which can be very heavy on anyone's pocket, many cheaper options will give you the same experience without burning a hole in your pocket.
Helps You To Focus More On An Adventure
A small camper van focuses more on being in touch with nature rather than having a house on the wheels. A small camper van has all the amenities that anyone would need while camping but a small camper can't hold a lot of entertainment, therefore campers are forced to wander outside the camper to seek entertainment from Mother Nature herself.
Allows You To Visit More Places
A small camper van can fit into unconventional places which will allow several campers to reach places that a full-sized RV cannot fit. They can go totally off the grid and be one with nature. It also unlocks the possibilities of not only camping on public campsites but also off the grid.
Smaller Fuel Costs
RVs are very big and heavy vehicles with enormous engines. While a small camper van is relatively small. The small engines along with the small size allow these vans to be more fuel-efficient, better for the environment as well as better on the pocket of all the customers.
Cozy And Comfortable
A small camper van is just a cozy place to be and makes it fun being in one. If you are plugged in, it is relatively easier to heat and cool since they are so small in size. A nice cozy and small camper allows you to enjoy your time in nature while relaxing and unwinding all your problems.
Easy To Maintain
An RV comes equipped with a number of features and generally is very huge, making it very expensive and difficult to maintain. On the other hand, a small camper van is maintained like any other daily driver. The basic service cost is enough to maintain the vehicle.
Disadvantages Of A Small Camper Van
There is no such thing as a perfect vehicle and a small camper is no different. It has its fair share of problems and here are some of these problems.
Camper Vans Don't Offer Much Space
A small camper van is more of a budget RV and does not have a lot of space which can cause a lot of problems for some of the people who want to enjoy the RV more than mother nature. Alongside that most small camper vans can only fit around two adults, which would not be acceptable to some of the potential customers.
Doesn't Have A Lot Of Amenities
A small camper van does come with several facilities but they are nothing when compared to an RV. An Rv has the size and space to fit up way more facilities than a small camper van. A camper van does have basic amenities like a washroom, a sink, table, etc but it loses out on facilities like a dishwasher, a full-sized fridge, or a washing machine.
Washroom Space
Because of the compact size of the small camper van, the wet bath is a bathroom where the toilet and the sink sit directly inside of the shower.  This can end up creating a few different problems. Some washrooms are not big enough for a full-size adult to take a bath while standing up. This can cause a lot of problems for some people.
Campervan Kitchens Are Difficult To Work In
A camper van being small in size has not have a lot of room for a kitchen hence the kitchen items are too small to be useful.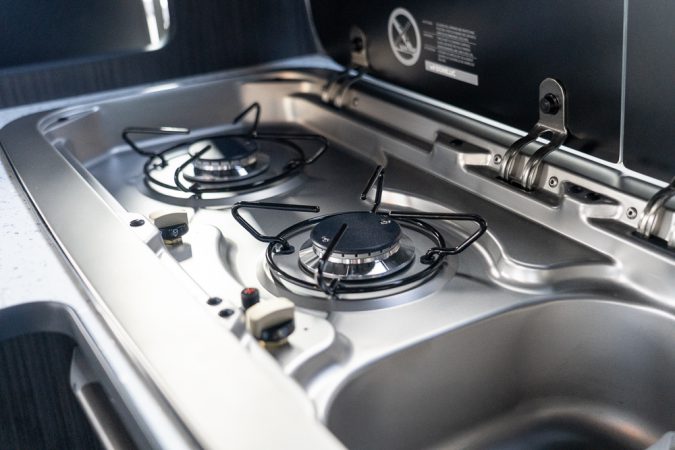 The kitchen sink is too small to wash dishes, the countertop is too small to prepare food on. Not only that, but the microwaves are too weak to be of any help.
Can Not Load Too Much Stuff
One of the main problems with using a small camper van is that you cannot carry a lot of stuff with you because of the limited space. The camper is big enough to store all the necessities. So you have to pack light and choose wisely what you want to carry.
Facts about the World's Smallest Camper Van
The Suzuki Every is the smallest camper van in the world, measuring 11.12 feet in length.
The Miniature Cruise Cozy is a conversion of the Suzuki Every by Japanese van conversion company, Oka Motors.
The Miniature Cruise Cozy has a kitchen with a sink, microwave, 12V cooler, and a propane stove with a single burner.
The kitchen counter of the Miniature Cruise Cozy can also be converted into a bunk bed in an emergency.
The Miniature Cruise Cozy has a dining table with a couple of cup holders built into it that sits on a rail allowing it to move back and forth along the kitchen counter.
The Miniature Cruise Cozy does not have a pop top and does not offer an option for a toilet.
The Miniature Cruise Cozy can sleep three people (for more context, check out our guide on is it illegal to sleep in your car and how to sleep in a car), but Oka Motors notes that it may be suitable for three Japanese people and not three average-sized North Americans.
The Miniature Cruise Cozy has an off-grid power system that comes with two 85-amp-hour batteries and a 1,500-watt inverter.
The Miniature Cruise Cozy is available in a 4WD version.
The cost of the Miniature Cruise Cozy or the newly remodeled Miniature Comfort Cozy is around $28,275 USD, while the 4WD model starts at around $29,425USD.
The Miniature Cruise Cozy is not currently available for sale in North America.
Small Camper Van – Conclusion
An RV is a huge investment and burns a noticeable hole in your pocket. It does come packed with a number of features and provides a lot more space for you and your family, but at what cost? A small camper van can provide everything an RV does. The only difference is that it comes at an affordable price. Along with that, the owner loses several of the headaches that come along with owning an RV.
Like every vehicle, a small camper van does have its pros and cons. But if you want a more pocket-friendly and economical way to experience life on the road or off-grid, a small camper van can be a very good competitor to the RV or any trailer. If you convert or buy the correct camper van for all your needs, it can be of a lot of value to you.
It does incorporate all the necessary amenities and it helps you discover places off the grid and be one with nature. An RV or a trailer for that matter might give you some features like a washing machine or a dishwasher which might make life a bit easier for you but will rob you of authentic camping or living on the road experience.