The performance and capabilities of modern sports automobiles must surpass all previous records. Today's customers still desire the thrills of a high-performance machine, but few are prepared to compromise size, comfort, or efficiency. Hence, the need for sports cars with back seats.
As a result, anything that falls short of a well-rounded package will likely be near the bottom of prospective buyers' shopping lists. Fortunately, there are several four-seat sports cars available with room inside for extra passengers, baggage, or both.
Whereas two-seat sports vehicles come in various price ranges. The combination of performance, baggage room, and four seats tend to command a higher price. Here is the list of the best Sports Cars With Back Seats…
Sports Cars With Back Seats #1 – BMW i8
The BMW i8 resembles a spaceship and boasts hybrid power wrapped up in gorgeous BMW packaging. Features four seats despite its outward appearance. Unless it were absolutely necessary, you generally wouldn't choose to invite someone to sit in the two back seats because they aren't really comfy.
The back of the i8 has two leather-wrapped pads that make up the cushion instead of regular seats; the back of the car is covered in a carpet that wraps around the back of the cabin. There is extremely little headroom and very little legroom.
Sports Cars With Back Seats #2 – Lotus Evora
The Lotus Evora is another automobile whose size is deceiving. Although it has back seats, it has the same exterior appearance as the compact, sporty, track-focused cars that Lotus is known for.
The Evora boasts true leather back seats, unlike the BMW i8; however, they aren't very pleasant. In actuality, they are hardly cushioned, nor are they really secured to the automobile. The back seats are simply stuck in place, so you may remove them in a matter of minutes.
Unfortunately, the Evora's backseat is nearly entirely worthless, much like the i8's. If you have a tall or even average-sized driver and passenger. The seats' ability to move back till they touch the back seats isn't ideal. There isn't enough headroom, and even if you could secure a car seat to the removable seats. Which you can't, it wouldn't fit in the back.
Although the back seats of both of these vehicles are available. You most likely won't want to put anyone in them. They are not practical enough for car seats or for anyone larger than a little toddler to sit. The only really useful purpose of the backseat is that they let you transport more cargo.
Sports Cars With Back Seats #3 – Audi TT
The Audi TT may have four seats, but that doesn't seem to have changed the way it appears; it still has the same tiny, curved, and sporty appearance. It also maneuvers through turns at high speeds with good grip and quick direction changes.
From the front seats, the interior is surprisingly spacious and feels well-built. The cost of cramming four seats into such a compact automobile is only obvious when you turn to look behind you. Manufacturers refer to the Audi TT as a two-plus-two vehicle.
Adults won't want to sit in the 'plus-two' back seats for very long because they are small, unpleasant, and cramped. The headroom is also constrained due to the curving roof that slopes down to the trunk lid. Weekend getaways will likely be limited to two due to the 305-liter trunk behind those seats.
Sports Cars With Back Seats #4 – BMW 6 Series
The most practical sports car on this list is the BMW 6 Series, which offers plenty of head and legroom for both front and rear passengers. That's a good thing because the large, substantial 6 Series is best suited for lengthy highway drives. This means if you're in the back, you might spend some time there.
However, the car's responsiveness and stability come at the sacrifice of comfort; you will feel the bumps of potholed roads as it crashes over them. The car's weight doesn't hinder it from feeling quick in bends.
The 6 Series has been difficult to locate recently, and it has been replaced by the 8 Series Coupe. However, the more useful 6 Series Gran Coupe is still an option, and the 640d's 3.0-liter diesel engine is strong and generally efficient (between 40-50mpg in the real world).
Sports Cars With Back Seats #5 – Chevy Camaro
The Chevrolet Camaro coupe and convertible are all about the pure joy of driving. Forget about the rear seats' limited space and poor rearward visibility. Instead, enjoy their exceptionally smooth ride, thrilling stick-shift transmission, and snappy handling. The base engine is a 275 hp turbo four, but adding a 335 hp V-6 or a 455 hp V-8 unleashes more melodic soundtracks and more potent acceleration.
Although some people might find the inside to be cramped and unattractive. The front seats are supportive and comfy, and the infotainment system is easy to use and well-stocked.
Although the Ford Mustang and Dodge Challenger are superior as daily vehicles. Chevy's pony car is the greatest track car of the three when equipped with the optional 1LE package. Finding a vehicle with more performance for the money is more challenging than the Camaro.
Sports Cars With Back Seats #6 – Porsche 911
The classic Porsche 911 is a staple when considering sports vehicles because of its precise handling, extensive customization choices, and up to nearly 700 horsepower in some variants.
Due to its design, the fantastic Porsche 911 is renowned for having little cargo capacity. This also means the back seats leave less than ideal space for passengers to get comfortable.
This car might not be the best sports car for you if you need rear seats and cargo capacity because it has only 4.6 cubic feet of cargo space and very little leg room in the back. The Porsche 911's dependability, handling, speed, and classic appearance leave very little to be desired. These sports cars with rear seats are now among the most well-liked.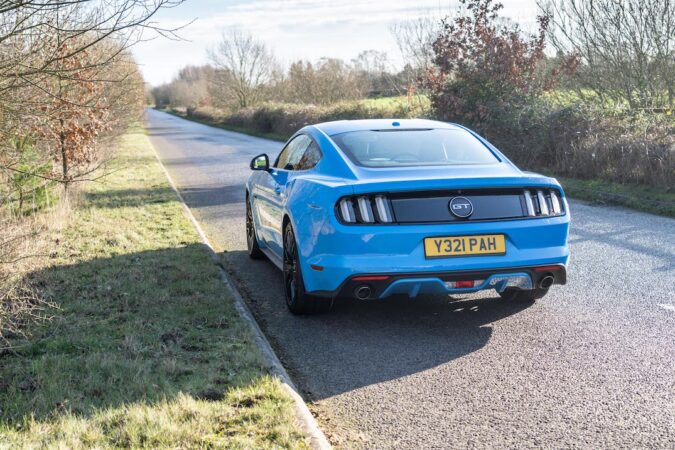 Sports Cars With Back Seats #7 – Ford Mustang
The Ford Mustang isn't only about power and noise, albeit it is more of a beast than a low, streamlined sports car. The American muscle car is enjoyable to drive on country roads as well since. It can absorb road imperfections to keep the vehicle stable and is ready to change lanes with a quick turn of the steering wheel.
The rear seats are as roomy as most sports cars get, but they're still a little tight, so four people may enjoy the ride. The trunk is large, but this is not a practical vehicle; if you choose the most potent V8 version. You'll be making frequent trips to the gas station. The best fuel efficiency is 20 mpg.
Ford also provides a more effective four-cylinder gasoline engine in the Mustang. This will probably result in significant cost savings over the heavy V8.
Sports Cars With Back Seats #8 – Audi TT RS
Audi's TT is well-known for being a useful and practical sports vehicle, but the high-performance RS model is occasionally ignored as a rival to more well-known manufacturers.
The impressive 2.5-liter five-cylinder engine, which produces 395 horsepower and is paired with the outstanding Quattro four-wheel-drive system and S Tronic gearbox to enable 62 mph acceleration from rest in just 3.7 seconds, is the package's standout feature.
The TT RS is as simple to drive as any other Audi, even with its supercar-like performance.
The cabin is full of technology and finished to a high degree, which is typical of the brand. The trunk is large and may be increased by folding the back seats; however, the rear seats are best suited to smaller occupants.
Sports Cars With Back Seats #9 – Lotus Evora
The lightweight sports car, the Evora, has two seats in the back and looks like it just rolled off a race track. But it also serves as a useful family vehicle if you can contort yourself sufficiently to fit.
They are only truly suitable for little toddlers, who should be rather comfortable given the Evora's remarkably smooth ride. For the opportunity to travel in the Lotus, they may also have to endure some discomfort.
The most recent Evora 400, which went on sale in 2015, is much faster than it appears. It darts along the road, is quick and light, and gives the driver a sense of control. Looks exotic, and Additionally, it is considerably more expensive than the typical family vehicle.
Sports Cars With Back Seats #10 – Porsche Taycan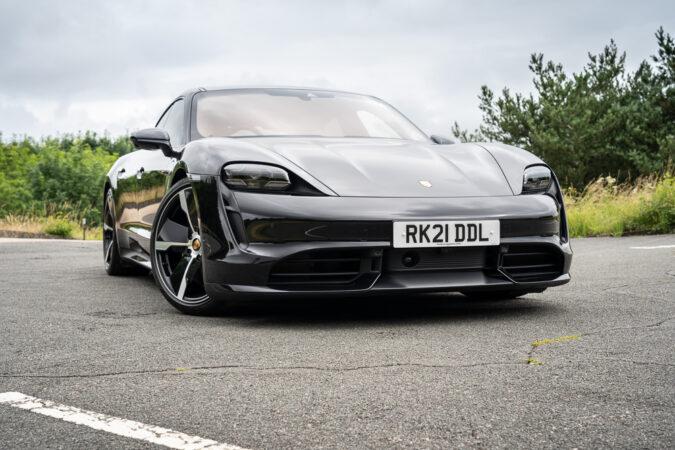 Without the fantastic engines that have been included in Porsche's legendary past of sports cars. They wouldn't be the same; thus, the first fully-electric performance car from the company has large shoes to fill.
Fortunately, the Taycan is a revelation. It provides the razor-sharp handling and stout performance anticipated of a large Porsche sedan while also delivering all the advantages of a complete EV, including the possibility of 270kW super-fast charging if you can locate one.
The Taycan still features two comfy rear seats in the back, a usable 366-liter trunk, and increased room in the front because of the absence of a combustion engine. However, the adoption of battery power means that it is not quite as accommodating as the comparable Panamera.
Sports Cars With Back Seats #11 – Mercedes AMG GT Four Door
With its customary focus on four-door practicality, Mercedes-AMG starts with a strong and charismatic V8 engine that can produce either 585 or 639 horsepower in "S" trim.
Based on the E-Class platform, the GT Four-Door has a stiffer frame thanks to the addition of carbon fiber and aluminum. The result is a vehicle that handles amazingly well for its size, and the 4MATIC four-wheel-drive system ensures that power is kept under control.
Being a sports luxury vehicle, you can anticipate space and comfort inside. Although the sloping roofline will significantly reduce headroom for rear passengers, this is still a comfortable mode of transportation. In addition, the trunk has 456 liters of space, which should be adequate for most individuals.
Sports Cars With Back Seats #12 – BMW M240i
The brand-new BMW M240i is an excellent stopgap as aficionados eagerly await the upcoming BMW M2. The four-wheel drive coupe is no slacker and has a powerful straight-six engine that produces 369 bhp and 500 Nm of torque. It also has a tuneful growl that its four-cylinder competitors can't possibly match. It moves forward with ease when the throttle is depressed, as only a compact car with a powerful engine can.
BMW's xDrive function is well-timed in this situation, enhancing traction in slick conditions without taking away from the chassis' composure or a playful feel. The M240i can be enjoyable for longer, more routine excursions thanks to the eight-speed automatic transmission. Which makes the most of the engine's low-down torque.
Sports Cars With Back Seats #13 – Kia Stinger GT-S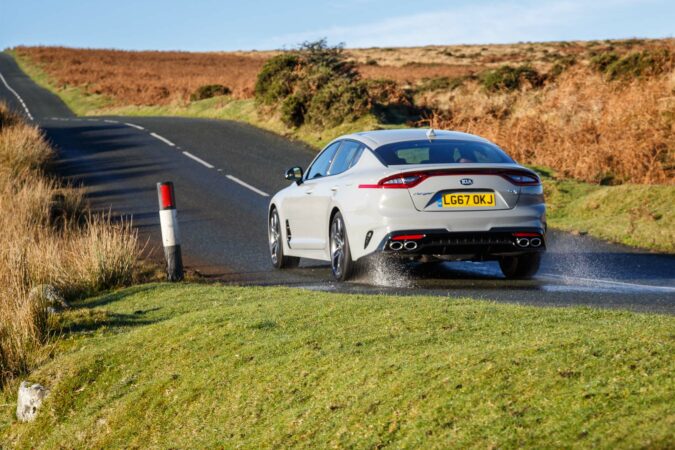 Until recently, most of Kia's performance cars were hot hatchbacks, but the Stinger has changed all of that. The top-spec GT-S boasts a powerful six-cylinder turbocharged unit kicking out true performance, with 168 mph being attainable, along with more sensible four-cylinder engine options. The eye-catching four-door coupe body is enticing.
The rear-drive chassis and a limited-slip differential ensure that there are plenty of opportunities for enjoyment, and it also has the handling to match. With seating for five passengers and plenty of room in the front and back rows. The Stinger is one of the most accommodating vehicles in this lineup. Additionally, the trunk has a substantial 406-liter capacity and can be expanded to 1,114 liters by folding the back seats.
Sports Cars With Back Seats #14 – Polestar 1
The Polestar 1 served as the halo model for the emerging Volvo spin-off and founded the Swedish performance brand. The 1 is the only Polestar vehicle with a powerful plug-in hybrid powertrain; all other versions are all-electric. It's not your typical PHEV, though; with a 34kWh battery that's bigger than the one in a MINI Electric. It has an electric range of up to 77 miles.
With 601 horsepower and 1,000 Nm of torque, the performance is similarly astounding, delivering searing acceleration with 0-62 mph in just 4.2 seconds. Despite having lightweight composite panels, the Polestar 1 still weighs 2.3 tonnes.
Yet, even so, maneuvering it through a sequence of curves is remarkably agile and engaging. Although the Polestar advertises as a four-seater, its intricate drivetrain takes up a lot of room, making the rear seats confined and the trunk small (only 143 liters).
Sports Cars With Back Seats #15 – Nissan GT-R
Several people are unaware that the Nissan GT-R is one of many sports cars with back seats despite its twin-turbo V6 engine's incredible acceleration and all-wheel-drive system's ability to reach triple-digit numbers in a matter of seconds.
Due to its poor fuel economy and questionable suspension, this car's pricing often turns people away. Still, its remarkable speed, classic appearance, and comfy front interior make it clear why it commands such a high market price.
A luxury sports vehicle in its class, the Nissan GT-R's 8.8 cubic feet of trunk capacity is outstanding. Although typical, the smaller trunk opening and limited room in the back seats are not the best features.
Sports Cars With Back Seats #16 – Maserati GranTurismo
The Maserati GranTurismo has an iconic design that will draw attention wherever you go. Its popularity and success as a high-end sports vehicle are due to its plush interior and exceptional handling.
The GranTurismo is an easy-to-love vehicle that many fall in love with for its style and character, with 405 horsepower and a top speed of 177 mph. Rear seating is also available, and the inside is attractively finished. Overall, the Maserati GranTurismo's renown and appearance have far outweighed its slightly below-average performance in this class, but it is still a classic.
Sports Cars With Back Seats #17 – Toyota 86
With a maximum of 205 horsepower and 4 seats, the reasonably priced Toyota 86 is a practical sports car with nimble handling and a comfortable, user-friendly cabin.
The 86 shouldn't be discounted despite the fact that the lack of accessible safety features and trim options slightly limits the nimble and enjoyable driving experience you can obtain.
The Toyota 86 has two rows that can accommodate four passengers, and its interior features some high-quality materials. Still, because of its smaller back seats and 6.9 cubic feet of cargo space. It is ranked in the middle among our sports cars with back seats.
Frequently Asked Questions
Does A Corvette Have A Back Seat
First of all, a production Corvette has never had a backseat. The C2 Corvettes did have an aftermarket backseat option, though, and a few dealerships did provide it. Additionally, a prototype Corvette with a backseat was created in 1963, but it was never made available to the general public.
How Much Are Sports Cars
Sports cars can cost anything from under $20,000 to millions of dollars. The Mazda MX-5 and Scion FR-S are two more economical sports car models. Engine power is frequently at the top of the list across the entire auto industry with more expensive sports cars like the Ferrari F12 Berlinetta.
What Is The Most Reliable Sports Car
Unquestionably, the Mazda MX-5 Miata is a driving legend. It has a long history of up to 30 years of happy driving and people who simply can't take their foot off the gas pedal. The Miata's most appealing feature has always been its fun and happy-going personality.
How Many 2 Door Cars Are There
Coupes are two-door vehicles, hence they are common in the automotive business.
What Makes A Sports Car
A sports car is a vehicle that is built with a focus on dynamic performance, including handling, acceleration, top speed, the rush of driving, and racing prowess. Sports cars were first developed in Europe in the early 1900s and are being made by numerous manufacturers today.
What Is The Fastest 4 Door Car
In 2022, the most luxurious vehicle in the world will also be the fastest. The brand-new Bentley Flying Spur will offer speed and comfort at a price that won't break the bank. Bentley's Flying Spur, which has a top speed of 207 mph, accelerates from 0 to 60 mph in 3.7 seconds.
What Is The Cheapest Sport Car
The 2022 Camaro's V6 engine offers it a fantastic sound and feels that can only be compared to the Ford Mustang, with which it is a formidable rival. Although it is one of the larger cars, it has excellent steering response and is very stable, albeit its blind spots and trunk space may be an issue. With additional freight costs, the price ranges from $25,000 for the 1LS to $42,500 for the 2SS.
What Is A 2+2 Car
A 2+2 car has two larger seats (the driver and passenger) in the front and two smaller seats (usually without their own doors) in the back. Typically, the front seat will fold forward and along the positioning rail so that the back passengers can access their seats by lifting or lowering a handle on the front seat.
Is A Coupe A Sports Car
A two-door vehicle with a sloped back and a hard roof is not a coupé.
Is There A Corvette With 4 Seats
Chevrolet created a four-seat C2 Corvette concept car, but it was never put into production.
Is A Mustang Considered A Sports Car
Most people classify the Ford Mustang as both a sports vehicle and a muscle car.
Does The BRZ Have Back Seats
The backseat has not seen much use during the first six months of possession of the four-seat BRZ.
What Is The Most Fun Car To Drive
Aside from the Porsche 911 (also on this list), which has been in production for a lot longer, the Mazda MX-5 has sold more than 1,000,000 vehicles worldwide since its 1989 debut.
Does Supra Have 4 Seats
It has two seats, the Toyota Supra. Taller drivers and passengers can sit comfortably in these seats, which have appropriate cushioning for long-haul comfort and sportier driving.
Which Porsche Has 4 Seats
Except for GT3 variants, which only accommodate two individuals, the Porsche 911 seats four. The driver's position is particularly praised for its athletic ergonomics, and the front seats are pleasant.
Final Verdict
When it comes to owning a functional car, we frequently consider how many goods and passengers it can accommodate. Usually, sports cars and coupes have less space and fewer seats while vehicles like sedans and SUVs are expected to have a bigger passenger capacity. Although some vehicles surprise feature rear seats, most individuals, or even small children, would not be able to sit properly in them.
Along with accommodating extra people, having back seats has some unexpected advantages. Such as expanding the already constrained cargo area and at least being able to claim to have them.
However, it's unlikely that you will volunteer to take your buddies anywhere in one of these. Sports cars' back seats are always going to be congested because they are designed more for speed runs than for transporting people. Any of the vehicles on this list will work, though, if you're in a hurry.