Owning a Toyota Tacoma requires you to spend a lot of time on vehicle maintenance. Although this car is dependable, there may be times when you need to upgrade and make adjustments to parts, including the tires. This is where the Toyota Tacoma lug pattern comes in.
Tacoma Bolt Pattern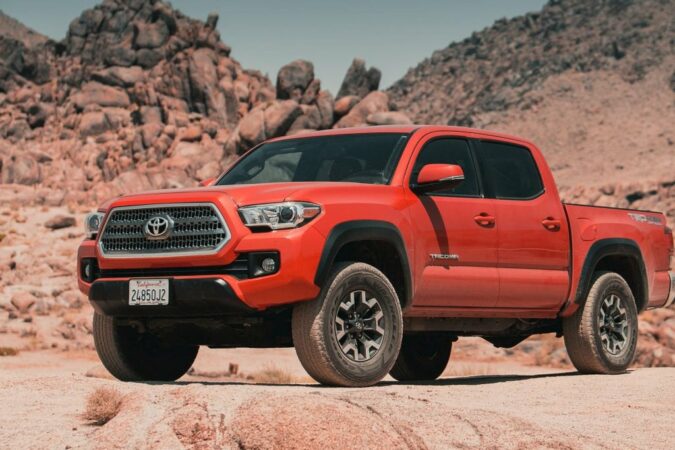 What is the Toyota Tacoma lug pattern?
The wheel bolt pattern for vehicles with 2WD from the 2000 to 2020 model range is five lugs, 4.5 inches, or 114.3mm high positive offset. It is 6 lug, 5.5 inches, or 139.7mm medium offset if you drive a four-wheel drive vehicle.
Knowing this information is essential, but it might not be sufficient to enable you to make the necessary adjustments when you want to change the tires on the car (or learn how to change a tire on a car).
We're going to give you some additional information here as a result. To obtain even more specific information, be sure to spend some time looking up the model year or trim model on the web.
Otherwise, you could refer to our abundance of resources on the iconic Tacoma. That includes our deep dive into the best model year for the Toyota Tacoma. And, the Toyota Tacoma model years to avoid. Plus, we've looked into specific issues, such as the Auto LSD on the Toyota Tacoma.
On top of that, we've covered the frame rust issues that plagued older Toyota Tacoma models. Additionally, we've even discussed tips and tricks, such as whether the 4-cylinder Toyota Tacoma is worth buying. Or, if we get to see a diesel version of the Toyota Tacoma anytime soon.
Tacoma Bolt Pattern
Toyota Tacoma lug pattern refers to the arrangement of mounting holes on a vehicle. You can see the location of the mounting holes if you lay a tire flat on the ground.
The pitch circle diameter or the bolt circle are other names for this. It's always the arrangement of the holes on the tire itself.
For the purpose of communicating the needs, we express the wheel bolt pattern in a particular way.
It is specifically the number of lugs and the diameter of the circle formed at the center of the lugs themselves on the tire of the vehicle.
You must pretend that this circle is there even though it isn't actually there.
Some businesses produce a bolt pattern template that you can use to measure this. We're giving you this information for the Toyota Tacoma, but it's still a good idea to double-check your own information if you don't have it handy for your vehicle. This is possibly the best way to obtain this information.
A bolt pattern template for sale is simple to locate. The measurement process is then fairly simple.
If the car's wheels have four, six, or eight lugs, you can measure the distance between the centers of those lugs and the lugs next to each other.
There are five lugs on the Toyota Tacoma.
It's a little more challenging to measure the rest of the data, but it's crucial to get it right. You must measure from the center of one lug to the outside edge of the other lug.
It's also crucial to keep in mind that some wheels might appear to work with multiple patterns. Remember that accuracy counts.
As a result, you should always try to identify the appropriate pattern. Not just a wild guess.
Toyota Tacoma Lug Pattern – Why Is The Wheel Bolt Pattern Important
This is important for a number of reasons, including preventing difficulty when it's time to replace any of these parts.
The Toyota Tacoma lug pattern may not match the pattern on the axle hub, which is the most important factor.
Here, even the smallest difference indicates a lack of security and stability. The wheel could become off-center as a result of this.
That is risky. It may cause a lot of vibration while driving. Additionally, uneven wear and tear can harm the tire.
This is what causes tire wear on the inside – otherwise known as inner tire wear or inside tire wear. Or, you might instead see the outside of the front tires wearing.
For all current models, the Toyota Tacoma lug pattern is:
For 2WD vehicles, the positive offset is 4.5 inches or 114.3 millimeters high.
Six-lug, medium offset, 5.5-inch (497.7mm) for 4WD vehicles
If you'd like to learn more about lug/bolt patterns, we've covered plenty of other vehicles other than the Tacoma. That includes the lug pattern for the Dodge Ram 1500, the bolt pattern for the Ford Explorer, the bolt pattern for the Jeep Gladiator, the bolt pattern for the Chevy Silverado, the bolt pattern for the Ford Fusion, and the lug pattern for the Ford F150.
Why Is Knowing The Toyota Tacoma's Wheel Bolt Pattern Important
If you are replacing various parts of the wheel, you might need this knowledge. There are several parts that make up a vehicle's wheel.
The term "center bore" refers to the wheel's center. The hub and wheel are in their center at this point. The metal surrounding the center bore is the plate.
There are openings on the plate. There are lug holes here.
These lug holes are open so that the wheel studs can be set into them. Once the studs are in place, you should add the lug nuts on top of this to secure the wheel.
This is a crucial maintenance step to carry out even if you do not know how to replace a car wheel. Keep in mind that following the manufacturer's instructions and doing this carefully is essential. Safety first, of course!
For example, you have to double-check that you have the right lug nut size. Or, that you don't over-tighten them to a point where you need to rely on a stripped lug nut remover.
The fact that every car on the road might have a slightly different setup is crucial to understand. They employ various wheel studs and arrange them in various configurations.
If you need to replace these parts, you must know the Toyota Tacoma lug pattern; otherwise, you risk purchasing the wrong ones.
You have the option of using the templates or doing some of the measurements yourself. That's always a choice.
To find the information for your Toyota Tacoma, however, it might be simpler to consult the owner's manual.
Look up this information by the year of the vehicle, the make, and the model. Which type of vehicle it is—two-wheel drive or four-wheel drive—is crucial.
That's because even on the same vehicle model, this can change the measurements that actually exist. You can also research that information about your car online.
Tacoma Wheels And Tires
The most popular Tacoma modification and the best way to personalize any vehicle, including our Tacomas, are wheels and tires.
There are options available to you whether you want to go off-roading seriously or just leisurely driving. Before starting, there are a few things to understand.
Standard Toyota Tire Sizes
Toyota did offer a variety of Tacoma wheels and tires between 1995 and 2018. Depending on the type of model you purchase—base model, PreRunner, etc.—even one model year may have a range of sizes.
Check your manual to see what the recommended factory tires are if you have stock wheels.
That doesn't mean that you can't change the wheels or that tires of various sizes can't fit. Customization is used in this situation.
For more insight, do check out our tire size chart, as well as our guide on how to read your rim size.
Toyota Tacoma Lug Pattern
Think about your Toyota Tacoma lug pattern if you want to replace wheels. There is a chance of the lug pattern is five or six high.
The one you have is dependent on the model, but you can always look at yours or consult your manual.
The majority of the time, a 4×4 or PreRunner will have a six-lug pattern (5.5 inches or 137.7 millimeters medium offset), while the rest will have a five-lug pattern (4.5 inches or 114.3 high positive offset).
On our trucks, a larger tire is a good idea whether you want traction or aesthetics. How big can we go? From the factory, there is space for a bigger tire.
When choosing your big tires, there are a few considerations to bear in mind.
Toyota Tacoma Lug Pattern, Considerations #1 – Speedometer
There will be an impact on both your odometer and speedometer. Both are factory-calibrated to function with wheels and tires that are the same size.
The number of rotations your wheels are making is used to calculate your speed. The distance around the tire is longer if you choose larger tires because you are increasing its circumference.
Here is an illustration. You replace the 265/70R16 factory tires that came with your 2017 TRD Pro with 265/60R18 tires. Even though your speedometer says 50 miles per hour, your actual speed is 49.86.
Even though there isn't much of a difference, if you drive it frequently and intend to keep the car for a while, your odometer will give a false reading. To get around this problem, reprogram your truck to work with new wheel sizes.
Toyota Tacoma Lug Pattern, Considerations #2 – Powerloss
Loss of power is a more obvious problem with larger tires. Your rear axle ratio actually decreases when the diameter of your wheels increases.
When you accelerate, this will result in less torque.
For a more detailed look, be sure to check out our guide on big tires for trucks. Not to mention, our write-up on the pros and cons of bigger tires on trucks.
Toyota Tacoma Lug Pattern, Considerations #3 – Spacers & Lift Kits
Remember that you can only increase the size of your tires and wheels so much before you have to lift your truck, buy new wheels, or begin trimming. Just keep the "3% Rule" in mind.
In general, you can raise your tire's height or width by 3% without having to raise your ride height or change your wheels. This measures about .3 inches wide and 1 inch high in numerical terms.
You can get away with using larger tires if you lift your Tacoma. Consider one inch: one inch of lift can allow one inch more height in your tires. This will help you remember how big of a tire you can have.
The width of the tires is not covered by this. Your wheels' backspacing determines the width.
You might need to purchase fender flares or mud flaps to cover the extra protrusion if your wheels and tires are wide enough to protrude beyond the body of your truck.
Some US states mandate that wheels be covered. To be safe, confirm the laws in your state. For stock wheels with a three-inch lift, there aren't many practical options.
The sizes of the tires are based on the typical tire width of 285mm for a Tacoma with a three-inch lift. For obvious reasons, we won't be using the 15″ wheels.
There are many options to choose from when purchasing tires and rims. Your personal preferences, driving plans, and financial situation all factor into this.
What you think looks good might not look good to someone else. Let's look at some common choices, though, to assist you.
I'll concentrate more on the tire and wheel size rather than the design of the wheels themselves. Once more, that is a matter of taste.
Also, make sure you take into consideration whether wheel spacers are safe, or not! And, to find the best spacers for your Tacoma rims.
Tacoma Wheels And Tires
Toyota Tacoma Lug Pattern, Best Tires #1. BFGOODRICH KO2'S
The BFGoodrich 265/75 R16 KO2s are a popular option on the forums for people who have 16″ wheels. They typically cost between $150 and $180 each.
They receive an average rating of nine out of ten on TireRack. Users of Tacomas claim that they have excellent snow traction and a long lifespan.
It appears to be difficult to beat for the largest size tire you can get on a 16″ wheel without a lift and the best all-terrain performance.
Speaking of, there are other things you need to consider when lifting a truck. That includes changing out the stock tow hitch for hitches made for lifter trucks, specifically.
Before that, you'll of course need to find the best lift kit brands. Then, take into account how much to lift a truck.
Should lifting a truck be too costly, you can instead check out our guides on how much is a leveling kit and how much does it cost to level a truck.
Toyota Tacoma Lug Pattern, Best Tires  #2.  AT2'S GENERAL GRABBER
Taco drivers on 17″ wheels typically prefer General Grabber AT2 265/70 R17 tires for around $150 each. They have an aggressive appearance, seem to function well both on and off the road, and have a long lifespan.
This might be the best option for you if you want to fit the largest tire possible on a 17″ wheel without lifting your truck to replicate those modified Tacomas you see on the internet.
Toyota Tacoma Lug Pattern, Best Tires #3. CONFIRMED BY COOPER
Cooper's Discoverer, which is the same size as the Grabbers, is another popular choice.
Although not as hurriedly produced as the other, it still receives favorable reviews and, at less than $150 each, they represent a reasonable price. It's a good tire all around for daily driving.
Toyota Tacoma Lug Pattern, Best Tires #4. THE NITTO TERRA GRAPPLER G2
The Nitto Terra Grappler G2 (what I have) is a final option, though it costs around $200. They are a well-reviewed all-terrain with an aggressive appearance.
The fact that the Nittos are well-liked on many off-roading forums should reassure you that they can handle most terrains.
Now that we've covered some of the more preferred tires among Tacoma owners, it's time to talk about wheels, starting with offset.
Toyota Tacoma Lug Pattern, Best Tires #5. TRAINRUNNER GOODYEAR WRANGLER AT
The Wrangler TrailRunner AT by Goodyear might be a good option for you if you're looking for a good all-around tire, don't want to spend a lot per tire, but also don't want to go too cheap.
You're getting a good deal at about $175 per tire with a 6-year/55,000-mile warranty. The tread is quiet on the streets while being chip and tear-resistant and aggressive enough for light off-road conditions.
These tires should be able to handle all of your typical (and slightly above typical) needs, even though they don't claim to be able to handle extremely deep mud or snow.
Toyota Tacoma Lug Pattern, Best Tires #6. FUEL MAX GOODYEAR ASSURANCE CS
There are many tires that "do it all," but the Assurance CS Fuel Max from Goodyear is a standout. It can do it all and more.
This tire can handle some off-roading but is best suited for city driving. However, this tire's distinctiveness comes from the tread pattern and material.
Because of its low rolling resistance design, it will last longer, ride more quietly, and provide you with better fuel efficiency.
Giving you the best of both worlds in terms of handling and safety are the two tread zones.
While the inner tread will ensure that your Tacoma stays on the ground in slick conditions, the outer tread is designed to give you better handling and a sportier feel. You get a lot of tire for your money at around $215 per tire.
Toyota Tacoma Lug Pattern, Best Tires #7. A51 KUMHO ROAD VENTURE
Even though Kumho's Road Venture AT51 is marketed as an all-terrain tire, it performs exceptionally well in light off-road conditions.
Gravel, sand, snow, and mud can all be easily traversed thanks to the aggressive tread pattern. But if you delve too far, you might run into some difficulties.
However, there is a cost involved. Off-road, the tread pattern won't cause any issues, but at highway speeds, it can become a little noisy. You can get a good tire that can handle a lot for just over $140 per tire!
Toyota Tacoma Lug Pattern, Best Tires #8. A/T2 MICHELIN LTX
The Michelin LTX A/T2 tires are one of the more expensive options on the list if money isn't much of an issue, costing just over $300 each.
Nevertheless, note that you will get what you will pay for. While the tire is average, the six-year/60,000-mile warranty isn't.
These tires are the result of some impressive research and development. In addition to offering some of the best traction an all-terrain tire can provide, the advanced rubber compound also does so with minimal noise, improved fuel economy, and even wear.
Owners adore the number of miles that these tires provide.
Long highway haulers have been putting the tread's durability to the test and getting well over 100,000 miles out of them.
What's not to love about these tires, even though they cost more per tire if they last twice as long or longer than cheaper ones?
Toyota Tacoma Lug Pattern, Best Tires #9. HANKOOK Dynapro Mount
The Hankook Dynapro MT tire is what you want if you need a mud-resistant tire. Although it is an all-season tire in theory, mud problems will be a thing of the past thanks to the wide and aggressive tread design.
The tires' purpose is to aid in steering and guard against injury from projectiles.
You can drive these on the road, sand, and snow as well, though they will make mud your best friend. Owners of Tacomas concur that these are some excellent choices if you need some mud tires.
Toyota Tacoma Lug Pattern, Best Tires #10. Off-Road Fuel Assault Wheels
One of the most aggressive-looking aftermarket wheels you can purchase for your Tacoma is the Fuel Off-Road Assault Wheels.
The one-piece cast design of these wheels ensures maximum stiffness while minimizing wheel weight.
They make your truck look like a million bucks and are incredibly durable. Usually, they cost $150 to $250 per wheel.
Toyota Tacoma Lug Pattern, Best Tires #11. THE HELO HE878 WHEELS
The HELO HE878 wheels give your Toyota Tacoma a more tough appearance.
To give you the look and style you desire, these wheels were made from sturdy materials using cutting-edge technologies, leading-edge machinery, and meticulous attention to detail.
Usually, they cost between $160 and $260 per wheel.
Toyota Tacoma Bolt Pattern, Best Tires #12. XD301 KMC WHEELS
Owners of Tacomas looking for a very light, strong, and yes, the race-tested wheel should consider the KMC XD3001 wheels.
These wheels offer the ideal balance of performance and dependability and are tough on the road.
Don't for a second believe that just because they are lightweight and race-tested, they won't hold up to off-roading; they will, and Tacoma owners adore them. Typically, they cost between $140 and $200 per wheel.
Toyota Tacoma Bolt Pattern, Best Tires #13. MESH WHEELS, METHOD MR306
The single piece of sturdy, lightweight aluminum alloy used to create the Method MR306 Mesh wheel is extremely durable. It has a split six-spoke design that gives it a classic yet threatening appearance.
One of the few wheels on the market with mesh construction and a faux beadlock on the lip is this one.
This set of wheels is ideal for any Toyota Tacoma. Typically, they cost between $140 and $200 per wheel, if you're wondering about how much are car rims.
Toyota Tacoma Bolt Pattern, Best Tires #14. TRD PRO MATTE BLACK
I have the TRD Pro wheels on my Toyota Tacoma because they are unquestionably my favorite. The red TRD logo is centered on the matte black 17-inch wheels.
They are made of lightweight aluminum and are the ideal way to give your vehicle a customized look while keeping the Toyota logo.
These cost between $190 and $220 per wheel, which is on the pricey side.
And if you're keen on keeping them shiny and clean, our list of the best aluminum wheel cleaner might be handy.
Toyota Tacoma Bolt Pattern, Best Tires #15. ENERGY BEAST
The Beast by Fuel might be the best choice for you if you want a straightforward design that has been advanced.
The recognizable six-spoke design is simple and unadorned by excessive angles.
This wheel has a subtle edge of impressive looks thanks to the clean bends in the metal that are contrasted by the black and dark-tinted machined colors.
Because of wheels like these, Fuel's Tacoma wheels are very well-liked.
Toyota Tacoma Bolt Pattern, Best Tires #16. FN SHOOTER KONIG SIX
The Konig Six Shooter by FN Wheels might be what you want to think about if you want your Tacoma to have a subdued sporty appearance.
The six-spoke structure is smooth and rounded. A flowing design is possible without sharp angles.
You have the option of matte bronze for a sporty appearance, and matte black or gun metallic for a more traditional "truck" appearance.
If you're going to do it aftermarket-style, make sure you're first aware of how much do black rims cost. Otherwise, you could bedazzle them even more if you're willing to study up how to dip rims in chrome.
Toyota Tacoma Bolt Pattern, Best Tires #17. MAVERICK ULTRA MOTORSPORTS
When you can't decide between having a mean or flashy appearance, Ultra Motorsports' Maverick gives you the option of having both.
The aggressive style is evoked by the sharp angles, while the chrome accents reveal the flashy side.
However, you can choose just chrome if you want to be completely flashy! These unusual wheels, which are made of aluminum casting, are sure to draw attention.
Toyota Tacoma Bolt Pattern, Best Tires #18. CONTROL PRO 7069
Sometimes nothing beats the aesthetic of an old-school racing wheel, and Pro Comp did exactly that when they created their 69 Series 7069 wheels.
Despite being less expensive—only $150 per wheel—they still have an expensive appearance. Your Tacoma's exterior gets a sporty, aggressive look with racing wheels.
You only get the color black. But with a wheel like this, would you need anything else?
Tacoma Wheel Offset
What on earth is offset is one of the more frequent queries people have when they first start looking at wheels.
The distance between a wheel's hub mounting surface and centerline is known as the offset of the wheel.
Zero offset, positive offset, and negative offset are the only possible types of offset. All of the dimensions will be millimeters.
Zero Offset: The mounting surface is parallel to the wheel's centerline.
Positive Offset: The mounting surface is located nearer to the wheel face in the front half of the wheel. Cars with front-wheel drive and more recent rear-wheel-drive models are more likely to have positive offset wheels. These are almost never present on Tacomas.
Negative Offset: The mounting surface is located nearer to the back lip flange in the back half of the wheel.
This moves the wheel out of the way of the suspension and brakes of the vehicle. It's typical for the wheels on lifted Tacomas to have a negative offset.
Frequently Asked Questions
What Is The Lug Pattern
The ideal circle formed by the lug holes at the center of your wheel is measured by a bolt pattern, also known as the lug pattern, and it is given in a two-number system. The first number indicates how many bolt holes are in the wheel. The size of the hypothetical circle that is drawn around the holes is indicated by the second number.
What Size Rims Fit Toyota Tacoma
To match its four tire sizes, the Toyota Tacoma will be available with 16-inch, 17-inch, or 18-inch wheels.
Will 17 Inch Rims Fit Toyota Corolla
A wheel with a seventeen-inch diameter will fit in a Toyota Corolla. As long as the new rims have a compatible bolt pattern, you wouldn't have any issues.