Ever since humanity loved and accepted the Sport Utility Vehicle (SUV) concept in the early 1980s, engineers have constantly been assembling new and exciting vehicle concepts. As such, there are now several different types of SUVs. And today, we will help you understand the difference between them.
Sport utility vehicles have become popular among families, thanks to their roomy interiors and extra seating, unlike standard-size trucks and cars. They also have the edge over other vehicles when driving in harsh weather and road conditions. SUVs are well-suited for off-road use and feature four-wheel drive.
But before we jump right into the different types of SUVs, it's important we differentiate between SUVs and Crossovers as they originate from the same concept of a sport utility vehicle.
What's The Difference Between A Crossover And SUV?
While automakers and consumers alike use the terms interchangeably, key differences do exist. Simply put, a crossover is a more on-road model with a wagon-like stance and sporty appearance. It's lighter and made on a car platform. On the other hand, SUVs are more significant, heavier, and comfortable with a truck chassis.
Other factors can as well help you distinguish easily between these two unique car models. They include:
Unique Platform
A crossover's frame and body are built on a single piece (commonly known as unibody construction). Such design offers a better and more enhanced ride quality, and since it's lighter, it usually achieves improved fuel efficiency.
SUVs use a body-on-frame design which means that their body and frame are built separately and amalgamated during the manufacturing process. Their heavy-duty frames are more rugged and can allow for extensive towing capacity – others can haul larger payloads of about 10,000 pounds. But that's not to say that you can't haul with a crossover. In fact, the Outlander PHEV and Mitsubishi Eclipse Cross are both built on a single-piece platform and have great towing capacities of between 1,500 to 3,500 lbs.
4WD Or AWD Versatility
Like cars, crossovers have a front-wheel-drive (FWD) drivetrain; however, others also come with an all-wheel-drive (AWD) option. All-wheel control systems help to give drivers maximum control and traction in all types of driving conditions. On the other hand, SUVs are all-wheel-drive vehicles with some having four-wheel-drive (4WD) systems capable of handling most off-road adventures.
Crossovers can be anywhere from subcompact to full-sized, but despite this, automakers will frequently refer to it as either a compact SUV or a small-sized SUV.
For a detailed explanation about the main differences between an SUV and crossover, check out the following video.
Different Types Of SUVs
Subcompact Crossovers
Subcompact crossovers are the smallest type of crossover/SUV vehicles you will find. They are typically 161.4 inches long and are often built based on entry-level, economy cars such as Toyota Yaris or Ford Fiesta. However, with small dimensions, decent driving dynamics, and modern features, subcompact crossovers are great commuter vehicles with decent fuel economy, usable trunk, and adequate room for adults.
Although they offer adult passenger comfort, the rear seat can easily be cramped if the folks in front are on the larger side. The best-known vehicles in this class are the Honda HR-V, Jeep Renegade, Mazda CX30, and Hyundai Kona. Nearly all of them have FWD and an optional 4WD.
Compact Crossovers
Compact crossovers are the lifeblood of today's SUV market. Almost all manufacturers offer one, and they have significantly displaced mid-size and compact sedans as the go-to vehicles for commuters and small families alike. They are huge sellers, fitting into a just-right price range and size that seems to work for most buyers. Compact crossovers provide more interior features and spacing based on the ordinary hatchback platform but retain affordability, practicality, and small dimension as the subcompact models.
They are, however, a practical family and somehow capable overlanding models if equipped right because of their bigger dimensions. Models like the Toyota Rav4, Subaru Forester, Kia Sportage, and Ford Escape are among the best-selling and everyday capable vehicles designed to make your life easier.
Mid-Size Crossovers
Think of mid-size crossovers as just the most ideal ones. They fall right into the middle of the price and size spectrum that separates the subcompacts from the full-size SUVs.
This crossover segment offers a lot than just comfort. It comes with a lot of space with substantial size, both for luggage and occupants, as well as decent driving characteristics. Mid-size crossovers can also be equipped to be street rods or even off-roaders if you opt for performance versions. Once rigged about completely with truck-based entries, including a four-wheel-drive system, rugged frames, and meaty tires, this segment can now overflow with off-roader capabilities.
This is why many people prefer this model, and it's no surprise that over 2.5 million mid-size crossovers and SUVs were sold in the United States alone last year. Models like Mazda CX9, Jeep Cherokee, Kia Sorento, Honda Pilot, and Ford Edge dominate this segment.
Full-Size Crossovers
Full-size crossovers are the most significant crossovers that offer three rows entirely. They include the Saturn Outlook, GMC Acadia, Nissan Armada, Chevrolet Traverse, etc. They sometimes intersect and are often compared to the three-row mid-size crossover class like the Jeep Grand Cherokee.
Full-size crossovers are usually longer than 5,100 mm in length and with plenty of room. They are perfect people-carriers that can accommodate large families and drive them in safety and comfort.
Compact SUVs
Compact SUVs are a bit tougher-looking and somewhat capable than crossovers. They're also a popular group on today's market with modern features, decent interior room, sufficient engines, and affordable price.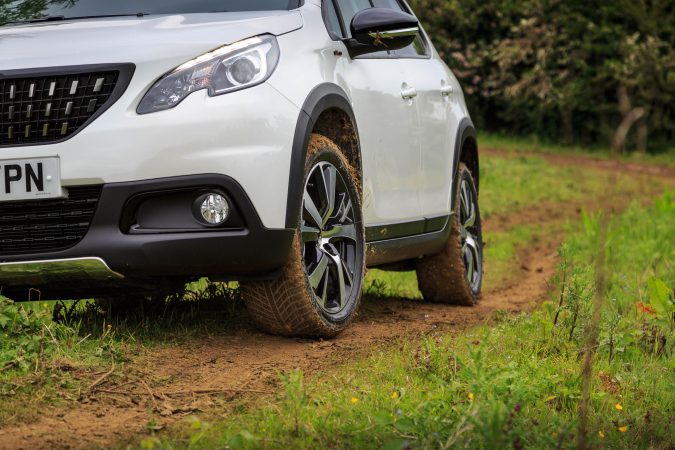 They can range from desert-conquering vehicles like the Jeep Wrangler to dependable family transport like Hyundai Tucson. Depending on your needs and preferences, in this category, you can find basic, economy-spec models and luxury propositions like, for instance, the BMW X3.
Mid-Size SUVs
Mid-size SUVs are also a common category among the types of SUVs. They offer SUV looks and practicality, with the efficiency of a traditional sedan. Not only does this class has the most significant number of models, but it also consists of legendary names like Chevrolet Blazer and BMW X5. However, there are notable differences among models in this category, and buyers have a wide choice of features, designs, and technology.
If you want luxury and comfort, you can go for a model like the Volkswagen Atlas Cross Sport, but if you're looking for an excellent off-road racer, there is the Toyota 4-Runner with its tough off-road tires and mechanics.
Full-Size SUVs
While manufacturers have been busy cramming plug-in-hybrid powertrains and turbo into other models, the full-size category proceeds with more internal combustion powertrain and beltline options. These vehicles are fitted with the newest creature comforts and features.
The segment's most progressive features for 2021 include a turbo-diesel and a twin-turbo V-6. They all require power since they have a significant weight that requires some serious grunt. And not to forget their towing capacity. Change for these big brutes comes in the form of improved infotainment displays, new independent rear suspensions, and more standard driver-assistance features. They excel at towing a considerable number of people with their luggage over numerous terrains.
Even though most of them feature all-wheel-drive, they are also perfect for cruising the highways. Models like BMW X7, Toyota Land Cruiser, Ford Expedition (it's also a good idea to know the best year for Ford Expedition), Cadillac Escalade, and Chevrolet Suburban perfectly describe the ethos and esthetics behind the enormous and prestigious full-size SUVs.
Performance SUVs And Crossovers
Though SUVs and crossover models originated from off-road vehicles that lacked powerful engines, automakers introduced performance models over the years. This made sports car enthusiasts quite nervous. Performance SUVs like the BMW X5, Jeep Trackhawk, Mercedes GLC 63 AMG, or Porsche Cayenne Turbo S are not only extremely powerful but also have higher accelerating speeds that match or even exceed well-known muscle and sports cars.
Although their cornering capabilities are still less than perfect due to substantial curb size and weight, powerful crossovers and SUVs are an ideal way of merging the comfort of a big SUV with fast performance.
SUV Features Specification
While the available types of SUVs can be somewhat overwhelming to some, the number of features they offer is outstanding. When determining the most eloquent features, it's essential to review the range of available features across major SUV categories. Afterward, you can narrow it down to the most important choices, like if you want the hands-free tailgate, the sunroof, or both.
Performance
Even the smallest SUV can significantly strain an engine, and manufacturers are regularly trying to balance its power with fuel economy. It's for this reason that you'll always find comparatively small turbocharged engines in today's SUVs.
The turbo assists in generating effortless low-end torque, whereas the smaller size limits fuel consumption. Even V8 engine SUVs tend to rely on turbocharging for similar reasons. In fact, nowadays, turbo technology is more advanced to the extent that a boosted four-cylinder engine can produce enough power to drive a large 3-row SUV. However, not all small engines are alike. Therefore, it's worthwhile to test-drive a few, especially in passing situations on the highway.
Styling
Styling has become one of the most important purchasing criteria for most vehicles, and SUVs are no exception. Today's SUVs are more than just boxes on wheels. Most SUVs have an attractive styling that belies their humble people, from flowing and sleek physiques to rugged and chiseled body lines.
They broadcast rugged capability with elevated height, chunky tires, and reinforced lower panels. Other are city slickers with dazzling LED accent lights, elegant lines, and shiny chrome trim. As always, the best choice is to visit the dealership and try it out for yourself.
Fuel Economy
Today's SUVs are versatile vehicles for conveying cargo and passengers, and you don't have to sacrifice fuel economy to acquire all the space and all-weather traction you need. SUVs are more fuel-efficient than ever, although they are still heavier and larger than their sedan counterparts.
Most smaller types of SUVs do nearly well on gas as ordinary cars. However, fuel efficiency deteriorates as SUVs grow larger, muscular, and heavier, with mutual mpg in the teens for the bruisers. Needless to say, the most fuel-efficient SUVs are hybrids, but only a few manufacturers offer them. As such, it's worth considering whether you need to hold on for the hybrid SUV when there are plenty of gas-powered SUVs capable of 25-30 mpg combined.
With that said, hybrid SUVs tend to perform a lot better in congested or traffic-regulated stop-and-go driving compared to their conventional rivals. Therefore, if you spend most of your time inching the city, a hybrid SUV could be your best bet to help you save a lot of gas money.
Cargo Space
Among the significant reasons many types of SUVs have gained popularity over the recent years is their flexible and expansive cargo-carrying abilities. Higher cargo floors and large rear hatchbacks make loading and offloading easier, and a lofty roofline allows carrying taller objects than an ordinary passenger trunk can manage.
However, cargo space isn't alike in all SUVs. Some prioritize value with interiors that use a significant amount of space and make the most of every cubic foot. Others often compromise on cargo in favor of extroverted styling like fastback rooflines. Others still sacrifice cargo space for spacious back seats.
Although cubic footage isn't a definitive measurement when considering cargo space, it's an excellent ballpark figure. You'll also need to consider ground clearance (does the height of the rear bumper makes it easy to load cargo?) as well as how flush the rearmost seats fold into the floor for an all-out space. Having said that, even some midsize and compact SUVs offer space that challenges a small pickup truck's bed. As a result, there's no scarcity of utility if you probe the ideal places.
Seating
Most types of SUVs can accommodate anywhere from five to nine passengers. They are evidently taller and provide more headroom compared to sedans. But just because SUVs offer five seats doesn't necessarily mean all five passengers will be happy and comfortable throughout the journey.
Many small SUVs can comfortably accommodate only two adults in the rear seat, and if it's a subcompact, legroom might be at a premium. In our own opinion, you'll need a more spacious compact SUV or else a midsize SUV if you want to convey adults or teens comfortably.
Upgrading to larger truck-based SUVs creates more elbow room, and in the case of prolonged-length models, extra levels of legroom. In 3-row SUVs, there's an extensively varying amount of third-row space. Some are comfy for adults, while others are too confined for small children.
Safety And Driver Assistance
Even when it was just airbags and seatbelts, a lot of work went on determining the safety of vehicles. As a result, automakers are adding more driver-assistance safety features as standard equipment to new models, including SUVs.
Most SUVs offer a standard or at least optional blind-spot monitor – an audible or visual alert when another vehicle is in your blind spot, and rear and front parking sensors. Rearview cameras also come in handy, particularly those with top-down or 360-degree views. A rear cross-traffic alert warns you of a vehicle crossing or approaching your reverse path. It's also a godsend feature to watch out for and usually comes coupled with a blind-spot warning.
Other advanced driving aids like automatic emergency braking, lane departure prevention, and adaptive cruise control are gradually commonplace, with more unique safety systems typically found first on luxury models.
Infotainment
Manufacturers usually use infotainment systems to distinguish their models from other competitors, and SUVs are no different. If you're looking for a vehicle with desirable infotainment features, you're lucky. This is because most SUVs offer updated infotainment technology that's way more superior to outdated systems.
SUVs come with a user-friendly and highly responsive infotainment system that's easy to see, reach, and control when driving. It's the frustration or ease of using an infotainment system that gives an SUV an edge with buyers.
You'll want to pay attention to such features as 7- or 8-inch touchscreen displays or even larger displays offered by some large luxury SUVs. Almost all SUVs nowadays offer Android Auto and Apple CarPlay smartphone connectivity. Others come with rear-seat USB ports or charging ports that can transmit data to the entertainment system and charge.
You'll also most likely find additional dual displays or overhead displays mounted at the back of the front seats in some SUVs. More advanced infotainment systems offer an HDMI input for connecting separate video sources, such as a tablet or portable player.
Off-Road Equipment
With their higher ground clearance, many types of SUVs are off-roaders, but only a few are truly off-road-capable. The typical compact SUV can navigate a slight dirt rail toward a swimming hole or trailhead; however, an SUV rigged with generous ground clearance, fortified suspensions, and four- or all-wheel drive can venture into rougher stuff.
Indeed, an off-roader spirit is vital to the appeal of classic truck-based SUVs from Land Rover, Jeep, and Toyota, just to mention a few. However, nowadays, you can easily find notable off-road capability even in small crossovers. Though most SUVs offer all-wheel drive, it's important to note that these systems are typically intended for stability on slick pavement and not for thoughtful all-terrain work.
SUV Types and Sizes: Need-to-Know Facts
SUVs have become increasingly popular over the years, leading to a wide variety of options available in the market.
SUVs can be classified based on their size and chassis type, which includes compact crossover, crossover, mid-size, and full-size.
Crossover SUVs are smaller and more car-like, providing better fuel efficiency than larger SUVs.
Mid-size SUVs are more truck-like and come equipped with either six- or eight-cylinder engines and four-wheel drive.
Full-size SUVs are also truck-like and have the ability to tow and haul the most, but are less fuel-efficient and can be difficult to maneuver.
Some of the SUV models in each class include Toyota RAV4 and Honda CR-V for compact crossovers, Dodge Journey and Jeep Cherokee for mid-size crossovers, Kia Sorento and Jeep Grand Cherokee for mid-size SUVs, and Ford Explorer and Toyota RAV4 for full-size SUVs.
Toyota RAV4 and Honda CR-V offer modern driver-assist technologies and a range of standard features for added comfort and flexibility.
Dodge Journey is a favorite among families for its third-row and affordable price, while Jeep Cherokee provides Android Auto and Apple CarPlay integration.
Kia Sorento is known for its quiet and stylish ride and offers two engine options, and Jeep Grand Cherokee is capable of off-road adventures and offers a powerful engine capable of 707 horsepower.
Ford Explorer offers upgraded suspension and a powerful turbocharged V-6 engine for a more powerful drive.
Types Of SUVs: Frequently Asked Questions (FAQs)
Here are some popular FAQs:
What Is The Difference Between A Hatchback And An SUV?
As mentioned earlier, most types of SUVs are big vehicles designed to go off-road or over a rough surface. Generally, these cars have a 4WD (power flow to the entire wheels of the vehicle) and stand tall with more elevated ground clearance, hence making it the right fit for all kinds of terrain. They can as well convey approximately 5 to 7 people depending on the length of the car.
On the other hand, hatchbacks are ideally smaller, lighter, and lower to the ground. These cars would accommodate about 5 people and don't contain an extended storage space (boot). They are often less than 4m in length coupled with a smaller height compared to SUVs.
As a result, hatchbacks are suitable for daily commuters. They are best for the city considering that they use less parking space and have a punchy engine. Some of the best-known hatchbacks include the Hyundai Elite I20, Maruti Suzuki Swift, Tata Tiago, etc.
Is Compact Type Of SUV Worth The Additional Price Over A Compact Sedan?
Yes. A compact SUV combines the advantages of an SUV with the handling of a sedan. This vehicle normally has a monocoque design, which implies that the frame and body are a single component. This type of design helps resist flexing in corners, making the ride much comfortable.
Although sedans can be small and fast compared to compact SUVs, the latter is much safer. Besides all the safety features they come with, compact SUVs receive less transfer of energy in a collision. With an SUV, you have a heavier truck than most sedans, giving you an integral safety advantage in case of a crash/collision. Since they have a unibody design, compact SUVs also come equipped with crumple zones that can significantly increase your chances of survival in a frontal impact.
What Can I Use To Ascertain Whether A Compact SUV Type Is A Perfect Fit For Me?
Buying a new vehicle isn't relatively easy to choose the type of SUV that speaks to you. If you're having difficulty deciding whether an SUV is an ideal choice for you, parameters such as looks, terrain, and your importance to drive quality and nimbleness can help you a great deal.
More often, however, you don't know whether a compact SUV would be your best choice unless you get behind its wheel. It's not as easy as finding out how roomy the interior of the SUV has. Not even the price is essential either.
Deciding the type of SUV that fits you usually depends on how much pride you would have and how comfortable you feel when sitting behind the wheels. With that said, ensure you get to the dealership for a driving test before deciding if a specific type of SUV is a perfect fit for you.
Types Of SUVs – Wrapping Up
SUVs are the first vehicle concept that successfully managed to combine large vehicles' comfort, the luxury of a premium sedan, driving dynamics of a hatchback, and off-road capabilities of all-terrain models. As a result, the unrivaled success of different types of SUVs should be a surprise. Irrespective of the class, dimension, and price, they appeal to a wide range of customers worldwide.