The last ten years of Volkswagen's history have been… Interesting, to say the least. VW went from one of the world's most respected carmakers with best-sellers every single year, to a disgraced shell of its former self. Dieselgate has become a moment of reckoning for VW, and the entire automotive world. But even long before its gargantuan shift to electrification, there was the Volkswagen e Golf.
Introduced years before any of its I.D. line of cars, the e Golf was Volkswagen's first big step when it came to making an EV that most folks could buy. It carried a familiar nameplate, the highly coveted and famed Golf marque, and rejigged its insides. With batteries and motors, the e Golf didn't really look all too different from a regular gasoline or diesel-powered Golf. It's uncanny, one would say.
Yet, most people have quickly forgotten about it. Many are still surprised when told that Volkswagen had begun its EV pivot quite a while back. So, now that the Volkswagen e Golf has been given time to marinate in the soup of depreciation, is it a good time to buy one? New EVs, as great as they are, can be quite pricey. Perhaps a slightly older and out-of-production EV could be more attainable, instead?
What's The History Behind The VW E Golf And Electric Volkswagens?
Currently, VW is pursuing electric cars like there's no tomorrow. Their I.D. line of vehicles encompasses smaller hatchbacks, crossovers, minivans, and even a supermini down the road. Already, it has been garnering praise across the automotive press and customers alike. And why not? It's a Volkswagen, so it's built with sensible practicality, cool factor, ease of use, and approachability in mind.
These attributes that make up any VW is what appeals to most people, including yours truly. But the I.D. line wasn't the genesis of the all-electric Volkswagen. In fact, the e Golf which preceded it wasn't it, either. No, the first Volkswagen was born much earlier, in the 1970s. This was all thanks to a man named Adolf Kalberlah, who was an electro-chemist at VW's then Centre for Future Research.
At the time, Kalberlah worked with a small team at VW to conceive what a futuristic powertrain may look like. It didn't take long for Kalberlah and his ten-man team to make a stunning breakthrough, in what is to be VW's first EV. It came at a pivotal moment too, as the oil crisis hit in the 1970s. Fuel got so expensive, to a point where the West German government considered banning cars on Sundays.
VW's Path To Electrification, The T2 Camper And Golf I City-STROMer
While the fears of fuel shortages never arrived, it didn't stop Kalberlah and his team. Their first task was to design processors to control the motor and battery. Once that's done, all it took was installing that into a T2 Camper, and you had a pretty fantastic city cruiser. In a single charge, the T2 Camper is easily able to handle 70km – or around 43.5 miles – which was impressive given the tech they had.
To charge it, all you need is a conventional 220-volt socket and a charging cable. It should take about 10 hours for a full top-up. It's funny to see the similarities between an EV in the 1970s to one today in the 2020s. The electric drive T2 Camper can manage a top speed of 70km/h (43.5mph) which should be okay enough, I guess. The only major challenge it faced was the substantial heft of its batteries.
The entire battery pack and motor in Kaberlah's T2 Camper weighed a grand total of 850kg, or "just" around 1,874lbs. That's heavier than a period Volkswagen Beetle. Thus, the maintenance it required was troublesome. This was, thankfully, mitigated by a quick-change system where you could swap out the battery in a pinch. Altogether, the electrified T2 Camper weighed over 3 tonnes (6,613lbs).
Despite all this, it didn't stop there. Kaberlah also built the grandfather to the Volkswagen e Golf, the Golf I City-STROMer in 1981. It was, technically, the first electric Golf. Kaberlah himself drove around in an EV Golf practically as his daily driver. The City-STROMer only had a brief production run as a way to test what mobility of the future would've looked like. It left quite a long-lasting legacy, no doubt.
The Volkswagen E Golf Concept And Other Electrified Golfs
The first production VW electric car was from its popular Golf stable. This is where the Volkswagen e Golf's lineage begins. After some hybrid concepts and one-offs, they made the Golf III City-STROMer, with an Mk.3 Golf as the underpinnings. Unlike Kaberlah's mostly prototype Golfs, Volkswagen's Golf III CitySTROMer was something that anyone could feasibly walk into a dealership and buy.
Albeit, VW only sold 120 of them from 1992 to 1996. Remarkably, VW claims that as many as 50 of them are still on the roads today. We're then led to the 2010s, where VW plotted a return to making its EVs, but in higher volumes this time around. The Golf blue-e-motion concept was planned to have been sold across 500 units. It had a relatively impressive range of 150km or 93 miles.
Once it got off the ground, however, VW had a change of heart and renamed it to the now popular Volkswagen e Golf. Its testing began in Belmont, California, with 20 e Golfs sent for the field testing program. Performance was certainly more potent than the T2 Camper. The first e Golfs came with a 26.5kWh lithium-ion battery pack. On the front axle, there's a singular yet punchy 85kW motor.
Being an EV, it only needed a one-speed transmission. Acceleration from 0 to 60mph was a slow 11.8 seconds, with a top speed rated at 86mph. You had paddle shifters behind the steering wheel, where you can calibrate the regenerative braking. Three years had passed, and the first production version of the Volkswagen e Golf was finally unveiled at the 2013 Frankfurt Motor Show.
Volkswagen E Golf All-Electric Range And Efficiency (2015-2021)
The initial batch of e Golfs was sold for the 2015 model year. As for its all-electric range, there were a variety of figures that were quoted…
Official Quotes (As Per VW) – 81 to 118 miles (130 to 190km)
NEDC Cycle – 120 miles (190km), but with a reduced cold-weather and winter range of 50 to 75 miles (80 to 120km)
EPA Range – 83 miles (134km), with a combined fuel economy equivalent per mile to gasoline cars of 116MPGe. Its energy consumption, as tested by the EPA, was 26kWh per 100 miles. Using the EPA's ratings, this meant an electric "fuel economy" of 126MPGe in the city and 105MPGe on highways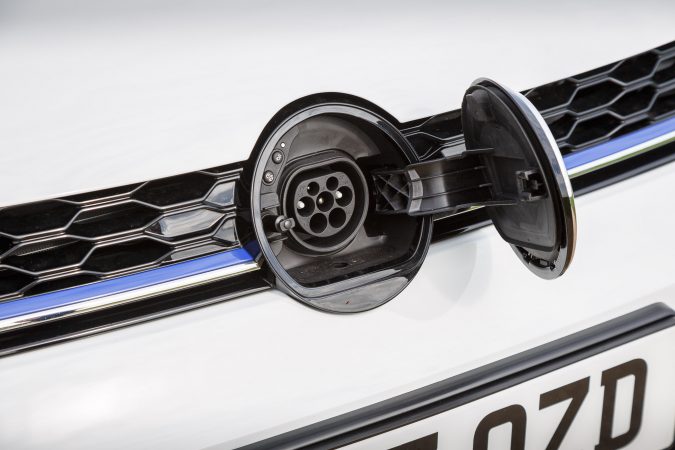 When the 2017 model year came around, Volkswagen had some updates for its e Golf. It had a new and enlarged 35.8kWh battery, which boosted its EPA estimated range to a then-respectable 89 to 125 miles, or 144 to 201km. In other words, it had a combined "fuel efficiency" of 119MPGe. Another major upgrade to the 2017 version was hastened charging times, courtesy of a 7.2kW charger.

Paired to a 240V EV charging station, it can be topped up to the brim in around or under six hours. Its top-spec SE and SEL trims of the 2017 and later e Golfs also had an optional fast-charging kit. It can be used at your usual DC fast-charging station. There, the e Golf can be charged from flat to 80% in only on hour. Besides that, the 2017 and later e Golf facelift carried more power than before.
Volkswagen E Golf Detailed Specifications
So, what goes on underneath the Volkswagen e Golf, anyway? The earlier 2015 and 2016 model year cars tracked a similar performance figure with the first test prototypes that we mentioned before. As the 2017MY came through, there had been an increase in performance. Here are the stats…
0-60mph Acceleration – 9.6 seconds
Top Speed – 150km/h (93mph)
Total Output – 134hp
Total Torque – 290Nm
Driven Axles – Front, single-motor
Meanwhile, here's a bit more on the improved EV side of things that you should know, following the facelift…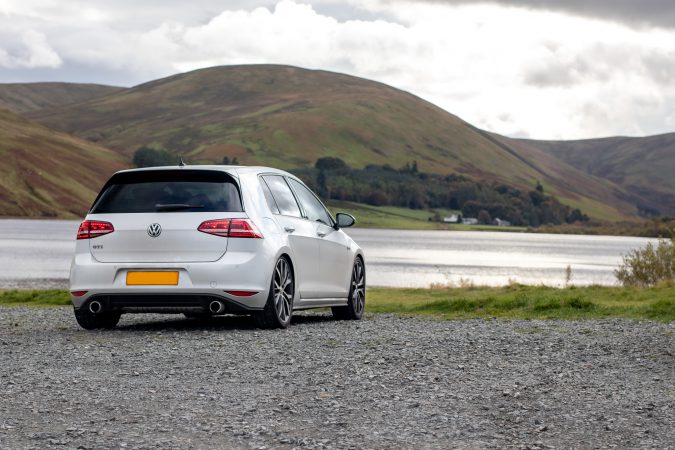 Usable Battery Capacity – 32kWh (out of the aforementioned 35.8kWh)
Charging Speeds – 5 hours and 15 minutes (36km or 22.4 miles per hour of charge) on a 7.2kW Type 2 charger
Fast-Charging Speeds – 36 minutes (220km or 136.7 miles per hour of charge) on a 40kW DC CCS-type fast-charger
Realistic Range (Per Independent Testing) – Between 135 to 280km (84 to 174 miles), with an average of 190km (118 miles), but could rise to 186 miles under ideal scenarios
Updated WLTP Range (2020 And 2021 Model Year) – 144 miles average (up from 118 miles)
Electric Consumption (Per Independent Testing) – Between 114 to 237Wh per kilometer (0.62 miles), with an average of 168Wh per kilometer
Just in case you're wondering, here's a tad more information on the Volkswagen e Golf's dimensions, too…
Length – 4,270mm (168.11 inches)
Wheelbase – 2,631mm (103.58 inches)
Width – 1,799mm (70.83 inches)
Height – 1,450mm (57.09 inches)
Kerb Weight – 1,651kg (3,560.47lbs)
Volkswagen E Golf History And Sales
Back in 2015, everyone was finally beginning to see the rise – and now, domination – of Tesla within the EV space. Volkswagen was leagues behind at that point, with the Volkswagen e Golf being their only electrified offering. It didn't have the wow factor, show-stopping performance, brand cachet, or a sufficiently decent electric range compared to a Tesla. However, the e Golf was certainly cheaper.
This was before the Model 3 came out. Consequently, the e Golf – which launched Stateside with a sticker price of around $35,000 before government subsidies and discounts – was among the cheaper EVs that you could buy. Additionally, the e Golf had the benefit of driving and feeling like an ordinary car. Behind the wheel, it didn't have any odd quirks or compromises that the 7th Golf didn't have.
It wasn't a surprise, therefore, that the automotive press and owners loved their e Golfs. It was just like any other petrol or diesel Golf but stuffed instead with batteries and a motor. Folks adored the e Golf's fairly performant powertrain, which wasn't a given in any affordable electric cars at the time. Plus, it was a simple car to own and experience, and not much harder to service than any other Golf.
The e Golf was a modest hit for Volkswagen. In Europe, roughly 14,500 units were sold in 2015 alone, with Norway taking the lion's share. Over 8,900 e Golfs sold in 2015 went to Norway, which went on to take 34.7% of that year's plug-in sales. In the same year, nearly 4,600 e Golfs were sold in the US. Alas, production of the e Golf finally ended in December 2020, finalizing the 2021 model year.
Volkswagen E Golf Production Run And Demise
Several key factors lead to Volkswagen canning the e Golf. For starters, the e Golf is just reconfigured seventh-generation Golf. The battery took the place of the fuel tank, and the motor took the place of its engine. As such, it wasn't as efficient as an electric car, as it had to be designed and engineered to fit inside an existing combustion-engine model. Things soon changed.
Volkswagen realized that they could extract more out of an EV if they designed it to be so from the ground-up. Their recent I.D. line of cars was just that, EVs made to be EVs. Engineers and designers could fit in a larger battery, as well as make room for more sporting motors. With freer dimensions to work with, they could also make the car slipperier for better aerodynamics, thus improved ranged.
The e Golf was as good of an EV as it could've been, but VW knew that it should've been more. On top of that, Volkswagen's sales strategy with the e Golf was also flawed. They didn't market the car as widely as they had with other models. As a result, some people didn't even know that an electric variant of the Golf exists. Moreover, the e Golf was only sold in a few, selected States.
What Are The Volkswagen E Golf Reliability Issues And Problems?
With all that being said, there were still a lot of differences between a conventional 7th-generation Golf and the e Golf. Accordingly, they don't share the same reliability woes and concerns. While the regular Golf was dependable for the most part, it still had some faults with the engine and gearbox. Albeit, these are comparatively inoffensive and manageable compared to some of its competitors.
Volkswagen's e Golf, on the other hand, had mostly unique issues based on the complaints from past and present owners that we've come across. The caveat here is that the sample size is quite tiny, as there weren't all too many e Golfs sold. Either, the car itself is ridiculously reliable. This isn't too much of a surprise if it were true, seeing that electric cars have far fewer moving parts.
It doesn't require as many fluid changes or component replacements. Hence, why EVs are generally easier to maintain. Or, it may be attributed to the fact that the e Golf isn't just sold in small numbers, but is also rather new. So, they're not old enough to a point where serious problems could arise just yet. Long-term reliability, therefore, is mostly an unknown that we've yet to uncover.
Based on what I've read through the e Golf owners' forums, it appears as though the volume and the severity of potential issues are reasonable. We could surmise that on average, the e Golf only has a few ongoing reliability concerns. With low maintenance costs as little as $40 for a 10,000 mile first check-up, the Volkswagen e Golf is quite a reliable car.
Here's a checklist on all of the more common Volkswagen e Golf problems, in order of severity…
1. Charge Port Can Get Stuck
This is one of the more common defects as reported by e Golf owners. The charge port lock can get stuck in place. This lock is responsible for keeping an electric charger docked in securely within the charge port of the e Golf. Unfortunately, it can fail, and you won't be able to detach the charger.
If that's not bad enough, this charge port lock can immobilize the car as a security feature. So, if you happen to be charging at a public charge station and the lock gets stuck, you can't have it towed. A typical solution that owners have come up with is to carry around a sharp, narrow, pointy object.
They could then poke the charge port lock pin back in, which frees the charger. Several owners have suggested the use of silicone lubricant or WD-40 to keep that charge port lock greased up. So far, it looks as though this has been an effective preventive measure to avoid that lock from getting stuck.
2. HVAC Malfunctions – No Hot Or Cold Air
The air conditioning on the e Golf can throw up some faults of its own, too. In some cars, owners had noticed that their A/C can't effectively cool down the cabin. Alternatively, others remarked how the e Golf's heater won't adequately heat up as it should.
When sent to the dealership, technicians would clear our error codes or install a software patch to help solve the issue. Although, this seemed more like a temporary fix. The HVAC issues are likely caused by a defective heater pump or broken valves.
3. Electronic Problems – Backup Cameras, Car-Net Connectivity
Electrical and electronic gremlins reared their ugly heads here. The backup camera can sometimes fail. The displayed image may intermittently flash, or isn't showing anything at all. The only solution seems to be replacing the entire backup camera module.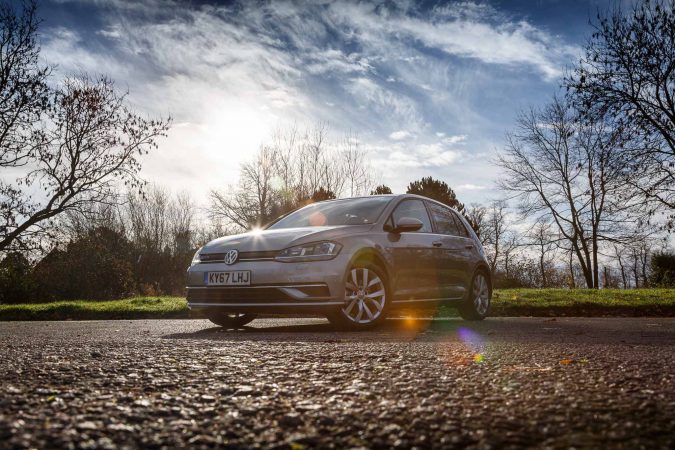 Another more pressing concern is with Volkswagen's Car-Net connectivity suite. It can malfunction randomly, which is problematic, as it's vital to the car's functionality. You need Car-Net to set the charging and pre-conditioning timers, which would be inaccessible if Car-Net breaks.
Owners have been able to fix this by replacing the Car-Net routers in the car for it to function as per usual. The good news here is that this only affects the 2015 cars. 2016 and later model year e Golfs lets you access these settings from the infotainment, without having to go through the Car-Net app.
4. Volkswagen E Golf Won't Charge Or Loses Power While Driving
This is a serious issue, which thankfully, only affects a small batch of cars. A few examples have had faults with charging before, as the car refused to accept any charge. It turns out that the onboard charger had failed. Replacing the JX1 power control module seems to have fixed this.
Speaking off, a few owners noticed that their e Golfs would start to lose power while driving. It was caused by incorrect current readings, which prompted the car to shut down or go into its limp home mode. Another potential point of failure was a damaged drive inverter, located in that JX1 module.
If the drive inverter can't be fixed, then the whole module needs to be swapped out. Once again, this complication was mainly limited to the first 2015 model year cars. A recall was issued back then, as it led to software updates that solved the stalling and power loss complaints from earlier.
5. Faulty Front Assist Automated Brakes
Volkswagen's Front Assist automated braking tech had numerous difficulties in the past, and it could affect the e Golf, too. That's if, your e Golf had this option ticked, which was offered in 2015 and up. Other VW models that could be impacted are the Touareg, Jetta, Beetle, CC, and regular Golfs.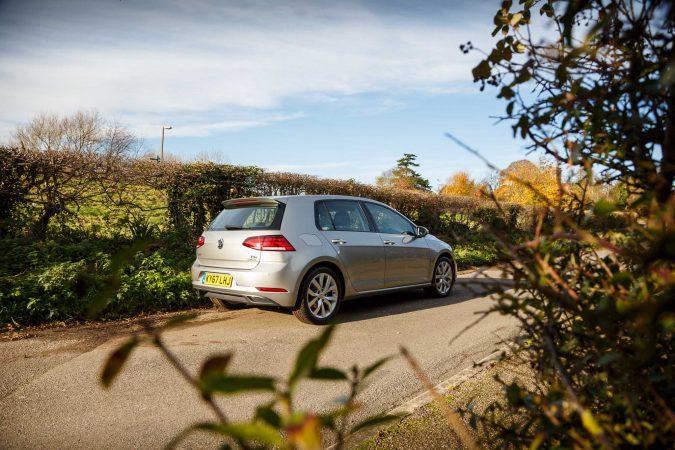 By design, VW's Front Assist is a braking system that could automatically apply the brakes when it detects that a front-end collision is about to happen. It does so through sensors that monitor your proximity to the cars in front of you. Due to lackluster sensors and software, it can fail, however.
Sometimes, the cars fitted with Front Assist would brake, despite there not being anything. Or, the system itself might not work at all if the weather's too harsh. The latter would ultimately turn off the adaptive cruise control, as well. Altogether, the point where it brakes (or not) is erratic.
Worse, your insurance coverage might not compensate for accidents due to technological error, like a Front Assist glitch. VW's recommendation was simply for owners to turn off the Front Assist system completely. As of 2020, a lawsuit has been filed against VW and is ongoing.
Which Year, Trim, And Version Of The Volkswagen E Golf Should You Buy?
In all, we can conclude that Volkswagen's e Golf is among the more reliable of cars in its generation that you can buy second-hand. If you're interested to get one, you can find a 2016MY e Golf for just under $16,000. They are quite attractive bargains if you won't mind the low 120-or-less miles worth of EV range.
If you want a perfect example, here are our recommendations…
Try to get the upper SE or SEL trim options on a used e Golf. These ones had more equipment, such as a bigger 8-inch touchscreen infotainment, satellite navigation, front and rear parking sensors, and more as standard.
Find an e Golf with optional support for the 40kW DC fast-charger. The e Golf has a paltry EV range by today's standards, with just around 120 miles or under realistic scenarios. With that fast charger, you can top up the battery in an hour or (mostly) less.
That said, and if you're regularly traveling within 100 miles, do still consider a 2017 or later car. By the 2017 model year, the e Golf had that beefier 7.2kW onboard charging unit, which can top up the battery quickly enough overnight.
If you can, try to avoid the 2015 model year cars. As the introductory year, 2015MY e Golfs suffered the bulk of maintenance troubles and reliability concerns. As we've noted earlier, they're not overly serious, and some have had recalls to fix them. Yet, if you can avoid it, please do.
Get an e Golf that has a mileage of fewer than 100,000 miles. Volkswagen's battery warranty lasts for 100,000 miles or 8 years, whichever comes first. Get one with low miles, and you could still claim this if any battery-related problems arise. Or, if the battery capacity starts degrading.
Facts about the Volkswagen e-Golf
The Volkswagen Golf hatchback is a versatile and practical car with a reputation for everyday use.
The e-Golf version of the Volkswagen Golf is an electric car that eliminates the need to visit gas stations.
The e-Golf is available in two trim levels: SE and SEL Premium, with standard equipment on the SE including DC fast charging and an 8-inch touchscreen infotainment system.
The SEL trim level has a larger 9.3-inch touchscreen infotainment system and a Driver Assistance package.
Buying a used e-Golf can save you thousands of dollars on refueling and slow down climate change, but it is important to find one in great shape.
Shift provides fully inspected e-Golf cars with a large selection of fully inspected vehicles located across the country.
The e-Golf has a range of 125 miles on a full charge and can be charged in around six hours with a 240-volt outlet.
The e-Golf has a 35.8 kWh lithium-ion battery pack that produces 134 horsepower and an EPA rating of 110 MPGe in regular driving.
The e-Golf has excellent handling and acceleration, with a ride that is both athletic and comfortable.
The e-Golf has an upscale interior and ample cargo space, with a bumper-to-bumper warranty that lasts for three years or 36,000 miles, whichever comes first, and the powertrain receives coverage for five years or 60,000 miles.