It's a heart-sinking moment when you realize that, pouring out of your car, is smoke. White smoke from engine parts, pipes, or just the general engine bay is always troubling.
In an instant your mind spins – how serious is the problem? Is the car safe to drive? How much money am I going to have to throw at this to fix it?
In this article, we aim to answer some of your questions, although there is no substitute for a detailed diagnosis by an experienced car mechanic. If your questions remain unanswered, we would always recommend taking your vehicle to see someone who can examine it and find the problem for you.
We will also be specifically looking at white smoke coming from engine areas, including the exhaust, and so won't be covering black smoke or blue smoke. For a quick look at some more information regarding black smoke from diesel cars, have a look at section 5 of our article on 8 Common Diesel Engine Problems With A Quick Fix.
That being said, let's get into it.
Is It Smoke Or Steam?
If you see white smoke from engine areas or your exhaust, there are two possible things it could be:
White smoke – big surprise!
Steam
Steam can be easily mistaken for white smoke. As it condenses in the atmosphere, the water vapor (which is, of course, what steam is) can appear white when the conditions are right. Think of how you breathe out hot air on a cold day, pretending to be smoking – this is very much a similar situation.
White smoke from engine areas can either be negligible or extremely serious. Before we go into looking at the potential causes too deeply, let's first discuss how to tell the difference between white steam and white smoke from engine and exhaust areas.
The main thing to watch for is that steam will dissipate very quickly after leaving the exhaust tailpipe (or wherever you are seeing it from). Smoke, however, tends to sort of cling together for longer.
Knowing whether or not you are looking at smoke or steam is important, because it will help you correctly diagnose potential problems with your engine. As we go forward, we will divide the sections into common "steam problems" and common "smoke problems".
Causes of White Smoke From Engine
We'll get into this in a moment, but in short, the majority of these issues are caused by the coolant system. For that reason, it's worth briefly explaining how the coolant system works. If you're familiar with this, feel free to skip this short section.
Coolant System Basics
Take a look at this animated video from saVRee 3D on YouTube for an in-depth explanation of the coolant system.
As the coolant is pumped through the system, its job is to remove as much heat as possible from the engine, keeping it at a nice, steady running temperature.
It does this by passing coolant through pipes and channels all through the engine block. As the (relatively) cool liquid flows past the hot metal, the heat energy is transferred into the coolant, increasing its temperature.
Once the coolant has absorbed the heat, it flows through to the radiator, where the liquid is cooled through the large surface area of the radiator and the fan. The heat is dissipated into the atmosphere.
Coolant is a mix of water and glycol. Glycol is used as the "antifreeze" part of the coolant. Its function is to decrease the freezing point (meaning the water will need to get colder before it freezes) and increase the boiling point (meaning the water will need to get hotter before it boils). Cars in countries or states with colder winters will use a higher concentration of glycol in the typical coolant you buy off the shelf.
Read more about how coolant is made and its history here.
The system is pressurized. This is to raise the boiling point of the liquid. If the liquid was to boil, it would not be effective at removing heat from the engine and dissipating it through the radiator.
Common "Steam Problems" – White Smoke From Engine
Steam Coming From the Tailpipe
Usually, seeing steam coming out of the back of your car is nothing to worry about.
Moisture often builds up in the exhaust pipe, especially if it has been left for a while (for example, overnight on your driveway). If it was cool all night and it's still cool in the morning, you shouldn't expect the engine to warm up immediately. On some cars, in fact, you in expect it to take its jolly time!
As the engine warms up, the moisture that has collected in the exhaust pipe begins to vaporise – the scientific term for "turn into a gas". The force this vaporise coming from the engine then force this condensed gas down the pipe and out at the tailpipe.
Once the engine has reached its running temperature (between 195 and 220 degrees Fahrenheit on the majority of allcars – or between 90 and 105 degrees Celsius), the steam will usually stop. You may have to drive it for a couple of miles first in some cases.
Don't worry too much about steam from the tailpipe, unless it persists and especially if it gets worse as the engine warms up. Most people don't usually stand behind their car after it turns on and wonder about what's coming out the exhaust, so it may have been happening for weeks, months, or even years, and you've just never realised.
Sometimes you'll notice water coming out of the exhaust as well, still in liquid form. You're more likely to see this whilst driving behind another car, but it can sometimes happen when the car is stationary. Again, the cause is the same as the steam. It's nothing to worry about and completely normal. In fact, it will happen on most cool days on most cars.
We have put together a quick diagram to explain this process visually.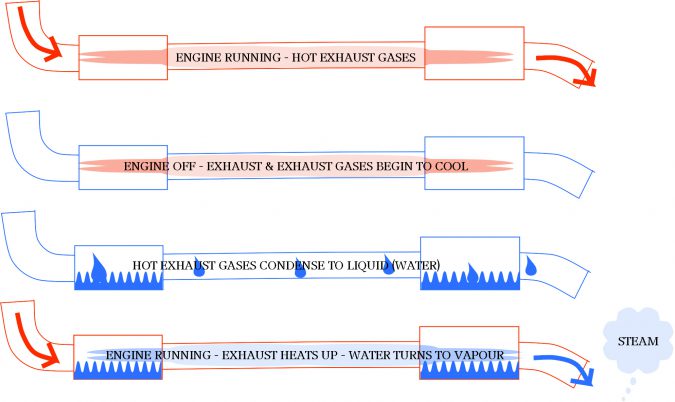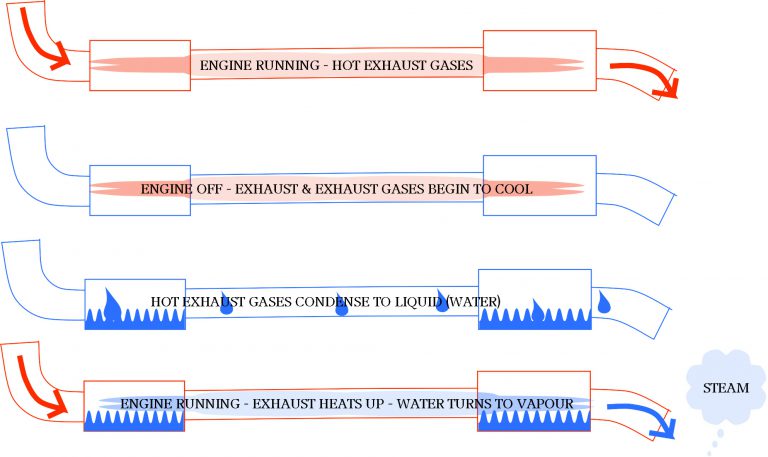 In rare cases, there may be a small amount of water mixed in the with the fuel in your fuel tank. Make sure there are no leaks into the tank from the filler area.
Steam Coming From Engine Bay
If steam is coming from the engine bay, the first thing you should try to do is pinpoint the exact location, if possible. Obviously, this may not be possible if there's too much steam – make sure not to scald yourself.
Steam coming from the engine bay will usually indicate an external coolant leak – where the coolant has leaked from a pipe or external section of the system, rather than inside the engine block. It could also be as a result of anything you might have spilt down in there. For example, when doing some basic maintenance, you might have spilt some coolant down into the engine bay, or perhaps some water onto the exhaust manifold (which gets hot very quickly).
For both of these situations, it shouldn't take long for the leaked liquid to vaporise completely. Once this point is reached, the steam should stop coming from the engine bay.
If it resumes, the most likely cause is a leak from one of the coolant pipes or the radiator. Check on the ground underneath the car, or the under-tray, or the road you've just driven down, for any signs of splashes of coolant.
While this might sound – and look – like an utter disaster, this is probably the easiest fix possible, in terms of the coolant system.
To fix this issue, you will need – not surprisingly – a replacement part. For most cars, you'll be able to pick one of these up at your local store, just take your license plate number in with you. In a few cases, there could be a delay of up to a week while the part gets shipped.
How to Change a Coolant Pipe
Park your car on level ground with the parking brake on and the hood open.
Make sure that the engine is cool. The cooling system is pressurised, and so releasing the pressure cap while the engine is still hot will cause hot water to come out like a fountain.
Open the pressure cap with a cloth or protective glove over your hand in case the coolant does spill out.
Drain the coolant. Do this by putting a bucket or special plastic tray underneath the car, removing the lower radiator hose and draining the contents into it. Take this opportunity to inspect the coolant for any metal flakes or other significant debris. If you see anything in there, it may be indicative of another developing problem. It's worth taking the car to a garage as soon as possible, once it has coolant back in it.
Remove the leaking pipe – the pipes in the coolant system are often held in place with jubilee clips (or similar), which are simple enough to slacken off. Don't be shocked if there's still a small amount of fluid still in the pipe, and just try to direct it into the bucket if there is any.
Attach the new pipe firmly. We would recommend using new jubilee clips as well. Over time they can get very stiff so it's never a bad idea to replace them with new ones. You can get them at the same place you got the pipe.
Once you've done all that, top up the coolant (following the correct ratio of water to antifreeze according to the vehicle manual) and then replace the cap. Take this opportunity to check for any obviously visible leaks, before you start the car.
Leaving the hood open, start the vehicle. Keeping a relatively safe distance, check to see if there are any signs of leaking. Leave the car running until the engine gets up to temperature. If there's no leak, well done! All fixed! But be sure to keep an eye on it for the next few days and weeks.
Common "Smoke Problems" – White Smoke From Engine
We'll now move onto looking at some of the possible issues if you have white smoke from engine parts or the exhaust, as opposed to steam.
When you see white smoke coming from engine areas, in most cases it will be coming out of the tailpipe – the end of the exhaust. If you have a very serious mechanical problem (such as a huge crack or a hole) with your engine block or exhaust manifold, you may see the white smoke coming from the engine bay as well.
It all boils down (just a little coolant joke there for you) to the coolant system, again. If you have white smoke coming out of the exhaust, give it a little sniff. Not too much though; exhaust fumes aren't exactly good for you or your lungs. If the aroma is verging on sweet, or perhaps fruity, that kind of thing, it is further evidence of coolant being the problem.
If you can smell coolant in the smoke, it means that coolant is being ignited in the combustion chamber along with the air and fuel. Since the coolant is usually at least made up partially of water, it turns the smoke white. Clearly, this indicates an internal leak.
There are two more common reasons for this:
A head gasket leak.
A cracked or warped cylinder head or engine block.
Head Gasket Leak
Head gaskets aren't the cheapest or the easiest things to fix. You'll either need a lot of time and some specialist equipment, or some spare cash to fork out to the local mechanic.
The head gasket is a thin piece of precisely engineered metal which forms a seal between the cylinder head and the engine block. Hence the name, head gasket.
Take a look at this non-narrated video to see where a head gasket goes and how professionals go about replacing one.
It's often not quite as simple as just replacing the head gasket, though. Usually, the gasket will have blown or warped because of some other reason. That must be fixed first, otherwise the problem will simply happen again with the new gasket.
To do so will often require specialist tools and an extremely flat and precise surface between the block and head. This is why most people take their cars to specialists to get them fixed. Doing it yourself may be a lot cheaper in the first case, but things are also much more likely to go wrong in the future.
We go into more detail on the costs of replacing a head gasket in this article.
Overall, we would recommend taking the car to a specialist mechanics that can accurately diagnose the problem and then replace your head gasket for you. This is the safest option.
Engine Block or Head Mechanical Failure
White smoke from engine blocks or cylinder heads can be caused by, quite literally, holes. Or cracks.
This is very similar to the head gasket issue, in that the basic problem is coolant getting into the combustion area of the cylinder. Unfortunately, it's a bit trickier to fix.
What's going on here is that one (or more) of the chambers carrying coolant past the cylinders has cracked. This allows coolant to spill into the combustion chamber as it passes by. From there, it is immediately burnt by the air/fuel mixture and spark (if it's a gasoline/petrol engine), passing through the exhaust valve to the exhaust pipe, and finally out of the tip.
There isn't much you can do about this, unfortunately. It's a very difficult spot to weld and, even if you could, it's an area which is constantly under huge stresses from the forces and energy transfers going on in the engine block or cylinder head.
If this is the problem, you'll be looking at an engine swap as the most realistic fix. That's a very expensive one – no point putting it any less bluntly.
Realistically, your best bet is to consider whether it's worth scrapping the car or getting an entirely new engine for it.
Fuel Ignition Issues
This issue is more common in petrol/gasoline cars than diesel vehicles.
If you notice the smell of fuel in and among the white smoke from the engine, there could well be an issue with the fuel ignition system. This is likely to need a professional diagnosis and a high-quality OBD (on-board diagnostics) machine.
Don't be fooled if the smell of fuel is coming just as you are turning your car on. If it's a cold morning, this may also coincide with some white steam coming from the exhaust.
When you first start your car, the fuel mixture is set to being more rich. This helps the engine get up to temperature quicker and makes cold starts easier. Learn more about that from this YouTube video.
If you do suspect that you have a fuel issue, it's not that common but it could possibly be producing white smoke. Never be afraid to take your car to the mechanic. If they say there's nothing wrong with the car, there is no harm done.
It's better to be safe than sorry.
Why Coolant Issues are a Serious Problem
If you suspect you have a serious coolant issue, you should get it checked immediately.
The coolant plays a vital role in your engine, although it's perhaps not talked about enough. If you don't have enough properly-functioning, properly proportioned coolant in the system, the engine will start to get too hot.
"What's the issue?" – you might say. "Engines get hot anyway."
That's true. Temperatures inside combustion engines can reach up to 4,500 degrees Fahrenheit (2,500 degrees Celsius) in some high-performance engines.
But the coolant helps to regulate this temperature. If you don't have enough coolant, the engine's heat levels will just keep climbing and climbing. Once they get enough, the parts inside the engine could warp. This means you'll need a new engine, and what started off as a potentially simple fix has become a nightmare. It could also be dangerous if your engine seizes while you're driving.
Always keep an eye on your engine temperature gauge. If you see it spiking more than usual, and the dial continuing to rise, take it straight to an auto shop, driving as slowly as possible. This will keep the engine as cool as possible.
As well as all this, coolant can be especially toxic in some situations, so you want to avoid breathing it in at all costs. Read more about this from Mobil.
What Other Exhaust Smoke Colors Might Mean
As well as white smoke from your engine or exhaust, you might see black or gray/blue smoke too.
In short, black smoke often indicates an issue with either fuel ignition or the exhaust system. Gray/blue smoke is more likely to indicate a problem involving engine oil. This is usually caused by oil somehow getting into the combustion chamber.
White Smoke From Engine Conclusion
In conclusion, then, if you see a lot of white smoke from engine areas or, more commonly, from your exhaust tip, it's probably because of a coolant issue. This is the most likely fundamental cause, in some way, shape or form.
Keep an eye on everything and always be safe. Don't be afraid to take your car to a mechanic if you think you need to. If everything turns out to be fine, that's great – at least you know.
So, if you have seen white smoke from engine areas or the exhaust, we hope this article has been helpful for you.
To sum up:
If the "white smoke" dissipates quickly and stops forming while you're driving, it's okay. This is a normal function of a car.
If the white smoke "clings together" a bit more and doesn't stop, there's a more serious issue either developing or already in play. It'll need immediate attention.
We hope you've found this article useful!
Approved Tools
These tools have been tried and tested by our team, they are ideal for fixing your car at home.