2017 DS3 Performance Black 210 THP 6-Speed Manual Review
We had the chance to test out the 2017 DS3 Performance, and here are our thoughts on it.
What is the 2017 DS3 Performance Black all About?
It is first of all worth noting that the 2017 DS3 is sold under a completely different brand from previous years. Perhaps you used to know it as a Citroen, but the reality is that now, DS Automobiles is a luxury brand in its own right. It is basically Citroën's attempt to create an alternative that's worthy of competition to the eclectic and established German rivals without more affordable Citroën models marring the leading standard.
Heres the Deal…
Although DS cars share and use parts developed by the PSA division, Citroen is particularly keen on manufacturing DS cars on a completely separate engineering and quality standard. Hopefully, this will also be demonstrated in cars they manufacture in the future, as the DS brand do currently produce some rather interesting cars. Citroën isn't necessarily as bold with DS models, but it's still a pleasant change of scenery in the largely stagnant premium sector.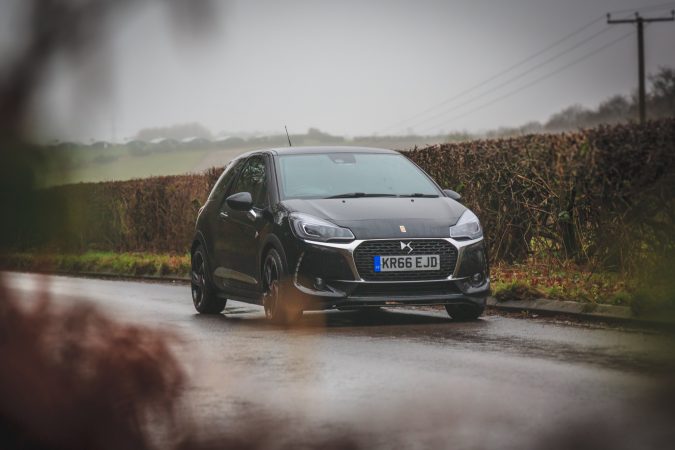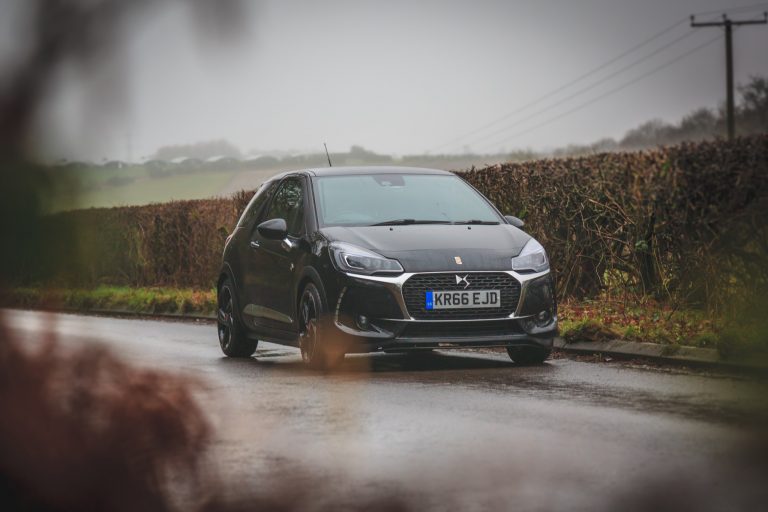 One of these models is the DS3. During its initial launch in 2010, the intriguing DS3 was very successful as a supermini. In fact, it pretty much single-handedly prompted Citroen to launch their DS subdivision as a standalone company. One of its most redeeming features was value for money, as it was well up to par against the horde of superminis from better-established brands like MINI, Audi and Ford.
DS saw this as a major opportunity. After the initial launch, the DS3 continued to get minor upgrades as an attempt to keep it fresh and relevant in the current market. Throughout the years, there have been multiple iterations of the DS3 such as the hotter DS3 Racing and the DS3 Cabriolet.
Jeremy Clarkson Brought It to Italy
The former is particularly interesting as it utilised Citroën's (and possibly PSA's too) motorsports expertise, which peaked in the form of a scorching supermini. It debuted with over 200 horsepower and a bold black and orange paint scheme, that conveyed DS's ambition in competing with the best of them. Of course, the car was particularly prominent when it enjoyed a feature in Top Gear UK, where Jeremy Clarkson brought it to Italy and then on a drive around the revered Monte Carlo city track.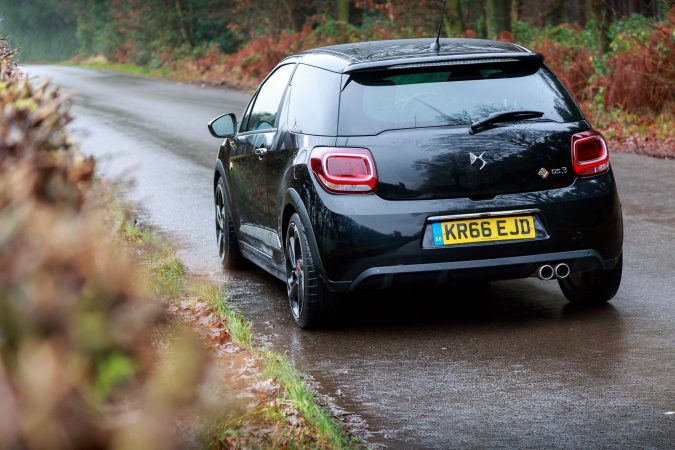 Unfortunately, that was a limited edition production model and so in 2016, Citroën announced the DS3 Performance, which is the car we have here today. It's a bit of a homage to the spirit of the defunct DS3 Racing, and it's actually currently produced in bulk. While it's seemingly tuned down, it actually has a few years of technology in its favour. DS has generously equipped it with a new differential, along with a new petrol engine and many other racing-appropriate features that may just settle the score.
On a first glance, there is little that indicates that this car is something that demands more attention than a typical DS3. However, take a closer look, and you may notice a particular compartment on the side of the car. It is actually a £250 option that adorns your car with DS Performance vinyl.
You may also notice the increased width that comes in the form of a black cladding that wraps around the entire car. It also sports a lower stance and a whole lot of DS Performance badges which are gold with a tinge of red.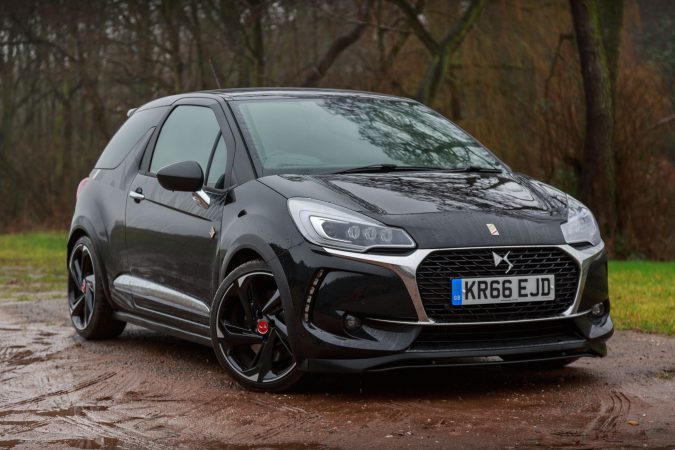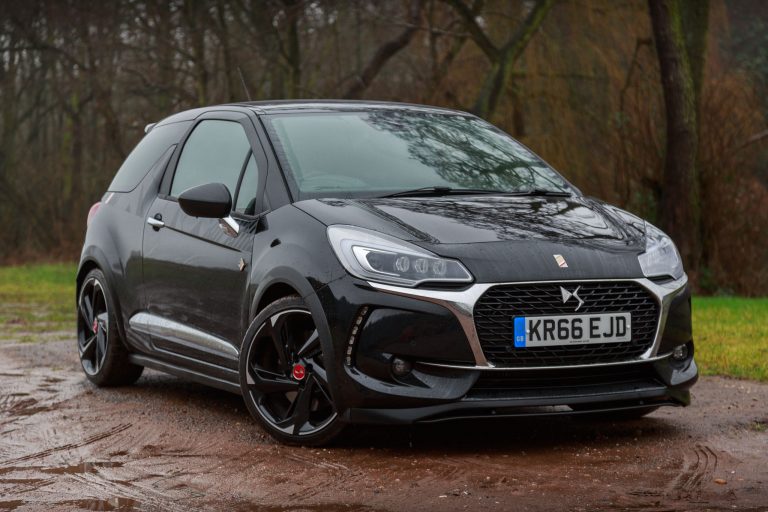 I do admire DS's decision to keep it sensible with the DS3 Performance. There is no need to fix what is not broken, and the normal DS3 already boasts a rather contentious styling. It can be easy to go overboard by adding canards, splitters, diffusers and a giant spoiler on a hot hatch, but the DS3 Performance packs enough belligerence while maintaining an upmarket aesthetic that I reckon many will come to love.
DS3 Performance Black is called 'Perla Nera Black
Our 2017 DS3 Performance Black is called 'Perla Nera Black', an elegant hue of black that is contrasted by a careful application of chrome which adds an enticing dimension. Some may not find the chrome side that attractive though. Of course, all the facade of a suave gentleman that the DS3 Performance projects, shatters when you see those 18″ alloys with blade-like 5 spokes and the red hubcap.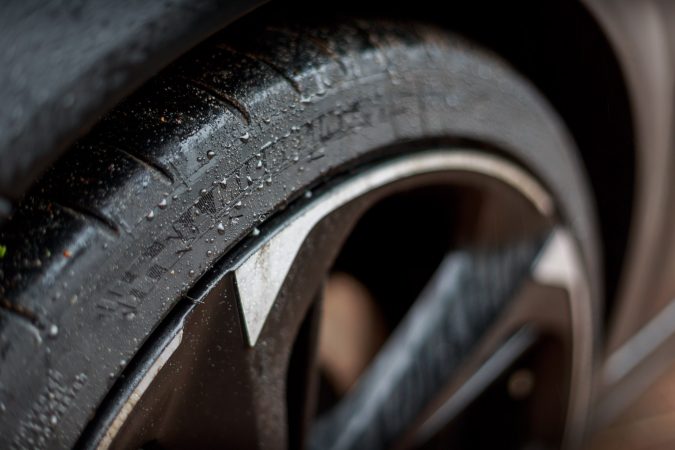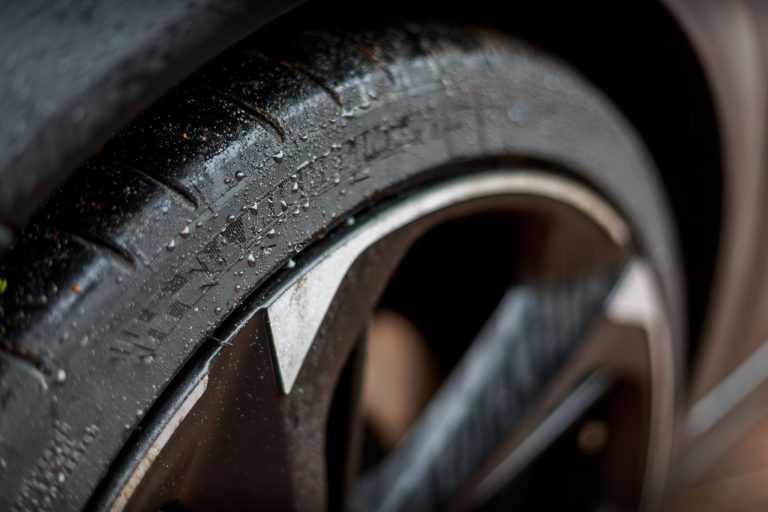 Those wheels are deservingly given an equally nefarious nickname: "Nemesis". The Michelin Pilot Supersports are also perfectly wrapped around these wheels so thinly, that it hints a tricky ride. You'll also notice a set of beefy painted DS Performance calipers which are actually Brembos in disguise.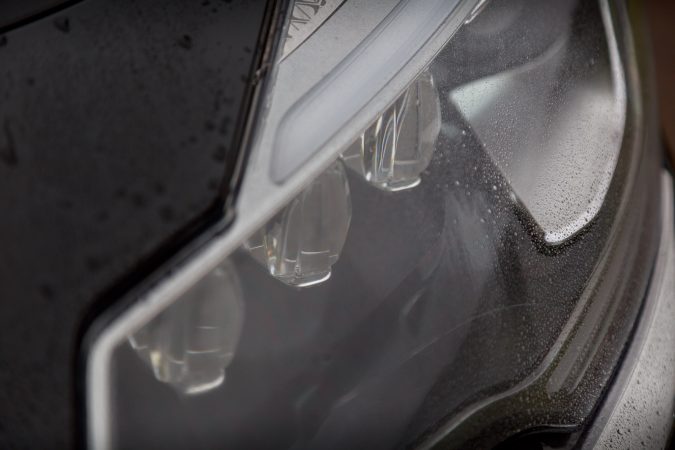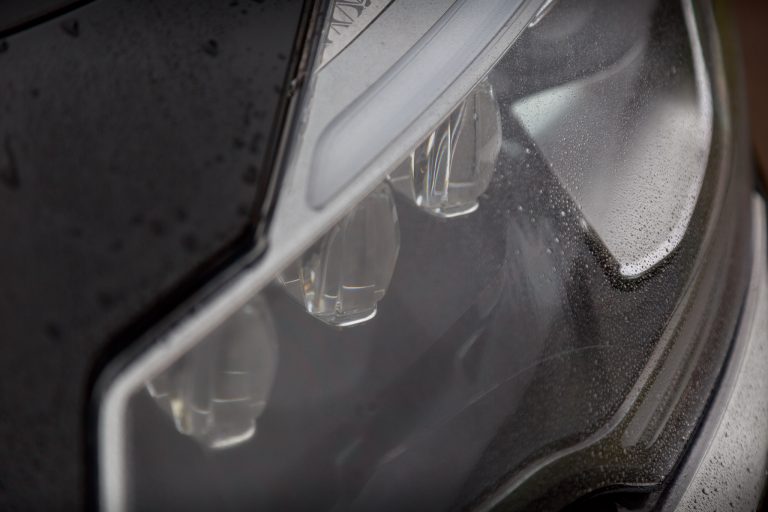 I also stand with DS in their decision to follow a chic styling language, something akin to a fashion statement of sorts. It's something the French handle well, as the DS3 Performance illustrates, in my opinion. They left Citroën to venture into the eccentric, which also aids in segregating DS from Citroën.
DS3 Performance Engine Specifications – The Best Part?
There's just enough here to subliminally inform any observers that this may not just be a DS3. Regardless, you'll find the most definitive proof lying inside the bonnet. To back up the show, DS has packed a 1.6-litre THP 210 turbocharged inline-4 with direct injection. It puts out 208 horsepower and 300 Nm of torque, which actually exceeds the rating of the DS3 Racing.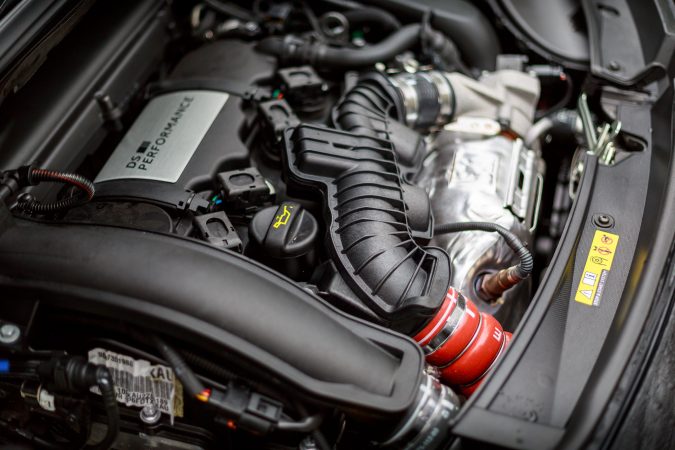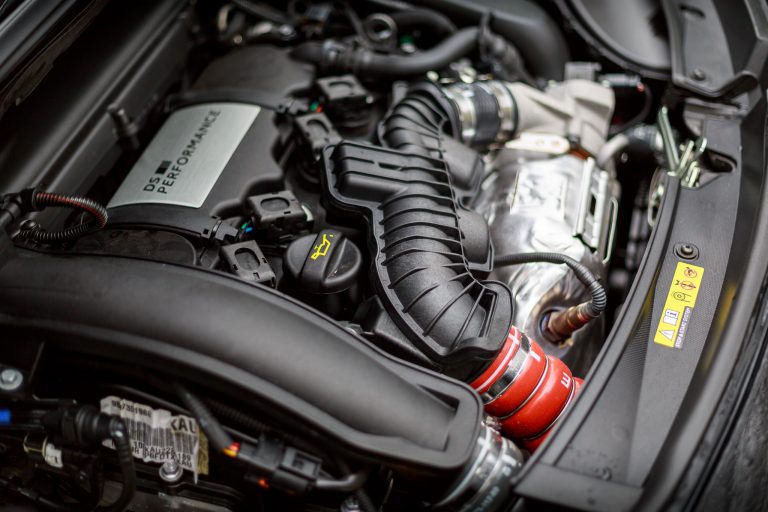 To deliver all that power inside a small package, DS has married a close ratio 6-speed manual transmission, which in turn spins the front wheels, through a Torsen limited-slip differential. This will propel the DS3 Performance along the century run in 6.5 seconds, onto a top speed of 143 mph.
Even though this engine family is a tad long in the tooth, it still manages 131.25 hp/litre which is quite a solid figure compared to its contemporary rivals. Furthermore, it returns 52.3 MPG combined and puts out just 125g/km of CO2, thanks to the migration to turbocharging and technology improvements.
How Does The DS3 Performance Drive?
The DS3 Performance is definitely shaping up to be a viable contender in this crowded sector. If DS truly wish to construct a strong foothold here though, they do have to bring something interesting to the table.
Fortunately, it looks like DS has borrowed some elements from its PSA sibling, Peugeot, as the specs do make it quite similar to the 208 GTi. In fact, the engine is pretty much identical to that of the 208 GTi. This may prove to be a good move for DS, as the general consensus for the 208 GTi is quite positive.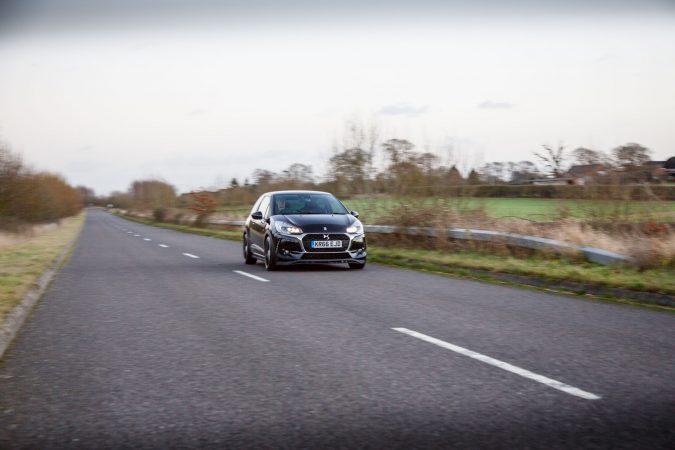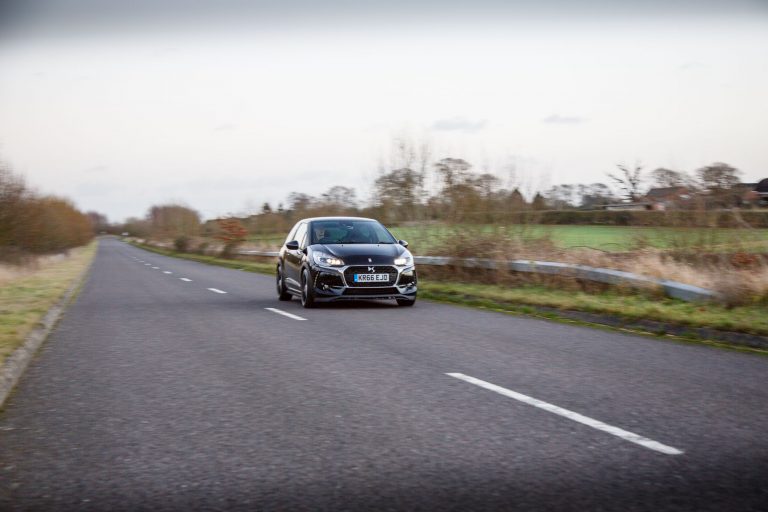 It is worth noting that in addition to the LSD and the new engine, DS has also lowered the car and revised the suspension setup to better suit spirited driving. DS did specifically note that the DS3 Performance is made to drive more like an 'everyday' car compared to the nippy 208 GTi. Also, it is a praiseworthy move to differentiate the product and uphold the classy guise DS maintains.
Uses a Modern Turbocharged Engine – That's Not All
This engine, as expected, deserves high praise. It's fitted with a turbocharger but preserves an admirable engine response. With most of the torque coming on at around 3,000 rpm, you don't really have to strain it hard to go fast. That said, I didn't find the engine to be particularly sprightly as it doesn't climb the revs hard. Of course, with modern turbocharged engines, there's really no need to push every gear to the redline.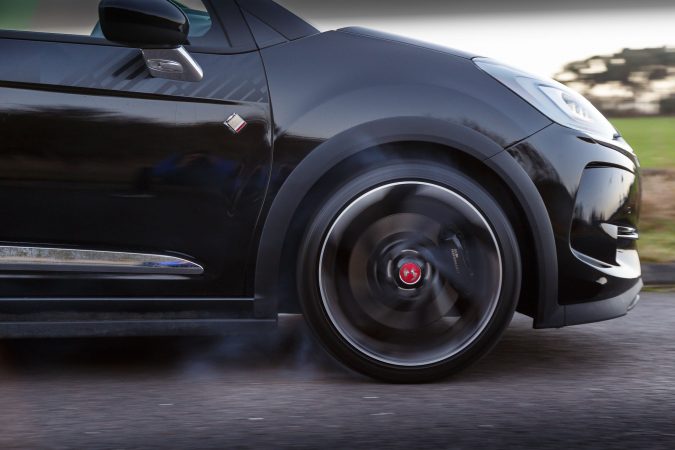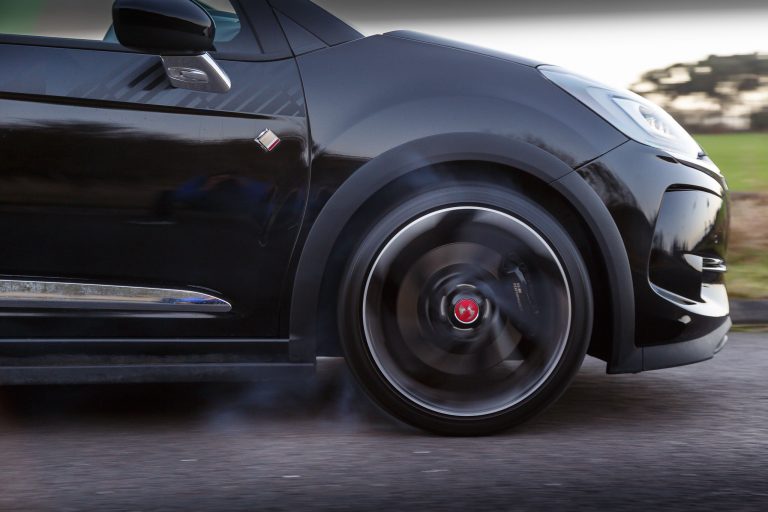 If you're particularly adventurous and may opt for turning off the electronic assistance, however, the torque that the engine puts out will trouble even the Torsen LSD. It can be startlingly vigorous in acceleration, but it's quite an entertaining experience that will get you giggling. It's reminiscent of the hot hatches of the past.
6 Speed Manual Brilliantly Executed… But How?
The 6-speed manual transmission feels quite good and notchy, with precise engaging action. Although the ratios are definitely quite closely-spaced, I suspect that the final-drive ratio is quite long as the DS3 Performance can muster 60 mph in second gear. Regardless, this combination truly hauls serious pace and it'll surprise unwary passengers.
When you bring that firepower onto the B-roads though, is when the DS3 Performance can truly stretch its legs. You may find yourself needing to restrain yourself just so you don't end up in a ditch, or the police station.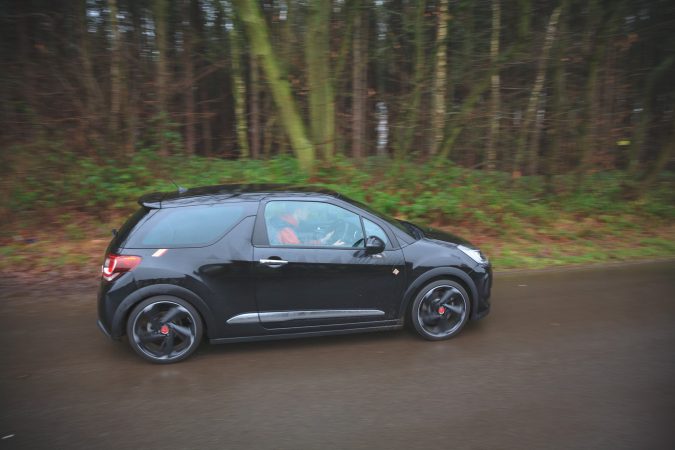 Thanks to the comically low-profile Michelin Pilot Supersports, that are seemingly painted on, and the Torsen LSD, the DS3 Performance can really dance around from corner to corner. Whenever you exit a bend, the next thing you're going to see is yet another corner. It's such a lively car and as long as you keep a bit of power on, you can dive into corners assertively.
The best thing is that it maintains a graceful, sure-footed demeanour while shifting with a preened prowl around corners. You can definitely feel the Torsen LSD working its magic at the front to sometimes accomplish seemingly ludicrous feats. However, when you exit corners without electronic assistance, you have to modulate the throttle well to avert understeer. It's truly a classic hot hatch experience especially when you shut off DS's Electronic Stability Programme (ESP) being at the limit of traction.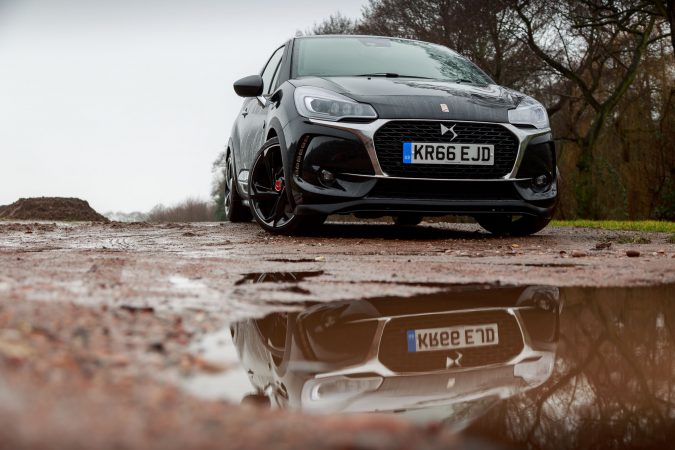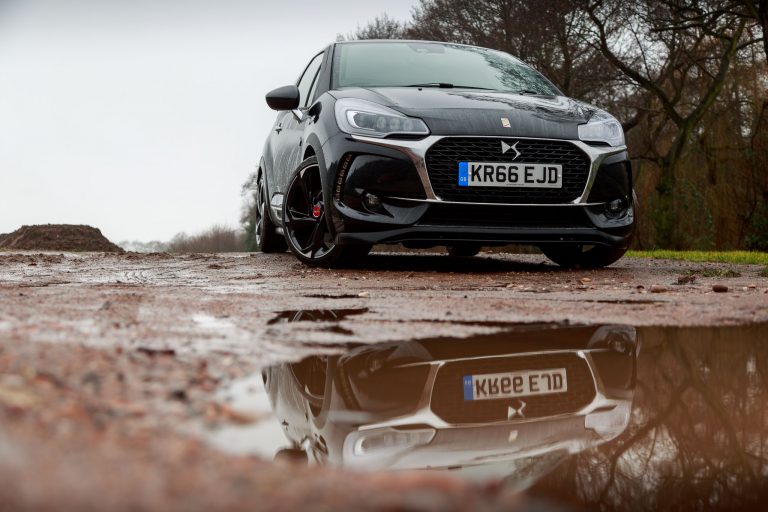 You can quite easily provoke oversteer if you force it mid-corner too. Fortunately, the DS3 Performance does support its zealous attitude well with a steering that feels nicely-weighted and consistent. The clutch pedal can be on the light side for those that have frequent local track days. Throughout corners, the chassis feels taut and the suspension yields minimal body roll.
DS3 Performance Power What Will Stop It?  …Brembo Brakes
Notably, the Brembo brakes work very well, being in such a small car with performance tyres. Sometimes they work a bit too well, proving to be difficult to engage smoothly at high speeds. They definitely keep you out of trouble though.
Pair all of the above with the rapid pace that the DS3 Performance encourages and a short ratio gearbox, and you've got one hell of a B-road machine. The right driver can definitely coax the DS3 Performance to campaign through any B-roads under the right conditions. Having a genuine mechanical LSD is also a boon, especially for front-wheel drive pocket rockets.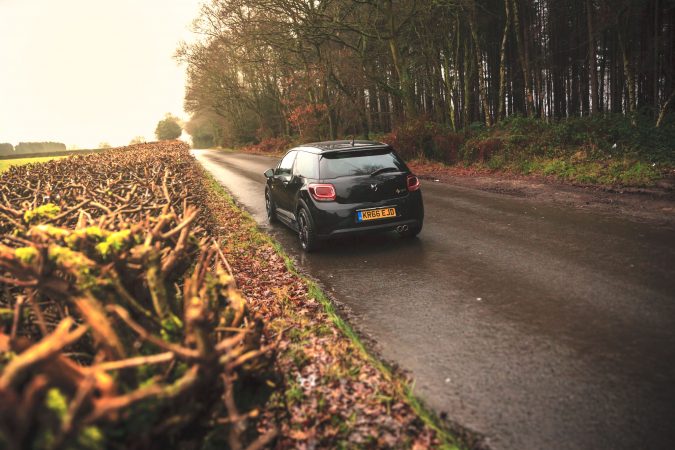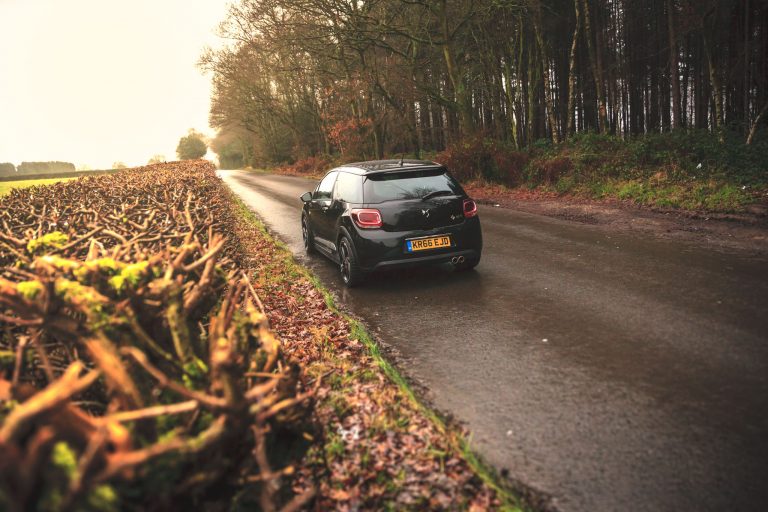 While DS did say that the DS3 Performance is intended to be friendlier towards potential drivers who may want to drive one daily, it's not all that sensible. It copes with minor bumps well, mostly shrugging off repeated undulations agreeably. However, it quickly becomes rough once you roam on Britain's roads. It's a trade-off for the tenacious mid-corner handling.
The cabin isn't all that hushed too as wind noises and tire roars become eminent at motorway speeds. That said, the long final drive does a good job at keeping the THP 210 engine relatively muted, so it's not all appalling. It is a hot supermini after all.
What's it Like Inside?
While the interior of the DS3 Performance remains largely inspired by the normal DS3, there are definitely hints sprinkled all around the cabin to remind you that this is not just another DS3.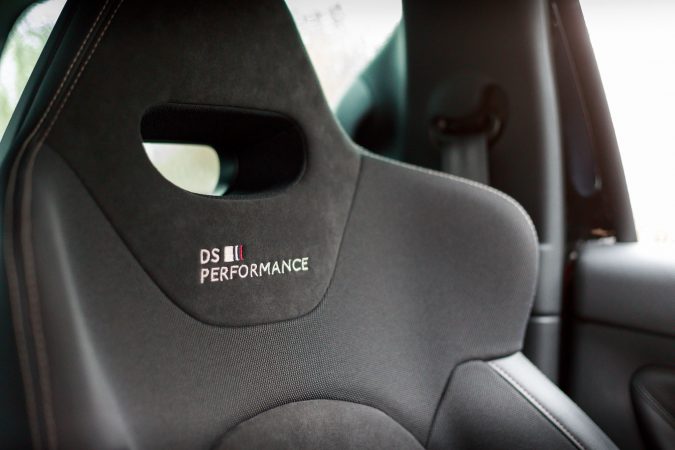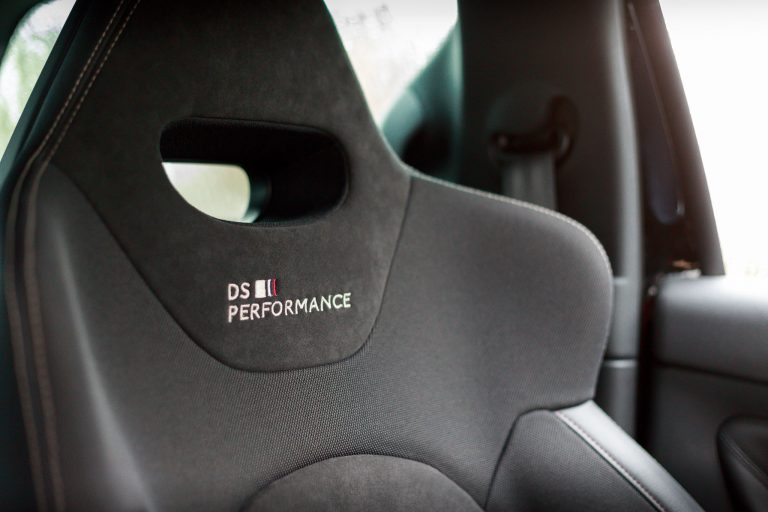 DS3 Racing Seats
The most welcoming addition over the standard DS3 is the Dinamica 'DS Performance' Alcantara, and the cloth semi-bucket seats that are actually borrowed from the 208 GTi. In lieu of Peugeot though, it has 'DS Performance' embroidered into it. Being a set of semi-buckets, the adjustment is really quite limited. However, I found that it provides a pretty aggressive and comfortable driving position.
It definitely provides bolster support that glues you in place under lateral Gs. I also love how the bolsters are quite soft so you don't get stabbed trying to stumble your way into the car.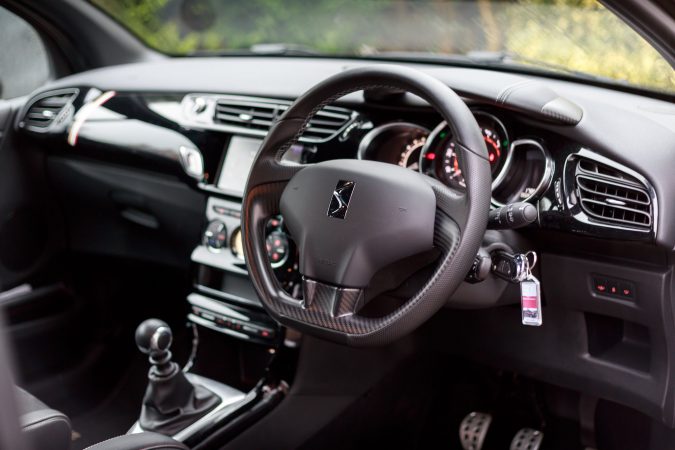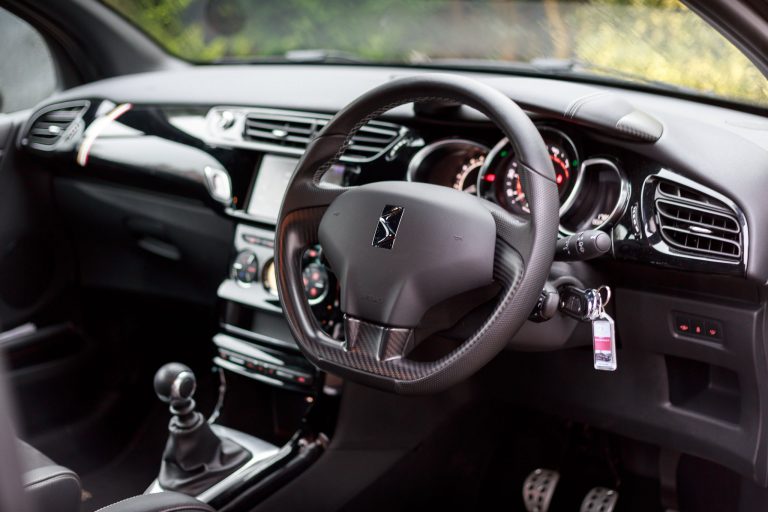 Apart from these semi-bucket seats, there is also a generous amount of DS Performance badging and inspiration around the cabin. You'll also find faux carbon fibre on the steering and door handle surrounds which does look quite nice as it's not too gaudy.
In addition, the majority of the dashboard and centre console has a glossy black plastic trim over it. Fingerprints and dust do however tend to gravitate towards it. I do like the steering wheel as it provides a firm grip, but the gear lever does look a tad economical.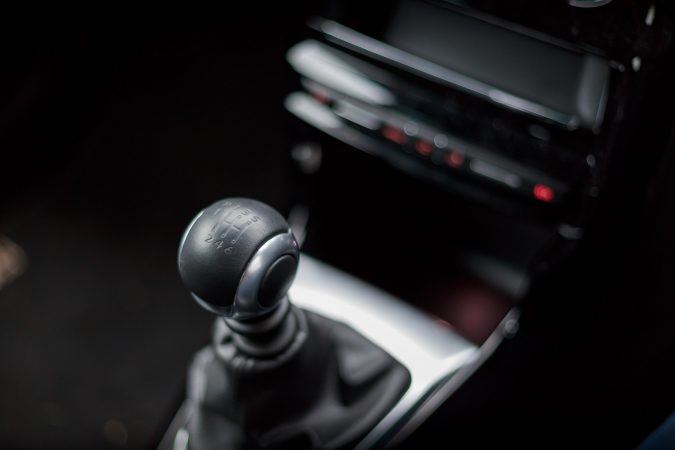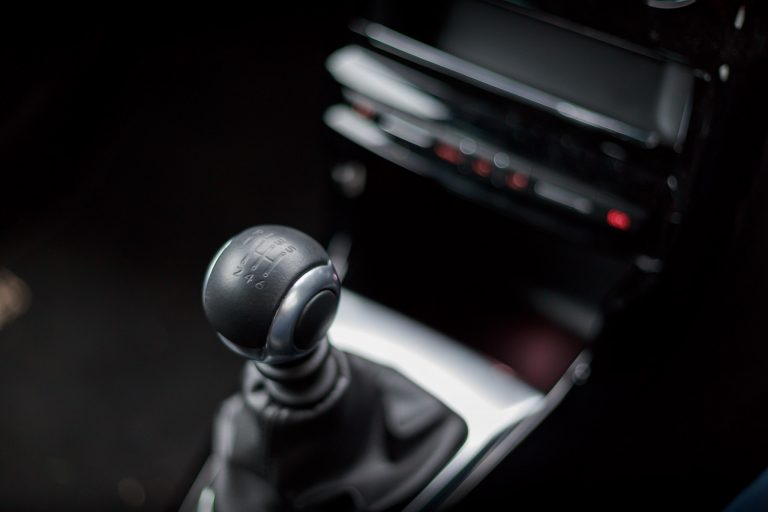 DS has admittedly done a solid job in terms of fit and finish, as the interior feels well built. If anything, the interior of the DS definitely has an air of Citroën about it, being quite unique. The switchgear does feel quite nice as well and I reckon it's even comparable to German engineering.
The controls are incredibly straightforward. In fact, the DS3 Performance doesn't even have steering wheel mounted controls. The buttons are kept to a minimum in an attempt to declutter the interior. Most of the car's operations are handled by the 7″ infotainment touchscreen system which has AppleConnect and Android Auto as standard. The UI can be somewhat clunky though.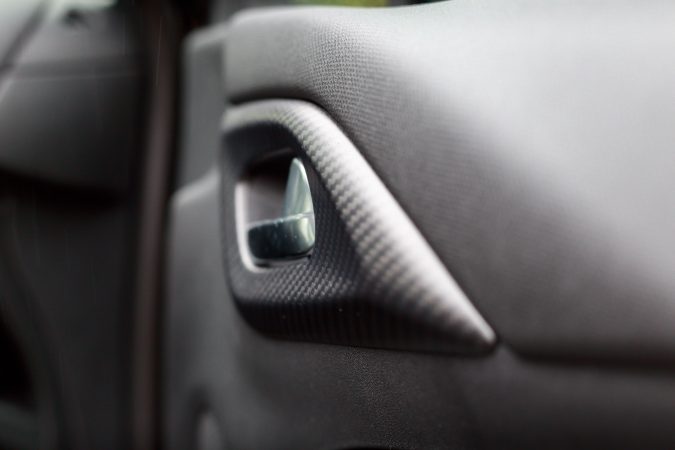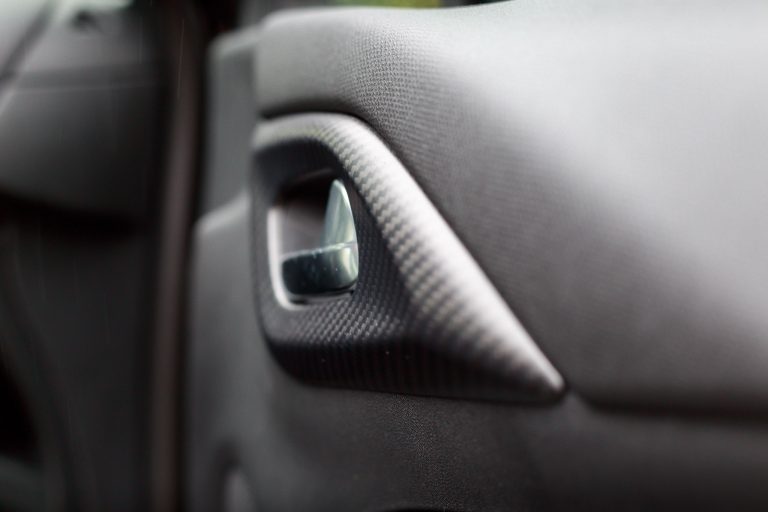 Plenty of Legroom, Does That Matter?
While the front passenger room is excellent, the pedal spacing is tight which can be beneficial for heel-toeing. At the front, there is plenty of legroom and headroom and visibility is great too. However, the rear of the car is less capacious, offering minimal knee room and headroom for even average blokes. Small item storage is particularly poor, as the DS3 Performance has a single cupholder and no covered storage other than the small glovebox.
Forfeiting any meaningful rear passenger room for more cargo space is an option, which is evident since the DS3 Performance features 285-litres of storage. Nothing particularly clever is done back in the boot, but you can fold the rear seats down and rid the parcel shelf for a cavernous 980-litres of storage. That said, the boot floor isn't flat with the seats folded, and the boot lip is quite noticeable.
The Experience
I was one of the few to have experienced the very limited production DS3 Racing. And in many ways, the DS3 Performance is very evocative of the DS3 Racing. Sometimes, it even feels faster, thanks to the great new engine that DS has installed that gives it more torque than the DS3 Racing.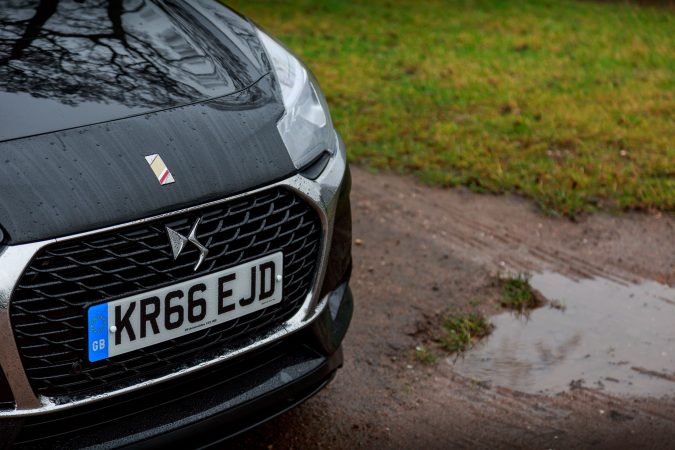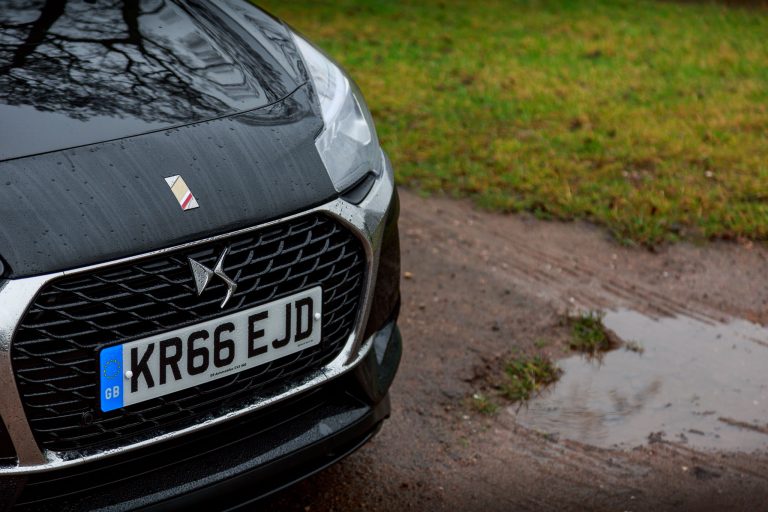 The implementation of a Torsen LSD provides a driver confidence that'll certainly be appreciated. It's such a zestful car with commendable verve, truly rivalling the best of them. Although the overall ride could use more refinement if the DS3 Performance was to truly compete in this market.
Verdict – 2017 DS3 Performance
DS might be onto something here with the introduction of the 2017 DS3 Performance. However, they have one big rival, the Peugeot 208 GTi; undeniably a brilliant and very well received supermini.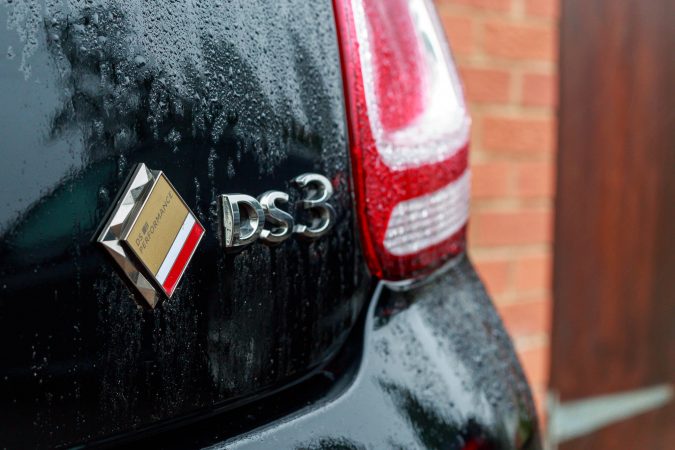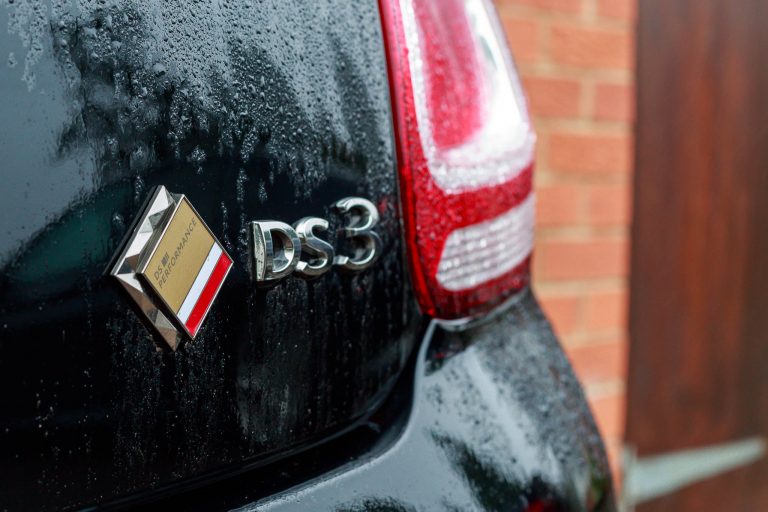 It would be a tough fight, even though DS insists that the DS3 Performance is a more mature, fermented alternative. For me though, the choice would be the DS, just based on the looks. In matte black, you can tell that the DS3 Performance is 208 GTi's sinister ego.
As it stands, I do adore how the DS3 Performance looks over the Peugeot 208 GTi. I can also appreciate the fact that DS is keen on the hot supermini segment, where the default answer has for a long time been the Ford Fiesta ST. Finally, while I believe it will take more to dethrone the Ford, the DS3 Performance definitely garners an ardent following of its own.
DS3 Performance Video Highlights
DS3 Performance Spec
Price: £22,900
Engine: 1.6-litre THP 210 turbocharged inline-4 with direct injection
Power: 208 hp
Torque: 300 Nm
Transmission: 6-speed manual
0-62mph: 6.5 seconds
Top speed: 143 mph
Weight: 1,175 kg
Economy combined: 52.3 mpg
CO2: 125 g/km
Author: Paul Hadley