Driven: 2017 Infiniti QX30 Review
I've had a chance to drive the collaboration project between Infiniti and Mercedes-Benz: the Infiniti QX30. Here are my thoughts on this compact luxury crossover.
What is the Infiniti QX30 All About?
To break into the emerging luxury compact crossover market, Infiniti decided that it would be best to work with a firm that understands luxury. A brand that'd help them establish a solid footing in a highly competitive market.
And that brand is of course, Mercedes-Benz. Working with Mercedes immediately grants them credibility. But can they manufacture something that'd differentiate itself from its sibling and appeal to different customers of the same market?
Perhaps, as the QX30 sets out to prove. Essentially a Q30, which is based on the A-class, but jacked up by 3 cm.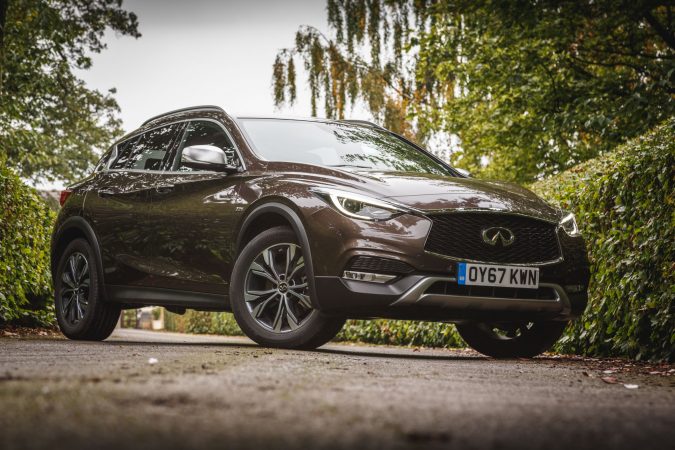 From the outside, the QX30 definitely looks more aggressive and contentious compared to other entry-level compact luxury crossovers. It's a rather good looking SUV, with a very dynamic and flowing shape. It has organic shapes and contrasting wheel arches.
This QX30 is painted in a more intriguing colour. Infiniti calls it 'Chestnut Bronze'. It's a deep, chocolate brown that does give the Infiniti a more mature look. Sitting on 18″ alloys, the QX30 would look just as good if it rode lower – which Infiniti implemented for the QX30S.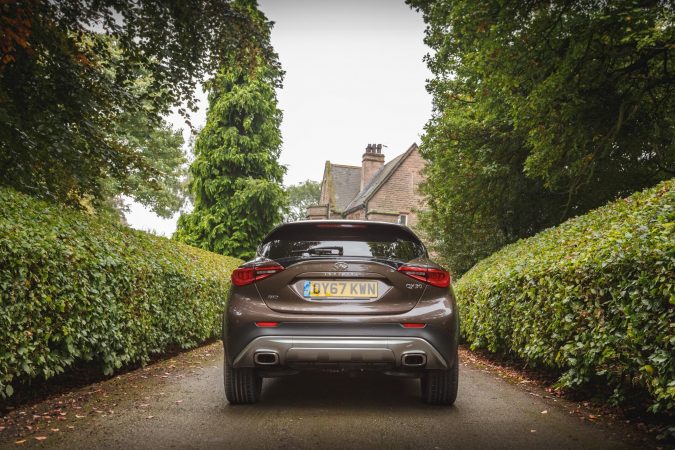 Powering this particular QX30 is a 2.2-litre direct injected turbocharged diesel inline-4 that puts out the same 170 bhp and 350 Nm of torque. Delivering the power is also the same 7-speed 7G-DCT dual clutch transmission found in the GLA. In diesel trim, that drives all four wheels. This'll propel the QX30 from 0-62 mph in 8.5 seconds, onto a top speed of 134 mph.
To be fair, using Mercedes' engine and running gear isn't a bad thing. They know a thing or two about engineering brilliant powertrains. This diesel manages to muster 57.6 mpg, and puts out just 126 g/km of CO2.
How Does it Drive?
The QX30 is a rather impressive driver, considering its handicap as a tall crossover. It does have torque down low that can follow through, but once you rev it out it starts to feel strained.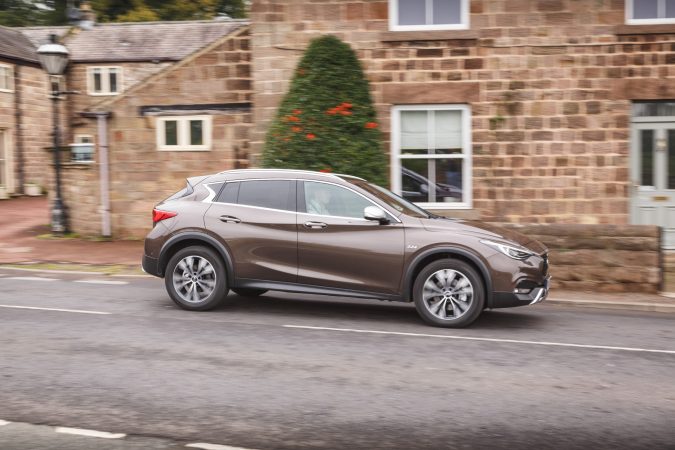 While the diesel engine may be more economical, in the QX30's case, I think that the petrol engine is definitely more suitable. It makes the same torque, but a lot more horsepower, and should feel more enthusiastic than the diesel.
Handling wise, the QX30, pleasingly, drives a lot like a hatchback. While body roll is present, the QX30 doesn't shy away from corners, and responds to inputs well. It's not the sharpest car to drive, but it's definitely on the sporty end of the crossover spectrum.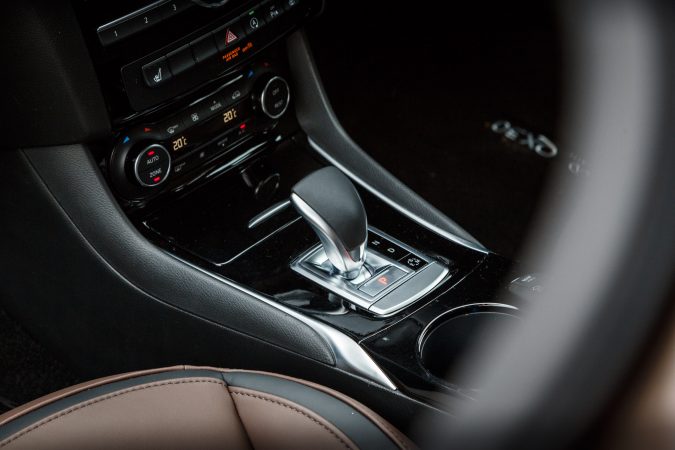 The 7-speed dual clutch is definitely not the fastest unit you can find in cars nowadays, but for the price, it's solid. In sport mode, the gearbox is snappier, but you can certainly feel the shifts.
In comfort mode, the QX30 relaxes. It becomes quite indifferent to undulating roads and the shifts become smoother, albeit slower. Overall, the Infiniti QX30 proves to be a pretty keen driver once tensed up, while being capable of relaxing once cruising.
What is it Like Inside?
Infiniti remained conservative for the interior of the QX30, much unlike its exterior aesthetics. That may not be a bad thing though, as unorthodox interiors tend to catch new buyers' eyes. If you opt for the 'Premium Tech' trim, like our particular QX30, you get Nappa leather as standard.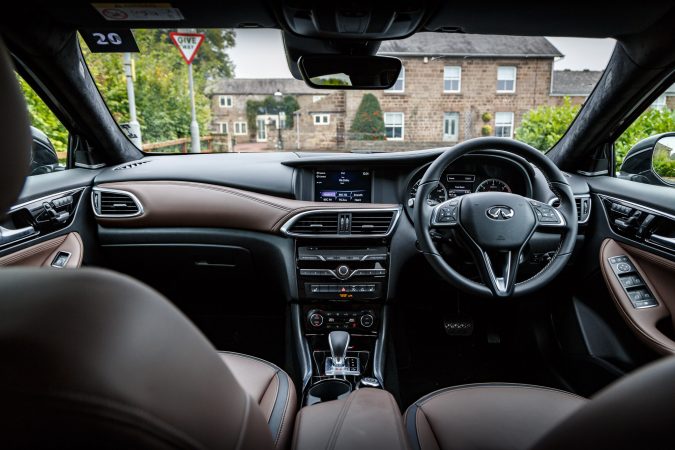 Being a Japanese luxury car, the interior is a pleasing place to be in. You have all the tech you can possibly want: 7″ touchscreen infotainment system, 7 airbags, reverse camera, lane departure warning, etc.
It is a safe attempt in the books of interior design. That could just be because Infiniti is still attempting to set foot in Europe.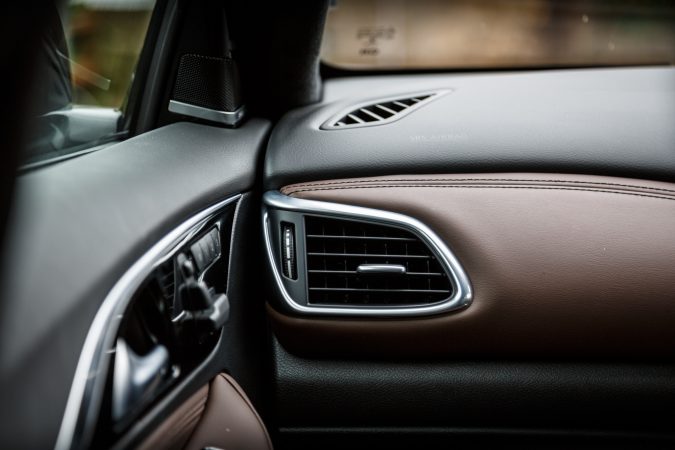 While you do sit higher up in the QX30, because of how the car is designed, with sloping rooflines and small windows, visibility is limited. The biggest fault is the fact that the design compromises on passenger room slightly.
Being a tall hatchback, cargo capacity is still adequate at 430 litres. It is also capable of towing 750 kg for an unbraked trailer, and 1,800 kpg for a braked trailer. So there's a real possibility that this may end up being an appealing tow car.
Experience
The QX30 is an oxymoron of a car, I think, especially for our diesel variant. It's inherently a sporty crossover, but it isn't fully committed to being sporty.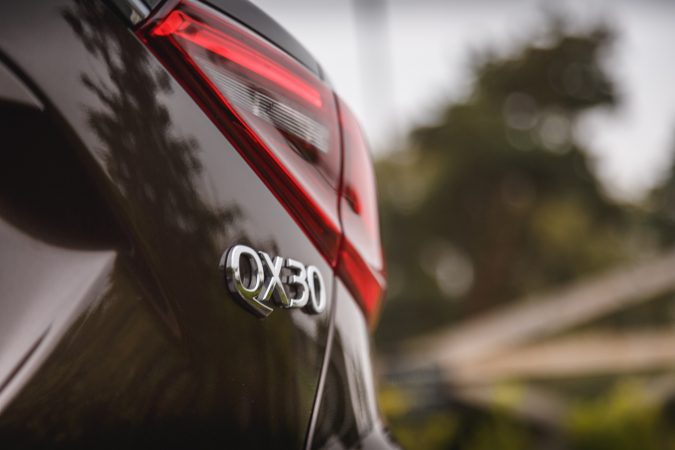 It makes torque, but the diesel engine is at its best when shifted early. For a crossover though, stylishness is pretty important, and the QX30 certainly makes the cut for looking different.
Verdict
Is the QX30 worth it? Strangely, Infiniti doesn't offer their full range for the UK market. If you go for the 'Premium Tech' model, the diesel engine is your only option.
With all that said, the QX30 is a compelling alternative to its Mercedes sibling. It's sportier, more engaging to drive, and can actually be quite comfy if needed. In my opinion, I think it looks better too.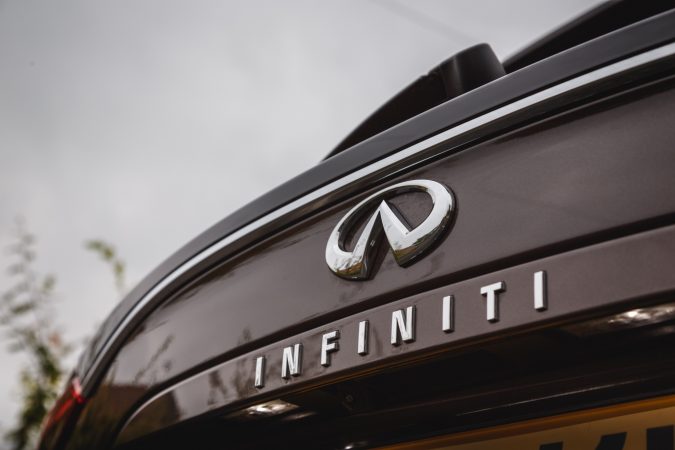 The QX30S offered overseas seems like a much more interesting prospect. However, for now, the normal QX30 is an intriguing choice if you want something different from the norm. Other than the limited interior space, it drives positively, and offers a lot of kit for its price.

Specification
2017 Infiniti QX30 Premium Tech

Price: £34,225
Engine: 2.2-litre turbocharged diesel inline 4
Power: 170 bhp
Torque: 350 Nm
Transmission: 7-speed dual clutch automatic transmission
0-62mph: 8.5 seconds
Top speed: 134 mph
Weight: 1,634 kg
Economy combined: 57.6 mpg
CO2: 126 g/km