Driven: 2018 Land Rover Discovery Sport Review
Motor Verso was recently given the opportunity to test out the 2018 Land Rover Discovery Sport SD4 HSE Dynamic Lux. Here's our review of the impressive new iteration after a week's testing.
What is the Land Rover Discovery Sport SD4 HSE Dynamic Lux All About?
This is the Land Rover Discovery Sport, the replacement for the outgoing Freelander II. The Discovery Sport offers a whole new look for the mid-size SUV Land Rover model.
It is quite clear that this Discovery Sport carries some of the typical characteristics down from the Range Rover Sport and mixes them a little with the Freelander. I quite like the newly designed car – the change was definitely due. The Freelander is starting to look a bit dated now that we have the Discovery Sport as a comparison. I can still see elements of the Freelander in this new shape; specifically, the car's distinctive C-pillar. Although the exterior carries some similarities, the Discovery Sport now incorporates 5+2 seating inside – great boot seating for small children.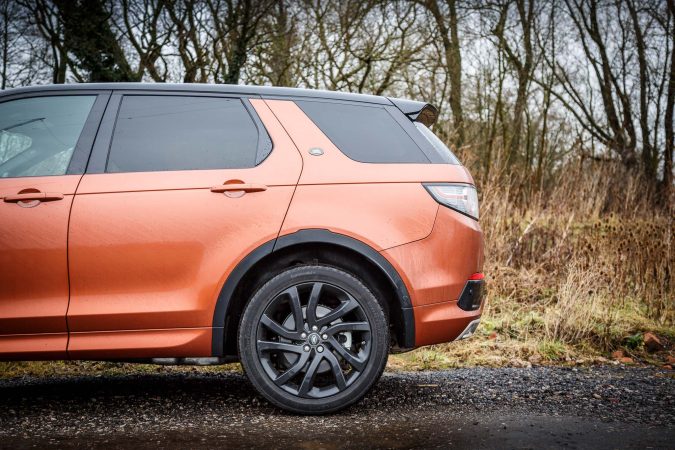 The HSE Dynamic Lux is the top of the range model, with Narvik Black mesh grille and surround, wing vents and mirror caps. There's a Discovery script on the bonnet and tailgate in Narvik Black, and at the back, we have a red sport badge. Inside, you get Windsor leather seats, Dark Grey aluminium centre side stack rails, privacy glass on the rear – and, to top it all off, gloss black 20″ five split spoke style 511 alloy wheels. This car certainly looks the part.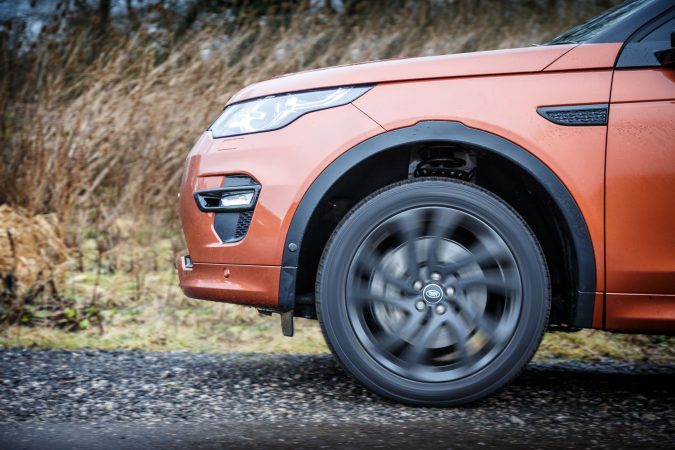 The HSE Dynamic Lux is available from £47,895. This car, in particular, has a range of options fitted, including entertainment pack & rear seat entertainment (£4,590), magnetic damping system (£840), electrically deployable towbar  (£1,005), ebony headlining (£240), and Dynamic HSE Contrast Roof  (£2,800).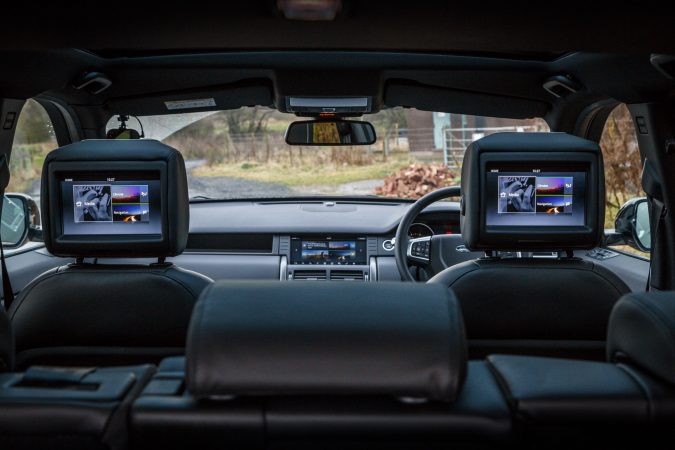 The Land Rover Discovery Sport has a 2.0-litre turbocharged diesel engine that creates 240bhp and 500Nm of torque. This power goes through a 9-speed automatic gearbox to all four wheels, meaning it gets from 0-60mph in 7.1 seconds, with a top speed on 127mph whilst still returning 44 mpg combined.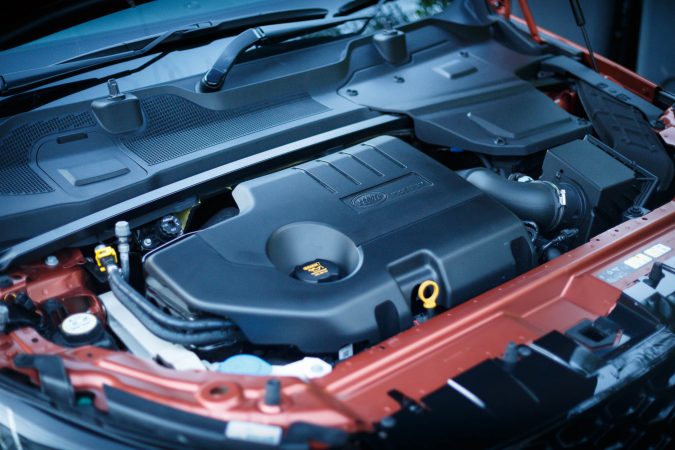 How Does it Drive?
The Discovery Sport has a similar ride height to the Freelander and feels a similar size to the Range Rover Evoque.
Once you are in the car and on the move, the ride is fairly firm, but still comfortable enough. It does iron out all the flaws in the road pretty well. However, if you're aiming for a direct comparison to a full-fat Range Rover, you're definitely going to find it's not quite as smooth. That said, the Discovery Sport has a great steering feel. It feels light and agile – nothing like your typical bulky SUV. It's a pleasure to drive around town.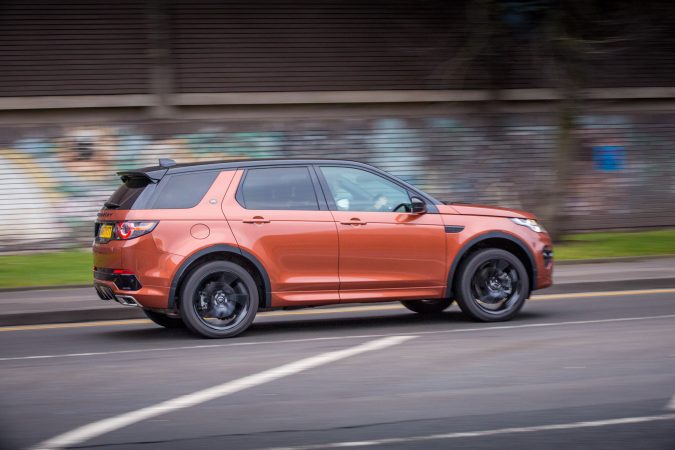 The 2.0-litre diesel engine pulls the car along really well. The 500Nm of torque goes to work well to move the car along briskly and is well matched for the 9-speed automatic gearbox. The gear changes are very quick and gentle, with the logic shifting gear as and when you expect it to. I think I did expect to get a little more mpg out of the car during my time, but I might have enjoyed having all the power a little too much.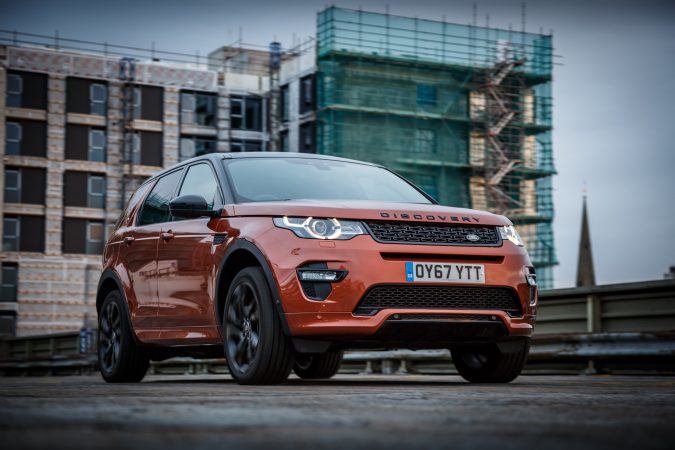 Testing out the Discovery, we definitely noticed how refined the driving experience of the car is. Land Rover has done a great job of keeping the wind and tyre noise of the car down, which will make a big difference on long distance journeys. I love the general solid feeling you get from driving a Land Rover.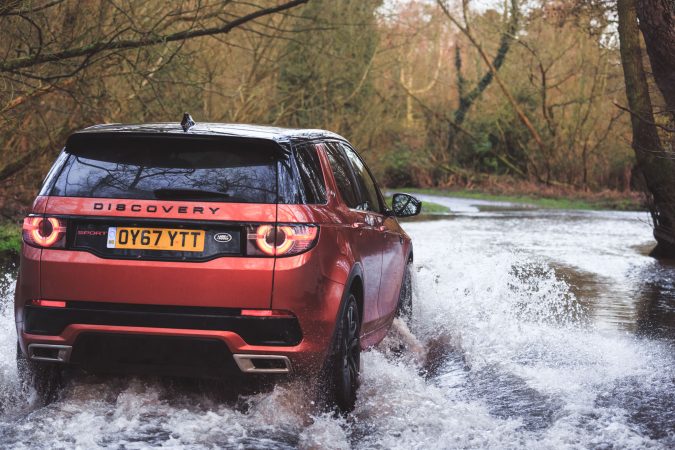 Great for Tricky Terrain
We know that not everyone who buys a Discovery Sport will be regularly tackling tough terrain, but when looking at buying a car we certainly like to know that it is capable of off-roading. During our testing, we did run across a sizeable ford that I wouldn't fancy passing your average car through, but it was no problem at all for the Land Rover Discovery Sport. It has the perfect lifted ride height, with short overhangs on the front and rear bumpers. Let's not forget about the trusted 4-wheel drive system with terrain response. I have also taken Discovery Sports off-road testing off-road tyres before, and I was very impressed with just how capable the cars were.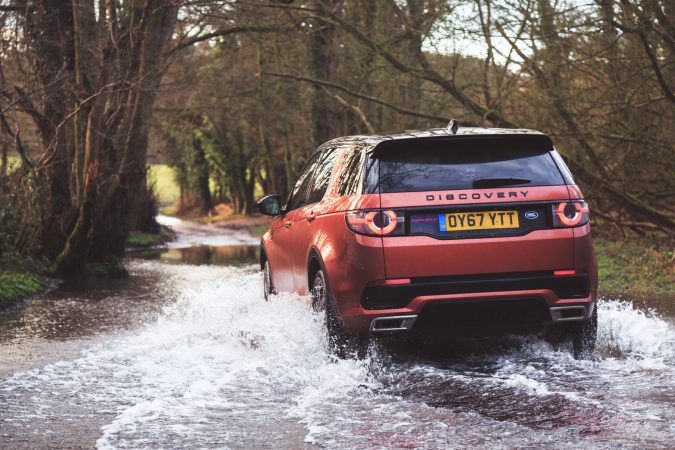 What is it Like Inside?
I didn't expect the interior of the Discovery Sport to look anything like this one did. I opened up the door for the first time and I was amazed. There was a plethora of soft and stylish materials – it certainly looks more Range Rover than the Freelander ever did.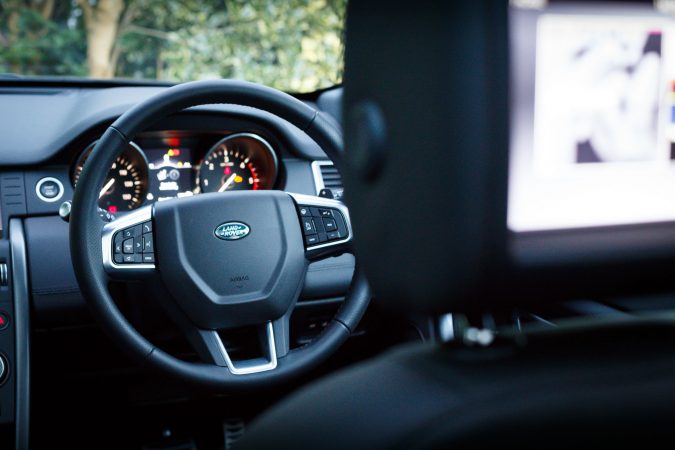 The car is fitted with the 9-speed automatic gearbox, which is controlled by a large circular knob, and although this has been around for some time now I really like how it feels, and it does have a slightly different approach from your typical gear stick. This is also a significant player in what makes the interior feel like a tidy place.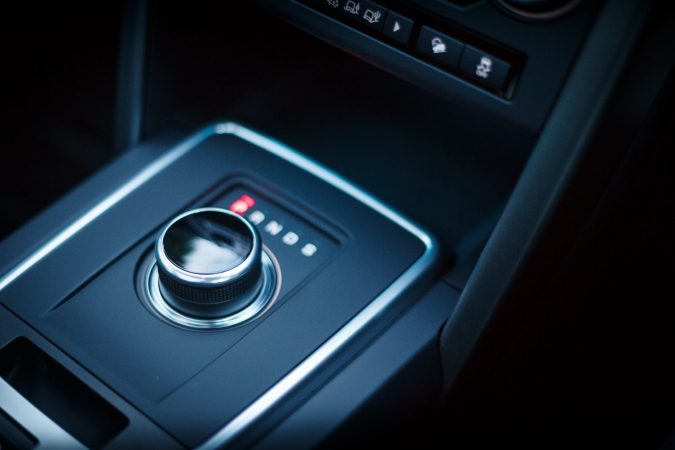 The entertainment pack on the car includes the dual-view infotainment system screen which allows the passenger and driver to see two completely different outputs from the screen. Your passenger can watch TV and listen via Bluetooth headphones whilst the driver has the sat nav on screen. It is a really bizarre thing to experience, but it's very well executed, and makes journeys a lot easier for the passengers. The infotainment system also has two screens in the rear, allowing your passengers to arrange and configure their own screen as required.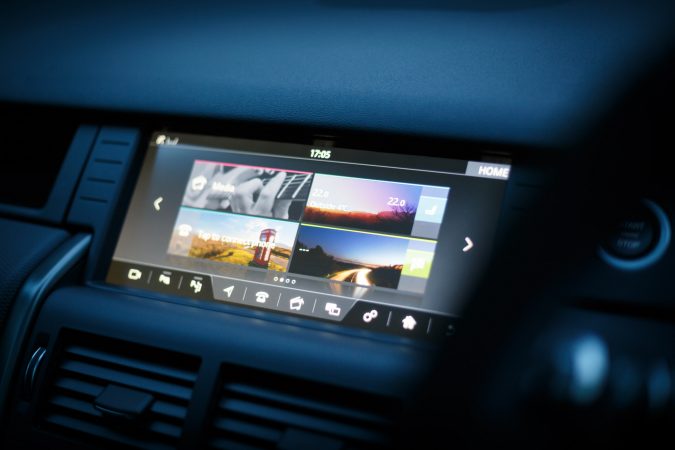 The car has front heated and cooled seats that are a pleasure to use. In the winter the heated seats with 3 temperatures allow you to quickly warm up and stay warm when it's chilly out. In the summer the vented seats allow cool air to blow through, keeping you cool. They are a great bit of kit to have in your car.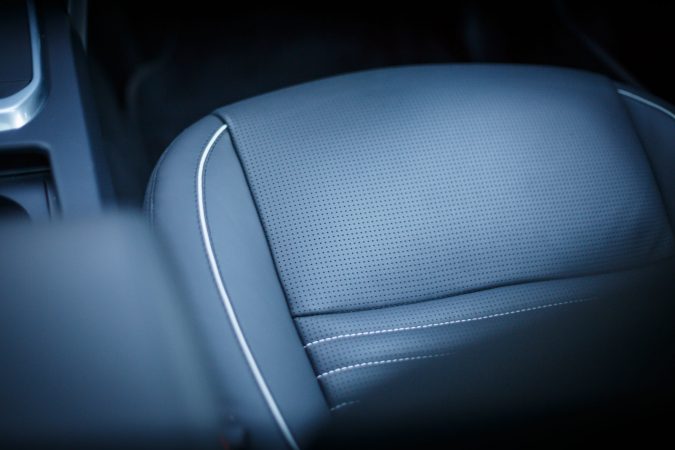 As any car with the Discovery name should be, it still has large logical buttons on the dash allowing for easy operation of the car, ensuring the controls are simple to understand and easy to adjust whilst driving.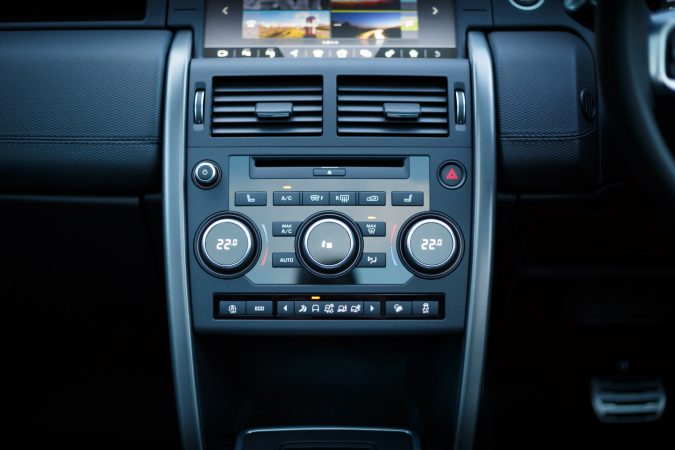 Considering the Discovery Sport isn't huge on the outside, inside the car you feel like you have loads of space. Don't forget, this being a 5+2, there are also some more seats in the boot if or when you need them. I wouldn't want to go on a long journey in them, but they're certainly useable.
The Experience
I was very impressed with just how luxurious the Discovery Sport SD4 HSE Dynamic Lux was. If you compare it to a Range Rover Sport, you feel like you're cheating the system with the benefits of better MPG, along with cheaper insurance and tax. Plus, you get similar styling and features from the bigger brother, just in a compact and more friendly package.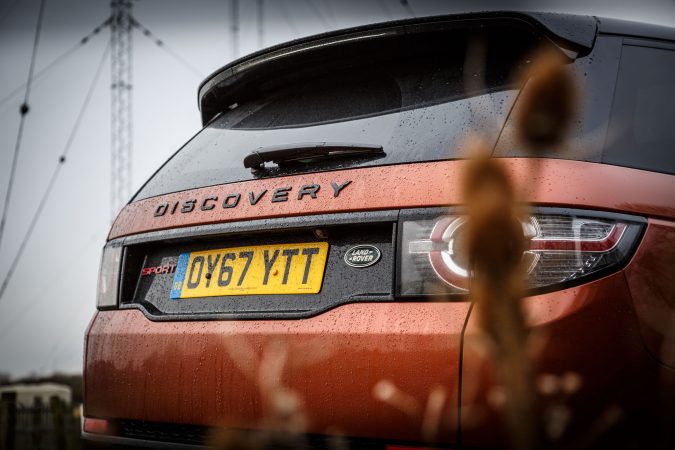 Verdict
The Land Rover Discovery Sport SD4 HSE Dynamic Lux is a super premium car with technology that boggles the mind, but most of all it is a very practical go anywhere car, whether you are moving 7 people or moving house the Discovery Sport is going to be a great partner to do it with. The HSE Dynamic Lux just adds all the sparkles on top for those wanting the very best out of their car. At £47,895 plus options, the HSE Dynamic Lux is for the wealthier customer, but still a very credible purchase. The new styling gives the Land Rover brand a fresh face that will keep the car looking new for many years to come.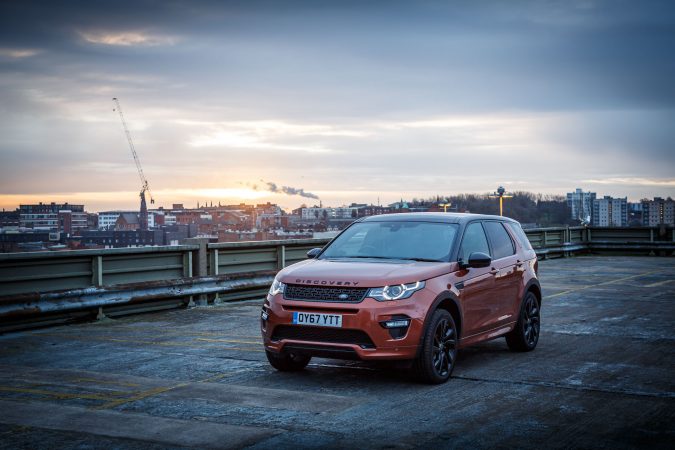 Specification
Land Rover Discovery Sport SD4 HSE Dynamic Lux Specs
Price: £47,895
Engine: 2.0 Litre SD4 Diesel
Power: 240 bhp
Torque: 500Nm
Transmission: 9 Speed Automatic AWD
0-62mph: 7.1 Seconds
Top speed: 127 mph
Weight: 1,900 kg
Economy: 44 mpg
CO2: 169 g/km
Land Rover Discovery Sport SD4 HSE Dynamic Lux Highlights 
There were some things that we couldn't fit in the formal review, but wanted to mention.
20″ Continental LX Cross Contact Tyres
As standard, the Land Rover Discovery Sport SD4 HSE Dynamic Lux comes with Continental LX Cross Contact tyres. They have been made with the UK climate in mind for SUVs like the Discovery Sport. They offer great dry and wet braking and quality handling.
They are designed to have excellent grip and traction in light off-road use. Another consideration for this tyre is to reduce fuel usage and road noise.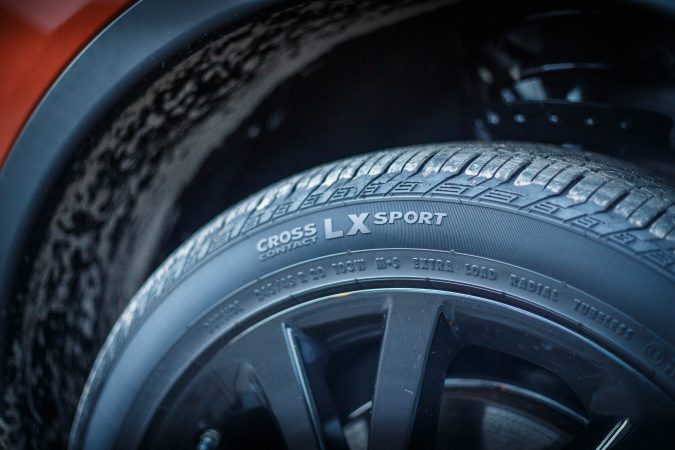 Urban Look
We often associate the Land Rover brand with off-road terrain and knee-high mud. But when you look at the concept of the car, it is a modern design, that is suited to urban areas. Shown here in Namib Orange, the vehicle looks spectacular with its rear privacy glass giving it an exclusive feel.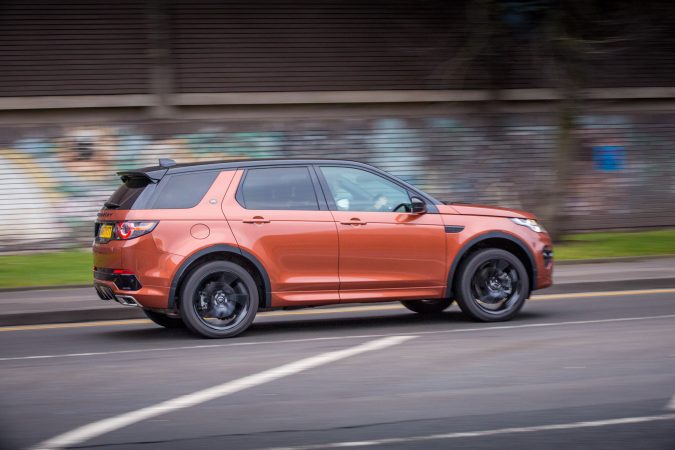 Narvik Black Touches Make All the Difference
If you are trying to figure out why the Land Rover Discovery Sport looks so different from other models, this is because of the Narvik Black paintwork. The front and back badging has been finished in Narvik Black to match the grille, mirrors and roof. This transforms it into a bespoke, premium style car.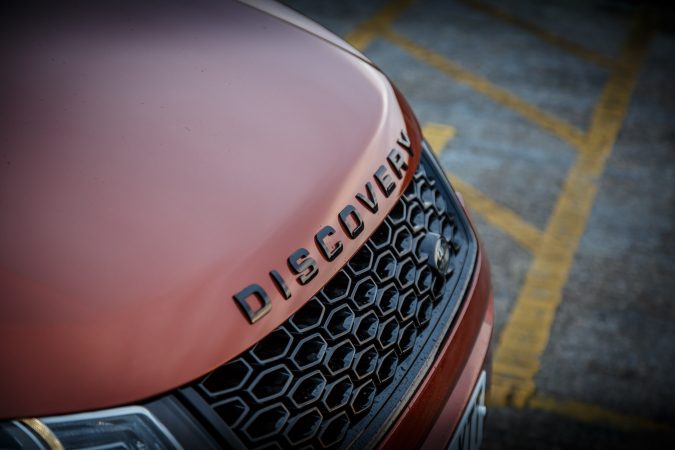 Built To Go Anywhere Land Rover
The Land Rover Discovery Sport is no soft-roader like many others on the market. It is an out and out 4×4 that will tackle most terrain without a problem, which is what fans love about the legendary brand.