2018 Range Rover Evoque Convertible Review
With the keys to one of the quirkiest new cars you can purchase in Britain today – the 2018 Range Rover Evoque convertible, we are keen to give it a try to see if it's an viable choice.
What's the Range Rover Evoque Convertible all about?
How many convertible crossovers do you reckon you can come up with? Considering that very few have even been conceptualised, not many. And if we're talking about crossovers with a fully automated folding roof assembly, even scarcer.
But, if you reckon the Evoque looks good but could do without the roof, then Range Rover has you covered. Cue the new Range Rover Evoque convertible, a cabriolet crossover that's filling an essentially nonexistent niche in Britain. Is it a good idea?

A major aspect for any convertible is the drop-head aesthetics. In my opinion, I feel that its proportioned oddly, and remains as a departure from the typically elegant Range Rovers we're familiar with.
That said, it definitely assumes a rather imposing stance. It's tall, brash and unapologetic. Range Rover know its ostentatious, and the brazen display of panache is entirely intended. While it's definitely a tad too flamboyant for most Britons, it's not unfeasible to imagine some that favour its loud styling.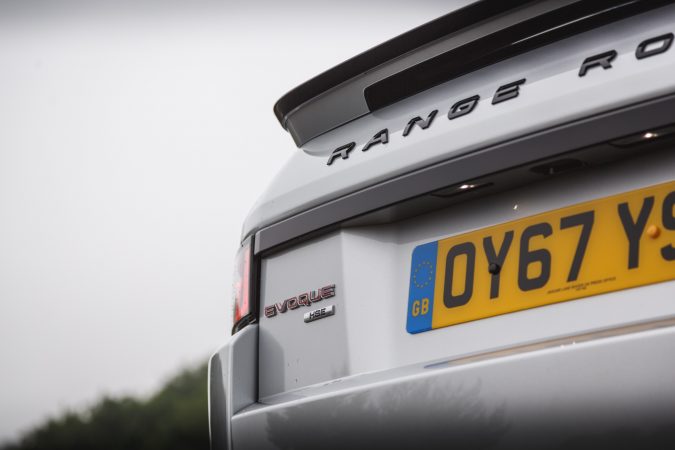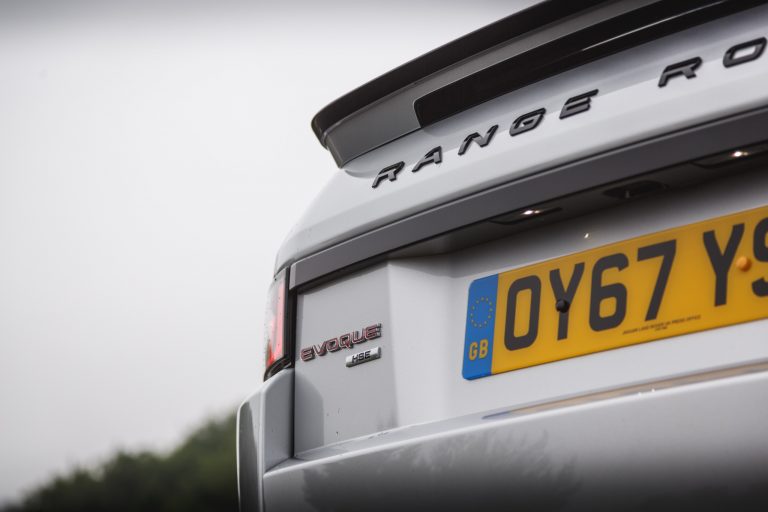 To complement our test Evoque convertible's brutish looks, it's sitting on a set of bold 20″ 5-split spoke 'Style 504' wheels in satin black that's standard on the HSE Dynamic. You may also notice a lot of blacked out details littered around the exterior of our Evoque convertible, which supplements the 'Indus Silver' paint job very well.
Powering our 2018 Range Rover Evoque convertible is the 2.0-litre 'Ingenium' turbocharged inline-4, identical to what you'll find within a normal Evoque. Which means that it produces the same 240 horsepower and 340 Nm of torque.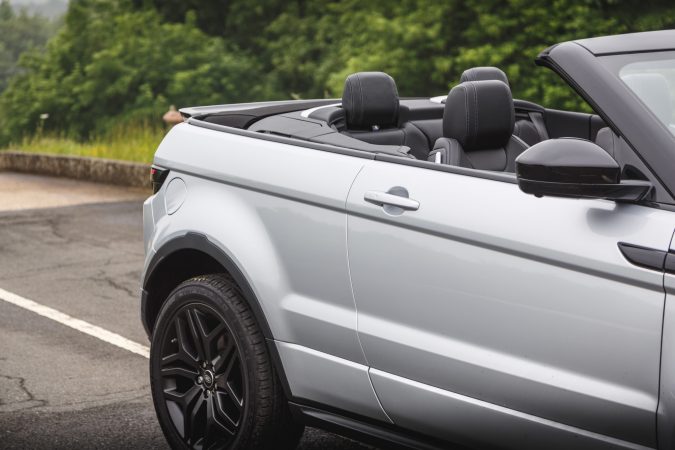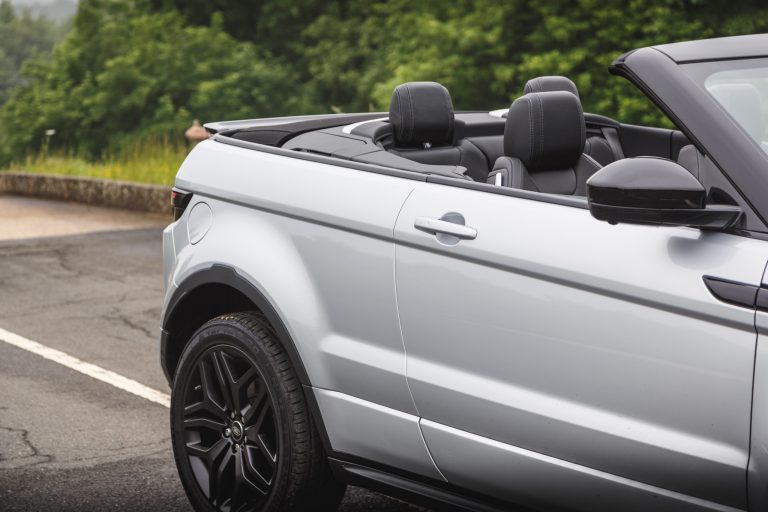 Married to a 9-speed automatic transmission, power remains sent to all four wheels with all of the off-road features found in a normal Evoque. This drivetrain will propel the Evoque convertible from 0-62 mph in a surprisingly peppy 7.8 seconds, onto a top speed of 130 mph. Just about 1 second to 62 mph slower than a normal Evoque.
Surprisingly, even though it's an extremely convoluted crossover, the Evoque convertible will still muster 32.9 mpg combined while putting out 201 g/km of CO2. Very comparable to a standard Evoque.
Currently, the only other engine available is the 2.0-litre turbodiesel that outputs 180 horsepower and 430 Nm of torque. Mated to the same exact transmission, it's 1.7 seconds slower to 62 mph, but touts around 10 more mpg combined.
How does it drive?
Boasting such a remarkable automatic folding canvas roof assembly has a hefty caveat, literally. All the mechanics and braces required to bring the Evoque convertible into reality meant that even the lightest variant weighs approximately 100 kg more than the heaviest normal Evoque.
Despite the unbefitting looks, the turbocharged engine remains strong motivating the Evoque convertible along at an agreeable pace. The engine is very dependable whenever you need the extra grunt.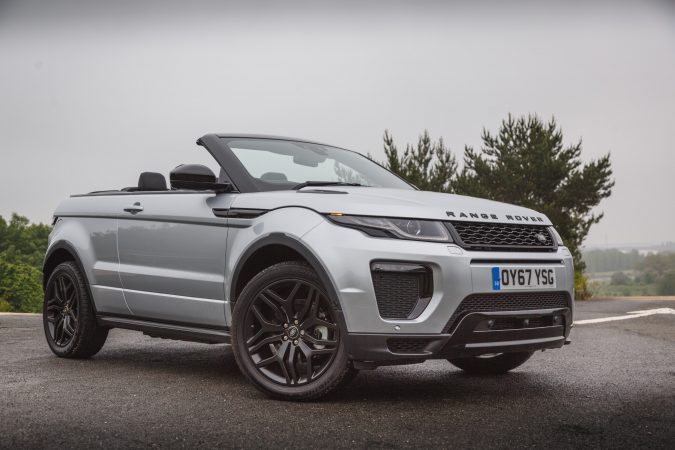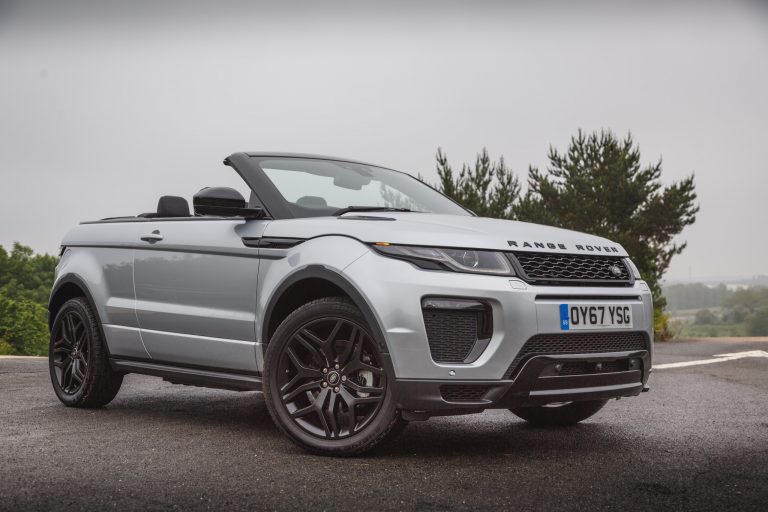 When you give it throttle, it suitably hurries itself along nicely, surging reasonably brisk. You'll have most of the torque you need should you demand it anywhere in the rev range. It behaves just like it does in a normal Evoque but with a laxer quality of delivery.
The transmission is pleasingly smooth and leisurely with prompt response whenever you request more torque. It also upshifts continuously whenever possible on the motorway to conserve fuel. However, at times during slow speed urban navigation, the car seems perplexed choosing gears since there's so many to work with.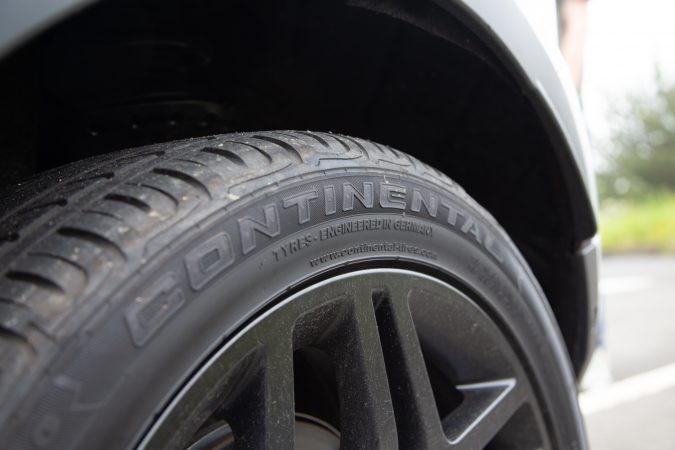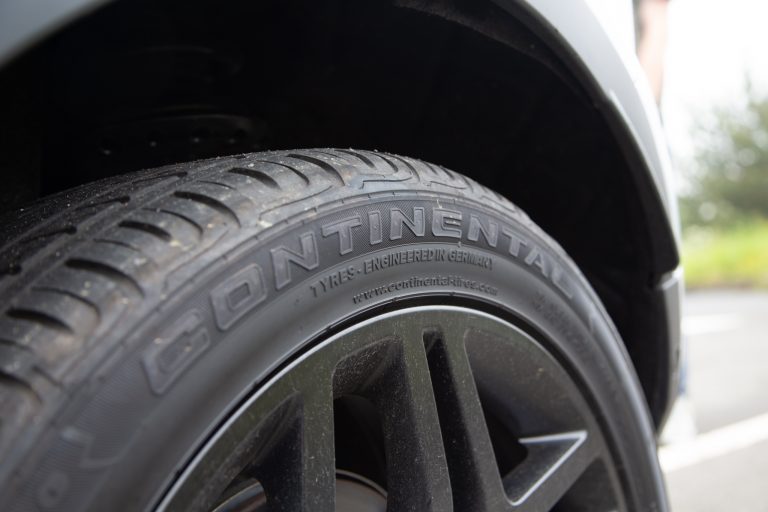 While the Z-folding roof is definitely a bit of an engineering marvel in its own to witness in action, all that added complexity impose a considerable amount of weight penalty on the Evoque convertible.
That said, it is a commanding car to drive in. You're in a convertible, but somehow riding taller than most on the road. It handles just well enough, with surefooted confidence that assuredly rotates itself around bends. Nothing particularly remarkable, but it's assertive.
However, as you may expect from a 2-tonne crossover convertible, it does exhibit noticeable body roll. All of the controls are effortless to work with: light and consistent, albeit uncommunicative steering, and similarly featherweight brake action. The brakes do feel quite spongy to engage, no doubt an effort to veil the Evoque convertible's sporty chassis.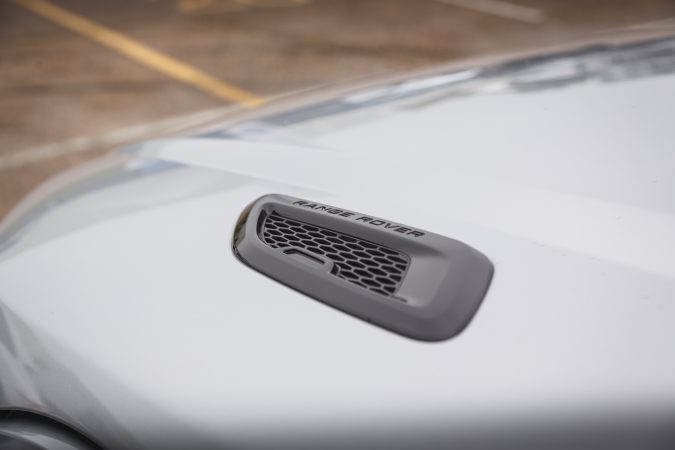 You'll really want to keep the roof down, considering that with the roof up it feels rather dark inside when compared. With the canvas roof up, the visibility is astonishingly difficult. Thankfully, since you can extend and retract the roof at speeds up to 30 mph, it shouldn't prove to be too big of an issue.
Regardless, most of the time, the Evoque convertible feels quite stout with a steadfast demeanour that's plenty laudable taking into account of its cross-trail prowess. Even off the beaten path, this car is no less impressive than a normal Evoque since it still comes with Range Rover's 4WD differential and variable terrain response.
The Evoque convertible is truly in its element when you bring it roving around town though. It's an exceptional cruiser, with an impeccably well-sorted suspension that pleasingly glides over bumps and crevasses, while coping with undulations competently.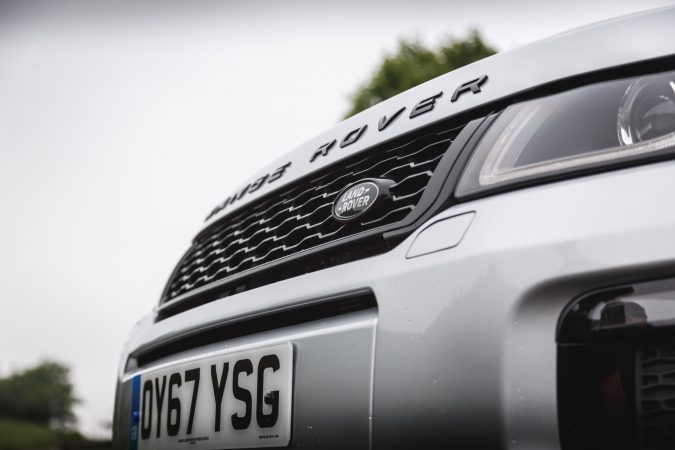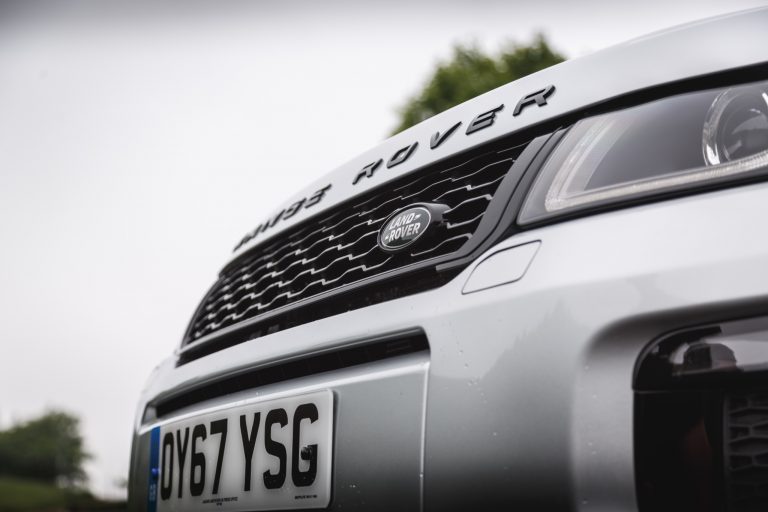 Even on the motorway, the 9-speed transmission keeps its engine agreeably hushed. Although there definitely is a bit of wind noise and tyre roar, it's nothing unacceptable even for a luxury vehicle.
What is it like inside?
Step inside though, and its everything you might see even on a normal Evoque HSE. Despite the fact that you can go wild with your Evoque convertible's options list, heck, you can even opt for teal-coloured leather-wrapped sports seats.
The full Ebony hue with Windsor leather will undoubtedly be one of the most popular interior upholstery that potential prospects will select. It definitely looks the business, however out of place it may seem in a convertible crossover. The seats are indeed rather pleasant and apt at holding you in place when the going gets particularly rough. For the HSE Dynamic, the front seats are even 12-way power adjustable.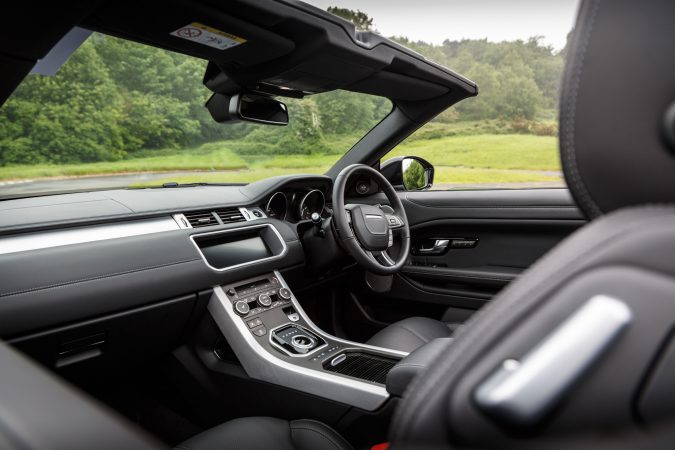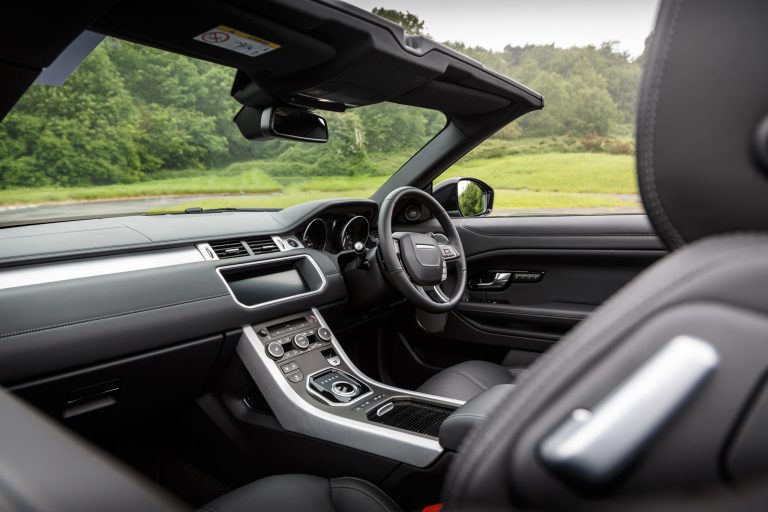 And its built like a Range Rover as well, with solid material selections and exceptional build quality. Everything inside is orderly, intuitive and geometrical which is appealing to the eyes.
If there's one markedly praiseworthy thing within the interior of the Evoque convertible, it's the 10.2″ touchscreen infotainment system found at the centre console. It's instinctive to operate, while its snappy response means that its a joy to use.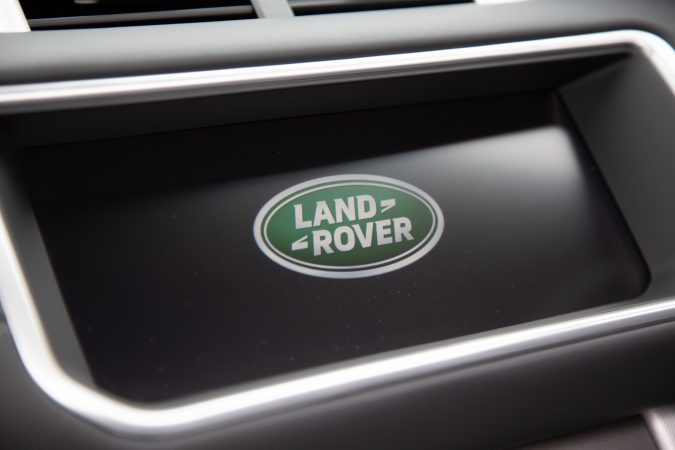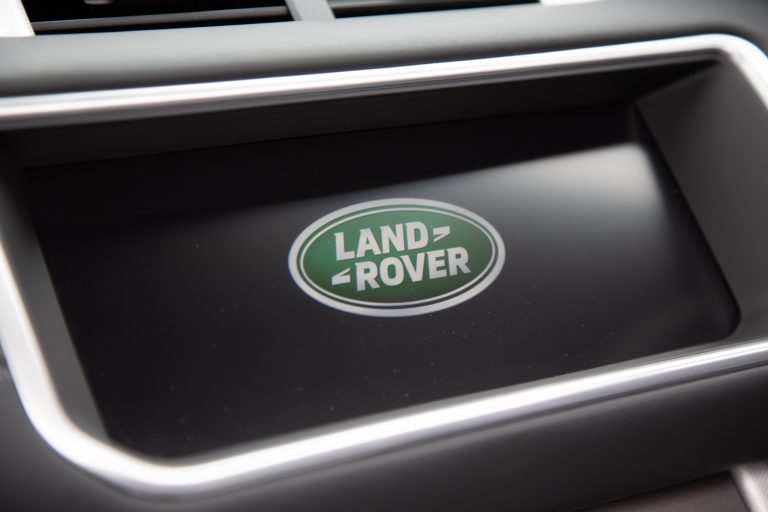 The small item storage provided is adequate, and the front seats are expectedly capacious. What is startling though is the fact that the back seats are actually usable, in fact, it's quite generous especially when you consider that its a convertible. Rear headroom is just sufficient due to the steep rake of the canvas roof.
For the folding room mechanism, you do forsake quite a considerable amount of cargo capacity. At 251-litres, the Range Rover Evoque convertible's boot isn't exactly cavernous, but it'll last for a short getaway. You can always use the rear seats to supplement your otherwise paltry boot.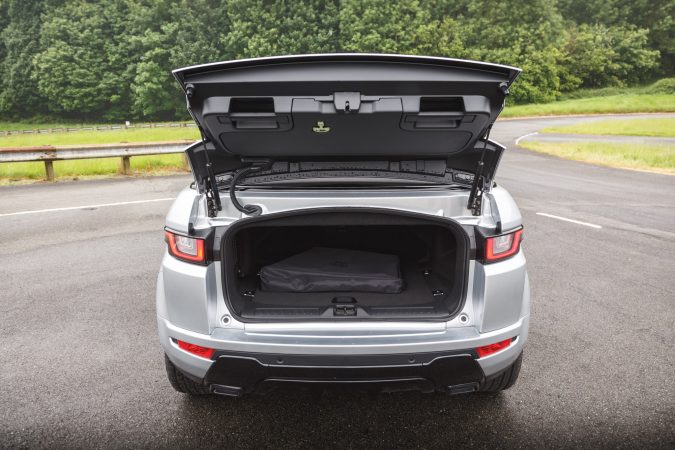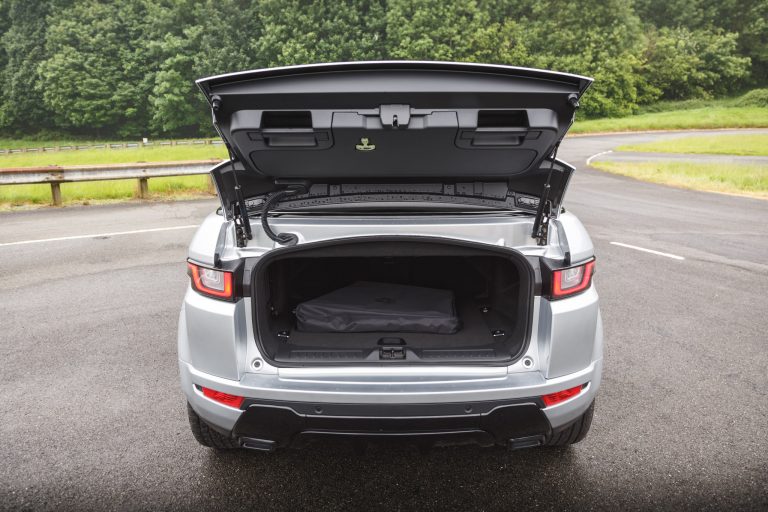 The Experience
If I'm being frank, something like the Evoque convertible is one of the least sensible vehicles you can purchase over in Britain. You'll barely get to use it with the roof down, and you'll look quite out of place roaming around the city in your convertible crossover.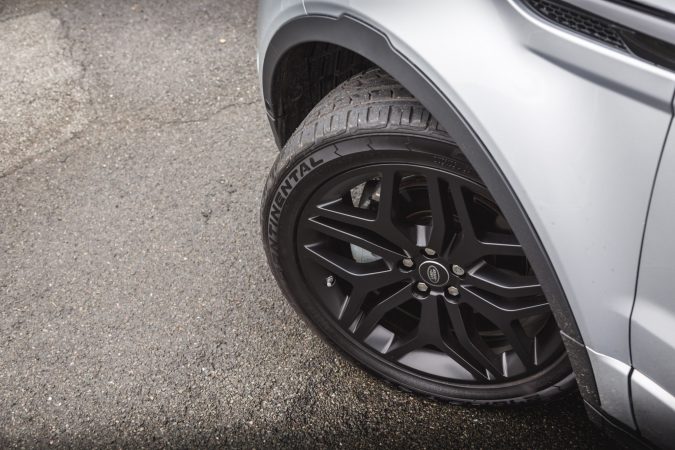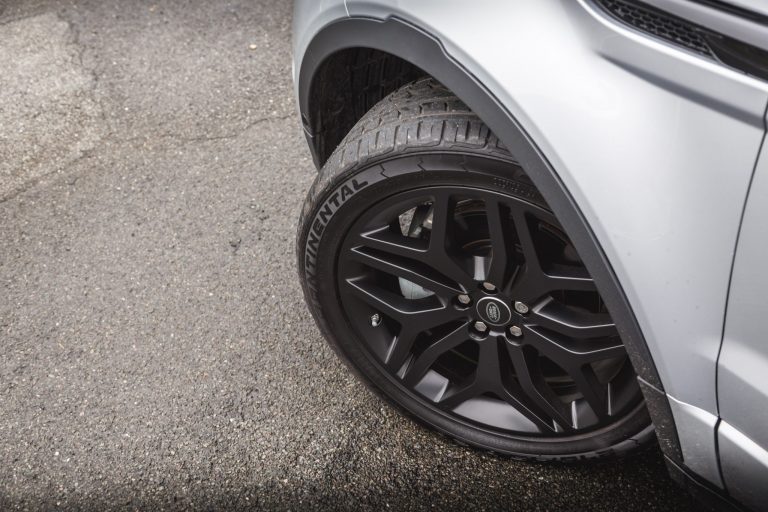 That said, it's a unique attempt at a crossover, something we haven't really seen lately. While it remains plenty competent on the road, driving it off-road with the roof down is definitely a novel experience.
Price Of Range Rover Evoque Convertible
The thing with the Evoque convertible is that it's not exactly an affordable crossover. Starting from £46,450 for a base spec SE Dynamic, it's quite pricey for a toy. In fact, our HSE Dynamic model is asking for £53,085. I'm certain that it'll still find a niche of its own though.
Verdict
So, is the Range Rover Evoque convertible worth it? For normal folks, especially those living in Britain, it's not a pragmatic decision. However, for the affluent living in California, Miami, etc, I can definitely see the appeal of something like this.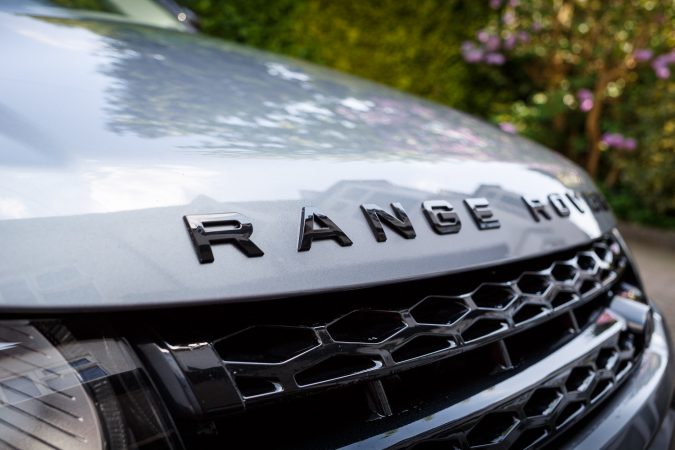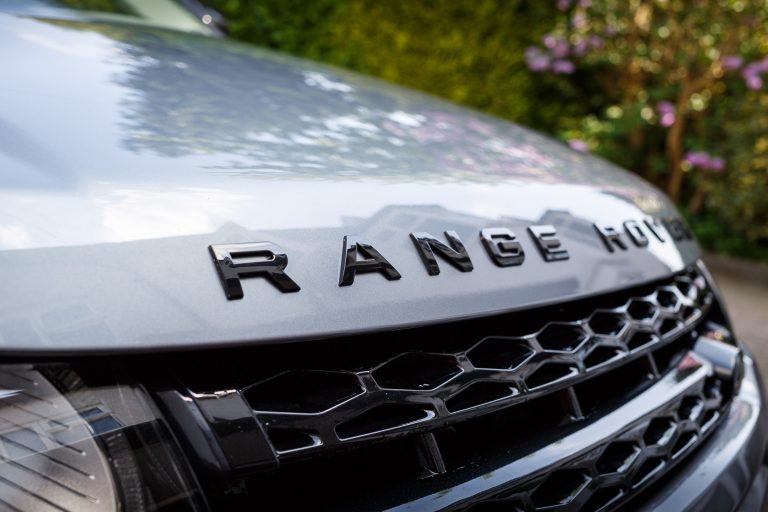 People will look at you twice when you're in your Evoque convertible with the roof down, and that's the whole ethos of a town cruiser. For those with the money to spare on a toy, the Evoque convertible is one-of-a-kind without peers. In terms of road presence, the Evoque convertible is an unorthodox benchmark to match.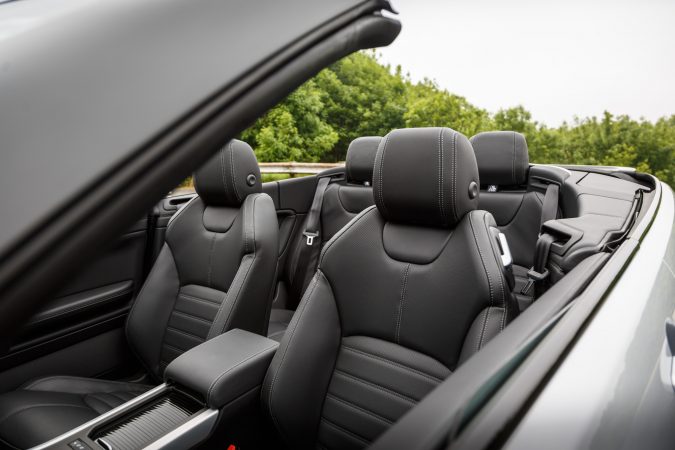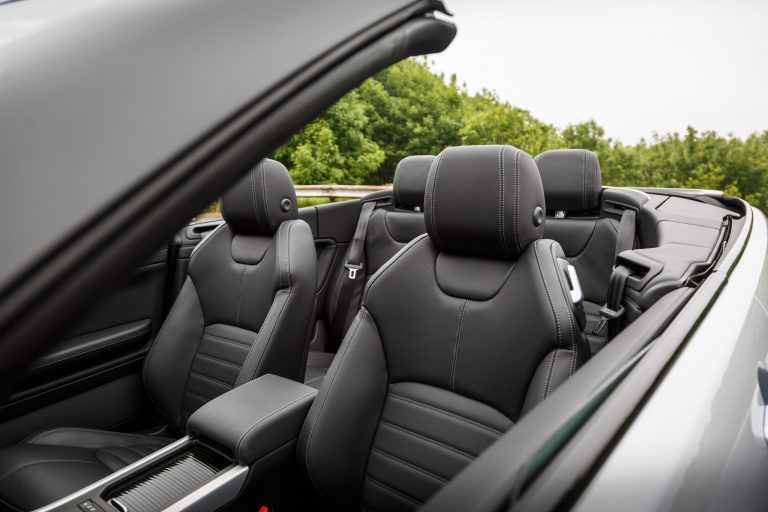 2018 Range Rover Evoque Convertible HSE Dynamic Specs
Price: £48,850
Engine: 2.0-litre 'Ingenium' turbocharged inline-4
Power: 240 hp
Torque: 340 Nm
Transmission: 9-speed automatic
0-62mph: 7.8 Seconds
Top speed: 130 mph
Weight: 2,037 kg
Economy combined: 32.9 mpg
CO2: 201 g/km