DRIVEN: 2017 Subaru Levorg GT Review
I got the chance to review the quite exclusive Subaru Levorg, and here are my thoughts on this Subaru estate.
What's the 2017 Subaru Levorg GT all About?
The Levorg is the successor to the Legacy Outback. An attempt to further broaden their model range, if you will. During its launch in 2014, Subaru was keen to keep the Levorg a Japan-only exclusive. In the following year though, Subaru introduced the Levorg to the European market and publicised it at the Geneva Motor Show that year.
While the name, 'Levorg', might not make sense, it is a linguistic blend of words according to Subaru. Legacy, revolution, and touring. These three words do state the Levorg's purpose and apparently harks back to Subaru's long heritage.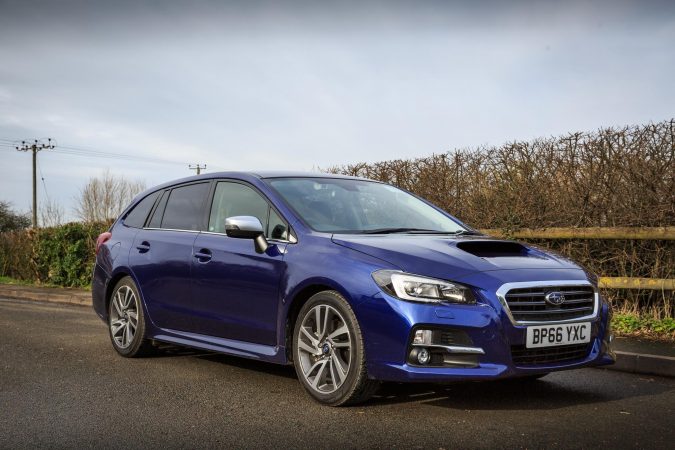 It's an estate platform designed by referencing the Legacy, the Impreza, and the WRX. This is not a bad thing at all, as those three are very well sorted and developed bases, refined over decades. Thus, I had high expectations from the Levorg.
The front of the Levorg gives us a feeling of deja vu. Bar a few differences on the grilles, the headlamp and fog lights are extremely similar to the WRX's. The Legacy has inspired the grilles of the Levorg as well and that bonnet scoop is definitely from the WRX.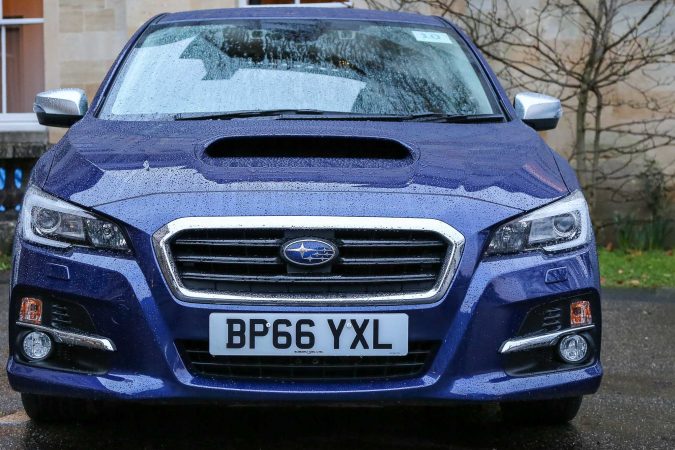 Despite that, It's not a bad look. Think of it as a refined, more mature WRX. The rear of the car is pretty tame for Subaru standards, being simple and practical. Subaru finishes off the Levorg with the nice 18″ alloys. Our model is in the lovely Lapis Blue Pearl, which is a darker shade than Subaru's signature Mica Blue.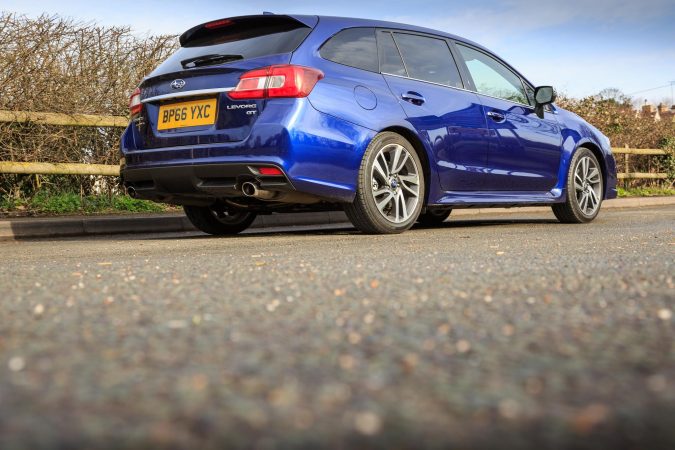 Options are very limited for the UK market at the moment. We're offered the smaller, turbocharged and direct injected 1.6-litre boxer-4 engine. It does offer decent power, at 167 hp and 250 Nm of torque and, excitingly, this engine is all new. With Subaru's latest know-how put into it, it is lighter and more efficient, while also being more responsive.
The only gearbox you can opt for is Subaru's Lineartronic CVT. They say it provides realistic acceleration response and is the first CVT adopted for AWD. Of course, the Levorg drives on all four wheels, as per Subaru standard, with torque vectoring.
All of that means the Levorg can get from 0 to 60 mph in under 9 seconds, reaching a top speed of 130 mph. It will achieve 39.8 combined mpg and put out 164 g/km of CO2. Not too shabby, considering it weighs over 1.5 tonnes.
How Does it Drive?
Given that Subaru enters touring car championships with the Levorg, this is where it should truly prove the 'Touring' bit of its name.
This is one capable package because the engine is really strong. It has a lot to give considering it's only a 1.6 litre. The car will pick up speed briskly if you poke it and the wide torque band makes overtaking relatively effortless.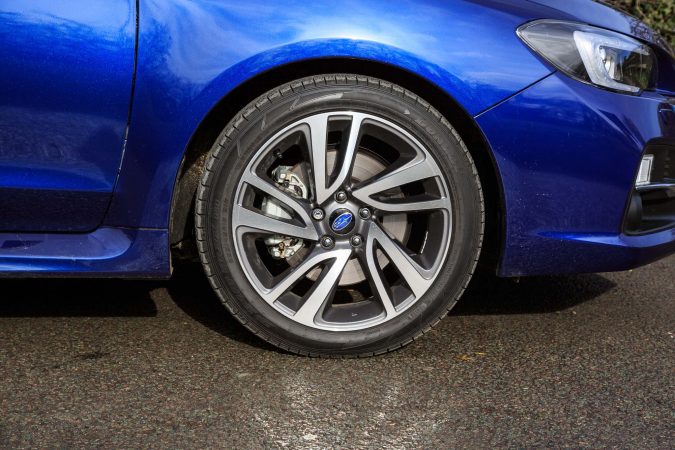 Again, the ride quality is superb. As you would expect, it's a more balanced ride than the hardcore STi. You can actually drive the Levorg just fine on most bumpy roads, but it still suffers a bit from particularly poor roads.
The car is remarkably well planted through corners, considering it's the softer GT. There is plenty of grip in your arsenal thanks to the proven Symmetrical AWD. Do note that the AWD split in Levorg favours the front wheel, at 60:40 power distribution front to rear.
It is an agile car, quite deceiving considering how big it is. Sometimes though, in spirited driving, you just want more from the engine. The 2.0 litre variant might be ideal, but we're not given that engine in the UK.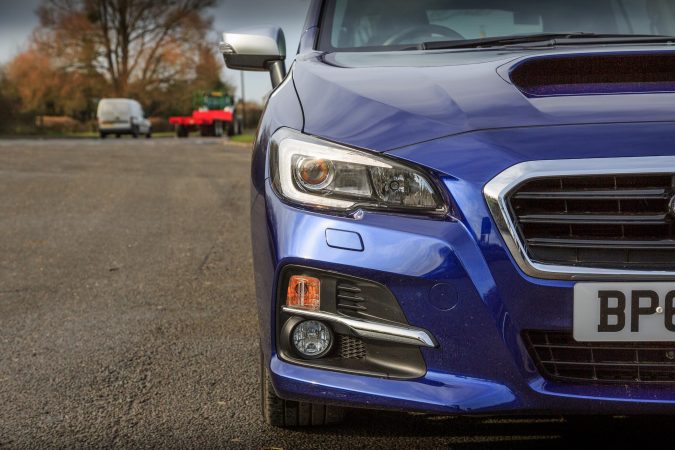 You can make your own gear inputs via paddles behind the steering wheel and, in that case, it acts as a 6-speed auto. I think this is the best CVT I've driven. Subaru has been pushing the whole notion of CVT nowadays and to be fair I think that it will work for them.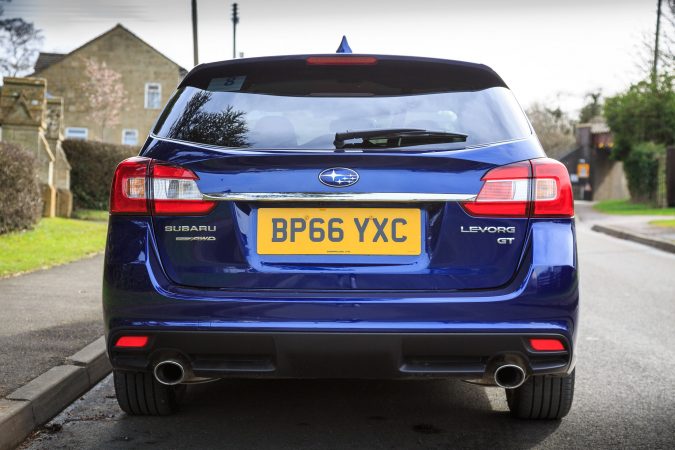 It's an incredibly solid platform, considering it's still a very new car. Subaru is really good at making a car handle. The brakes bite strong and well so they will easily stop this hunk of weight. It inspires a lot of confidence as well.
There is very little droning in the interior, no doubt thanks to the CVT keeping everything quiet. Subaru has put some properly clever engineering into developing the Lineartronic CVT and the results show.
What's it Like Inside?
According to Subaru, the interior of the Levorg is supposed to evoke the sportiness of the exterior design while retaining solid cabin space and practicality.
Stepping inside, everything is really quite familiar. In fact, an awful lot of it is straight up borrowed from their Impreza. To be fair, the interior is never where a Subaru shines, but they have made attempts to create a more competitive and luxurious interior in the Levorg.
To begin with, the seats are quite nice. It provides enough padding and the side bolsters are really good. It isn't too hard to get in and out of, yet provides enough support during hard corners.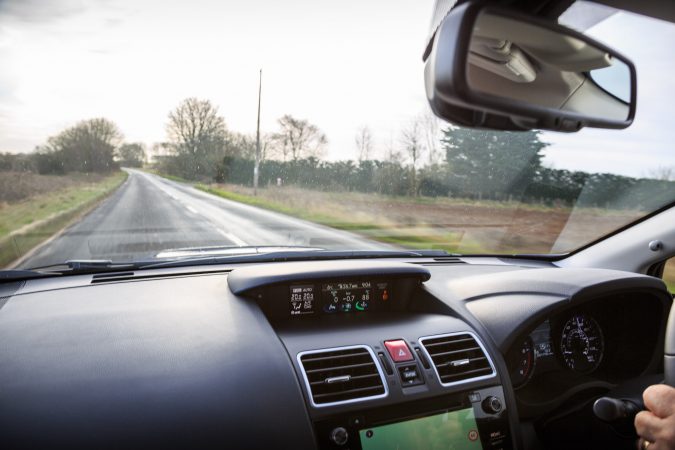 They have used soft touch materials more sparingly here to give a sense of class. It's not too bad a place to be in, but still not quite up to the German standard.
The centre console is where I rather like them though. It's simple and intuitive. All the buttons you need to know are well-defined and big, so they are easy to hit while driving. The centre has a 7″ touchscreen as the infotainment system. Above that, there is an additional, smaller 4.3″ information display to feed car statuses to the driver.
Subaru went with blue stitching in the Levorg, unlike the red in the STi or BRZ. It looks good and does bring the quality up a notch. The steering wheel is a sporty, flat-bottomed design with a lot of buttons.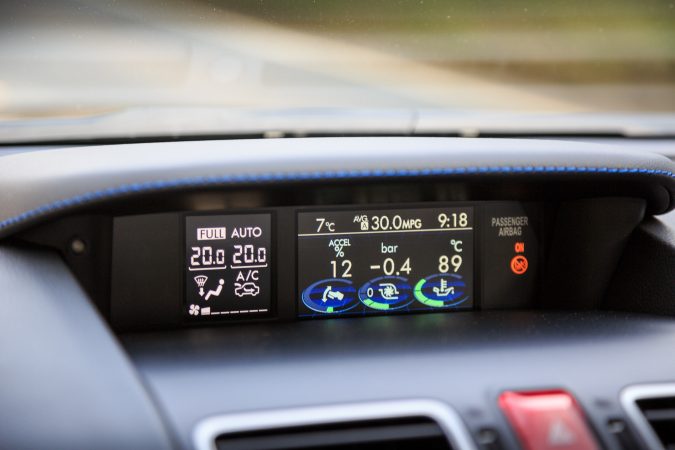 The amount of space is marvellous. Passenger leg room is excellent and head room is plentiful. There is no child-sized design here. Adults will fit into the back seats with plenty of space to spare so will undoubtedly be able to last motorway hauls.
Subaru has also provided a lot of storage cabins throughout the Levorg for the passengers. The boot space is predictably big, at 522 litres. There is a small pocket below the boot floor that has 40 litres of storage too. It opens wide and is very flat, therefore making load up procedures a breeze. If you ever need more space, the rear seats fold too, giving you 1,446 litres.
The Experience
The Subaru Levorg was a great drive. The CVT works really well if you keep it sensible and turbo lag is unnoticeable. In addition, the Levorg feels properly made and designed by the Japanese. It's a really robust wagon, built to a high standard considering its Subaru. Dynamically, the Subaru Levorg is above the competition.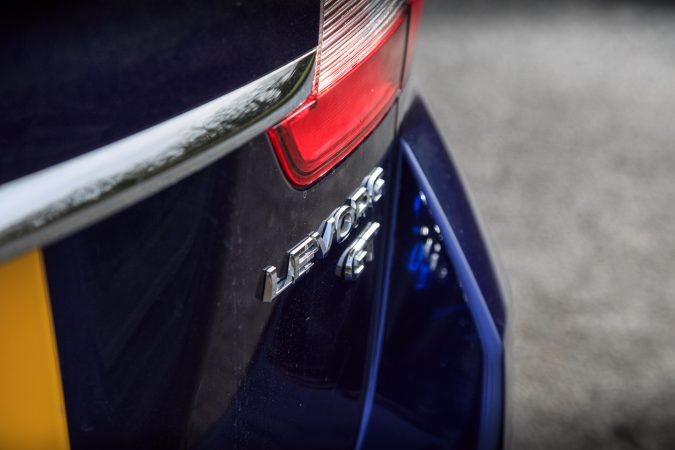 Verdict
Should you get the Subaru Levorg? It's STi money, at £29,680. However, while I wouldn't want to drive the STi everyday, I wouldn't mind owning the Levorg. It's a good car, with no major fault for the market it's made for.
Given that, if you don't mind Subaru still playing catch up on the interior front, you can't go wrong with a Levorg. It looks good and will no doubt slowly grow on those who disagree, as per Subaru tradition.
For the enthusiasts though, the CVT gearbox might not be a good solution. It takes away the engagement between driver and car. I feel like the engine has more to give, but is restricted within the confines of infinite gear ratios.
As of now, this is decidedly the most affordable AWD, sporty wagon with a racing pedigree you can buy. It's jack of all trades, and master of none. It's made to appeal to a wider audience, and to mark Subaru on the map. Have they done it?  I think yes, but they need to give buyers more option to truly stand on its own feet.
Video Highlights
Specification
2017 Subaru Levorg GT Review
Price: £29,680  
Engine: 1.6-litre Boxer turbo 4-cylinder petrol 
Power: 170 PS
Torque: 250 Nm
Transmission: Lineartronic CVT with override
0-62mph: 8.9 Seconds
Top speed: 130 mph
Weight: 1,568 kg
Economy combined: 39.8 mpg
CO2: 164 g/km
Author: Paul Hadley
News content images are sourced via www.newspress.co.uk for editorial use.