Packed grids featuring a variety of cars thrilled the Snetterton crowd as the 750 Motor Club hosts its first race meeting of 2020. Taking place on the 200 circuit, each race was as thrilling as the next with lots of slipstreaming and close finishes, the drivers didn't disappoint.
RLM Bikesports & Sports 1000
It was a great day for Josh Smith in his Radical PR6, taking pole position and taking victory in Race 2. Despite an incident in Race 1 which dropped him through the field, he bounced back to take a commanding win from Race 1 winner, Martin Books.
Meanwhile in the Sports 1000 class, Ryan Yarrow matched the efforts of Smith by taking pole position and going on to win Race 2. It wasn't all straightforward though as nearest rival, Richard Morris, finished only a second behind after battling throughout the race.
Richard Morris claimed victory in Race 1 of the day claiming a new race lap record in the process.
Alfa Romeo Championship
With the Alfa Romeo Championship moving over from the BRSCC, all eyes were on reigning champion, Tom Hill, to see if he could put up a strong title defence in his Alfa GT. Any doubt was soon put to rest as he took a commanding two class wins from two races to finish the day tied 1st in the overall standings. This also puts him in a good position in the Power Trophy class where he currently leads by 7 points over Dave Messenger.
The only man who could prevent Hill from having things his own way was Andrew Bourke who also took two class wins from two races. As a result, both drivers are now equal on 43 points heading into Round 2 of the season. Bourke also leads the Twin Spark class by a healthy 11 points.
Graham Seager put in a consistent performance to take the lead in the Modified class. Currently lying 3rd in the overall standings just 4 points behind Hill and Bourke courtesy of a 1st and 2nd in the overall and class classification.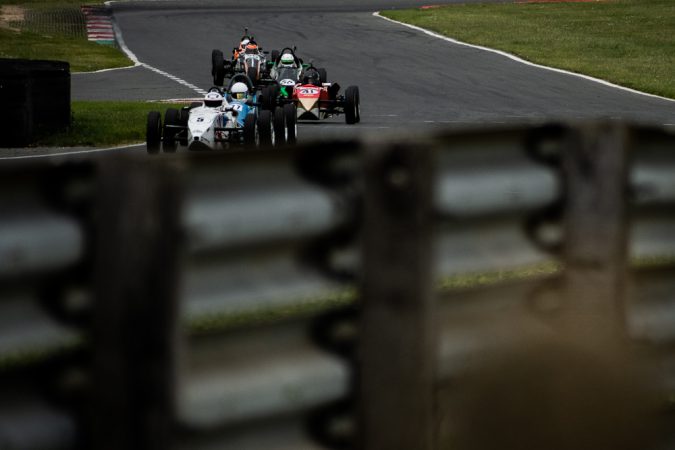 Heritage Parts Centre Formula Vee
With a packed grid of 30 cars waiting to head off into a slipstreaming frenzy, all eyes were on the Formula Vee series as the cars headed onto the grid. With these cars suiting the Snetterton 200 circuit perfectly with its long straights and flowing corners, the action was plentiful.
James Harridge took two easy victories to secure an early championship lead. However, with an engine starting to fail at the business end of Race 2, the unfortunate red flags turned out to be very fortunate for Harridge.
Ian Buxton put in another strong showing to take a duo of second place finishes fending off multiple attacks from the likes of Daniel Hands, Peter Studer and Maurice Gloster. Also benefitting from the red flag to maintain a close second place in Race 2.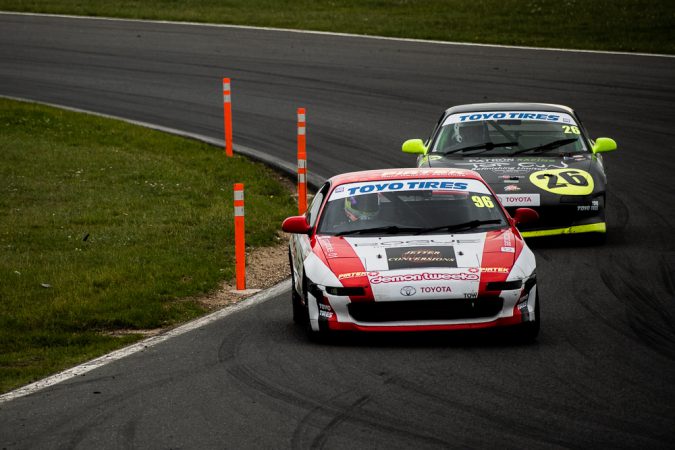 Toyo Tires Toyota MR2 Championship
With a capacity 38 car grid, three different classes and a bunch of eager drivers, the Toyo Tires MR2 Championship started its season with a bang.
Aaron Cooke narrowly edged out Paul Cook by just 0.7s in the first race of the day. Fastest lap honours however went to Paul with a 1:28.33, a new race lap record at the Snetterton Circuit. Shaun Traynor finished a distant 3rd to end up as the highest placed Class C car.
Race 2 saw more intense action with Cooke and Cook both being forced off the road at various points during the race, in turn suffering damage to their cars. This paved the way for Nick Williamson to take his first victory in the series in dominant fashion.
Aaron Cooke put on a late race charge finishing in 4th and setting the fastest lap in the process. However, he ran out of laps to catch and pass Shaun Traynor and Daniel Bryant who took 2nd and 3rd places respectively.
K-Tec Racing Clio 182 Championship
A hugely dominant display from Ryan Polley saw him claim not only two victories from two races but also the fastest laps in both performing a clean sweep of the weekends racing.
Further back Scott Edgar took a second place finish with the ever flamboyant Simon Freeman holding a strong third place. They were both highly relieved to pull away from the intense battle for fourth. Josh Larkin, Tom Hall and Nick Garner all crossing the finish line within a second of each other.
Race two saw an even closer finish for the final spot on the rostrum. Nick Garner just edging out Scott Edgar by one hundredth of a second for a second podium of the day.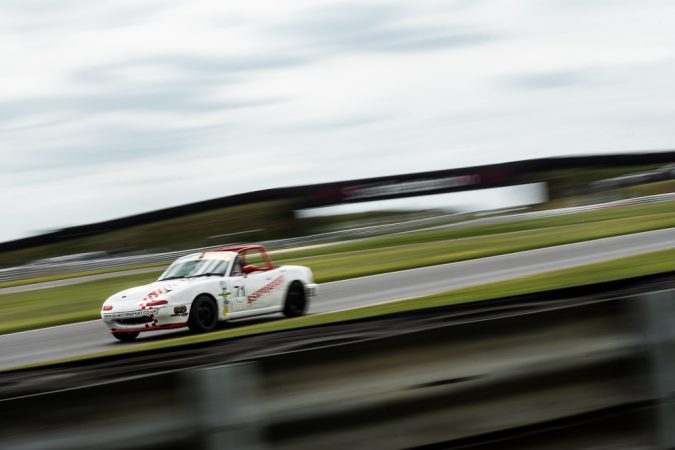 5Club Racing MX5 Cup
With only one race for the 5Club Racing MX5 Cup, the pressure was on to take a win in a huge 44 car field.
With Ben Short proving his worth and dominating the mornings practice session, all eyes were on him to convert this into a race victory. He needn't have worried as his exuberant driving style worked in perfect harmony with his Mazda as he took victory by 3.65 seconds.
Behind it was a hugely competitive race with 5 cars finishing within 5 seconds of each other at the flag competing for the final podium postition. Steve Foden managed to break clear of this marrauding pack to claim second in the 77 car. Then Tom Smith held off the charging pack to take a hard earned rostrum position.
The action continues at Mallory Park on the 26th July. Set to be another day of frantic action with bumper grids, this is not one to be missed.
For a full overview of the results, click the link below:
http://www.theresultslive.co.uk/750-motor-club/2020/snetterton-200-18-19-july