Taking a car on a race track can be a daunting experience, even if you're a pro. So can you imagine what it's like to drive a performance saloon around Silverstone without being able to see? No, neither can I. That's exactly what Alfa Romeo has done with the new Giulia Quadrifoglio though.
The Ultimate Tribute
This amazing and slightly mad feat was put on to celebrate the new Giulia hitting UK dealerships and what a way to celebrate. It's 65 years since Italian F1 World Champion Nino Farina set the lap record in an Alfa Romeo 159 so it seems fitting that Silverstone was the venue for this ambitious challenge. The car used has windows covered with black vinyl, which must have given British Le Mans 24 Hour driver Ed Morris something to think about.
Especially when you bear in mind this car has 510 hp and is able to hit almost 200 mph! Helping Morris was racing instructor David Brise who followed behind in another Giulia (with complete vision) to help guide the young driver around. They started small on the Stowe circuit before moving on to the full-size circuit used for Formula One.
No Eyes? No Problem!
Throughout the challenge Morris was able to get the Giulia to speeds over 100 mph, giving the car's dynamic controls a good workout in the process. Thanks to the guidance of Brise, Morris remained out of trouble and was able to set a lap time of 1 minute 44 seconds – the same as the time set by Farina in 1951. A fitting tribute and a world-first at that.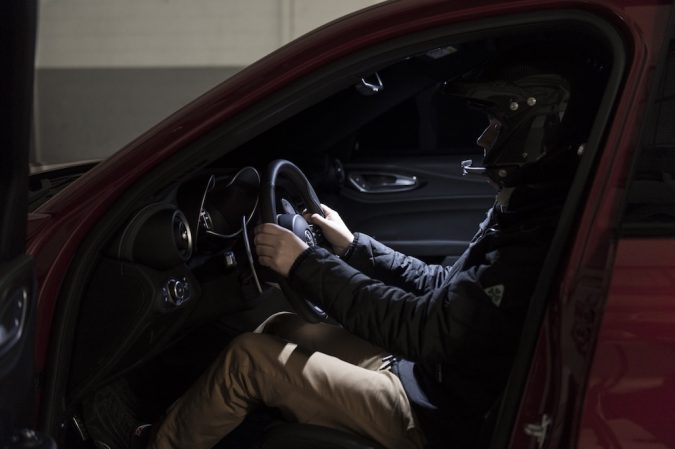 "I've driven hundreds of cars but never one with all the windows blacked out," said professional driver Morris. "As a racing driver it's in your nature to push yourself and the car to its limits and knowing the Alfa Romeo Giulia is packed with so many high-performance technologies really allowed us to have complete trust in it and focus on setting a record."
Giulia Tackles Silverstone 'Blind' Video
If you fancy seeing this incredible lap with your own eyes then give this a watch.
https://youtu.be/BxAYP1C62ZE
Gallery