Bridgestone excelled in 2020 with various achievements, creating a sustainable future of mobility. This included Original Equipment (OE) fitments to various car manufacturers, Virtual Tyre Developments and ENLITEN Technology where Bridgestone has shown innovation in both production and product.
Steven De Bock, VP Consumer Replacement and OE at Bridgestone EMIA proudly states: "We're pushing the boundaries of what is possible in engineering to deliver new cutting-edge products that are developed in more sustainable ways to offer an increasingly sustainable performance. It's fantastic that we've been able to work in partnership with the world's leading car manufacturers to meet our collective environmental goals and shape a more sustainable future of mobility."
The Successful Original Equipment (OE) Business
Bridgestone EMIA's Original Equipment (OE) business is a sustainable solutions company and has impressively provided over 80 new original equipment fitments to 13 manufacturers, some of which were premium, custom-engineered tyres for Mercedes, Audi and BMW in 2020.
30 per cent of these new OE fitments were created specifically for Electric Vehicles. The BMW's all-electric i3 used ologic Technology – Bridgestone has praised the use of new tyre technologies that support EV's.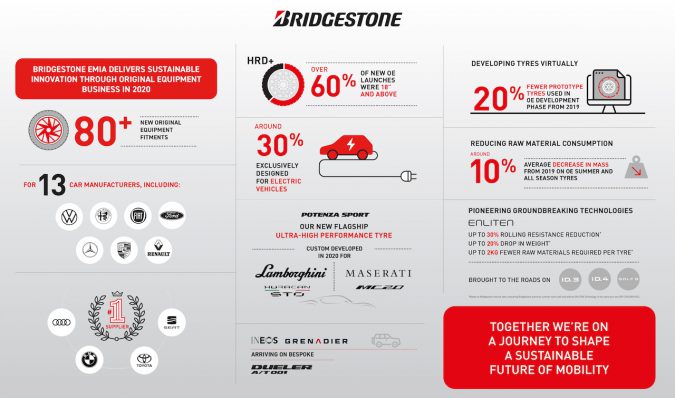 Bridgestone's OE launches in 2020 provided over 60 per cent tyres within HRD+ (18″ and above) segment and due to this success, there is now demand for tyres in larger sizes.
A Greener Approach: Virtual Tyre Modelling Technology
The modernisation of the future of sustainable automotive production is of paramount importance to Bridgestone. Their Virtual Tyre Modelling Technology has remarkably reduced physical prototype tyres and volume of raw materials used in testing by creating a digital twin of the tyre at its development stage. This means 20 per cent fewer experimental tyres were used from 2019.
Bridgestone has simultaneously cut the product development time by up to 50 per cent and reduced the distance of its fleet tests for OE by 25 per cent from 2019 to 2020. This green approach to tyre manufacturing is an inspiring achievement.
ENLITEN Technology
ENLITEN Technology was one of many achievements for Bridgestone in 2020. Launched last year, this innovation allows a rolling resistance for tyres that is up to 30 per cent lower than a Bridgestone premium summer tyre. What are the benefits of this?
Extended battery life
Lower fuel consumption
Reducing a tyre's weight by up to 20 per cent
Fewer raw materials used in tyre production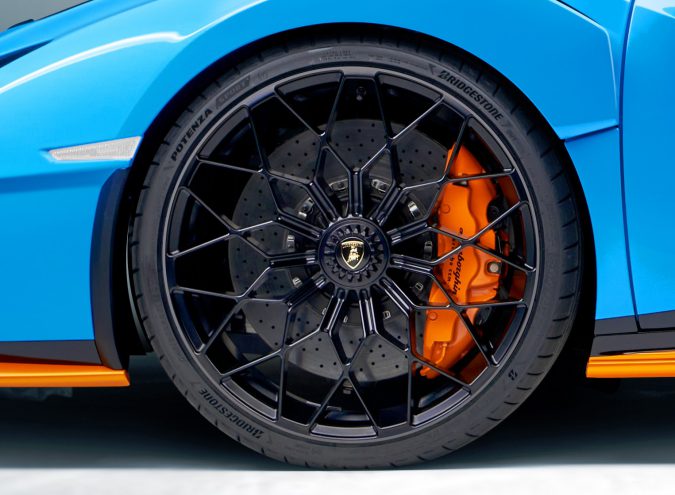 The Volkswagen all-electric ID.3 was the first vehicle on the road to have ENLITEN technology, and since then has been available in 10 fitments and to different manufacturers.
Collaborations of 2020
Bridgestone and Lamborghini collaborated for the first time in 2020. A custom-made tyre was supplied for the Huracan STO supercar which maximised its performance.
Long-time partners with Bridgestone are Maserati in which they provided Potenza port tyres that contributed to the handling and control of the MC20 supercar.
Bridgestone also worked with Automotive newcomer, INEOS Automotive, and the Dueler A/T 001 tyres will be fitted in their permanent four-wheel drive, The Grenadier, for the 2022 release.