Another Planet Friendly Prototype
Renault successfully launched a full range of electric vehicles back in 2012. Now, an all-new, all-electric concept has been unveiled at the 2017 Geneva Motor Show. It's called the ZOE e-Sport, and it's the new figurehead representing Renault's commitment to developing eco-friendly electric motors. Inspired by Groupe Renault's three years of success in the FIA Formula E Championship, The ZOE adopts a sporty design and impressive driving capability. The ZOE has been built to the highest environmental standards, and leads the way in the development of mass-market EVs.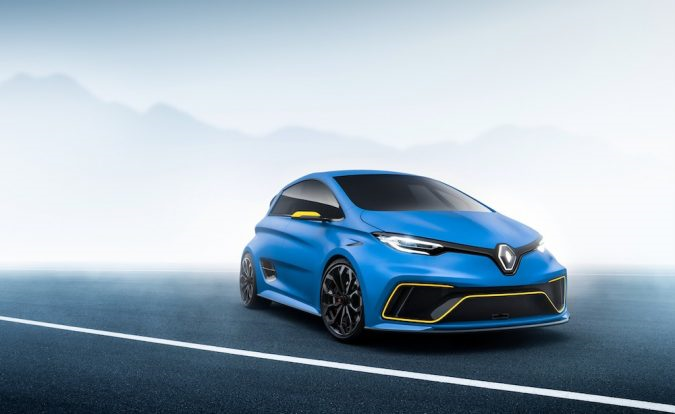 Green to Go – ZOE e-Sport
Renault's newest EV concept boasts some impressive stats. The ZOE e-Sport is powered by twin electric motors that provide 340 kW (nearly 460 bhp). Its lightweight carbon fibre and Kevlar design means it weighs in at just 1,400 kg, battery included. Supercharged motors and a light body allow ZOE to hit 62 mph from standing in 3.2 seconds, and 130 mph in less than 10 seconds. Lowered ride height, wider tracks and four wheel drive make for an agile drive with exceptional cornering ability. Europe's leading EV manufacturer have hit the jackpot with an electric vehicle modelled on Formula E motors, both in style and driving capability.
ZOE's Sporty Styling
ZOE takes its fashion tips from the Renault e.dams team. Reigning champions of Formula E, their 2016/2017 livery have been mirrored in the ZOE concept. Satin Blue highlighted with vivid yellow flashes give the ZOE e-Sport a sense of its Formula E heritage. Outstanding aerodynamics and a large carbon fibre tailgate spoiler emphasise ZOE's sporting capacity and sharp look. Two-tone 20 inch diamond-cut aluminium alloy Sport wheels, extra-tinted windows and contemporary Renault C-shape headlights complete the sporty design.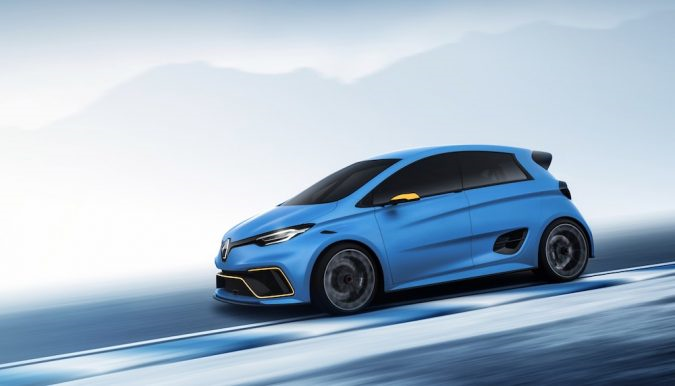 EV for Everyone
"At Renault, we believe that electric cars are capable of addressing the needs of all types of customers, with the emphasis on driving enjoyment… The Renault ZOE e-Sport concept is a stunning expression of this!" –  Éric Feunteun, Director, Electric Vehicle Programme.
Renault's latest EV concept delivers unparalleled driving range. A high-energy-density Z.E. 40 battery powers the ZOE e-Sport for 250 miles (NEDC), equivalent to a real-world range of 186 miles in summer and 124 miles in cold winter conditions – the longest driving range of any mass-market EV. This extended range makes ZOE able to conquer not only everyday journeys, but also longer excursions. The fresh sporty design and impressive driving capabilities make the e-Sport a truly impressive all-electric motor, and highlights why Renault is responsible for over a quarter of all EV sales in Europe last year. Renault's commitment to touching the limits of electric vehicles has manifested itself in their latest prodigy; an EV ready and willing to take on the modern world.