If you have never heard of something called 'Gumball 3000' or seen it in action, it's basically a lot of expensive, borderline out of reach supercars, and even sometimes hypercars, driven by multi-millionaires and famous celebrities, occasionally with a small amount of hand-built cars sprinkled in.
Sounds like a very flamboyant event? That's because it is, but what else would you expect from an event with a £40,000 (roughly 62,000 USD) entry fee for two people sharing a single vehicle? And don't forget that on top of this you will still have to spare a week of your time and get a special car of your own wrapped in the specified theme.
Every year they set a 3000 mile long trip, and frequently this will include travelling to a different continent, the rally is to be finished within week.  While racing down highways, the convoy will also spend time in 'hot spots', places of interest like Koenigsegg Automotive AB, which they stopped by at this year. And at some point during the week a party will be held at Quixotic stage, in some cases, by famous DJs like Deadmau5, who attended the Gumball 3000 this year.
Cars of Incomparable Caliber
Some cars that take part in the Gumball 3000 rally are so rare that you may not even see one in your lifetime. And this year we definitely have some that are downright exclusive, that means very limited production units that more often than not will not be seen on normal streets on even a month to month basis.  Some of you might have heard of the famous Swedish skier Jon Olsson, he joined the rally this year with a show stopper of an Audi. A one-off personally tailored Audi RS6 DTM for the streets, which puts out 950bhp.
It was built with practicality in mind, as Jon Olsson specified that he needs to be able to drive the Audi on a day-to-day basis while still being able to carry his ski gear around. This STM Stage 3+ kitted car, which originally came from the factory with 570bhp, isn't exactly what you would call a daily driver; hats off to Jon Olsson for being able to cope with it, it looks awesome
With cars like Team Galag's Mercedes-Benz SLR McLaren, Deadmau5's McLaren P1, Team 76's Lamborghini LM002, Lewis Hamilton with the Koenigsegg Agera HH, there's just way too much to mention and talk about. But it is worth noting that an unknown team took the show, in my own personal opinion, Team 59, with a gorgeous blast from the past, a Ferrari 250 Testarossa. Just listen to it.
Thundering sounds from varying piston counts
From inline 4 cylinders to the most prestigious of engines, you name it, Gumball 3000 this year had it. The event has its fair share of different engines, and if we're all honest even though the most common engine is a typical V8, we all love a good and proper V12, mostly because we simply don't get too many of them anymore. The V12s are becoming extinct, and actions are not being taken to save them, but we can't blame corporates for choosing the better engine layout.
In the meantime, if you have to choose for one last wish before going deaf, little can beat what's on the plate in the Gumball 3000. Although the run definitely has much more to offer than this, prepare your ears for this brief moment of symphony caused by the tunnel run of a rampaging mechanical horse with a beating 4.7 litre V12 heart powering it. 
Exquisite venues
Like I said, the entire rally tends to stop at interesting hot spots, usually places with either historical value or sacred heritage, like the Daytona International Speedway, which they had a lot of fun at last year. And this year, the host, Maximillion Cooper did well, with a lot of undisclosed venues given.
But from what we know, they stopped at some pretty special places, like Koenigsegg Automotive AB, Reno Arch, Buttonwillow Raceway Park, Death Valley and more.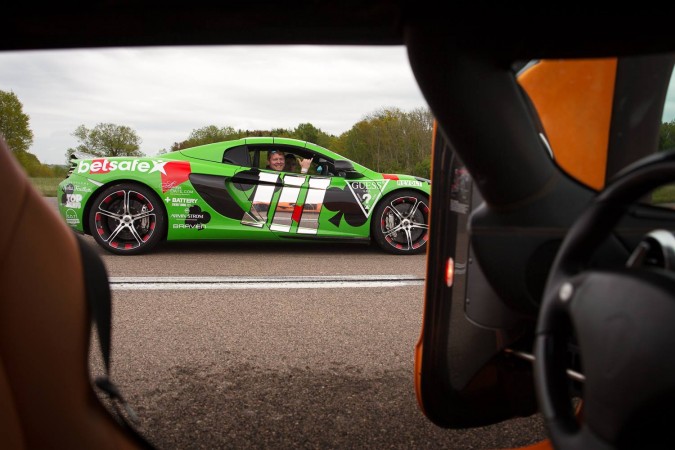 And sometimes the hosts of each area bring an interesting twist to the equation, for example, over at Koenigsegg, they had a private tour around the plant and eventually got to race cars made straight out of that factory with the rally's own cars. Take at look at some of the drag races in the video below.
Famed Attendees
You can always bet that in an event like this you can expect to see many familiar faces you don't typically see outside of the TV or the internet. We're talking about celebrities here, and they tend to drive interesting cars as well.
One of the most popular car celebrities in the rally is arguably the famous 'shoot supercars for a living' man, YouTube star Shmee150. This year he brought along the filming team on the trip with predictable, but definitely solid car choices, namely the McLaren 650S and the Bentley Continental Supersports, both wrapped in the poker theme and in mantis green.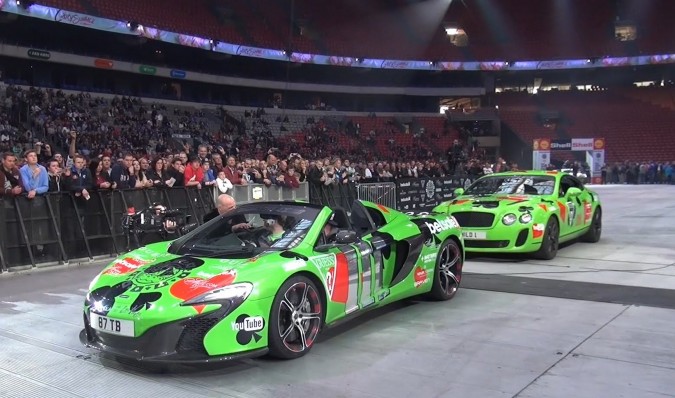 Ostentatious, check
The Gumball 3000 rally is definitely not an easily accessible event for everyone. But, if you're a true, pure-bred petrolhead, it should already be one of your bucket list of petrolhead things to do before dying. Moving with 100+ cars costing millions is just something special, especially when you can cruise along the coast and take in the awesome soundtrack of multiple supercars, it's the perfect petrolhead's dream, and in an ideal world, every petrolhead would be able to partake in this special event.
What do you think about the Gumball 3000 Rally? Let us know your views below.
Images: Gumball 3000