After a road trip across Europe, Honda's Guinness record holding car goes to the British Motor Museum in Gaydon, Warwickshire.
The Honda Civic Tourer holds the Guinness World Records title for lowest fuel consumption. Fergal McGrath and Julian Warren drove the car across all 24 contiguous EU countries in 25 days. Honda averaged an incredible fuel consumption of 100.31 mpg across the 8,387 miles trip, stopping only 9 times to refuel. In addition to that, the total cost of the fuel was £459, each tank lasting approximately 932 miles.
Honda's World Record Car
Fergal and Julian presented the car last week to Stephen Laing, the British Motor Museum Curator, who said: "The Museum is a fitting place for the record-holding Civic Tourer to park up for one final time. Honda has been a major manufacturer in the UK for 25 years, building and engineering cars at its Swindon factory. The Civic reflects the modern-day output of Britain's diverse motor industry, the story of which the Museum tells through its collections."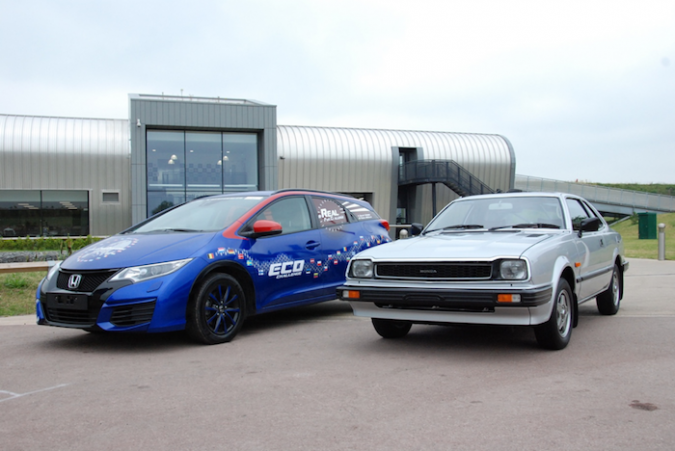 Also, Fergal said: "Julian and I are extremely proud of the Honda Civic Tourer and enjoyed embracing all of the challenges that came with setting the Guinness World Records title in 2015. It is fantastic that this British-developed and built car will now be on display in the British Motor Museum, and is a testament to the hard work of the Honda team involved."
Joins Museum's collection
Most importantly, the Honda Civic Tourer is now part of the Museum's collection of over 300 cars. The Civic Tourer is joining another Honda – a Prelude, a gift from Honda boss, Mr. Kawashim to the British Leyland's chief, Sir Michael Edwards when they signed a historic partnership agreement back in 1979.
Take a look out our Honda wallpaper and update your computer screen background.
For more information about the British Motor Museum and its collections please click here.