The name instantly conjures up images of opulence and Rolls-Royce has always been something to aspire to. It was appropriate then that Chief Designer and Vice-President of the Versace Group, Donatella Versace, should be escorted in a Ghost Black Badge during London Fashion Week.
British and Italian Design Complement Each Other
Donatella was promoting Versace's new Versus collection. The line first began in 1989, originally ended in 2005. It was resurrected in 2009. The London Fashion Week display was bookended by black presentations with bursts of bright colours standing out. To complement this, the Ghost Black Badge had been provided with a Cobalt Blue interior. It enabled the trim to stand out, even with the sleek exterior. The 21 inch carbon fibre composite wheels have been exclusively designed for the Black Badge and are based on 1960s' Italian supercars.
This thoroughly modern expression of Rolls-Royce luxury proved the perfect fit for Versace's new Versus line. – Claus Andersen, Brand Director of Rolls-Royce
The vehicle was provided by H.R. Owen's Rolls-Royce Motor Cars London, the flagship UK dealership for Rolls-Royce. H.R. Owen has past experience of looking after the fashion industry's icons during London Fashion Week. Last year, they provided transport for ROKSANDA founder Roksanda Ilincic.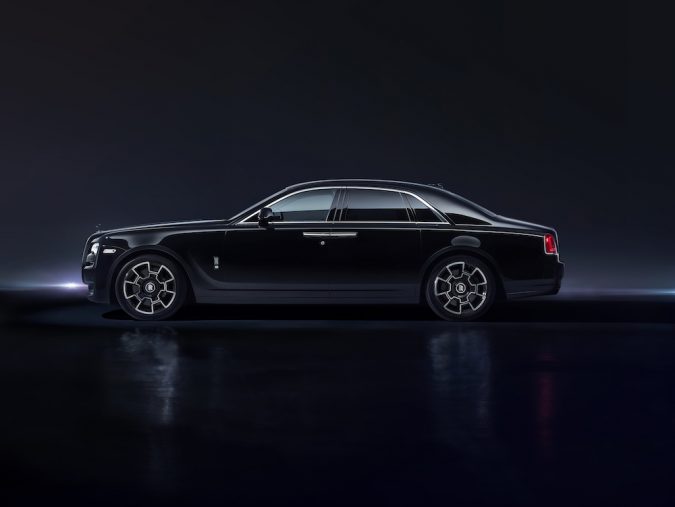 The Ghost Black Badge – Come to the Dark Side
On the Rolls-Royce Ghost Black Badge, the iconic Spirit of Ecstasy is no shadow of herself but instead showcases a striking silhouette. The Rolls-Royce badge has also taken on a darker hue and is all the bolder because of it. Rolls-Royce wants to bring the night inside the Ghost Black Badge. Black and Tailored Purple are a colour option for the upholstery, the air vents are a deep chrome to darken the interior, and there is an optional Bespoke Starlight Headliner. The enhanced 6.6 litre twin turbo V12 engine ensures the Ghost Black Badge glides through the dark with perfection.
Donatella Versace attended numerous high-profile events, the most important being the Versus show itself, held on Saturday 18th February. The elegant Black Badge was there at every turn.
2016 was the most successful year in its history for Rolls-Royce Motor Cars London. This collaboration with Donatella Versace, one other pinnacle of luxury, is hoped to be the start of another landmark year.