Copenhagen is a beautiful city littered with statues, interesting architecture and glorious bakeries! We spent five days exploring the city, checking out everything from the Little Mermaid sat on the water's edge to hot tubs floating around the harbour's waters.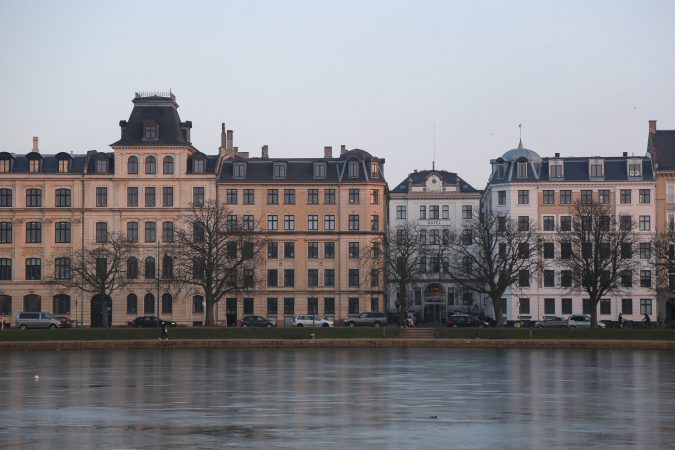 From the UK, Copenhagen is a mere couple of hour's flight away. Once at Copenhagen airport, it is a short trip on the Metro to the city centre. And once there, almost anywhere you want to go in the city is within walking distance. Just make sure you wear comfortable shoes! From my experience with anywhere I have visited, if you can walk it then this is the best way to get around as you end up seeing so much more.
Kong Arthur Hotel
We stayed at the Kong Arthur Hotel, located slightly outside of the main tourist areas of Copenhagen, but still only minutes' walk away. The hotel has a relaxed atmosphere and the communal guest areas are tastefully decorated with a homey feel. After a long day walking around the city, it was lovely to get back to the Kong Arthur. We would have a glass of wine during the hotel's "Cozy Hour" and reflect on our day in front of the lovely fire in the bar area.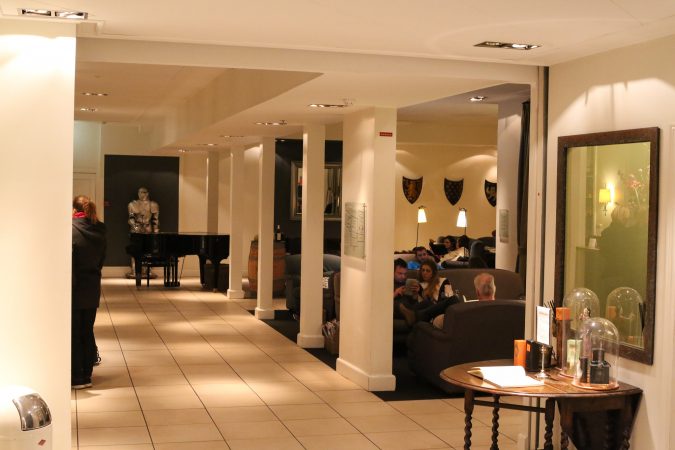 A Place to lay Your Head
Our room was spacious and clean with everything we needed, and more. We had a Superior Room, which meant we had a bit of extra room to spread out. The couch in the corner was a nice addition for crashing out on when we got back into the room.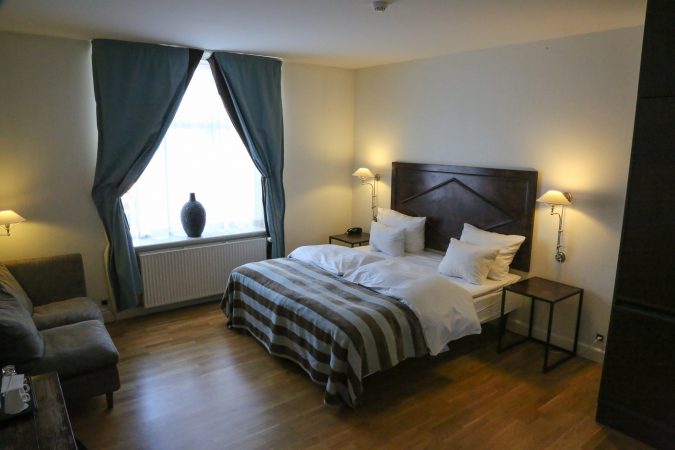 We were happy to find tea and coffee facilities, a few magazines, a safe and plenty of storage. I am a bit funny about carpet in hotel rooms, so I was pleased to see hard floor throughout the room and bathroom. We loved the added touch of a quirky sign under the bed to re-assure that they'd cleaned everywhere.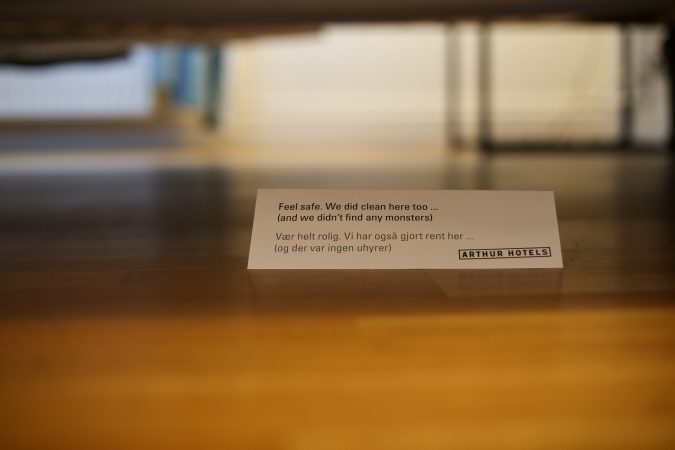 The Facilities
There is an on-site gym available to guests, free of charge. It is a compact room, but has all you'd need to keep fit while you are away. As previously mentioned, there is a bar alongside reception with plenty of seating. Take a cosy corner or one of the larger tables and get to know some of the other guests and try to trade travelling tips. Both hotel guests and the public use the adjoining Ni'mat Spa. If you book your room directly with Hotel Kong Arthur you receive a voucher for one use of the spa facilities during your stay. As well as treatment rooms, the spa has a hot tub, sauna, steam room, cold water bucket and a tranquil relaxation area. Look out for the birds on the stairs on the way down to the spa, as well!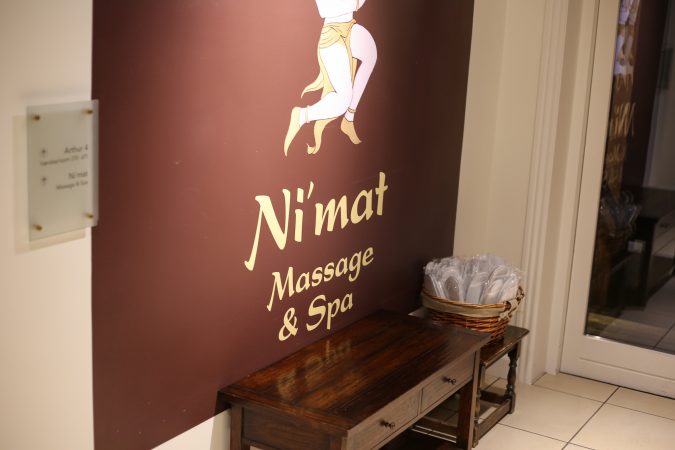 There is a large dining room, as well as outdoor seating for the warmer months, where breakfast is served and you can also have lunch with the staff. There were plenty of choices at breakfast from sausage, bacon and eggs, cereal, bread and cheese to my favourite, Danish pastries and waffles. I really enjoyed making my waffles each morning and smothering them in either the homemade jams or maple syrup. The hotel also offered lunch with the staff. We unfortunately didn't have time to try it, but felt it was a nice touch to make guests feel even more at home.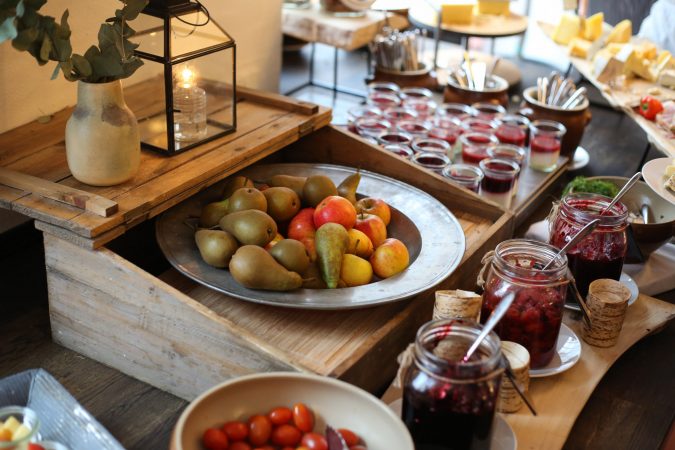 Copenhagen City
We spent five days in Copenhagen and crammed as much in as we could, in no particular order here are my top 5 things to do and see there;
1 – Copenhagen Street Food – A big part of holidays, at least for me, is the food. There are plenty of places to eat in Copenhagen, from independent cafes to world famous restaurants and everything in between. One of the best places we found was Copenhagen Street Food. It's a large warehouse on PapirØen, or Paper Island as it is commonly referred to, housing around 40 food vendors serving a whole array of different cuisines. The food we had there was amazing, with my favourite being the burritos at Tacos Chucho.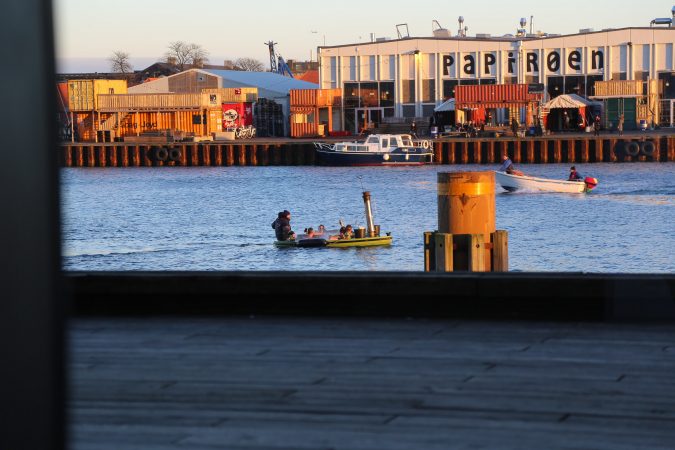 2 – The Little Mermaid – Despite being voted as one of the most disappointing landmarks, I don't think you can go to Copenhagen and not get a token selfie with the lovely lady. Don't get me wrong, there is nothing really amazing about the statue. But if you go to Copenhagen, I guarantee people will ask if you saw it. So you may as well tick it off the list anyway.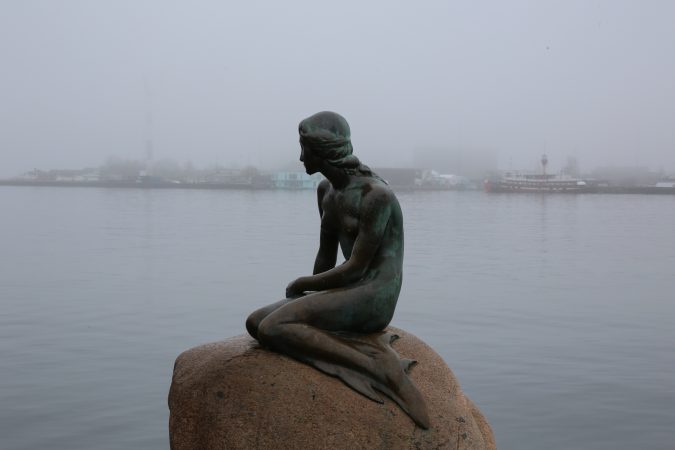 3 – Copenhagen Free Walking Tours – Exactly what it says on the tin, well almost. They are free. But, at the end of the tour you are essentially asked to pay what you think it was worth. This company offers a few tours around Copenhagen. We did The Grand Tour. A three hour walk around the City with various stories told and sights pointed out. We loved the tour and our guide, Dan-O, was really knowledgeable and pretty funny too. Three hours might seem like a long time but it flies by. I would definitely recommend doing one of these tours. Even if they aren't exactly free, they are so much more personal and interactive than the bus tours.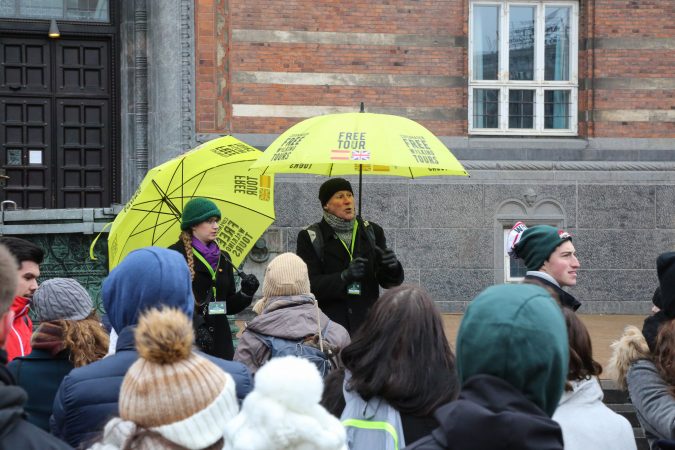 4 – Nyhavn – A 17th century waterfront lined with restaurants and bars, their faces painted in various colours. It's a very charming and picturesque place which appears on many postcards of Copenhagen. The waterfront is ideal for a peaceful walk to take in the surroundings. There are plenty of places to stop for a drink or a bite in all weathers. Comfort is paramount, as even in winter months, patrons can enjoy the serene atmosphere, thanks to outdoor heaters or blankets.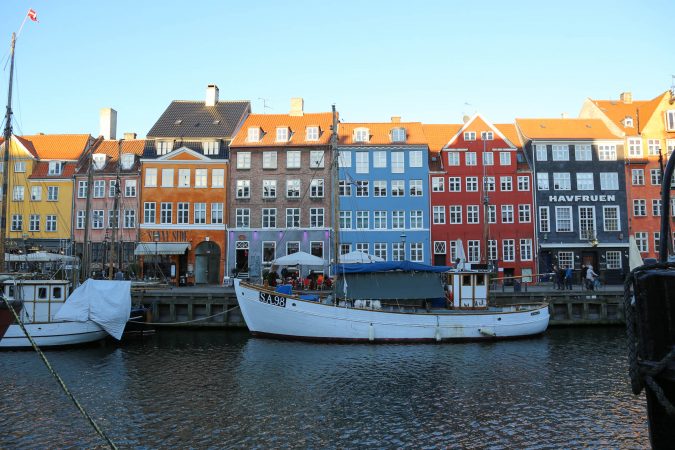 5 – Round Tower – Another one of the well-known landmarks of Copenhagen. The Round Tower houses the oldest functioning observatory in Europe. A bit of a walk up the 209 metre ramp gets you to the top. There you get some of the most incredible views of the city and beyond. There is also the Observatory, a Bell Loft, Library Hall and Planetarium making up this 34.8 metre high building.