The London Taxi has had a makeover. The stalwart London diesel tourist attraction that is the LTI TX has been taken and remixed into the new London Electric Vehicle Company (LEVC) TX. The new TX includes both an electric motor and a small petrol generator. The drive to the wheels is entirely electric but that electricity can come from a battery or a petrol generator. When on battery the vehicle has a range of around 80 miles. Thankfully the generator improves the range to around 400 miles. This system is similar to the range extender system available on the BMW i3.
The new TX focusses on giving a great passenger experience. There is room for 6, a panoramic roof, power sockets for laptops, USB chargers and onboard wifi. LEVC are also proud of the improved forward-facing wheelchair access and a clever air filtration system. This system automatically chooses between fresh air or filtered depending on the outside air quality.
Meeting New Standards
In January all new taxis registered in London need to be zero emission capable.  The new taxi is certified in time for rollout during December 2017 and during 2018. Shirley Rodrigues, Deputy Mayor of Environment and Energy said "These new electric taxis are at the forefront of green transport technology and will play a transformational role in the Mayor's plan to phase out diesel and clean up the transport network. This will help to accelerate improvements to London's toxic air."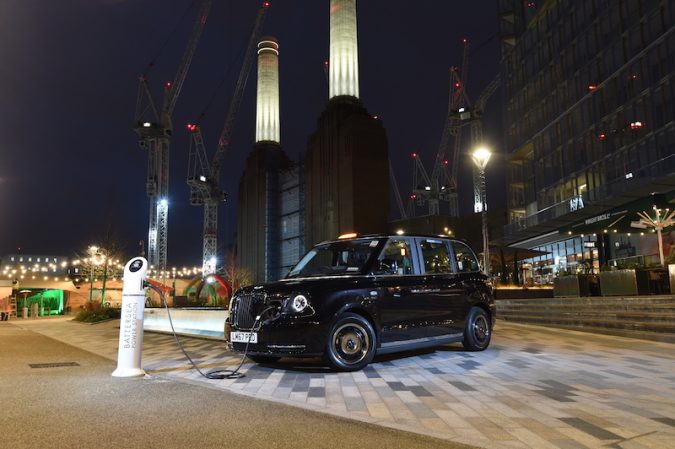 Safety is another focus in the new London Taxi. The TX features autonomous emergency braking, emergency braking assistance and collision warning systems to make it much more difficult to be involved in an accident.
Carl Peter Forster chairman of LEVC highlights the significance of the new car: "There have been many milestones on this journey, from opening a brand-new factory in the heart of the UK – the first brand new automotive manufacturing facility in Britain for over a decade; the first dedicated electric vehicle factory in the UK – to today's announcement that our new TX has passed all certification tests and is now able to carry fare-paying passengers. It will save drivers money, bring new levels of comfort and convenience to those who hail one and provide the safest and cleanest way of getting around a city by taxi. And this is just the start. We will deliver new TX models in Europe later in 2018 – and across the world. Our goal is to be the global, automotive leader in urban commercial vehicles. We are well on our way to achieving that."
The Future of Urban Transport?
The new TX has drawn thousands of expressions of interest since order books opened in August and will be joined by an electric Light Commercial Vehicle soon. LEVC is a startup and is a wholly owned subsidiary of Chinese manufacturing firm Geeley. Geeley aims to be the firm of choice for cities around the world as they look for modern clean urban vehicles.
London is increasing its reliance on electric transport by investing in 1000 new charging stations around the capital. It is starting its rollout at the redeveloped Battersea Power station with 57 charging stations at the newly titled Circus West Village. The new black cab was launched at the Grade II listed site which has been developed into shops, homes, restaurants and public spaces.