Now you may think I've gone crazy describing a Mazda as having soul and passion but they always have and we just didn't know it. Mazda's new concept, the RX-Vision is a freight train of this reality.
Unveiled at the Tokyo Motor Show 2015, it instantly invoked a sense of want and intrigue amongst the crowd. If ever you've heard of the expression talk of the town – this was it!
Personally I love the new Mazda RX-Vision. Its stance, its aggressive demeanor and just the way it looks. It brings back so many memories of what Mazda is supposed to be and the anticipation of driving it in the future has left me wanting more.
Continuing the dynasty of the RX family; some are dubbing this the new RX-7, others are hailing it the RX-9, me? I just want this car now whatever the name. But to understand why this car (excuse the cliché motoring phrase) invokes a new breed of soul and passion we need to understand how this car has come to be.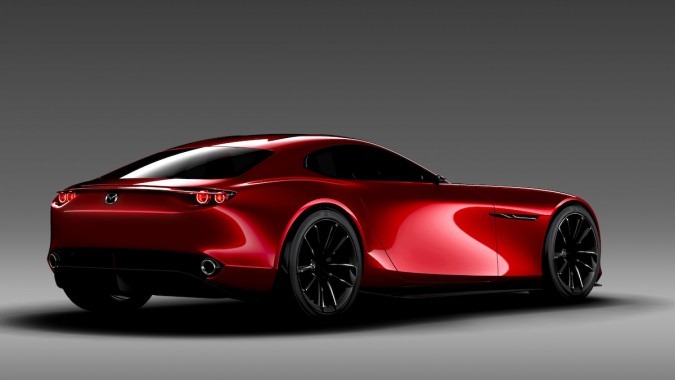 The Mazda R-X Vision's Family Tree
For most, Mazda's represent a reliable everyday car for the masses with typical Japanese reliability, and practicality, and looks that allow you to fit in. It's the car you choose with your thinking hat on.
The new RX-Vision is set to redefine what it means to own a Mazda.
We Brits have had a long and varied love affair with Mazdas and the thing is we did it without even realising it!
It all began with gen one MX-5s, it was a game changer whatever you're opinion. There is no denying its good looks, superb handling round B roads and respectable in-class performance; we just couldn't get enough of it.
For me though it was all about the third series RX-7. Simply put the batmobile. Its lightweight design, voluptuous proportions coupled with its performance from a twin turbo'd rotary engine meant it punched well above its weight. This car became the cult classic of all JDM fans with its highly tuneable engine and unrivalled handling.
The RX-8 was a huge success for Mazda in a time where cars were getting fat and bloated and style took over substance.  It kept true to form and offered power, handling and style. But ultimately its demise would be efficiency and emissions, which when the world had changed as we knew it, meant Mazda once again had to go back to the drawing board.
What does the future hold for the RX-Vision?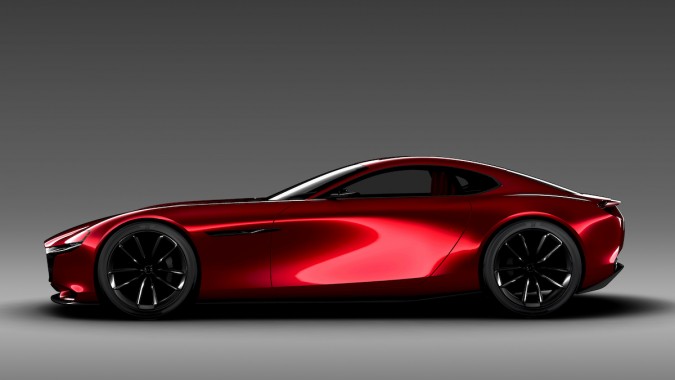 The first place I have to start is with the looks, WOW! It's just amazing! The styling is refreshingly desirable, a positive step forward not just for the company but for the whole genre of Japanese sports cars.
One can be forgiven for thinking it looks like the angry love child of the Ferrari F12 and the Jaguar F-Type. It does this whilst remaining unique, unlike previous Japanese cars imitating European sports cars.
Its aggressive stance, slung low and long nosed design is perfect given the cars pedigree.
Mazda, I sincerely hope the car that hits the forecourts looks like this, please don't follow the norm of watering down the looks of the finished product.
Performance?
Mazda haven't yet released any official facts or figures regarding the cars performance. But what they have confirmed is the engine will be front mounted using the revolutionary SkyActiv-R engine which will deliver power to the rear  wheels.
If history is anything to go by this car will be fast and I can't wait. Rumours whisper 300bhp with a wet weight of less than 1,400kg. What more could you ask for in the real world?
Mazda have announced the new engine will be more economical than previous models and with emissions being lowered it will ensure its place in the market.
It's reassuring that Mazda is perusing perfection of the rotary engine. Porsche did it with the 911 designs and drive-ability and I'm excited to see how Mazda will follow with their rotary engine nirvana.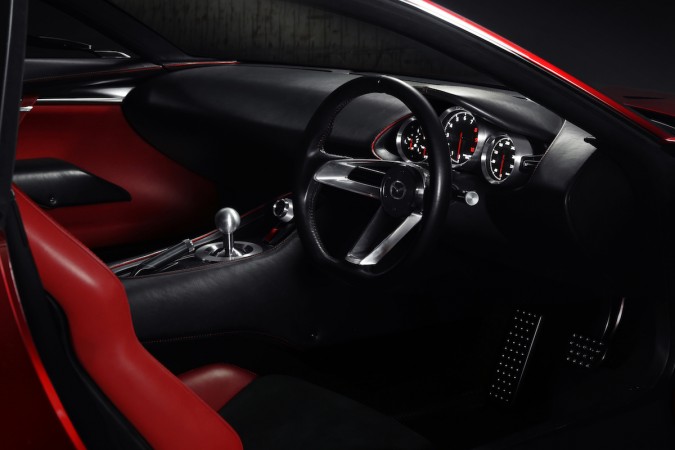 Do I want one? YES!!!
Need I say more? At the beginning I said Mazda's have invoked a sense of soul and passion and with this new RX-Vision they have brought this to the forefront of our minds. Simply put, it has the potential to be a future classic even before its release. Sometimes with cars you just know and the last time it happened for me was with the Ferrari 458. Cars like this only come around once in a while and I certainly cannot wait.
Image Source: Motor Authority