Kia has released details for their newest model – The New Kia Sportage. The crossover will have an updated interior, powertrain and more technology.
The Sportage is the brand's global bestseller with 131,000 models sold in 2017 alone. Kia is appealing to this large market by giving potential buyers the choice of 16 powertrains, all of which will be available by 2025.
New Kia Sportage – Engine Options
Five new hybrids, five plug-in hybrids, five battery-electric and in 2020 a fuel-cell electric vehicle. This emphasis put on delivering more electric powertrains shows the great leaps and bounds made in greener fuel sources over the past 10 years – electric cars have gone from largely non-existent and incredibly inefficient to making up the majority of a new crossover's lineup.
Given that 39,683 Sportage's were sold to UK customers last year, making up one-third of UK sales, Kia could make serious changes to how the public views hybrid and electric vehicles with their new 'powertrain electrification' strategy.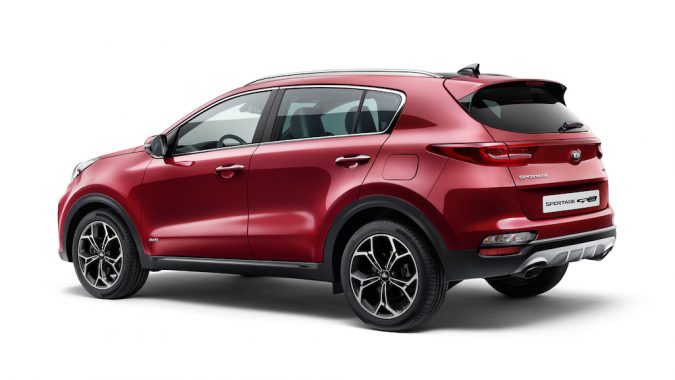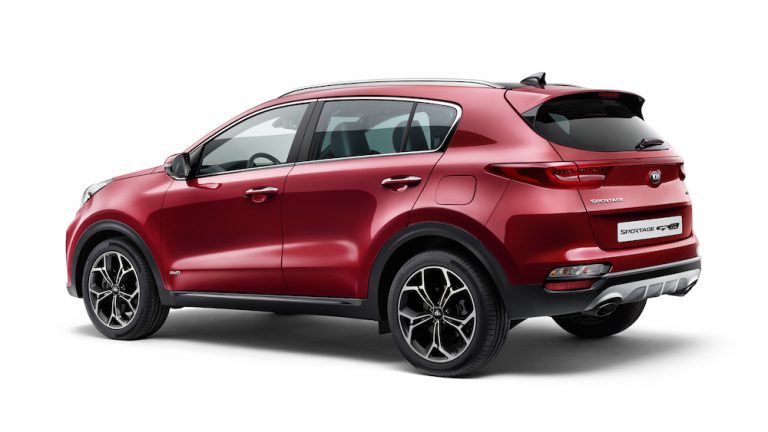 The Sportage's current 1.7-litre diesel will be replaced with a new 1.6-litre 'U3' CRDi engine – the greenest engine Kia has ever put into production.
This new 1.6 will generate 113 or 134hp with more powerful, higher spec models available with all-wheel-drive and seven-speed dual-clutch transmissions.
One of Kia's most impressive engines on the offer is the 'EcoDynamics+' 2.0-litre 'R' diesel mild-hybrid powertrain.
Acceleration is aided with electric power from a 48-volt battery for instant torque delivery and extends engine off-time with a new mild-hybrid starter generator unit. CO2 emissions can be reduced by up to 4%.
New Kia Sportage – Design
The car's aesthetics have also been revised to keep the car looking fresh and up to date, the 2018 model will have new front and rear bumpers alongside redesigned front and rear lights.
16,17 and 19-inch alloys will be available on all specs. A wide range of exterior options such as chrome sill trim, metallic skid plates, and five new colour options such as; snow white pearl, burnished copper and pacific blue – a nice change from the black, silver and grey options which dominated the market a few years ago.
Top Spec 'GT Line'
Top spec 'GT Line' models will be fitted with a gloss black radiator grille, gloss black and silver skid plate, and dark chrome inserts on the side sills and rear tailgate.
The 19-inch alloys of last years GT Line have been designed and all 2018 models will have dual-exit exhausts, and an 'ice cube' LED fog lamp design (which disclaimed, are have not been designed by the rapper of the same name).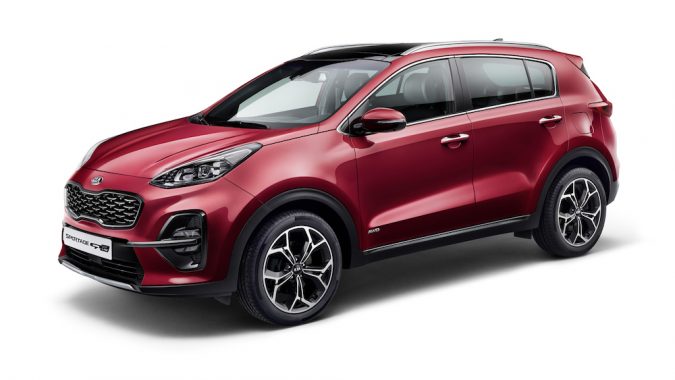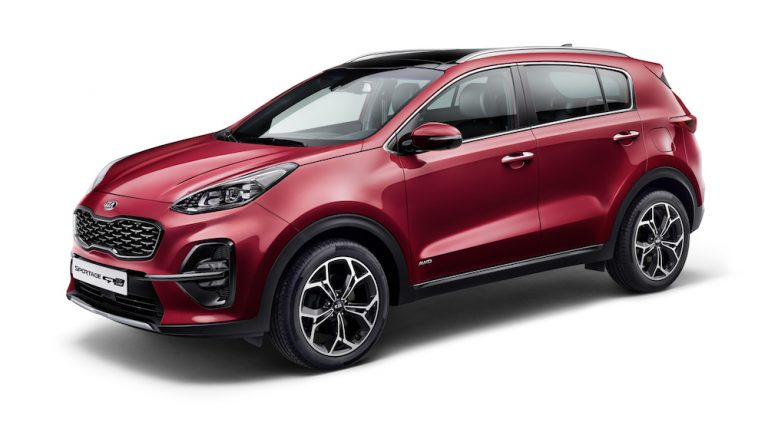 The cabin has also been kept up to date with GT buyers getting the choice of black and grey two-tone leather seats, or the sportier choice of black leather with red accents.
New Kia Sportage – Safety Features
Safety and technology has been a big focus for Kia and the new Sportage will have the latest in driver aids – Smart Cruise Control, Stop&Go tech and an Around View Monitor for easier parking in tight spots.
A Driver Attention Warning feature has been added to combat driver fatigue over long drives.
European customers have the choice of Kia's two new infotainment systems – a 7.0inch touchscreen or an 8.0inch 'frame-less' interface.
The UK sale date, full specifications and pricing will be announced by Kia soon.