The New Renault Megane R.S. Sport has been launched at the 2017 Frankfurt International Motor Show. Since the original Megane R.S. debuted back in 2004, the model has carved out a strong reputation in the high-performance C-segment and is widely regarded as a benchmark in its class.
Performance-Driven Design
The New Megane R.S. combines Renault Sport's unmistakeable hallmarks of agility, efficiency and driving pleasure with a more finely-tuned chassis performance. This is due to the introduction of 4CONTROL technology complete with four-wheel steering, which is a first in the segment. An all-new 280hp/390Nm engine has benefited from synergies within the Alliance, and, for the first time, the New Renault Megane R.S. is available with a choice of two transmission options.
"I was involved in New Renault Megane R.S.'s development and I am proud to be its ambassador. Thanks to the new technologies it packs, including 4CONTROL technology, New Megane R.S. is even more efficient and nimble than its predecessor. It's a delight to drive," reveals Nico Hülkenberg, Renault Sport Racing Formula 1 driver and Renault Sport Cars ambassador.
Forceful Styling Features Incorporating Cues From The World Of Motorsport
The new Renault Megane R.S.'s expressive, sporty lines nod to the model's performance pedigree and pay tribute to Renault's long-standing involvement in topflight motorsport. At the presentation of Renault's latest Formula 1 car – the R.S.17 – in London, in February, the legendary brand revealed its new logo which is shared by Renault Sport Racing and Renault Sport Cars. In a departure for the manufacturer, this badge – emblematic of Renault's sporting heritage – appears on the tailgate of one of their road-going models – New Renault Megane R.S.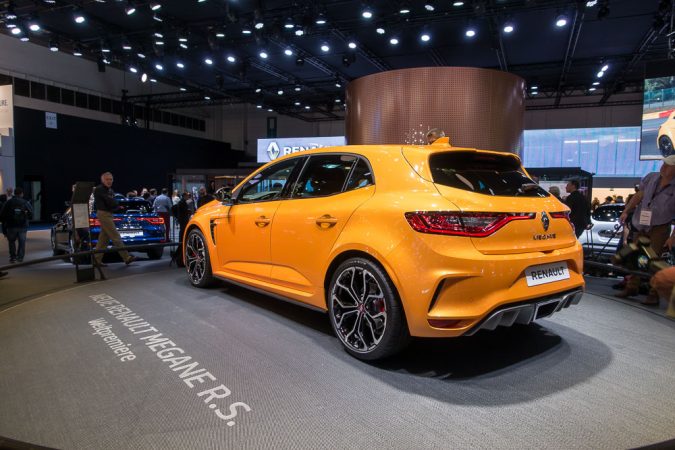 "Performance is the chief reason our customers cite for purchasing the Megane R.S. and the All-New Megane R.S. takes the styling and technologies even further to deliver truly exceptional driving enjoyment," according to Patrice Ratti – General Manager of Renault Sport Cars. "Our intention is to see the All-New Megane R.S., with its chassis and 4CONTROL, remain the C-segment hot hatch benchmark.
Wider Tracks For Outstanding Driving Dynamics
The bespoke lines of the vehicle's flanks include wider wings which have been extended by 60mm and 45mm at the front and rear respectively compared with Megane GT. Meanwhile, its overall width has been increased and new 18 and 19-inch wheels have been designed to provide a better stance and further enhance cornering performance.
New Megane Renault Sport will go on sale in the UK in spring 2018. Trophy version with 300hp and 400Nm of torque will be available by the end of 2018