Nissan Still Aiming for a Rocket-Styled Future
Nissan unveiled a new concept car, called the Bladeglider. The three seat electric sports car is heavily influenced by the Deltawing race car that Nissan took to the 2012 24 hours of LeMans race. The electric sports car is designed to look to the future of what sports cars can be. Carlos Ghosn, President and Chief Executive Officer of Nissan said: "These prototypes epitomise Nissan's drive to expand its Intelligent Mobility strategy, where driving pleasure combines with environmental responsibility. Nissan believes that enthusiasts should look forward to a zero emission future and BladeGlider is a perfect demonstration of that. It's the electric vehicle for car-lovers."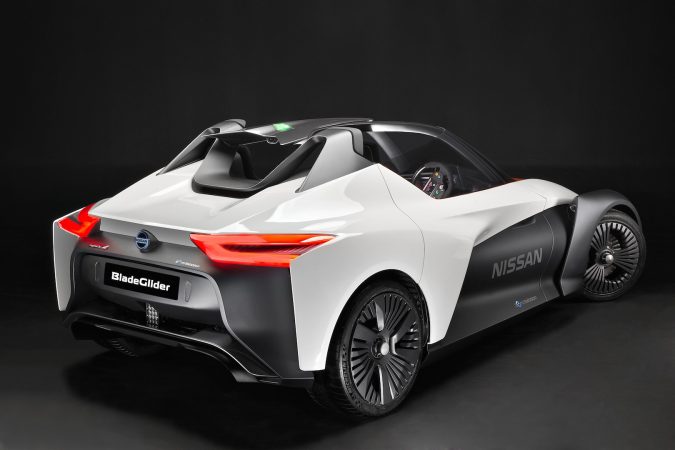 "It's the Electric Vehicle of car Lovers"
Power for the Bladeglider comes from a 220 kW lithium ion battery which powers two 130 kW electric motors, giving the car an equivalent of 268 bhp to the rear wheels. This boosts the car up to 62 in less than 5 seconds and onto a top speed of over 110 mph, impressive for an electric car. The Bladeglider also comes with torque vectoring, allowing the car to adjust power levels on the fly when the car detects understeer or oversteer. Nissan say that rather than controlling the driving experience the torque vectoring system has been "designed to add to the driving experience rather than govern it, the torque vectoring systems has three settings: off, agile and drift mode."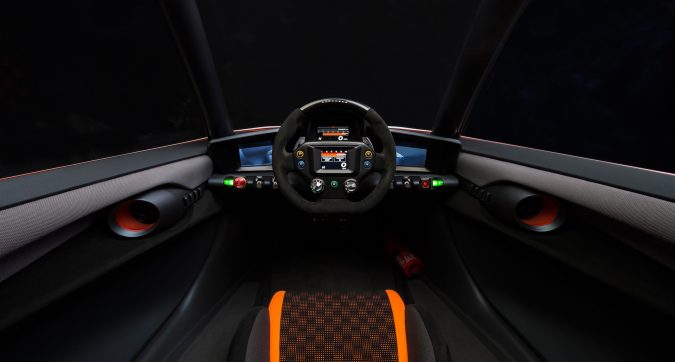 An Interior Based Solely on the Driver
With seating stolen straight from the McLaren F1, the Nissan Bladeglider includes a surprisingly sparse interior focused solely on the driver, rather than the passengers sat behind. The Bladeglider comes in two trims – Cyber green and Stealth orange – that Nissan say "are used for the upper portions of the seat back, and framed with a silver reflective material to create an eye-catching, sporty look." The base of the seats are black with accents of the featured trim colours to frame the cushion.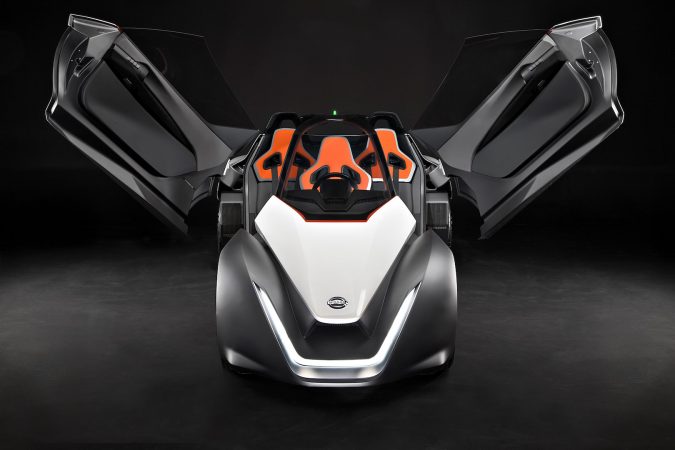 Finally we get Down to Those Looks
The body for the Bladeglider is the most obvious thing about this machine, the rocket-based styling truly define the cars sporting pretensions. The car only weighs 1300 kg, putting it straight up against cars like the Mazda MX5 and Fiat 124 Spider, which are comparatively boring looking when put up against the Bladeglider. The cabin is closed in by two rollover bars that are designed to give the safety of a coupe with the thrill of an open-topped car.
"Two BladeGliders will be presented in Rio de Janeiro in August. One will be on static display in Rio while the second will be offering dynamic rides to media and VIPs."
Follow me on twitter @jimafred
Gallery