Though predominantly known as one of the most glamorous classic car events in the world, the Pebble Beach Concourse d'Elegance has in recent years been the place where some manufacturers have shown off their latest production cars and design studies.
And in this regard, Pebble Beach has been a prime show. Not only were there plenty of concept cars to glean possible future styling languages from, but a broad selection of motors which might some day return to be awarded 'Best In Show'.
Pebble Beach 2015
So many great cars, in fact, that we've condensed all the major reveals here. Read on to find out more on the new car highlights at Pebble Beach 2015.
Lamborghini Aventador SV Roadster
By all means, the Lamborghini Aventador 750-4 SV is an extreme car. Anything that can complete the Nurburgring Nordschleife in under seven minutes is pretty much the definition of that term – especially when that hybrid hypercar-worrying time of 6 minutes 59 seconds was set on tyres that seemed to go off quite quickly two-thirds into the lap.
As a result, the announcement of an Aventador SV Roadster caught us completely by surprise. Not only is it Lamborghini's inaugural 'Super Veloce' drop-top model to be put into production, but the Aventador SV Roadster manages to do the unthinkable and be even crazier than the fixed roof model!
From the 217mph top speed to the £350,000 asking price and the bright blue/black contrasting colour scheme on the Pebble Beach show car, the Aventador SV Roadster is almost the epitome of automotive excess. If you're fortunate enough to be able to afford one, get in quick – Lambo's only selling 500 of them, and we'd be surprised if a majority haven't been allocated by now.
BMW M4 GTS Concept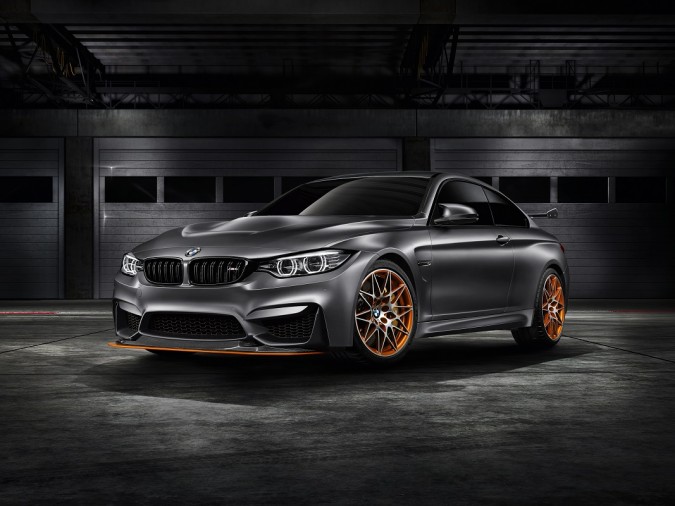 BMW has a history of making track-focused models of its mid-range road cars (the M3 GTS and M3 CSL each spring to mind here), so it's no surprise that the boys and girls from Bavaria have conjured up a hardcore version of the M4 coupe.
Even though it's officially a concept car at this stage, the BMW M4 GTS is expected to make the journey from design study to (we presume) limited-run special almost intact. A matte grey paint finish may be ditched by the time it reaches production, but the manually adjustable aero kit, carbon-fibre bonnet and water injection system are all expected to be carried over to the production car.
That water injection system is also expected to endow the M4 GTS' turbocharged 3.0 straight-six engine with a fair bit more power than the standard M4's. Exact outputs aren't known at the moment, though (as the M3 GTS produced over 450hp) we'd be surprised if the M4 GTS comes with anything less than 460hp.
BMW M4 GTS Concept
Though Bugatti hasn't officially showcased its next supercar at Pebble Beach this year, it's speculated the Veyron V2.0 has been previewed at the concourse event this year, albeit behind closed doors in a strictly private, invite-only affair.
With a report by Autoblog.nl claiming to have spotted the car on its way to this year's Pebble Beach, and Bugatti teasing something pretty special via its recently-released '#imaginEBugatti' trailer, it's not like the rumours are plucked from thin air.
No matter what it is, though, there's undoubtedly something special brewing in Bugatti's atelier in Molsheim, and we can't wait to find out more.
Hyundai Vision G Concept
At first glance, a Hyundai debut at Pebble Beach seems like quite an odd thing to behold. Given cars new and old with bonkers price tags are the norm for such a prestigious show, it's odd that a volume manufacturer decided this was the best place to reveal a concept car.
It's almost as bizarre as the 'HCD-16 Vision G Coupe Concept' name Hyundai's given this design study'. We'll call it the 'Vision G' for short, especially as the 'G' part is the main hint at what this car represents: a preview of what the next Genesis Coupe may or may not look like.
Though the Genesis saloon is on sale in the UK, it's unknown if Hyundai will bring the coupe version to our shores as well. However, if this sportier Genesis doesn't come to Britain and ends up looking a tenth as good as the Vision G, we'll be mightily envious!
BMW 3.0 CSL Hommage R
It's safe to say the original BMW CSL Hommage concept car revealed earlier this year had a bit of a mixed reception. Though we believed it to be quite a looker, many others found the louvered bodywork to be far too garish – especially when the original 3.0 CSL was (bar the huge rear wing) quite a simple car design-wise.
As a result, BMW's had another crack at harking back to its inaugural, in-all-but-name 'M-car'. However, whereas the original Hommage concept car paid its respects to the homologated road car, this updated Hommage R is a tribute act to the legendary 'Batmobile' IMSA racer.
Though there isn't much to tell the Hommage apart from the Hommage R bar the racier paint scheme (the only major change regards the dashboard readout being transferred Google Glass-style to a helmet visor), it's those aforementioned stripes and decals that really set the Hommage R apart from the original concept. Which is quite a feat, given how avant garde the CSL Hommage was to begin with…
Image source: Pebble Beach Concourse d'Elegance