Driven: Ford Mustang GT Review
I got the keys to a 2017 Ford Mustang GT for a week, and here are my thoughts on this American muscle.
What Is The Ford Mustang GT All About?
We all know the Mustang. It's the symbolic American car. The definitive 'Pony car'. Sporty and stylish looking with a gigantic engine underneath. It certainly has the grunt. It's the epitome of stationary motion. Some may hate them, but most rather like them, as proven by the impressive sales figures.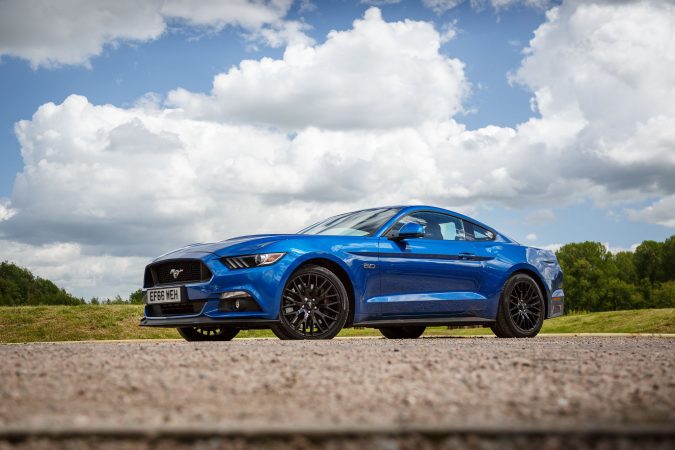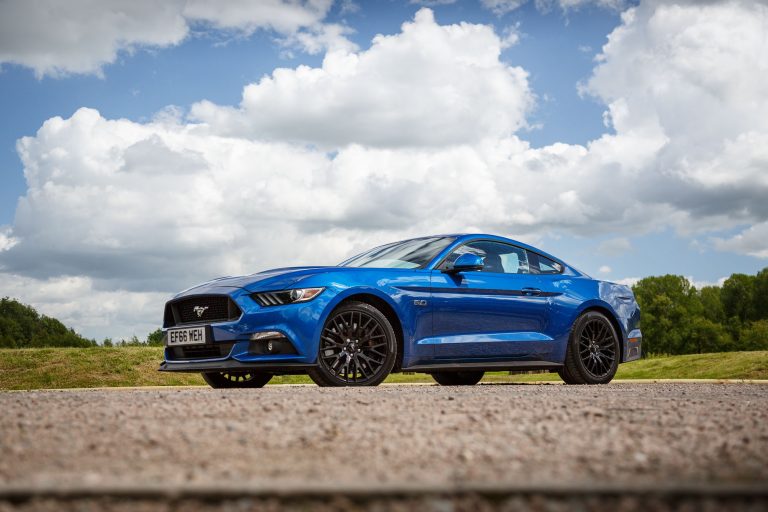 Our car is painted in 'Lightning Blue'. This is a stunning colour, especially when you shine the sun on it. The wheels on our 2017 Mustang GT are the 19″ multi-spoke alloys, in stealth black. Hiding behind those are 6-pot Brembos.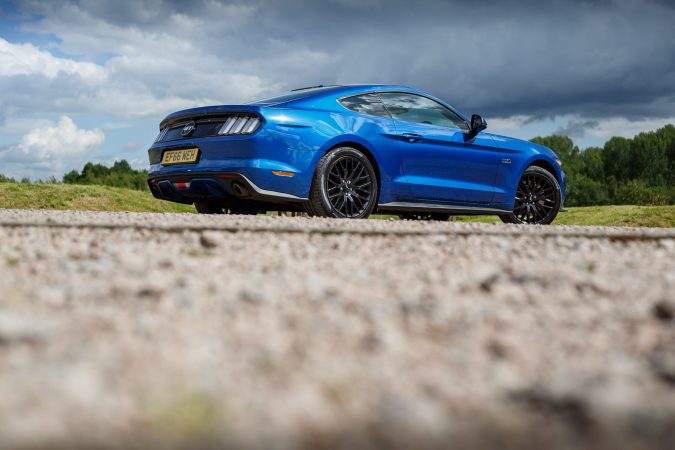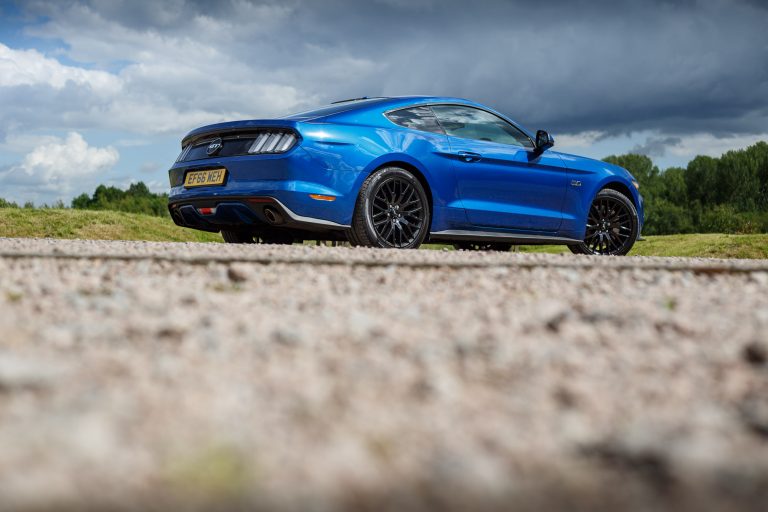 Under the bonnet there is a 5.0-litre 'Coyote' quad cam naturally-aspirated V8 that pushes 415 bhp and 530 Nm of torque. If this sounds too little, don't worry, the Coyote V8 is a familiar engine for many tuners. The power is delivered through the same Getrag 6-speed manual to the rear wheels. The 2017 Mustang GT goes from 0-62 mph in 4.8 seconds, onto a top speed of 155 mph.
This is a big American muscle car, so it's definitely not an advocate of the whole 'Save the Earth' movement. It achieves 20.9 mpg, and puts out 299 g/km of CO2. Of course, automatic transmission and the convertible variant are available.
How Does It Drive?
The engine is pretty strong. Being a naturally aspirated high capacity V8 means that it has inherently high torque and is very smooth. It pulls hard, with plenty of torque mid-range.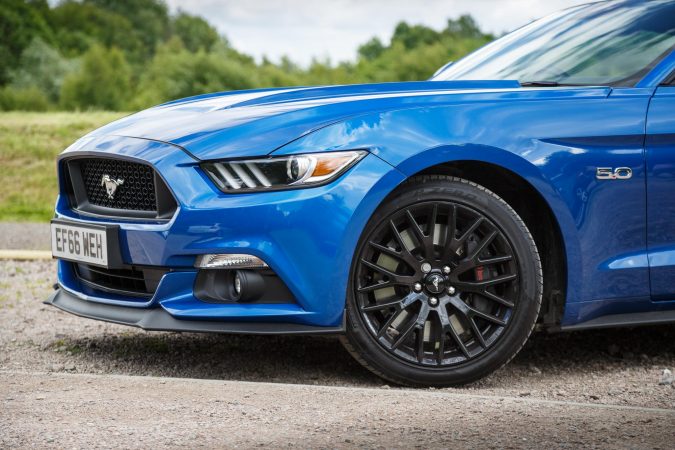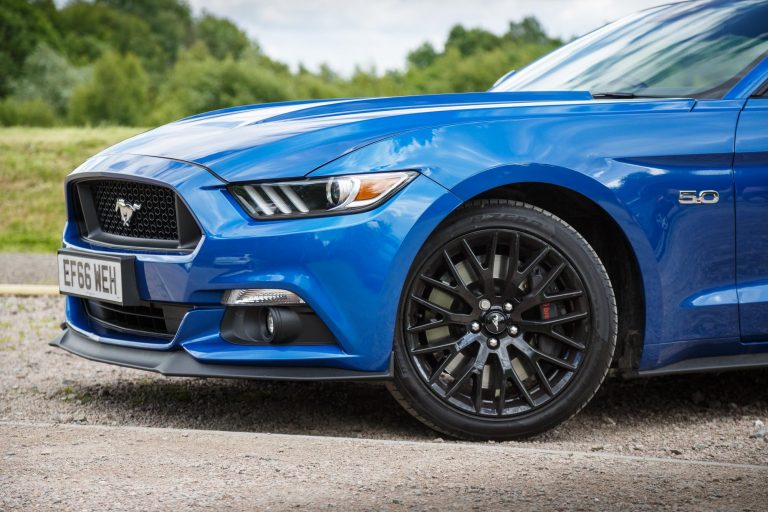 On the motorways, the long 6th gear is a Godsend as well. The engine barely makes a squeak at 70 mph in 6th gear. This means that the Mustang GT is particularly good at 'GTing'. When you want to overtake though, knock it to third gear and hear the V8 grunt. All part of the experience.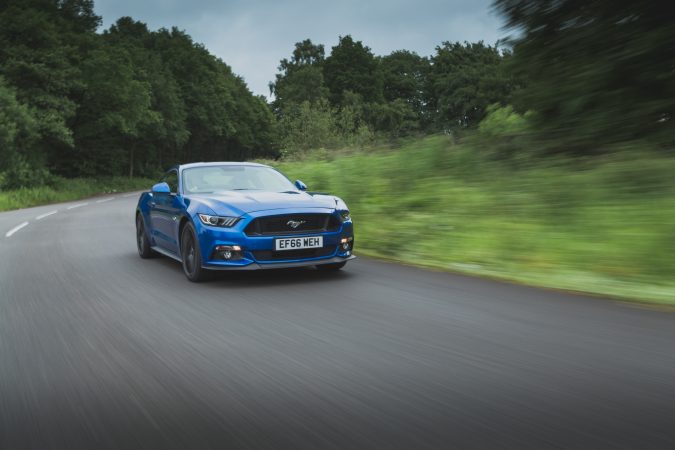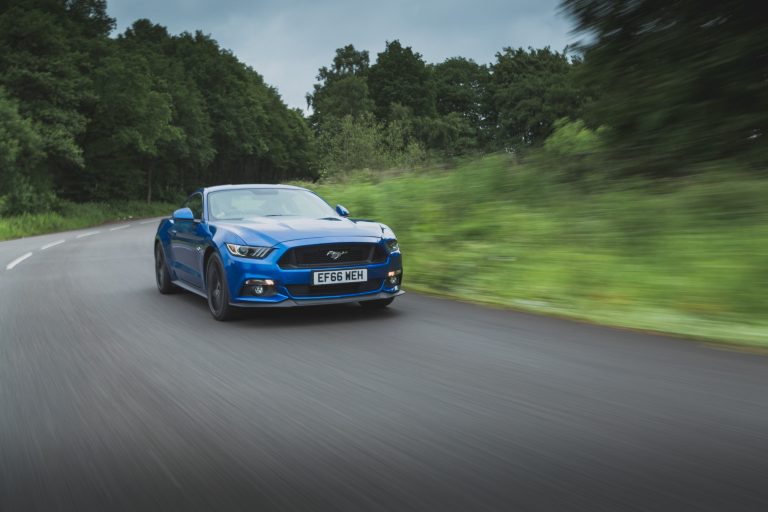 It's a thirsty engine, yes, but you'll forget that minor detail once you hear it. This is the only way we will get to hear an authentic American V8 right now. There is a very distinct tone that only American V8s make, and the Mustang GT provides that in spades. It's rougher and raspier than most European V8s, while not ear-piercingly brash like  the Mercedes' V8s.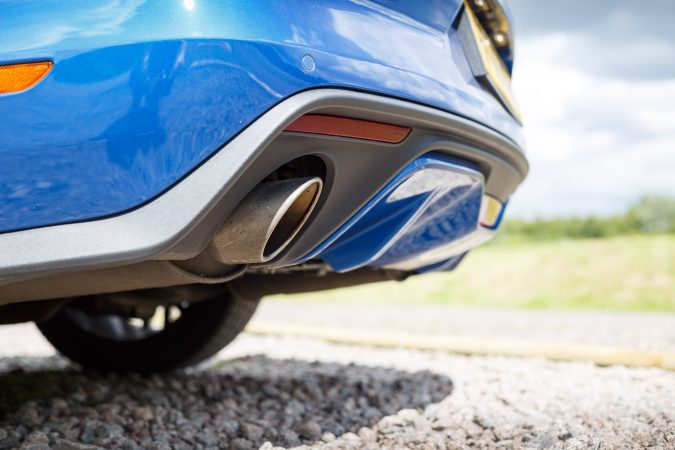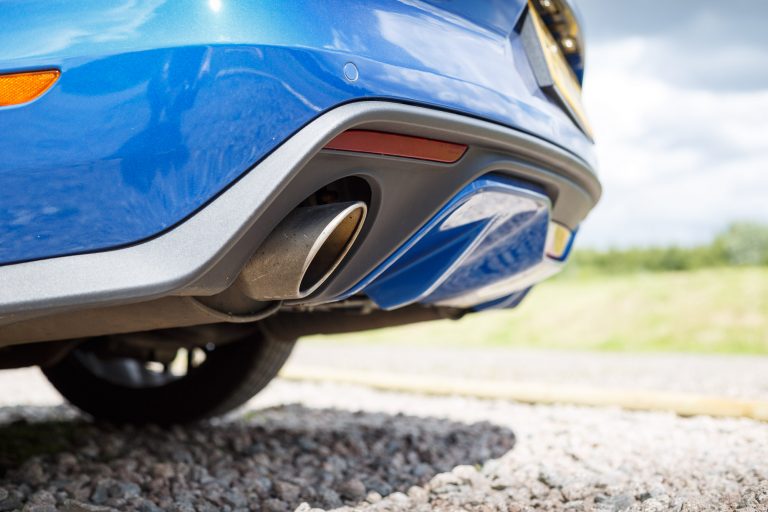 This current Mustang GT will handle head and shoulders above the previous generations because Ford has engineered an independent rear suspension to work with the new Mustang GT.
Body roll is well controlled, and the chassis does inspire confidence into the drivers. It's a pretty capable chassis with solid balance. The suspension absorbs bumps well too, and it settles pretty quickly when going over undulations on the road.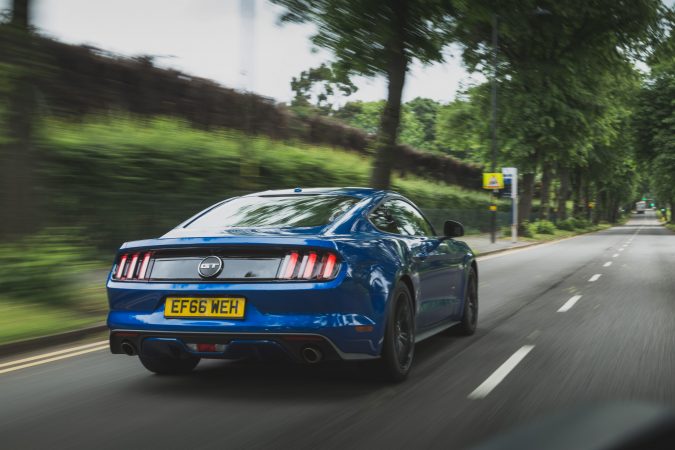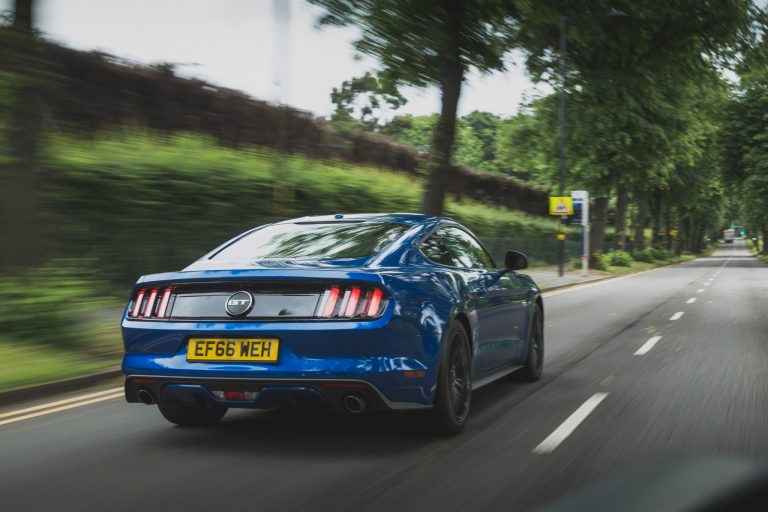 The steering is well weighted, and responses to input rather quickly. It's surprisingly amenable. However, it's still an American car, which means that it's big. It's a bit of a struggle for British roads to contain the Mustang GT.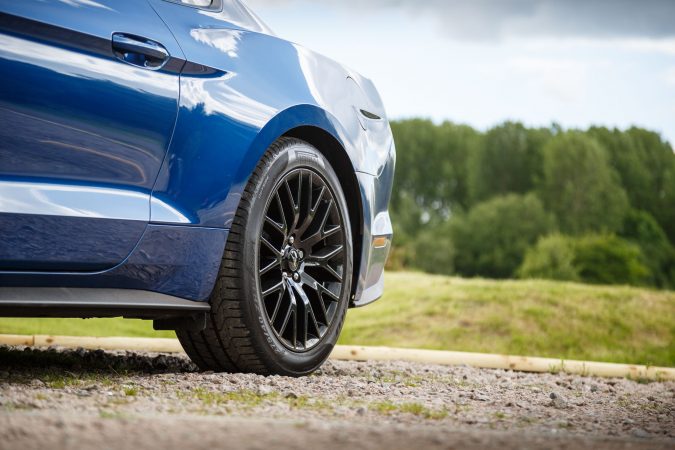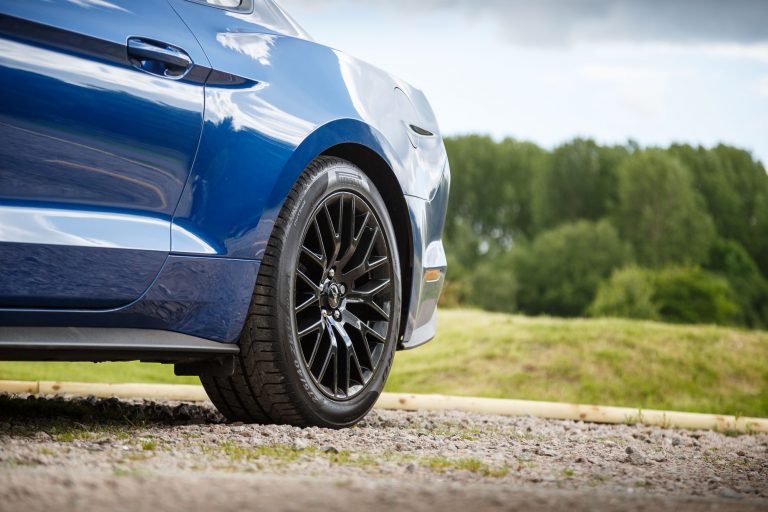 If you have the traction control off, expect the tail of the Mustang GT to be gung-ho. It's an enthusiastic car with a lively rear end, meaning that it's a whole lot of fun. It's not that hard to control the slides too with the responsive steering and limited-slip differential. You might want to be a bit more careful in the wet though.
The brakes are solid too. They are 6 and 4-pot Brembos paired to sticky Pirellis after all. The steel discs will certainly get a proper workout on the track though.
What Is It Like Inside?
Back in the days, the interior of a muscle car was certainly nothing that'd get people interested. Heck, even the more expensive Corvettes and Vipers struggled to impress any buyers with their interiors.
Some prosaic materials might be used in the Mustang GT, but it's way ahead of the previous generation Mustangs.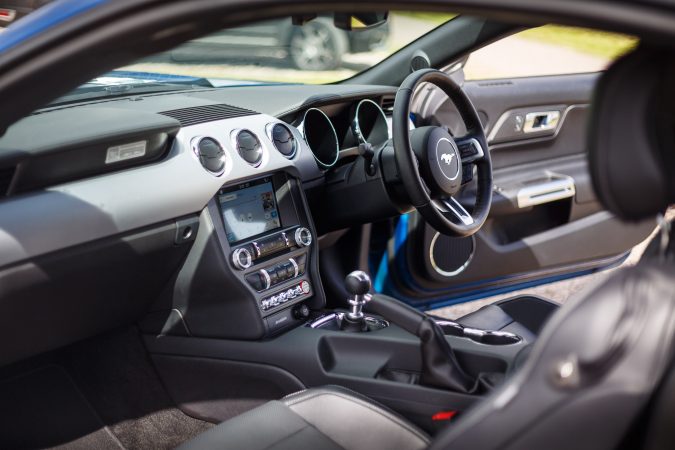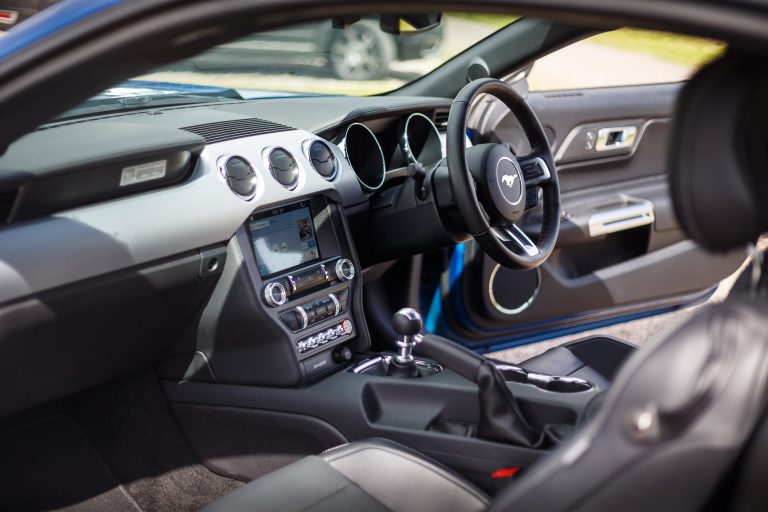 Our Mustang GT had ebony leather seats. Basically, black. In an attempt to freshen up the interior though, Ford has provided pale dashboard trims. With that said, everything feels systematic. There's the steering, the Sync 3 8″ infotainment system, and the cool, classic Ford GT-esque switches. Also, a 'Mustang since 1964' plaque on the passenger side dash.
Our Mustang GT also had the Shaker Pro premium audio system. At just £795, you get a better quality sound system with Sat Nav. Certainly a worthwhile option to pick up, especially for resale value. We also had £495 climate-controlled seats, a very important option for the winter or summer.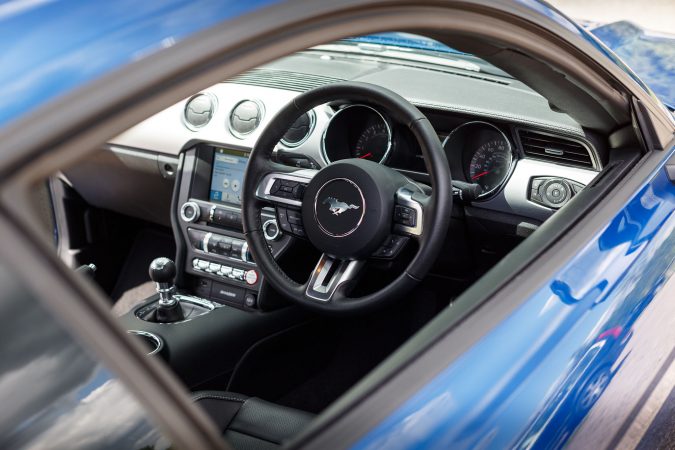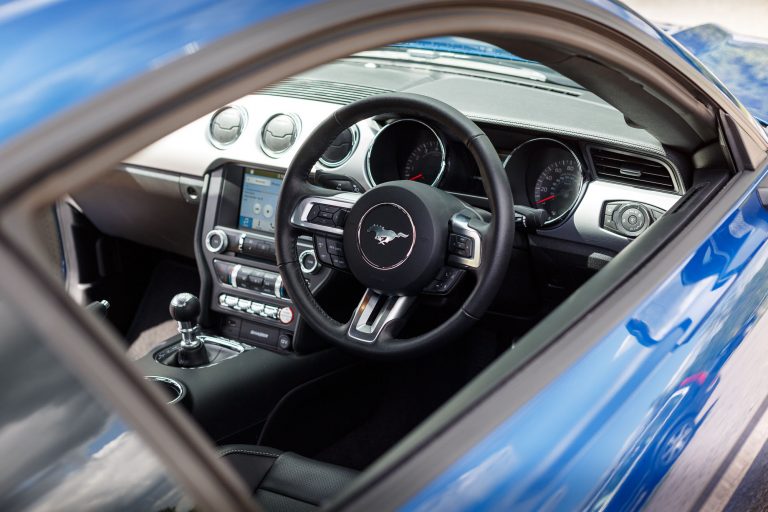 Overall, it's not a bad place to be in. For a sporty car, it might feel stale compared to its exterior. But for a grand tourer, it's right on point, with attention to detail and sensible control placement.
The Fastback variant offers 408-litres of storage. Keep in mind that it's a 2+2, meaning it has rear seats. That's plenty enough, and surpasses some hatchbacks even. The convertible has a roof to store though, offering 332-litres of cargo space, still solid.
The Experience
The Mustang GT is still quite an attention grabbing car. Especially in Lightning Blue. A muscle car is all about looking good while cruising, and the Mustang GT with its road presence certainly accomplishes that mission.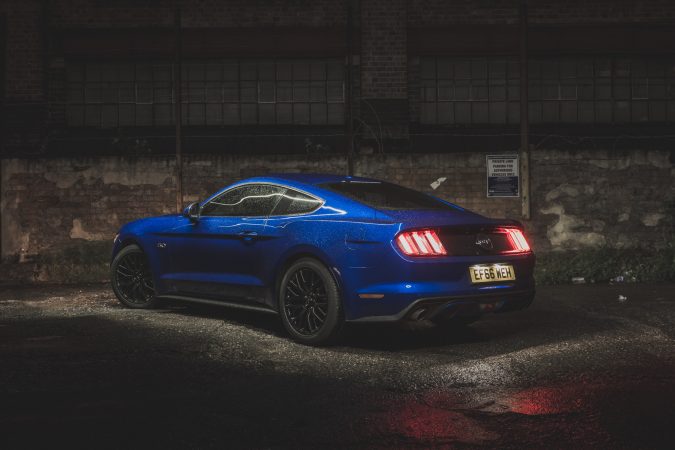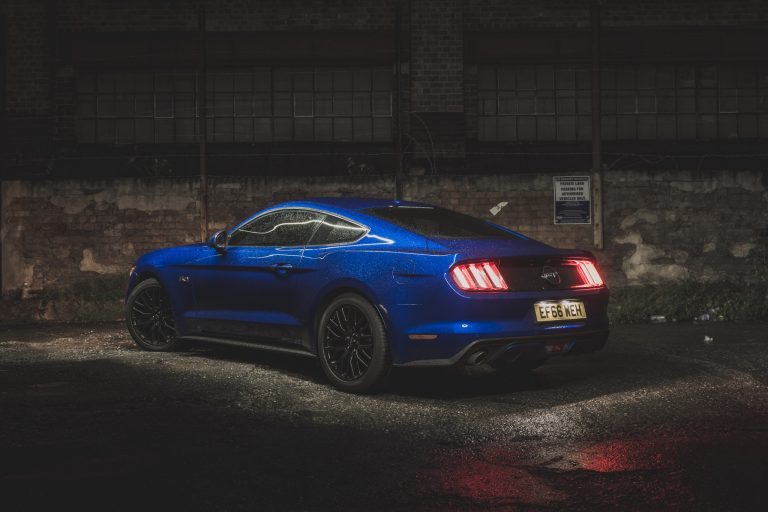 With that said, the Mustang GT still has the guts to back up its dynamic looks. It gains speed rapidly with a loud growl to boot. Even in the corners, I never once felt scared driving the car, and even got a bit ahead of myself at times. It's a fun car in every sense. Perhaps not when you enter the fuel station though.
The Verdict
To conclude, the S550 Mustang GT is a return to form for Ford. They've injected the muscles back into the muscle car. And boy does the result show. It'll even catch some of those sneaky European sports cars off guard.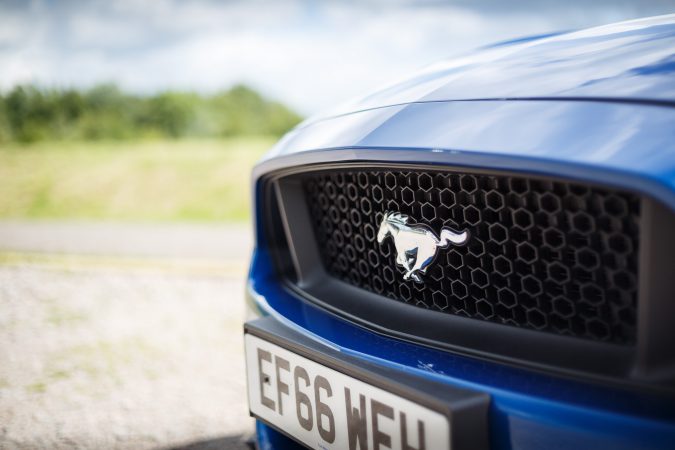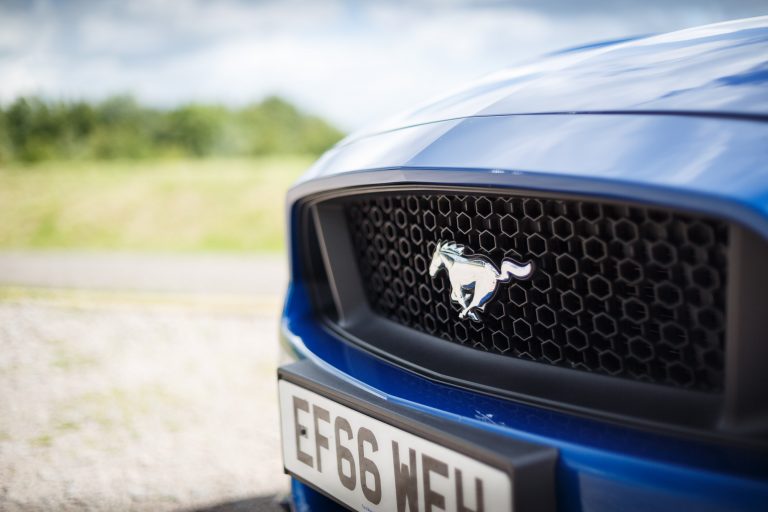 Should you pick one up? Well, do you like the appeal of an American V8? Because that's what the Ford Mustang GT is really about. It's a really cool car with a long running pedigree. It's the least sensible choice out of all of its peers, but there's no question that it's up there in terms of X-factor. If you are tempted, or on the verge of buying one, just take the leap, and you might just be galloping like the horse on the emblem.
Video Highlights

Specification
Ford Mustang GT
Price: £38,095
Engine: 5.0-litre 32-valve naturally-aspirated Coyote V8
Power: 415 bhp
Torque:  530 Nm
Transmission: 6-speed manual
0-62mph: 4.8 seconds
Top speed: 155 mph
Weight: 1,720 kg
Economy combined: 20.9 mpg
Update your desktop or iPhone with our free Mustang wallpaper.
Author: Paul Hadley