Driven: 2017 Rolls-Royce Ghost Black Badge
We got the opportunity to test out the latest 2017 Rolls-Royce Ghost Black Badge for 5 days. Here's my thoughts on the exclusive car.
What Is The Rolls-Royce Ghost Black Badge All About?
The current Rolls-Royce range has never had so many options with the Dawn, Wraith, Ghost and Phantom line, then with a rumoured SUV on the way to compliment things.
The Ghost is a 5 door car sitting slightly under the Phantom with regards to size. But of course it is still a super exclusive car. The Black Badge Edition of the car takes its exclusivity to completely new heights. You will notice that all the classic Rolls-Royce chrome has been changed to a nice smoked black look.
Adding a further touch of uniqueness, the car has special edition alloy wheels. They cost around £4,000 each.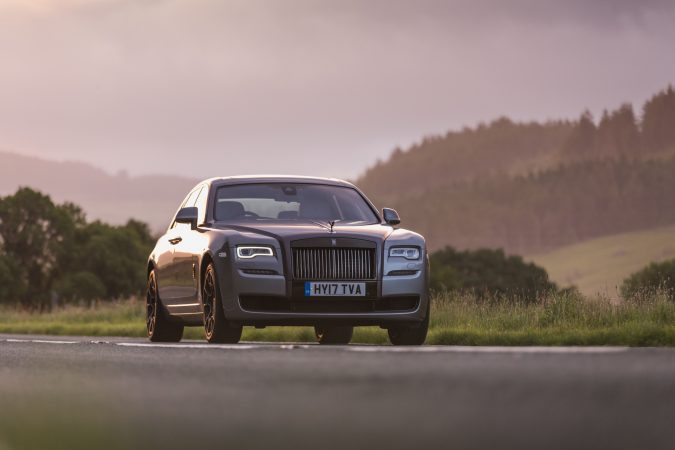 The Black Badge Ghost is powered by the brands 6.6 litre V12 engine, but this time creating 603 bhp and 840 Nm of torque. All of this power goes to the rear wheels using an 8-speed GPS aided automatic ZF gearbox. This means that the 2,435 kg car can get from 0-60 mph in 4.6 seconds and will do a top speed of 155 mph (limited).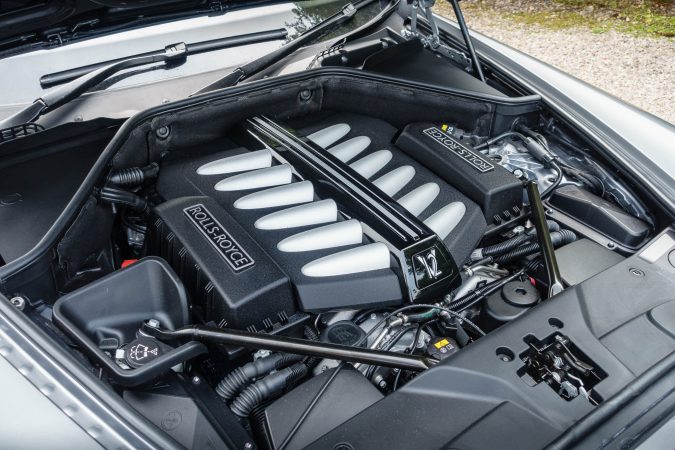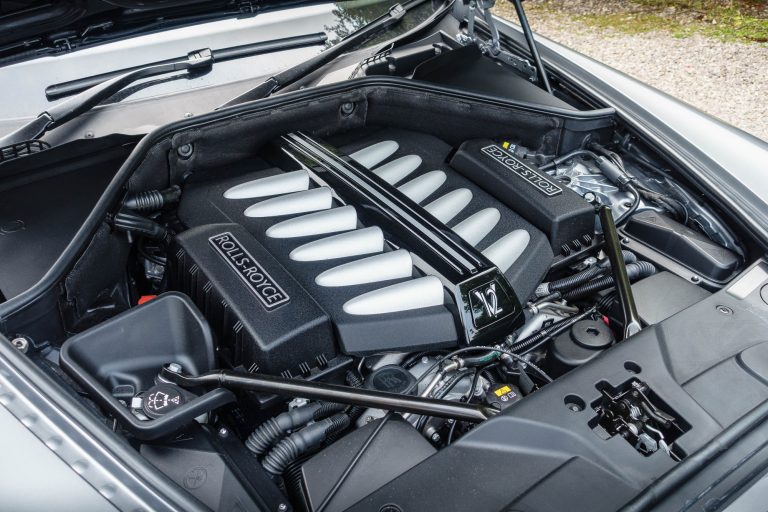 How Does It Drive?
Getting straight to the point, Rolls-Royces drive like nothing else on the road. They have an incredible feeling of elegance. You can go from stationary to moving without feeling any changes in the cabin. Driving very gently you can only notice by looking out the window. So, a smooth ride does sum up how it feels and it is genuinely second to none.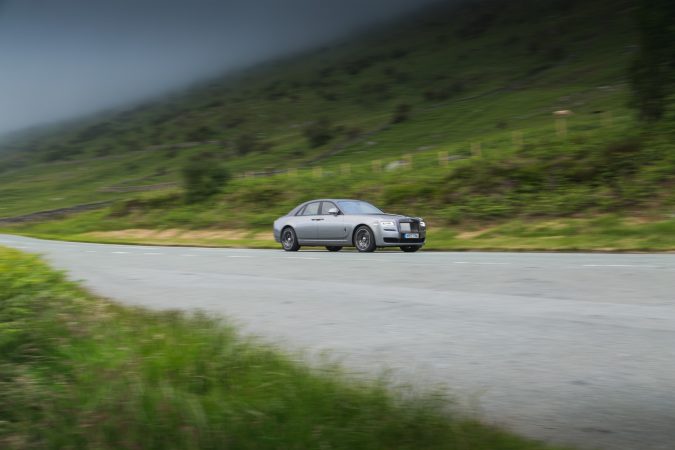 At the wheel of the Ghost, it feels relatively numb. In your hands, the car feels perfectly light and completely effortless to drive. It is all calming and tranquil until you inject that V12 into full force. The first time really opening up the Rolls-Royce Ghost I was very shocked with just how powerful the car was.
All 840 Nm of torque bolting in one direction is a big surprise to anyone. In complete comfort you can really move in this car and it will certainly provide an adrenaline rush.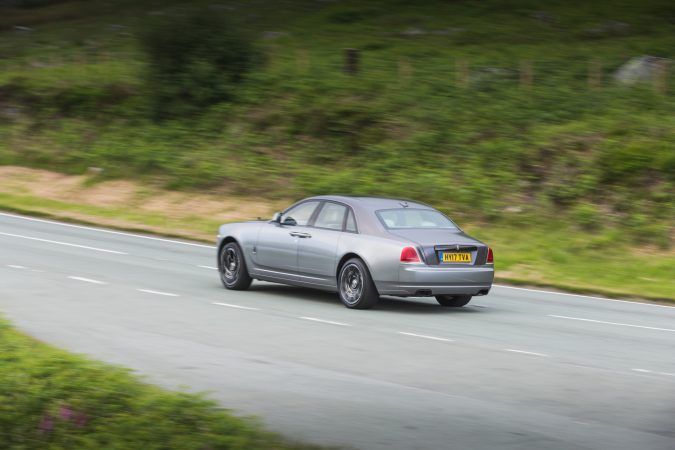 One feature you will notice about the Ghost is the sheer size of it. At 5.4 metres long the Ghost can be a handful to drive in the city. Honestly, things don't get much better in the countryside when the roads start to narrow either because the car just feels even larger.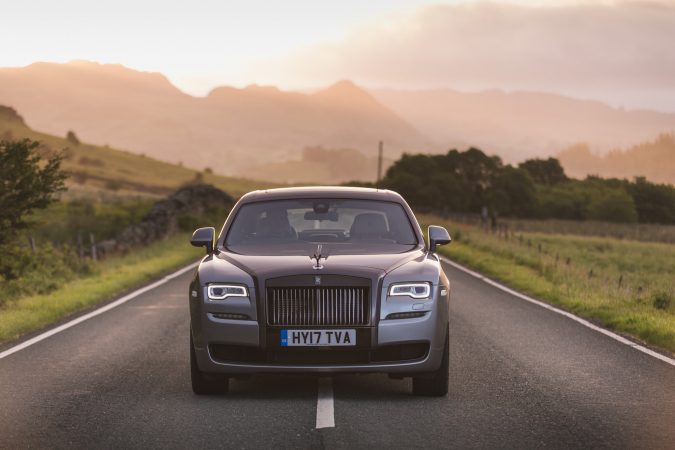 As you may be able to tell from our pictures we took the car to Snowdonia, Wales. That was for the bulk of our testing. When the roads narrowed, you did feel that little bit cautious in the car. But when you had enough space the car was so much fun to drive. Plus, its smooth, flowing ride makes it a great car for those long distance trips.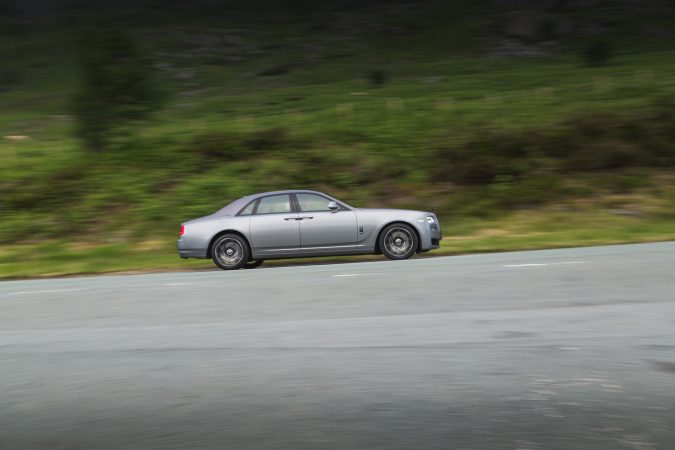 Rolls-Royce are known for impeccable innovation in engineering. When you put the engine, ride and steering aside that brings us to discuss the brakes. They're massive just to look at. The stopping power on the Ghost is immense and are certainly over engineered. Without a doubt the brakes are designed to take a real beating when required.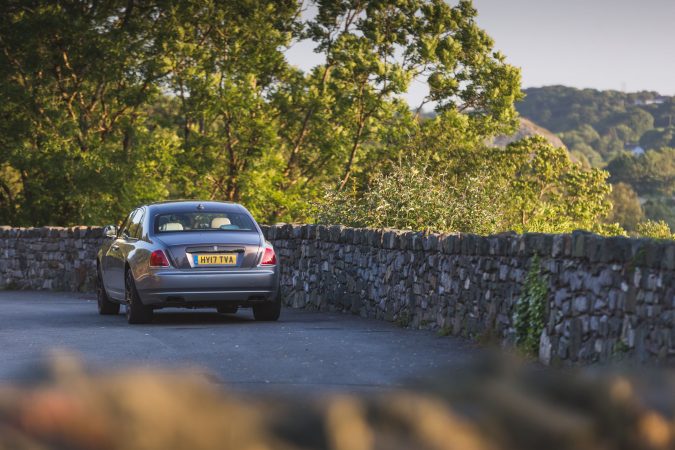 Technology in the car of course is hugely advanced in some ways, like the power output of the engine and the low level noise and vibration from the ride as an example. But I did feel that the car is lacking in other ways. To explain the Ghost does come with a clever night vision camera that will display on the infotainment system screen. It was even able to identify people or deer in front of the car and highlight that to the driver if they start to come into the path of the car.
But I found a few things missing that I would have liked to see in the Ghost. Common features like adaptive cruise control, autonomous auto braking technology and blind spot assistance weren't there. These are all things that you can get on a modern day city car. I think it would add value to the driving of and owning a Rolls-Royce Ghost.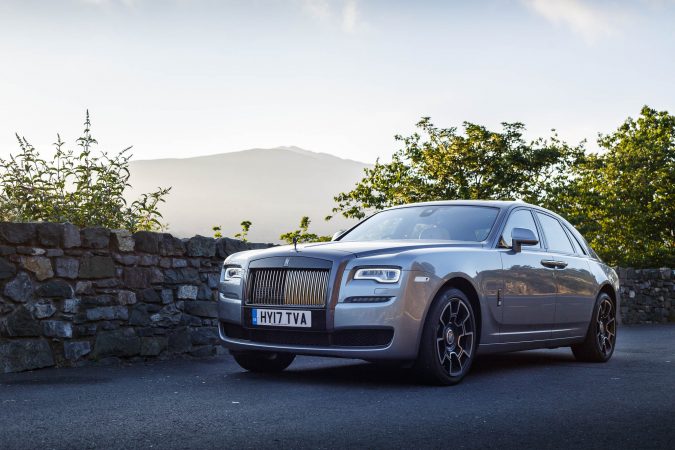 Interior
Now this is where the Rolls-Royce Ghost really wins. Of course these infamous cars have luxurious interiors. As ever, you're not wrong, they spare no expense. Let's take a step into the car. You open up the iconic suicide doors. Take a sit inside, with the touch of a button you can close the door electronically. This is perfect for maintaining your elegance as those doors do stretch out quite far.
Once inside you will find yourself in a very natural seating position. You're in a large and comfy leather dressed seat with the famous Rolls-Royce pillows allowing you to rest your head. If you really want to treat yourself you can take off your shoes and enjoy the lambs wool floor mats. They are so soft you can't imagine.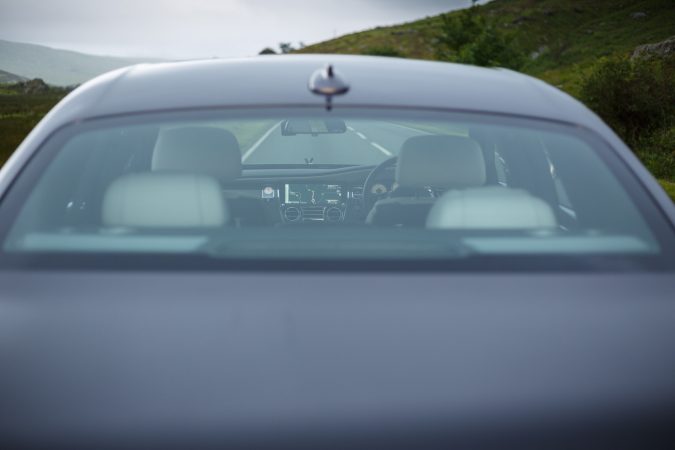 In front of you, you'll find a very nicely designed table. That's perfect for writing, using a tablet or even just placing your phone whilst travelling. Of course if you want control over the audience system during a trip, that's possible from the back of the car, which is a unique feature and of course targeted at those that like to be driven.
Look up front, the car has beautiful details that give Rolls-Royce such a unique look and quality status.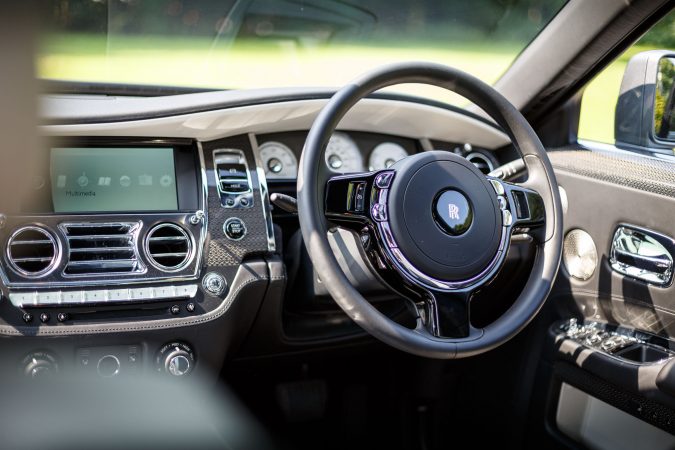 Sitting in the drivers seat, there's a very classic steering wheel design, that sits in front of  the elegant looking 3 driver instruments. Look a bit harder and you will notice the rev gauge actually displays as a power reserve gauge. So you always know how much power you have left at your disposal. I like how Rolls-Royce choose to think this way. They know there is plenty of power under the bonnet, so why not show it off?
It features bespoke carbon fibre with strips of aluminium inside, this covers the length of the dashboard, central console and door trimmings. I have never seen anything like this before. Another nice touch is the black chrome interior, which I like. It appeals to a much younger audience.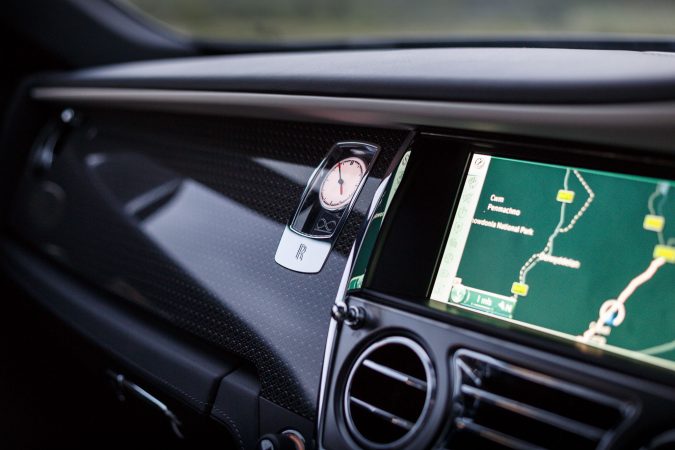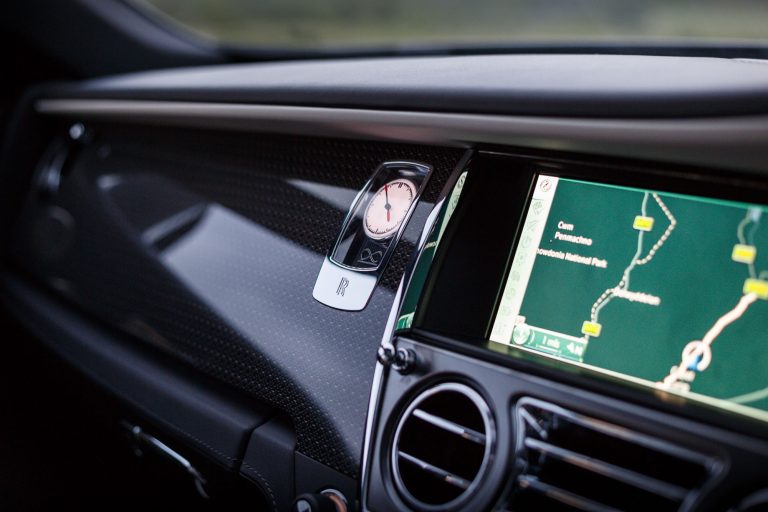 In the centre of the dashboard you will find a super wide infotainment system. It's very usable and as amazing as the car is, I did find myself wanting something a little bit more up to date from Rolls-Royce. However, my second thoughts are that the generation of people using the cars may also prefer the current system. So, it does work well.
You can adjust the driver's seat, which is really quite comfortable. Don't forget that the front seats have heating and cooling functions. Plus, a massaging function. Travelling any great distance in this car was no problem at all.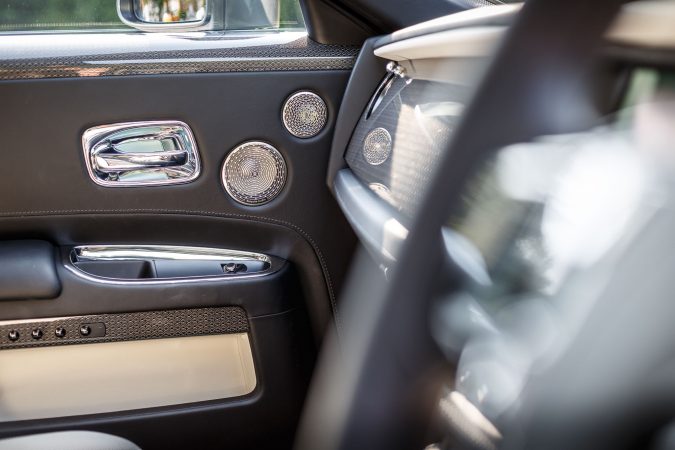 One of my favourite things about testing this car was the Rolls-Royce Bespoke audio system which was especially good. The volume that the system was able to put out was incredibly loud. All the way to the top of the power range the sound quality was impeccably clear and very appealing to the ear. Listening to your favourite songs in the Rolls-Royce Ghost Black Badge you will certainly hear things you have never heard before.
Experience
The Rolls-Royce Ghost Black Badge provides an experience like no other. The Roller is a globally desired status symbol. It's second to none. The Black Badge element adds a new edge of coolness. It's a fresh edge that we haven't seen before from Rolls-Royce. The Ghost demands respect on the outside. However, on the inside it's soft and flattering to your ego. It will leave you feeling blessed and makes you feel special like no other car can.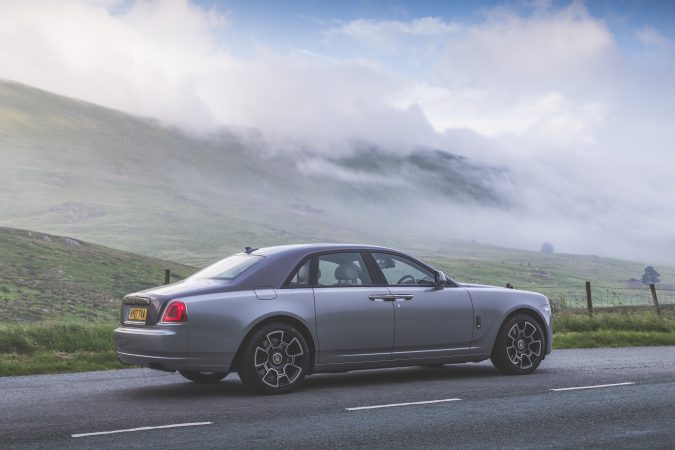 Verdict
Those who do aspire to purchase a Rolls-Royce Ghost are common, but those who actually acquire the wealth to do so are very limited. However, even if it was a lifetime achievement to get your hands on your own Rolls-Royce Ghost Black Badge, you wouldn't be disappointed. So, the car is a fine example of excellent engineering and is UK built. People will always question the price of these cars. But, I'll leave that for debate. But from my perspective there isn't a more luxurious or premium car brand than Rolls-Royce. Yes, they are still on top of their game.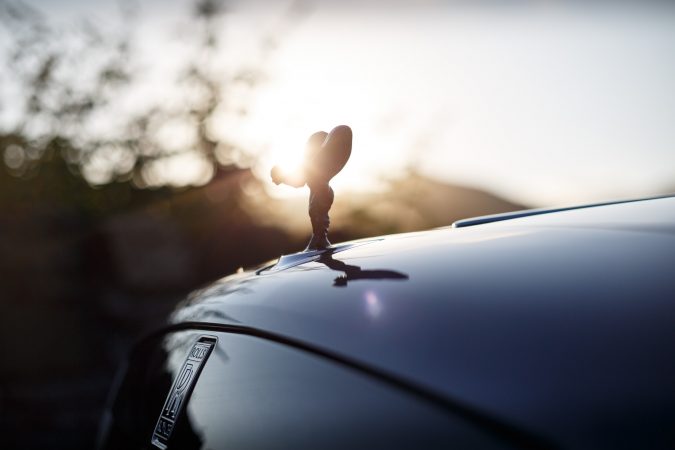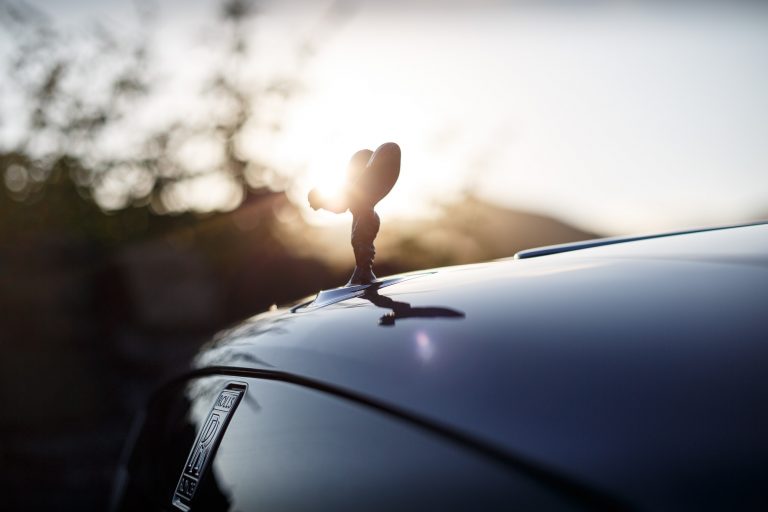 Video Highlights

Specification
2017 Rolls-Royce Ghost Black Badge
Price: £262,680 ex VAT
Engine: 6.6-litre V12 Petrol
Power: 603 bhp
Torque: 840 Nm
Transmission: 8 Speed Automatic
0-62mph: 4.6 Seconds
Top speed: 155mph
Weight: 2,435kg
Economy: 14 mpg
CO2: 327g/km
Full Gallery
Author: Paul Hadley