Driven: 2017 SEAT Ibiza FR Review
I got myself into the seat of yet another small car, the 2017 SEAT Ibiza FR. And here is what I think about this spiritually Spanish supermini.
What is the 2017 SEAT Ibiza FR all About?
Well, I say that, but the Ibiza isn't very Spanish at all. To begin with, Volkswagen owns SEAT in its entirety. Then there's the fact that the Ibiza FR sits on a very German, Volkswagen developed underpinning. In a way, you could even say that you drive a German turbo hatchback.
With that said, most regard the Ibiza as the overshadowed brother of the much more popular Volkswagen Polo. I'll just start off right now and say that's no longer the case. I'll also bravely make the subjective statement that the latest Ibiza FR is the sharpest and best looking of all its siblings.
Before you wield your pitchfork, I present to you: the 2017 Seat Ibiza FR.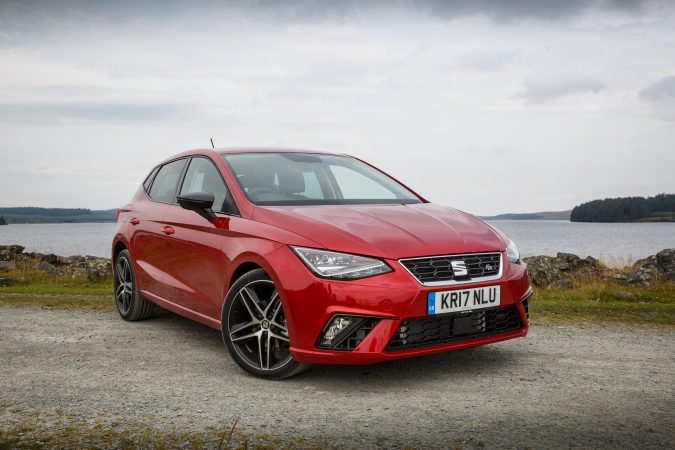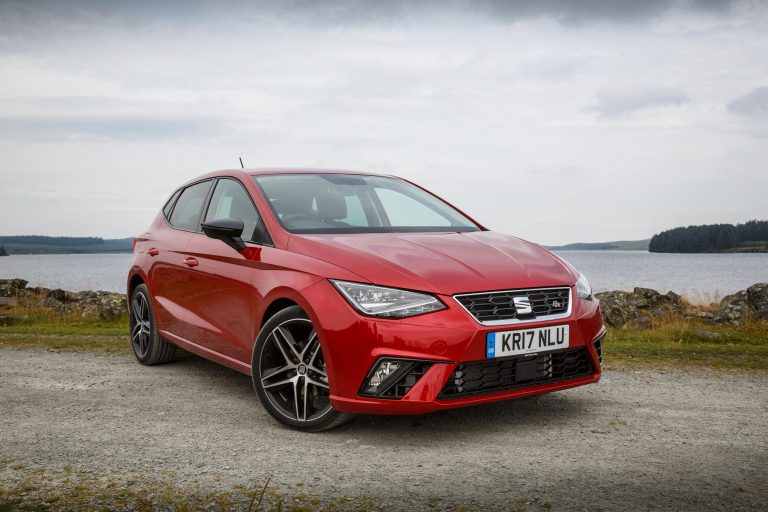 Isn't it a snazzy looker? With a pretty major makeover on the exterior, the new Ibiza FR looks smarter than ever. The lines are tightened up and well-defined, honing the Ibiza's looks and presenting a dynamic looking car. While the front of the car is rotund and rounded off, the rear and sides are aggressive with crisp indents which boast the Ibiza's sporty ambitions.
The daytime running lights further complements the supermini's aesthetics, both modernising the Ibiza and sharpening it up. Overall, it's a great looking supermini, especially for its price range. It'll certainly appeal to the young'uns, which is the market SEAT is going after with the Ibiza FR.
Our Ibiza was in the 'FR' trim, the top sporty variety. On top of that, we got those posh looking 18″ 'Performance' bi-colour alloys, which remind me a bit of expensive AMG wheels. You also get twin exhaust tips and feistier rear bumpers as part of the deal. To complement this zesty look, our Ibiza FR was painted  in 'Desire Red', a vibrant, almost orange-burning scarlet.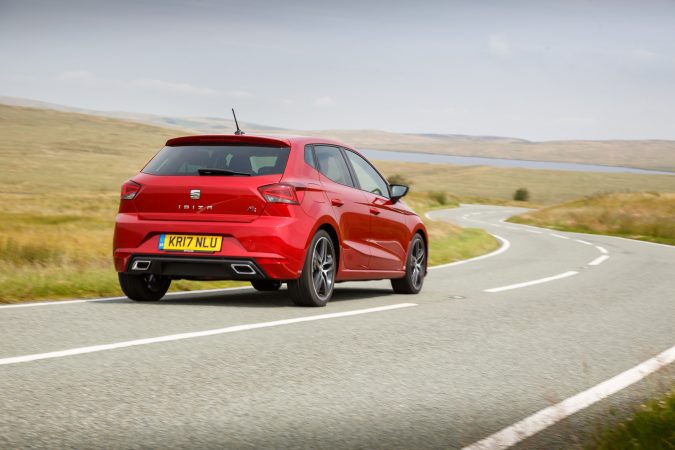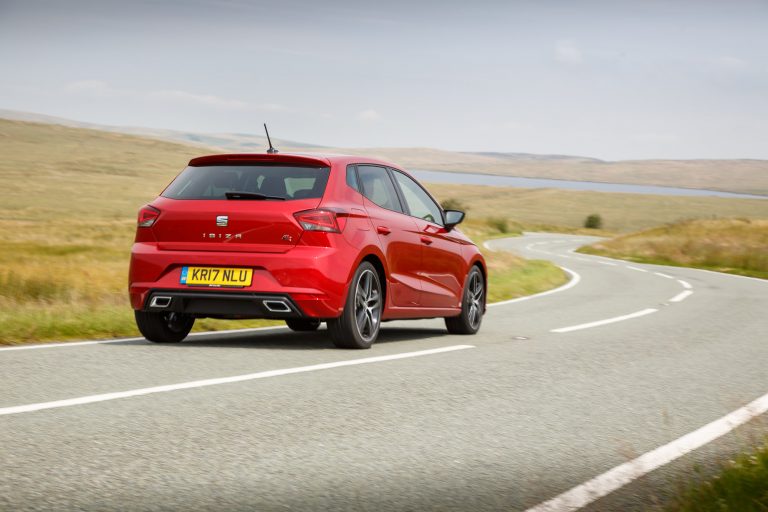 Powering our Ibiza FR was a sprightly 1.0-litre TSI, a turbocharged, direct injected and intercooled 3 cylinder engine. It puts out 113 bhp and 200 Nm of torque. It's actually not too bad for its size, and remains in line with what Ford is putting out in their EcoBoost engines.
The engine is mated to a 6-speed manual transmission that drives the front wheels. Overall, it's a respectable combination. It allows the Ibiza FR to get from 0-62 mph in 9.3 seconds, onto a top speed of 121 mph.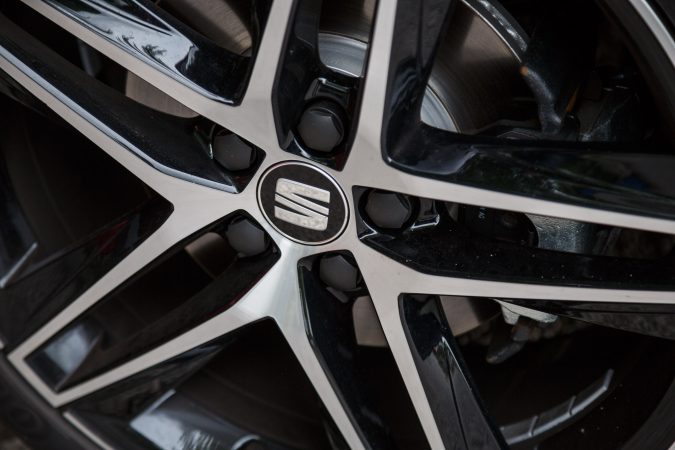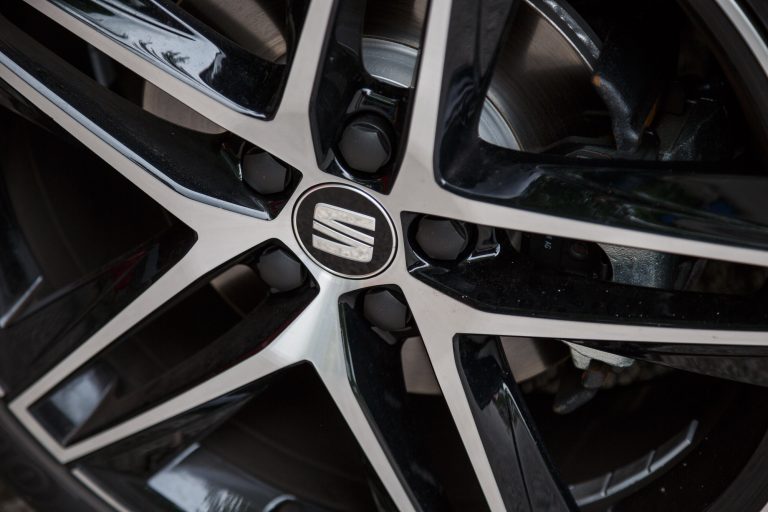 Economy figures are something that SEAT targets with the Ibiza. And while we have the hotter Ibiza FR, it's still rather impressive. It'll manage 60.1 mpg and 108 g/km of CO2.
It's worth noting that there is a slightly weaker 95 bhp variant of the TSI engine, and an MPI engine that puts out 75 bhp. SEAT is also going to bring out the 1.5-litre TSI EVO, with a zesty 148 bhp on tap.
How Does it Drive?
While this is a supermini made to appeal to a broad audience and fit into a tight price range, it's genuinely rather impressive.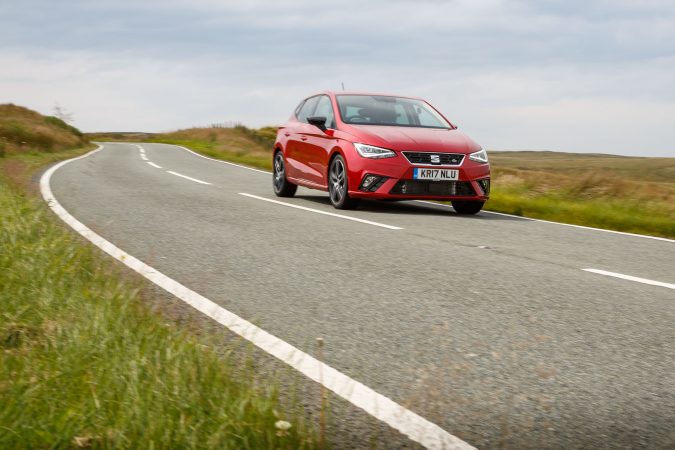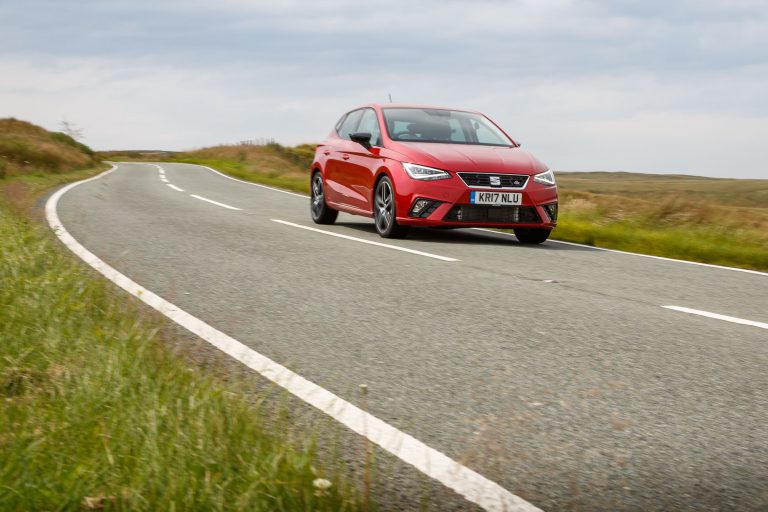 Volkswagen knows how to make a good, small engine. The Ibiza FR certainly displays the traits. To begin with, it's punchy, with bundles of torque available over 2000 rpm. For a 3 cylinder it's very smooth as well, and remains refined and quiet.
If you want to keep it civil, you'll have to drive the engine like a diesel. Short shift it, and keep it below 3,500 rpm. You have plenty of torque down low anyways. The Ibiza FR's advantage is the fact that it's quieter than a diesel, and comparable in efficiency to one.
Driving the Ibiza FR on motorways is a pleasant experience where the engine is simply a whisper. Road noise is noticeable but I'd still class the cabin as quiet enough.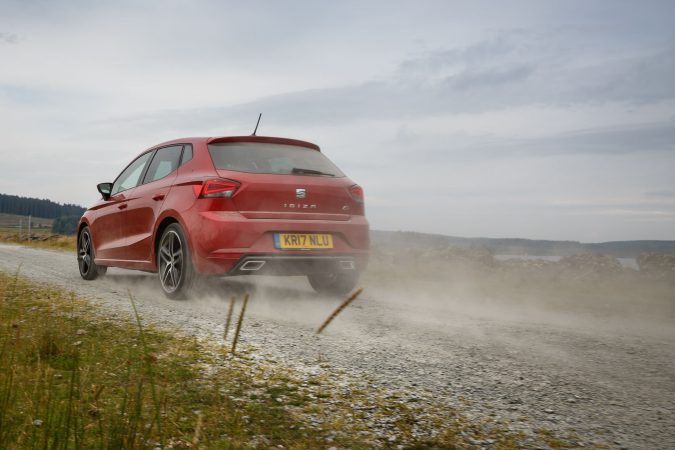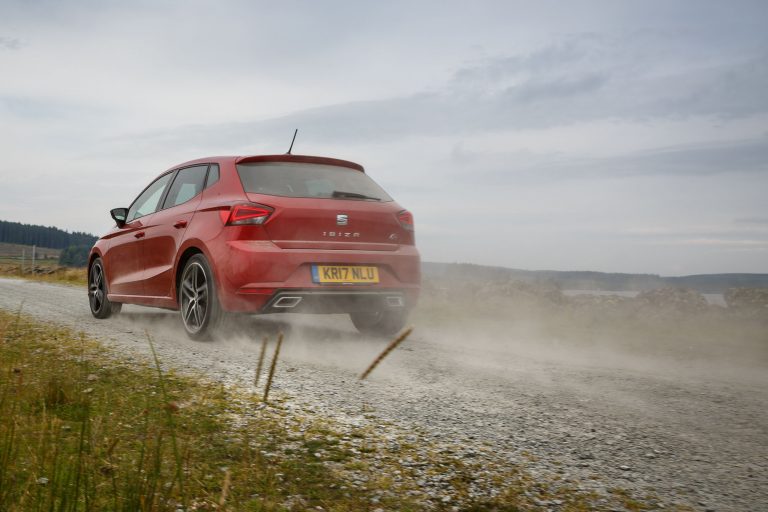 It also has a longer wheelbase than the previous Ibiza. A good thing, especially paired with well-tuned suspension. The Ibiza FR simply shrugs off British roads, and settles quickly even after undulations. We did put it on some rough gravel, and it isn't half-bad at managing the bumps. Impressive considering SEAT went with the effort of putting sports suspension as part of the FR deal.
In addition to that, a well-sorted underpinning means the Ibiza FR remains relevant even in the corners. While the steering feels quite light, and more suitable for city driving, the Ibiza FR is swift and agile. The Ibiza FR attacks corners with remarkable gusto and vigour. It lays flat, and maintains plenty of grip around corners.
What is it Like Inside?
The interior of the Ibiza FR isn't half bad too. In a modern car, even one built with a budget price in mind, you shouldn't have to deal with a terrible interior. The new Ibiza FR is a prime example here.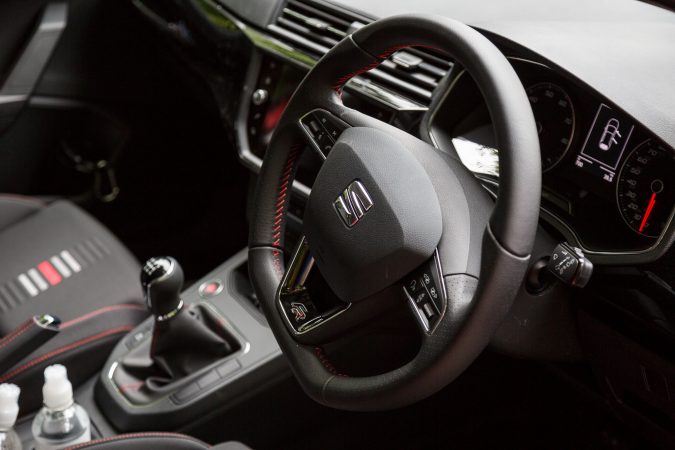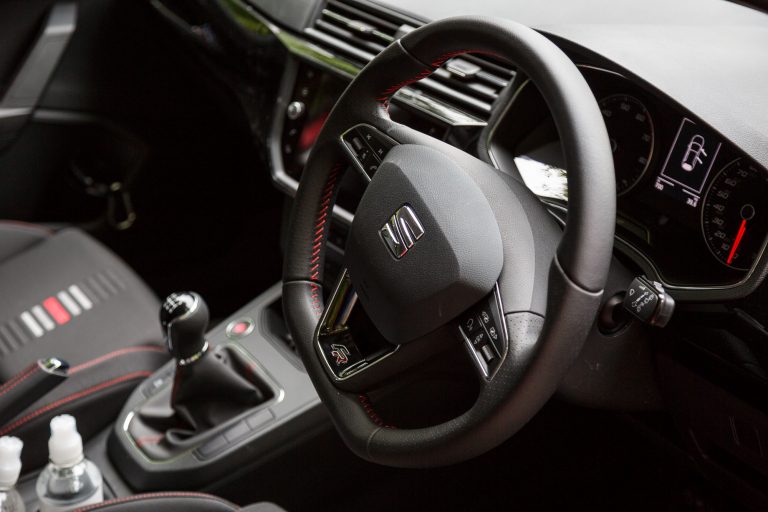 While it's a small car, extending the wheelbase means that it has heaps more capacity than the previous Ibiza, which garnered complaints about passenger room. In the FR, we also get sport seats and a few additional interior details, like the red stitching.
A cool addition to spice up the FR is the flat-bottomed steering wheel which looks great. The instrument cluster is pretty typical and easy to read, with a central information screen. SEAT has also gone ahead and softened up the materials they use in part of their effort to modernise the Ibiza.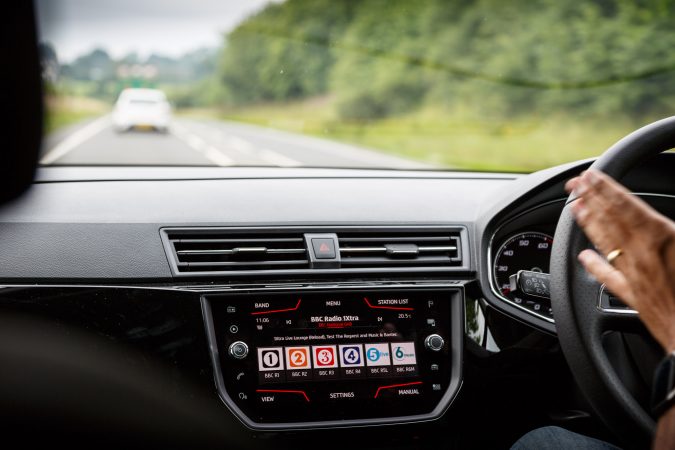 You also get an nice 8″ infotainment system on the center console that looks well integrated and nicely tucked in. However, this unit isn't included on the lower-end models of the Ibiza FR.
The boot space is also enlarged in the new Ibiza. At 355 litres, it's actually decent, and capable of handling groceries aplenty. A larger wheelbase is really paying off.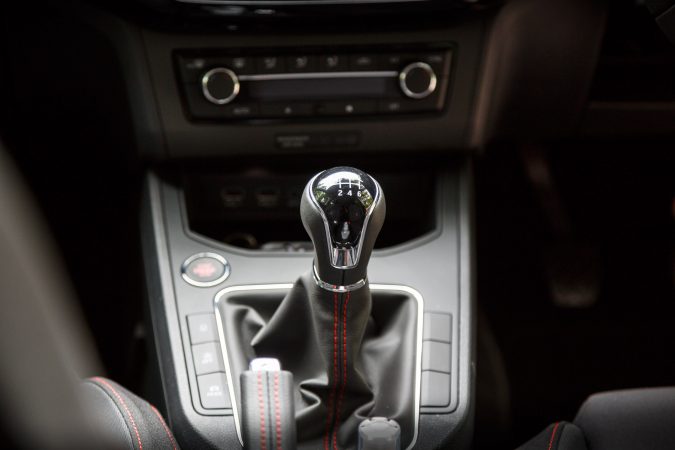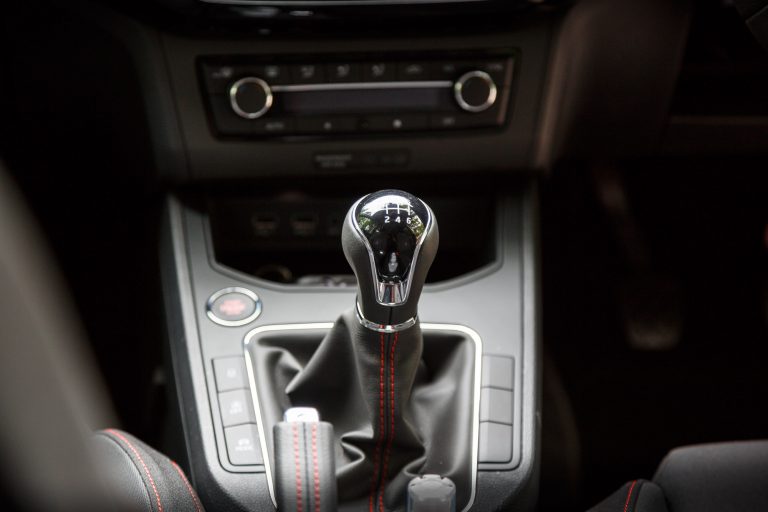 Overall, The 2017 Ibiza FR boasts a nice and functional interior that's perfectly livable with over long distance travelling.
The Experience
Driving the new Ibiza FR is an astonishingly nice experience. It looks great, and there was plenty of space for me. As a supermini, it handles well, and you can be quite aggressive shifting the lively 1.0-litre TSI engine when in the mood.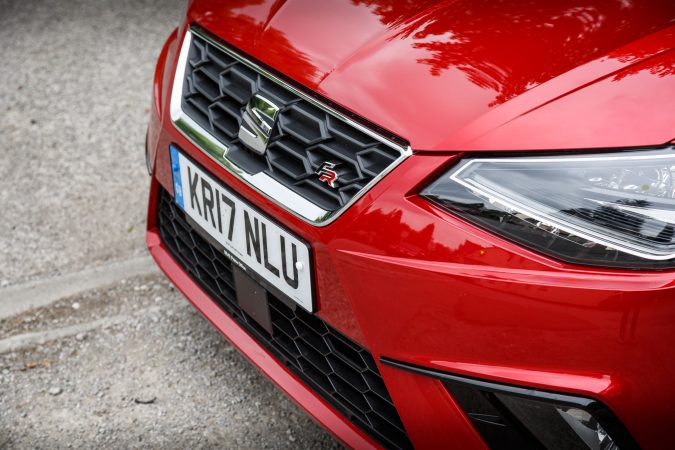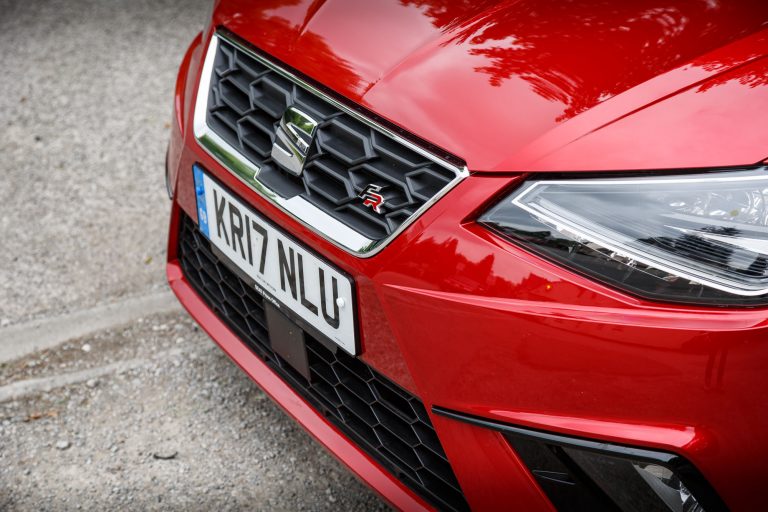 There's no doubt that the Ibiza FR turns some heads. Perhaps that's partly due to how new the Ibiza FR is. Nevertheless, the car is chic and youthful.
Verdict
Well, I go on about how good a value the Ibiza FR is, but how much is it really? For the FR model with our engine, it starts from £16,630. That's pretty good. If you consider it a supermini though, it might be on the upper range – but so is the Fiesta.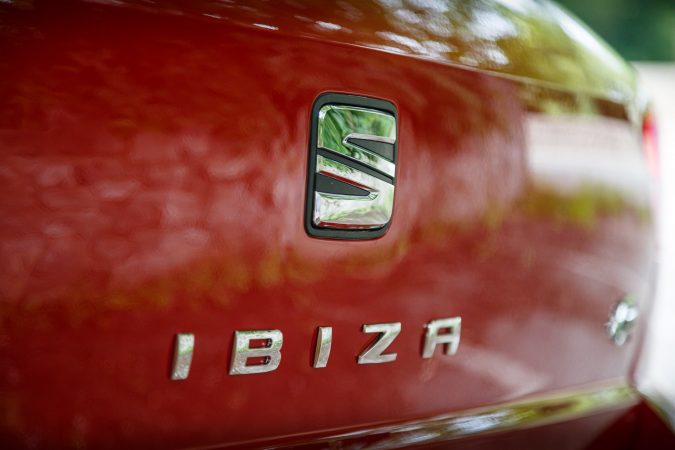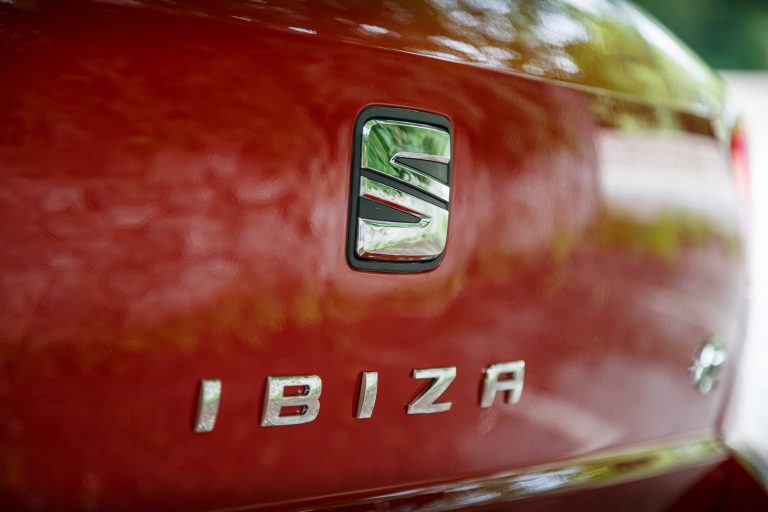 The Ibiza FR is only really a supermini in name. It's roomy enough to take on plenty of passengers, although the rear passengers will be hard pressed to find any luxuries. Still, it drives great, looks good, and it's well-equipped and perfectly serviceable as a daily driver.
If you want a small hatchback with decent space, a strong engine, and good dynamics, the Ibiza FR will give its competitors out there a run for its money. Otherwise, if you want something a bit more luxurious, maybe look at the XCELLENCE trim. Want something a bit hotter? The 1.5-litre TSI looks good, and it's a different choice from the commonplace Fiesta ST.
2017 SEAT Ibiza FR
Price: £16,630
Engine: 1.0-litre turbocharged 3-cylinder TSI
Power: 113 hp
Torque: 200 Nm
Transmission:  6-speed manual
0-62mph: 9.3 Seconds
Top speed: 121 mph
Weight: 1,140 kg
Economy: 60.1 mpg
CO2: 108 g/km
Gallery
Author: Paul Hadley