Driven: 2017 Volkswagen Amarok Aventura 3.0 V6 Review
I had a go in Volkswagen's latest Amarok V6, and here are my thoughts on this underrated pickup.
What Is The 2017 Volkswagen Amarok all About?
When we look at pickups, we think about the Japanese, the Americans, or even the Australians. What if I told you that the Europeans make one too? In the form of the Amarok, a relatively recent model.
It's not a common sight, because it often gets overshadowed by its competitors. Is it deservedly so though? We'll find out.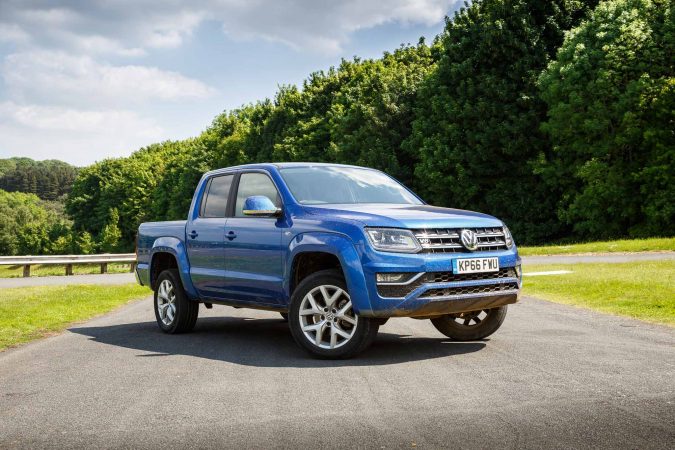 From the outside, the Amarok has typical Volkswagen styling. I think Volkswagen nailed it. A lot of pickups tend to go over the top on styling and I think VW have found a good balance.
It's a modern, bulky look that the Amarok bears proudly. With large overhang wheel arches it looks like a proper cargo hauler that can deal with some mud. Everything is nicely squared off, much unlike Mitsubishi's approach with their L200. Luckily, the Ravenna Blue on our Amarok helped to energise it. Additionally, we had the optional 19″ Cantera wheels which are very tasty.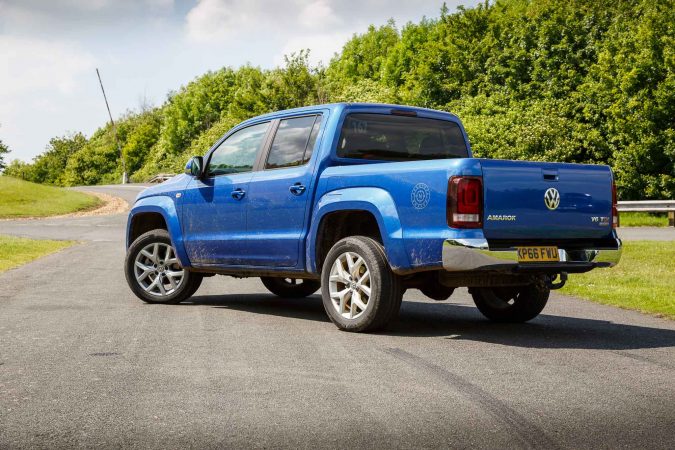 The test car was powered by a 3.0-litre, BlueMotion turbocharged V6 diesel engine. It makes 221 bhp. More importantly, this engine puts out 550 Nm of torque, which is huge. Delivering the power to all 4 wheels is an 8-speed automatic gearbox. This pairing enables a 0-62 mph time of 8 seconds and a top speed of 119 mph. Meanwhile, this turbocharged 3.0-litre V6 achieves 36.2 mpg and puts out 204 g/km of CO2. On paper it sounds great!
How Does it Drive?
It's worth noting that the Amarok has permanent 4MOTION all-wheel drive and a Torsen self-locking centre differential. This should all help with its off-road capabilities.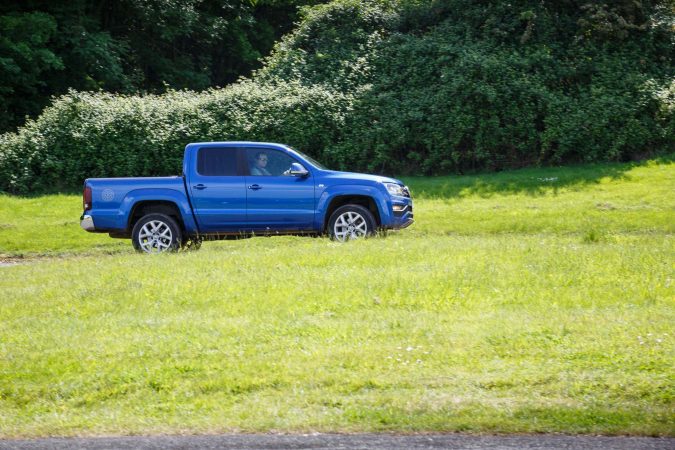 With the turbodiesel V6 this pickup feels pretty powerful. I've driven some of its competitors before. Boy, the Amarok blows them out of the water.
If you step on it, it pulls really hard, making overtakes a breeze. There is a bit of a buildup down low, but when the turbo spools the party starts. All the torque comes at roughly 2,700 rpm, and you can certainly feel the 550 Nm of torque in your neck.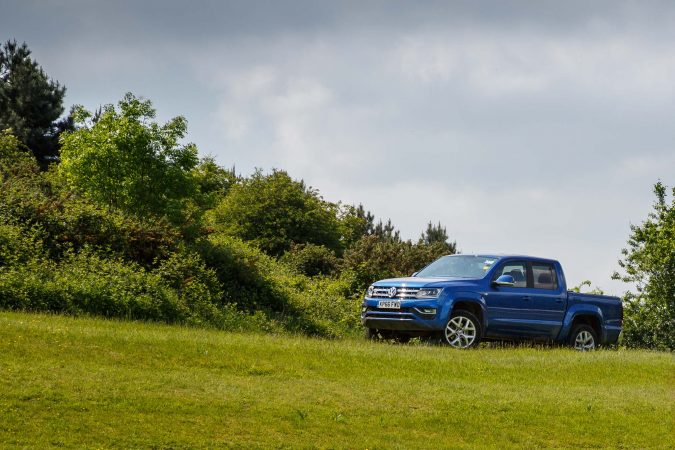 While the engine pulls hard, you might be surprised at how refined it is. It's a balanced and smooth engine, although it puts out a bit of noise when you open it up. The most impressive thing about the Amarok for me was just how refined the ride quality was for a pick up truck. VW have put some careful thought in to what suspension components they use and how that relates into a driving experience.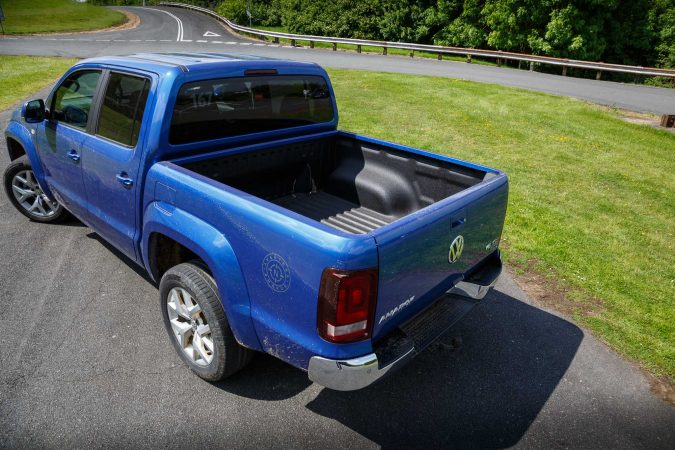 The steering can be a bit vague at times, but it is incredibly light. Meaning driving this big old beast around is easy to drive and is something your mom could drive no problem at all.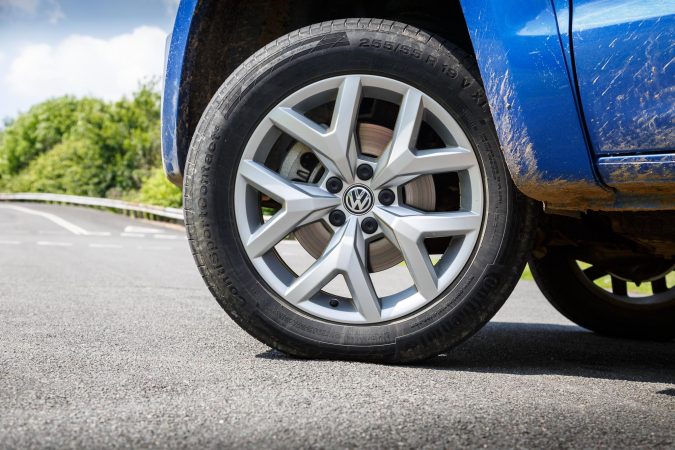 However, the tyres provide plenty of grip, and thanks to the AWD system, you'd have no issue negotiating corners. It seems to do a fine job of putting down the torque too.
What Is It Like Inside?
Achieving a true 'consumer car-like feel' is a feat that many commercial vehicle manufacturers strive to achieve. But Volkswagen really delivers it in their Amarok.
This is a big car, there's no getting around that. In fact, the Amarok is larger than most of its competitors. However, thanks to that, the Amarok is really spacious.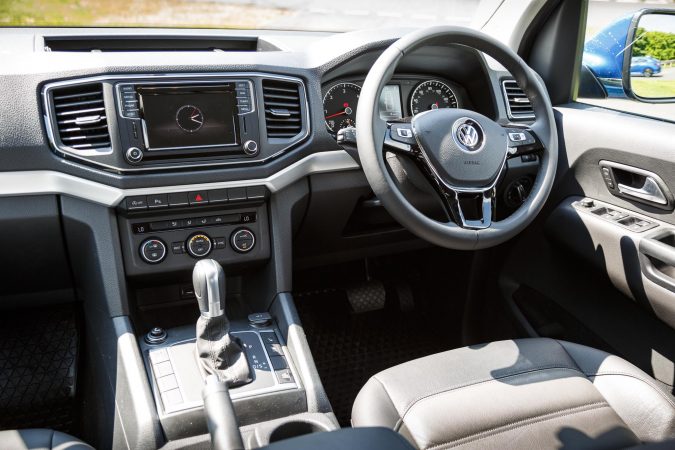 The cabin is a particularly nice place to be in for a pickup. Our seats were specced in 'Vienna' upholstery. There was plenty of space in the front for everyone to get comfortable in with ample headroom. In the rear, things are similar, with ample legroom for everyone. Buyers can probably squeeze a person one size smaller into the middle seat too.
Everything is ultra-utilitarian in the Amarok. It's all very squared off and easy to navigate. The steering wheel is similarly bulky and multi-functional. The instrument cluster is simple with a centre information screen for added driver convenience.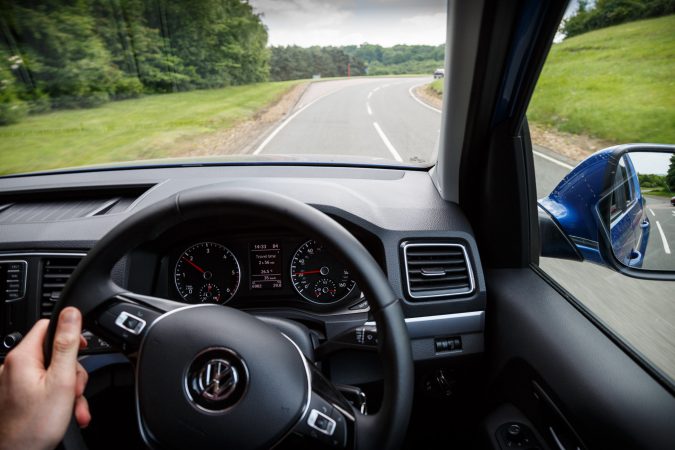 The entire centre console is very symmetrical and follows a rather geometrical shape. While the majority of the dashboard is plastic, everything feels solid and well put together. The fascia is pleasing enough. A bit more colour to match the livelier exterior will certainly liven up the interior of the Amarok a lot though. The infotainment system of the Amarok is quite typical of VW, no problems there.
Being a pickup, it can haul proper cargo. And the Amarok can carry roughly 1.1 tonnes of payload. Buyers of the Amarok will definitely determine that it's enough for them, as it will cover most eventualities.
The Experience
Driving the Amarok it felt like a great driving truck that pulls surprisingly hard. Everything felt sturdy and substantial in the Amarok, and you have a very commanding view of the road driving it.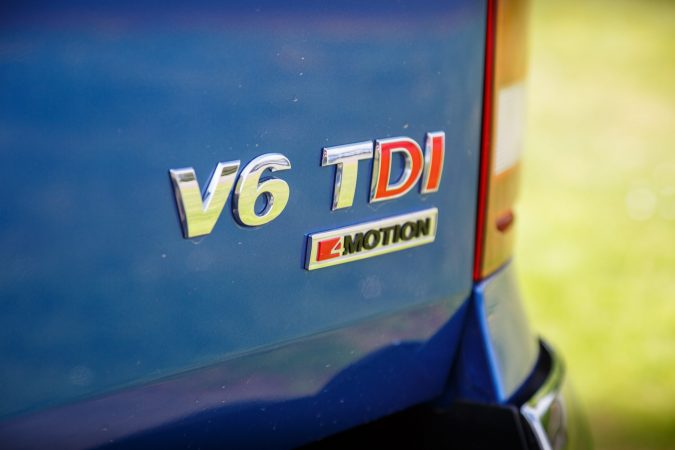 Volkswagen really went back to basics with this one. There was nothing I detested about the Amarok. I can say that buyers will be happy with it. As a commercial vehicle, quality and reliability is what you want after all.
Verdict
It may bear the Volkswagen badge and a conventional look, but you are paying for the quality. In fact, for a base model V6, you'd be looking at £31,995. If you want our 'Adventura' model with the engine, permanent 4MOTION, etc, prepare to spend £38,394 on the road.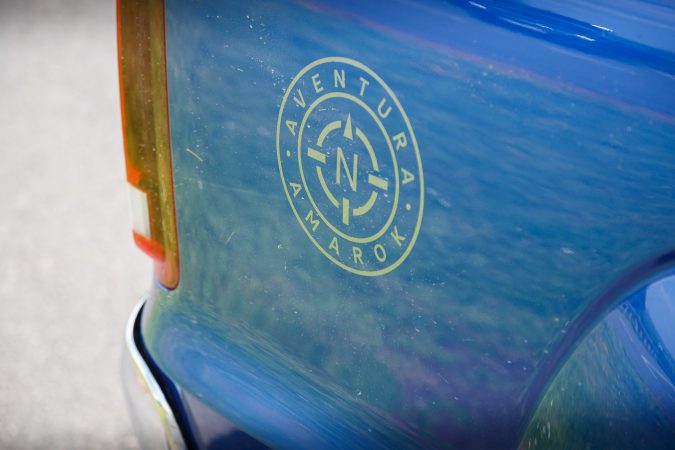 So yes, it's great, it's nice. Buyers that can shell out the money for it will certainly be satisfied with their purchase decision, because what they've bought is a Volkswagen made commercial vehicle. Is it underrated? I think so. Maybe it's the price that's holding back an explosion of popularity.
If you want a truck that can be daily driven, handle mud just fine, and won't let you down when you step on the gas, look no further. The Amarok is your choice.
Video Highlights

Specification
2017 Volkswagen Amarok Aventura 3.0 V6
Price: £38,394
Engine: 3.0-litre turbodiesel BlueMotion V6 w/ DPF
Power: 221 bhp
Torque: 550 Nm
Transmission: 8-speed automatic transmission
0-62mph: 8.0 seconds
Top speed: 119 mph
Unladen Weight: 2,176kg
Economy combined: 36.2 mpg
Author: Paul Hadley