Hyundai Veloster Turbo 2013 – The coolest looking hatchback on sale
You're looking at the 2013 Hyundai Veloster Turbo. It is a modern day hatchback with a great alternate look. It costs £22,120, has a 1.6-Litre turbo engine with 184bhp, front wheel drive and a top speed of 133mph. The Veloster has a beefed up outer body style which is very eye catching and futuristic, and the interior is very funky and modern with lots of useful tech and buttons.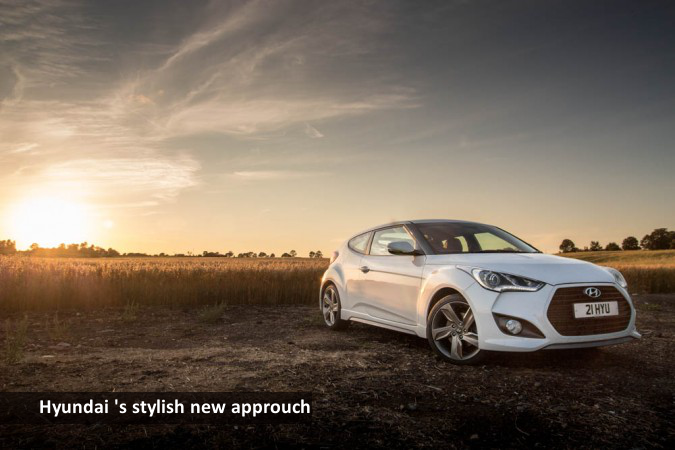 Those precious looks
I like what Hyundai have done with the Veloster, they have taken the opportunity to do something a bit risky with one of their cars, and I think it's paid off. It looks great. The car has big chunky 18" wheels, a massive 'eat your dog' size front grill, wide wheel arches, fancy Audi style LED lights, louvers in the bonnet, two huge exhaust pipes, and various detail lines and folds all over its bodywork. The most interesting factor of this car is the 1 + 2 door approach, meaning that you get 2 doors on the front, and then one door on the back passenger side. On first thoughts this always sounded like a crazy idea to me, but it doesn't really have too much of a negative effect on the usability of the car and it does keep the one side of the car looking seamless, and also creates a great talking point for others admiring the car; I think it's a good call. The only downside is it does mean the driver does have to get out in the rain to let people in from the driver's side.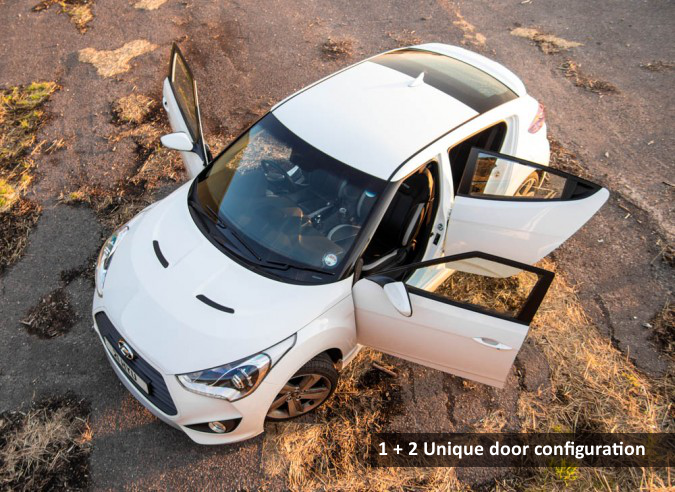 If you sit the Veloster next to a standard hot hatch it will make the other hot hatches look about 10 years older than they actually are. The Veloster looks like nothing else on the road and has lots of impressive extra touches, like the 18" wheels with chrome inserts, raking contour lines on the body work and optional matt finish paint, which puts the Veloster head and shoulders above the competition.
What's it like inside?
The funky modern feel continues inside, you get keyless entry with push button start, nicely designed leather seats, sat nav, a rear parking camera, folding mirrors, 3 electric windows and an eight speaker sound system. It's a well-equipped car, what more could you need in your hatchback?
Veloster Turbo Performance
The Veloster has a 1.6-Litre, direct injection, twin scroll turbo engine, the turbo takes the car from 136bhp to 184bhp when on boost. The turbo is on boost from 1500rpm, so as long you stay past this point you have all 195 lb/ft of torque at your feet. The Veloster can do 0-60 in 8.4 seconds and has a top speed of 133mph. Importantly, the mpg stats are pretty good as well ranging from 26mpg in the city to 38mpg on the motorway making this car pretty cost effective for the everyday driver.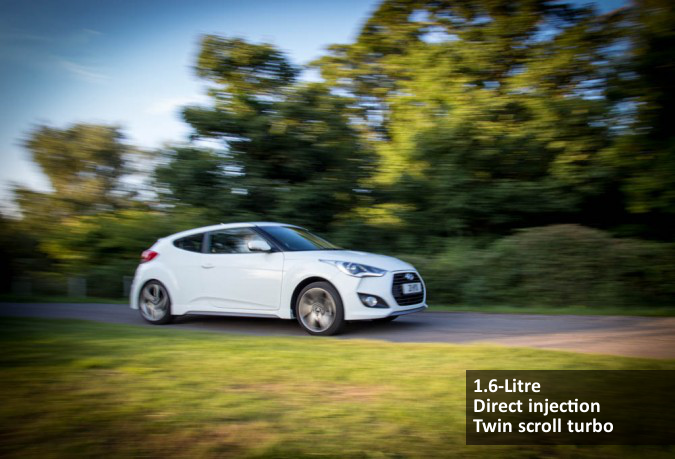 The experience
Walking to the car, there's lots to look at and it's impressive from every angle. Sat in the electrically adjustable and heated sports seats, looking at the funky blue dials it feels like a great place to be. Left foot on the clutch, right on the brake, press the backlit start button and you're off. Driving the Veloster it feels like a well put together car. It has a great gear change, decent braking and light steering. It was enjoyable to drive and is a gentle introduction for people that what something a bit meatier than your standard hatchback, but not dangerously fast. Being called the Veloster Turbo, and having those stylish looks and huge exhausts I did expect a bit more grunt from the 1.6-Litre turbo. But you can still enjoy the power it does have, it doesn't suffer from much turbo lag or torque steer and it's a pleasant car to drive overall, it's easy on the fuel and fairly responsive as well.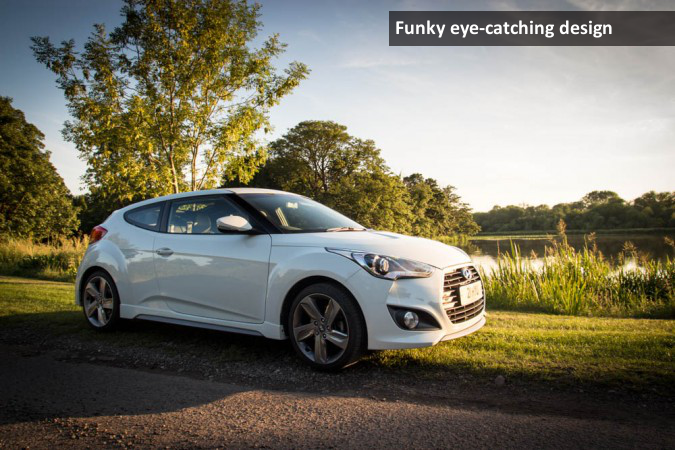 The car doesn't look out of place anywhere. Hyundai have done an impressive job here. It's a funky modern car with all the equipment you need, the performance is OK and you don't have to pay out massively for road tax and fuel at the pumps. It's a good balance for people that want an alternative hatchback, that looks good, has an enthusiastic feel, but still with everyday practicalities. Great job Hyundai! Although I think there is room in the market for a Veloster Turbo R version with around 230bhp as well!

Specification
Price: £22,120
Engine: 1.6-Litre Turbo
Power:184bhp
Torque: 195lb/ft
Transmission: 6 Speed Manual
0-62mph: 8.4 Seconds
Top speed: 133mph
Economy:  26mpg/38mpg
CO2:  157g/km
 Author: Paul Hadley