Rolls Royce Ghost Review
How is it possible that someone can give you a car with a 563bhp, 6.6-Litre, v12, twin turbo engine, with rear wheel drive and the only sensation it gives you is absolute tranquillity? The Rolls Royce Ghost is special in ways I didn't even know existed until I drove it.
The Ghost starts at £200,958 before you even start indulging in the near infinite amount of customisable options. The Rolls I tested had everything and was a completely unreal experience.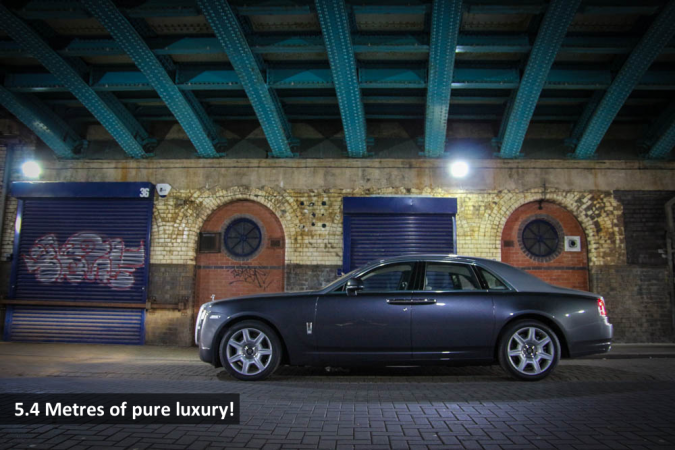 The Rolls Royce Experience
I have found it very difficult to put into words the feeling you get from driving a Rolls Royce. As soon as the door shuts you feel instantly calm, every touch or input to the car is softer and smoother than your highest expectations.Starting the car, removing the hand brake, putting it into gear; it is completely electronic effortless and serene, without even moving away you know you are in for something special.
Without a peep from the gearbox linkage the car is in gear and good to go, you press the accelerator pedal on the v12 Rolls and move off; here is where the car shines. The ride is so graceful that for most of the time you are surprised to see that you are actually moving.It is seriously smooth.
The soothing sensation isn't just about the suspension ride, everything about this car is slick from the power delivery to the steering response, and even the braking dynamics are elegant in every aspect. It is almost as if Rolls Royce have looked at every action a car will take and said "how can we make it happen 100 times better", it's that good! Everything feels fluid, yet responsive and assertive.  It is the ultimate premium comfort driving experience. It is incomparably brilliant!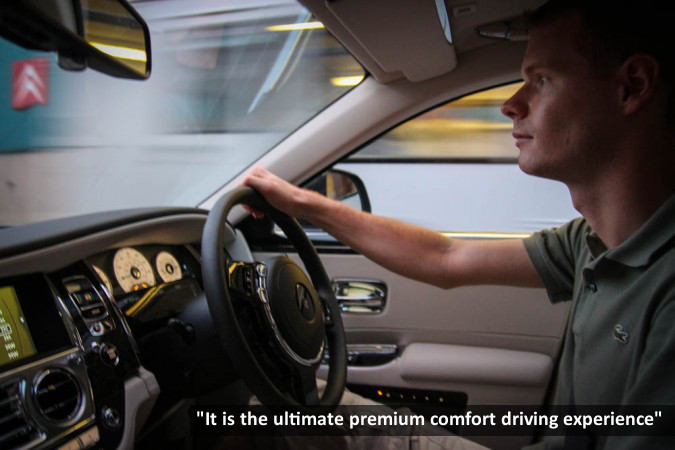 The straight line performance is also brilliant, but the feeling is baffling, you hit the accelerator, and you're aware you have accelerated and the speed is increasing rapidly but there is no sense of danger or G-force, it is like being teleported forward.   Interestingly, Rolls Royce don't use a rev gauge, that's far too common, instead they choose to use a power reserve meter – far more suiting. When driving the Rolls Royce you know you have an adequate amount of power if you need it, but you never want to use it, you're happy driving round slowly and comfortably.You feel calm, lifted and important. It is almost as if you are driving the same roads as the other motorists but you are in a completely parallel world, no one else matters.
It's Luxurious
What luxuries stand out the most from the Ghost? Let's start with the electric closing rear suicide doors. Take a seat in the back and simply press the door close button over your shoulder and the door elegantly shuts and locks. You instantly feel like a VIP when you no longer have to shut doors yourself.  When being driven in the car you will experience thick luxury lamb's wool carpets, the finest leathers, massaging front and rear seats,double glazing, rear TVs, laptop tables and full control over the cars iDrive and entertainment system from the back seat.
Once you arrive at your destination, if you're living in the UK it is likely to be raining, all your driver has to do is touch a button on either of the two front doors to dispatch the very appealing Rolls Royce umbrellas. I have never been so interested in umbrella design until now, it's a nice touch.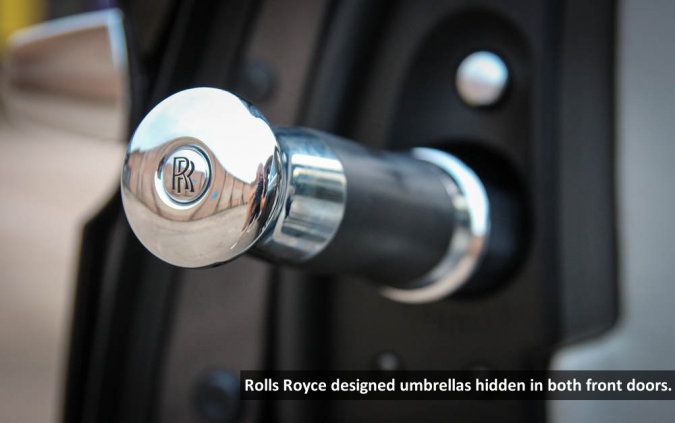 Down to earth information
The Ghost shares 20% of its components with the BMW 7 series, this includes the iDrive system, head up display, and floor plan;this is a good thing as they are well-built, well tested technologies.  The Rolls also uses an 8 speed ZF automatic gearbox which is unbelievably smooth. When you are in the reverse gear, you will notice that it has been fitted with a top notch reserving camera system which shows you all around the car from an aerial perspective, which is very cool and extremely useful a on car of this size.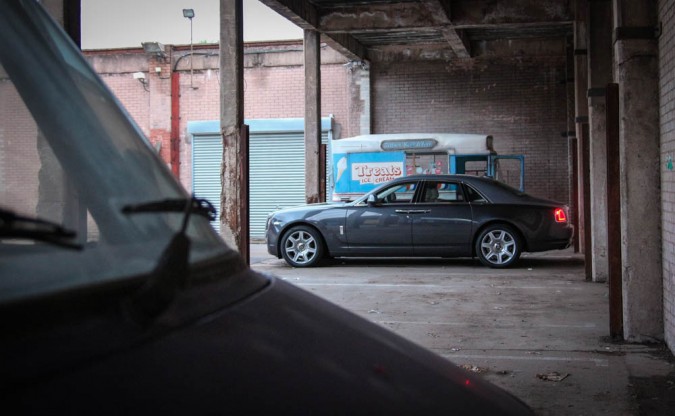 Verdict
Rolls Royce have always been considered excellent – the highest quality, the bee knees, they don't disappoint.  The Ghost is as good as it comes and even exceeds expectations,which is no mean feat considering you could get a fairly decent house for the same money. The Ghost is a modern day icon of luxury and technological innovation and radiates emotion and brilliance. After driving the Rolls Royce Ghost, there is no doubt in my mind why people aspire to own a Rolls someday.

Specification
Price: £200,958
Engine: 6,592cc V12, twin-turbocharged petrol engine
Power: 563bhp @ 5,250rpm
Torque: 575lb ft @ 1,500rpm
Transmission: Eight-speed automatic transmission, Rear-wheel drive
0-62mph: 4.7 secs
Top speed: 155mph
Economy: 13.8mpg (Urban)
CO2: 317g/km
Author: Paul Hadley