Driven: 2017 Mazda CX-5 2.2D 150ps 2WD Sport Nav Review
The CX-5 is Mazda's own interpretation in the crowded SUV market, and with the keys to one, we find out if it's still as enjoyable as before.
What is the 

Mazda CX-5 2.2D 150ps 2WD Sport Nav all 

about?
Out of all the international Japanese names in the automotive world, Mazda is a relatively underappreciated one. Mazda deserves a lot more recognition outside of their sporty heritage. They've made some truly viable fun to drive alternatives to the norm, like the Mazda6, Mazdaspeed 3, and of course, the previous CX-5. We loved it because it's just a solid crossover with nothing glaring to fault.
And now, Mazda has brought out the new CX-5, with a new face and a revised interior, is it an improvement over what we loved?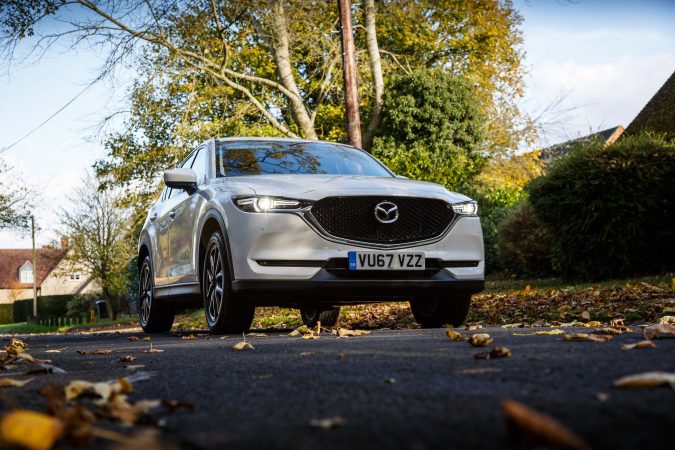 If you loved how Mazda went with the aggressive look found in the previous CX-5, you'll come to like the new CX-5's aesthetics even more. This time around, the lamps are even slimmer, and they've given the CX-5 a lower lip and stealthy mesh grille. All the ingredients for a more assertive front.
Overall, the lines are more polished and simpler, rousing a more suave look. That said, the proportions remain relatively similar to the previous CX-5, but it's now 30mm lower. Sitting on fat 19″ 'Gunmetal' alloys courtesy of the 'Sport Nav' trim and painted in 'Snowflake White', our second-gen CX-5 sure looks smart.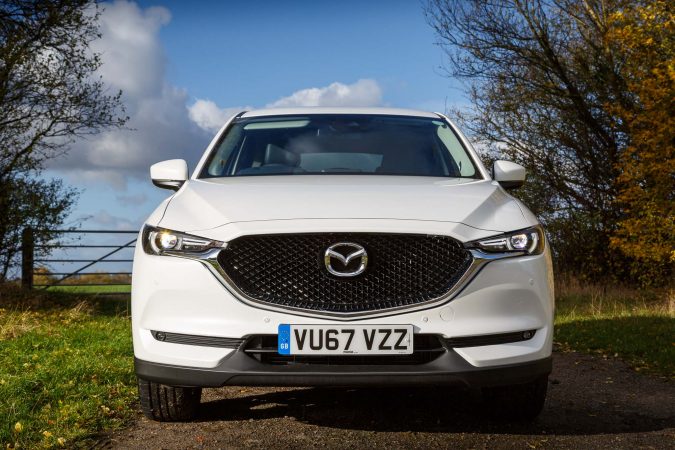 Powering our new CX-5 is the same engine we had in our previous test car, but with less power. The 2.2 SKYACTIV-D twin-turbocharged diesel inline-4 that puts out 148 bhp and 380 Nm of torque. We loved how that engine puts out torque so effortlessly, so we'll see if this lesser variant is viable.
The engine drives the same transmission from last time too, a no-frills 6-speed manual transmission. It also drives the same number of wheels, all four. Working in tandem, the new CX-5 goes from 0-62 mph in 9.4 seconds, onto a top speed of 127 mph.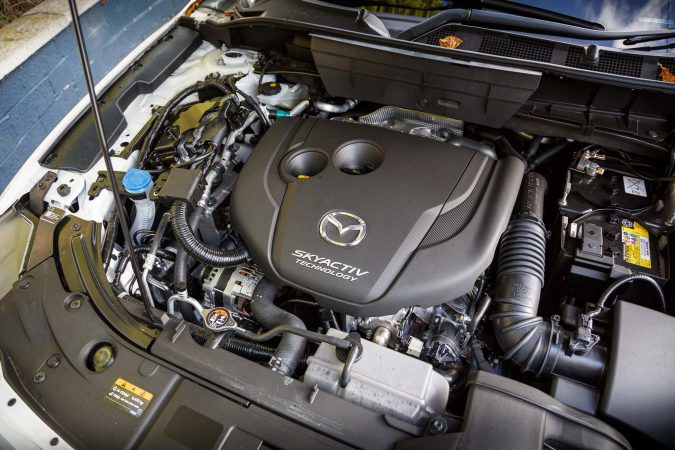 The new CX-5 weighs in at 1.67 tonnes, over 50 kg heavier than the previous iteration, which is a sacrifice Mazda made for the interior. More on that later.
Despite being a sizable car, the CX-5 returns 56.5 mpg and puts out 132 g/km of CO2. There are also other engines available, a 2.0-litre N/A petrol, and a more powerful variant of the 2.2-litre diesel found here.
How does it drive?
Remember the part where I mentioned that the engine is twin-turbocharged? More accurately, it's a single small unit that houses two different turbochargers, creating a sequential turbo setup. And it's very effective because there's always some torque to use.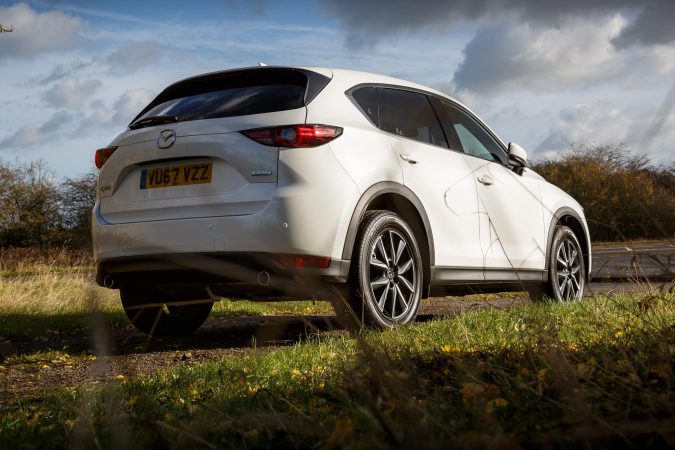 Because of that, the CX-5 feels very enjoyable to drive. You always get a response when you press the pedal. It gains pace fast, and you'll have no trouble overtaking. That said, I missed the eagerness of the more powerful variant, it just had a bigger and heftier punch.
The engine barely makes a noise and it's similarly smooth and refined. It rumbles like an inline-4 when pushed too. The 6-speed transmission also has a nice, satisfying short throw that clicks into place.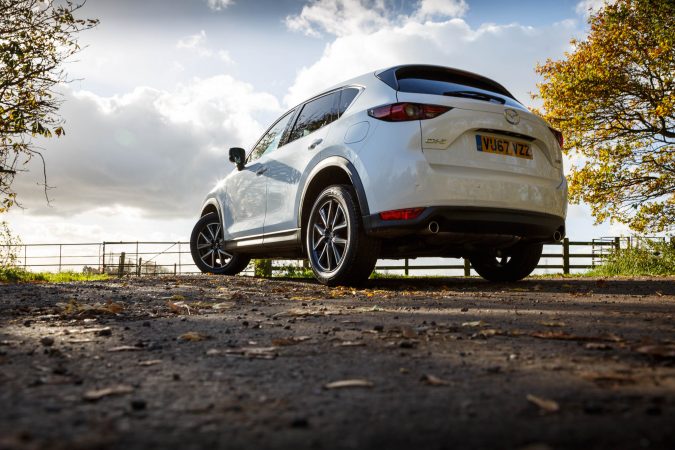 It doesn't quite stop there. The CX-5 boasts rather impressive driving dynamics for a crossover. It's pretty sharp, with a keen nose providing solid turn-in performance. The steering is also well weighted, providing a good driving experience even on twisty B-roads.
That said, you wouldn't want to go too wild with the CX-5. While its entertaining especially by SUV standards, because the suspension is quite tame, the CX-5 exhibits body roll. This isn't surprising for SUVs of the CX-5's size though.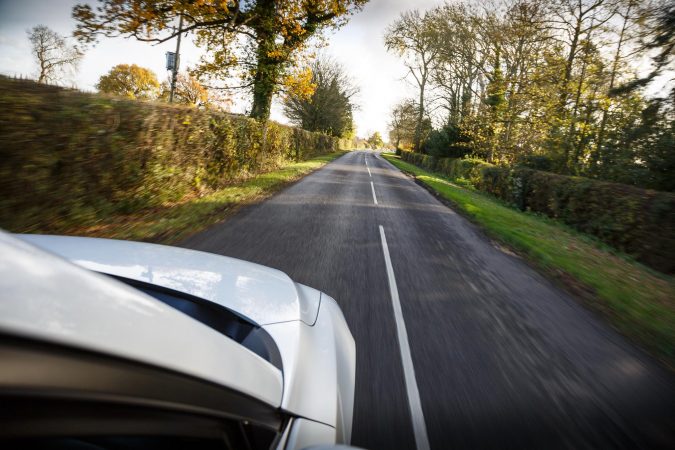 In the drive, I never found traction to be an issue. While steering feedback may be lacking at some times, make no mistake, the CX-5 is rather agile. It's pleasingly zestful dynamics aided with the torquey engine is a joy to drive.
They haven't just gone and ruined the other 90% of the time where you're just cruising too. The CX-5 is still a supple ride, however, the 19″ wheels may make the ride a tad bumpier. That said, it's well composed over bumps, and cabin noise is very well contained even at speed.
What is it like inside?
The interior is where Mazda spent all their time for the new generation. The much-increased weight of the car is due to Mazda reworking and adding additional sound deadening into the cabin. They've also reworked it, bringing the CX-5 right up to date.
And boy does it look great. You get black leather upholstery as standard on the 'Sport Nav' trim, but I would spend the extra £200 and get the 'Stone' leather upholstery. It's a cream white colour that brings the CX-5 upmarket by itself.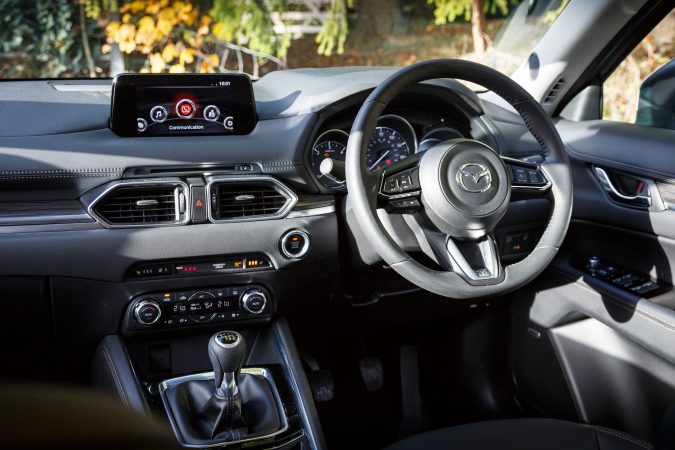 The effort Mazda has put into their interior deserves praise. If you didn't have prior knowledge, you may just let out an audible wow sitting inside. Everything is very clean and simplistic with plenty of soft-touch materials used. It's an evolution over last generation's offering that's for sure.
For the 'Sport Nav' trim, you do get a fair bit of kit as standard over the bottom range 'SE L'. Most notably are the 19″ wheels, Bose 10-speaker sound system, leather, driver HUD, heated front seats and steering wheel, power adjustable front seats and keyless entry.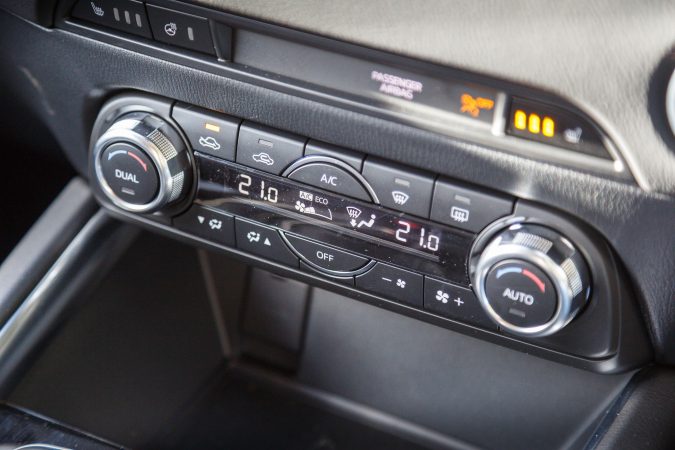 That said, even as a base model the CX-5 isn't a pig pen. You still get the same, touchscreen infotainment system, and more importantly, a muted interior. The money spent in the pursuit of silence is apparent here. Overall, the new CX-5 just feels like a much better place to sit in.
Storage capacity didn't change much though, it's 506-litre, bigger by 3 litres compared to the previous CX-5.
The Experience
Make no mistake, the CX-5 is a premium choice. It drives well enough for a crossover, it is still practical, it looks great, and the interior is lovely. It's still comfortable despite all that, and you can certainly tell a CX-5 from the sea of other like-minded SUVs.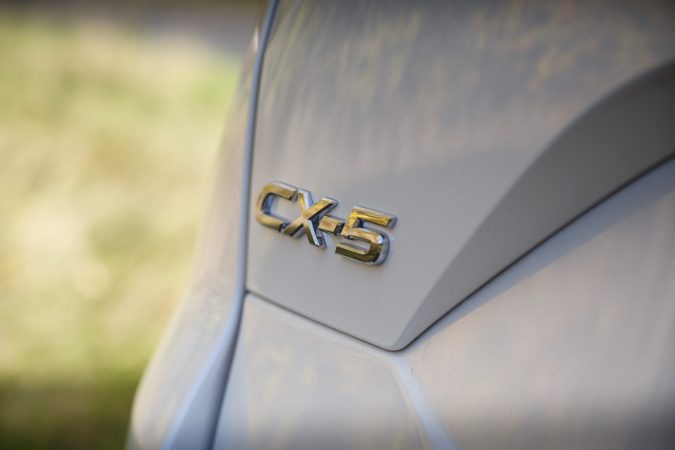 Because it still bears the Mazda badge, it's also understated. You won't stand out from the crowd while running around on urban streets, but you can do just as well on the motorways. It's a pleasant drive everywhere, and I certainly think it can handle a bit of mud.
Verdict
So, the new CX-5, is it a real update? Definitely. While the lack of powertrain alteration may be questionable to some, Mazda has changed just enough to name it the 'all-new CX-5'. It's more elegant than before, but still bears that sharpness I found myself loving.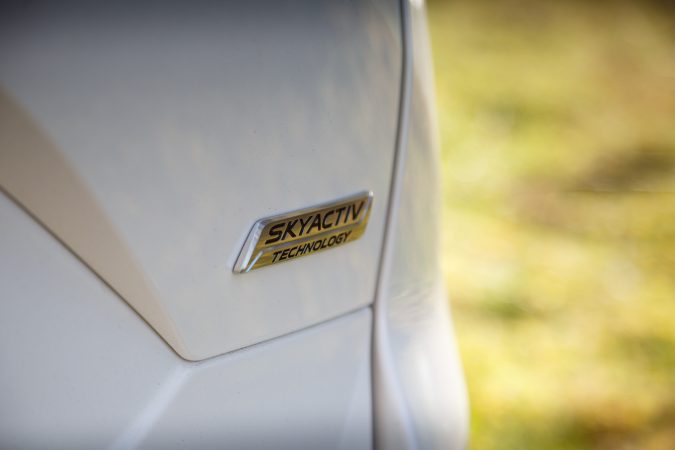 Is it a worthy consideration? Certainly. The CX-5 is the true definition of an all-rounder. There's not a big flaw that'd pull me away from one. I'd choose the more powerful diesel variant, and avoid the petrol. Part of the enjoyable experience is from the broad torque band, and that trait is absent on the petrol engine.

Specification
Mazda CX-5 2.2D 150ps 2WD Sport Nav
Price: £28,695 (£29,225 as tested)
Engine: 2.2-litre twin-turbocharged inline-4 diesel
Power: 148 bhp
Torque: 380 Nm
Transmission: 6-speed manual transmission
0-62mph: 9.4 Seconds
Top speed: 127 mph
Weight: 1,669 kg
Economy combined: 56.5 mpg
CO2: 132 g/km
Author: Paul Hadley