Mazda6 2.2D GT Sport Nav+ Tourer Review
Estate cars or tourers are a dying breed in a world going crazy for SUVs but there is just something about tourers that makes them both classy as well as highly practical. We got ourselves a test drive of the 2018 Mazda6 2.2D GT Sport Nav+ Tourer and here is what we thought.
What is the Mazda6 2.2D GT Sport Nav+ Tourer about?
The Japanese automaker had a clear idea of what they wanted to achieve with the 2018 Mazda6 Tourer. They wanted to make a truly comfortable, practical and aesthetically pleasing tourer that was in line with their legendary KODO: Soul of Motion Design philosophy. The estate car segment is sparsely populated but most of the attention is hogged by the Volkswagen Passat and the BMW 3 Series, making the Mazda6 an underappreciated gem. Hopefully, the latest version can change that, as it looks better and drives well.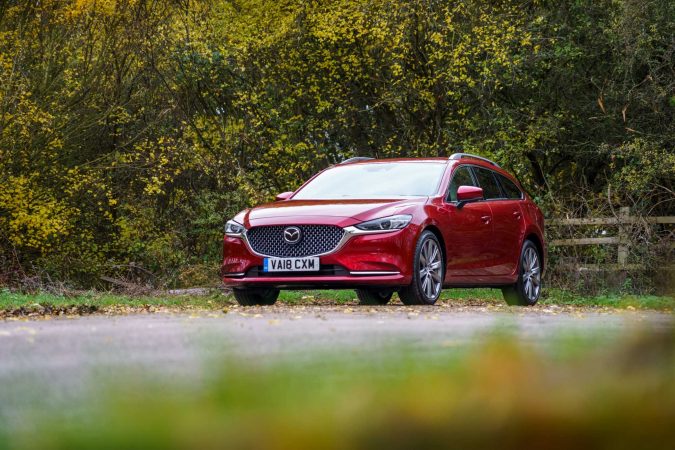 The 2018 Mazda6 retains that classy estate look, while adding a bit of artistic flair. KODO is one of those design philosophies that is more than just a gimmick. This car actually looks like it is moving, even when it is completely still. This adds a sense of dynamism that is absent in other tourers. There is nothing delicate about the looks of the Mazda6 GT Sport Nav+ Tourer. It is a muscular looking car with a great deal of road presence.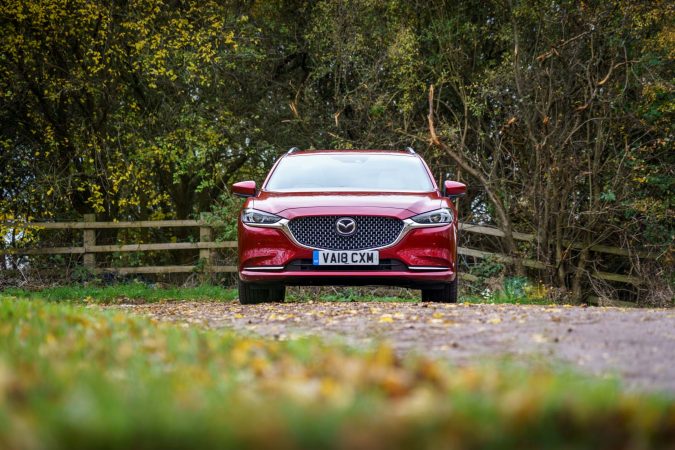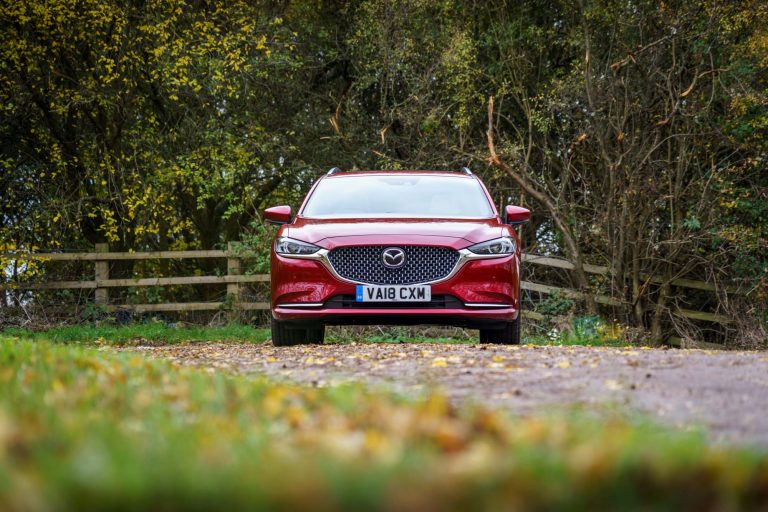 There is plenty of sophistication in the build too. The trademark Mazda flowing style elements are present. This gives the car a distinguished look, without making it appear to be trying too hard. The sleek headlamps merging with the grille wing tips gel nicely with the rest of the look and it all comes together very beautifully. The paintwork combined with the design of the various body panels is a work of art. There is more to it than catches the eye.
The proportions of the car are also well-balanced. Most people developed an averseness to estate cars because they seemed a bit rear-heavy and ungainly. There is none of that with the Mazda6 GT Sport Nav+ tourer. It manages to retain the practicality of an estate car while looking very elegant.  There is an ample amount of luggage space to make this a true tourer in every sense of the word. So, kudos to Mazda for really putting the effort in when designing the rear of the car.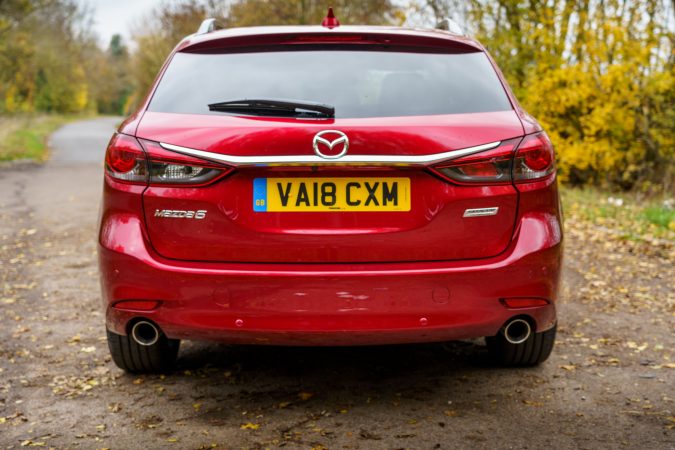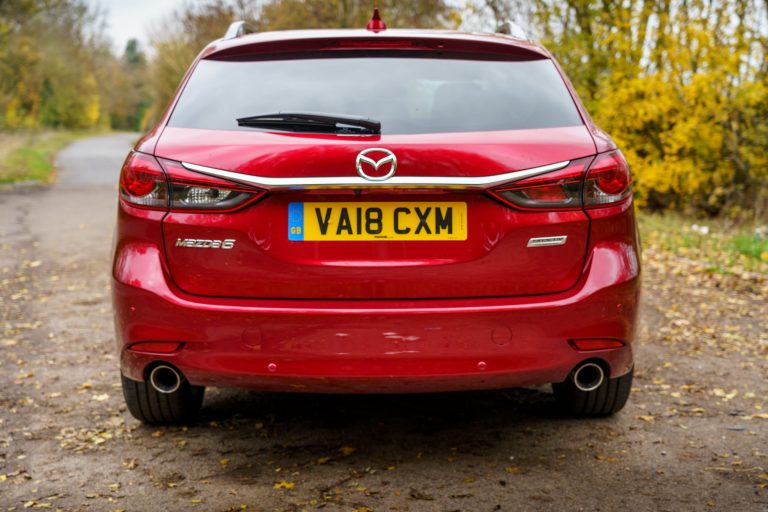 The 2018 Mazda6 GT Sport Nav+ tourer features a 2.2-litre, in-line four, twin-overhead camshaft, 16-valved engine under the tried and tested SKYACTIV moniker and boy does it deliver! It produces 184ps of power, which really propels this car. What we really loved about this engine was how easy going it was. There is no twitchiness and the power is delivered in a linear way, which makes this car great fun to drive.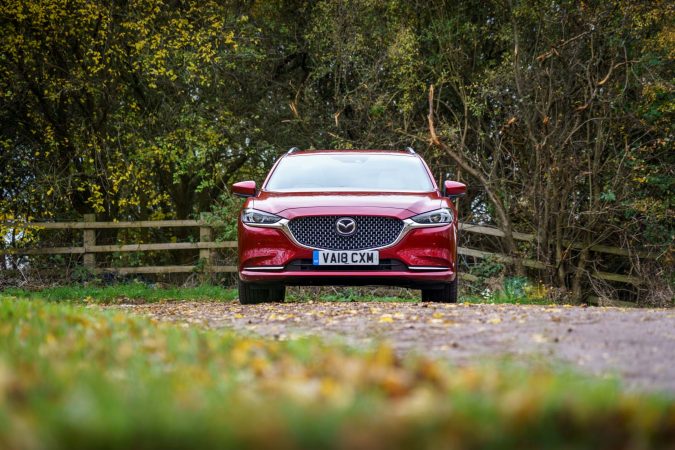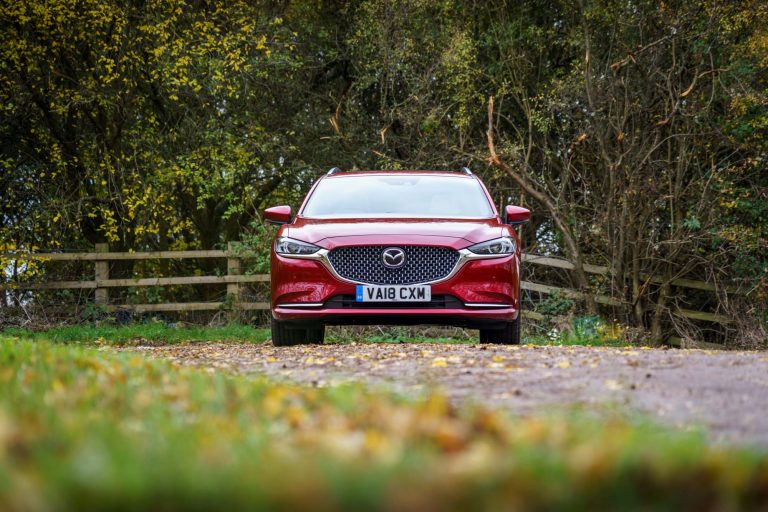 Coupled with a snappy gearbox and a very focused chassis, the driving experience offered by the Mazda6 2.2D GT Sport Nav+ Tourer is second to none. While this is a large car, it has the handling urgency of a much smaller hatchback, which makes it great fun on the B-roads. Its clever design keeps the centre of gravity lower than almost all other tourers on sale right now and there is very little body-roll or instability at high speeds. The engine is pretty economical too, with a combined fuel economy of 58.6 mpg, which is impressive for a vehicle of this size and weight.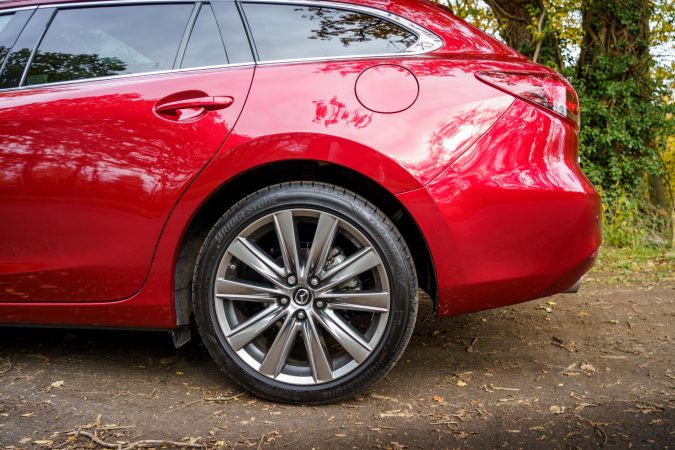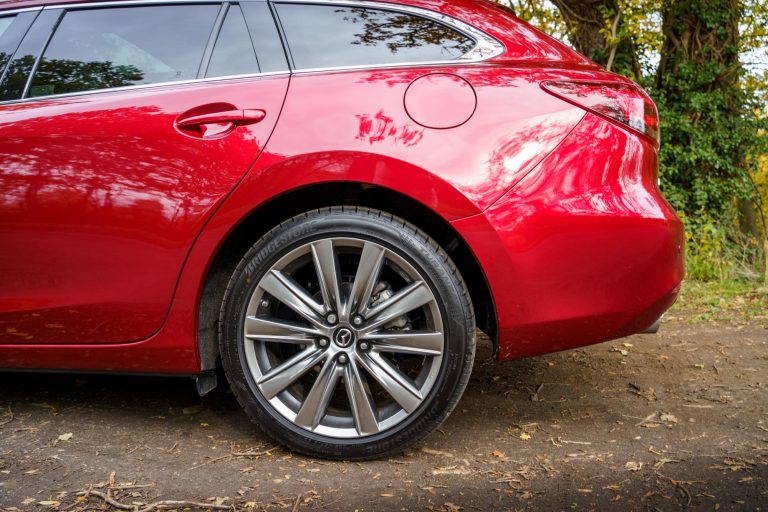 The 2018 Mazda6 GT Sport Nav+ Tourer comes with a plethora of driver-aids and safety systems to keep you and your family safe, including Advanced Smart City Brake Support, Dynamic Stability Control and a Traction Control System.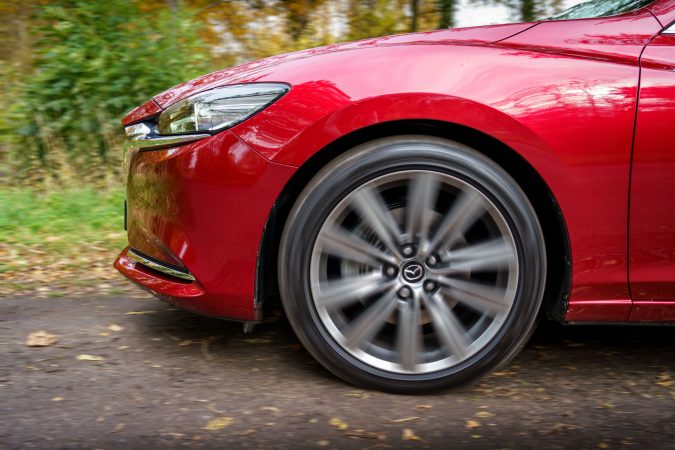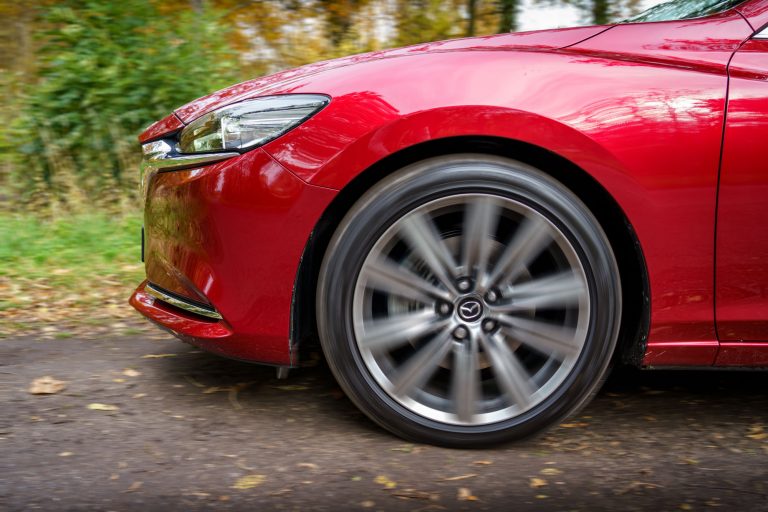 How does it drive?
A car can come equipped with some of the best features in the world but it would all be for nothing if it wasn't enjoyable to drive. Mazda knows this well and that is why their GT Sport Nav+ tourer is a practical family car but is still fun to use.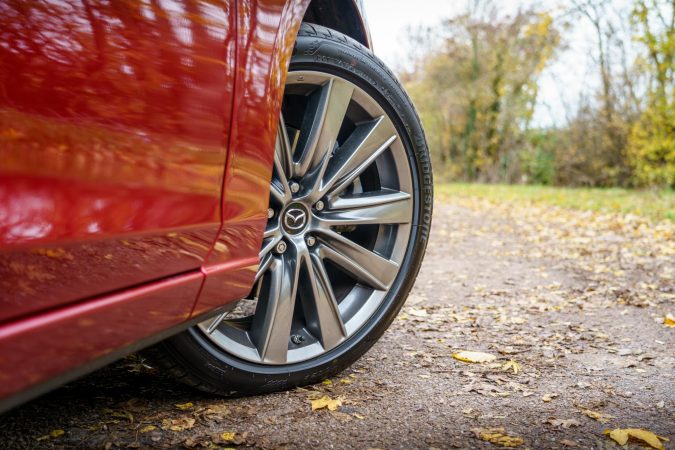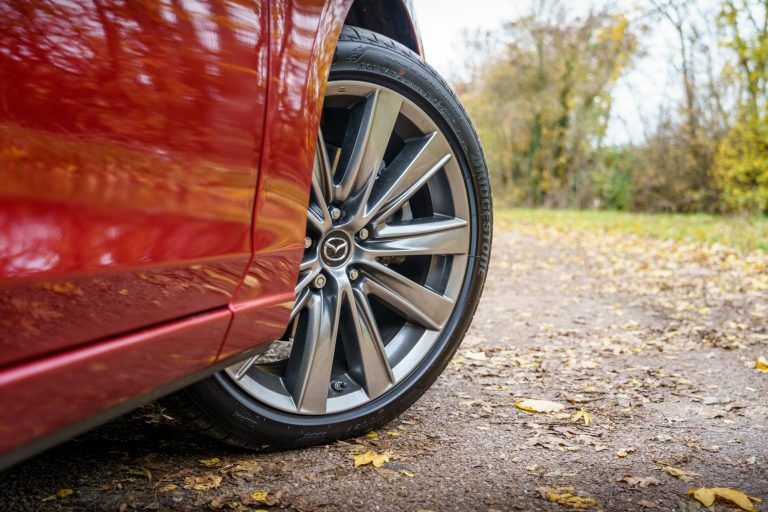 The steering is very precise and offers excellent feedback at all times. The handling is sweet too. There is no understeer or oversteer in most cases at safe road speeds and the electronics keep these from creeping up when you push the car really hard.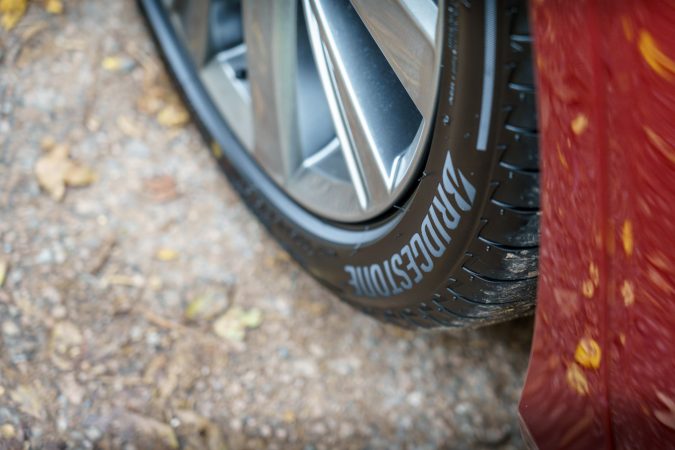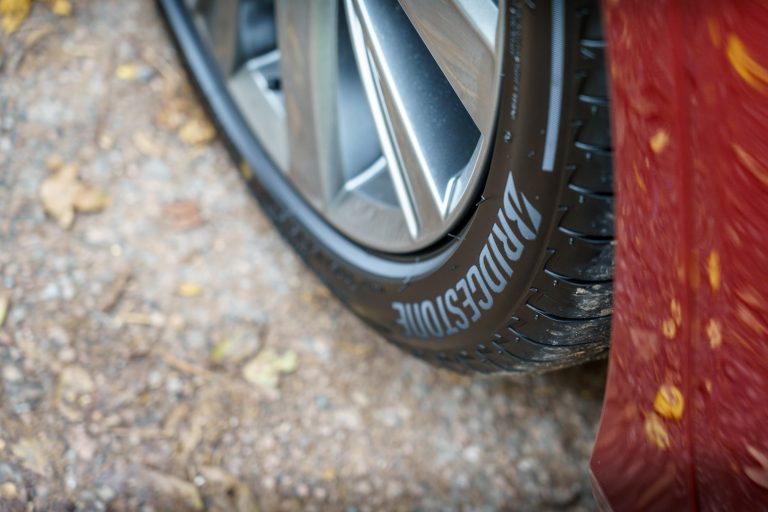 This being a family model, the suspension is a bit on the softer side but it does not interfere with the feel of the car. You still feel very connected to it, which is important when delivering an enjoyable ride.
This is a very nicely poised and composed vehicle, even in demanding situations. You can blast down the A-roads with ease, as it can accelerate from 0-60 mph in just 8.6 seconds, which is commendable for a car of its size.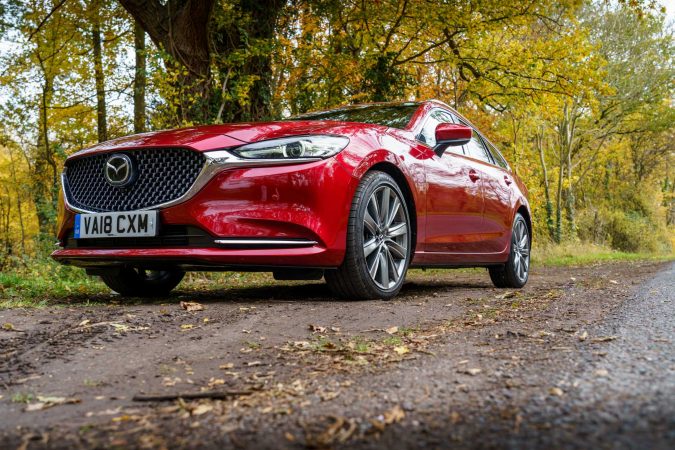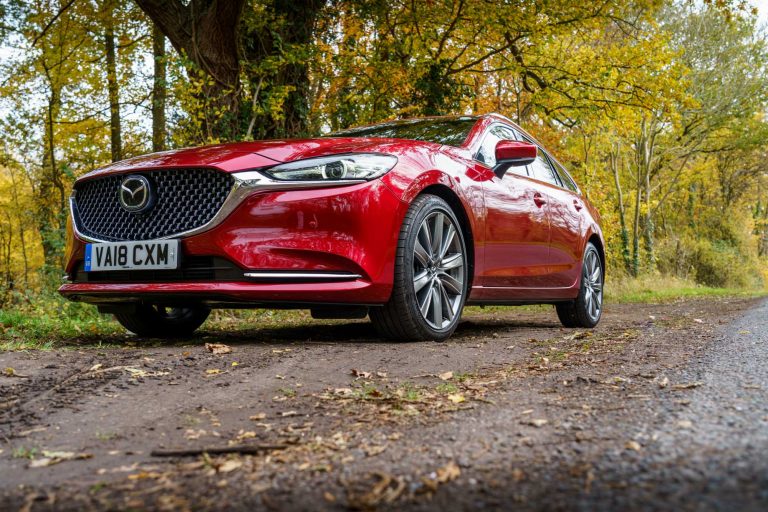 It can also achieve a top speed of 140 mph, which again, is more than adequate for an everyday tourer. The responsive steering combined with the hasty gearbox makes this car surprisingly at home on winding B-roads as well. As long as you keep the dimensions and weight in mind, you can extract a lot of great driving experiences from the Mazda6 even in estate format.
What is it like inside?
Many of the typical Mazda design principles can be found on the inside as well. A lot of work has gone into making the interior as homely as possible, while also making it incredibly practical. Every inch of space has been utilised intelligently and five people can travel in absolute comfort inside this car. The seats are some of the most comfortable in this sector.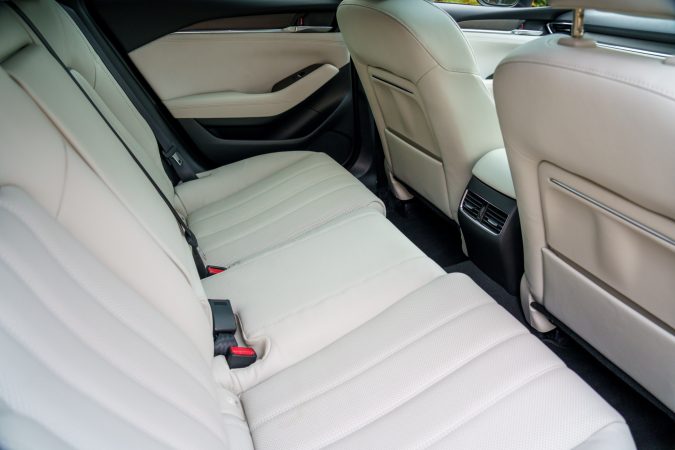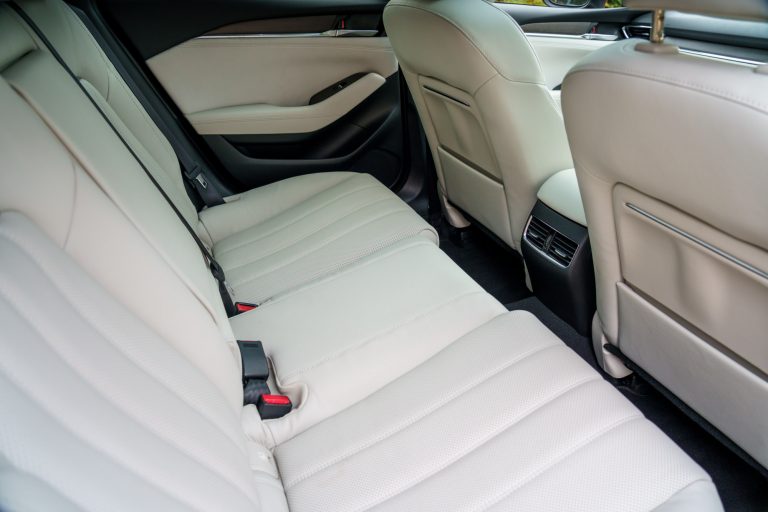 The 11-speaker sound system from BOSE can create an amazing auditory experience. Play a surround sound optimised piece of music and you will forget that you are listening to it inside a car. The 8″ touch-screen display is massive and feels very modern. You get every possible type of connectivity options that allow you to hook up your smartphone with ease. The Mazda Navigation System is also quite a useful tool that can come in handy on your daily trips.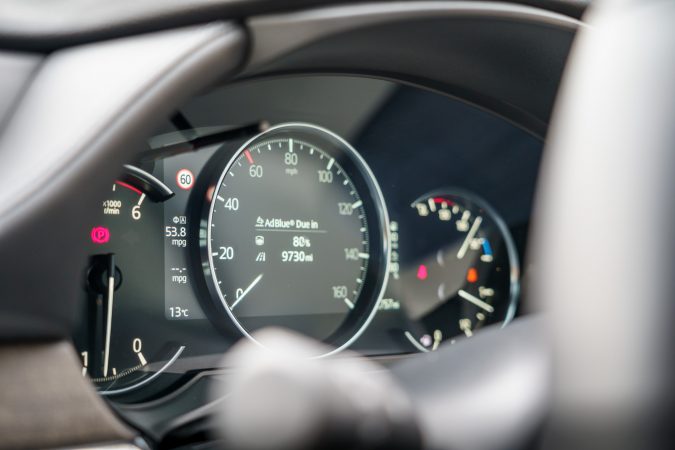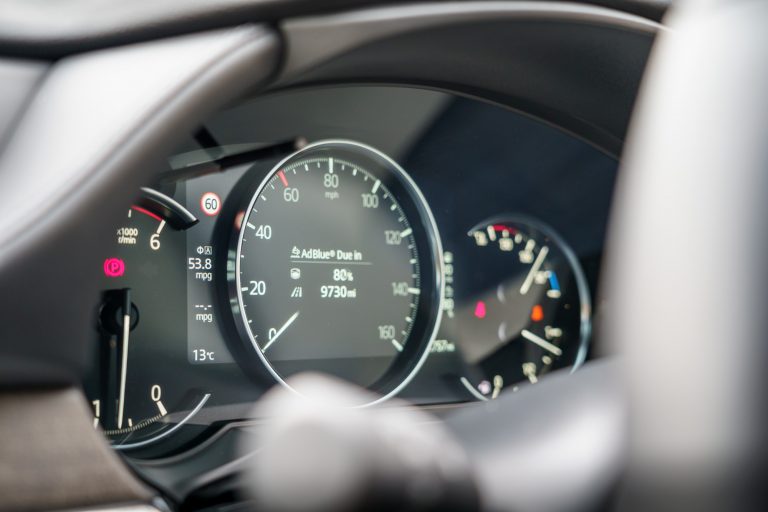 The instrument panel retains that charming look with a combination of analogue and digital instruments that put all the necessary information at your fingerprints. Overall, I was very impressed with the interior and didn't feel at all tired or strained after a long drive, which is an absolute necessity for a tourer.
The experience
An estate car has to be so many things to so many people, without losing its own identity and manufacturers often fall short or end up trying too hard. The 2018 Mazda6 2.2D GT Sport Nav+ Tourer manages to strike that perfect balance between comfort, the driving pleasure, aesthetics and practicality.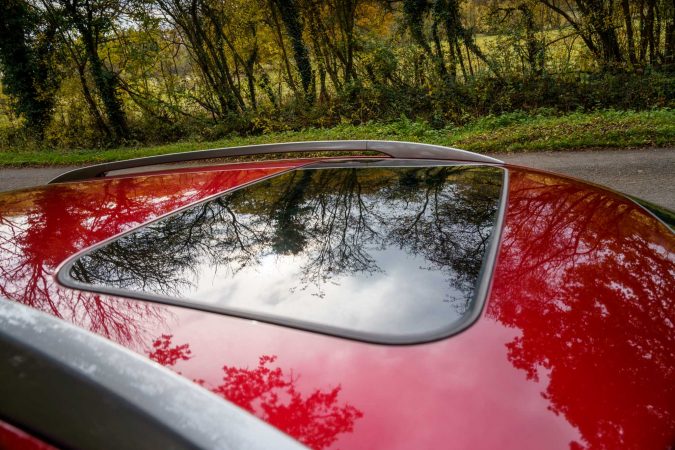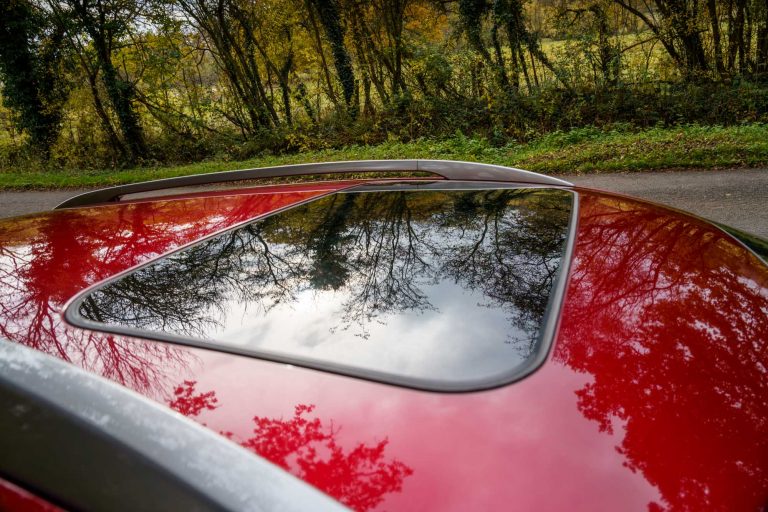 This is a car in which long drives with the family will feel like an occasion rather than a chore. It will also make every journey as significant as the destination. If a vehicle can manage that with a good-looking exterior and a classy but comfortable interior, then it is definitely a winner in my book.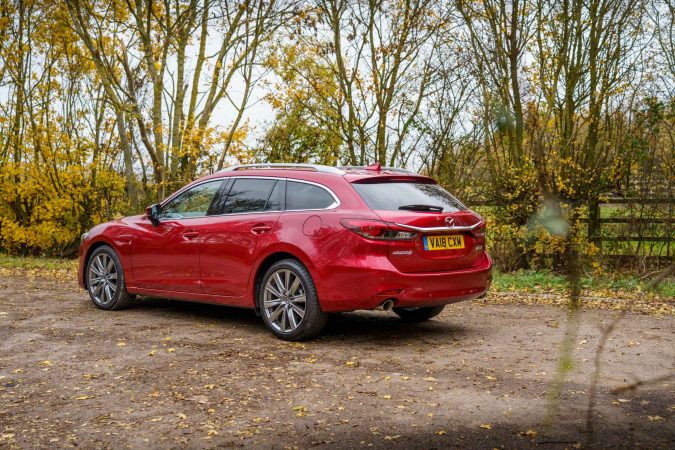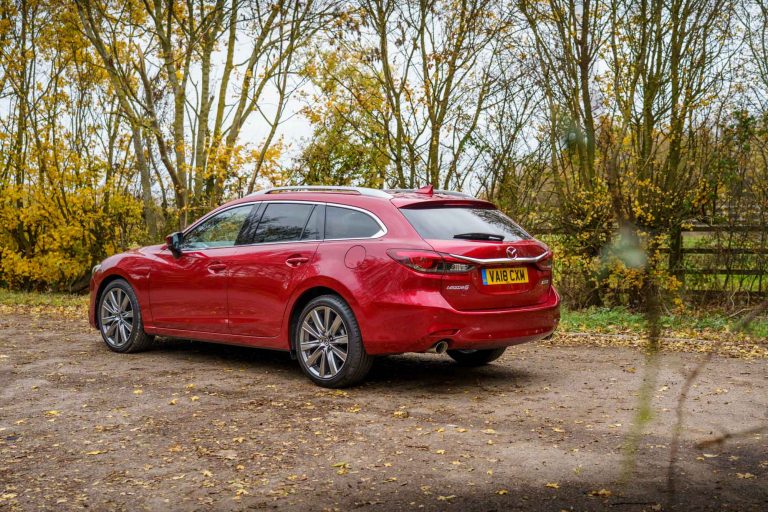 Mazda6 2.2D GT Sport Nav+ Tourer Cost
This is not a cheap tourer by any means. The base price is £31,785.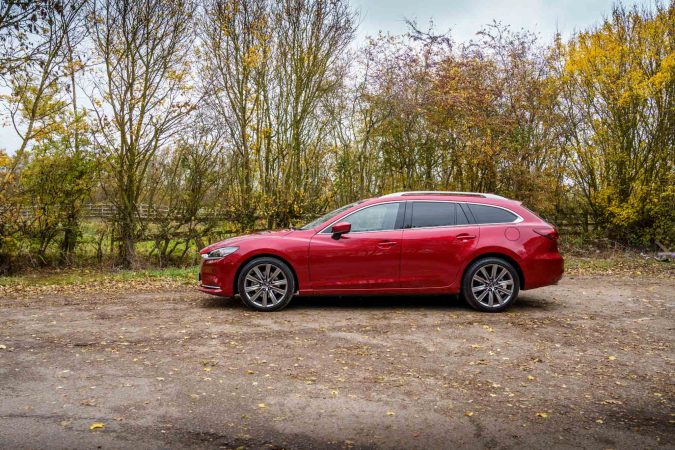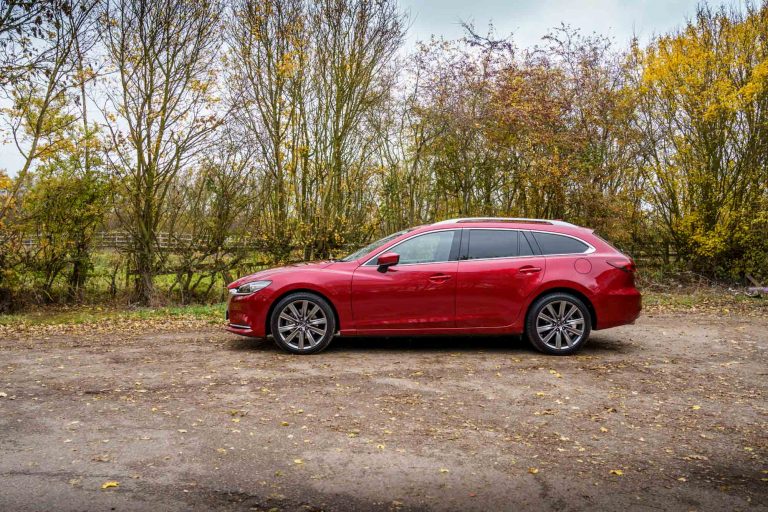 The more important question is if this car deserves to be priced like this. The answer is a resounding yes. You get a very good-looking tourer with all the major technology and safety features in a practical and pleasant package. This is one investment you will not regret, as it is almost as fun to drive as a hatchback, while being almost as practical and comfortable as an SUV.
It might not turn heads or get people drooling but it will get you and your family safely and soundly wherever you want to go, in a calm but elegant manner.
Verdict
The 2018 Mazda6 2.2D GT Sport Nav+ Tourer was expected to be a winner and it delivered. It gets my stamp of approval and if you are in the market for an estate car, then you cannot go wrong with it.

Specification
Mazda6 2.2D GT Sport Nav+ Tourer Specs

Price: £31,785
Engine: 2.2-litre Diesel, in-line four SKYACTIV
Power: 184 ps
Torque: 445 Nm
Transmission: 6-Speed Manual (Automatic option available)
0-62mph:  8.6 seconds
Top speed: 140 mph
Weight: 1706 kg
Economy combined:  58.6 mpg
CO2: 126 g/km