Morgan Motors Factory Visit
Morgan Motors is one of the last great British sports car makers in England. It only seemed fair that photographer Ross Jukes and I went down to the factory and had a look how the cars were made and test drive a couple.
After arriving in Malvern, I met David who is one Morgan Motors' tour guides. Company policy states that all Morgan Motors' tour guides have to be a Morgan Owner. David filled us in on the history of Morgan, and then walked us round every inch of the factory.
Henry Morgan opened up a garage in 1905 called Malvern Link, initially to respond to the needs of the Edwardian motorists, and four years later he built his first car, the 1909 single seat prototype and that's where it all began.
The tour starts with a short and inspiring presentation done by David who gave us the low down on Morgan Motors and introduced me to the Morgan Motors motto which is "Race on Sunday, sell on Monday".
Next we set off around the show room showing off Morgan's impressive GT cars from the past. They looked awesome, but sadly we didn't get a test drive in any of these.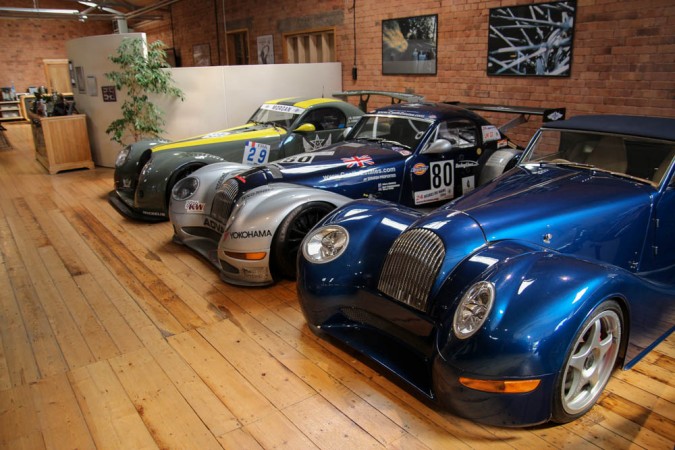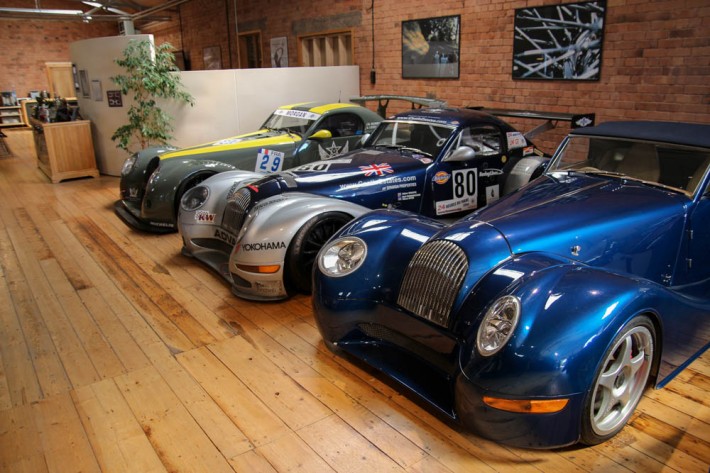 Following the show room we then made our way through the factory looking at all the different aspects of how the cars are built. The pictures below will show you how much care and passion goes into the car as it is crafted together into its final creation.
Aluminium Structure Shop
The aluminium structure shop is where the core mechanics of the car are put together. As you would expect the engine, drive-train and gearbox are all settled in before being wrapped up in body work.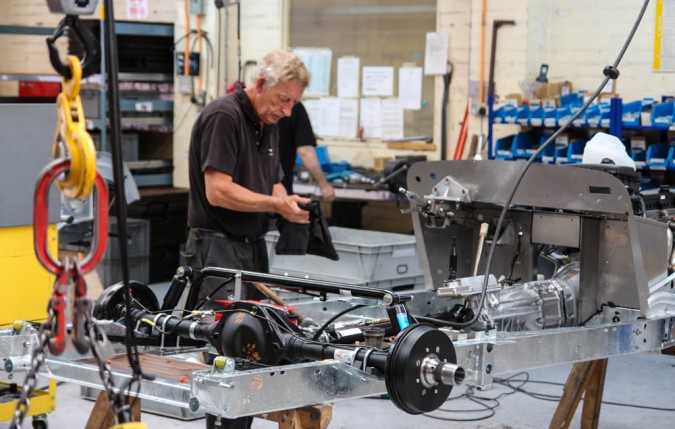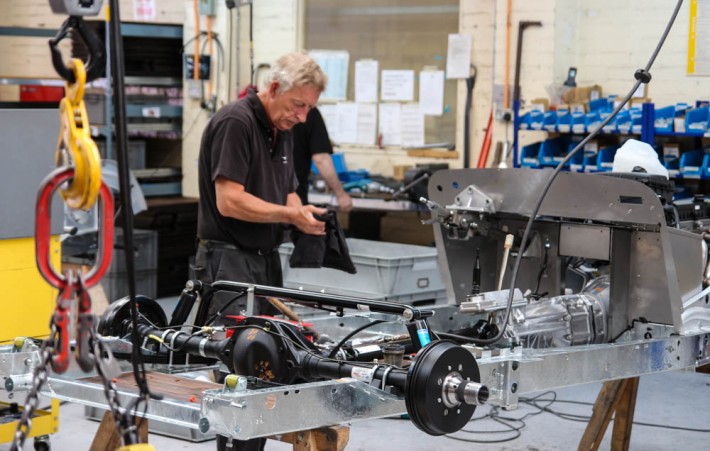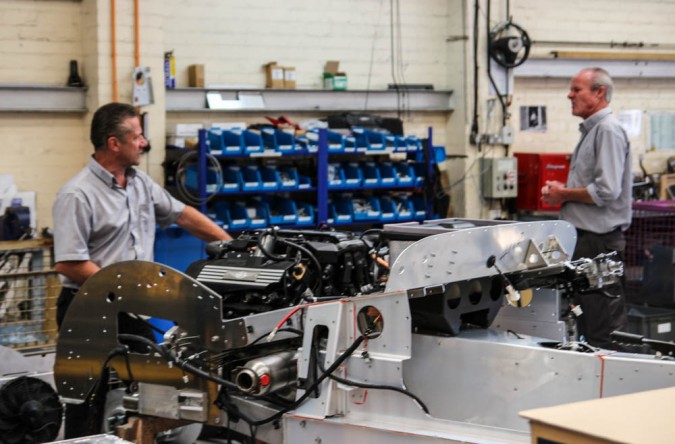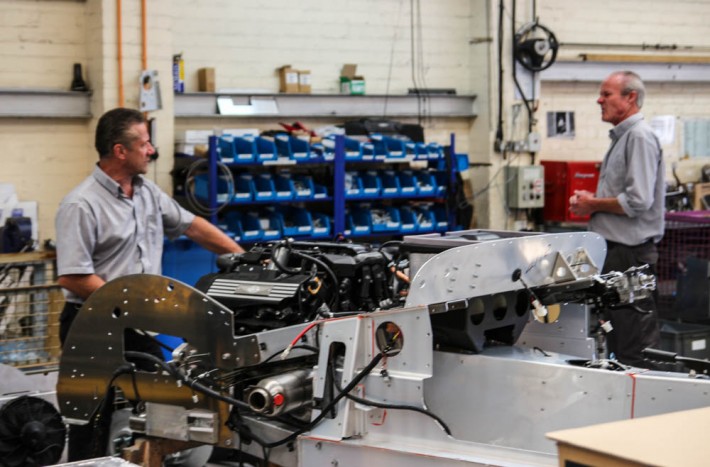 Everything is attached to the car using hand tools and mostly by a single person on a single station. Between stations some people choose to leave handy notes to help the rest of the team out on the build process…
Body Shop Area
We all know what a Morgan looks like, but little did I know the bodywork was mostly built from hand crafted sheet metal.
Below you can see an example of how the sheet metal is transformed into a bonnet section of a Morgan, just using a hammer and a block of wood. There aren't many car manufactures around that do this kind of work any more.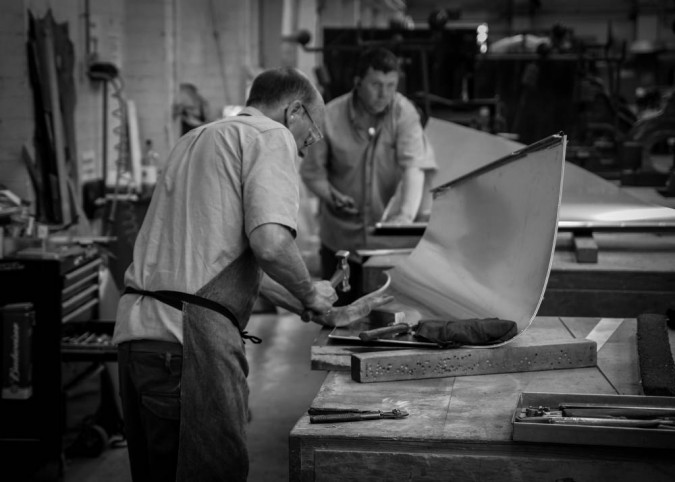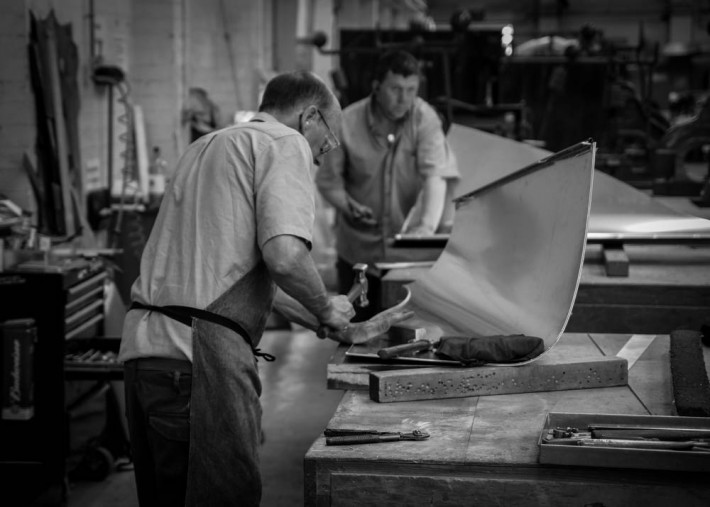 Note the individually stamped bonnet vents for engine cooling. All very neat and tidily achieved by the technician.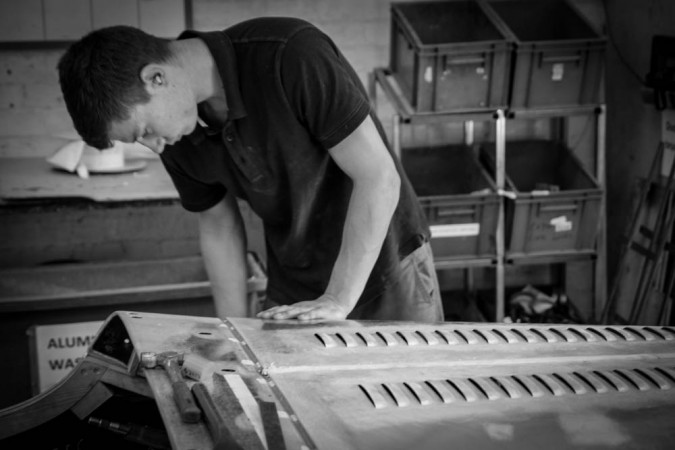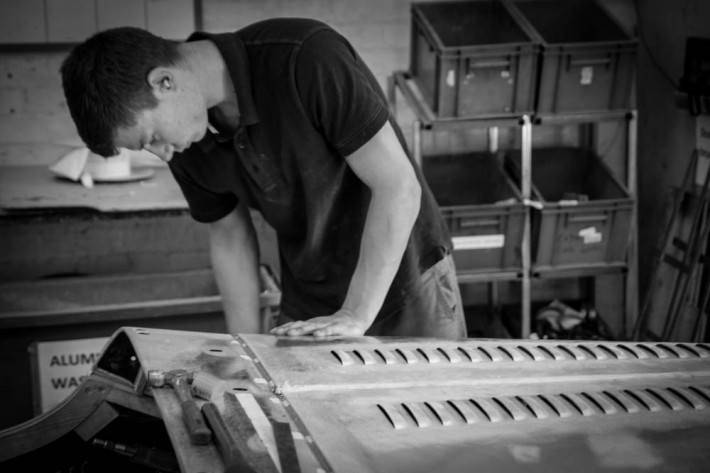 Below you can see another handy note on the wood work below, some might say it makes car go a little faster.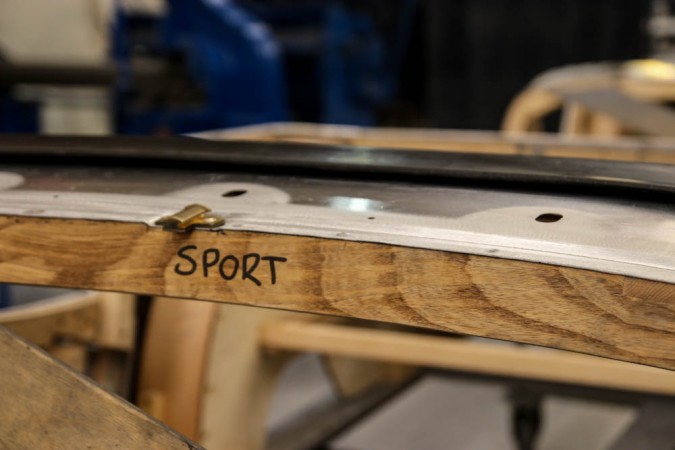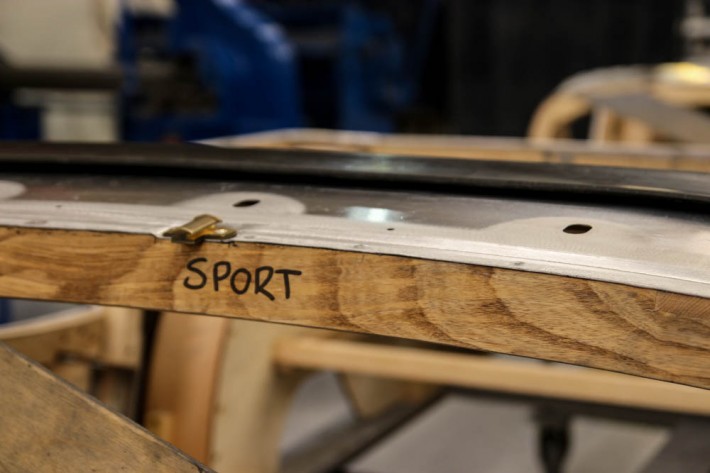 Once cut and shaped all the metal work is treated to ensure that it lasts as long as possible.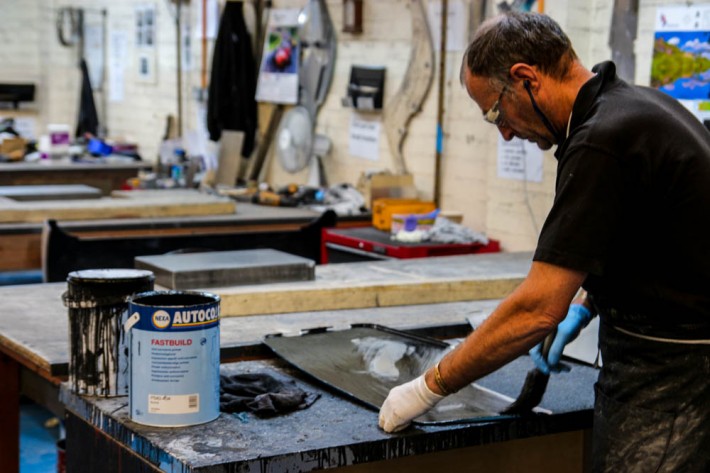 We spotted this mid built Morgan as the body work was going together, it looks amazing and it's not even half built yet. You may notice another handy note on the back, I wonder what 'SSU' means… hmm.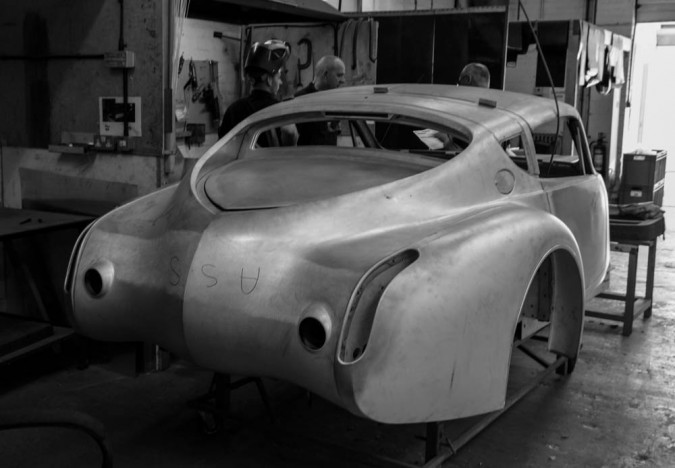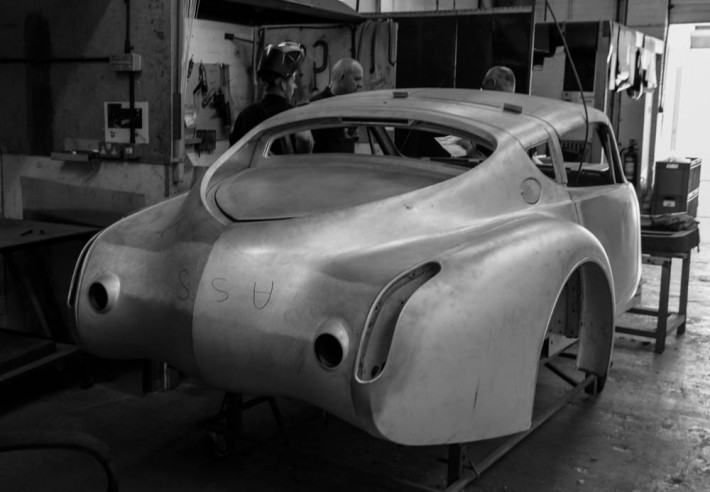 Wood Shop
Now to an area that Morgan specialise in; the wood work. Some find it difficult to believe that their cars are made from wood in this day and age, but this is a crucial factor that allows Morgan to stand out from the rest. Some may also be concerned about safety, but apparently it is in many ways safer than a metal car. It's safer as wood flexes, and due to the flex of the wood, the car protects its occupants better.
I was very impressed by the level of design work and craftsmanship that goes into creating the wooden frames for the cars. These are really top class carpenters.
Paint shop
Sadly the paint shop was very busy when we visited and you're not really supposed to be in there unless you are working anyway. Needless to say, the Morgan's go into the paint shop as bare metal and come out in lots of different and magnificent colours. Have a look at the paint work on Charles Morgan's Aero below, second to none quality I would say.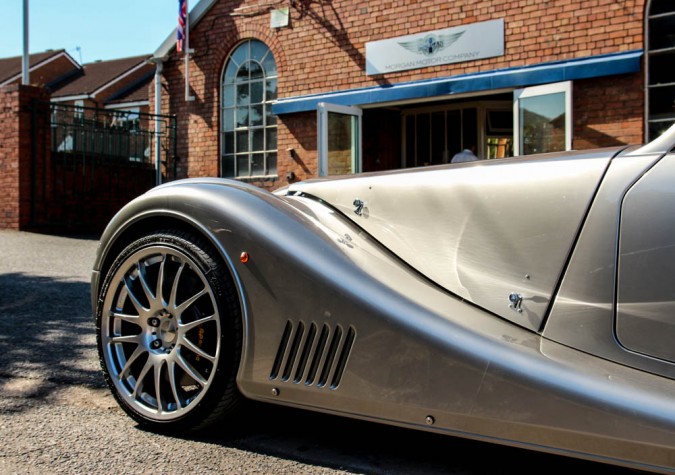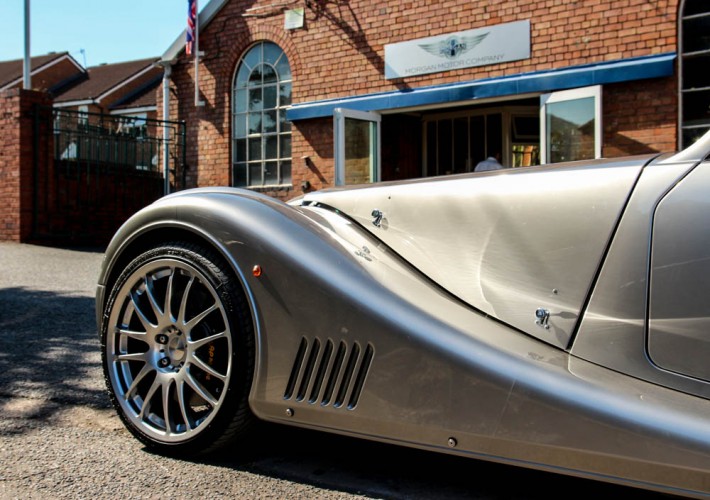 Interior Trim Shop
Next up is the trim shop where all the interior parts of the car are installed, from seats and door trim, to dials and radio. The cars are rolled in, individually built to the specification and then rolled out on to the next section.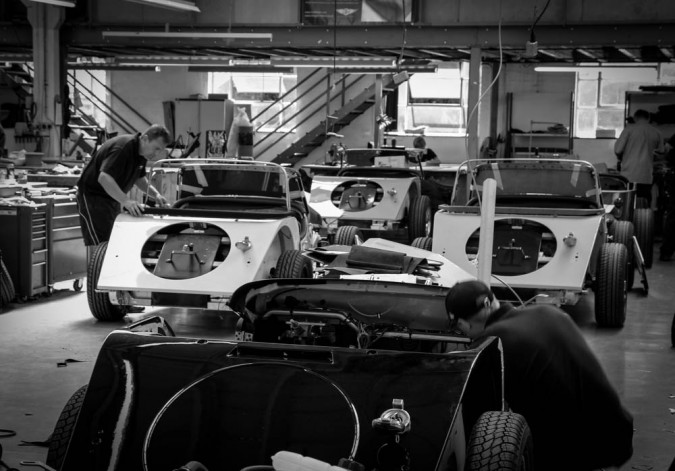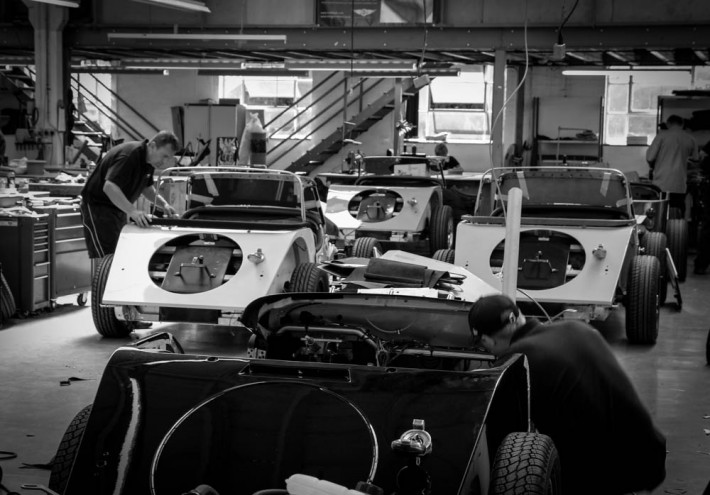 Once again, Morgan have specialised people, making very personal impressions on the inside of customers' cars.
Here we can see the external electronic components going onto the car following the interior being fitted.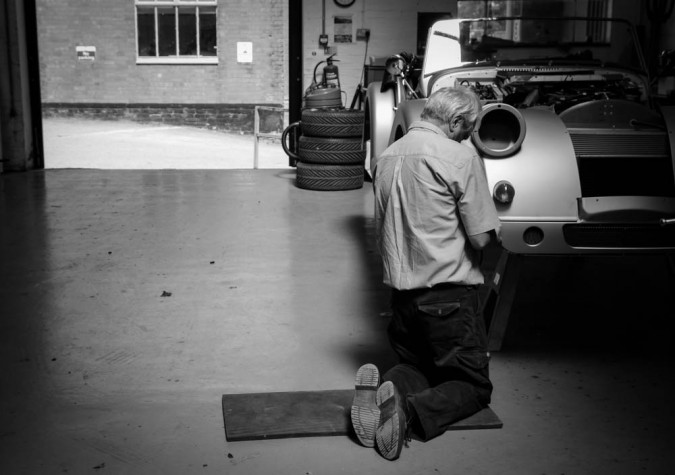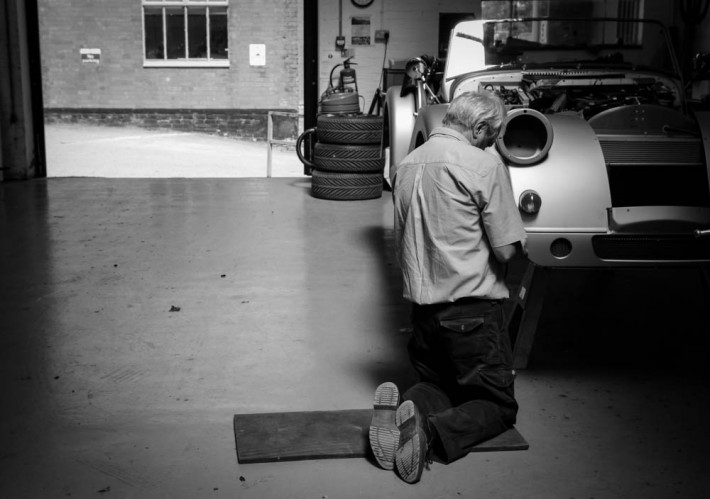 As we near the end of the build process you can see how all the unique elements that make up a Morgan once put together really starts to look like a piece of artwork. Ok, in this picture, it's not much good as a car without wheels, but you get my point.
 3 Wheeler Shop
Morgan 3 wheeler chassis come into the factory pre-built with the engine mounted. This isn't done just to save costs; this done by specialists to ensure the car is perfect for the customer.
In the 3 wheeler shop cars go from cage to custom specification in no time. They are taken down from the racking and then built by hand to the customer's specification. The build sheets are kept at the end of the vehicles like patients' records in hospital; the vital information is always at hand.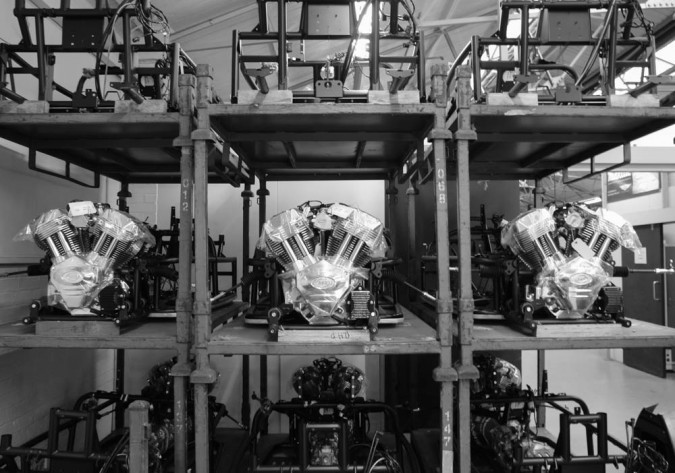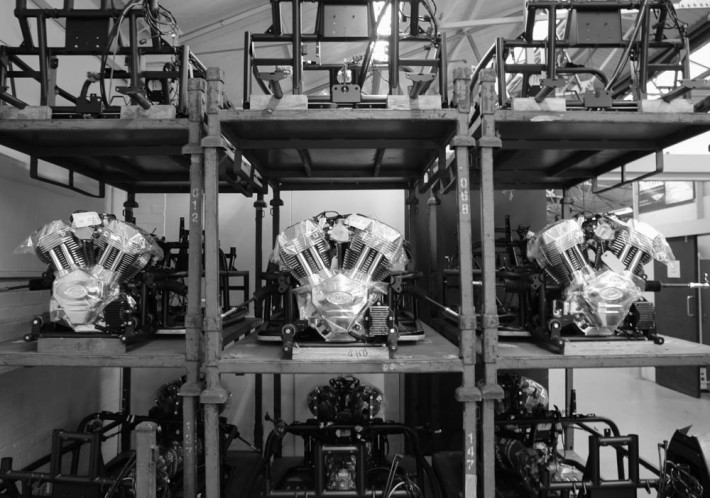 Looking around the factory I loved how all of the employees we came across seemed to enjoy their jobs; everyone was smiling and having a great time while they worked. They'd even joke with the tour group as we walked through. Seeing employees in such a great mood was really inspiring.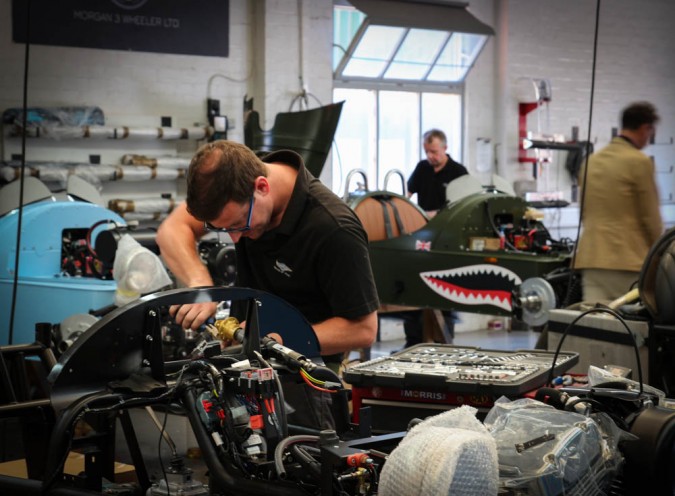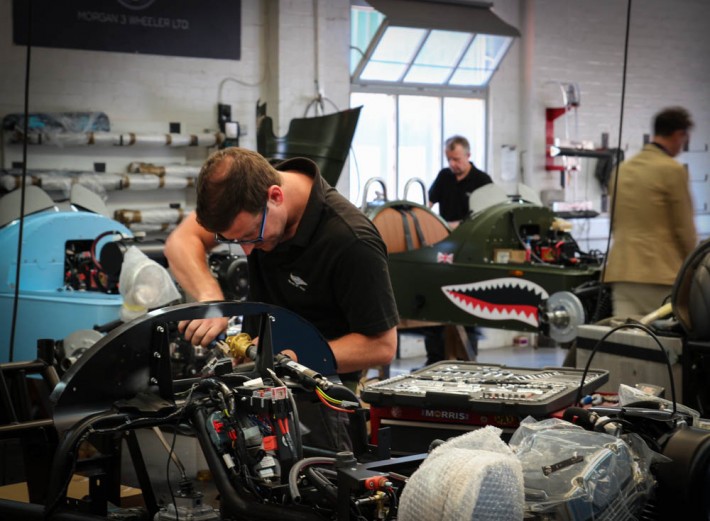 Pretty much all under one roof the cars go from a pile of parts to a craftsman's artwork.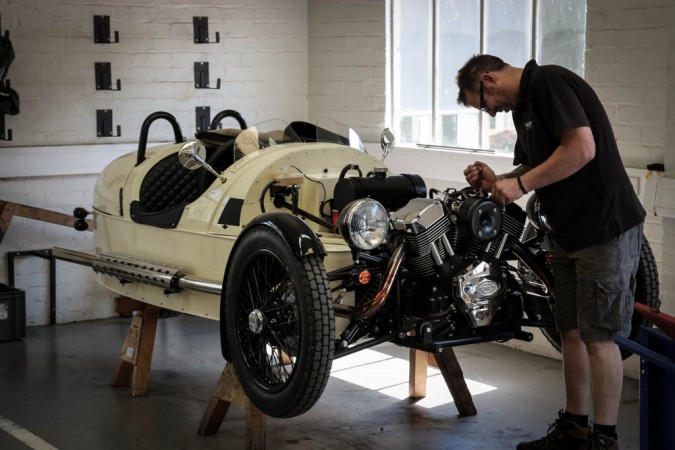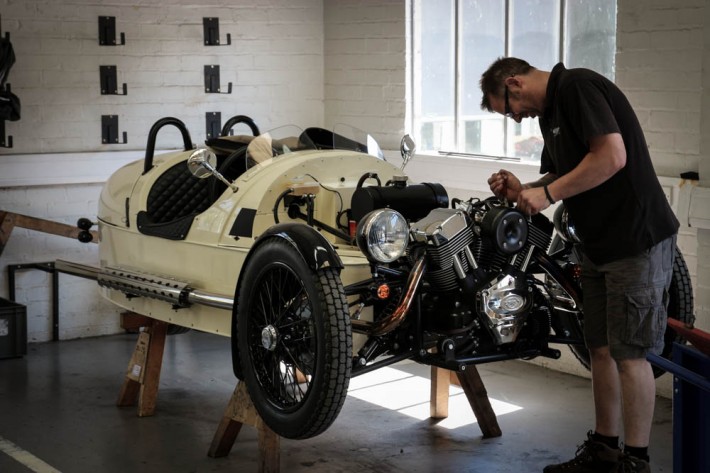 Spot checks are done to make sure the customers' car is right, these two wanted to double check the body work so quickly took it over for some inspection, ensuring the customer will be happy with the car.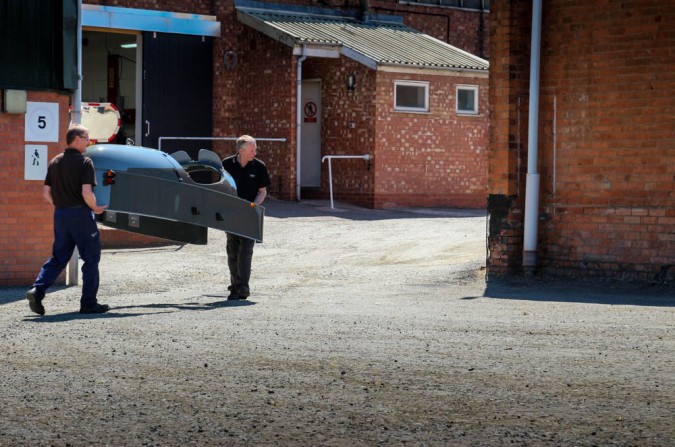 The 3 wheelers then get themselves off to the test and inspect area for testing. One thing I never considered with a 3 wheeler is that you can't lift it on a conventional garage lift as it doesn't have four corners. The clever guys at Morgan soon discovered they could put them on the lifts at an angle – problem solved.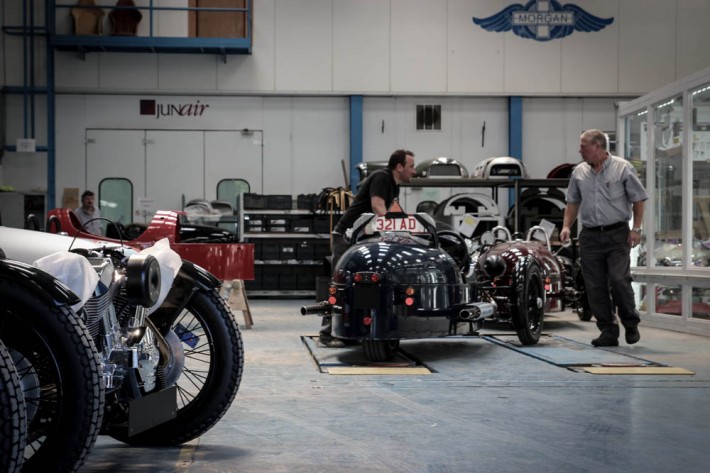 PDI (Pre Delivery Inspection)
In the inspection area each car is individually polished and moped to insure that the finish is absolutely 100% perfect.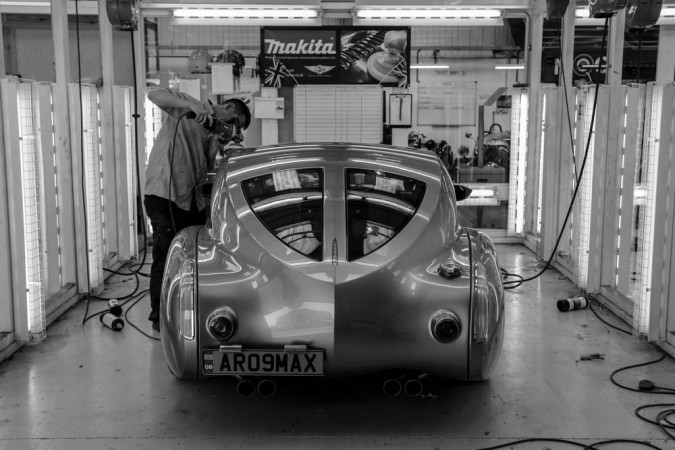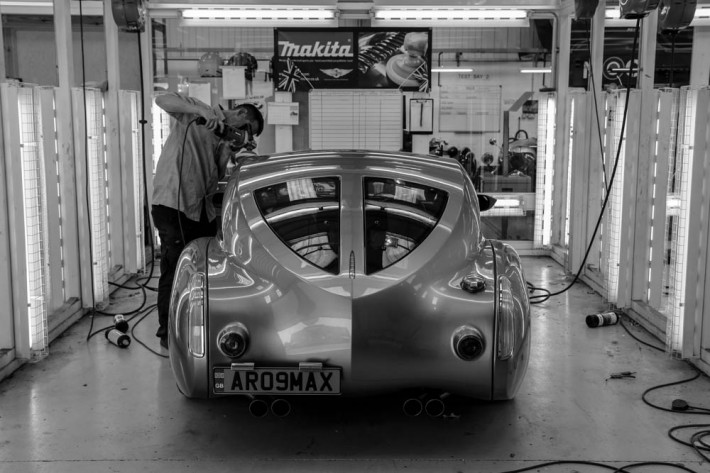 Before the car goes off to the customer it is checked to make sure there is not a single scratch, spot or blemish visible on the paintwork. The cars all look amazing in this light.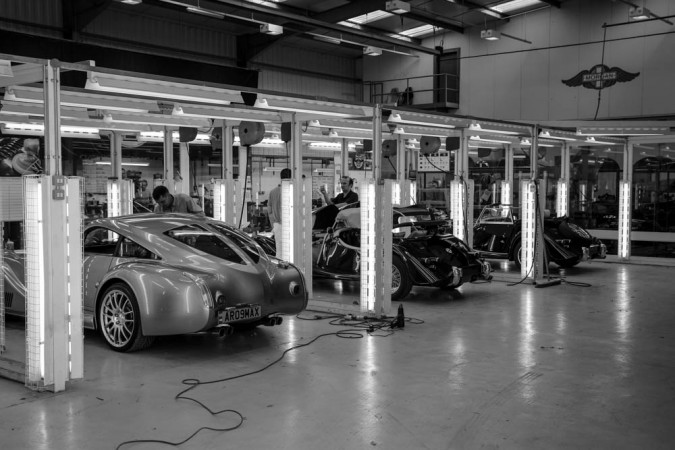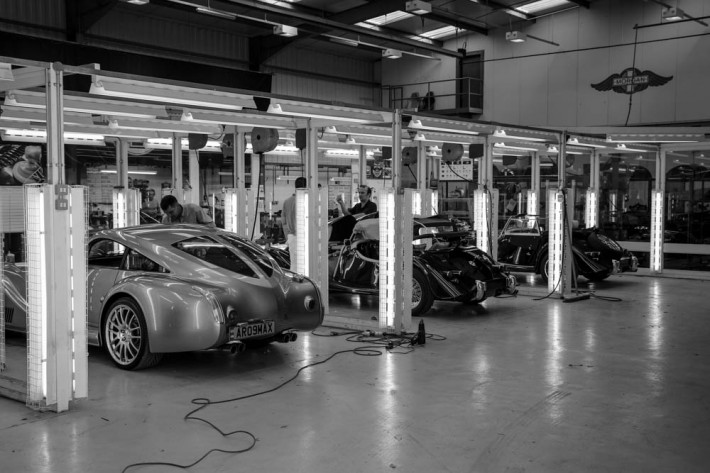 Complete
Once the cars are complete they are shipped off to the customer. Around 70% of Morgan Motors' cars are exported globally and this year Morgan opened a dealership in China where Morgan's are currently booming.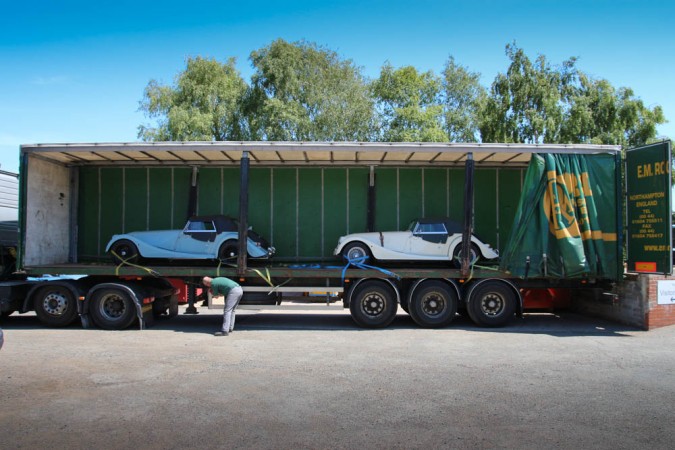 I was amazed from what I saw at Morgan, I was proud to see real craftsmen doing an honest day's work making exceptional cars and loving their job. The tour gave me a deeper understanding into Morgan Motors and I'm now very keen to see and experience more of Morgan, their sports cars are very exciting and excellent in so many ways. I almost feel like an extended member of the Morgan family just from visiting.
Following the factory tour I test drove and reviewed the Morgan 3 Wheeler and the Morgan Roadster, take a look to see what I thought.
I don't think Morgans appeal to as many people as they could if people took the time to learn about these great British cars. Hopefully this article helps give you a greater insight to some of England's finest cars.
Author: Paul Hadley
Full Gallery