DRIVEN: 2018 SEAT Leon 5DR Cupra 300 2.0 TSI 6-speed DSG
With the keys to the all-new SEAT Leon Cupra 300, we hop on board anxious to go for a drive.
What is the SEAT Leon 5DR Cupra 300 all about?
The advent of hot hatchbacks has bestowed some of the greatest hits automotive-wise to the world. The original Volkswagen Golf GTI, Renault 5 Turbo, Peugeot 205 GTi and Lancia Delta HF Integrale, just to name a few. In fact, their arrival nearly killed off conventional sportscar as a whole, for good reason too.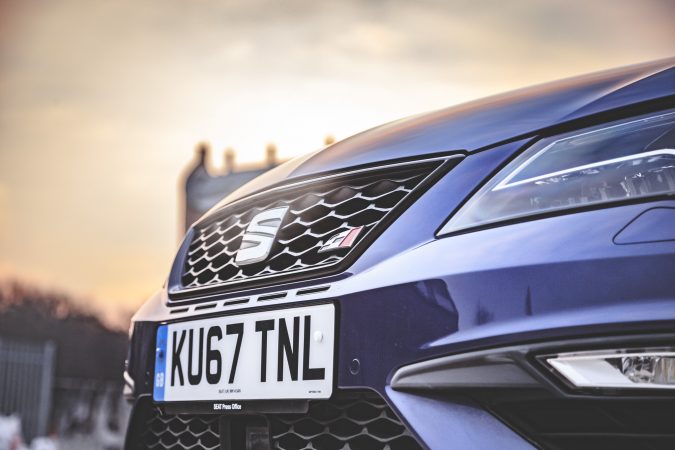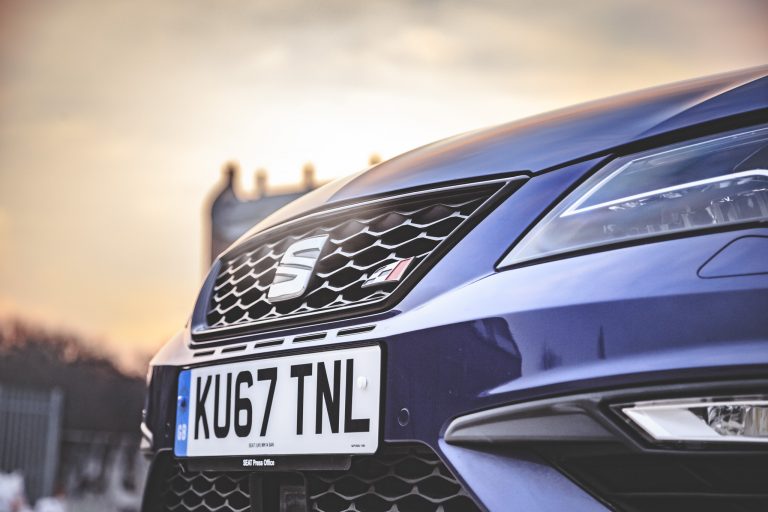 Hot hatchbacks proved some facts, the fact that speed needn't sacrifice practicality and sportiness can be affordable. It's little wonder then that the new age hot hatchbacks, Focus RS, Golf GTI, Fiesta ST, Civic Type R and so on are still doing well on the market.
Well, now we have the new SEAT Leon Cupra, which made some big changes over the last facelift. So, is this facelift deservingly memorable? Or something to brush off as falling behind the times?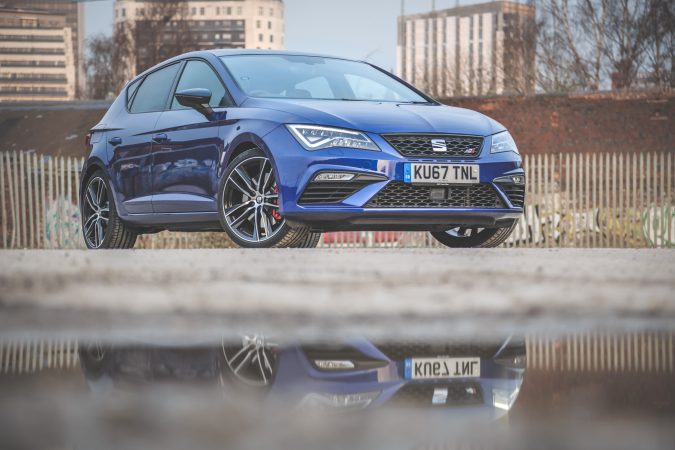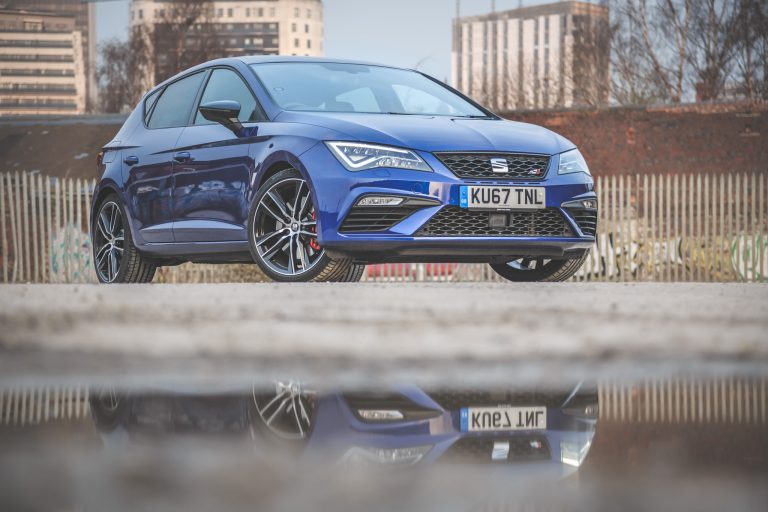 The 2017 facelift brought the Leon Cupra some palpable changes. Immediately you can notice the absence of the old honeycomb front vents, they've been replaced by larger, sharper canards-esque vents. Another noteworthy change on the front is the implementation of LED indicators offering a crisper look.
The revised rear bumper also sports more defined lines. Our Cupra dons 'Mystery Blue', a premium paint option, it's a vivid shade that accentuates the crisp lines explicitly. Sitting on massive 19″ five-twin-spoke alloys wrapped with fat low profile tyres it's an aggressive stance.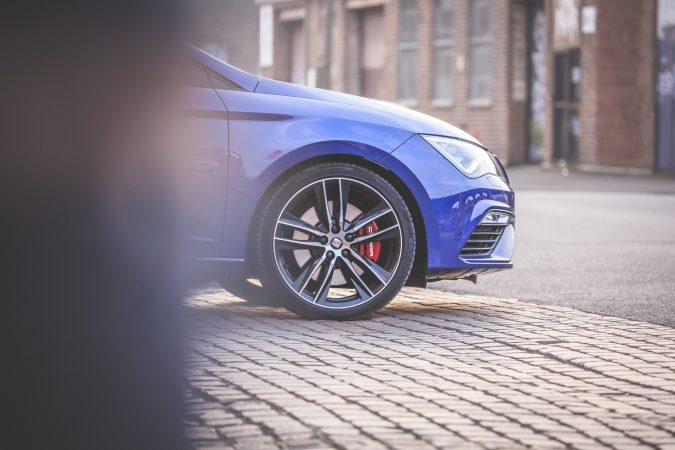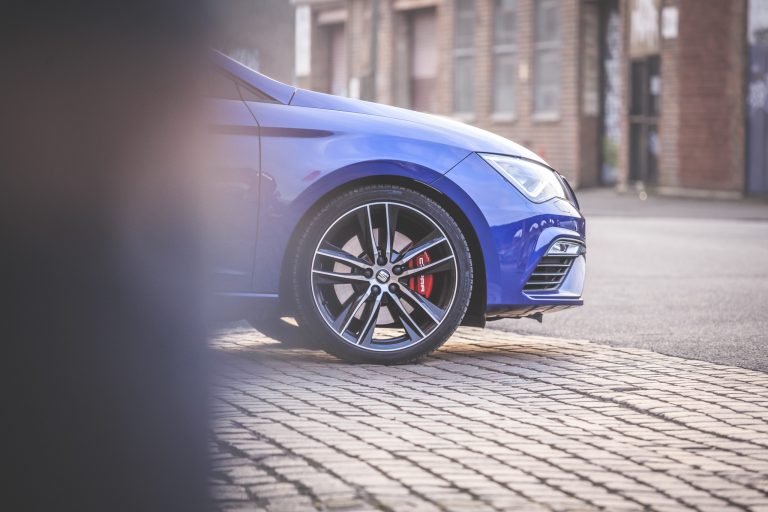 Under the bonnet is where you'll find one of the major difference between this and the old Cupras. This time around, the engine option has been cut to just one: a 2.0-litre TSI turbocharged inline-4 making 296 bhp and 380 Nm of torque.
That power is delivered to a 6-speed DSG dual clutch automatic transmission that puts out power to the front wheels. This propels the Cupra 300 from 0-62 mph in a swift 5.8 seconds, onto a top speed of 155 mph. Just slightly behind the Civic Type-R.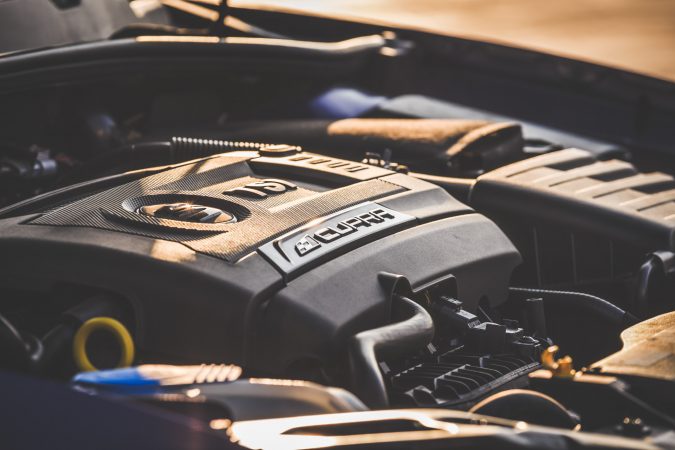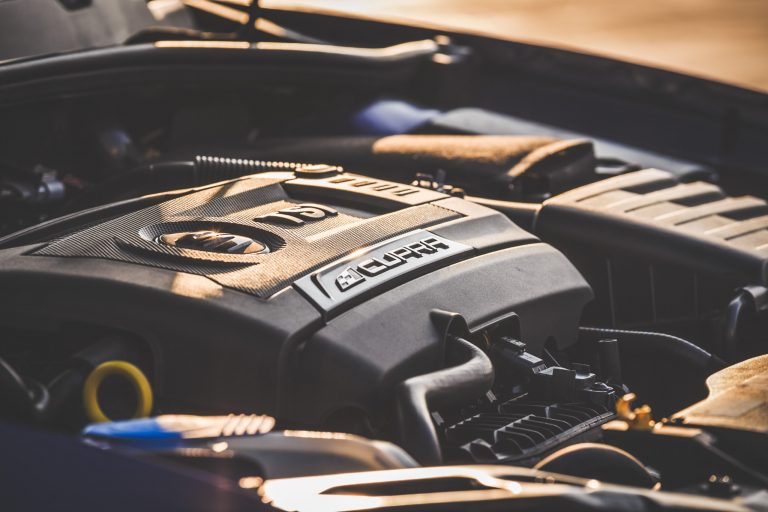 While it's a high-performance unit, it's still relatively economical, mustering 41.5 mpg and putting out 156 g/km of CO2.
There is also a 6-speed manual transmission available on the Cupra, but the DSG transmission is actually offered at no additional cost.
How does it drive?
The Leon Cupra's 0-62mph time is actually rather remarkable considering it's front-wheel driven. And that certainly shows during the drive. This 2.0-litre turbo provides power in abundance, certainly plenty for the Cupra to gain speed rapidly.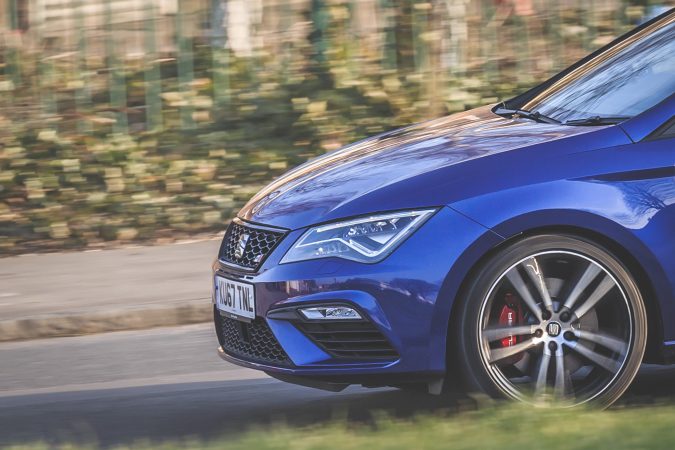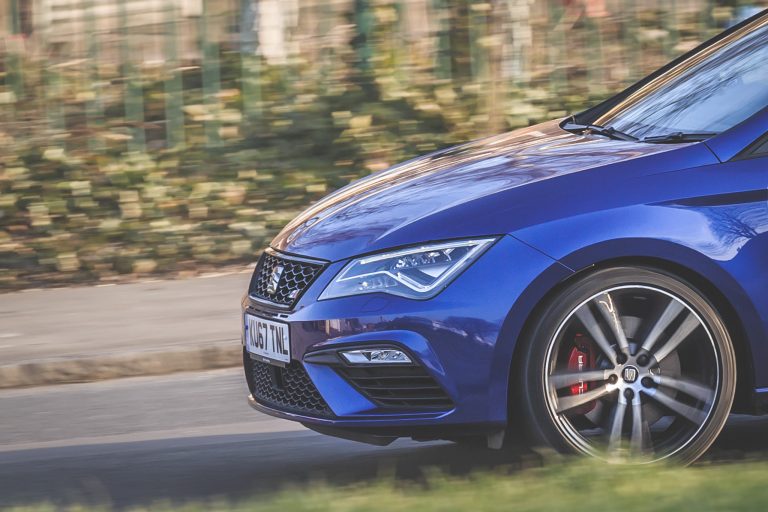 You'd think that with a small displacement high horsepower engine that the turbo will spend ages spinning up, but that is certainly not the case with the new Cupra. Power comes on strong and hard as early as 2,000 rpm, and the car just keeps on giving throughout the entire rev range.
Mash the throttle and you'll be breaking the law within seconds, it is that quick. I'm still taken aback by the engine's liveliness, without the LSD and computer keeping you in check, I reckon that the torque steer will be a handful. Overtakes and steep hills are done for in a snap of the finger.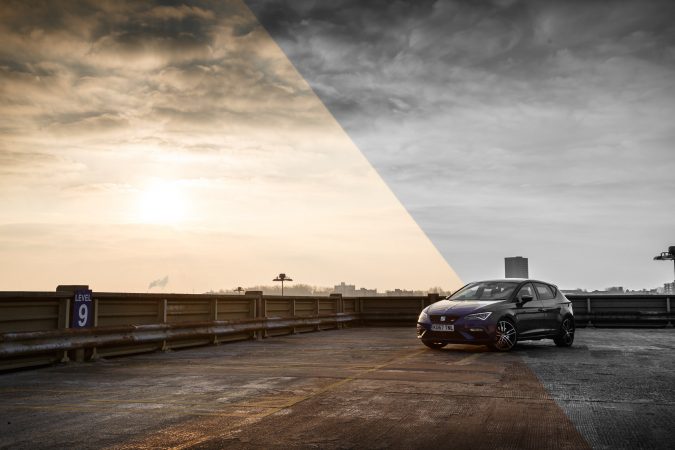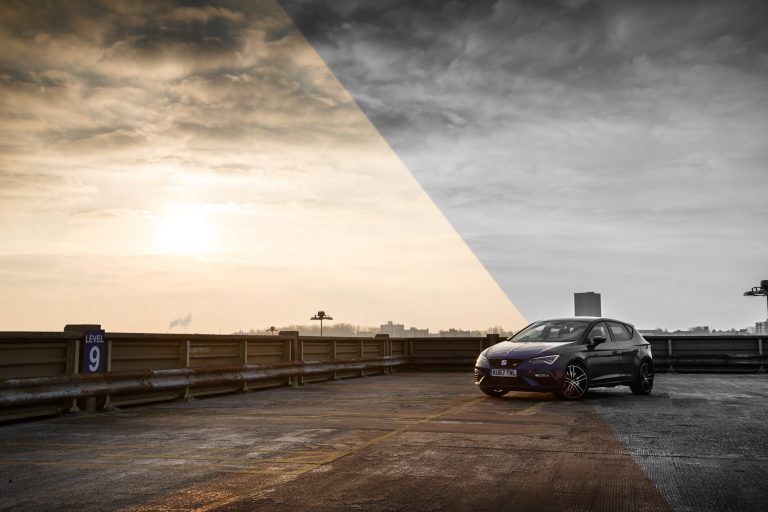 Something that's also new is the fact that a performance exhaust is now fitted as standard. In Cupra mode, the engine is particularly raspy throughout the rev range, a common trait found in turbocharged inline-4s. Let off the throttle and the exhaust pops and crackles.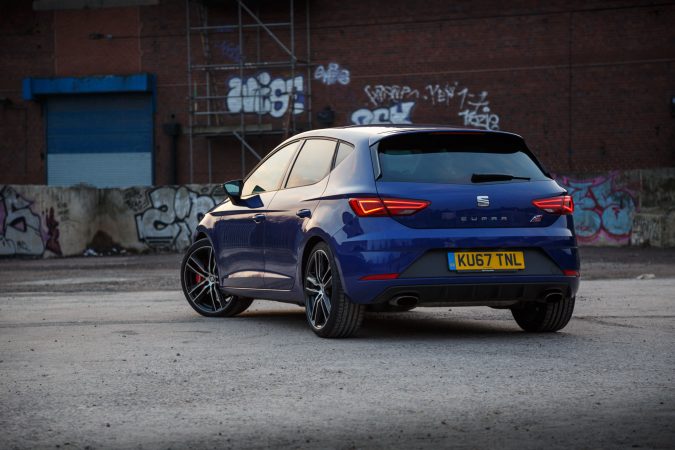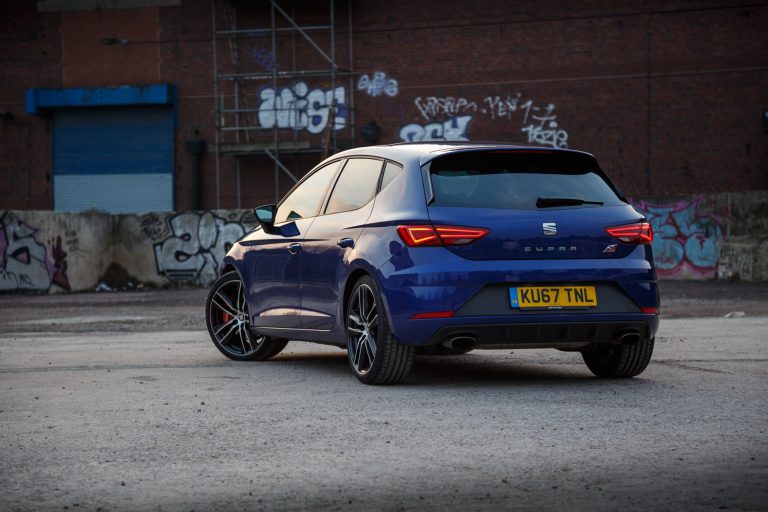 What really helps to seal the deal, and convince me that the Cupra is as capable as SEAT puts it, is how efficaciously the DSG works. I love the feel of a proper manual, but with the DSG shifting is such an effortless endeavour. You can frivolously run the car through every gear while the exhaust burbles everytime you pull the paddle.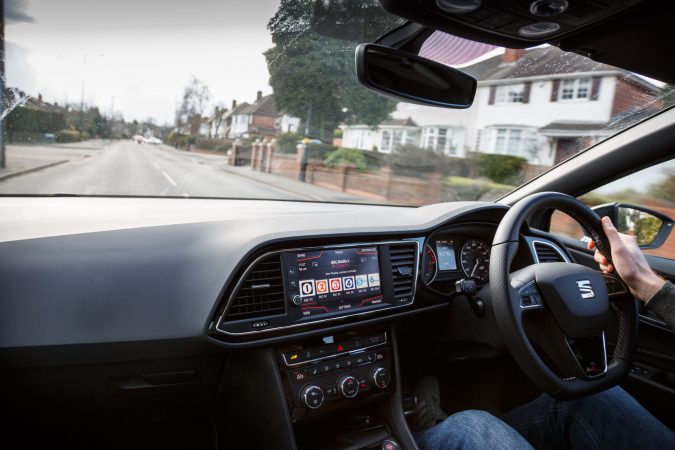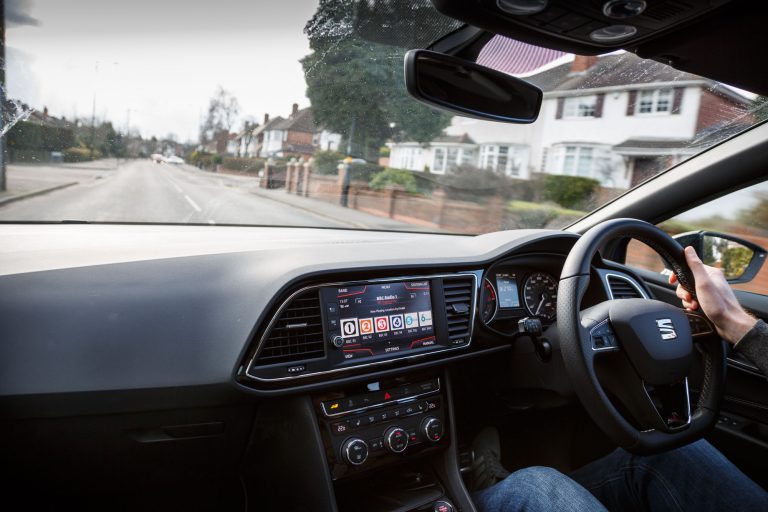 The Cupra's handling is apt to the checkered flag it proudly bears on the grille. It thrives on the B-roads, especially when you put it into Cupra mode, where everything tenses and firms up. The car keenly turns into corners before really leaning on the outside tyres providing an excellent mid-corner response. Body roll is mild, but the suspension gives just enough to handily deal with unexpected road bumps.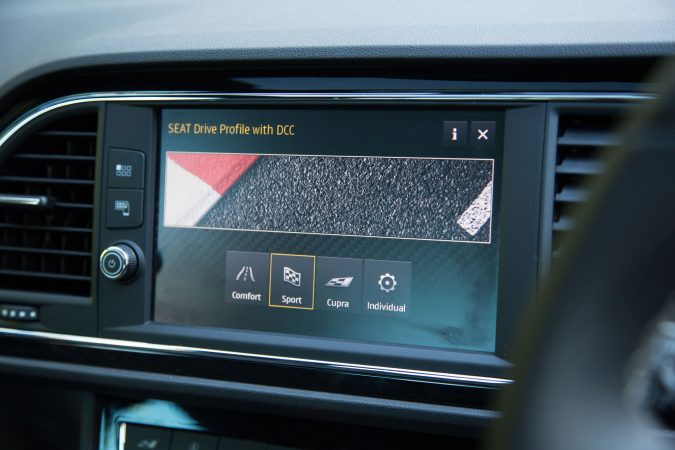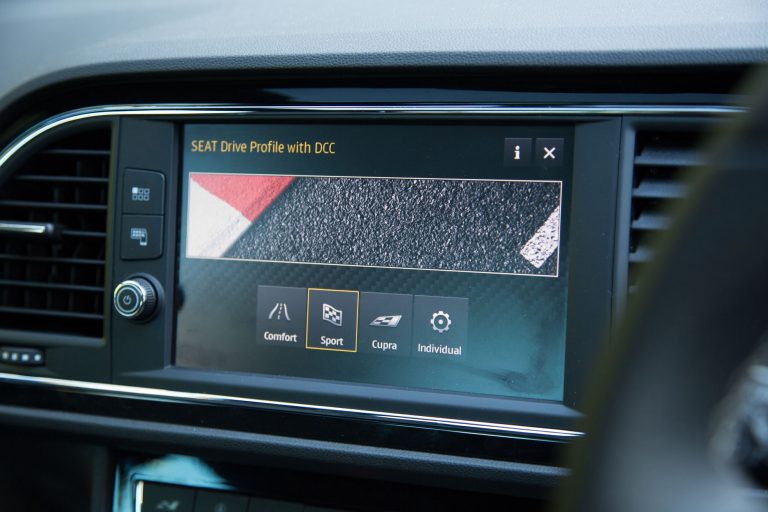 Thanks to the limited-slip differential, the Cupra just claws into corners and slingshots its way out. Moreover, when you have to bleed off speed, the Cupra bleeds off speed like no other. The progressive steering is well-weighted, precise and responsive.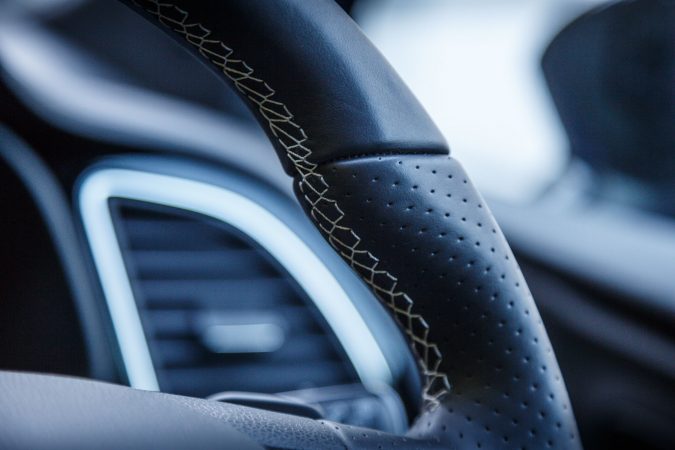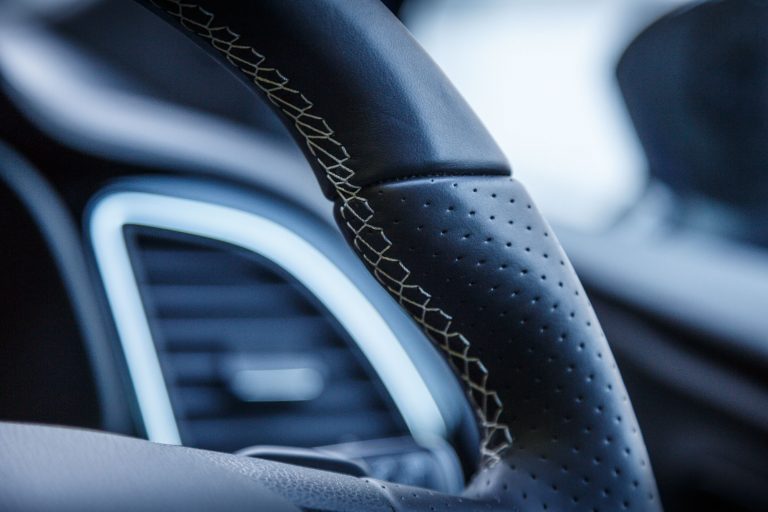 When the time comes to lay back the rein, kick the Leon Cupra into comfort mode and the adaptive suspension will work its magic. The Cupra never fully unwinds, but it is more composed over perilous tracks than many other hot hatchbacks nowadays.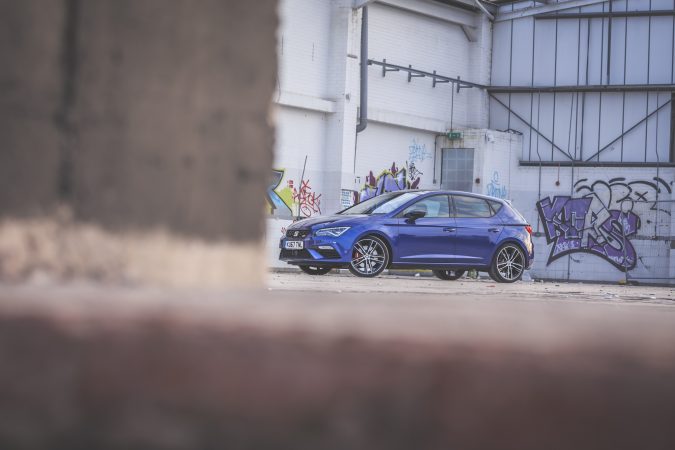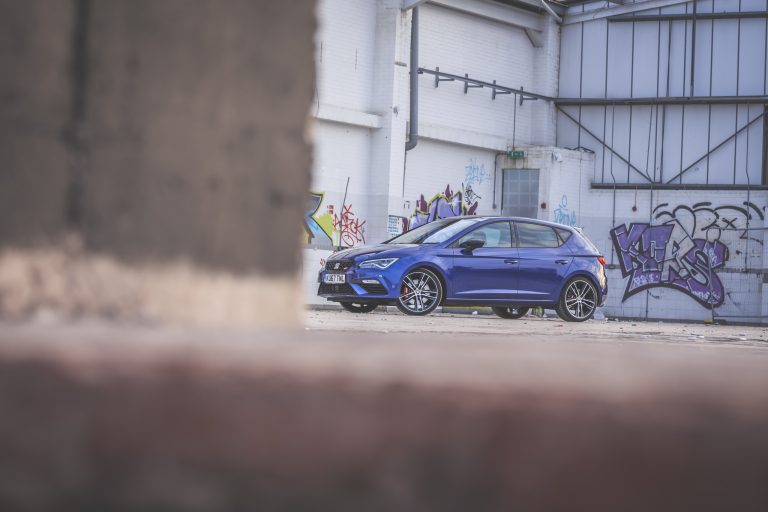 While it does crash into precarious potholes, it sorts bumps out quite well. It never got especially tiring or peeving roaming around urban roads, which is quite a departure from the rock-hard rides I've come to expect. The Cupra is also pretty refined throughout the whole venture, but there is a bit of tyre roar and engine drone at motorway speeds.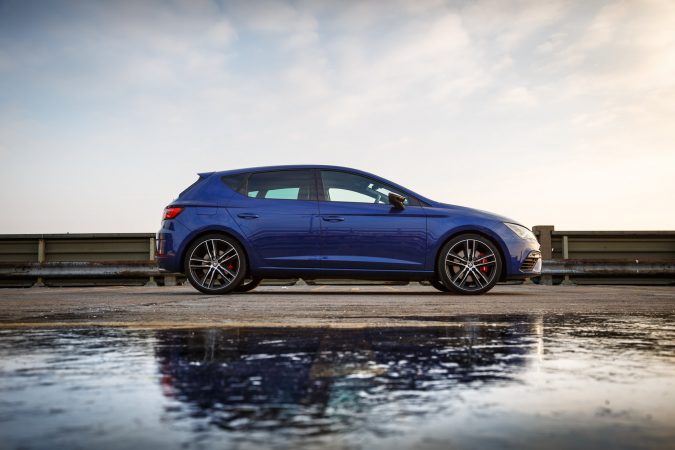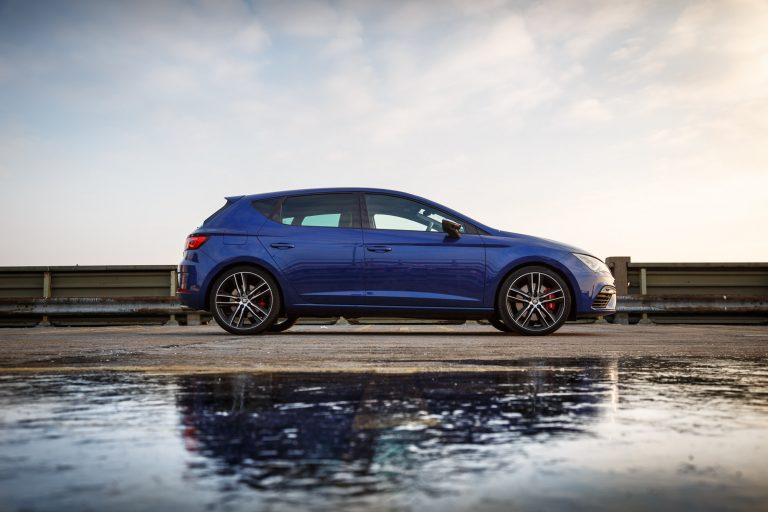 What is it like inside?
Some attention has been given to the interior as well. Mostly as an effort to declutter and increase accessibility.
What you'll find inside our Leon Cupra are these leather sports seats with contrast stitching. These are an optional extra, costing £1,085. As standard, the Cupra comes with a set of Alcantara seats, which will taint quicker over time. The leather seats are comfortable though, providing ample support for spirited drives. It also comes with the £370 Winter Pack which includes heated front seats and some power adjustments for the front seats.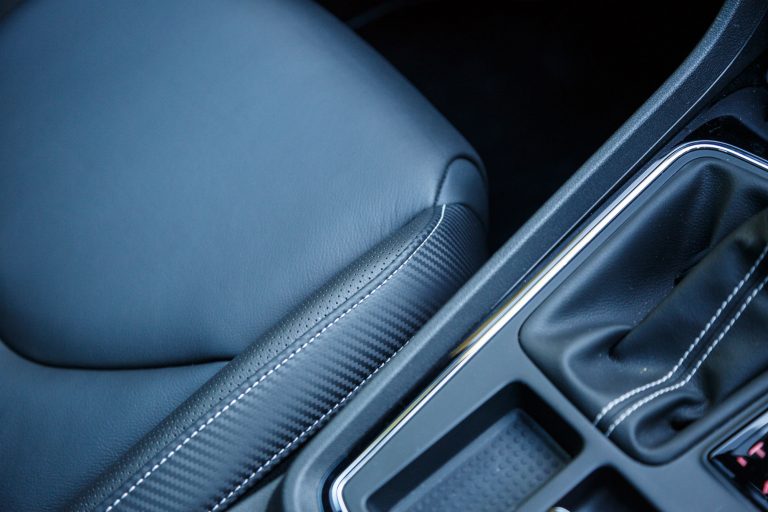 If you intend to partake in track days though, you may want to shell out an extra £200 over the leather seats to opt for a set of proper bucket seats. Rear passenger space is actually quite impressive, adults will have no problem fitting back there. Material choice is splendid with quality fit and finish, it's related to Volkswagen after all.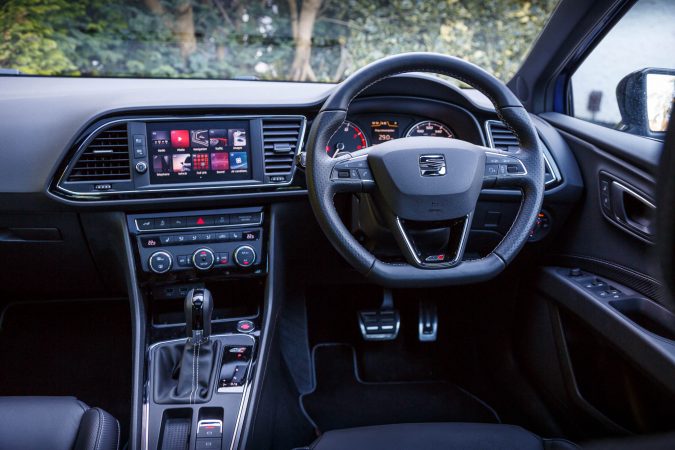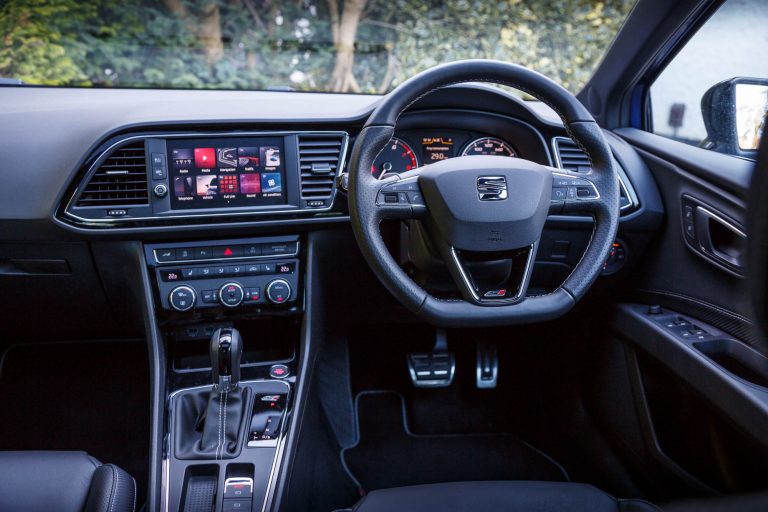 Something you'll find absent from the old Cupra is the handbrake, which has been eschewed in favour of an e-brake. The 8.0″ infotainment touchscreen is standard and comes with only two buttons, with satnav available as an option. Additionally, the steering is nicely bolstered and wrapped in perforated leather. There is also a drive mode selector, from the soft Comfort mode to Sport mode, to Cupra mode, but an Individual mode is there too for a personalized driving style.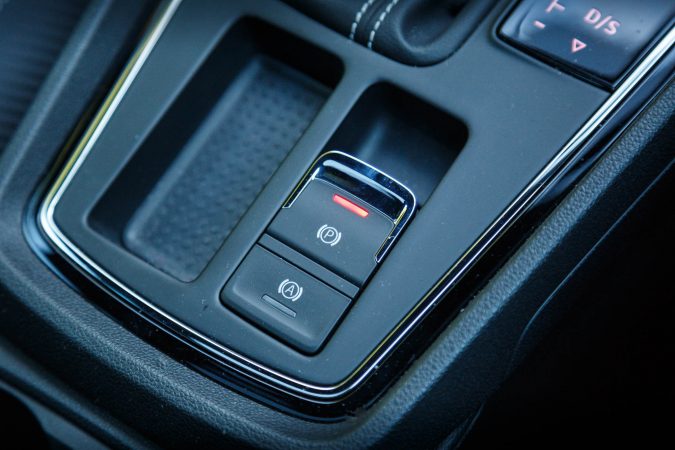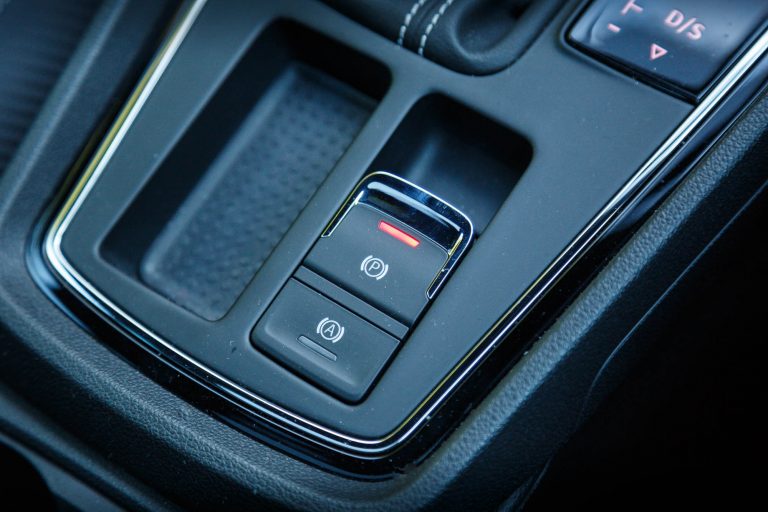 While the Leon Cupra comes with a decent amount of kit as standard, you can still opt for more convenience tech. Examples are adaptive cruise control for £155, keyless entry for £505 and rear view camera for £225. There's also the Advanced Comfort & Driving Pack for £620, which comes with road sign display, lane keeping assistance, traffic jam assist and more.
The Cupra also comes with a pretty capacious boot at 380-litres of capacity. It does have a pretty tall boot lip, so the double boot floor option may be worth a look.
The experience
Overall, the Leon Cupra offered a very invigorating driving experience. The engine urges the car along at a brisk pace and the car possesses a satisfying level of alacrity. It hardly ever runs out of talent, but still remains a viable daily driver.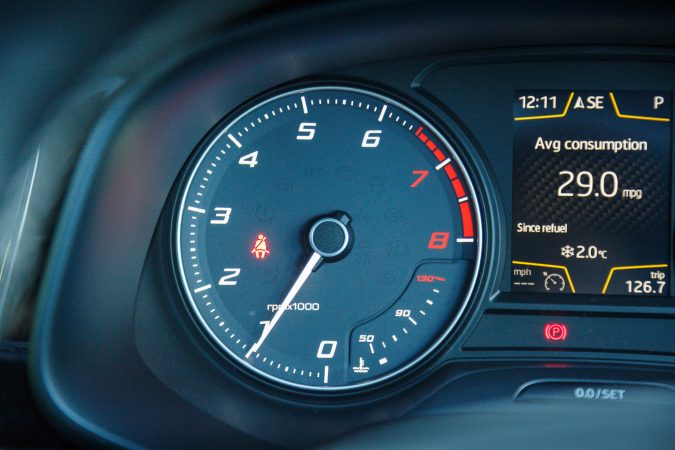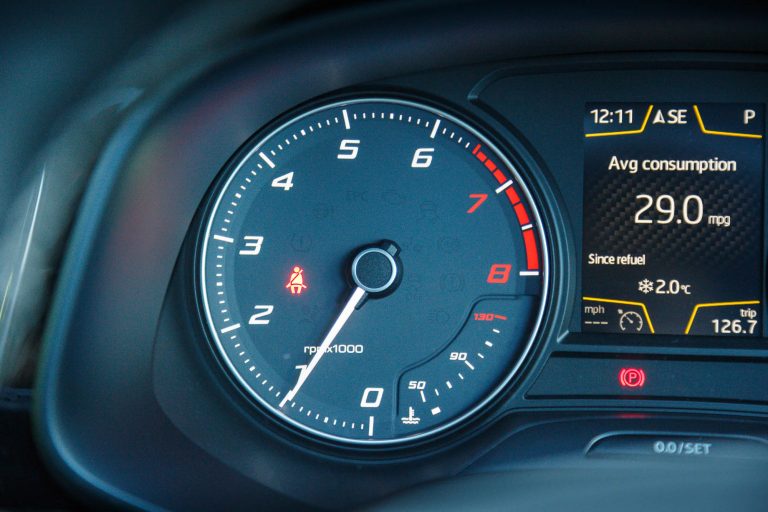 It provided an enthralling ride and the DSG just shifts so diligently. The ride is harsh, don't get me wrong here, but comparatively, it is more forgiving than its rivals.
Verdict
There is one thing to fault in the Leon Cupra though, it's not the most affordable. Ours came in at £32,790 with four options ticked, pitting it squarely against the Civic Type-R. I found the Civic Type-R to offer a more visceral driving experience, it was brash, loud, properly enticing and unapologetic, but it wasn't as enjoyable a ride off the smooth tarmac. For less, you can opt for either the Golf GTI or Focus ST, but both will leave you longing for the intoxicating punch the 296 bhp engine delivers.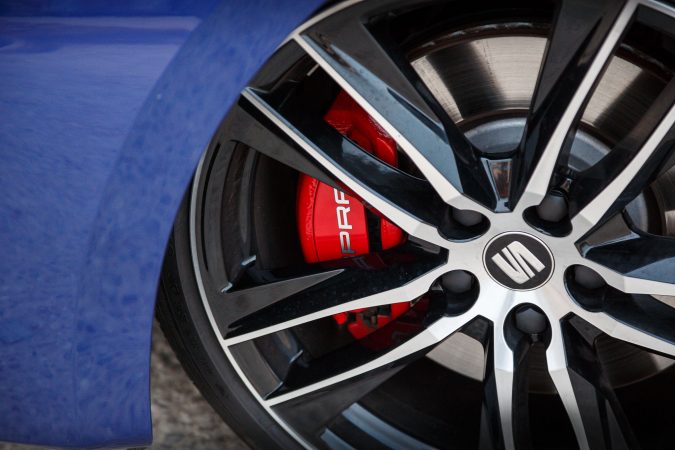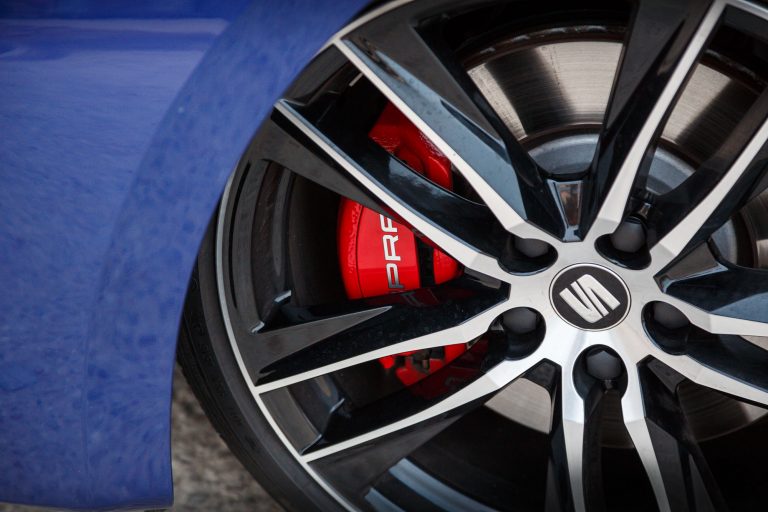 If you don't mind losing out on efficiency, the Golf R and Focus RS with their fancy four-wheel drive will impress even more. But then, I'd argue that the comparably priced 4WD estate variant of the Leon Cupra is as impressive and cooler. It's essentially the Golf Estate R for less, and did I mention it's a hot estate?
The SEAT Leon Cupra 5-door with a DSG here is a well-built handsome practical hot hatchback that delivers a poised handling, impressive powertrain and solid equipment that can be daily driven. It's not affordable to all, but still is excellent value, and that is exemplary.

Specification
SEAT Leon Cupra 300 Specs
Price: £29,900
Engine: 2.0-litre TSI turbocharged inline-4
Power: 296 bhp
Torque: 380 Nm
Transmission: 6-speed DSG dual-clutch automatic
0-62mph: 5.7 Seconds
Top speed: 155 mph
Weight: 1,421 kg
Economy combined: 41.5 mpg
CO2: 156 g/km
Gallery