Driven: Honda Civic Type R FK8 GT Review
We've been testing out the 2018 Honda Civic Type R FK8 GT on the road in the UK. Here are our thoughts about this extra feisty new addition to the Honda family.
What is the Honda Civic Type R GT FK8 All About?
Not too far back in the history of Honda's car releases, the previous generation of this car was released. But in the motoring world, nothing stays new for long. Now, Honda have unleashed their latest, top of the range model: the FK8.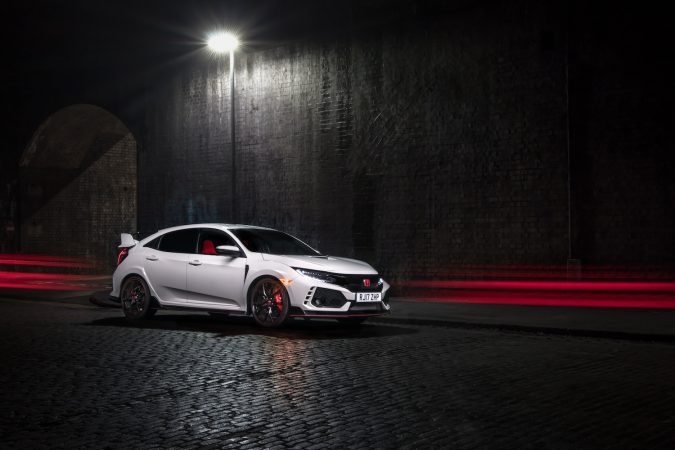 The factory-fresh Type R is available in two models; the standard and the GT. The GT has a fistful of extra features, including Blind Spot Information, LED fog lights, an auto-dimming rearview mirror, Cross Traffic Monitor, and dual-zone climate control. Other, more technological features include wireless phone charging, Garmin navigation, and an impressive 11-speaker audio system.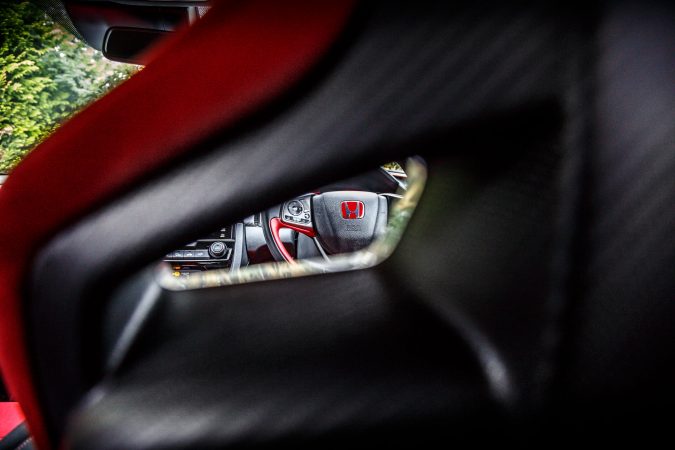 Living up to the legacy of its previous models, the new Honda Civic Type R FK8 design can cause a divide of opinion. But, love it or hate it, there's no denying that the new Type R modifications create a striking look. A crafty combination of sharp lines and subtle curves give the civic an aggressive, speed-hungry, road-ready demeanour. The huge angular, aerodynamic bumper and grille instantly provide a feel of sportiness and speed. An enormous rear wing and lower rear diffuser help to further this effect.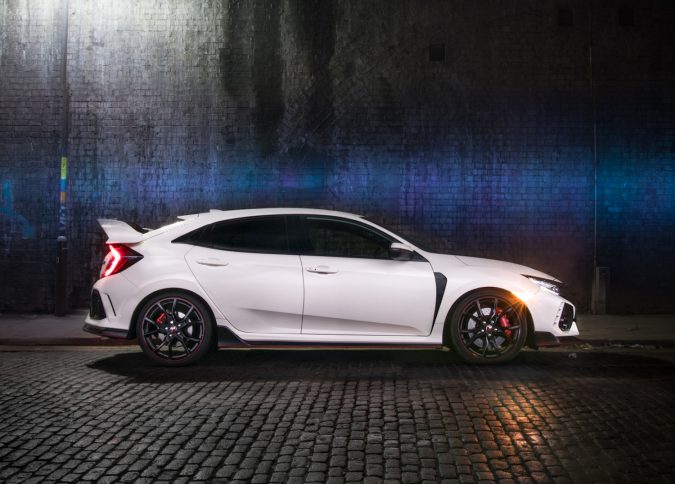 Great effort has been put into aiding the aerodynamics of this car. Design cues, like the roof spoiler and vortex creator combo (which help channel air around the car), come with specific design requirements from the Japanese manufacturers. The Civic's overall design helps to create negative lift, improving stability and grip at high speeds. And speaking of speed, vents in the wheel arches and the addition of a bonnet vent help to keep the finely tuned engine on the cool side.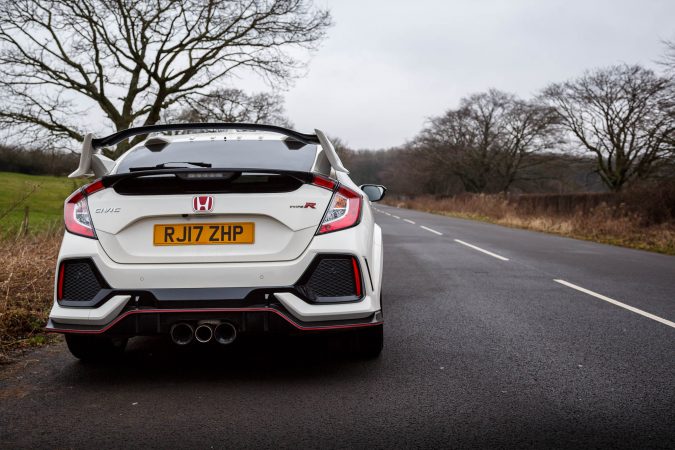 Further styling developments include the 20-inch alloy wheels, which suit the Civic's new look perfectly. At the back of the car, there are now three exhaust tips in two different sizes. A new, specifically designed exhaust system now allows the central exhaust tip to produce negative pressure at high RPM. This helps to minimise the booming of the exhaust at high speeds, although Honda state that they have tried to keep the 'good' sounds of the car.
Powered by a 2.0-litre petrol VTEC engine, the Honda Civic Type R FK8 uses a mono-scroll turbo to boost both efficiency and performance. This car now creates 320 PS and 400 Nm of torque. This power surges through a 6-speed manual gearbox to the front wheels, pushing the Civic from 0-60 mph in a stunningly sharp 5.8 seconds (Non GT Model is 5.7). Capable of 169 mph, it's quicker than its predecessor. A highly effective front differential and a smart use of electronics help to ensure that all this power reaches the road, making for improved handling on the straight and when cornering.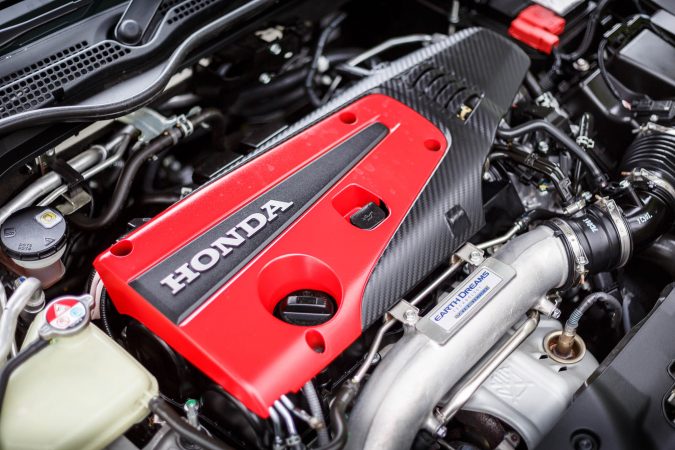 What's it Like to Drive?
The previous generation Honda Civic was a well-revised hatchback, and car communities will be saddened to wave it goodbye. Fortunately, the freshest face of the Civic has only improved upon its previous model. The FK8 now has an additional 10 PS of power, three different driving modes, new rear multi-link suspension, and variable-ratio electric power steering. Packed full of new and improved features and benefiting from a sleek new design, the FK8 is a cut above the previous generation.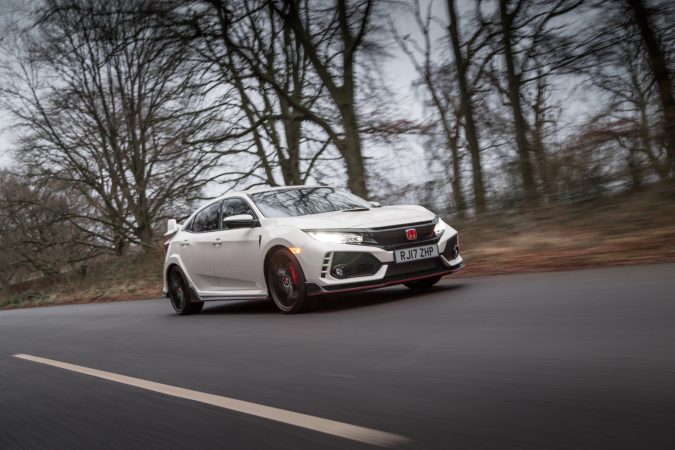 As soon as the car is opened up, the 400 Nm of torque is very noticeable, there is a significant amount of pulling power available low down in the rev range. Thanks to the turbo, this car comes with an electrically managed waste gate that releases boost pressure when you release the throttle. This, of course, only adds to the driving experience and enjoyment.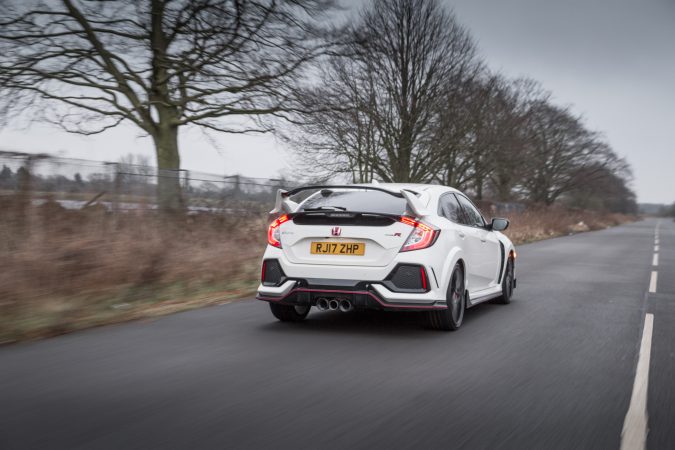 The power delivery for the FK8 is exceptionally responsive, and the 320 PS pulls the car perfectly. The amount of usable power is perfect for this car. At speed, the new Honda Civic Type R FK8 feels glued to the road. Working alongside Continental, Honda has created bespoke tyres to maintain optimum grip. These 245/30 R20 tyres improve handling when braking, cornering, and when driving straight lines.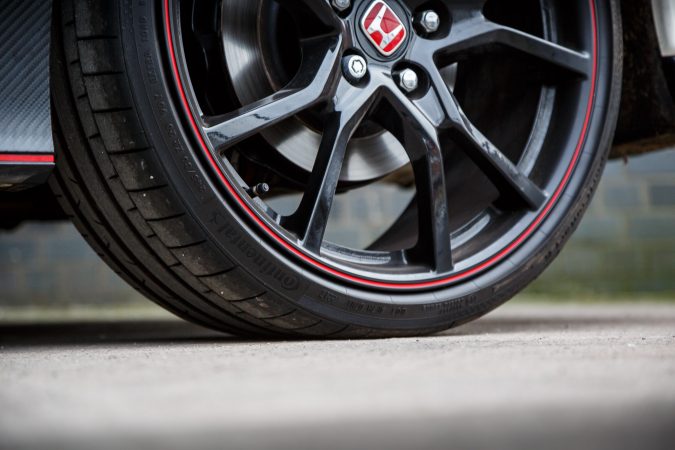 Honda has implemented other innovative features to improve the Civic's handling. A limited slip differential works like sheer magic, ensuring each wheel puts the right amount of torque down to the road. This in turn allows for cornering speed to be maximised. The Civic has a very smooth and controlled handling feel and minimises torque steer in ways we have not seen before.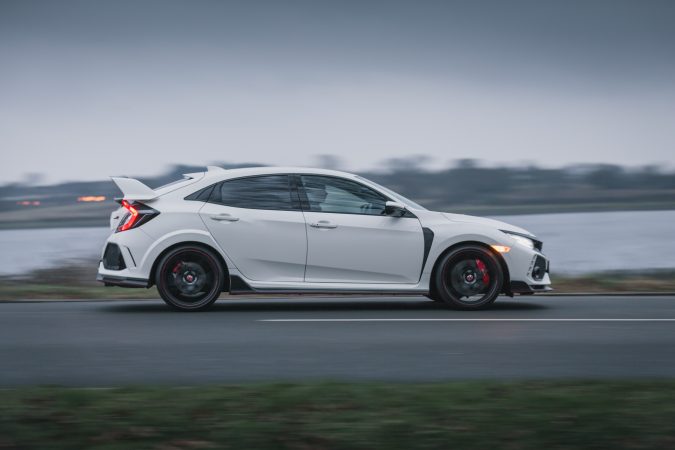 3 Capable Drive Modes
The Honda Civic Type R FK8 GT comes equipped with three driving modes; Comfort, Sport, and +R. By default, you will be setting off in Sport mode. Torque mapping is more aggressive and performance focused, steering assistance is were you want it, and the adaptive dampers are stiffened all round. Combining these features helps Sport mode to actually feel sporty, and allows for a raw, exhilarating driving experience optimised for the road.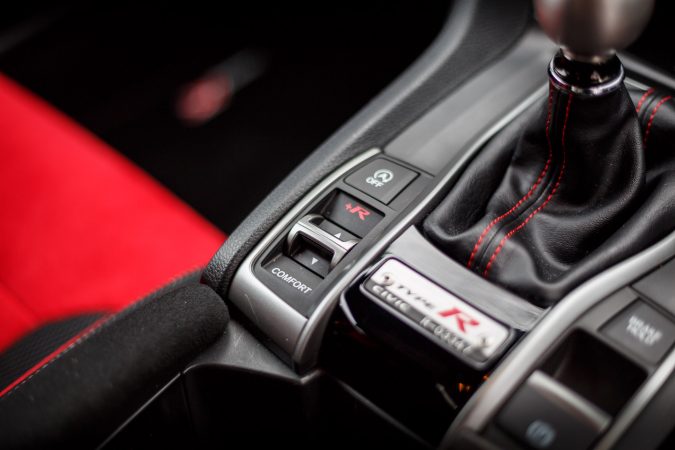 Switching to +R mode brings the configuration to an even sharper setup, optimal for track driving and racing. If you feel like taking things down a notch, Comfort mode helps to keep the driving experience exceptionally smooth. Bumps are made significantly more bearable in this mode, great for those mellow days where a comfortable drive is key. The old generation Civic Type R could certainly have benefited from this driving mode.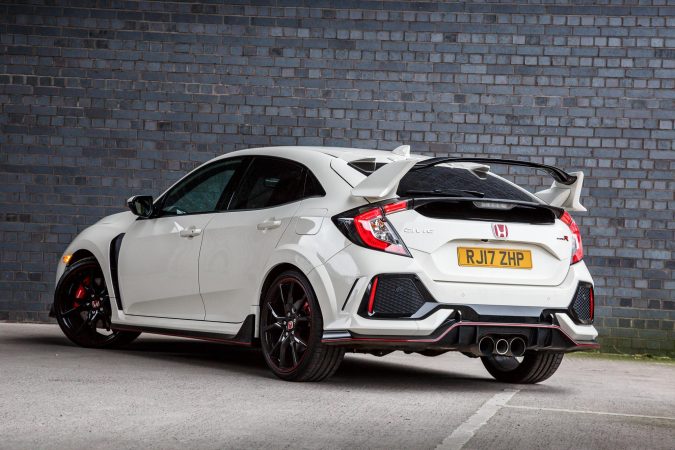 Testing this car on the road was a great way to see just how well-rounded it is. On the road, this is without a doubt one powerful hatch that will take on most challenges. But on the track, this car is such a highly tuned machine, and is very capable for both beginners and more advanced drivers.
Interior
Benefiting from premium design, the FK8 is a pleasure to sit in. The front seats have a stylish sporty element to them. They also hug your sides much more than in the previous gen of the car, ideal for track days or aggressive driving.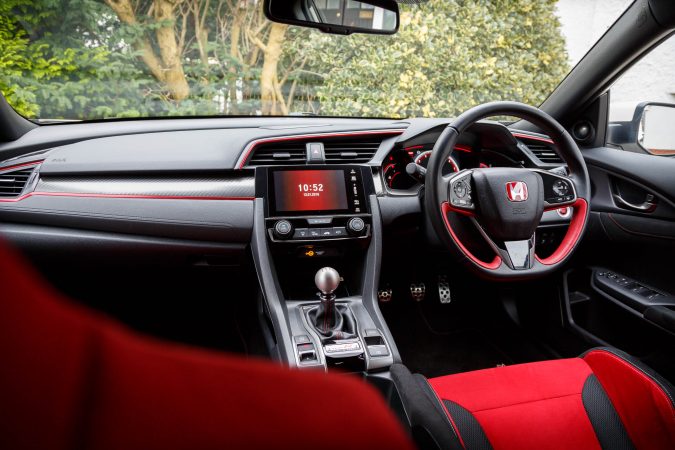 A large touchscreen infotainment system dominates the dashboard, but it works very well for this car. The interior is full of nice touches, such as the crafted aluminium on the gear stick and pedals. Hints of red and black inside the cockpit also add to the sporty appeal of this car.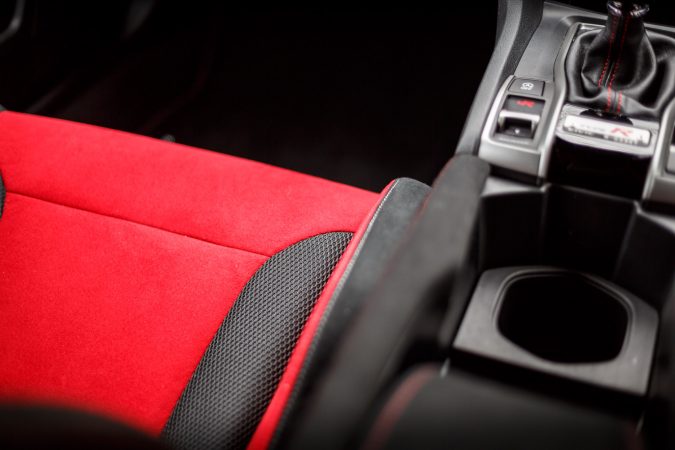 The Honda Civic Type R FK8 is equipped with fully digital driving instruments, an improvement over the previous generation two-tier approach. The fully digital dashboard is a great feature for this car, and the high refresh rate is able to keep up with changes in speed and the rev gauge.
Experience
This car is exceptionally well designed, and sets the bar to a new level for the hot hatch. Able to hit 169 mph and corner like an M3, it's quite simply an exceptional piece of engineering. Vast amounts of research, meticulous attention to detail and exquisite styling have all helped Honda to pull off this perfect piece of machinery. It's a fast, energetic drive; and when you realise it's powered by a 2.0 litre turbocharged engine, you realise just how much value for money the new Civic is.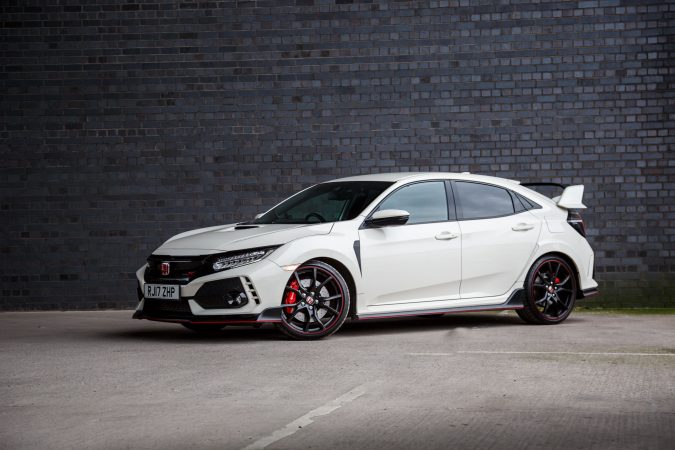 Verdict
This car is the fastest front-wheel drive car that money can buy to date. The development FK8 Civic owns the Nurburgring Nordschleife lap record for the front wheel drive category with a time of 7 m 43.8 s. Honda don't have a history of bad Civic Type Rs, and that isn't about to change now. The new generation improves everything that was already good in the previous generation, and goes above and beyond when it comes to driving experience. This hot hatch has proper track going credentials with practicalities for the road.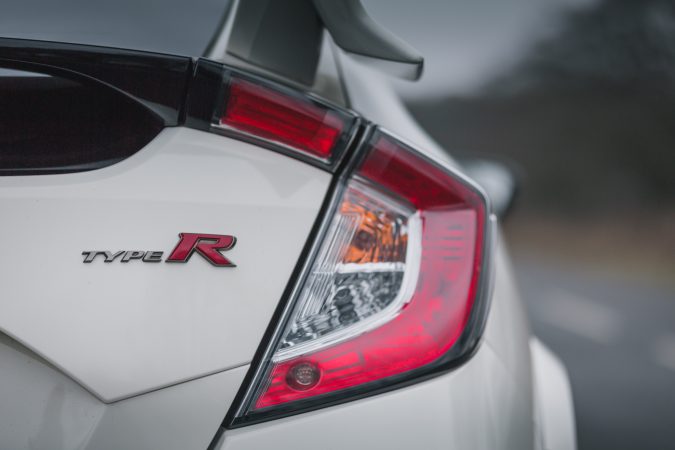 Honda Civic Type R FK8 GT 2018 Specs
Price: £32,995
Engine: 2.0-Litre VTEC Turbocharged
Power: 320 PS
Torque: 400Nm
Transmission: 6-Speed Manual
0-62mph: 5.7 Seconds
Top speed: 169mph
Economy: 36.7mpg
CO2: 176g/km
Gallery