Since most of us have had to jump-start a car at one point or another, we decided to test out Ring Automotive's RPPL250 wireless jump starter and see if it's any good. A good jump starter should be compact, easy to use, and safe to operate, avoiding all the usual hassles associated with jump-starting a car the old-fashioned way.
Extremely compact and light
The RPPL250 weighs less than 800 grams, making it one of the lightest products of its kind on the market. Perhaps more important than its weight though, is how compact it is. Measuring in at 19 12 x 9 CM, it's about as large as a modern-day smartphone (but thicker of course), so you can store it pretty much anywhere. It occupies basically no space in the glove box or the centre console storage bin, so you can stow it away and only take it out when you need to use it.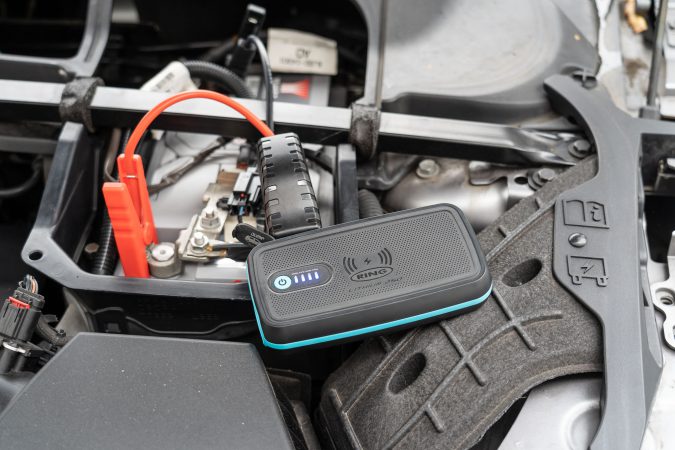 It packs a powerful punch
The RPPL250 is ideal for jump starting 12V vehicles with engine sizes up to 2.5-litres, which is practically most cars on the road in the UK. It's got 200 Amps of output power, so you can use it on any car which will crank over with less than that. For larger diesel and petrol-engined cars, you should probably look at Ring Automotive's more powerful products, such as the RPPL400 or the RPPL700, but if the car in question only has a half-depleted battery, the smaller RPPL250 might still be able to get the job done.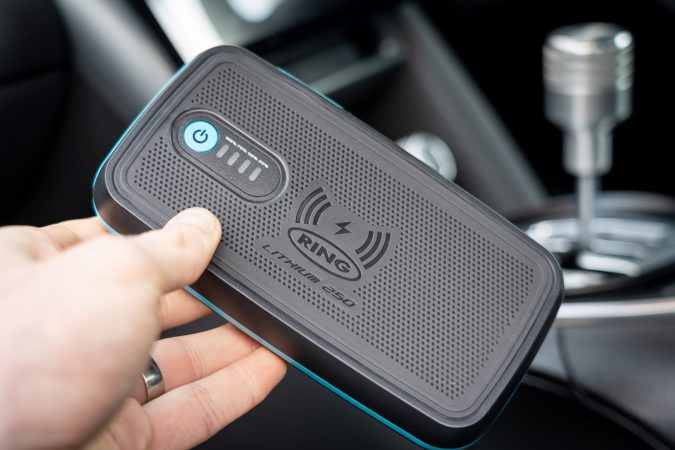 Three features in one package
This little jump starter has a built-in LED torch, so you can use it if you find yourself stranded by the side of the road at night, and it also acts as a power bank, meaning you can charge your phone or tablet through it. It's compatible with both Android and iOS. The surprises don't end there though, because it's also got wireless charging. Provided your phone supports this feature, you can deplete the unit's 9900mAH battery to charge your phone wirelessly. The charging function is capped at 10W, but will charge your phone multiple times before it needs a top up.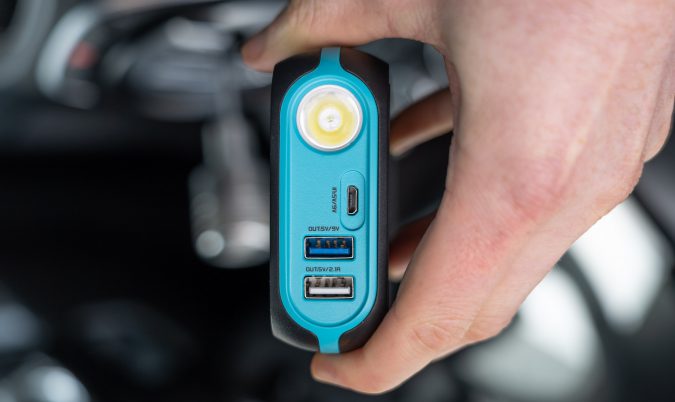 Safety is a priority
To ensure there's no risk to you or anyone using the RPPL250, it's got a safe connect system with intelligent clamps and reverse polarity, in addition to short circuit and anti-spike protection. This makes the unit extremely safe and easy to handle, with no possible risks or dangers involved. Ring Automotive ship it out with a Micro USB charging cable which can recharge its battery in 3 hours.
There are lots of compact jump starters on the market, but very few are as powerful or reliable as the RPPL250. Built by a highly-respected company in the industry, it feels like a quality item, not something you throw away after a single use. Plus, for what it is, it's affordable, so I honestly see no reason why you wouldn't get one and just carry it in the car. If nothing else, you can always use it as a power bank when you inevitably forget to charge up your phone at home at night.